Home > Alsisar Haveli Hotel Review
Updated: October 9, 2019
See Also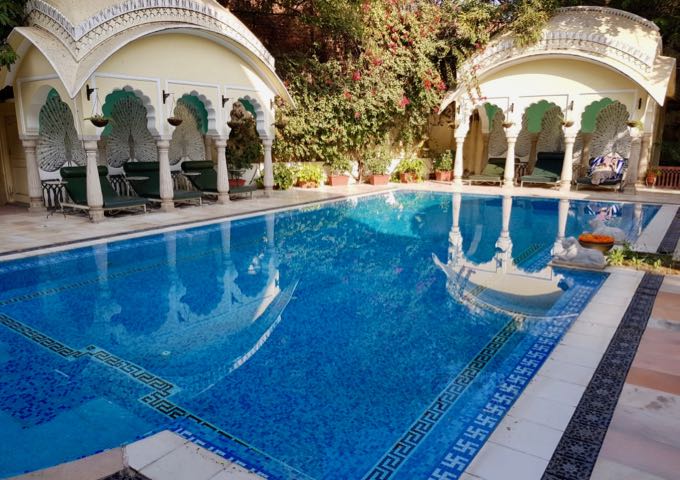 Alsisar Haveli – More like a large guesthouse than a small hotel, with historical elegance and regal charm.
Built for nobility in 1892, this heritage-style guesthouse offers a genuine imperial ambiance and setting without the price tag of a palace hotel. The design is typically Rajput, which is synonymous with Jaipur: terraced courtyards, overhanging balconies, niches packed with antique furniture, and arched entrances. The Alsisar also features rarities among rivals: spacious gardens, sizeable pool with plenty of room for lounging, genuine garden views, and single rooms. Rooms are in two wings. Those at the front are quite large but potentially noisier, while those facing a shady courtyard at the back are more modest but quieter.
Alsisar Haveli – The Location
Address: Halfway along Sansar Chandra Road in the inner city. There is no signpost in English or Hindi, but the arched entrance is unmistakable.
Area: Close to the Old City, but the road outside is dusty, noisy, and crowded, and there are almost no facilities of interest to tourists nearby.
How to Get There: From the airport (13km, 35-minute drive), take a pre-paid taxi or walk outside for an auto-rickshaw. The train terminal (2.2km, 10-minute drive), main bus station (550m, 7-minute walk), and nearest metro station (450m, 9-minute walk) are also close by.
Handy to: Old City.
Alsisar Haveli – The Basics
Guests: Caters well for all, but most seem to be older independent travelers.
Views: Far better than most guesthouses or hotels of this type. Rooms at the front on the ground level overlook the main courtyard, which can get noisy, while those on the upper floor provide views of the gardens. All the rooms at the back face a shady courtyard.
Private Pools/Jacuzzis: Certainly not expected – or provided – at this sort of historic inner-city hotel in Jaipur.

Wi-Fi: Free throughout the hotel for all guests.
How to Book: Booking.com will have the best rates.
Phone: +91 (0)141 236 8290
Email:

[email protected]

Website: alsisar.com
Alsisar Haveli – Amenities
Pool: Unlike rivals, the pool is substantial. Sparkling blue and enhanced by the whitewashed structures alongside.
Spa: Space for a decent-sized spa. Far better range of treatments and therapies than other guesthouses or hotels.
Fitness Center: None.
Other Facilities: Laundry. Money-changing. Travel desk. Boutique.
Alsisar Haveli – Food and Drink
Restaurant & Bar: The magnificent restaurant features chandeliers, mahogany tables, and traditionally-dressed waiters. The attached bar serves imported beers, wines, and spirits. Most guests prefer to sit in the courtyard or along the poolside terrace.
Breakfast: Not included, but can be paid for when booking or on the day.
Room Service: Available during restaurant hours – 7 am to 10 pm.
Alsisar Haveli – Rooms
Room Types: Single Rooms • Double Rooms • Deluxe Rooms
Smoking Rooms: No smoking in the rooms or public areas, but permitted elsewhere.
Best Room: The Deluxe Rooms simply have more of everything: style, old-fashioned furniture, space, and historical vibe.
For Families: An extra single bed can be added to the Double and Deluxe Rooms.
Alsisar Haveli – Local Transport
Walking: Very little within walking distance of interest to tourists. The road outside is very crowded and noisy, with virtually no sidewalks.
Public Transport: The Jaipur Metro is of limited use to tourists – at least until the 2 new stations in the Old City are completed in about 2021. The nearest station to the guesthouse is Chandpole, about 450m away (6-minute walk).
Taxis & Auto-rickshaws: Taxis (unmetered) are poorly-marked and almost impossible to find without help from the hotel reception, and useless in the Old City anyway. Otherwise, Uber and Ola work effectively. However, just about anywhere, including the airport, is accessible by abundant auto-rickshaws. Some are electric and feature 2 small benches.
Alsisar Haveli – What's Nearby?
Restaurants & Bars
Unfortunately, not a great choice within walking distance.
Shops
The street out front is packed with facilities of minimal interest to tourists, so head to the Old City (see below).
Attractions
Alsisar Haveli – The Hotel
All Jaipur Hotel Reviews
Read More