SD › California Travel Guide
Updated: January 3, 2022
Known for being the home of Hollywood, surfing, giant redwoods, Disney, and the beaches of SoCal, California is like a country in its own right, with an area twice the size of Great Britain and a GDP bigger than most European countries. In terms of attractions, the diversity is staggering; ski resorts and snowy peaks of Yosemite, Wild West ghost towns and the country music of Bakersfield, the burning deserts of Mojave and Death Valley, the wineries of Napa, and the iconic clubs of LA all share the same state. And within an hour's drive of the wild and desolate Big Sur coast lies Silicon Valley, home to tech giants Facebook, Google, and Apple.

California is very big – it stretches for around 900 miles north to south – so it's not advisable to try and see the whole state with limited time. It also covers some of the most diverse terrain in the world – when it's scorching hot in Death Valley, it can be snowing hard in northern California.

Though public transport in the major cities is relatively good, it's best to rent a car to make the most out of California. Roads are good and much of the appeal is in finding out-of-the-way places and off-the-beaten-path attractions that still exist in rural California.

The 2021 California Travel Guide

California Basics

California Hotels

California Attractions and Activities

Frequently Asked Questions about California

Where is California?

California lies on the West Coast of the US, stretching from the Mexican border through to Oregon – its eastern boundary is marked by fierce deserts and the Sierra Nevada mountain range, adding to the sense of isolation from the rest of the country. It's biggest city is Los Angeles, with a greater metro population of 18 million. The other major cities include San Diego, San Francisco, San Jose, and Sacramento, the capital of the state. LA is some 380 miles south of San Francisco by road and 120 miles north of San Diego.
Non-stop flights to LA take 5 hours 45 minutes from New York, 2 hours 55 minutes from Vancouver, 4 hours 25 minutes from Chicago, 1 hour 20 minutes from San Francisco, and 11 hours from London.

How big is California?

California is the most populous state in the US, with almost 40 million inhabitants. In terms of area, it's the third largest (after Alaska and Texas), covering some 163,696 square miles.
What is the history of California?

Native American tribes like the Chumash, Pomo, and Salinan had California largely to themselves until Spanish missionaries arrived from modern-day Mexico in the 1770s led by Father Junípero Serra. San Diego, Monterey, and San Francisco were established as small missions and Spanish presidios (forts), but development was minimal for the next 70 years – thousands of Native Americans died from disease and only a handful of Spanish and Mexican settlers arrived. Everything changed after the Gold Rush, which began near Sacramento in 1848. Prospectors flooded to California from all over the world, and especially from the growing United States just to the east.

When the Mexican-American War (1846-48) ended the same year, the Treaty of Guadalupe Hidalgo transferred Mexico's "Alta California" to the victorious US and it became a state in 1850. With the completion of the First Transcontinental Railroad in 1869, California was given a further boost with migration from the eastern states picking up. Hollywood became the hub of the US movie industry in the 1910s, while military industries prospered during World War II. With the development of Silicon Valley in the 1950s, California began to dominate the entertainment, music, technology, and aerospace industries. It's also been a locus for some of America's most dynamic progressive movements: environmentalism, women's rights, and LGBT and immigrant rights. In the 21st century, California's annual wild fires have become a pressing issue, with millions of acres burning on a regular basis.

How do I get to California?

LA, San Francisco, and San Diego are connected to most of the world's major cities by numerous non-stop flights. LAX, John Wayne International Airport (Santa Ana), Hollywood Burbank Airport, Ontario International Airport, and Long Beach Airport serve Greater Los Angeles, while SFO, Oakland International Airport, and San Jose International Airport serve San Francisco and the Bay Area. Sacramento, Palm Springs, Fresno, and Santa Barbara all have their own, smaller airports.

Amtrak's California Zephyr (51 hours 20min) train service connects Chicago with Emeryville (for San Francisco), while the Southwest Chief (over 40 hours) runs between Chicago and LA via Arizona and New Mexico (the Texas Eagle runs through Texas; 65 hours 20 minutes). The Coast Starlight (35 hours) runs between LA, Portland, and Seattle, while the Sunset Limited (48 hours) links New Orleans and LA. These trains only depart 3 days a week in each direction. Amtrak's Pacific Surfliner train travels up and down 350 miles of southern California coastline, from San Luis Obispo through San Diego, stopping at prime destinations like Santa Barbara, Los Angeles, and San Juan Capistrano along the way.

Long-distance buses connect California to an even wider array of cities across the US and Canada. Most are operated by Greyhound, though budget bus services such as Megabus also serve the state.

Do I need a car in California?

Yes. Though public transport is pretty good in San Francisco (where it's better not to drive) and even Los Angeles, California was built for cars. Public transport between smaller cities and towns can be infrequent, and many rural attractions, national parks, and beaches can only be reached by car. Outside the major cities and freeways – especially the notoriously congested I-5 – roads are often surprisingly empty in rural California.

How do I get around California without a vehicle?

It is possible, but as we said above, many destinations are not served by any public transport at all, meaning a reliance on expensive Uber or taxi rides to get to out-of-the-way spots. Amtrak runs to San Diego, LA, Santa Barbara, San Luis Obispo, Emeryville (for San Francisco), Sacramento, Bakersfield, and San Jose, but other than the busy San Diego to LA route, services are relatively infrequent. Greyhound buses serve more places, but bus stops are often a long way from the center of town (Palm Springs, for example). Save time and money by renting a car.

What about cycling?

Traveling by bicycle is not an especially good way to get around California – distances are long, long-distance bike trails or lanes are lacking, and the terrain and weather can be rough (steep roads, deserts). There are a few places where well-maintained bike trails can make a bike excursion more enjoyable, notably along the Strand coastal trail in LA, Monterey Bay Coastal Recreation Trail, and the American River Trail in Sacramento.

Los Angeles is a 24-hour, 365-day-a-year global hub – there's no real "bad" time to visit. As for the rest of California, the climate changes dramatically according to location and time of year.

In Southern California, it's sunny and hot between May and October, with warm, dry nights – though Los Angeles' smog can be bad when temperatures are highest in August and September.
Inland, the deserts are warm in winter and sweltering (105+°F is common) in summer; it's best to visit the Mojave and Death Valley in winter or the spring. Conversely, the national parks of the Sierra Nevada mountains are best visited in the summer – many close during the snowy winter months. The exceptions are the ski resorts of the Sierras and Lake Tahoe, which obviously do a brisk trade in the winter.

The Northern California coast is wetter and much cooler than the south – the warm summers are the best time to visit. The Bay Area itself is notoriously a land of "micro-climates". San Francisco can be chilly even in the summer, with fog often rolling in after midday – like LA, it's best considered a year-round destination, though summers are definitely warmer. Just a few miles inland from the bay however, expect scorching hot weather in the summer.

What are the best books on California?

What are the best places to visit in California?

There are so many world-class attractions and experiences in California, it really depends on your time, money, and interest.
Los Angeles: A world-class destination in its own right, home to the Getty Museum, Hollywood, Beverly Hills, Venice Beach, Disneyland, and Universal Studios.
Central Coast: California Hwy-1 between LA and San Francisco takes in some of the best scenery in the country, from Santa Barbara, San Luis Obispo, and Hearst Castle, to Monterey via magnificent Big Sur.
San Francisco: One of America's great cities, home to the Golden Gate Bridge, those quirky cable cars, incredible food, Levi jeans, and Twitter.
Wine Country: The Napa and Sonoma valleys are crammed with high-quality wineries set amongst scenic rural landscapes, but California's vineyards run further north, into the Russian River Valley and the Sierra foothills.
Gold Country: East of Sacramento lies the charming Gold Rush-era towns of the Sierra foothills – former mining camps like Placerville, Murphys, Nevada City, and Sonora.
Yosemite National Park: The highlight of the High Sierras, packed with iconic scenery and waterfalls, vast granite domes, and soaring sequoias.
Death Valley National Park: The hottest place on earth features some exceptional landscapes ranging from baking salt pans and narrow canyons to candy-colored rocks and even fragrant pine forests at higher elevations.
Joshua Tree National Park: Just a short drive from LA, this desert park features the odd-looking namesake trees, huge boulders popular with climbers and brilliantly clear, starry nights.
Palm Springs: Chic oasis in the desert, crammed with boutique hotels and spas, and featuring art museums and a cable car ride up 10,834ft San Jacinto Peak.
Lake Tahoe: California's most famous lake lies tucked away in the Sierra Nevada, surrounded by ski resorts in the winter and a haven for water sports in the summer.
San Diego: America's sunniest city boasts great beaches, Spanish missions, fine museums in Balboa Park, San Diego Zoo, and SeaWorld.
Redwood National and State Parks: Some of largest original redwood forests in the world stretch along the coastline of Northern California, protected by a series of state parks and Redwood National Park.

What are the Best Beaches in California?

California's Pacific coast is lined with fine beaches for almost 1,000 miles, but here are our favorites: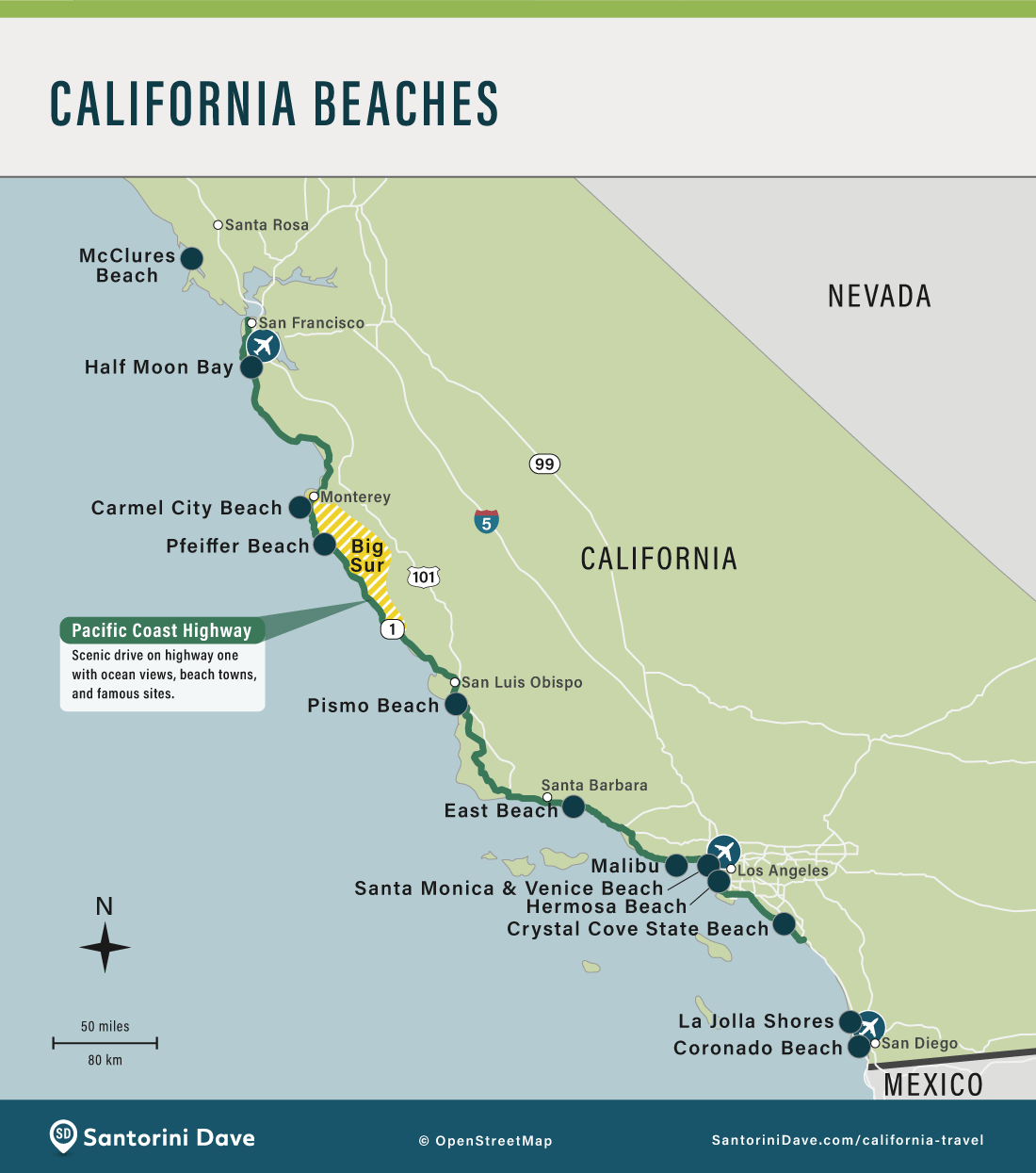 La Jolla Shores: The main beach near to chic La Jolla, north of San Diego, is great for surfing, bodyboarding, and kayaking.
Malibu: Some of the famous beaches in the US are in Malibu; modern surfing emerged on Surfrider Beach and movies such as Gidget (1959) were filmed here and at nearby Leo Carrillo State Park.
Pfeiffer Beach, Big Sur: Big Sur features some wonderfully wild beaches, but this is the best one, framed by giant dunes and massive rocks in the surf.
Half Moon Bay: We love this laidback beach community a short drive from San Francisco – the beach stretches for over 4 miles and is completely undeveloped. Also home to the iconic Mavericks.
Pismo Beach: Another laid-back seaside town on the Central Coast, with a wide, sandy beach – it's best known for its local clams and the huge Oceano Dunes just to the south.
Hermosa Beach: Our favorite LA beach, with a lot less tourists than Santa Monica/Venice and a cool eating and drinking scene.
East Beach, Santa Barbara: Santa Barbara's biggest beach offers plenty of space but also loads of activities, from volleyball to windsurfing – it's also just steps away from the wineries of Funk Zone.
Crystal Cove State Beach: Gorgeous strip in Orange County, tucked away beneath a line of sandy cliffs.
Coronado Beach: Arguably San Diego's best beach, known for its sparkling sand (thanks to specks of mica, the sand literally glitters in the sun), family-friendly beach, and the elegant Hotel del Coronado (made famous by Marilyn Monroe in "Some Like it Hot").
Carmel City Beach: Blissfully undeveloped swathe of white sand with plenty of space and amazing sunsets – small beach fires are permitted at the southern end.
Santa Monica & Venice Beach: We had to include the state's most iconic beaches, home to famous piers, Muscle Beach, a packed boardwalk and a host of wacky characters – as well as a swathe of beautiful sand.
McClures Beach: This wild and remote beach is worth the effort; a short walk downhill after a long drive to the northwestern shore of Point Reyes National Seashore.

The whole of California is kid-friendly. And with great beaches, interesting history, a laid-back vibe, and incredible (and kid-friendly) food, the state makes an especially excellent choice for a family vacation. Though the major theme parks around LA are an obvious target – Disneyland, Magic Mountain and the rest – national parks such as Yosemite and Redwood have lots of interest and activities for kids. San Diego is crammed with family-friendly museums from Balboa Park to the San Diego Zoo, and boasts some of the best beaches. Kids also love the Golden Gate, cable cars, and crazy fog of San Francisco.

What are the Essential Things to Do in California?

Drive scenic Hwy-1 through Big Sur.
Visit San Francisco during Pride Week in June to see the city at its colorful, exuberant best.
Visit the Russian River Brewing Co to sample the world-famous "Pliny the Younger" beer.
Take a tour of Hearst Castle, William Randolph Hearst's lavish former home.
Take a guided tour of Palm Springs to take in America's greatest examples of mid-20th-century "Desert Modern" architecture.
Hike the challenging route to the top of Mount Whitney (14,505ft), the tallest mountain in the lower 48 states of the USA.
Sample a giant "super burrito" in San Francisco's Mission district.
Ride those still-iconic cable cars up and down the hills of San Francisco.
Spend a day visiting the museums of Balboa Park, San Diego.
Wonder at the sand-castle-like tufa spires of ultra-briny Mono Lake.
Visit celebrity chef flagships: California is a magnet for celebrity chefs. Pioneer Alice Waters still maintains Chez Panisse in Berkely; Los Angeles' Wolfgang Puck opened Spago in 1982. Also in Los Angeles is Nancy Silverton's Osteria Mozza. Michael Mina, Gary Danko, Niki Nakayama, and Dominique Crenn, are all based in San Franciso. Thomas Keller's The French Laundry in the Napa Valley is considered one of the finest restaurants in the US.
Hike the trails and giant monoliths of Yosemite National Park.
Drive historic Route 66: California has one the best stretches of the Mother Road as it slices across the Mojave Desert, home to the 1950s futurism of Roy's Motel & Café and the classic Wigwam Motel.
Go whitewater rafting on the Kern River (Kern Rafting and White Water Voyages).
Hang out on the Venice Beach boardwalk, home to skaters, Muscle Beach, and street entertainers.
Surf the gnarly breaks of Mavericks near Half Moon Bay.
Ride the Coast Starlight Amtrak train along the stunning section of coast between Santa Barbara and San Luis Obispo.
Visit the strange black volcanic landscape and explore the lava tubes of Lava Beds National Monument.
Spend a day soaking up the incredible art at LA's Getty Center.
Stroll among the tallest trees in the world at Redwood National & State Parks.
See the Los Angeles Philharmonic perform inside Frank Gehry's marvelous Walt Disney Concert Hall.
Drive, cycle, or hike across the Golden Gate Bridge.
Take a boat trip out to the untrammeled Channel Islands.
Sip cocktails in Hollywood's classic Musso & Frank Grill.
Visit the brand new Academy Museum in LA, shrine to Hollywood movie stars.
See the Lakers play basketball at the Staples Center in LA.
Visit Julian, an Old West town full of gold-mine relics, antiques, galleries, and the best apple pies anywhere.
Try and snag tickets to the Coachella or Stagecoach festivals.
Go rock climbing in Joshua Tree National Park.
Visit Badwater Basin in Death Valley National Park, the lowest point in the western hemisphere at 282ft below sea level.
Visit America's most infamous prison on Alcatraz Island.
View lounging elephant seals at Piedras Blancas.
Watch the San Francisco 49ers play football at Levi's Stadium.
Hike all or part of the John Muir Trail, a winding 210-mile path along the spine of the High Sierras.
Read More