SD › Fiji › Hotels › Grand West Villas Review
Updated: December 9, 2020
See Also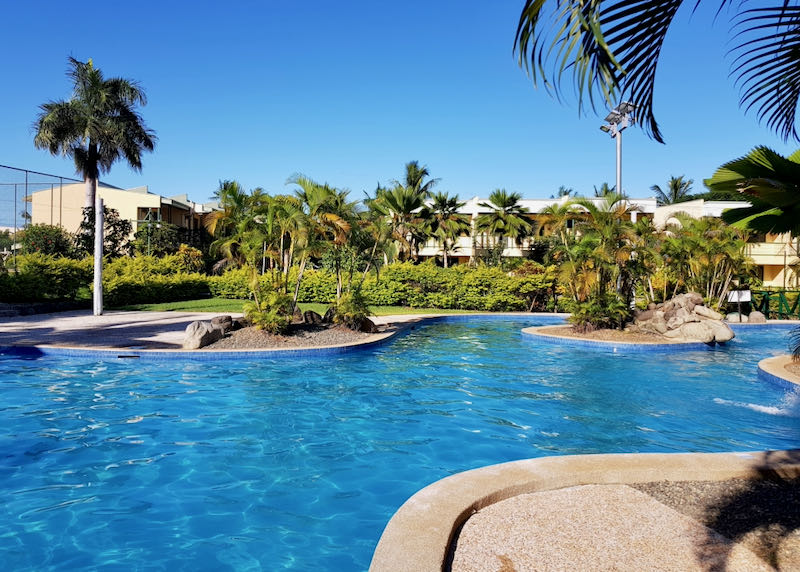 Grand West Villas – First-rate Fiji-style resort for families, serene and isolated.
On a substantial block along the road into Wailoaloa Beach, all accommodations are in attractive olive and mustard-colored two-level blocks facing the gardens. More like apartments than villas, each contains two bedrooms, a simple living/dining area, corner kitchen, and an extra bathroom. Adding to the appeal are the large balconies/patios, subtle Fijian-style décor, and big windows providing more light. There's a small playground and inviting pool with a shady tropical feel and modest water slide, as well as a tennis court. The resort backs onto the runway, so the ground shakes when an occasional jet arrives. It's a few minutes on foot to the beach and a little further to the main drag of eateries at Wailoaloa.
Grand West Villas – The Basics
Location: Along Newtown Road, the road into Wailoaloa Beach, on the main island of Viti Levu. Less than a 10-minute walk to the facilities at Wailoaloa. About 7 km from the airport and 5 km to downtown Nadi.
Guests: Caters for everyone but focuses on families, with perhaps more of an emphasis on Fijian guests than foreign.
Beach: Wailoaloa Beach is within a 10-minute walk, but the sand is grey, with plenty of debris lying about. But it's a great area for walks, sunsets and views.
Views: All accommodation overlook the gardens, and the windows at the back face additional gardens or undeveloped land.
WiFi: Available free to all guests throughout the hotel.
Parking: Huge block with plenty of parking, often outside the rooms.
How to Book: Booking.com will have the best rates.
Phone: (679) 672 4833
Website: hexagonfiji.com
Grand West Villas – Amenities
Pool: The pool is a very good size, away from most rooms, and shady. Also has a waterslide.
Spa & Fitness Center: Not expected or provided at a family-focused resort of this standard.
Private Pools/Jacuzzis: Not expected or provided.
Grand West Villas – Food and Drink
Restaurant: A modest restaurant serves breakfast and light lunches.
Breakfast: Not included because all rooms have kitchens, but breakfast is available at a cost in the café.
Room Service: Not expected or provided in this sort of resort.
Grand West Villas – Rooms
Room Types: All accommodations are twin-level apartments with 2 bedrooms and bathrooms.
Smoking Rooms: No smoking is allowed in any room, but is permitted everywhere else (except the restaurant).
Best Room: All accommodations are similar. The ones at the back, away from the road, are quietest.
Grand West Villas – What's Nearby?
Restaurants & Bars
Nearby Market or Grocery
A well-stocked mini-market is at the tiny shopping center at the junction into Wailoaloa Beach, opposite Awesome Grill.
Local Transport
Public buses and mini-buses pass the hotel on the way to Wailoaloa beach and downtown Nadi every 15-30 minutes, via the shops and cafés on Queens Road.
Grand West Villas – The Hotel
All Fiji Hotel Reviews
Read More