Home > Melbourne > Sofitel Melbourne on Collins Review
Updated: August 24, 2020
See Also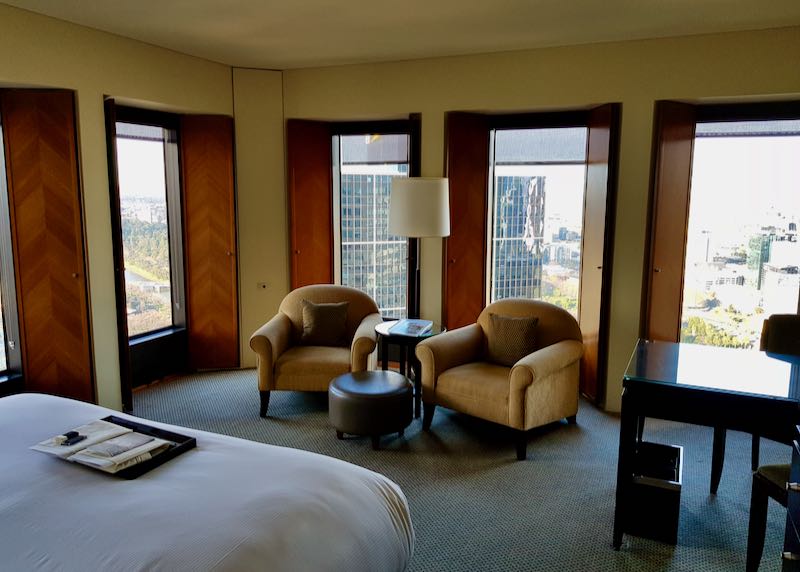 Sofitel Melbourne on Collins – Glorious high-rise on the city edge, with rare elegance and views.
With charm and style often missing in rivals, the Sofitel is genuinely sophisticated: it sponsors cultural events, regularly displays art in the lobby, and the staff greets guests with a hearty bonjour. With a city-fringe location, accommodations spread from the sixteenth to fiftieth floors and feature abundant floor-to-ceiling windows all over, so that every view is outstanding and among the city's finest. The rooms and suites are as wonderfully refined and beautifully furnished as expected of this luxurious chain, but there is no pool. Plenty of shops, bistros, and bars, as well as a cinema, are on the lower levels of the hotel building, and it's very close to theaters and the iconic Melbourne Cricket Ground (MCG).
Sofitel Melbourne on Collins – The Location
Address: 25 Collins Street, on the eastern edge of the city center. Part of Collins Place, a high-rise complex of shops, offices, and eateries. Reception is 1 floor above street level, but rooms start from the 16th floor.
Area: Fashionable, with a likable city-fringe vibe and big, beautiful parks nearby, the likes of which are not found elsewhere in the city center. Less than a mile from the Melbourne Cricket Ground (see below).
How to Get There: Taxis to/from the airport (14 miles, about 1-hour drive) cost around A$80. For about A$20, SkyBus (approximately every 10 minutes, 24/7) takes passengers from the airport to the Southern Cross train station (1.3 mile, 15 minutes by tram), but ask SkyBus about a free transfer from the station to the hotel. Otherwise, Starbus shuttles (5 am-10 pm daily) travel directly between the airport and hotel (about A$30).
Handy to: Melbourne Cricket Ground (see below).
Sofitel Melbourne on Collins – The Basics
Guests: Mostly business people during the week and those attending cultural and sporting events on weekends.
Pets: Not permitted.
Views: Among the finest in the city. Not within an overbuilt area, so views in all directions include the city streets dotted with historical buildings as well as parks and the Melbourne Cricket Ground (MCG).
Private Pools/Jacuzzis: A large jacuzzi in each Imperial Suite. No private pools.
Extras: All sorts of inclusions for Club Lounge members such as breakfast, light lunch, and evening drinks.
Wi-Fi: Available free throughout for all guests.
Parking: Valet parking underneath the hotel building. Costs sre not as high as elsewhere in the city center.
How to Book: Booking.com will have the best rates.
Phone: +61 (0)3 9653 0000
Email:

[email protected]

Website: sofitel-melbourne.com.au
Sofitel Melbourne on Collins – Amenities
Pool: Surprisingly, no pool. Simply no space, even on the rooftop which is on the 50th level.
Spa: None, but these are very rare at inner-city business hotels.
Fitness Center: Decent enough range of equipment and staggering city views.
Sofitel Melbourne on Collins – Food and Drink
Restaurants: No35 Restaurant – On the 35th floor, featuring panoramic views, refined French-inspired dining, and modern art lining the walls. Particularly impressive are the service and wine list. • Sofi's Lounge – Lobby level and packed with art; casual but stylish. For a wide selection of drinks and sumptuous morning and afternoon teas.
Bars: Atrium Bar on 35 – Attached to the restaurant and open daily from 5 pm. Stunning décor and views, and an extra-long list of local wines and boutique beers. Also, light meals.
Breakfast: Not included. Buffet breakfast can be paid for when booking or on the day.
Room Service: Available 24 hours.
Sofitel Melbourne on Collins – Rooms
Room Types: Classic Rooms • Superior Rooms • Luxury Rooms • Luxury Club Rooms • Junior Suites • Prestige Suites • Opera Suites • Imperial Suites
Smoking Rooms: No smoking allowed anywhere on the premises.
Best Room: The Imperial Suite provides luxuries such as a butler's pantry, dining room for 8, and a jacuzzi for 2 in the extra-opulent bathroom.
For Families: Not that well set up for families. Most rooms and suites can squeeze in an extra single bed, while a few also have connecting doors.
Sofitel Melbourne on Collins – Local Transport
Public Transport: Every few minutes, trams shuttle along Collins Street (and other roads) just in front of the hotel. Trams also head to suburban areas like South Yarra, Docklands, and St Kilda Beach. All trams are free within the city center and to Docklands. Two blocks west of the hotel is the major train station at Flinders Street (0.4 mile, 8-minute walk).
Sofitel Melbourne on Collins – What's Nearby?
Restaurants & Bars
Plenty to choose from (including a food court) along the ground and basement levels of Collins Place, the high-rise in which the hotel is located.
Pope Joan – Classy café alongside the hotel's main entrance. Al fresco terrace setting, but undercover and distant from traffic.
Roozervelts – Spacious café, bakery, and coffee shop inside Collins Place. Packed with workers eager for tasty burgers, salads, and pastas.
Howitt House – Very appealing street-side bistro virtually opposite the hotel. Light meals and world-class coffee. 1-minute walk (50m).
The George on Collins – Finest of several street-side cafés along this part of Collins Street. Colorful tables on the sidewalk and basement bar inside a restored historical building next to the Verandah Café. Contemporary cuisine. 5-minute walk (0.2 mile).
Verandah Café – Charming setting inside a historic church. Coffee and light meals at lunchtime. Pleasant stroll west down the street. 5-minute walk (0.3 mile).
Shops
The Sofitel is spread across the highest floors of a massive high-rise called Collins Place, which also features several levels of shops and eateries as well as a cinema. Fashionable boutiques, meandering arcades, and appealing department stores are in all directions, particularly along Bourke Street, 2 blocks north of the hotel (0.2 mile, 4-minute walk).
Attractions
Sofitel Melbourne on Collins – The Hotel
All Melbourne Hotel Reviews
Read More