Home > Pal Haveli Hotel Review
Updated: October 9, 2019
See Also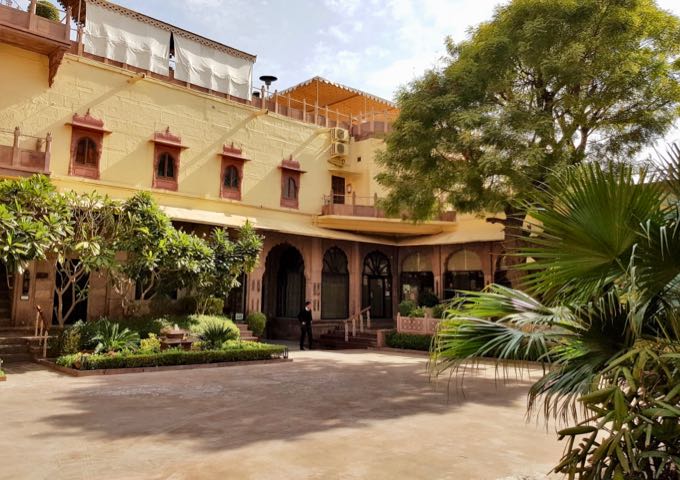 Pal Haveli – So convenient, historic, and graceful – more like a museum than a hotel.
Almost two centuries old, this instantly likable hotel/guesthouse offers only twenty-one rooms. Most overlook the shady central courtyard, while others face another courtyard overflowing with antiques reminiscent of a movie about British India. Each room is lovingly and individually decorated with heirlooms from the Pal family which has lived in and operated the hotel for generations. The restaurants provide uniquely expansive city views because the haveli (inn) boasts arguably the premier location in Jodhpur: deep within the Old City and close to the iconic Clock Tower and Sardar Market, which is so pleasingly clean, quiet, and hassle-free.
Pal Haveli – The Location
(Not to be confused with the attached, associated, but separately-run Haveli Inn Pal.)
Address: In the northern part of the Old City called Makrana Mohalla. Opposite Sardar Market, with the landmark Clock Tower in the middle.
Area: Optimal area within the Old City. Historic, with the finest market, some colonial-era buildings, and many inviting cafés and shops within a short walk.
How to Get There: About 6km (14-minute drive) from the airport. At the attractive (and low-key) terminal, there are pre-paid booths for taxis and auto-rickshaws, but note: taxis cannot enter this part of the Old City. The train terminal (1.7km, 8-minute drive) and main bus station (2.4km, 9-minute drive) are also quite convenient, and best accessed by auto-rickshaw.
Handy to: Sardar Market. Old City. Mehrangarh Fort.
Pal Haveli – The Basics
Guests: Most seem to be older, perhaps 50-plus, who appreciate the historic setting and convenience.
Views: Vary considerably. Rooms on the ground floor are dark and have limited windows. Even those on the higher floors don't offer terrific views. The setting and history are the main selling points.
Private Pools/Jacuzzis: Not expected or provided at a historic inner-city hotel like this in Jodhpur.
Wi-Fi: May not extend from the lobby area to the rooms. Check with the management.
How to Book: Booking.com will have the best rates.
Phone: +91 (0)291 653 3328
Email:

[email protected]

Website: palhaveli.com
Pal Haveli – Amenities
Pool, Spa, & Fitness Center: Not expected or provided.
Other Facilities: Laundry. Souvenir shops.
Pal Haveli – Food and Drink
Restaurants: Indique – Rooftop with 360-degree views of the fort, market, and streets. Especially romantic when the fort is lit up after sunset. Bar attached. • Jodhana – Indoors and air-conditioned, with less interesting views of the stagnant lake. Traditional food and attentive service.
Bar: 18th Century Bar – Packed (perhaps overly so) with antique furniture for a quintessential colonial-era experience.
Breakfast: Included in all rates.
Room Service: Available 24/7.
Pal Haveli – Rooms
Room Types: Heritage Rooms • Royal Heritage Suites • Historical Suites. Other less expensive rooms are in the attached Haveli Inn Pal.
Smoking Rooms: No smoking in the rooms or public areas.
Best Room: The Historical Suites are the most spacious and most likely to offer views of the streets and market from a higher floor.
For Families: Not really set up for families. The only option is 2 adjoining rooms (but not with connecting doors).
Pal Haveli – Local Transport
Walking: The Old City is fascinating to wander around, but there are no sidewalks, so pedestrians share the scarily narrow streets and alleys with maniacal motorcyclists and anarchic auto-rickshaw drivers. Watch out for huge piles of fresh cow dung.
Public Transport: Nothing of use for tourists anywhere in Jodhpur.
Taxis & Auto-rickshaws: Taxis (unmetered) can be ordered through the hotel for day-trips, but can't possibly enter the Old City. Auto-rickshaws are good enough for going anywhere in Jodhpur, and can be found around Sardar Market, about 50m from the hotel gates. Taxis and auto-rickshaws can also be ordered through the Uber app.
Pal Haveli – What's Nearby?
Restaurants & Bars
Shops & Markets
Nicest area in the Old City, with several shops that could even be labeled 'chic' – especially around Stepwell (250m away). Sardar Market, barely 50m from the hotel gates, is clean, quiet, and hassle-free, so it's fun to explore. Based around the iconic Clock Tower, the market is open all day every day. 1-minute walk
Attractions
Pal Haveli – The Hotel
All Jodhpur Hotel Reviews
Read More