Home > Alex Hotel Review
Updated: September 25, 2020
See Also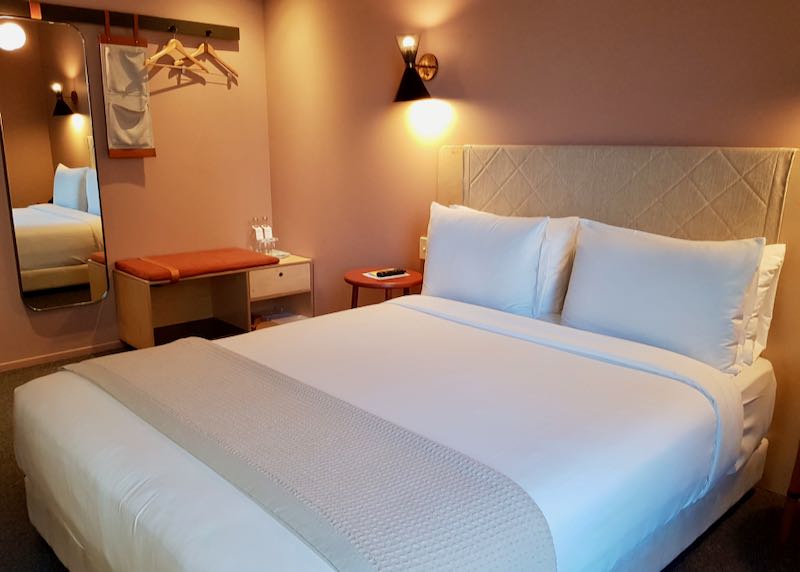 Alex Hotel – So agreeably convenient, arty, and affordable.
The Alex stands tall on a quiet corner along a dead-end street in a fashionable suburb of inner-city Perth. The hotel is so relaxed, funky, and personable, and is much more appealing than most large international-brand hotels in downtown only 10 minutes away on foot. Rooms are very comfortable and feature a contemporary, even minimalist, décor that includes hand-crafted furniture – and a few have balconies with views of the numerous cultural buildings nearby. Adding greatly to the appeal are the ground-level café, communal bar and lounge with a terrace, and free bicycle rental. And with no pool or gym, the rates are low.
Alex Hotel – The Location
Address: 50 James Street, Northbridge. Where the street merges into James Street Mall (a pedestrian street).
Area: Likable and quiet area with the state library, art gallery, and museum within a short stroll, as well as a few sleazy nightclubs nearby. About 10 minutes on foot from the city center.
How to Get There: Confusingly, there are 4 terminals across the separate (but nearby) international (10 miles, 30-minute drive) and domestic (8 miles, 30-minute drive) airports. Main options are door-to-door shuttle buses by Perth City Shuttle or Just Transfers and taxis for about A$50. (See 'Local Transport' below for more information about taxis and ride-shares.) Also, express public buses (45-60 minutes) #380 (for Terminals 1 and 2) and #40 (for Terminals 3 and 4) stop at the Elizabeth Quay Bus Station, accessible by the free Blue Cat bus (0.8 mile, 18 minutes). Free shuttle buses operate 24/7 between the 2 airports. Note: Always double-check which terminal your flight arrives at/departs from.
Handy to: Western Australian Museum. Art Gallery of Western Australia. State Theatre Centre of WA. State Library of Western Australia. Perth Institute of Contemporary Arts.
Alex Hotel – The Basics
Guests: Probably appeals more to younger guests. Not for families, but great for business people.
Pets: Only service animals (e.g. guide dogs) allowed.
Views: Not a selling point, but there are decent views of the streets and heritage buildings nearby because there are just a few high-rises alongside the hotel.
Private Pools/Jacuzzis: Certainly not expected (or provided) at this sort of inner-city boutique hotel.
Extras: Free bicycle rental.
Wi-Fi: Available free throughout for all guests.
Parking: Not available on-site. Ask management about discounted and secure parking next door. Otherwise, park along nearby streets, but fees and time limits apply.
How to Book: Booking.com will have the best rates.
Phone: +61 (0)8 6430 4000
Email:

[email protected]

Website: alexhotel.com.au
Alex Hotel – Amenities
Pool & Spa: Not expected (or provided) at this sort of inner-city boutique hotel.
Fitness Center: None on-site, but unlikely anyway at such a small hotel.
Other Facilities: Laundry/dry-cleaning.
Alex Hotel – Food and Drink
Restaurants & Bar: The street-side Lobby Café offers a likable bohemian vibe similar to the rest of the hotel. The bar upstairs has a fabulous terrace and uses an 'honor' system where guests serve themselves and pay when checking out. At the back of the hotel is the stylish Shadow Wine Bar & Dining Room.
Breakfast: Not included in the rates but available for an extra cost. Guests rave about the variety and taste of the homemade items.
Room Service: Limited service available during café hours of 7 am to 7 pm.
Alex Hotel – Rooms
Room Types: Double Rooms
Smoking Rooms: No smoking allowed anywhere on the premises.
Best Room: Most rooms are the same. The best are on the higher floors – more distant from the road (which is very quiet) and offering more impressive views.
For Families: Not really set up for families. Better options elsewhere, e.g. the nearby DoubleTree by Hilton hotel (reviewed here).
Alex Hotel – Local Transport
Walking & Cycling: With flat streets and plenty to see, Northbridge is a pleasant area for walking. Guests can rent bicycles from the hotel for free, but with some traffic and frequently congested footpaths, Northbridge is not great for cycling. Far better is the fabulous 17-mile-long Perth Discoverer trail that meanders through the massive Kings Park, around the edges of the city center, and along the foreshore of Swan River.
Buses & Trains: The excellent public transport system includes free Blue CAT bus service that loops around Northbridge and connects to the city center and Elizabeth Quay every few minutes daily from about 7 am to 7 pm (until later on Fridays and Saturdays). The hotel is also close to the highly-organized Perth Busport terminal (0.2 mile, 4-minute walk) which offers bus services across Perth, including to Scarborough Beach. Trains run from Perth Station (0.3 mile, 6-minute walk) to the rejuvenated port and seaside district of Fremantle.
Taxis & Ride-shares: There are plenty of taxis along the city streets, or organize a pick-up through the 2 major companies: Swan Taxis (phone 131330) and Black & White Cabs (phone 133222). Ride-shares are also available through Uber, Ola, and DiDi.
Alex Hotel – What's Nearby?
Restaurants & Bars
A fabulous choice all over Northbridge. Most restaurants sell alcohol and all pubs serve meals.
Shops
Attractions
The hotel is within an art and cultural precinct that is home to, among others, the: Western Australian Museum (in the Perth Cultural Centre, 150m, 2-minute walk), Art Gallery of Western Australia (0.2 mile, 4-minute walk), State Theatre Centre of WA (100m, 1-minute walk), State Library of Western Australia (0.1 mile, 3-minute walk), and Perth Institute of Contemporary Arts (100m, 1-minute walk).
Alex Hotel – The Hotel
All Perth Hotel Reviews
Read More