SD › Southeast Asia with Kids
Updated: March 2, 2020
See Also
Family Travel in SE Asia
Southeast Asia is an incredible destination for kids and families. I've been all over the region and have a good feel for the places to go and the over-rated destinations to avoid. There's lots to see so let's take a look at some of my favorites places in southeast Asia.
One Essential Tip
I could give lots of tips for traveling to Southeast Asia with kids but I'm going to mention just one here because I think it could make a huge difference in planning your trip.
Try to arrive and depart from different cities. For example, fly to Bangkok, visit the islands of Thailand, then Penang and Kuala Lumpur, before finishing in Singapore and flying home from there (instead of wasting time and money by returning to Bangkok to fly home). Of course, this advice is less likely to apply if you're doing a short one-week holiday, but if you're there for a longer stretch of time it's close to essential.
Southeast Asia lends itself to this open-jaw method of traveling. The typical must-see cities, attractions, and resort islands stretch along single routes of roads and rail. The most visited places – from Bali to Singapore up to Bangkok and over to Vietnam and onto Hong Kong – form a sort of crescent shaped route for travelers.
Where to Go in Southeast Asia – The Highlights
Ubud, Bali, Indonesia

Bali is great for families. And to be honest the kids would probably enjoy one of the beaches (Jimbaran, Sanur, Nusa Dua) more than Ubud. But travel should be about compromise (primarily for my kids, then my wife, rarely me) and if there's one cultural destination in Southeast Asia that works really well with children then it's Ubud.
Most of the Balinese shows (dancing, singing, theatre) are bright, loud, energetic – and outdoors – making them perfect for children. The climate is cooler than the rest of Bali and the high number of expats ensures there is lots of good food – and great bakeries – that kids will enjoy. Most mid-range and luxury hotels have a swimming pool and a range of walks and hikes – from easy to more challenging – that weave in and out of the local rice paddies.
Further Reading:
Singapore
Singapore is loaded with fun activities for families. It's easy to get around, has colorful neighborhoods, and a mind-boggling array of food, shopping, and entertainment options.
Kids will be most interested in the Night Safari, Sentosa Island, and the Science Centre but you could spend a week here and not be bored.
Further Reading:
Penang, Malaysia
Somewhat like Singapore but smaller and friendlier, with a more Old Asia feel. This is a place you could easily spend several weeks or a month to relax – settling in and getting to the know the local people, customs, and slow pace of life.
Food is important in Penang so this is a place to explore different cuisines with a open-minded and fun curiosity.
Further Reading:
Railay, Thailand
This is my favorite beach in Southeast Asia and it's a perfect destination for kids. (Actually, there are 2 beaches here – both are fantastic and very kid-friendly.) Railay is only accessible by boat from Krabi or Ao Nang which ads some drama and sense of adventure to your arrival. (Luggage often has to be carried overhead as you hop from the boat into the shallow waters of the beach.)
There are no cars within the town and it's crisscrossed not by roads but sandy paths leading from one beach to another. Kids love it here.
Further Reading:
Koh Pha Ngan, Thailand
The perfect Thai island that offers a bit of everything at a slower pace than nearby Koh Samui. Haad Rin is party central – renown for Southeast Asia's biggest Full Moon Party – but get away from there and things change dramatically.
The nicest beaches can be found along the north coast of the island. It requires a bit of a trek by car or pick up truck to get there but if you're looking for what Thailand was like 20 years ago this is as close as you can get.
Further Reading:
Chiang Mai, Thailand
Bangkok meets mountain village. Chiang Mai is a hip urban destination – with many expats wandering the streets – but with great outdoor excursions just a short drive away. Do a collection of day trips or take a longer tour through one of the many trek operators found here.
Riding an elephant is usually at the top of most kids to-do list (it was for mine) and that's easily accomplished in the Chiang Mai region. The overnight train ride from Bangkok is another sure bet to be popular with the whole family.
Further Reading:
Bangkok, Thailand
Southeast Asia's most exciting and dynamic city. From fantastic street food to gritty canal trips, from stunning palaces to the ultra modern sky train, Bangkok flat out wowes you.
You could spend a week here doing fun family-friendly attractions and day trips so don't dismiss the nation's capital as just another dirty busy transit hub.
Further Reading:
The Mekong Delta, Vietnam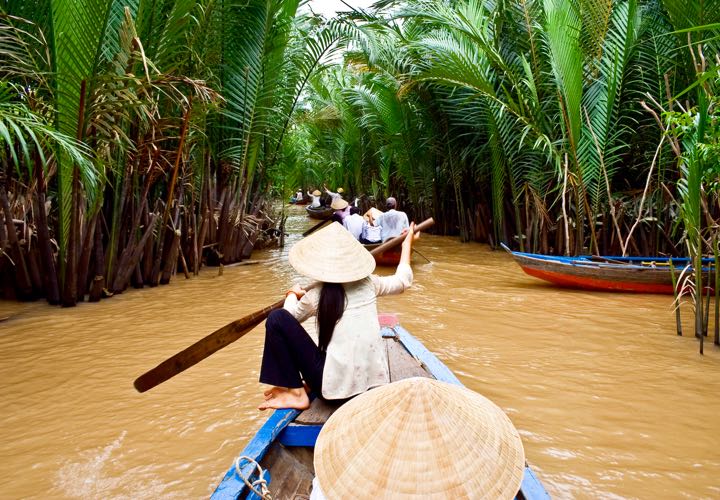 A great region for getting off the beaten track, traveling like the locals do, and seeing true Vietnamese life. You can criss-cross the delta by bus, boat, or even bike (it's so flat that this is a popular destination for touring on 2 wheels).
The stunningly beautiful Phu Quoc islands rests just off the Mekong's west side and makes a great detour for some family beach time.
Further Reading:
Hanoi, Vietnam
The tangle of lanes and narrow streets that makes up Hanoi's old quarter is the stuff of asian legend and will likely make for a day of adventurous exploration for older children. A (very popular) water puppet show, kid friendly parks, exotic markets, numerous ice cream shops, and a waterslide park that looks out over rice paddies are some of the many highlights.
The overnight train ride to Hoi An or a night or two touring Halong Bay by boat are enticing sidetrips from the city.
Further Reading:
Hong Kong, China
Not truly in SE Asia but it's a popular stopover and gateway city for people heading farther south so I've included it here. The city has an amazing array of attractions that are kid-friendly, uniquely Asian, and easy to explore from the city center.
Further Reading:
Read More