SD › Vanuatu Hotels › Poppy's on the Lagoon Review
Updated: January 6, 2021
See Also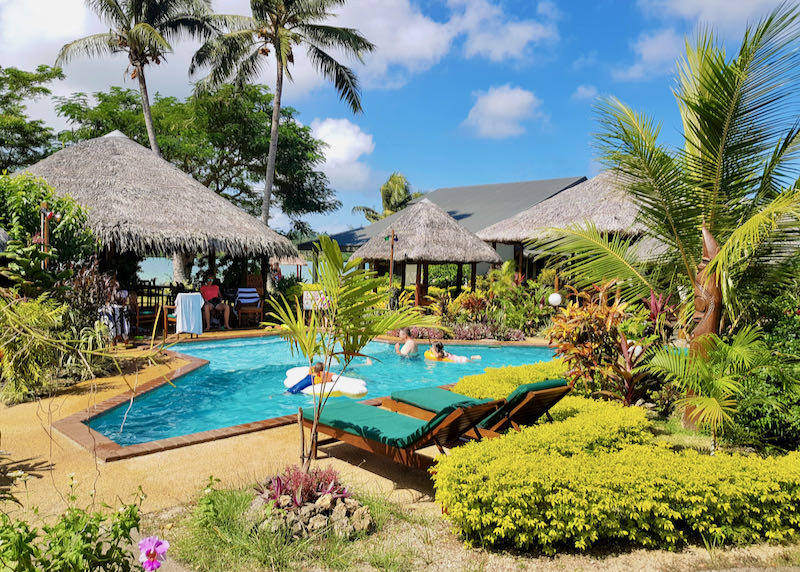 Poppy's on the Lagoon – Tranquil, stylish, and water's-edge, with a rare beach.
Claiming prime position between a suburban street and Erakor Lagoon, the tropical setting of this boutique resort is instantly appealing. Offering a huge array of accommodations, it seems unofficially split into two sections. Most families stay in the bungalows and apartments clustered tightly together around the main pool, which is surprisingly small. They are all spacious inside, with kitchenettes and substantial patios/balconies, though not all have air-conditioning. Spread further up the hill, the villas and suites offer better views (which could be blocked by trees) and proximity to the adult's-only pool. Almost unique in the region is the sizable beach.
Poppy's on the Lagoon – The Basics
Location: On the other (eastern) side of the peninsula from Port Vila, in the suburb of Seaside on the main island of Efate. About 100m down a lane off Captain Cook Avenue. A 20-minute walk from downtown Port Vila and a 20-minute drive from the airport.
Guests: Caters very well to families, as well as to adults without children.
Beach: Remarkably, there is a beach which is small but clean and shady. It faces a lagoon, which is nothing like those in Fiji or Tahiti. In fact, the water resembles a river, with mangrove banks 200m away.
Views: Only those up the hill could offer possible water views, which may still be partially blocked by trees, while most alongside the lagoon don't directly face the water.
Wi-Fi: Free around the restaurant/pool areas, but a considerable cost for use in the rooms.
Parking: Probably enough spaces at the street-side lobby area.
How to Book: Booking.com will have the best rates.
Phone: (678) 23425
Email: info@poppys.com.vu
Website: poppys.com.vu
Poppy's on the Lagoon – Amenities
Pool: 2 pools: 1 for adults and 1 for families, each admirably distant from the other.
Spa: The modest but impressive spa offers the usual massages and other treatments.
Fitness Center: None.
Private Pools/Jacuzzis: None have private pools, but some bungalows have jacuzzis.
Activities: Free hire of kayaks and snorkeling gear. Also activities for families, including art classes and canoe trips.
Poppy's on the Lagoon – Food and Drink
Restaurant & Bar: The Leaf Restaurant is renowned across the island for western favorites like banana pancakes, and is a great place to try traditional food. The menu is a little limited, but the themed buffet nights are certainly worthwhile.
Breakfast: Rates include a continental buffet breakfast.
Room Service: Available during restaurants hours – 8 am and 8 pm.
Poppy's on the Lagoon – Rooms
Room Types: Lagoon View Studio • Beachfront Spa Bungalow • Garden View Bungalow • 2 Bedroom Lagoon Suite • 3 Bedroom Beachfront Villa • 3 Bedroom Lagoon View Apartment
Smoking Rooms: Smoking is not allowed in or anywhere near the rooms or public areas.
Best Room: Families would probably veer towards accommodations with 2 or 3 bedrooms. Otherwise, the best would be the adults-only and well-named Beachfront Spa Bungalows. With a kitchenette, air-conditioning, jacuzzi, and balcony offering stunning views of the sea, which is almost within touching distance.
For families: Most of the accommodations have 2 or 3 bedrooms, and all are equipped with kitchenettes.
Poppy's on the Lagoon – What's Nearby?
Best Nearby Restaurants & Bars
Nearby Market or Grocery
Minimarts are dotted along the main road, Rue Dartois, about 500m to the west towards Port Vila.
Local Transport
Plenty of public minibuses pass by along Captain Cook Avenue towards Port Vila. Hail one down at top of the lane to Poppy's.
Poppy's on the Lagoon – What's Nearby?
All Vanuatu Hotel Reviews
Read More