Home > Sydney > The Fullerton Hotel Sydney Review
Updated: November 24, 2020
See Also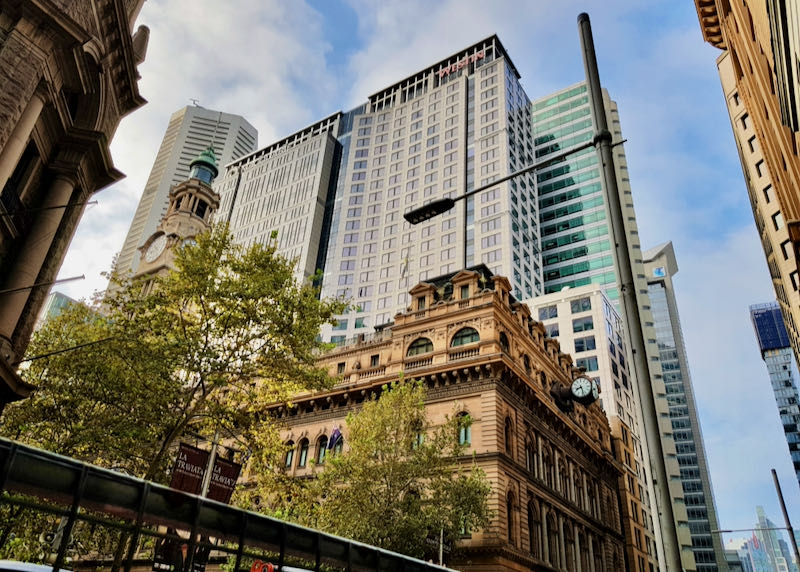 The Fullerton Hotel Sydney – Prime location, with luxury and character in a historic building.
The Fullerton Hotel (previously The Westin) offers a range of sumptuous rooms and suites based in and around the old Post Office (which still functions on the ground floor). Most rooms, however, are in the modern tower at the back with full-length windows that offer extensive city views. The Executive Suites are higher up for superior views, while the pick of the bunch, the Martin Place Suite, features a contemporary design and very spacious layout. Within the old three-level building, the Heritage Rooms are more charming, with high ceilings, old-fashioned furnishings, and original windows. The overall facilities such as the pool, spa, and gym are world-class, while the location facing a pedestrian mall in the city center cannot be faulted.
The Fullerton Hotel Sydney – The Basics
Location: No. 1 Martin Place, Sydney, probably the poshest address in the city.
Guests: Mainly caters for business people.
Pets: Staunchly a 'pet-free hotel'.
Views: Nothing much from the Heritage Rooms, but panoramic city views from most rooms which are in the tower.
Wi-Fi: Free for all guests throughout the hotel.
Parking: Self-parking costs A$68 per day; valet parking A$78 per day.
How to Book: Booking.com will have the best rates.
Phone: 8223 1111
Email:

[email protected]

Website: fullertonhotels.com
The Fullerton Hotel Sydney – Amenities
Pool: Large and inviting.
Spa: Endota Spa offers massages, facials, and loads more.
Fitness Center: Decent-sized gym open 24 hours. Jogging maps are available and running gear can be hired.
Private Pools/Jacuzzis: None.
The Fullerton Hotel Sydney – Food and Drink
Restaurant: The Place is inside the large historic courtyard. It exudes history and charm and offers modern Australian cuisine.
Lounge/Bar: The Bar is sectioned into The Lounge and The Room is appropriately named. In the courtyard atrium, it's ideal for cocktails, light meals, and afternoon tea, and features sophisticated music in the evenings.
Breakfast: Not included. Breakfast can be purchased when booking or separately.
Room Service: Available 24 hours.
The Fullerton Hotel Sydney – Rooms
Room Types: Heritage (Superior King/Deluxe King/Deluxe Twin) Room • Tower (Premier King/Premier Twin/Superior King/Superior Twin/Deluxe King/Deluxe Twin) Room • Executive (Superior King/Deluxe King/Deluxe Twin) Room • Deluxe Suite • Executive Suite • Heritage Long Suite • Martin Place Suite
Smoking Rooms: By Australian law, smoking is forbidden within hotel buildings.
Best Room: The spacious Martin Place Suite features a contemporary design and extensive floor-to-ceiling windows on level 31 for optimum views.
The Fullerton Hotel Sydney – What's Nearby?
Best Nearby Restaurants& Bars
Local Transportation
Several train stations are within a few minutes' walk.
The Fullerton Hotel Sydney – The Hotel
All Sydney Hotel Reviews
Read More