SD › Hawaii Best Hotels
Updated: April 12, 2022
See Also
Hawaii Hotels – Tips & Advice

Best Hotels in Maui: Four Seasons • Montage Kapalua Bay
Best Hotel in Oahu and Honolulu: Halekulani
Best Hotel in Kauai: Grand Hyatt Kauai Resort & Spa
Best Hotel on the Big Island: Four Seasons Hualalai
Best Boutique Hotel in Hawaii: The Surfjack Hotel & Swim Club (Oahu)
Best Secluded Hotel in Hawaii: Hana Maui Resort (Maui)
Best Honeymoon Hotels in Hawaii: Hotel Wailea (Maui) • Holualoa Inn (Big Island)
Weather in Hawaii is great year-round, but ocean activity does vary. Waves tend to be bigger in the winter, especially on the northern shores of the islands – sometimes up to 50 feet. This is excellent for pro surfers, but not great for beginning swimmers. For calmer waters, come in the summer.
Whale watching is best in winter. Though you can sometimes spot whales from the shores, it's best to take a boat tour. Travelers who get motion sickness should choose a larger boat for a smoother ride. (Remember, in winter waves will be bigger.)
The best islands for foodies are Oahu and Maui; the best for nature are Big Island and Kauai. For honeymoons and romance, Maui offers a great mix of beaches, resorts, food, activities, and quiet escapes.
Inter-island flights are usually under $100 and around 30 minutes, except to and from Lihue. It's worth considering a flight to Hilo on the Big Island just to see the volcano, even if staying on another island.
The 19 Best Hotels in Hawaii

Hotel phone: 808-325-8000
Oceanfront, luxury bungalows with nature-inspired décor. Spacious rooms, suites, and villas are available, all with balconies and many with outdoor, lava rock showers. Grounds feature seven pools, including one stocked with wildlife for snorkeling. The resort sits on a stunning white sand beach with manmade coves. Six restaurants and lounges offer casually elegant dining and sunset views.

Hotel phone: 808-874-8000
Three saltwater pools, oceanfront and indoor spas, and a prime location on the south end of Wailea Beach Path, the elegant Four Seasons is the top choice on the South Maui coast. Rooms and suites are spacious, and all include generous private lanais, air purification systems, and marble bathrooms with double vanities and separate baths and showers. Dining and drinking are phenomenal at the resort's four restaurants and two bars, and room service is available 24 hours a day.

Hotel phone: 808-923-2311
Subtle luxury for the cultured traveler, featuring tranquil and spacious white palette rooms and suites. Halekulani is an exquisite oceanfront, high-rise resort on Waikiki Beach, with onsite haute cuisine and upscale boutiques, set close to Honolulu's best shopping and nightlife. Guests receive complimentary admission to several arts and cultural events, including the Honolulu Museum of Art, Iolani Palace, and Hawaii Symphony Orchestra.

Hotel phone: 808-875-1234
Neoclassical luxury with tropical touches, perfect for families. Every generous room, suite, and villa has a private balcony and plush furnishings. It is located on a sandy beach, perfect for swimming, and also houses a pool complex that includes nine pools connected by a lazy river and complimentary scuba lessons. Outstanding food and drinks, especially at their signature restaurant Humuhumu's. The Wailea walking path runs directly in front of the hotel and connects with several great restaurants and wonderful beaches.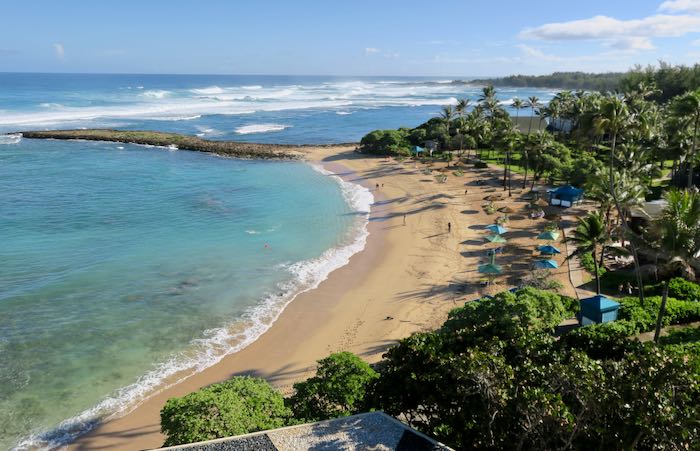 Hotel phone: 808-674-6200
My favorite family resort in Hawaii. Awesome location among the north coast villages with a private beach and huge pool. There are surf lessons for all ages, a golf course, bike rentals, and snorkeling. Family suites are great or splurge on the 3 or 4 bedroom villas with ocean views. Roy's Beach House has great food, drinks, beer, desserts, and a fun beach-bar vibe. This is a wonderful kid-friendly beach resort for people who don't really like resorts.

Hotel phone: 808-662-6600
An all-suite, beachfront, luxury resort, the Montage offers modern elegance with subtle, island details. Graceful suites range from one to four bedrooms. All include full kitchens, private lanais, and marble bathrooms. Sumptuous dining onsite, tiered infinity pool, and large guest rooms make this a perfect stay.

Hotel phone: 808-922-3111
This historic, plantation-era resort is the embodiment of classic luxury. Featuring stately columns, rich hardwoods, and graceful archways, the Moana Surfrider stands in impressive contrast to the surrounding high rises. Built in 1901 and located in the heart of Waikiki, this distinctive gem sits just feet from the ocean and within walking distance to Honolulu's best shopping, dining, and nightlife.

Hotel phone: 808-923-8882
A brand new boutique hotel with rooms and suites in an elite surfer chic theme, blending contemporary Honolulu style with '60s surf nostalgia. Bright murals, surf and graffiti art installations, and a hand-painted swimming pool make this little hotel a hub for local trendsetters. Onsite events include live music, DJs spinning vinyl, kids' dance parties, and open discussions with artists, filmmakers, professors, and more. Dining is divine here at Chef Ed Kinney's fourth restaurant, Mahina & Sun's.

Hotel phone: 808-573-1234
Stylish resort on Mokapu Beach with a young vibe. Clever design elements include a lobby sandbox with columns and wrought iron beams, glass showers with ocean views, and four infinity pools cascading toward the Pacific. They offer a great cocktail program, where fruits are squeezed daily for housemade syrups and bitters. Walking distance to luxury shops and dining.

Hotel phone: 808-742-1234
This sprawling oceanfront resort blends classical design with plantation accents. Chandeliers hang from vaulted ceilings with exposed beams; breezy rooms feature coral and jewel tone accents with marble bathrooms. Lush florals bloom around freshwater pools and saltwater lagoons right up to the sparkling white sands of Shipwreck's Beach. Some of the finest dining on the island is available onsite.

Hotel phone: 808-324-1121
This elegant plantation home in the mountains of Kona offers a variety of accommodations, from rooms to suites to a cottage, in a tasteful fusion of Polynesian and Southeast Asian décor. The property includes a mosaic tile pool and a hot tub overlooking the Pacific. The estate grows thousands of coffees, nuts, and fruits, which all become part of the gourmet, daily breakfasts here. An intimate experience with top notch service. Walking distance to art galleries, coffee farms, local fruit stands, and just a short drive to the coast.

Hotel phone: 808-674-6200
This family-centric Disney resort offers luxurious, Hawaiian-themed rooms, suites, and villas; some with kid-sized Murphy beds built into the TV stands. The main attraction here is the extravagant pool area with two waterslides, lazy river, aquatic playground, and private snorkeling lagoon. Little ones love the Disney character breakfasts and complimentary kids club activities. This beachfront property also features great restaurants and bars.

Hotel phone: 808-359-2401
Luscious accommodations in a remote spa retreat. Suites and bungalows are serene, beachy, and breezy, relying on trade winds and panoramic sliding doors rather than air conditioning. Situated at the end of the Road to Hana, the gated grounds make Hana Maui popular with families, as kids can run free with no worries. The only luxury resort in Maui that offers all-inclusive packages with meals, spa services, and activities.

Hotel phone: 808-828-8888
The amenities of a huge, luxury resort, scaled down to a boutique size. Ko'a Kea's décor thoughtfully blends modern sophistication with beachy textures. Rooms and suites showcase the island with sheer curtains and private outdoor spaces. View rooms come with telescopes. This little beachfront resort is home to Red Salt, one of the best restaurants on the island, as well as an organic spa, pool, and hot tub.

Hotel phone: 808-679-0079
Brand new luxury resort, blending classical sophistication with modern Polynesian style. Rooms feature playful accents, such as banana leaf headboards. This opulent oceanfront property has manmade lagoons, four pools, and two hot tubs. Complimentary beach amenities include Sunfish sailing boats. Onsite dining is superb and plentiful, with Fish House offering an outstanding happy hour and La Hiki serving up six different types of Asian cuisine.

Hotel phone: 808-874-0500
At this trendy, all-suite, adults only Relais & Chateaux resort, guests can borrow a roadster for an Island Safari in search of secret beaches or dine in a private treehouse. Electric bikes and Mercedes limo services transport guests around town or down to the beach. Onsite classes in mixology and aerials are offered regularly. Suites are all one bedroom and well-appointed with coral fossil walls and ohia woods.

Hotel phone: 808-885-2000
This resort blends timeless luxury in common areas with crisp, modern décor in rooms and suites. Accommodations are spacious and family friendly with a broad range of sizes and amenities. An expansive, 10,000 square foot pool fronts the ocean. Located at the north end of Waikoloa Village, this resort is close to dining and shops, yet removed from busy downtown.

Hotel phone: 855-939-3131
A collection of brand new luxury homes built on expansive grounds of lush, rolling hills, a huge farm and orchard for guest and restaurant use, a truly exquisite spa, and world-class golf. Spacious and private one to four-bedroom homes accommodate families of all sizes. Their property includes several cascading pools, a waterslide, and a game room with pool tables and more. The Lodge is only a short drive to Kukui'ula Bay, Poipu Beach, and the finest shopping and dining on Kauai.

Hotel phone: 808-943-4161
A cosmopolitan and contemporary high rise on the harbor. On the northwest end of Waikiki, the Modern is only steps away from the beach, as well as some of Hawaii's best shopping. Chic rooms and suites are available here, with textures of the beach worked into their design: weathered wood, sand colors, and sailing rope. There is a hidden bar behind a bookshelf in the lobby and the nightclub serves until 3 a.m.

Consistently rated one of the world's best islands, Maui offers a little something for everyone. For sheer variety of activities, this island is a great choice. Maui is best known for its long stretches of white sand beach, each with a distinctive mood, from big wave surfing to coral reef snorkeling, from beaches packed with partiers to secret coves where travelers can swim alone. This is the best island for winter whale watching, too; humpback whales especially like the channel between Maui and Lanai – sometimes they can be seen from the shore, but a boat tour is ideal for getting a good look at these magnificent creatures. Fantastic hiking and biking trails are here for exploring remote waterfalls, ancient petroglyphs, or the crater rim. Dining on Maui is outstanding, with an emphasis on locally sourced and fresh ingredients. You'll find great eateries island-wide, but they're most abundant in Paia, Lahaina, and surprisingly Kahului (this is where Chef Simeon's Tin Roof is, as well as Sam Sato's, the source of the island's dry mein craze). There are Luxury resorts and boutique lodging spread across the island, but each area has a different atmosphere, and choosing the best place largely comes down to personal preference: Kaanapali, Kihei, and Wailea are bustling with activity, Lahaina is historical and hip, Paia is surfy and artistic, while Hana and the Upcountry region are filled with rustic charm.

The Best Maui Hotels

The most urban and populous of all the Hawaiian Islands, Oahu is the best spot for travelers who prefer lively, active vacations over tranquility and calm. Skyscrapers line up on busy Waikiki Beach, where Duke Kahanamoku ushered in the era of modern surfing. Honolulu is the state's capital and cosmopolitan hub, bustling with a broad mix of arts, culture, food, shopping, and nightlife. Foodies, in particular, will love Honolulu's neighborhoods, which showcase an eclectic range of cuisine from many cultures. The Kaimuki and Kapahulu areas brim with the area's most exciting local farm-to-table restaurants, while Downtown has the best fine dining. Food trucks are cheap, delicious, and everywhere, but some of the best are at the Pau Hana Market in Waikiki. Live music is available every night of the week, and DJs keep the clubs hopping. Shop or window shop in luxury row or Ala Moana. In spite of all this activity, travelers are never far away from nature. Diamond Head park offers fun hiking with views of the city from the peak. Less than an hour's drive north in Hale'iwa are the world's most famous surf spots, Banzai Pipeline and Waimea Bay. This quiet surf town serves as a laid back, casual contrast to the bustling south side.

The Best Oahu Hotels

For rustic charm and striking landscapes, Kauai can't be beat. The oldest of the Hawaiian Islands, Kauai is home to stunning landscapes created over millions of years of erosion. This is the best island for nature lovers. Miles of beaches circle the island, many of them accessible only by hiking the sheer cliffs of the Na Pali coast or paddling around by kayak. Verdant rainforest and thick clouds cover the peak of Mount Waialeale, the world's rainiest spot, while only a few miles west, colorful Waimea Canyon opens up, arid and dusty. Its breathtaking terrain has long attracted Hollywood's attention: about 80 movies have been filmed here, including Jurassic Park and Raiders of the Lost Ark. Almost three-quarters of the land is inaccessible by foot and can only be seen by helicopter, which makes helicopter tours the most popular attraction island-wide. There are no freeways on Kauai, and much of the island is rural or undeveloped. Chickens are everywhere, and the wild rooster has become the unofficial state bird here. A few luxury resorts can be found in the Po'ipu and Princeville areas, but most of the accommodations here are boutique inns, B&Bs, and budget hotels concentrated on the eastern Coconut Coast. The island is small, though, so no matter where visitors stay, the farthest attractions are only about an hour's drive away.

The Best Kauai Hotels

The Big Island is the youngest in the Hawaiian chain and the only one with active volcanoes. As such, it has a very different feel to it than the rest of the islands. The landscape is rugged and sparse on much of the island with lava rock stretching for miles under a layer of volcanic fog ("vog" for short). There are fewer beaches here, and many of them are rocky; however, some of the clearest water in all of Hawaii is located off its western coast. Because of this, most of the island's resorts are clustered here, in Kailua-Kona and Waikoloa Village. The Big Island, though, is big! It is bigger than all of the rest of the islands combined and home to eight distinct microclimates. In around 90 minutes, travelers can leave the arid west coast behind for the lush rainforests of the east, near Hilo and Volcano. The east side offers some incredible boutique lodging, as well as some budget hotels, but no luxury resorts. Though Hilo is the largest city on the island, it retains a small-town feel and is a wonderful spot for cycling, as long as you aren't deterred by rain. Tons of volcano tours begin here, especially to Kilauea, the most active volcano in the world, which erupted nonstop from 1983 to 2018 and again in December 2020.

The Best Big Island Hotels
Read More