The Greece Travel Guide
About Santorini Dave
Updated: August 10, 2022
Where to stay:
• Athens • Crete • Milos • Mykonos • Naxos • Paros • Santorini
• Amalfi Coast • Barcelona • Dubrovnik • Florence • Istanbul • Lisbon • London • Madrid • Milan • Paris • Rome • Venice
Greece is my favorite country in Europe. It's loaded with great beaches (Naxos, Mykonos, and Paros have the best sand and swimming), fantastic historical sites (Athens, Crete, and Delphi top the list), and stunning natural beauty (Santorini, Milos, and the Meteora are my favs). The magical Greek islands are perfectly scattered for island hopping and adventure, while mainland Greece is packed with ancient cities and less-visited regions that will surprise and reward the unhurried traveler.

The 2022 Greece Travel Guide

Greece Travel Guides

Where to Go in Greece

When to Go to Greece

What to Do in Greece

Where to Stay in Greece

Where to Eat & Drink in Greece

The Best Beaches in Greece

Greece Travel Videos

The Best Hotels in Greece

Getting To & Around Greece

Frequently Asked Questions about Greece

See Also: Greece: Tips & Information for First-Timers

Where is Greece?

With a land area of over 50,000 square miles and a population of 10.7 million, Greece is located in Europe, at the southernmost tip of the Balkan Peninsula. Greece comprises a large mainland peninsula between the Ionian and Aegean seas, surrounded by an archipelago of about 6,000 islands, of which over 200 are inhabited. Sharing its northern land borders with Albania, North Macedonia, and Bulgaria, Greece us uniquely positioned at the intersection of Europe, Asia, and Africa.
What are the best things to do in Greece?

Our favorite things to do in Greece include exploring its ancient archaeological ruins and charming villages, enjoying the pristine beaches on the beautiful Greek Islands (and riding the ferries to get between them), savoring the delicious rustic cuisine and local wines, and enjoying spectacular Mediterannean sunsets.
Most people will fly from a hub in western Europe (usually London, Paris, Amsterdam, Berlin, Frankfurt, Rome, or Venice) to Athens, Crete, Santorini, Mykonos, Kos, Rhodes, or Corfu. If you're arriving from the east you could fly via Istanbul, Tel Aviv, Dubai, Mumbai, Delhi, or Singapore.

My top tip for choosing flights is to fly into and out of different airports so you don't waste time and money backtracking to your arrival point. For example, fly from London to Athens, then ferry to Mykonos, ferry to Paros, ferry to Santorini, then fly Santorini to London (and don't go back to Athens for your return flight). You may pay slightly more for 2 one-way tickets than a round-trip ticket, but it will be more than made up for by the savings for the extra ferry and hotel night.
To enjoy Greek beaches and hot weather, travel between June and September. For sightseeing, tours, hiking, and exploring the best months to go to Greece are late March to early June, and late September to and early November. Travel to the Greek Islands is not recommended between November and March; the weather will be gray, windy, and often rainy, and many most hotels and restaurants will be shuttered for the season. Athens is a good year-round destination; the weather is best in the spring and fall, but archaeological sites and museums are open throughout the winter, and there is the benefit of lower rates and thinner crowds in the off-season.

All the Greek islands are wonderful. Really! I have never met someone that went to an island and said, "what a mistake, big disappointment." It just doesn't happen. They're all different but all very special. Perhaps a better question is what are the best Greek islands for a first time visitor to Greece? For that I would answer Santorini, Naxos, Paros, and Mykonos. Crete is also great for first-timers but it's so big that it's good to do on its own or perhaps along with Santorini – not much more or you'll spread your time too thin.
How do you get between the Greek Islands?

Greek ferries are the primary mode of transport between the islands – especially for the islands in the Aegean (e.g. Santorini, Mykonos, Crete, Rhodes). There are also some flights between the islands and (more commonly) flights via Athens between different islands but these are expensive and have inconsistent schedules. For most itineraries, using the ferry is best. Ferryhopper.com is the best website to search for and purchase tickets for all Greek ferry routes.

What are the best places to visit in Mainland Greece?

I love the Greek Islands, but there are so many great places to visit in mainland Greece that it's worth making a trip to explore it all on its own. Just west of Athens is The Peloponnese, a vast peninsula peppered with romantic harbor towns, olive groves, and archaeological ruins. North of Athens are the ancient ruins of Delphi and the incredible clifftop monasteries at Meteora. In Greece's far north is the three-legged peninsula of Halkidiki, famous for its excellent beaches and mountain monastic republic.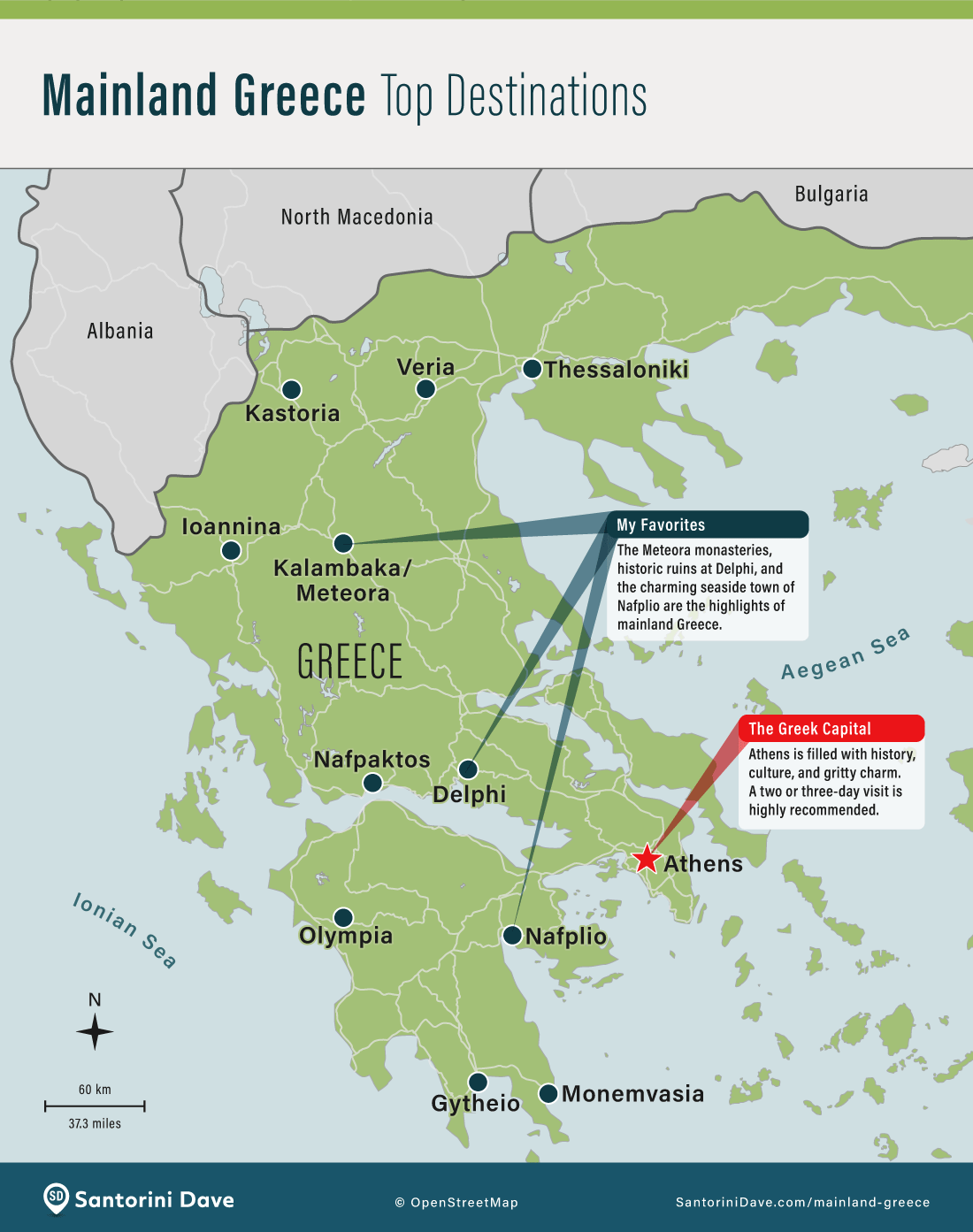 My favorite islands for beaches are Naxos, Mykonos, Paros, Ios, Rhodes, and Crete. But there are many more with wonderful beaches and every island has great swimming even when the beaches don't have the typical golden sand you're expecting. Outside of the islands, the Halkidiki region of northern Greece also has excellent beaches running all up and down the coast of its three popular peninsulas.

The whole of Greece is incredibly kid-friendly. And with great beaches, interesting history, a laid-back vibe, and incredible (and kid-friendly) food, the Greek islands are an especially excellent choice for a family vacation. Greek island hopping adds a bit of adventure to a family trip and an opportunity to see several very distinct destinations – plus, riding the ferry is always fun. My favorite island for families is Naxos, but there are many others that are also kid-friendly and great for families: Mykonos, Crete, Rhodes, and Corfu are four more islands that have great beaches, cool towns, and a friendly atmosphere.

What currency is used in Greece?

As Greece is part of the European Union, the currency used the Euro (€). Most major shops and restaurants across Greece accept credit cards, but there may be a minimum purchase required to use them. It is a good idea to have some cash on hand for bus trips and small purchases like bottled water and snacks. ATMs are plentiful in Athens and generally easy to find in most villages and beach towns across Greece. Tipping is not expected in Greek restaurants but is appreciated. Rather than a percentage of the bill, a restaurant tip in Greece can be a few Euros left on the table as a recognition of good service, or simply rounding up the tab to the nearest convenient amount.
Read More