SD › Barcelona › Barcelona with Kids
Updated: May 8, 2022
See Also
Recommended Tours & Tickets for Families
Top 9 Things to Do With Kids in Barcelona
The Author: David Brydon blogs at Barcelona, Spain. News, insights and tips.
The Catalan Capital of Barcelona is a popular destination for families and the city has plenty to offer the kids. Restaurants are open long into the night and it's common to see Spanish children out later than in other European cities. Here are my top nine attractions for children.

Barcelona has 9 UNESCO World heritage sites so there's no shortage of great culture. Gaudi's fantastic creation is something out of a fairytale, with Hansel and Gretel houses, ornamental dragons, and leafy plazas to take a rest. It is still one of the best things to do in the city for free, and my tip is to take the metro to Vallcarca and then the escalators up to the back of the park – then you'll see it all downhill at a stroll (it's on a pretty steep incline).

No visit to the city is complete without a stroll down this famous and wonderful boulevard. Starting at Plaça Catalunya and stretching down to the port, children and adults alike are treated to flower sellers, animal stalls, painters, artists, human statues and street performers. A must for everyone.

Perhaps an obvious one, but Barcelona has a fairly long stretch of coastline, and for city beaches, they're pretty darn good and certainly worth an excursion. The Olympic Village beaches are a little more child-friendly, with a spider's web climbing structure and a playground. Barceloneta is the old fisherman's quarters and has a great beach too.

The city is flanked by two mountains, and Montjuïc is the one looking over the sea. There are two cable car rides from Montjuïc – one which crosses the sea over to Barceloneta and the beach, and the second which transports you up to the old castle. Both offer great views of the city sprawling below and are a sure-fire hit with the kids.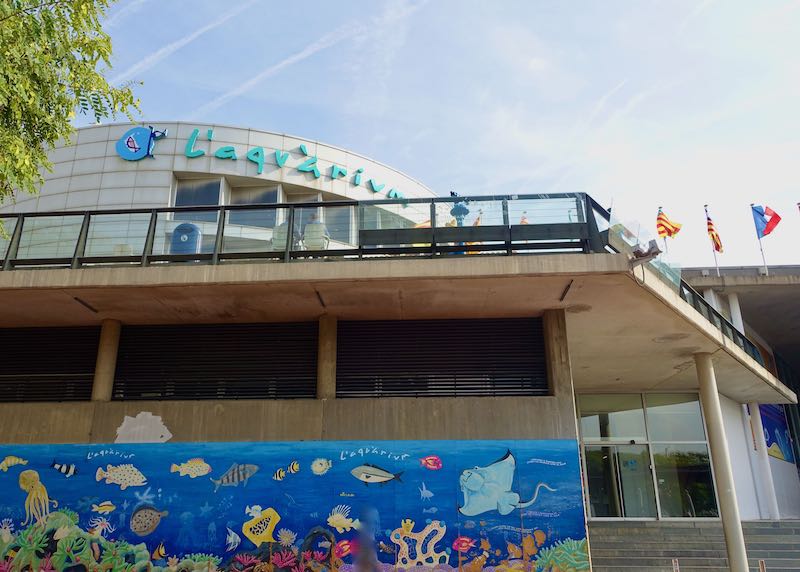 This is a fantastic aquarium. Boasting Europe's largest sea tunnel – like a perspex walkway where the sharks, rays, and moonfish swim above and around you – and a day's worth of tanks, special exhibitions, marine history, and some really funny penguins!

This park is a bit of a trek, but for older kids wanting a bit of fun, there is an amusement park at the summit. Many of the attractions are very tame, but there's a relatively new rollercoaster which darts through the surrounding countryside.

Another great place to escape the hustle and bustle with youngsters. The "Garden of Barcelona" not only houses the city zoo, but also has row boats, fountains, and plazas. Numerous play areas and a great life-size replica of a Mammoth are great for kids (children love to sit on the trunk) and there's always plenty of space for a relaxing picnic.

This is a great spectacle and should be on everyone's must-do list. Located at Plaça Espanya, the free nightly show features a water fountain that dances to lights and music. Though the fountain can be seen in the daytime sans music and lights, it's best to visit after dark to get the full experience of its over 4700 lights and 52-meter water jets. Shows take place year-round, last about 20 minutes, and start on the hour and half hour. During high season from June 1 to September 30 shows are held Wednesdays through Sundays (first show at 9:30 pm). During the shoulder season in April, May, and October shows run from Thursdays through Saturdays beginning at 9:00 pm. In the winter months from November through March shows are held Thursdays through Saturdays from 8:00 pm.
This final suggestion is not purely for the kids, but rather an inclusion of something that makes life easier visiting the city with kids, and that's the tourist bus (or Bus Turistic). This is a fun and easy way to see the city on the hop-on hop-off bus. Staff can help families on and off with pushchairs and strollers. The routes are color-coded (Red and Blue are the best, don't bother with the Green). The buses stop at all the major attractions. Barcelona's metro is fantastic, but little legs can rest on the tourist bus while still enjoying the sights of the city.
The Best Hotels for Families in Barcelona

18th-century palace-turned-luxury hotel offering stunning Family Apartments with 35 sqm of space vaulted ceilings, full kitchens, and balconies overlooking the bustling street or plaza below. Upgrade to a Jewel Apartment on the upper floor for 55 sqm of living space, a second balcony, and an outdoor jacuzzi. Perks include a rooftop lap pool, Catalan restaurant, and pet-friendly amenities.

Five-star seaside hotel featuring contemporary, minimalistic style. Executive suites sleep up to 4 and offer jetted bathtubs, living and dining areas, and private terraces. This posh hotel boasts a rooftop pool, Mediterranean fusion restaurant, and an outdoor terrace with live music and performances in the summer months.

Mid-century hotel directly across from the Barcelona Cathedral. The best family options here are the sunny Triple Rooms, two-room Junior Suites (for up to 4, with Cathedral-view balconies), Penthouse Family Suites (for up to 4, featuring 33 sqm interior space, and enormous 70 sqm terrace), and the two-room Grand Suite (for up to 4, with 70 sqm of interior space and 4 balconies). Beautifully located near the Gothic Quarter, the Picasso Museum, and La Rambla.

Elegant, modern-style hotel dating to 1903 with an outdoor pool in its garden courtyard, a Catalan restaurant, tapas bar, a full-service spa, and babysitting services on request. Family rooms sleep up to 5. An excellent buffet breakfast is included in the room rate. Located in the authentic, family-friendly El Raval neighborhood mere steps from Plaça de Catalunya and the Museum of Contemporary Art.
Hotels in Barcelona with Swimming Pools
Read More