Greece › Santorini › Best Places to Stay
Updated: October 12, 2023
By Santorini Dave
My Favorite Santorini Hotels
• Fira: Athina
• Oia: Katikies • Canaves
• Imerovigli: Grace • Astra
• Firostefani: Tsitouras
• Beach: Istoria
• For Families: Aria
• For Couples: Aenaon
• Best Pool: Nous
• Midrange: Enigma • Kavalari
The Best Areas to Stay in Santorini

See Also

• Best Hotels in Santorini
• Best Family Hotels in Santorini
• Santorini Maps

The volcanic island of Santorini is most loved for its dramatic landscapes and breathtaking views over the caldera, especially during sunset. To best absorb the legendary scenery, travelers should plan on staying on the northwestern side of the island in one of the four villages built on the side of the caldera's rim: the capital Fira, relaxed Firostefani, romantic Imerovigli, and upscale Oia. They each have different pros and cons, but most visitors, especially first-timers, will prefer to stay in one of these four villages. It's easy to walk between Fira, Firostefani, and Imerovigli but Oia is a two-hour hike (or 20 minutes by bus or taxi) north of Imerovigli so feels like a separate part of the island. The hike between these four villages is one of the highlights of a Santorini visit.

To avoid the crowds while still taking in the caldera views, stay in the stretch between Imerovigli and Oia or stay south of Fira in the cliffside hotels near Akrotiri, Megalochori, or Mesaria – though you'll want to rent a car to get around, as hotels along the southern rim of the caldera tend to be more isolated with little within walking distance (which is fine if you just want to spend most of your time by a pool enjoying the caldera views). The traditional, mountain village of Pyrgos is another excellent choice for a romantic atmosphere and sunsets, plus panoramic views over the whole island from its perch at one of the highest points in Santorini. Another traditional village, Megalochori, sits in the heart of Santorini's wine region with an alluring village center to explore.

In most other island destinations, the beachfront would be the most prized and expensive real estate. But in Santorini, where the caldera is the main draw, the beaches tend to be more affordable with hotels here offering larger rooms and much more privacy than those along the caldera. Kamari, Perissa, and Perivolos are the most popular beach towns on the island, with plenty of restaurants, beach clubs, water sports centers, an open-air cinema, and even a water taxi connecting the beaches. Most of Santorini's beaches are composed of black sand and pebbles and are situated along the eastern and southeastern coast of the island.
The main villages (Fira, Firostefani, Imerovigli, Oia) are located on the western edge of the island, perched on the caldera cliff, and look out towards the volcano. The caldera towns are trendier, the restaurants better, the clubs more sophisticated, and the hotels more luxurious – though there are some high-end hotels on the beaches, too. The beach towns are more relaxed, less expensive, and have a feel closer to that of other Greek islands. Pub grub is the rule at most (but not all) of the restaurants along the beaches. If you do stay at a beach hotel, Fira and the caldera are only 20 to 30 minutes away by car, while Oia is an additional 20 minutes away. The island is small, so it's easy to stay in one area and explore another. Many families prefer to stay in the beach areas for the kid-friendly hotels, restaurants, and activities and because the flatter landscape is easier and safer to navigate for children or those pushing strollers than the caldera's sheer cliffs and seemingly endless series of stairways.

Of any destination in Europe, Santorini is the one place where splurging on a great hotel is money well spent. In many hotspots (Paris, London, Rome), travelers spend the majority of their days out and about. But in Santorini, with those incredible views, it's common for people to spend a good chunk of their holiday lounging on their decks, jaw dropped, staring out into the caldera. Santorini is known for its fantastic hotels and the best luxury hotels on Santorini are essentially boutique hotels – small, privately-owned hotels. There are very few large, impersonal chain hotels in Santorini, and there are no all-inclusive hotels or mega-resorts.
The Best Places to Stay in Santorini
The Best Areas in Santorini for…

Most Romantic Places in Santorini: Oia and Imerovigli
With its sweeping views, cliffside footpaths, and iconic blue-domed churches, romance abounds in Santorini. Still, the villages of Oia and Imerovigli are the most suited for romantic getaways, honeymoons, and weddings. Oia is the most glamorous village on the island, with a wide marble path running for much of its length, the ruins of a 15th-century castle, and stunning sunsets at its western end. Imerovigli is a quieter village dotted with picturesque churches, filled with wonderful restaurants, and perched at the highest point on the caldera's edge, offering the best sunset views on the island.
Best Place in Santorini for First-Timers: Fira
Santorini is a small island with a reliable bus system. It's easy to stay in one area and enjoy the entire island, even if you're visiting without a car. That said, first-time visitors will have the easiest time exploring the island by staying in Fira. The capital of Santorini, Fira is the island's social, commercial, and transportation hub and the largest village on the caldera. Endless restaurants, bars, shops, and iconic domed churches and bell towers are built right into the cliffside in a picturesque maze of narrow lanes and stairways with sweeping views over the caldera, especially lovely at sunset. Attractions include The Archaeological Museum of Thera, The Museum of Prehistoric Thera,
Gyzi Megaron (Gizi Mansion), and the landmark Holy Orthodox Metropolitan Cathedral that sits on the main pedestrian path at the top of the caldera. Some of the island's best restaurants are here, ready to serve local specialties, like fava, tomatokeftedes, and of course Santorinian wine. All of Santorini's nightclubs (and most of its bars) are here, with upscale cocktail lounges on the caldera and more raucous pubs and dance clubs in a tangle of backstreets. Fira is also home to the main bus station; all bus routes begin and end here. If you don't plan on renting a car, Fira is by far the best place to stay to get out and explore the red and black beaches, wine country, ancient ruins, and traditional villages.
Best Place in Santorini for Nightlife: Fira
The vast majority of bars, lounges, and clubs in Santorini are located in Fira. High-end lounges and bars tend to be near the caldera where patrons can sip local wine and cocktails while taking in a colorful sunset over the sea. Farther inland in Fira are casual bars, dives, and nightclubs for stiff drinks, loud music, and all night dancing until 5:00 a.m. or later during the high season.
Best Places in Santorini for Caldera Views: Oia, Imerovigli, Fira, Firostefani, Akrotiri
The four most popular villages for travelers – Oia, Imerovigli, Firostefani, and Fira – all offer gorgeous views of the caldera. Hotels, restaurants, and shops in these villages are stacked in multiple levels hand-carved into the cliffside like a honeycomb, so that almost every place has an excellent view of the caldera below. At the south end of the island, the heart of Akrotiri village sits inland from the caldera, but many hotels are built along the caldera's edge just a short walk or drive away. The Akrotiri lighthouse at the far western point of the island is the most peaceful place to watch the sunset.
Best Places in Santorini for Sunsets: Imerovigli, Fira, Firostefani, Akrotiri, Oia, and Pyrgos
Though Santorini is known for its unparalleled sunsets, not everywhere on the island enjoys an unobstructed view of the sun sinking behind the sea. The single best area in Santorini for sunsets is Imerovigli, facing west at the highest point along the caldera. Firostefani and Fira also enjoy west-facing views of the sun setting over the caldera, but the vantage point is a little lower and the horizon not as expansive. Most of Oia (and most Oia hotels) faces south overlooking the caldera, and does not have a clear view of the sun setting into the ocean. There are a few hotels at the west end of the village with clear views of the sunset – but as a trade-off these hotels lack sunset views. Akrotiri hotels that are in the village will not have sunset views, but those on the caldera will. The lighthouse to the west offers gorgeous views of the sunset and much thinner crowds than the other caldera villages. Pyrgos sits at the highest elevation of all the villages and offers panoramic views over the whole island for sunsets and sunrises.
Best Places in Santorini for Shopping: Fira and Oia
Fira is the capital and largest village on the island with a wide range of shops to suit all tastes and budgets from gold jewelry to women's fashions, from whimsical souvenirs to locally-sourced, organic foods. Shops tend to be inland away from the caldera in a bustling tangle of narrow footpaths, though a few shops are scattered down the caldera cliff in between restaurants and bars. Shops stay open well into the night in Fira. Oia also has plenty of shopping, mostly in high-end fashion boutiques featuring Greek and international designer labels, though there are plenty of spaces here to buy local art, handmade crafts, wine, and thoughtful souvenirs.
Best Places in Santorini for Restaurants: Imerovigli and Oia
There are amazing restaurants island-wide, but some of the best are in Imerovigli and Oia. Imerovigli offers two of the top fine dining restaurants with caldera views, Athenian House and La Maison, plus casual favorites in the village center, Avocado and Anogi. Oia is another wonderful village for dining. Walk down to Ammoudi Bay, below the Oia castle ruins, for the freshest seafood on the island in a casual, waterfront setting. All the restaurants in Ammoudi Bay are wonderful, but Ammoudi Fish Tavern is our favorite. Other standouts in Oia include Elinikon (great food and sunset views) and Candouni (excellent food, no view).
Best Places in Santorini for Families: Fira, Oia, Perissa, and Kamari
Fira wins out for sheer variety of kid-friendly hotels, crowd-pleasing tavernas, and fun things to do to keep little ones entertained. Plus, its central location makes it a perfect home base for exploring the rest of the island. Oia is also a fantastic option for families, with myriad hotels, restaurants, and shops lining its marble pathway (wide and smooth, easy for strollers). The beach towns of Kamari and Perissa make for wonderful family getaways, with excellent swimming, casual restaurants, and hotels with larger than average rooms and suites. Kamari edges out Perissa slightly by offering an open-air cinema and mini golf.
Best Places in Santorini for the Beach: Kamari, Perissa, and Perivolos
The best options for beach vacations are in Kamari, Perissa, and Perivolos. All feature excellent hotels, plenty of restaurants, umbrella and sunbed rentals, water sports centers, and great swimming. Like most beaches in Santorini, these feature black, volcanic sand, gentle waves, and refreshing water. Mesa Vouno, a large hill with ancient ruins on top, separates Kamari (to the north) and Perissa (to the south), though a water taxi runs several times a day to connect the two beaches. Perivolos is an extension of Perissa, just a short walk south. All three beaches are only about 20 to 30 minutes from Fira by car or bus.
Best Places in Santorini for Privacy and Solitude: Pyrgos, Imerovigli, Akrotiri and Thirassia
The traditional village of Pyrgos is set in the mountains of central Santorini with narrow lanes winding around centuries-old churches, attractive small shops, and a handful of restaurants. Many hotels in Pyrgos offer rooms with private pools or jacuzzis and astonishing views over the island from its second highest point (only the mountain peak, Profitis Ilias, is higher). Along the caldera, the areas just north of Imerovigli and to the east and west of Akrotiri village offer the most peace and serenity. But to truly get away from it all, take the ferry to Thirassia, the island just across the caldera from Santorini (less than 2 km from Oia) and remarkably untouched by tourism. Thirassia has few hotels and restaurants but an abundance of stunning landscapes, pristine beaches, and magnificent sunrises.
Best Places in Santorini for Budget Stays: Fira, Firostefani, Kamari, Perissa, Mesaria
Being the capital and largest village, Fira is the best option for travelers on a budget. Fira has a wide range of affordable hotels within walking distance of the caldera, excellent restaurants, nightlife, shops, museums, and some of the island's most recognizable landmarks. It is also the transportation hub of the island; all bus routes to the beaches, Akrotiri ruins, villages, wineries, ports, and the airport begin in Fira, so a rental car is not necessary for travelers here. Firostefani is another great option, offering easy access to the caldera and the conveniences of Fira but thinner crowds and a little more distance from the nightlife. Kamari and Perissa both offer excellent budget hotels, casual restaurants, and lovely beaches with regular bus service to Fira and the caldera. Mesaria is another affordable alternative. It's western fringe sits on the caldera with luxury hotels offering stunning views at a fraction of the cost of the northern villages; the trade off is that there is not much within walking distance and infrequent bus service. Mesaria's village center is inland from the caldera with a range of budget-friendly hotels, authentic tavernas, and frequent bus service to Fira, Kamari Beach, Perissa Beach, and Vlychada Beach. For stays without a car rental or relying too heavily on taxis, Fira and central Mesaria offer the most frequent bus service.
Best Places in Santorini for a Local Vibe: Emporio, Mesaria, Pyrgos, and Finikia
There are only a few people who call Santorini their home year-round, and the majority of them live in Emporio. Here you'll find a maze of alleyways peppered with tavernas, kafenia (traditional coffeehouses), and only a handful of family-run hotels. Mesaria, another local stronghold, feels a little more modern than Emporio but remains blissfully free of tourists for much of the year and boasts some outstanding food (dining under the shade trees on the patio of Pentozali makes for a memorable night out). The mountain village Pyrgos offers a glimpse into the old Santorini, with a warren of footpaths and stairways weaving through clutches of churches, tavernas, and traditionally built homes, though few locals live here full-time. At the base of the mountain, Santorini's wine country spreads out and around. Finikia is a tiny, yet densely-built village, formerly home to farmers and vineyard workers, with a few great restaurants and traditional cave houses packed along incredibly narrow walking paths (there are no roads wide enough for cars here). From Finikia, it's just a 10-minute walk to Oia and the caldera's edge for sunsets, shopping, and more dining options.
Map of Santorini Towns & Beaches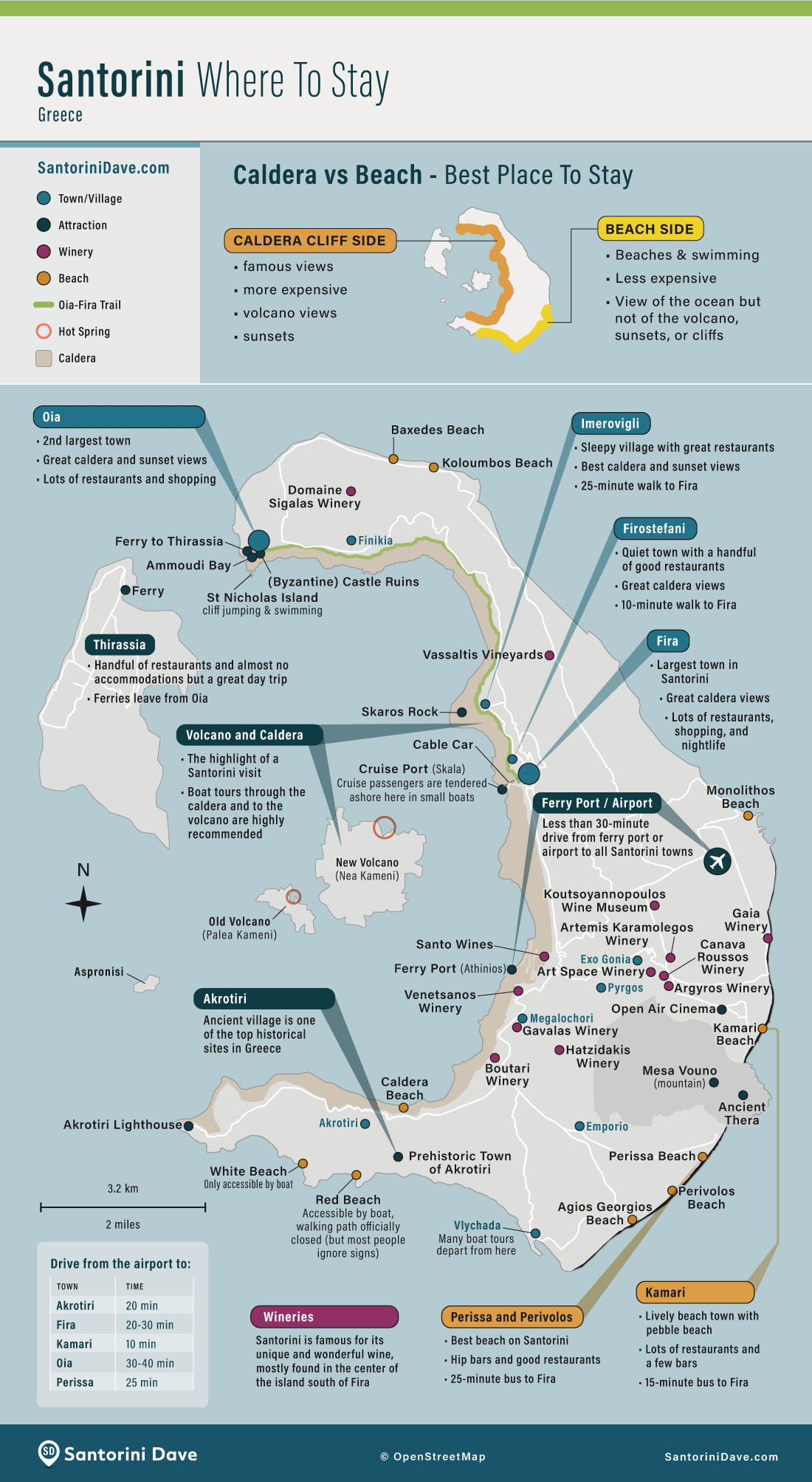 Best Places in Santorini for Tourists


Fira is the island's largest town and one of the most picturesque spots in all of Greece. Like Oia, Imerovigli, and Firostefani, it's perched on the caldera cliff and has marvelous views of the volcano. Fira has the most restaurants, shops, and hotels and is the center of Santorini's nightlife. It's the hub of Santorini's bus network so you can get pretty much anywhere on the island with just one bus ride. If you like action, shopping, lots of choices for where to eat, and dance clubs, then this is where you'll want to be. If you want peace and quiet then you'll likely find Fira busy, hectic, and touristy. (That said, if you're just a little off the main street it's pretty quiet.) Fira has many hotels with wonderful caldera views but also a large number that are back from the cliff and without a view, which means they're cheaper and makes Fira a good choice for travelers on a budget. The closest beach to Fira is Kamari, about 20 minutes away by bus.

A ten-minute walk along the footpath north from Fira is Firostefani, literally meaning the "crown of Fira." As a sort of extension of the capital, there is no exact place where Firostefani begins and Fira ends, though most will agree it happens near Volkan on the Rocks or Anteliz Suites. From its elevation, Firostefani offers slightly better views over the caldera and volcanoes than Fira. If you want to be close to the action and nightlife but don't want crowds, then Firostefani is great a perfect alternative. There are a handful of restaurants, cafes, a bakery, and a couple of markets but no bars or nightclubs in in Firostefani.

Set at the highest point along the caldera, Imerovigli offers the island's best sunset views, unimpeded by any neighboring islands – which isn't always the case in Fira and Firostefani. Imerovigli is the quietest and most romantic of the four main villages along the caldera. There are fewer restaurants in Imerovigli, but the ones that are here are all very good to great. The past couple of years has seen a handful of low key wine bars and upscale lounges open here. Still there are no raucus, all-night bars or clubs in Imerovigli. The village is a 20 to 30-minute walk from Fira (or a very short bus or taxi ride).

Oia is Santorini's most picturesque town and has some of the island's best hotels. It's located at the northern tip of the island and is famous for its fabulous sunset views. The town is busy through the day up until sunset (when it's packed in high season) but then gets quiet quickly after the sun goes down. There's lots of high-end shopping and many restaurants in Oia but only one bar (Mary Kay's – which is great). The southern part of Oia looks into the caldera. The western part does not have views of the caldera but does have perfect sunset views. (Only a few Oia hotels have unimpeded sunset views.) The walk from Oia to Fira is beautiful but takes several hours so for the most part, Oia is a taxi or bus ride away from the hub of the island.

Akrotiri is a catchall name for the village, ruins, and southern peninsula of Santorini. The village itself is quite small, with just a few restaurants, chapels, and the ruins of a Venetian castle. From the village and the main bus stop in Akrotiri, it is only a 15-minute walk to the archaeological site of the Prehistoric Town of Akrotiri, a Bronze-Age Minoan settlement well-preserved by the ash of a volcanic eruption (like Pompeii). Prehistoric Akrotiri was once believed to have inspired the Atlantis legend due in part to the ancient inhabitants' use of relatively advanced technology. The Akrotiri Peninsula is also home to several of Santorini's best beaches, including Red Beach, White Beach, Vlychada Beach, and Caldera Beach. At its western tip is a lighthouse (the quietest and most romantic sunset viewpoint on the island), while a handful of great restaurants are spread throughout the area. A car is strongly recommended here, as most hotels, restaurants, beaches, and attractions are fairly spread out over the peninsula. A bus from Akrotiri to Fira takes about 20 minutes. Add a second 20-minute bus ride (change buses in Fira) to reach Oia.


Pyrgos is the most charming of Santorini's traditional villages. From its mountaintop perch at the second-highest point on the island, it offers panoramic sunset views over the whole of Santorini. Most of Pyrgos is designed for pedestrian use only with its maze-like footpaths dotted with excellent restaurants, local boutiques, picturesque churches, and the ruins of a Venetian castle. Its foothills are brimming with vineyards, many offering tours and tasting rooms. This is an ideal village to stay in for seclusion, tranquility, and living like a local. From the main square, it's about a 10-minute bus ride into Fira, for more dining, nightlife, and shopping. Oia can be reached by catching a second, 20-minute bus from Fira.


Kamari has a wonderful family-friendly atmosphere, a pedestrian beach-front walkway, and plenty of good restaurants (but not many really great ones). Visitors will find an open-air cinema where, which makes for a fun night out. Like most Santorini beaches, Kamari has a black sand and pebble mix with cool, refreshing, deep blue water. Kamari is connected via boat taxi to Perissa several times a day during the high season. It's a 15-minute bus ride to Fira making day trips to the caldera easy. To get to Oia, switch buses in Fira and ride another 20 minutes.


Perissa Beach has finer sand than Kamari, but it's farther from Fira, which makes visiting the caldera a bit more time-consuming. A few luxury hotels and upscale restaurants have opened here, though there are still plenty of great, affordable hotels and casual restaurants and beach bars all along the pedestrian-friendly beachfront road. Perivolos Beach is an extension of Perissa Beach. There's no defining border between the two towns (Perissa is the northern busier section, Perivolos is the southern quieter section) and the name Perissa is often used for the whole strip. Perivolos also has some new luxury hotels opening up, as well as a mix of fine dining and casual restaurants and beach clubs, especially at the south end of the strip, known as Agios Georgios Beach.


In the heart of Santorini's wine region, Megalochori is a picturesque village known for its traditional architecture and plethora of vineyards and wineries. Once the largest village on the island, Megalochori dates back to the 1600s, and you'll still find some of the cave houses from this era here, along with neoclassical mansions, and centuries-old churches. The village center with its family-run tavernas, tasting rooms, and handicraft workshops is set back about a 10-minute walk from the caldera's edge. The village's best hotels pepper the landscape from the main square to the caldera (many here offering spectacular sunset views over the volcanoes). Though there are regular buses from Megalochori to Fira, most travelers here will want to rent a car to make island exploration easier.


Emporio is the most populous village in Santorini, though it is only infrequently visited by tourists. Its name literally means "commerce" in Greek (think of an "emporium" in Engish), which denotes its historic importance as the center for commercial activity on the island. This medieval stronghold is believed to date back to the 14th century, beginning with an enormous castle made of volcanic mortar and built at the base of Profitis Ilias Mountain. To protect against pirate raids, thick-walled cave houses (many still inhabited) were built around the castle, one right against another, connected by archways and bridges, to create a fortified wall. Footpaths are designed for a single person to pass through at a time. In Emporio, you'll find a medieval tower, unusual old churches, traditional kafenia, and casual tavernas catering to local tastes. Perissa Beach is nearby, and Fira is about a 20-minute drive a way. Renting a car is strongly recommended for stays in Emporio.


A slightly more "modern" village (dating to the 17th century), Mesaria sits almost in the center of the island. The western fringes face out over the caldera directly toward the Nea Kameni volcano; here you'll find some incredible luxury hotels and villas with astounding sunset views. The village center is about 500 meters inland (1.5 km via the winding roads). Surrounded by vineyards, Mesaria features a bustling core of cave-style houses, lovely churches, and neoclassical mansions, including Argyros Mansion, the only restored mansion of this era in Santorini that is open to visitors. Accommodation and dining runs the gamut from luxury stays and fine dining on the caldera to boutique hotels and casual tavernas on the village center. For travelers who prefer not to rent a car, central Mesaria (not the caldera side) is the second-best connected area on the island, after the capital Fira. Buses stop regularly in Mesaria on the way to Fira, Kamari Beach, Perissa Beach, and Vlychada Beach. However, a rental car does make it much easier to visit Oia village or the Akrotiri Archaeological Site.


Charming Finikia is a teeny village with only 50 inhabitants, perched to the east just outside of Oia. Hotels on the caldera south of Finikia often market themselves as part of Oia, though the village of Finikia is quite distinct from the larger, more crowded, and much more expensive Oia. This is an ideal spot to stay for ease of access to the dining, sunset views, shopping, and attractions of Oia while avoiding the noise and crowds that its renown brings. Finikia has its own charms, too. Traditionally home to the farmers who worked the nearby vineyards, Finikia features cobblestone pathways, authentic cave houses, and native fruit gardens. Profitis Ilias Church on the caldera's edge, about a 15-minute from the village center, is a wonderful sunset viewpoint, while Agia Matrona houses the village's namesake (a palm tree), an eye-catching bell tower, and views toward the north beaches and sea.


For a truly tranquil vacation, look no further than Thirassia. This rustic island only one nautical mile from Oia's port was once a part of Santorini, until the eruption in 1500 BC that created the caldera. Almost untouched by tourism, Thirassia remains mostly wild with footpaths connecting its sparsely populated villages, a handful of family-run tavernas, and two black volcanic beaches at Korfos and Riva. You'll also find the colorful, meticulously maintained Church of the Virgin Mary contrasting with its surroundings in the abandoned cave village of Agrilia – only reachable via a pleasant hike from the sleepy capital village Manolas. Ferries are the main mode of transportation to Thirassia from Santorini. From Oia, passengers (no cars) can take the 10-minute journey on a traditional boat first to Riva and then to Korfos. This ferry usually runs three times a day: 8:00, 12:45, and 17:20. Ferries from Athinios (the main port of Santorini) to Riva can transport cars, but they only run once a week, usually on Tuesdays. Ferry schedules change seasonally and annually, so check with your hotel for the latest ferry timetable.

Santorini Towns & Beaches – Best Area to Stay

Santorini is a small island and getting from one town or beach to the next is quick and easy so you don't have to feel limited by the place you pick. (It's less than 30 minutes from Fira to the beaches by bus or taxi. 20 minutes longer from Oia to the beaches.)

Obviously, if you're primarily looking to spend time lying on a beach then stay there and commute to Fira and Oia for sunsets and dinner. If you're more interested in shopping, eating, and sightseeing, then Fira, Oia, Firostefani, and Imerovigli are better bases.

The Santorini beach towns are fun, full, and busy from June to September. The weather is great for swimming from late May to early October. Outside of these months, the beach towns will be very quiet and the weather usually isn't consistently warm enough for swimming.

If you're looking to save money, then the beach towns offer better value. Restaurants in Oia, Imerovigli, and Fira are also quite expensive, though there are cheaper options away from the views of the caldera. The beaches tend towards pub food that is not so pricey, but also not as good (though there are exceptions).

As for Oia or Fira, both towns are very touristy but in different ways. Oia is quieter, more romantic, and generally has more expensive hotels and higher-end restaurants. After the sunset, Oia gets very quiet. Fira has the nightlife and lively restaurants. Fira is also closer to most of the beaches.

Fira itself can be quite busy (especially when a cruise ship or two are in port – though cruise passengers will return to their ships by late afternoon), so if you're looking for peace and quiet but still want to be near the restaurants and nightlife, then Firostefani and Imerovigli are great options. Both towns are uphill from Fira, so the walk into town is easy and relaxing. If you find the uphill walk back to your hotel too taxing after a large dinner it's easy to find a cab in Fira.

Similar to the beach towns, if you're visiting outside of March to November then Oia will be very quiet – with many shops and restaurants closing from late November to early March. If you're visiting Santorini in winter, then Fira is by far the best place to stay.
Read More