Greece › Naxos › Best Places to Stay
Updated: October 5, 2023
By Santorini Dave
Our Favorite Naxos Hotels
• 5-Star: Nissaki
• 4-Star: Iria Beach Art
• 3-Star: Kavos
• Boutique: ELaiolithos
• Cheap: Saint Vlassis
• For Families: Nissaki
• For Couples: ELaiolithos
• Naxos Town: Grotta • Anixis
• Beach Resort: Iria Beach Art
The Best Areas to Stay in Naxos

See Also

• Best Hotels in Naxos
• Best Family Hotels in Naxos
• Naxos Maps

Wrapped with golden beaches, blanketed in farmland, and capped by craggy mountains, Naxos offers a wealth of land and sea adventures for active travelers. Rewarding treks lead through olive groves studded with over 200 hundred Byzantine churches and up stony mountainsides pocked with caves and springs. Ruins of temples and castles spread over the island reveal its historic prosperity as the center of Cycladic culture. The largest and greenest island in the Cyclades, Naxos is the agricultural heart of the region, supplying the bulk of the local products served in the fine dining restaurants of neighboring islands, like Santorini and Mykonos. Unsurprisingly, the culinary scene here is outstanding with farm fresh potatoes, olive oil, herbs, pulses, and fruits of all kinds in the kitchens, paired with locally produced wine, honey, fresh-caught seafood, regional cheeses, and sustainable meats.

The main village of Naxos Town, also called Chora, sits in the middle of the west coast. The ferry port is here alongside the marina with fishing boats and sailing tours. Jutting out north into the sea is the landmark Portara, the ancient doorway to a never-finished temple of Apollo (free to visit anytime and a gorgeous spot to watch the sunset). Inside Chora, the Castle (Kastro) of Naxos makes up the medieval heart of the village, a fortified compound of towers, grand gates, tunnels, chapels, and courtyards – a blast to get lost in – now housing museums, restaurants, shops, and bars. The pebbly Grotta Beach closes the northern border. Accommodations are a mix of budget and midrange small hotels. For stays in Naxos Town, a car is not necessary.

About one km south of the port and 600 meters from the castle walls, Agios Georgios Beach is the closest organized beach to Chora. This family-friendly beach is sheltered from the wind thanks to its location in a small bay. The water is clear, calm, and shallow for a long way out. Plenty of restaurants, beach clubs, and hotels serve beachgoers here.

About 5 km southwest is Stelida, a quiet cape with a tiny water park at its east end and a little-visited, sand and pebble beach on its north coast. Stelida is mostly a residential area with private villas and a handful of boutique hotels (which house the only restaurants in the area).

Generally, the farther south you go, the better the beaches get, with longer, broader swathes of uninterrupted sand. Agios Prokopios and Agia Anna are the next two beaches south, both lined with low-key beach clubs, restaurants, and small hotels. Plaka Beach is the longest beach on the island, with a cluster of hotels and restaurants at the north end, becoming sparser as you move farther south. Mikri Vigla is a small promontory with beaches on its north and south coasts. The northern shore catches the wind and is a popular spot for kitesurfing and windsurfing; the southern beach offers excellent swimming.

Farther south, Kastraki, Glyfada, Alyko, and Pyrgaki offer peaceful stretches of natural beach with very few restaurants and no beach clubs. Even in the height of the travel season, there is always plenty of space to spread a blanket and call your own. Kastraki and Glyfada see a little more wind and waves, while Pyrgaki is calm and serene. Alyko is set in a cedar forest with four tiny beaches and the ruins of an abandoned hotel that has now become an unofficial, open-air graffiti "museum."

Of course, most Greek islands have gorgeous beaches. Visit the interior to find what makes Naxos truly special. The mountains here are peppered with traditional villages, home to weavers, potters, cheesemakers, farmers, shepherds, goatherds, beekeepers, and all manner of artisans. Shops sell local products and restaurants cater to local tastes. Chalki, Koronos, Apeiranthos, and Filoti are especially picturesque, while Sangri is home to Demeter Temple and Melanes is home to two ancient kouroi (unfinished marble statues of young men) and the hauntingly beautiful ruins of 17th-century Kalamitsia Monastery.

The north, south, and east coasts are dotted with small fishing villages, the largest being Apollonas, home to the largest kouros on the island, known as the Colossus of Dionysus. Moutsouna is a smaller fishing village formerly used in the export of emery. Other tiny villages spread down the length of the coast with perhaps a hotel or rooms to let. These villages are relaxed by day and even more so at night when the entire Milky Way sparkles above their sandy shores.

What are the Best Places to Stay in Naxos?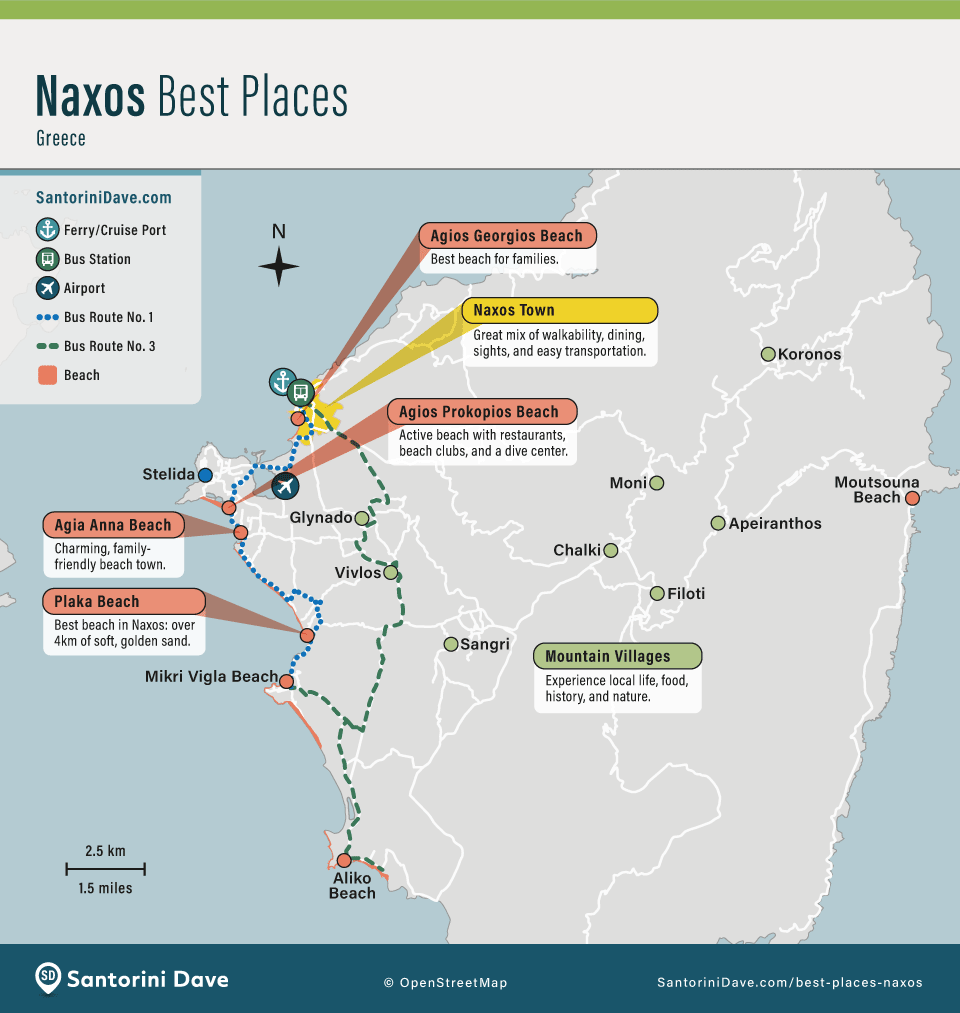 The Best Place for First-Timers: Naxos Town or Agios Georgios Beach
First-time visitors to Naxos should stay in Naxos Town or neighboring Agios Georgios Beach. Naxos Town (or Chora) is the largest village on the island. This charming port town sits on the west coast facing the sunset with myriad seafood tavernas along the waterfront and a labyrinthine core filled with shops, restaurants, and bars. The heart of the village is built in and around a 13th-century Venetian castle with homes, museums, and churches tucked in and around tunnels, archways, and ancient stairwells. Standing proudly on the islet of Palatia, connected by a pedestrian causeway, is the Portara, an enormous doorway to the Temple of Apollo that was begun but never completed in the 6th century BC. Between the ferry port and Portara, there is a tiny, swimmable beach. But a better beach is on the south side of Chora at Agios Georgios. This relaxed, sandy beach sits in a sheltered cove protected from the wind with calm, clear, shallow water – ideal for children or beginning swimmers. A string of hotels, watersports centers, and tavernas with sunbed/umbrella sets to rent line the shores of this family-friendly resort. An open-air cinema sits back from the sea, less than a 10-minue walk away.
The Best Places for Sightseeing: Naxos Town and the Mountain Villages
Naxos Town has the highest concentration of attractions, including the castle ruins, Apollo Temple ruins (the Portara), sunsets over the port, and Old Market Street. Those interested in history, hiking, and local life may prefer to stay in one of the mountain villages, closer to the Temple of Demeter ruins (in Sangri), Zas Cave, the mythological home of Zeus (near Filoti), or Panagia Drosiani, the oldest church in Greece (in Moni).
The Best Places for Living Like a Local: Mountain Villages
Naxos' mountain villages, especially Chalki, Moni, Sangri, and Filoti, all offer modern comforts and excellent, locally-sourced food in a quaint setting, where many people still earn a living through traditional means, whether herding goats, farming crops, craftworking, or distilling the island's signature liqueur, kitron.
The Best Beaches and Beach Towns: Agios Georgios, Agios Prokopios, Agia Anna, Plaka The best beach in Naxos is Plaka, a long stretch of wide golden sand with a handful of beach clubs and restaurants at the north end and a quiet south end. The best beach for families is Agios Georgios, with shallow, calm water and tons of great restaurants and hotels (many with pools). Agios Prokopios and Agia Anna Beaches offer lively (but not too wild) beach clubs, great dining, easy access to Naxos Town and the port, and are set in small coves protected from the winds. Other beaches to consider include Mikri Vigla and Glyfada (windsurfing/kitesurfing), Moutsouna (solitude), and Alyko (uniquely Naxian with a cedar forest, modern ruins, and street art).
Staying in Naxos Town


Naxos Town, also called Chora, is the largest village on Naxos island. This is where the vast majority of hotels, restaurants, and bars are located, as well as the main ferry port. Like many Cycladic villages, Naxos Town is built like a maze with narrow, crisscrossing footpaths and stone stairways packed with shops and centuries-old Orthodox chapels. The village spreads down the sides of a hill topped with a 13th-century Venetian castle. Jutting out into the sea and accessible by a raised path is Apollo Temple, also called Portara, with its large door all that remains of an unfinished 6th century B.C. temple. Compact, bustling and entirely walkable, Chora offers the most convenience of any area on the island, with restaurants and bars open late into the night and bus service to all parts of the island. This is an especially great village for those traveling for short trips, as every necessity is within a short walk.

The Best Hotels in Naxos Town

Staying at Agios Georgios Beach


Family-friendly Agios Georgios (Saint George) is the closest beach resort to Naxos Town. Ideal for children, the beach is set in a small bay (which offers protection from the wind) with calm, clear, shallow water. This lively beach is lined with casual restaurants and beach clubs with umbrellas and sunbeds for rent. There is a water sports center at its south end with kitesurfing, windsurfing, cycling, and catamaran sailing available. Located just a short walk from Naxos Town, it's easy to stay here and enjoy the beach all day, then walk into town for sunset drinks or dinner in Chora. (There is no clear divide between Naxos Town and the Agios Georgios area so it's a little arbitrary what is considered a Naxos Town hotel and an Agios Georgios hotel.)

The Best Hotels at Agios Georgios Beach

Staying in Stelida



Stelida is the promontory at the westernmost point on Naxos. Though it sits between the two most popular areas of the island, Naxos Town and Agios Prokopios Beach, Stelida itself is very quiet, with just a handful of luxury hotels and private villas, all recently built (this is the most expensive real estate on the island). Though the development here is all new, this is actually the site of the island's oldest civilizations with evidence of early humans dating back to the Middle Paleolithic area (over 40,000 years ago). Stelida has only a handful of restaurants mostly in hotels, but it's just a 15-minute walk to Agios Prokopios for more dining options or to catch the bus to Naxos Town. There is also the little-known, tranquil Stelida Beach (AKA Kleftonisia Beach) almost due north of Agios Prokopios, about a 15-minute walk from the heart of the area. There's a small but fun water park for families, Aqua Fun, open during the peak of summer.

The Best Hotels in Stelida

Staying at Agios Prokopios & Agia Anna Beaches


Agios Prokopios and Agia Anna are two adjacent beaches south of Stelida, facing southeast and shielded from the wind. Both beaches have calm, turquoise water, golden sand, a variety of restaurants, and fun beach clubs. Both beaches are well-connected by bus to Naxos Town. Agios Prokopios (shown above) is the larger, busier beach of the two and boasts a small dive center and several bars and restaurants. Agia Anna feels more like a small village and the beach is a little narrower and quieter, though it still has a beach club with late-night dancing, three or four quality beach restaurants, and a bustling little pier with local fishing boats at its south end. Walking the entire length of both beaches from the northern tip of Agios Prokopios to the southern edge of Agia Anna only takes 30 minutes, so it's easy to stay at one beach, while enjoying the other. From Agia Anna Beach, it's a 10-minute walk to Plaka Beach for even more options.

The Best Hotels at Agios Prokopios Beach

The Best Hotel at Agia Anna Beach

Staying at Plaka Beach



At four km, Plaka Beach is the longest on Naxos island. Known for its soft, golden sand and gentle water, Plaka is the very best beach in Naxos and among the best in Greece. The bulk of the beach's hotels, restaurants, and beach clubs are located at the north end (sometimes called Maragas). Farther south the activity gives way to long expanses of serene natural beauty, where beachgoers have plenty of space to themselves in the sun or under the shade of the occasional cedar tree. Plaka Beach is well-connected to Naxos Town by bus and it's an easy walk from the north end of Plaka to Agia Anna Beach.

The Best Hotels at Plaka Beach

Staying at Mikri Vigla Beach



Mikri Vigla is a headland on the southwest side of Naxos with beaches on the north and south sides. The main Mikri Vigla Beach faces north toward the wind, making this a popular beach for windsurfing and kitesurfing. The south-facing Mikri Vigla Beach (aka Limanakia or Sahara Beach) is protected from the wind, with calm, shallow water perfect for swimming and popular with families and nature-lovers. Mikri Vigla has a handful of hotels and traditional tavernas but is generally very quiet with plenty of wide-open space to enjoy.

The Best Hotels at Mikri Vigla Beach

Staying at Kastraki & Glyfada Beaches




Kastraki Beach is a two-km strip of soft sand with a small mudflat at its north end that attracts birds. Blending almost seamlessly as you move south, Glyfada Beach offers another one km of white sand and dunes fronting a salt lake. There is little development on the shore – no beach clubs or beachfront hotels – though the village of Kastraki (about midway down the beach) offers some casual tavernas, guest houses, and a market. The north end is partially protected from the winds by the headland of Mikri Vigla with the wind picking up strength as you move south into Glyfada. Swimming is excellent, especially in the north (though there are some rocky patches), while the south end is popular for windsurfing and kitesurfing. This tranquil local is a wonderful spot to take in a sunset.

The Best Hotel at Kastraki & Glyfada Beaches

Staying in Alyko



Alyko Cedar Forest is a rare gem on Naxos: a the largest and densest of the eight cedar forests in Greece, spreading over 800 sqm and filled with a range of cedar, heather, and wildflowers and with 4 small, sandy beaches breaking up its stony coast. The northernmost beach is unofficially a nude beach. In the middle of the preserve are the ruins of a never-finished hotel, which has become an open-air street art gallery brimming with graffiti murals, like the one above.

The Best Place to Stay in Alyko

Staying at Pyrgaki Beach



The least crowded of the west coast beaches. Pyrgaki Beach sits in a natural cove facing south, well protected from the wind, with powdery soft sand and shallow water a long way out into the sea, ideal for children and beginning swimmers. A few cedar trees on the shore offer a little shade, though its best to bring your own beach parasol if you plan to spend the day here. A few seaside tavernas offer menus that highlight the fresh-caught seafood of the area.

The Best Hotel at Pyrgaki Beach

Staying in Moni



This tiny village is home to Panagia Drosiani, a 6th-century Byzantine monastery – the oldest church in Naxos and among the most important in Greece. Its frescoes are the oldest not only in Greece but in the surrounding Balkan region. The village itself is perched along a switchback road nestled among the mountains with a valley of olive groves, citrus trees, and the island's richest farmland spreading beneath it. The central square boasts two olive mills, an antique well, and a small church dedicated to Saint Photini. Moni is known for its handloom weaving traditions, kept alive by even the youngest women in the village. There is only one hotel in Moni (but it happens to be the best on the island).

The Best Hotel in Moni

Staying in Chalki



The most charming village in Naxos, Chalki (or Halki or Chalkio) was once the capital of the island, and its Venetian tower and neoclassical mansions reflect its historic strength. In its bustling core, visitors will find local product shops, galleries, handwoven textile workshops, and a distillery of kitron, a liqueur made from a local citrus variety (nearby bars make specialty cocktails highlighting the island's signature spirit). Several restaurants and cafes are here with menus highlighting hyperlocal produce, cheeses, and meats in traditional preparations. Surprisingly, there are no hotels in Chalki, just a few vacation rentals. The best hotel nearby is ELaiolithos in Moni, a five-minute drive or scenic one-hour hike away.

Staying in Filoti



Lively Filoti village sits snug at the base of Mt Zas: the largest village in the Cyclades and the tallest mountain in the Cyclades. Although it's the most populous, there are still more sheep than people here. Many of Filoti's residents are shepherds and goatherds, and the bells on their flocks can be heard in the surrounding hills and valleys. Village attractions include the Venetian-era Barozzi Tower, the Church of Panagia Filotitissa with its carved marble triple bell tower, and the Numismatic Museum, a collection of all currencies used in Greece (by locals and colonizers) over the past two hundred years. Just outside the village is the 4th-century BC Chimaros Tower, stone-built Aria Spring with its refreshing cold water, and the Cave of Zeus partway up Mt Zas, where legend tells that the King of Gods spent his childhood in hiding. There is no shortage of great restaurants, cafes, bars, and shops threading throughout the many streets and alleys of the village center.

The Best Hotel in Filoti

Staying in Apeiranthos



Called the marble village, Apeiranthos is an architectural gem on the slopes of Mt Fanari with picture-perfect scenes around every corner. The village is known for its marble-paved footpaths, old stone and marble houses, archways, tunnels, and the imposing Zevgolis Tower, built by the Venetians in the 17th century. Travelers will find five museums exhibiting a range of interests: archaeology, geology, natural history, visual arts, and folklore. Galleries and craft workshops abound with storefronts selling ceramics, hand-woven textiles, embroidery, paintings, and photography. The tree-shaded main street is an inviting spot for a coffee or meal at one of the many tavernas and cafés with outdoor seating. Like most villages in Naxos, Apeiranthos is mostly closed to vehicle traffic; there is a parking lot and bus stop at the east side of town. Lodging consists of a mix of holiday homes and guest houses.

The Best Places to Stay in Apeiranthos

Staying in Sangri



Sangri is best known as the home of Demeter Temple, dating to the 6th century BC and considered a prototype of the Parthenon. The settlement itself is comprised of two villages, Ano (Upper) Santri and Kato (Lower) Sangri, separated by a few kilometers. Both villages boast Byzantine chapels and 17th-century Venetian towers, fortified as defense against pirate raids. The residents here are largely farmers and cattle breeders. There are a handful of tavernas and shops selling local products, including the beef, milk, and cheeses produced here.

The Best Hotels in Sangri

Staying in Melanes



Named for its dark soil, Melanes is a village surrounded by rich farmland. Its residents are mainly farmers, ranchers, and stone masons. The village is one of the oldest in Naxos, so ancient that its history is mixed into mythology. It is the supposed site where Zeus smited two giant demigods, both sons of Apollo, for their arrogance. It's main attractions today are the two kouroi, unfinished statues of young men dating to the 6th century BC, left in place where they fell and were damaged before completion. Just south of the village is Kalamitsia Monastery, and 17th century Catholic construction so lavish in its day that the locals derisively named it the Jesuit Palace. The monastery is now in ruins, untouched and unrestored, so explore at your own risk. A market, two cafes, and two tavernas serve the villagers and visitors. There are no hotels in Melanes, only a few rooms to let. Nearby villages offer a wider range of accommodations.

The Best Hotel in Melanes

Staying in Koronos



Stunning yet little-visited, Koronos is one of Naxos' oldest villages. Its whitewashed houses with colorful doors and trim seem to be stacked one on top of the other as they cascade down two mountain slopes facing each other. Vineyards spread over the side of one half of the village, and a maze of cobblestone stairways (so, so many stairs) lead through its seven neighborhoods to the squares, churches, a folklore museum, and olive press. Visitors will find a few casual, high-quality tavernas, kafenia (traditional cafés), and a pastry shop. The entire village is open to pedestrians only; there are parking lots on the main roads outside of town. There are no real hotels here, but there are a handful of holiday homes for rent.

The Best Place to Stay in Koronos

Staying in Vivlos



Three old windmills are the most recognizable landmark of Vivlos (AKA Tripodes), a village known for potato farms and cattle breeding for both meat and dairy. About 40 small churches are scattered in and around the village, among them Panagia Tripodiotissa, the largest monastery of its day (16th century) with notable icons. The village has several excellent tavernas, kafenia, and the popular Artos Lagogianni bakery, loved for their savory pies and breads. The ruins of Plaka Tower (now just a partial stone wall) and the temple beneath Agios Matthios chapel offer compelling evidence that the village originated near Plaka Beach (about 4 km west) but moved inland during the middle ages to avoid the pirate raids common at the time.

The Best Hotel in Vivlos

Staying in Apollonas



This remote coastal village is mostly visited by day trippers, who come to see the Colossus of Dionysus, a large kouros laying in the ancient marble quarry on the hill behind. A fishing village today, in antiquity Apollonas was the main harbor used in the export of Naxos' marble. The quiet seaside town sits on a small, crescent-shaped bay. A sandy beach backed by a string of tavernas sits at the north end near the pier and blue-domed Agios Ioannis church. Farther south, the sand gives way to pebbles, and restaurants, lodging, and services thin out, making this end of the beach more peaceful. Its north-facing location means that Apollonas' beaches tend to be windy.

The Best Hotel in Apollonas

Staying at Moutsouna & Eastern Beaches



The sparsely populated east coast of Naxos is ideal for romantic getaways with little to distract from the beach and sea. Travelers will find long, unspoiled stretches of golden beaches and sheltered coves interrupted by a smattering of sleepy fishing villages. Moutsouna is the largest and most developed, formerly a prominent harbor used to export emery stone. Some industrial towers and cranes, a warehouse, and cable car (now defunct) remain at the site in the company of a bronze statue of an emery miner pushing a cart. Mornings and afternoons see a few tourists on the beaches and in the seafront tavernas, while nights are calm and clear. With no light pollution to compete, visitors can watch the moonrise and spend a rewarding night stargazing over the Aegean.

The Best Hotel in Moutsouna
Read More