Greece › Mykonos › Best Places to Stay
Updated: December 8, 2023
By Santorini Dave
My Favorite Mykonos Hotels
• Mykonos Town: Semeli • Cavo Tagoo
• Ornos: Santa Marina • Kivotos
• Platis Gialos: Branco • Petasos
• Agios Ioannis: Katikies
• Ferry Port: Mykonos Riviera
• For Families: Santa Marina
• For Couples: Bill & Coo
The Best Areas to Stay in Mykonos

See Also

• Best Hotels in Mykonos
• Best Family Hotels in Mykonos
• Mykonos Maps

Famous for beaches and infamous for nightlife, Mykonos is one of the most visited islands in Greece (along with Santorini and Crete). This small island with an outsized personality is home to extravagant hotels, refined gastronomy, luxury shopping, golden beaches, and wild nightclubs. Though the cosmopolitan side of Mykonos gets the most fanfare, there are plenty of historic, traditional, and remote outposts waiting for curious travelers to discover. The archaeological treasures of ancient Delos are a short boat ride away, while Mykonos Town has the whitewashed 15th-century Church of Panagia Paraportiani (made up of five interconnected churches), and traditional Ano Mera village is home to the Monastery of Panagia Tourliani and attached ecclesiastical museum.

Most of the action on Mykonos takes place on the west and south coasts in and around Mykonos Town, Ornos Beach, and Platis Gialos Beach. These are the most popular areas for travelers to stay, though you'll find excellent Mykonos hotels and great things to do all over the island. As you venture farther east and north, the development decreases and hotels, beach clubs, and shops giving way to rugged landscapes, a few farms, and deserted sandy beaches (often hidden by rocky outcroppings).

The big decision visitors need to make is whether to stay in Mykonos Town (the most nightlife, shopping, and restaurants) or one of the world-renowned beaches that encircle the island. Buses run regularly (and late into the night) between Mykonos Town and the most popular beaches, particularly Platis Gialos and Ornos, and the water taxi connects the south coast beaches, so it's easy to stay in one location and enjoy nearby spots, even if you're visiting without a car. My preference is to stay in Mykonos Town and bus to the beaches during the day. Then return to town in the late afternoon and enjoy the evening when Mykonos Town really comes alive. Mykonos Town, also called Chora, has the most nightlife, restaurants, and shopping of anywhere on the island. This compact, walkable village is the island's historic capital and largest town, buzzing with activity, especially at night. The landmark windmills sit just outside the charming Little Venice neighborhood not far from the Old Port, lined with seafood restaurants. There is also a tiny beach at the Old Port with a lifeguard. South of the village center is Megali Ammos Beach, often windy but with remarkable sunset views toward Baos Island, an old pirate hideout.

Mykonos Town has the most luxury hotels but there are many 4-star and 5-star resorts at the beach towns located around the island. The best beaches in Mykonos are mostly along the south coast, protected from the meltemi, the strong, dry north wind that blows all day in the summer (Mykonos is known as The Island of the Winds). Most of these beaches are linked by a water taxi route that runs from busy Ornos in the west to tranquil Elia in the east. Ornos is the most family-friendly beach and wonderful for swimming. Platis Gialos is the considered by many to be Mykonos' best beach: a wide strip of sand lined with casual tavernas, luxe hotels, and water sports rentals. In between Ornos and Platis Gialos (but not on the water taxi route) is Psarou Beach, set in a small cove shielded from the wind with calm water, luxury resorts, a chichi beach club, and a designer mall. This may be the most expensive area to spend your time on the island.

Farther east along the water taxi route, you'll find the popular party beaches of Paraga, Paradise, and Super Paradise as well as the more relaxed, remote beaches of Agrari and Elia. East of Elia is the new hotspot, Kalo Livadi Beach, where a slew of luxury hotels and upscale beach clubs have popped up in recent years. Like Psarou, Kalo Livadi Beach is not on the water taxi route. To get there, you'll have to pass through the traditional village of Ano Mera, known for its quaint main square and 16th-century Tourliani Monastery.

South of Mykonos Town and west of Ornos Beach is the rugged, romantic Aleomandra Peninsula and Agios Ioannis Beach, a quiet, small beach with gorgeous sunset sea views. North of Mykonos Town, also with stunning sunsets, are Tourlos (the New Port and marina area with luxury hotels and easy reach to Chora) and Agios Stefanos Beach (golden sand and casual tavernas). On the north coast, but tucked inside the bay is the beach settlement of Panormos (a wide swathe of sand, mostly open but with one stylish beach club), which lies near near rugged Agios Sostis (a natural, pristine beach – home to beloved Kiki's Tavern).
Best Places to Stay in Mykonos

Hotels on Map: 1. Destino Pacha • 1. Rocabella • 2. Grace • 3. Mykonos Riviera • 4. Yakinthos • 5. Panormos Village • 6. Cavo Tagoo • 7. Villa Konstantin • 8. Harmony • 9. Bluetopia • 10. Theoxenia • 11. Matina • 11. Carbonaki • 12. Semeli • 13. Belvedere • 14. Boheme • 15. Bill & Coo • 16. Korali • 17. Tharroe • 18. Katikies • 19. Mykonos Grand • 20. Anax • 21. Kalesma • 22. Kivotos • 23. Kensho • 24. Mykonos Blanc • 25. Santa Marina • 26. Palladium • 27. Mykonos Blu • 28. Nissaki • 29. Petasos • 30. Acrogiali • 30. Petinos • 31. Myconian Ambassador • 32. Branco • 33. Tropicana • 34. Lyo • 35. Myconian Villa Collection • 36. Panoptis Escape • 37. The Wild
Best Areas in Mykonos for…
Best Places in Mykonos to Stay for First-Timers: Mykonos Town
First-time visitors should stay in Mykonos Town (AKA Chora), home to the picturesque Old Port, iconic windmills, charming Little Venice, and historic Kastro neighborhood. Restaurants, shops, and attractions are packed tightly in its elaborate maze of streets, designed centuries ago to thwart pirate raids. White cubic buildings with multihued stairways and balconies line the narrow, pedestrian streets of whitewash-outlined flagstones. Attractions in Chora include an open-air cinema, archaeology and folklore museums, and the 15th-century Panagia Paraportiani, a complex of five interconnected churches. Stroll the scenic Old Port and take one of the many boats to nearby Delos, the most important sacred site of ancient Greece. There is a small beach at the Old Port, too, but better beaches (Platis Gialos, Ornos, Psarou, and more) are a quick bus ride away from one of Mykonos Town's two bus stations. Cap the day off with a sunset cocktail in Little Venice, right at the edge of the sea, then head into the tangle of lanes in Kasro for dinner at one of the many tavernas. Dance the night away at one of Mykonos' legendary nightclubs – there is no "last call" and parties go on until sunrise.
Best Places in Mykonos to Stay for the Beach: Ornos, Platis Gialos, Psarou, Paradise, Super Paradise, Elia, and Kalo Livadi Beaches
Mykonos has dozens of heavenly beaches tucked into natural coves all around the coast, but the beaches on the island's south side tend to have the calmest waters as they are shielded from the meltemi winds. The above beaches are all south coast beaches with golden sand, food and beverage services, and sunbeds and umbrellas available for day use. All of these beaches are connected via bus to Mykonos Town, and most (except Psarou and Kalo Livadi) are also on the water taxi route, making it easy to travel from one to the other during the day. Ornos and Platis Gialos are the busiest and most family-oriented. Psarou is the best for beginning swimmers and has a luxury mall attached. Paradise and Super Paradise are the best party beaches. Elia is the quietest beach: long and wide with great swimming and casual tavernas. Kalo Livadi offers a chilled-out mix of stylish beach clubs and luxe hotels without the crowds of the beaches on the boat route.
Best Places in Mykonos to Stay for Families: Ornos, Platis Gialos, and Psarou Beaches
The most family-friendly places in Mykonos are the westmost of the south coast beaches, namely Ornos, Platis Gialos, and Psarou. All offer excellent sand, great swimming, and plenty of dining options all day without the noise of the parties and bars you'll find in Mykonos Town or the more adult-oriented beaches. Ornos and Platis Gialos offer a slew of casual tavernas, a wide range of accommodations, water taxi connections to all south coast beaches, and easy bus access to Mykonos Town. Psarou offers the calmest water, protection from wind, luxury accommodations and designer shopping, and bus routes to Mykonos Town but no water taxis. Psarou and Platis Gialos both have water sports rentals.
Best Places in Mykonos to Stay for Nightlife and Parties: Mykonos Town, Paraga Beach, Paradise Beach, Super Paradise Beach
Mykonos Town is legendary for its nightlife with tons of nightclubs, cocktail lounges, bars, and shops packed into its narrow, pedestrian-only lanes, most of them open until at least 4:00 a.m., many until after the sun comes up. Most people enjoy a sunset cocktail in Little Venice, before heading into the heart of Chora or the Old Port for dining, dancing, and some tipsy late-night shopping. Several beaches on the water taxi route are also well-known for partying, with a string of beach clubs featuring sets by local and international DJs. Paraga Beach's SantAnna and Scorpios throw the most lavish parties, while Paradise Beach's Cavo Paradiso, Tropicana, and Paradise Beach Club tend to attract a younger, hard-partying crowd. Super Paradise is home the Super Paradise Beach Club, a long-running party powerhouse, and Jackie O', a gay-oriented beach club with nightly drag shows (their nightclub in Mykonos Town also has nightly drag).
Best Places in Mykonos to Stay for Couples/Honeymoons: Mykonos Town, Agios Ioannis Beach, Elia Beach, Kalo Livadi Beach, Panormos Beach
Pretty much all of Mykonos is ideal for honeymoons and romantic getaways, but some places especially stand out. Mykonos Town is the top spot for big celebrations with lively streets and squares, dreamy sunset vistas, all-night dancing, and restaurants that run the gamut from elaborate fine dining to cozy traditional tavernas. Agios Ioannis, Elia, Kalo Livadi, and Panormos are all less-crowded beaches served by luxury resorts and boutique hotels with soft sand and under-the-stars-dining options. Agios Ioannis has the best sunsets of the lot, while Elia offers the calmest waters. Kalo Livadi offers a cosmopolitan feel but avoids the crowds. Panormos is the least visited with just one beach club, while also offering easy access to pristine Agios Sostis Beach and rustic Kiki's Tavern.
Best Places in Mykonos to Stay for Sightseeing: Mykonos Town or Ano Mera
The most opportunities for sightseeing are in Mykonos Town, where travelers will find the iconic windmills, historic Paraportiani Church, alluring Little Venice, and the delightful, bougainvillea-filled lanes and squares. Delos Island, the mythological birthplace of Apollo and Artemis – among the most important archaeological sites in the world – is accessible by a short ferry ride from the village's Old Port. Ano Mera is the last traditional village left in Mykonos, home to the centuries-old churches of Panagia Tourliani in the village square and the Byzantine Monastery of Paleokastro next to contemporaneous castle ruins. Sleepy Ano Mera is connected to Chora by a direct bus, so staying in one village and visiting the other is easy to do.
Best Places in Mykonos to Stay for Short Trips: Mykonos Town, Tourlos, Agios Stefanos Beach
If you've only got a couple of days on the island, Mykonos Town is the most convenient place to stay, with a wide range of accommodation, dining, nightlife, and even a couple of beaches within easy walking distance. Mykonos Town is also the central bus hub of the island, making visits to all the best beaches simple to do. Tourlos is nome to the New Port; most visitors to the island will arrive and depart from here. Tourlos (the port and the marina) is connected to Mykonos Town by the Sea Bus (about a 15 to 20-minute ride; runs about every half hour) or a 20-minute walk. About a 15-minute walk north from Tourlos (or a 5-minute bus ride from Mykonos Town) is Agios Stefanos Beach, a quiet, sunset-facing beach with a handful of tavernas and a few excellent hotels.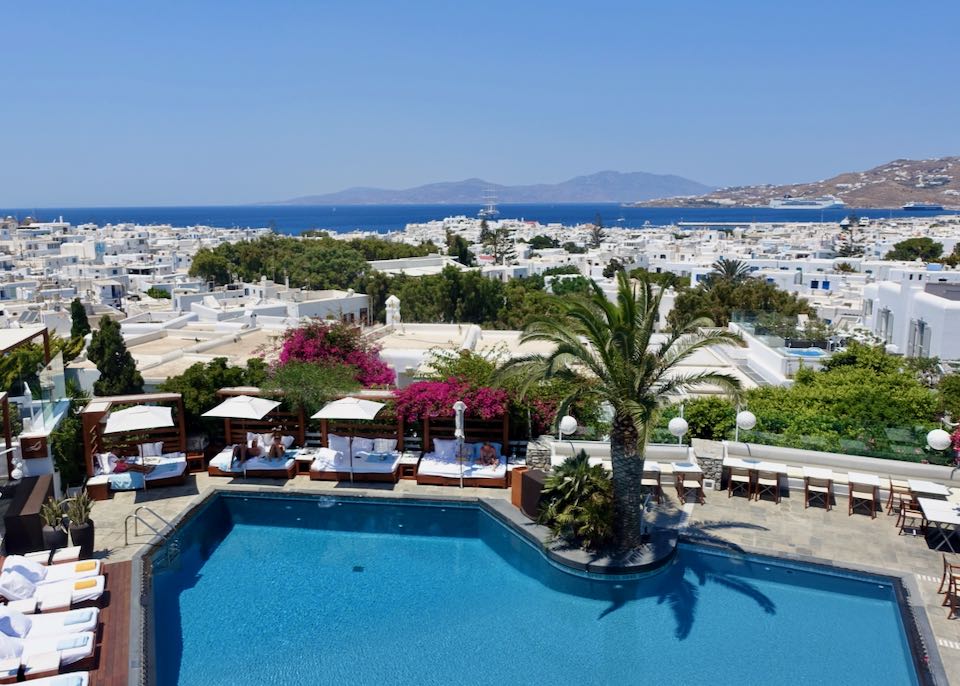 Also known as Chora, the island's capital is a charming tangle of narrow pedestrian-only streets – a real pleasure to get lost in. The historic core is densely packed with guesthouses, hotels, restaurants, and bars. Tavernas dot the waterfront, and there are two bona fide shopping streets lined with Greek fashion boutiques, art galleries, and souvenir shops. Little Venice is a dense cluster of waterside bars and a favorite gathering place at sunset, as are the picturesque Cycladic windmills at the western edge of town. A couple of worthwhile museums and an open-air cinema add to the town's attractions. There are excellent bus connections to the beaches and interior villages of the island. Pictured above, the pool and view from Belvedere Hotel.

The Best Hotels in Mykonos Town
Located about 500 meters south of Chora, Megali Ammos offers nice sand, sunset views, and great swimming without the crowds of the village or the southern beaches. It can be windy here. It's a short walk from the village center, though there is no sidewalk, so walk with caution – especially late at night. The hotels below should be considered as part of Mykonos Town but close to Megali Ammos Beach.

The Best Hotels in Megali Ammos

Just 3km south of Mykonos Town, Ornos Beach is one of the busiest beaches on the island. The streets around it are dotted with boutique hotels, and its dazzling sand is densely lined with sun loungers. Half a dozen or so seafood restaurants are found immediately next to the beach with a few more nearby. Ornos overlooks a sheltered bay (as seen here from Kivotos Luxury Boutique Hotel) and the shallow, calm water is popular with families. If the crowds get a bit too much, a five-minute walk around the east side of the bay takes you to the excellent Apaggio restaurant that overlooks a cluster of docked fishing boats, while a 5-minute walk north takes you to Korfos Beach – more exposed and breezy on windy days (popular for kitesurfing), but far less crowded. There are lots of buses to and from Mykonos Town (some of them keep going to Agios Ioannis Beach). Ornos is also the starting point for the water taxi to Elia Beach with stops in Platis Gialos, Paraga, Paradise, Super Paradise, and Agrari Beaches.

The Best Hotels at Ornos Beach
The best beach on Mykonos for a mix of restaurants, low-key nightlife, hotels, and good sand. Platis Gialos is a 4km drive south of Mykonos Town. It's got something for everyone: families come here for the calm waters and white sand; the young, trendy crowd heads for the hip beach bars; and everyone comes here to eat – the beach fronts back-to-back restaurants serving everything from Greek standards and seafood to sophisticated fusion. It's also the main water sports beach in Mykonos, with kayaking, standup paddleboarding, wakeboarding, and flyboarding on offer. Numerous hotels and villas surround the beach, including Petinos Beach Hotel (pictured above). Excellent bus connections to Mykonos Town and hourly water taxis to other south coast beaches in the high season.

The Best Hotels at Platis Gialos Beach
Studded with beach umbrellas, this narrow sandy crescent on Mykonos' west coast is a favorite sunset-watching spot. Part of the movie Shirley Valentine was shot here, and it's also where you find a popular seafood restaurant – Hippie Fish – and a couple of boutique hotels on the hillside overlooking the Aegean, like Anax Resort and Spa (pictured above). Several daily buses from Mykonos run by the steep, short access road down to Agios Ioannis, turning around in the parking lot near the picturesque Cycladic church by the sea. From Agios Ioannis, it's a 10-minute walk past the church and around the headland to the small, sheltered cove of Kapari Beach.

The Best Hotels at Agios Ioannis Beach

Staying at Agios Stefanos Beach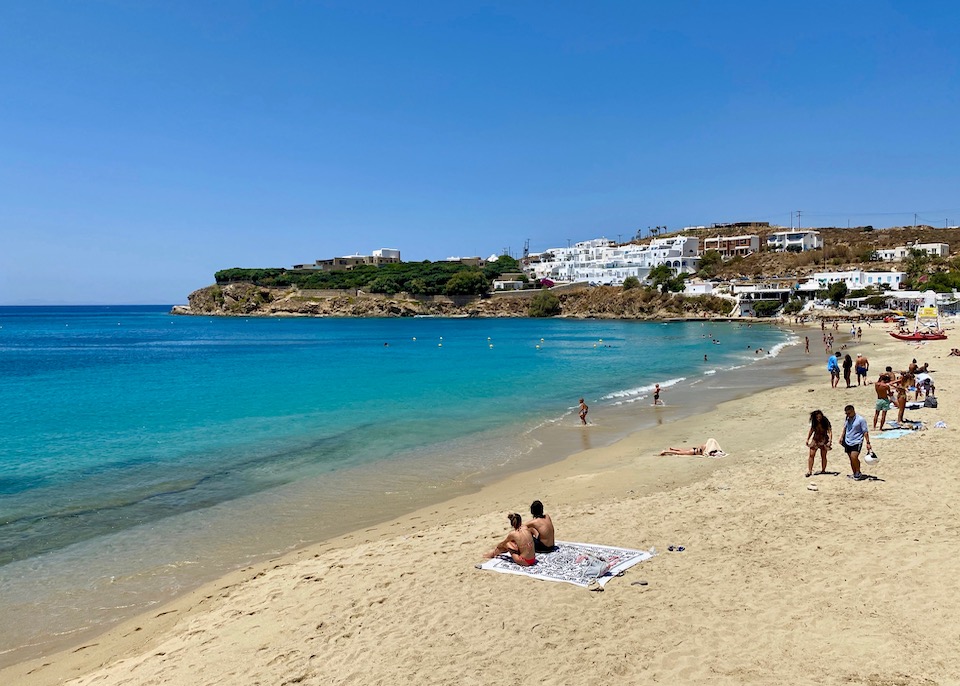 This is the beach nearest to the New Port at Tourlos (where most Mykonos ferries arrive and depart) and about 3 km from the heart of Mykonos Town. Agios Stefanos is a small, sandy beach with a handful of restaurants and beach clubs, including the amazing Limnios Tavern on the hill overlooking the beach with gorgeous sunset views and flavorful Greek comfort foods. This is not the most beautiful beach in Mykonos, but it is great for swimming and protected from the winds. The area is well-connected by buses to and from the airport and Mykonos Town and by the Sea Bus (water taxi) to the Old port at Mykonos Town and to Delos Island.

The Best Hotels at Agios Stefanos Beach

With its sparkling waters and end-to-end rows of sun loungers, Psarou Beach is one of the island's most popular destinations. It's a particular favorite with families and honeymooners due to its relaxed atmosphere, powder-soft sand, and enviable location in a cove protected from the winds. A minor water sports center, Psarou Beach sees windsurfers and waterskiers bouncing on the waves further away from the shore. There are a couple of great restaurants and hotels here, including Mykonos Blu (foreground) and N Hotel (background), restaurants, and the beach is well-served by buses from Mykonos Town.

The Best Hotels at Psarou Beach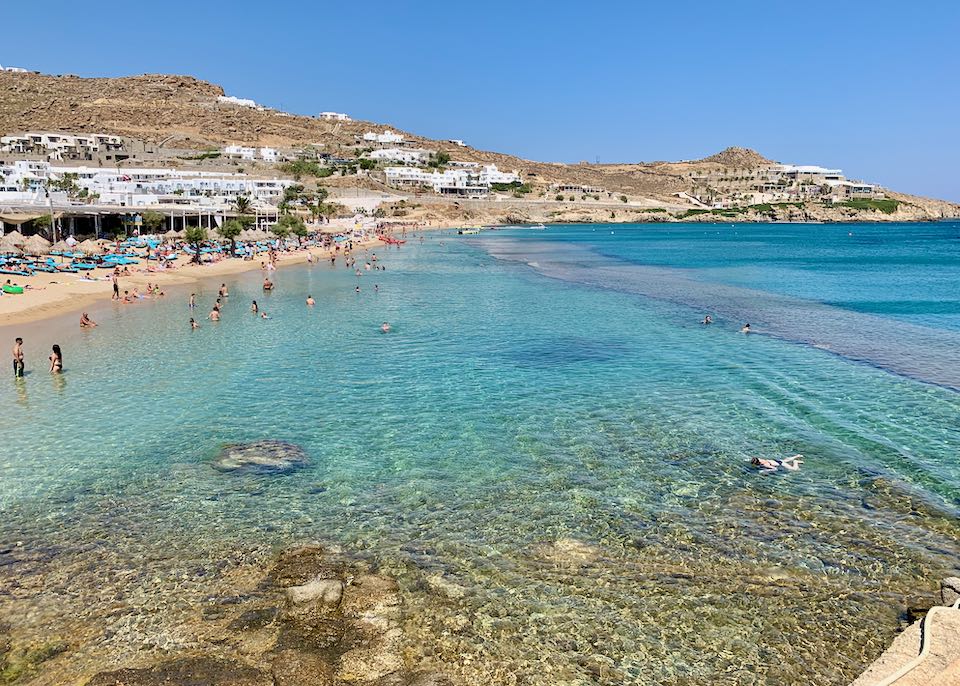 A big draw for revelers, Paradise Beach has three clubs to choose from: Paradise Club with a hugely popular beach bar surrounded by mounds of empty Dom Perignon bottles, Tropicana with wild all-night dance parties, and Cavo Paradiso, a five-minute walk away on a headland overlooking the waves. All attract big-name international DJs and the parties go on 'til dawn. In daytime during peak season the sandy beach is popular with young, trendy sunbathers; in low and shoulder seasons, families take over. The excellent, authentic Indian Palace restaurant is nearby. The beach can be reached either by frequent shuttle from Mykonos Town or by water taxi.

The Best Hotel at Paradise Beach
Exclusive villas dot the hillside above the sheltered cove of Super Paradise Beach, accessible via a steep, narrow access road. Super Paradise is dominated by its namesake beach bar and club (shown above) with popular Jackie O at the opposite end. During summer peak season, beach parties with international DJ sets kick off in the afternoons and continue until the wee hours of the morning. During the day, the beach is a good spot for sipping a cocktail while working on your tan. Hourly shuttle buses from Mykonos Town during high season run late into the night, while boat taxis serve the beach during the day.

The Best Hotel at Super Paradise Beach
Lively Paraga Beach on the south coast bridges the gap between backpacker party central and sultry sophistication. This appealing sandy crescent has several beach bars and a youth hostel at one end. Beach parties tend to kick off in the afternoons. At the other end of the beach, on a headland with excellent sea views from its lofty vantage point, is Scorpios (shown above) – a place for leisurely lunch under a shady canopy by day, an amphitheater for sunset-watching, and a club lounge by night. A two-minute walk north across the headland you'll find a couple of great seafood tavernas and a more chilled-out vibe on pebbly Agia Anna Beach (one of three beaches in Mykonos with the same name – the others are in Mykonos Town at the Old Port and south of Kalafatis Beach on the west side of the island). Buses run to Paraga from Mykonos Town in summer.

The Best Hotel at Paraga Beach

Staying in Kalo Livadi Beach
You have to pass through Ano Mera to reach this long, wide beach on the south coast. Because it's relatively isolated compared to other south coast beaches (reachable by bus in high season but not by water taxi), this beach avoids the worst of the summer crowds. There are a handful of luxury hotels on the hills above, a couple of beach clubs, seafront tavernas serving Greek standards, and several clusters of sun loungers. Still, travelers can easily find a patch of sand to call their own, or take a short walk southeast along to coast to find the tiny, lesser known Loulos Beach (no sunbeds or umbrellas here, so come prepared). On windy days Kalo Livadi Beach can feel quite exposed.

The Best Hotels at Kalo Livadi Beach
Reachable via Ano Mera (or via boat taxi from nearby beaches during summer season), Elia Beach is a long, sandy beach on the south coast of Mykonos. Elia Mykonos, a decent seafood spot with a bar and sunbed rentals, is the only restaurant open to the public on the beach; all other restaurants are inside the resorts. However, the luxury resorts capping the surrounding hills all have their private beach areas here. You'll also find a small water sports rental center with jet skis and inflatables. While the beach gets busy with sun worshippers, its lack of public beach bars and abundance of space lends it a more relaxed vibe than other south coast beaches, even during its most crowded moments. A ten-minute scramble along the rocks from the west end of Elia Beach takes you to the quiet, pretty Agrari Beach in a sheltered bay, where you'll find a couple of beach restaurants, plenty of deck chairs, and calm, shallow water.

The Best Hotels at Elia Beach

Staying in Ano Mera
The only other village on the island of any size after Mykonos Town, Ano Mera sits roughly in the center of the island, reachable via an 8km drive along the island's main road (not long ago, this was the only road on the island). Ano Mera is well worth a visit for its attractive main square, lined with tavernas and cafes, and the beautiful Tourliani Monastery (pictured above) that dates back to the 16th century. Beyond its whitewashed, fortress-like wall, there's a striking marble chapel filled with medieval icons. There are great views of the village and the monastery from the Paleokastro Monastery, located on a hill just outside Ano Mera. Frequent buses connect Ano Mera with Mykonos Town. In summer, there are buses that connect Ano Mera with Kalo Livadi and Kalafatis beaches. There are very few hotels in Ano Mera, but the village is home to one of the best, Koukoumi, the one and only vegan hotel in Mykonos.

The Best Hotel in Ano Mera

Staying at Panormos Beach
One of the longest beaches in Mykonos, Panormos stretches for about half a kilometer along the island's north, central coast. Set back in a cove, the beach is somewhat protected from the strong, northerly winds, though it is typically breezier here than at the southern beaches. There is a fantastic restaurant, Kalosta, and a lively beach club, Principote, here, but the beach is relieved of the usual throng of tourists due to its semi-remote location and lack of a regular bus (you'll want a car to visit here). Expect crystalline waters, fine golden sand, and plenty of sun. Both restaurants and a smattering of hotels sit at the northern end, while the far south end attracts a few nudists. The pool and view from Panormos Village is shown above.

The Best Hotel at Panormos Beach

Staying at Agios Sostis Beach
The prettiest beach on the Mykonos north coast, Agios Sostis is tucked away in a cove but has a good strip of white sand, shallow, calm water, and a few beach umbrellas. It tends to be a lot less crowded than the south coast beaches but can be buffeted with the wind in July and August. At the north end, high above the beach is the legendary Kiki's Tavern; diners start lining up outside it at noon for the terrifically simple Cycladic dishes. Directly below the taverna is a small, sheltered cove with crystal-clear water and a tiny beach. You need your own wheels to get to Agios Sostis. The turnoff for the beach is 2km or so out of Mykonos Town off the main road towards Ano Mera.

The Best Hotel at Agios Sostis Beach

Staying in Aleomandra

Named for the mythological stables that sheltered Apollo's horses, Aleomandra is the little peninsula between Ornos and Agios Ioannis jutting southwest out into the sea. This is the closest point in Mykonos to the sacred island of Delos. This sparsely developed area is dotted with private luxury villas with only a few high-end hotels open to guests and a handful of small, sandy beaches (some with no names) that see very few visitors, even in the peak season. Glyfadi Beach, below Casa del Mar's is one of these nearly secret beaches. For privacy and serenity, this is among the very best spots on the island, though it may feel a little isolated for some.

The Best Hotels in Aleomandra

Staying in Kalafatis
The westernmost village on Mykonos, about 8 km from Chora as the crow flies, casual Kalafatis village is home to the only Blue Flag-awarded beach in Mykonos, Kalafatis Beach. This long, tree-lined swathe of golden sand features a handful of watersports centers, beach volleyball, and boat charters, though it's most popular as a windsurf destination, loved for its steady breeze and consistent (yet not too aggressive) waves. Sunbed and umbrella sets are on offer from the couple of seafood tavernas perched on the sand; more dining options are available offshore in the village. Most of the activity takes place at the north end of the beach, leaving the south side mostly open for swimming, snorkeling, or simply claiming your own patch of sand under the sun. There is a lifeguard on duty throughout the summer season. Unpretentous, low-key, and family-friendly, Kalafatis is a breath of fresh air in an often hectic, always glitzy, destination.

The Best Hotels in Kalafatis
Read More