Seville › Seville Hotels
Updated: June 21, 2023
Seville Hotels – Tips and Advice

Best Hotels in Seville: Alfonso XIII (most luxurious and best for families) • EME Catedral (best views) • Mercer Sevilla (outstanding service) • Hotel Boutique Casa del Poeta (best romantic hotel) • Las Casas de La Judería (best for local character)
Best Cheap/Midrange Hotel in Seville: Casa de Colon
Best Neighborhoods for Visitors in Seville: Barrio Santa Cruz (the historic center, near the cathedral and the Alcázar, prime location for exploring the city), El Arenal (north of Barrio Santa Cruz along the river; sights include the bullring and Museo de Bellas Artes), and Triana (across the river, featuring some flamenco bars and outlying attractions).
Spanish food (and Andalucian food in particular) is best known for its tapas – small dishes traditionally served free with a drink. Though most tapas in Seville are no longer free, Seville is known for its sheer number and variety of tapas bars, from traditional Spanish to fusion gourmet.
Central Seville (Barrio Santa Cruz and El Arenal) is compact, comprised of narrow, medieval streets, and easiest to get around on foot. Driving around the city is generally not recommended, though certain buses and the tram can be useful. The main train station is a 15-20 minute walk from Barrio Santa Cruz; alternatively, catch bus #21 along Av. Menéndez Pelayo, behind the Royal Gardens of the Alcázar. A number of buses depart from Puerta de Jeréz, just south of the Alcázar. The EA airport bus (€4) runs along the waterfront. The C5 also runs along the waterfront and loops around Barrio Santa Cruz and El Arenal, while the C3 passes through Triana. C1 and C2 are useful for reaching Isla Mágica and the Museo de Arte Contemporáneo. Seville's bus networks are run by Tussam; they have a handy app (in Spanish only but easy to use) that allows you to plan your bus journey. Buy bus tickets on board (and don't forget to validate them!) or purchase a rechargeable Tarjeta Multiviaje (min. 10 trips) from Tussam information stands or ticket machines at tram stops. The tram runs partway along Barrio Santa Cruz to Plaza Nueva; useful for short rides. (Note that there are some hotels in Barrio Santa Cruz that are not accessible even by taxi, and that some walking may be required.)
Smoking is still allowed in many Spanish hotels, so request a non-smoking room when booking if sensitive to cigarette smoke and smells. Smoking is banned inside bars and restaurants though it's possible to smoke in public areas outdoors.
Many attractions, museums and restaurants in Seville are closed on Mondays.
The 13 Best Luxury Hotels in Seville

Hotel phone: +34 954 917 000
A 5-star hotel; the ultimate in palatial luxury and one of the most atmospheric places to stay in Seville. Built near the Alcázar to host foreign dignitaries during the 1929 Exhibition on the orders of the King of Spain, it boasts frescoed ceilings, colorful ceramic tiling, graceful Moorish arches and a grand ballroom. Hotel Alfonso XIII is Seville's equivalent of The Ritz in London and George V in Paris, showcasing the best of Andalusian culture – past guests have included royalty and notable figures like Sofia Loren, Orson Welles, Hemingway, and David Beckham. Large, luxurious rooms come with carved alcoves and Moorish-style headboards; individually-styled suites feature Acqua di Parma toiletries. Cots and extra beds for children provided on request. Amenities include a large pool set amid beautifully-landscaped gardens, a gym, and two excellent restaurants. The location is ideal for exploring Barrio Santa Cruz.
2. Casa 1800 – Barrio Santa Cruz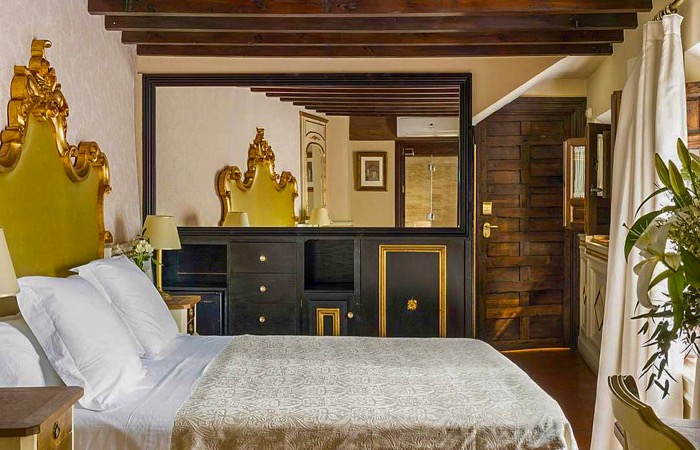 Hotel phone: +34 954 56 18 00
This luxurious three-story 19th century mansion is just steps away from the cathedral and a number of excellent Barrio Santa Cruz restaurants. Casa 1800 is a perfect blend of historic charm and 21st century comfort: exposed brickwork, vintage floor tiles, and fin de siècle velvet sofas are paired with flat-screen TVs and in-room coffee makers. The enormous central patio floods the hotel interior with light, and all Premium rooms are individually decorated. Amenities include a rooftop pool and terrace with a splendid view of La Giralda bell tower. Personalized service is one of this intimate hotel's best features.

Hotel phone: +34 954 21 38 68
A cosy boutique hotel inside a restored 17th century mansion, Casa del Poeta is ideal for romantic getaways. All its original elements have been preserved, from the leafy central patio with Moorish arches and centerpiece fountain to its collection of sumptuous antique furnishings. 14 individually decorated rooms and three suites are airy and bright, with excellent views of the cathedral from the private roof terrace. There's a small art gallery on-site, and free Andalusian guitar performances are held nightly. While there is no on-site restaurant, Casa del Poeta is located right in the heart of Barrio Santa Cruz, within easy walking distance to numerous great restaurants and Seville's main attractions.

Hotel phone: +34 954 41 51 50
This boutique spa hotel sits right in the heart of the historic Barrio Santa Cruz, built within 27 converted houses in Seville's ancient Jewish quarter – hence the name. Its 134 rooms linked by a labyrinth of narrow passageways, stairwells, and classic Andalucian patios and gardens, and the hotel has preserved many of the buildings' original features, such as antique furniture, wooden floors and French windows. Apart from the rooftop pool, amenities include a luxurious mosaic-tiled spa modeled on ancient Roman baths. There's live piano music nightly at the elegant and aptly named on-site cocktail lounge, Piano Bar. Extra beds are provided for children under the age of seven at no extra charge.

Hotel phone: +34 954 50 55 99
Gran Melía Colón is a 5-star hotel with decor that leans more towards contemporary glamour rather than classic Andalusian design. Petal-shaped Philippe Starke armchairs sit beneath a giant lobby chandelier and smart, minimalist rooms have doors painted to look like artwork by Goya and El Greco. Amenities include a rooftop whirlpool tub with sunbeds, a small gym and spa, designer toiletries in bathrooms and three excellent restaurants. (One serves international dishes, another focuses on gourmet tapas, while the third is a cocktail bar that also serves award-winning cakes.) Though this hotel is geared more towards couples and business travelers, families are well-catered for, with free cots for babies, extra beds for children at a reduced rate, and child-minding services arranged on request. Located just north of Barrio Santa Cruz and within a few minutes' walk of the Museum of Fine Arts; popular with foreign dignitaries, bullfighters, and celebrities.

Hotel phone: +34 954 50 27 21
Combining one of Seville's best restaurants with one of the city's most atmospheric lodgings, this boutique hotel consists of just seven luxuriously appointed rooms that occupy the top floor of a meticulously restored 19th century mansion. Expect personalized treatment by courteous staff, antique furniture in classically decorated rooms, and excellent views of Seville's historic centre from all bedrooms. Apart from the namesake restaurant on the first floor and numerous great tapas bars just around the corner, this hotel is ideally located in El Arenal, a short walk from the bullring, the cathedral, the Museum of Fine Arts and other major attractions.

Hotel phone: +34 954 56 00 00
This chic hotel, located right across the street from the cathedral, is a favorite with celebrities – combining killer views with period features and thoroughly modern design. The hotel comprises over a dozen converted 16th-century townhouses, and all rooms are spacious, with exposed stone walls, high-beamed ceilings and floor-to-ceiling French windows that open up onto balconies. Junior Suites and Superior Rooms with Cathedral Views are well worth the splurge. Bathrooms come either with free-standing tubs or walk-in rain showers, and the hotel's pampering facilities include a rooftop plunge pool that peeks right into the La Giralda bell tower, a wellness spa, and a hammam steam room. There are three excellent restaurants on-site, as well as the trendy Santo Copas cocktail bar with a glass floor exposing subterranean Roman ruins. Young, multi-lingual staff go out of their way to be helpful.

Hotel phone: +34 807 31 70 90
This stylish, 12-room boutique hotel is the converted 18th-century former home of American bullfighter John Fulton, set on a little plaza just around the corner from the cathedral. Ultra-modern rooms feature white, minimalist decor, with triple-glazed windows and sound-proofed doors to ensure a peaceful stay. Families are accommodated in two rooms connected by a private corridor. The roof terrace is notable both for its views of the cathedral and its bell tower, and for the lovely al fresco tapas bar. The location is super-central, with numerous tapas bars, restaurants, flamenco venues, and attractions on its doorstep.

Hotel phone: +34 954 22 30 04
The understated façade on a quiet street in El Arenal hides an architectural masterpiece: a 5-star hotel inside a restored 19th century palace. The staff greet guests with a welcome glass of cava in the magnificent light-filled atrium, strewn with designer 21st Century furnishings. A grand marble staircase leads up to 12 high-tech, luxurious guest rooms, each slightly different in design, and with no expense spared when it comes to comfort. Rooms come with Poltrona Frau beds, Nespresso machines, well-lit bathrooms with rain showers (some rooms also have tubs), space-age Japanese-style toilets, and charging points for electronic devices. If you want high ceilings, go for the spacious rooms on the 1st floor; if you'd prefer a private terrace, choose one of the smaller second-floor rooms (201 or 202). Interconnecting rooms accommodate families. The on-site restaurant serves contemporary Andalusian cuisine, while the bar is known for its inventive house cocktails. Many of Seville's main attractions are a short walk away.

Hotel phone: +34 954 22 94 95
This chic, urban hotel blends 15th century architecture with Pop Art style, and the view of the cathedral from its trendy rooftop bar and pool is one of Seville's best. This hotel is a converted Archbishop's Palace, and there's a strong historic feel to the place, with its 15th century stone columns and arches, excavated Roman mosaic floor, and classic Andalusian patio filled with orange trees. By contrast, the rooms are highly contemporary (and spacious), with framed black-and-white photos of Hollywood greats and stylish indigo, black, and white decor. Interconnecting rooms and free cots for babies are some of the family-friendly perks. There's no on-site dining apart from a snack menu at the rooftop bar and 24-hour room service, but there are plenty of tapas bars and restaurants in the surrounding streets.
11. El Rey Moro – Barrio Santa Cruz

Hotel phone: +34 954 56 34 68
The most colorful boutique hotel in Barrio Santa Cruz is located within a transformed 16th century mansion near the cathedral, hidden behind an unassuming façade. 19 tranquil, vibrantly decorated rooms overlook the hotel's central courtyard – all traditional Moorish arches and flowering plants. The single rooms are quite snug, but the rest are mid-sized, all boasting attractive design features like tiled floors, wrought-iron detail, and heavy wooden beams. The Junior Suite comes with its own hydromassage bath. Perks include free bicycles for guest use, a free walking tour of the city, and private time in the rooftop Jacuzzi. Cots are provided for babies. On-site restaurants serve Andalusian classics, and there are numerous other dining options in the surrounding streets.
12. Hotel Bécquer – Barrio Santa Cruz/El Arenal

Hotel phone: +34 954 22 89 00
Centrally located, within easy walking distance of main tourist sights in both Barrio Santa Cruz and El Arenal, this unpretentious mid-range hotel is one of the very few hotels in the heart of the city that are easily accessible by car. The service at this family-run place is friendly and efficient, and the rooms – while not hugely memorable – are light, bright, and comfortable, with neutral decor and spacious bathrooms. Amenities include an on-site restaurant, two bars, a parking garage, a rooftop pool, and a small spa. There's good shopping and dining right on the doorstep, and the hotel's location makes it easy to find in a city known for its maze of narrow, one-way streets.

Hotel phone: +34 954 26 80 00
Located across the river from central Seville in Triana, this vogueish and modern 4-star hotel is ideally placed for exploring the neighborhood sights, and is within walking distance of the city's main attractions. Sizeable, spotless rooms come equipped with a whole host of modern amenities, and families are well-catered for, with free extra beds for children under 12 and baby cots. The fitness and relaxation facilities include a gym, spa, Jacuzzi, and a small rooftop pool with an impressive view of historic Seville. Parking is available at extra charge. The hotel serves a buffet breakfast at extra cost and the roof terrace doubles as a cocktail bar. Triana's restaurants and tapas bars are just a few minutes' walk away, with more dining options in El Arenal, just across the river.
Staying in Barrio Santa Cruz

Barrio Santa Cruz is the historic heart of Seville, home to the city's major attractions, including the Alcázar and Seville's most famous landmark: the grand Cathedral with its La Giralda bell tower. A tangle of narrow lanes, punctuated by small plazas filled with blossoming orange trees, Barrio Santa Cruz had historically been the home of Seville's thriving Jewish population. Under Moorish rule, Seville's Jews and Christians coexisted peacefully, but after the 13th century Reconquista, pogroms and the subsequent expulsion of Jews from Spain followed, and today, aside from the synagogues that have been converted into churches, there are very few signs of the city's Jewish history. The neighborhood has the highest concentration of boutique hotels in converted historic mansions, several 5-star hotels, and numerous tapas bars and restaurants. This area is lively after dark, with bars open until the wee hours of the morning.
Best Hotels in Santa Cruz
Best Restaurants in Santa Cruz
Staying in El Arenal

This neighborhood – the former port of Seville until the silting of the river caused the port to be relocated south of the city – stretches along the waterfront just west of Barrio Santa Cruz, and forms an important part of Seville's Casco Antiguo (historic centre). El Arenal is home to several important attractions, including the Plaza de Toros de Maestranza – one of Spain's most venerable bull rings, the Museo de Bellas Artes, and the ornate Hospital de la Caridad. There is a good mix of hotels here, from a converted-palace-cum-5-star-hotel to more contemporary, luxurious offerings, as well as small boutique hotels. The numerous tapas bars here tend to be better value than in Barrio Santa Cruz, and there is a number of excellent restaurants here as well, including some of Seville's finest.
Best Hotels in El Arenal
Best Restaurants in El Arenal
Staying in Triana

The working-class neighborhood of Triana, across the river from Seville's historic centre, used to be the rough-and-ready home of sailors and bullfighters. The city's famous tile workshops were based here for centuries, with a lively pottery industry existing here since Roman times. Until the 1950s, Triana was also known as the gitano (gypsy) quarter, and is still considered to be the spiritual heart of flamenco; most of the authentic flamenco bars are gone now, but you can still catch an impromptu performance at a Triana watering hole if you're lucky. Now largely gentrified, Triana retains its historic cobbled streets and small plazas bustling with tapas bars, and attractions here include the Centro Andaluz de Arte Contemporaneo and the Isla Mágica theme park. Triana is further from the main attractions than either Santa Cruz or El Arenal, and there are fewer places to stay here than elsewhere in historic Seville, but you do benefit from some wonderful cityscape views of the cathedral from across the river.
Best Hotels in Triana
Best Restaurants in Triana
Read More
All Seville Hotel Reviews