SD › Thailand › Chiang Mai Hotels
Updated: June 21, 2023
Chiang Mai Hotels – Tips & Advice
The 18 Best Hotels in Chiang Mai

Stunningly beautiful, 30-suite boutique hotel set in a historic, restored teakwood building featuring sumptuous suites with hard wood floors, high ceilings, 4-poster/super king beds, free standing colonial style claw bathtubs, dressing rooms with walk-in closets, mini-bars, espresso coffee machines, music systems with iPod connectivity and vintage tiled verandahs with expansive daybeds, rattan rocking chairs & lovely garden views. The top-end suites have private outdoor plunge pools, sunken bathtubs and butler services.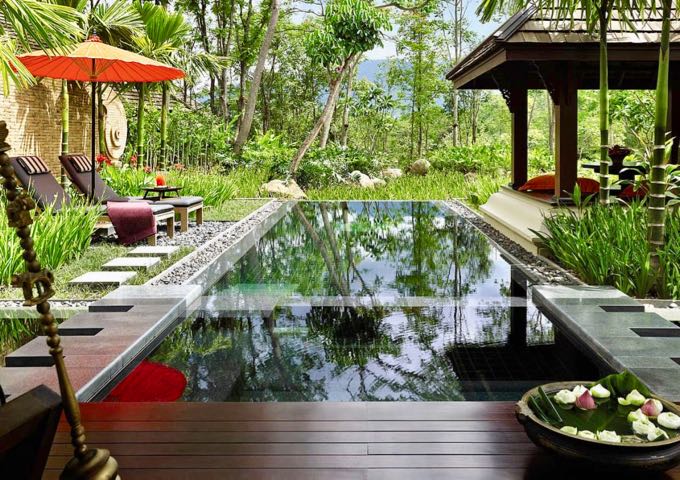 Exquisite, secluded, Thai-village style resort set in 20 acres of lush grounds (15km north of Chiang Mai) with a working rice farm, lakes, waterfalls, and lily ponds with magnificent Lanna (Northern Thai) style pavilions, pool villas, and private residences. Accommodations have vaulted ceilings, artwork, teak floors, mini-bars, tea/coffee makers, soaking tubs, iPod docking stations, and furnished outdoor Thai salas. Pavillions have salas with swing sofas and outstanding terraced rice field/garden views, pool villas have private pools & gardens, sundecks, and Thai dining salas. The top-end, wide range of private residences ranging from 1-bedroom spa residences to 4-bedroom split-level residences with pools, all include luxuries like kitchens, live-in butlers, and buffet breakfast. Resort also has plenty of activities like rice planting, a cooking school, and guided nature trail tours. Very family-friendly but with so much privacy the villas are also wonderful for a honeymoon holiday.

Stunning, tranquil, riverside resort, blending contemporary Thai & colonial styles with bright, stylish rooms and suites featuring teak wood floors, floor-to-ceiling windows, deep terrazzo tubs, mini-bars, coffee/tea facilities and massive furnished private balconies with daybeds and expansive garden/river views. Suites have double the space of rooms, add indoor daybeds, open plan bathrooms, dining areas, coffee machines, and special exclusive privileges (lounge access, buffet breakfast). The rooftop infinity pool and bar offers divine views of the river, city, and mountains. And the location is ideal: along the river, quietly removed from the Old City bustle, and within walking distance of the food stalls and cafés at the Night Market.

Marvelous mountain retreat, ideal for families, but notably isolated. Although spread extensively across a lofty valley, this self-described 'Heaven in the Hills' is admirably limited to just 55 rooms and villas. Many are distant, and most paths are steep, so buggies are provided. The very spacious Valley Deluxe Rooms feature modern facilities with an old-world charm. The suites are even more serene, stylish and comfortable, although the poorly-lit sofa alcove seems pointless considering the size of the brightly-colored balcony offering jaw-dropping views. Also appealing are the colossal spa/yoga center with 'meditation cave', outdoor games area, and lagoon-shaped pool. And it actively encourages families, with a kids' club and a range of activities. The isolation (one hour from the Old City and airport) is offset by free shuttle bus services. There are a couple of cafés nearby, but the hotel restaurant offers top-notch meals at reasonable prices and the sublime views are free.

Exuding old world charm and colonial-style elegance, this 25 room boutique hotel set in the old city, with architecture reflecting Lanna & Chinese influences (lime plastered brick walls, Chinese cabinets, antiques, courtyards) features very elegant rooms and suites. The larger suites add big living rooms, kitchenettes, and tea/coffee facilities. The interiors are as exquisite as hoped: bursting with antique furniture and Lanna (old Chiang Mai) rugs, plus all the expected modern facilities. Other attractions include the fashionable breakfast café, extensive floor-to-ceiling library, and pool, which is deep blue and inviting. Along a peaceful suburban street in the western edge of the Old City, it's adjacent to arguably the city's most famous (but least visited) temple, and a 10-minute walk to a cluster of tourist facilities. With such sophistication and only 25 rooms, book far ahead.

So different, so elegant and so worth a splurge. The entry lane of arched bamboo plants leads to a curved corridor lined with art and a lobby choked with lovely Thai furniture. Adding to the appeal are the terracotta roofs, whitewashed walls and wooden railings, all reminiscent of a colonial-era military barracks. Rooms are in 2-level blocks facing gardens of ivy, chrysanthemums and immaculate lawns featuring the namesake 200-year-old Tamarind tree. Because of the old-style design with thick stone walls and minimal windows, many rooms are dark inside, but they all feature likable colonial touches, as well as a bathroom containing a copper sink and accessible through a rattan cupboard. The pool is broad and shady and flanked by delightful decking. Activities for guests include painting, flower-weaving and a guided walk of the nearby streets. It's a peaceful 100m back from the main road lined with tourist facilities in the Old City center.

Incomparable riverside refinement and classy colonial elegance. Based around a magnificent 100-year-old Rain Tree along the Ping River, this marvelously graceful hotel of only 45 rooms boasts an old-world charm that extends to staff wearing majestic uniforms. The Deluxe Rooms face the saltwater pool, which has black tiles, wicker chairs in the shallow end, and 'islands' of trees. These rooms feature a Lanna (old Chiang Mai) décor with cloth wall-hangings, shuttered windows and rattan furniture. The colonial-style Riverfront Suites are truly regal and individually-named (e.g. 'Siamese Love'). They contain abundant Thai arts and crafts, an arched ceiling, and substantial balcony overlooking a second pool alongside the river. The attractions continue with a pool bar shaped like a rice barn, yoga and cooking classes, and an exquisite upstairs library. Along a quiet dead-end street, it's a quick stroll to the cafés along the renowned Night Bazaar and a speedy tuk-tuk to the Old City center.

Large, welcoming, and good for families. The lobby, where some staff wear uniforms seemingly from a Wizard of the Oz musical, stretches over 2 of the 12 floors. The spacious Deluxe Rooms featuring a colorful décor, bed-head of Thai crafts and a floor-to-ceiling window are a step above the motel-style facilities expected. All rooms face the pool, distant hills, or the main road about 75m away. The lagoon-shaped pool on the ground floor is shady and lined with cabanas. However, the neighboring resort is so monolithic and so close that it significantly intrudes on the setting, not to mention the views, sunlight and privacy, of the gardens and pool. Other attractions include the 4th-floor tennis court, free aqua aerobics classes, and (airless) Kids' Centre for toddlers. On the outskirts of the Old City, it's near the Ping River and renowned Night Bazaar, home to a myriad of eateries.

Trendy hotel with a modern art & local culture aesthetic, featuring contemporary, carpeted rooms and suites with bathtubs and mini-bars. Upgraded rooms have spectacular mountain views and the suites (very spacious) add Bose sound systems, Lavazza espresso machines. The top-end, grand, apartment-size suites have vibrant artwork, wooden floors, jacuzzi baths, dining spaces and kitchenettes depending on the category. The infinity pool isn't huge, but beautifully designed, with spouts, 'waterfalls' and wooden decking. Easily seen from the center of the Old City, this is one of very few high-rises in the immediate area so views of Chiang Mai and the surrounding hills are unobstructed from most rooms. Hotel is steps away from the night market and the hotel's artistic keycard gives complimentary access to an umbrella making center.

Serene, Lanna colonial-style, boutique hotel with gorgeous rooms featuring hand-carved fretwork, hardwood floors, high ceilings, hand-crafted furniture. With whitewashed walls, tiled terraces of clunky fans, and dark-stained wooden stairs, this gorgeous hotel feels like it was built in 1880 rather than 2010. And with only 19 rooms, service is impeccable. Rooms feature hardwood floors, antique furnishings (e.g. a handlebar telephone), wooden shutters and a balcony overlooking the pool or cluster of trees in the empty lot across the street. Upgraded rooms have a private jacuzzi. Perfectly matching the white exterior, the dazzling blue pool is raised and lined with bamboo poles, while the open-air poolside lounge is bursting with chess sets, books, ancient maps and antiques. Halfway along a tranquil dead-end street, it's a 10-minute stroll to the famed Night Bazaar lined with eateries and a short tuk-tuk trip to the Old City center.

Tasteful, welcoming, central – and shoes off, please! This classy 4-level boutique hotel is immediately likable with an entrance shaped like a temple, a lobby of elegant Thai furnishings, corridors lined with colorful art and an internal courtyard smothered with ivy. The Deluxe Rooms are designed very much with Buddha in mind, and also contain a rocking chair and extended desk, but oddly there are no cupboards (so hang clothes from hooks on the wall). Best are those on the top floor, which feature a raised arched ceiling. Views from balconies of the temple across the road are marred by electricity poles and wires, and all rooms facing the front would suffer from traffic noise, although the double-glazing is effective. Facing a busyish street lined with cafés and shops in the center of the Old City, the hotel is narrow, inconspicuous and easy to miss.

Unpretentious, affordable and functional for families. The exterior looks remarkably like a hospital, and the stark lobby doesn't improve the tone, despite recent renovations. With a surprising 266 rooms across 3 wings, it's along the street known as the Night Bazaar for its seemingly endless food stalls and cafés, and only a brief tuk-tuk trip to the Old City center. The Thai décor in the Deluxe Rooms is delightful but spoiled somewhat by a bright red sofa and non-matching curtains. In the Premium version, it feels like the lounge area is separate (but isn't) and the broad windows face what appears to be a balcony (but isn't). The Executive is massive, while the Family Suites for 4 are excellent, but a little dark inside. The pool on the 3rd floor is substantial, but the artificial grass and total lack of shade are disappointing.

Within walking distance of the night bazaar, this simple hotel features spacious, comfortable, good-value rooms and suites with coffee/tea facilities and mini-bars. Upgraded rooms and suites (the latter adds seating areas) have bathtubs. Nice swimming pool.

Modern hotel, right next to the Chiang Mai night bazaar, featuring stylish rooms and suites with sleek interiors, contemporary Thai touches, mini-bars and coffee/tea facilities. Suites add living and dining rooms. Upgraded rooms and all the suite guests are entitled to Club Privileges such as private check-in/check-out, and breakfast.

Affordable, Thai-style, unpretentious and interesting location. Ostensibly designed for Thai business people decades ago, this high-rise has become increasingly popular among western tourists for its likable old-style charm – e.g. the lobby is bursting with carvings, and the sprawling staircase adds a little royal flavor. Many rooms overlook the large pool, which is surrounded by potted trees (and artificial grass), while others have decent views of the mountains or city. The Deluxe and Superior Rooms are similar, with an appealing pale green décor, although some furniture needs updating. The Executive Rooms are also the same size, but contain more modern furnishings, while the 1- and 2-bedroom suites feature a bright lounge area, floor-to-ceiling windows, and a corner kitchenette. A short tuk-tuk trip from the Old City center, there are a few cafés and shops nearby, and it's an easy stroll to the Ping River and eateries at the famous Night Bazaar.

High-rise, convenient, serviceable and affordable. Towering over everything else nearby, the Amora faces the moat and remaining walls just outside the eastern side of the Old City. All rooms are apparently decorated in a 'contemporary Lanna' (old Chiang Mai) style, but this is not immediately evident, and disappointingly, balconies are only used to store the air-conditioning units. The Deluxe Rooms feature pleasant wood paneling. The 2 windows (1 full length) add to the welcoming feeling of light, space and air, with some angled nicely to maximize views of the Old City and distant mountains. However, most rooms and suites, which are comfortable and contain 2 bedrooms, overlook the kidney-shaped pool on the 2nd floor. The area around the pool is breezy and offers some limited views, but lacks shade, which is not unexpected for a high-rise of this standard.

Trendy, friendly, and quiet location. One in a chain of boutique hotels across Chiang Mai, the exterior of brick and glass resembles an office block, but it's pleasant inside and with only 50 rooms on 5 levels service is personable. Perhaps trying to be too fashionably Art-Deco, the layout of the Deluxe Rooms is odd. The quasi-entrance lobby with a minuscule desk leads past a cubicle with a bathtub and shower side-by-side to the bedroom with a corner sofa and another desk. The mirror behind the bed makes the rooms appear more spacious. Some face the quiet street, but most overlook the L-shaped pool which could be noisy. Although deep and sunny, the pool does lack shade. Inexcusably not signposted, it's along a laneway, which is a 5-minute stroll past plenty of shops and cafés to the eastern walls and moat of the Old City.

Modern hotel, overlooking the Ping river, featuring big, comfortable rooms and suites with blackout shades, bathtubs, mini-bars, mini fridges, tea/coffee makers and panoramic river/city/mountain views. Suites add living rooms, dining tables, and whirlpool/spa bathtubs. Quadruple rooms are great value for families.
Read More