Madrid › Madrid Hotels
Updated: September 8, 2023
By Santorini Dave
On This Page
Madrid Hotels – Tips & Advice

Best Luxury Hotels in Madrid: Four Seasons (location & luxury) • Mandarin Oriental Ritz (classic luxury) • URSO Hotel & Spa (best spa retreat) • Orfila (outstanding service) • Rosewood Villa Magna (great for families) • Palacio de los Duques (best romantic escape) • Posada del León de Oro Boutique Hotel (best boutique hotel) • Barceló Emperatriz (upscale local flair)
Best Cheap Hotel in Madrid: Room Mate Alicia.
The best Madrid neighborhoods for visitors are Sol & Gran Vía (as central as it gets, walking distance to main attractions, great dining and shopping), La Latina & Lavapiés (great for tapas and nightlife, convenient for exploration of main sights), Chueca & Malasaña (best for bars, clubs and trendy restaurants, good transport connections), Huertas & Barrio Las Letras (closest to the "Golden Triangle" of art galleries, good dining options) and Salamanca (close to Retiro park, convenient for shopping and dining).
Smoking is still allowed in some Madrid hotels, so if you're sensitive to tobacco smoke or smell, be sure to request a non-smoking room. Smoking is not allowed inside bars and restaurants, but people can still smoke on attached outdoor terraces.
Spanish food is famous for its tapas, and Madrid has an excellent dining scene. With the exception of San Sebastián in the Basque Country and parts of Andalusia, Madrid has the best tapas scene in Spain; La Latina and Huertas are two of the best neighborhoods for tapas-bar hopping. Apart from traditional Spanish restaurants, Madrid's dining scene now features a slew of contemporary Michelin-starred restaurants, as well as great Mexican, Japanese, Italian, Peruvian and other cuisines. Vegetarians and vegans are now also well catered to.
Central Madrid is compact and very walkable, and it's often faster to walk than take the metro if a short distance is involved. The public transportation system is excellent and the Metro system runs to pretty much every corner of the city. A single trip to most destinations costs €1.50-€2.00 (a Metro ticket to the airport costs €4.50-€5.00), but if you're looking to use the Metro a lot, it's worth buying a 10-trip ticket (€12.20) to save money. Both of Madrid's main train stations, Atocha and Chamartín are attached to metro stations, making transfers easy. It's worth downloading the Citymapper app to help plan your route. Public transport runs roughly between 6am and 11:30pm, with the exception of late-running night buses. Uber is cheaper than regular taxis, but official taxi drivers know the city better. Driving in central Madrid is not recommended due to the proliferation of narrow, one-way streets.
Madrid is a 24-hour city. People dine out late (typically, many restaurants don't open until 8:30pm), and in nightclubs, the scene kicks off around midnight and continues until dawn. Those who choose to go out earlier will miss the action, but will be more likely to get a seat in a bar.
The 16 Best Hotels in Madrid

Hotel phone: +34 910 88 33 33
The Four Seasons Hotel Madrid is a luxurious 5-star hotel located in the heart of the city near major attractions like the Prado Museum. The rooms are spacious and elegantly decorated with beautiful views of the city. The service is excellent with an attentive and professional staff that caters to your every need. The on-site restaurant is superb.

Hotel phone: +34 917 01 67 67
Classic 5-star luxury, ideally situated in the heart of the Retiro district, and popular with visiting dignitaries, aristocracy, and celebrities. The Ritz' grand 1910 building has been thoroughly renovated, and its 125 rooms and 42 suites all differ in decoration and design; many are furnished with antiques and original artwork, some come with silk canopies or chandeliers over the beds, some have balconies overlooking the garden. Interconnecting rooms, cots for babies, child-minding service, and bathrobes for children are a few of the family-friendly perks. Facilities include a spa and fitness center, and on-site Goya restaurant is one of the best in the city; the Sunday brunch is legendary. Great location for visiting the Retiro park and the 'Golden Triangle' of Madrid's top art galleries.

Hotel phone: +34 913 42 24 90
Surrounded by the boutiques of the upscale Salamanca district, the decor at this ultra-stylish hotel is inspired by the 19th century empress, Eugenia de Montijo. Expect undulating metalworks, marble, and colorful upholstery, glass sculptures of her favorite Violeta sweets, and violet tones throughout. A multi-lingual staff checks in guests at individual desks, and the 146 rooms come equipped with memory foam beds, and rain showers and Agua de Loewe toiletries in marble-clad bathrooms. There's a gym and a small rooftop pool, and hairdressing and massages are made available in guest rooms, courtesy of a local beauty salon. Apart from an extensive breakfast buffet, Mutis restaurant serves imaginative Mediterranean dishes; the Eugénie bar is renowned for its cocktails. Conveniently located for shopping and the Sorollo Museum; a short ride away from major attractions.

Hotel phone: +34 912 76 47 47
This luxurious, remodeled palace in the heart of Madrid blends opulent historic surroundings with cutting-edge design and superb dining. Midnight blue, gold, champagne, and charcoal hues feature prominently in the decor inside this 19th century duke's palace, with a Velázquez theme running throughout the hotel and reproductions of the Master's paintings in all the rooms. There are three outstanding restaurants: Dos Cielos (traditional Catalan and Madrileño cuisine) in the former stables, Montmartre (bistro), and Coroa (breakfast buffet, informal meals); in summer, drinks are served in the courtyard garden. This hotel is popular for weddings and romantic getaways, and apart from the panoramic rooftop pool, there's the Thai Room spa, with a full range of treatments, steam room, sauna, and gym. The hotel is three blocks away from the Royal Palace, and near the bars, restaurants, and shopping of Sol and Gran Vía.

Hotel phone: +34 917 87 77 70
A centrally-located chrome-and-glass cube full of Papua New Guinean artifacts, Hotel Urban the most interesting 5-star hotel in town. The design is Art Deco meets anthropological collection, with wooden ancestral figures and carved spirit house pillars standing sentry in the lobby courtyard. The sparsely-furnished rooms are a study in stylish urban sophistication, done in neutral colors, and livened up with carvings and prints from far corners of the globe. Bathrooms boast green Guatemalan mosaic marble; all with rain showers, some with free-standing tubs. Apart from the superb rooftop pool, compact gym, and sauna, the hotel has a basement museum showcasing more Papua New Guinean treasures – a must for anthropologically-inclined guests. Cebo Restaurant serves creative Mediterranean dishes, while the semi-subterranean Glass Bar is all about cocktails, Japanese-inspired tapas, and champagne. A children's menu, babysitting services and interconnecting rooms are all family-friendly perks.

Hotel phone: +34 913 60 80 00
Built over 100 years ago on the king's orders, this elegant 467-room hotel is steeped in history, and located within a stone's throw of both the Prado and the Museo Thyssen-Bornemisza. Classic decor, antique furnishings, original mahogany details, custom-made beds, and spacious marble bathrooms feature in all the rooms; try to book a corner room overlooking the Plaza de Neptuno. Baby cots and children's beds provided for a fee. The light-filled Rotonda, with its beautiful stained-glass dome, is a memorable dining venue and excellent place for Sunday brunch. The other three on-site restaurants serve sophisticated Asian dishes, sushi, and bistro fare, and the tapas bars of Plaza Santa Ana are just a short walk away. Facilities include a good gym, spa, and sauna; and the multi-lingual service is polished and efficient. The location is ideal for exploring the 'Golden Triangle' and the nightlife of La Latina.

Hotel phone: +34 914 44 44 58
A true urban oasis, this contemporary boutique hotel is one of the best spa retreats in Madrid, and convenient to the dining and nightlife of the nearby Malasaña and Chueca neighborhoods. Large windows flood the 78 sizable rooms and suites with natural light, with neutral tones and Japanese prints contributing to the tranquil ambience. Nice touches include marble bathrooms with custom-made toiletries, and the service is attentive and professional. On-site dining consists of buffet breakfast in The Conservatory, light meals and imaginative cocktails at the Urso Bar, and creative local fare at Media Racion. The Natura Bissé spa is superb, with a wide range of treatments, hydromassage pool, steam room, and sauna. Though URSO is geared more towards romantic retreats, cots and children's beds are provided on request.

Hotel phone: +34 912 76 47 47
This buzzy, stylish hotel overlooks one of Madrid's tapas bar hotspots – Plaza Santa Ana – and boasts a rooftop bar complete with its own DJ. The Reina Victoria used to be a classic luxury hotel, popular with top bullfighters, but an ME makeover brought in blond-wood Scandinavian chic design with trademark purple touches. Bright, modern rooms come with great beds, hydromassage showers, and 'hangover kits' for those who take full advantage of Madrid's nightlife, while suites come with Nintendo Wii consoles and Nespresso machines. You don't have to look far for nightlife and dining options: Radio cocktail bar is extremely popular with guests and non-guests alike, the on-site Ana La Santa restaurant is renowned for its innovative international cuisine, and Plaza Santa Ana is lined with bars and restaurants. Guests can use the excellent gym and spa next door. Located in Huertas; an easy walk from the Prado, other major art museums, and most major attractions, as well as the nightlife of La Latina.

Hotel phone: +34 914 32 29 11
Opposite the Retiro park and overlooking the Alcalá Gate – this is a well-located business luxury hotel with a great spa. Inside this 19th century townhouse, 37 guest rooms and five suites all differ slightly in design, though they're all done up in neutral greys and cream tones. Bathrooms come with rain showers and Korres toiletries; deluxe rooms and suites have tubs. Dining options consist of the on-site Independencia restaurant (tapas and creative Mediterranean dishes), with numerous other dining options on the doorstep. The intimate on-site bar serves cocktails, wine and champagne. With original stone arches, a basement pool, and a hammam, the Bodyna spa is one of the hotel's best features. Ideally located for shopping and dining in Salamanca, and for visiting the major art museums.

Hotel phone: +34 915 87 12 34
Villa Magna isn't much to look at on the outside; inside, it's a jaw dropping mix of cutting-edge design, antique-style furniture, and bold contemporary art. The wood-paneled guest rooms in purple and grey are more subdued than the common area, but come with Art Deco lamps, spacious grey marble bathrooms, and numerous modern conveniences. There's a full range of amenities aimed at families; from children's menus, games, cots, and playpens provided on request to family-friendly restaurant recommendations. Three on-site restaurants: Tse Yang (Cantonese, dim sum), Restaurante Villa Magna (fine dining, seasonal menu), and The Lounge (light meals, cocktails). Apart from an extensive list of individualized spa treatments, there's a sauna and steam room for guest use. Located near designer stores and numerous restaurants; a short ride from main attractions.

Hotel phone: +34 911 19 14 24
This funky 3-star boutique hotel was once a 16th century grain store, then a 19th century inn for visiting merchants. Now, its individually-styled, sparsely-furnished rooms come with memory foam beds, Moorish-style alcoves, and retro phones. Walls are colorfully done in lime-green, crimson, mustard-yellow, or azure. Rooms towards the front of the building are brighter and more spacious, but also come with more street noise. The historic design of the building means that there's little room for amenities, but there's an excellent tapas bar on the ground floor. The staff are wonderfully friendly and helpful and the location, a couple of blocks from the Plaza Mayor, couldn't be more central; numerous tapas bars and restaurants are nearby, and museums and other attractions are a short walk away.

Hotel phone: +34 911 19 14 94
A former coaching inn turned 4-star boutique hotel, Posada del Leon de Oro is located in the oldest part of town on lively Cava Baja, a street renowned for its tapas bars. Sensitive restoration has retained many of the original features, while the excavated remains of Madrid's 12th century wall are visible beneath the glass floor of the restaurant. Each of the 17 large rooms is uniquely designed and decorated: heavy wooden beams, chrome walls, funky wallpaper, and wall-length cityscape prints are some of the features that guests might encounter. The restaurant serves excellent traditional cuisine (including one of the best versions of Madrid's hearty garbanzo bean stew in town) and plenty of vegetarian dishes. Personalized service and proximity to museums and the nightlife and restaurants of Sol and La Latina make this a great mid-range pick.

Hotel phone: +34 917 81 01 73
Combining 19th-century elegance with dramatic modern design and Michelin-starred dining, the Único sits on one of Madrid's most exclusive streets in the upscale Salamanca neighborhood. Some of the 44 monochrome, wood-paneled rooms and suites come with balconies, and the marble bathrooms are stocked with Gilbert & Soames toiletries. Facilities include a basement gym, tranquil garden and guest library, and the on-site dining is some of the best in Madrid: Ramon Freixa's 2-Michelin-star namesake restaurant is a magnet for serious foodies. Family-friendly amenities include cots, free beds for children under 11 in deluxe rooms, and child-minding services arranged on request. Ideally located for shopping and dining, with Retiro park, the Prado, and other major attractions a short ride away.

Hotel phone: +34 917 02 77 70
On a quiet residential street in Alonso Martínez, this revamped 19th century mansion is an intimate, 32-room boutique hotel. There are plenty of theatrical flourishes, including a grand lobby used to stage plays in the 1920s. Spacious rooms are traditionally styled, and come with upholstered bedheads and heavy drapes. Creature comforts are not overlooked: expect hydromassage tubs, his and hers sinks and Relais & and Chateaux toiletries in bathrooms. Service is discreet and personal, and staff go out of their way to be helpful. Amenities include a rooftop terrace and beautiful garden, and the on-site Jardín de Orfila restaurant serves sophisticated dishes made from seasonal produce. The hotel is conveniently located both for exploring the 'Golden Triangle' and for shopping in the upmarket districts of Serrano and Goya, and is just a short walk from the lively bars and restaurants of Chueca.

Hotel phone: +34 910 05 27 46
This fashionable little adults-only hotel in the heart of the lively Chueca district is a blend of the historic with hip interior design. A converted 19th century palace, Barcelona-based designer Lázaro Rosa-Violán has transformed the space with retro sofas, oversized lamps, and art books livening up the common spaces. Navy-blue walls, map prints of old Madrid, giraffe-print bathrobes, and rain showers are some of the features found in all the rooms; for a private terrace, book the Only You Secret room. Geared towards busy urbanites, Only You boasts no established check-in time, 24-hour service, and a 24-hour gym. There's a good hotel restaurant and a wood-paneled bar serving classic drinks, with plenty more drink and dining options right out the door. Perfect location for boutiques, bars, and clubs of Chueca and Malasaña; walking distance to main attractions.

Hotel phone: +34 910 71 49 82
Good value apartment units with kitchen and dining room. Small rooftop pool and central location. Great for families.
Staying in Sol & Gran Vía

Centered on the lively Puerta del Sol, Madrid's Kilometre Zero, and the central point of the entire Iberian Peninsula, Sol is as central as it gets and filled with historic landmarks. Sol has excellent metro connections to every corner of the city, so all the major attractions – from the Royal Palace to the "Golden Triangle" – are easily accessible. To the north lies Gran Vía, one of Madrid's main shopping streets, lined with historic buildings and high street fashion boutiques such as Mango and Zara. Madrid's main square, Plaza Mayor, is just a couple of minutes' walk away. Accommodation in Sol is a good mix with something for everyone: luxury hotels, small boutique hotels, and hostels. It's also a terrific neighborhood for dining out, with numerous tapas bars, some of the city's oldest restaurants, trendy food markets and fast food joints. Tourist trap souvenir shops aside, there are some excellent places selling original crafts, too.
Best Hotels in Sol & Gran Vía
Best Restaurants in Sol & Gran Vía
Staying in La Latina & Lavapiés

A maze of tiny streets, south of Sol, La Latina is the oldest part of the city (hence the name, the Latin Quarter). This maze is punctuated by small, lively plazas and centuries-old churches, and lined with appealing 18th century buildings. La Latina is one of Madrid's best neighborhoods for tapas bar hopping – Calle la Cava Baja, the neighborhood's main street, is lined with tapas bars that range from traditional to trendy, and there are numerous other places to choose from in the surrounding streets. Madrid's biggest flea market, El Rastro, takes place in La Latina on Sundays. Accommodations mostly consist of small boutique hotels and hostels, and the neighborhood's central location makes it perfect for exploring the city's main sights. Rugged Lavapiés borders La Latina to the east, and is known for its immigrant culture, diverse dining (including Madrid's best Indian restaurants), hipster bars, and offbeat nightlife. It's also particularly convenient for visiting the art galleries and Retiro Park.
Best Hotels in La Latina & Lavapiés
Best Restaurants in La Latina & Lavapiés
Staying in Chueca & Malasaña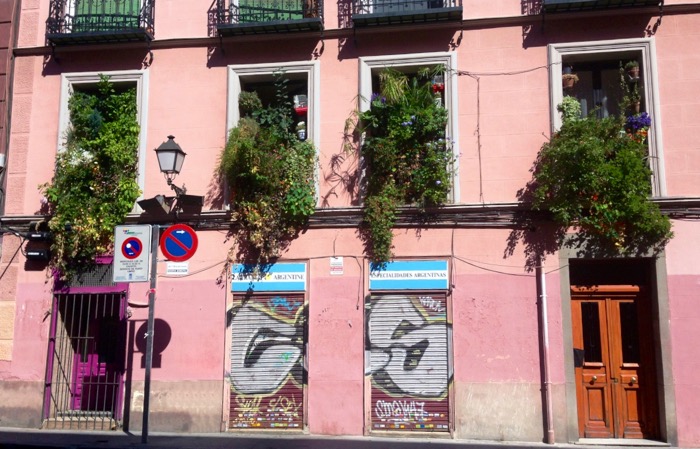 The hip Chueca and Malasaña barrios sit next to each other just north of the Gran Vía. Bordered by Calle de la Princesa to the west and Chueca to the east, Malasaña is one of the city's nightlife hotspots, as well as its trendiest neighborhood. For a decade or so from the late 1970, Malasaña was at the heart of La Movida Madrileña, the counterculture movement that was sparked by the death of General Franco and manifested itself through music, art, film, recreational drug use, and sexual liberation. Some of the graffiti, experimental art spaces, and vintage rock band venues have survived to this day, though the seedier elements have been replaced with uber-trendy cafes, high-end tattoo parlors, hipster restaurants, independent boutiques, and cocktail bars. Rubbing shoulders with Salamanca to the east, Chueca is centered around Calle Hotaleza and is known as Madrid's gay neighborhood. It's equally known for its nightlife (with many nightclubs open till dawn), cocktail bars, gourmet food markets, and trendy restaurants. There are some excellent boutique hotels in both neighborhoods, and both are within walking distance of Madrid's central attractions.
Best Hotels in Chueca & Malasaña
Best Restaurants in Chueca & Malasaña
Staying in Huertas & Barrio de Las Letras

Just west of the Paseo del Prado and right in the centre of the "Golden Triangle" – between Madrid's three world-renowned art galleries – Huertas is names after its main street, Calle de las Huertas, one of the best places in Madrid for nightlife and casual dining out. Huertas and the surrounding little streets are lined with bars, restaurants, jazz joints, boutiques, old-school delis, boutique hotels, and more, and Plaza Santa Ana is one of the city's tapas bar epicenters. The Barrio de Las Letras borders Calle de las Huertas to the north; it's more refined and named after the numerous great writers who once lived there, such as Cervantes and Lope de Vega. Dining options in Las Letras tend to be more upscale, and there are several 5-star hotels here, as well as across the Paseo del Prado. El Retiro Park is just a few minutes' walk away, as is one of Madrid's two main train stations: Atocha.
Best Hotels in Huertas & Barrio de Las Letras
Best Restaurants in Huertas & Barrio de Las Letras
Staying in Salamanca

One of Madrid's most exclusive neighborhoods, and the city's equivalent of New York's Upper East Side, Salamanca lies just north of the Retiro park. The neighborhood is centered on two parallel streets, Velázquez and Serrano, and is the place to shop for top-end designer labels such as Prada, Gucci, Loewe and Louis Vuitton; Zara's flagship store is on Calle Serrano. Spanish jewelry designers, such as Tous, Rabat, and Suárez, are also found here, alongside the likes of Cartier. Salamanca's broad streets, lined with grand 19th century buildings, are dotted with upscale wine bars, excellent restaurants (including several Michelin-starred options), gourmet delis, and chic clubs. Salamanca is quieter than central Madrid, but there is nightlife to be found here nonetheless. With the exception of the National Archaeological Museum and El Retiro Park, Salamanca is further away from Madrid's main attractions than other popular neighborhoods, but the "Golden Triangle" is within walking distance and the rest are reachable via a short metro ride.
Best Hotels in Salamanca
Best Restaurants in Salamanca
Read More
All Madrid Hotel Reviews