Updated: January 22, 2018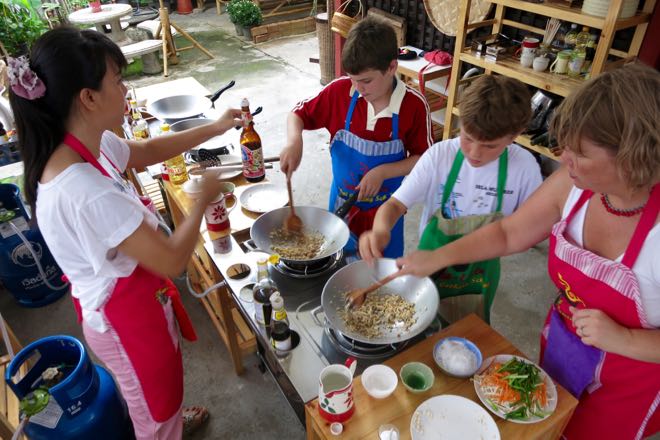 The 11 Best Family Hotels in Chiang Mai
Large pool, central location, and beautiful rooms. Spa, sauna, fitness center, and free wi-fi. The restaurant is awesome and breakfasts are included. King size bed in most rooms. Extra bed or crib available on request. (Formerly the Chedi Hotel.) Phone: +66 53 253-333

Fantastic location in rice paddies outside of the city's buzz. Fun kids activities, cooking classes for adults and older children, and loads of outdoor activities. Villas are huge and come in 1, 2, 3, and 4 bedroom layouts. (Note: Hotel is a 30 minute drive outside of central Chiang Mai – but very close to some of the area's outdoor attractions like elephant riding.) Phone: +66 53 298-181

Large family suites (which are often sold out) in a central location near the night market. Nice pool amid grounds that evoke a traditional Thai village (sort of). Phone: +66 53 237-222

Awesome pool, breakfast buffet, and swim-up suites. Located a little outside of Chiang Mai, the Centara feels like more of a resort than a hotel. The huge Royal Lanna Pool Villa sleeps 6.

I love this place. Simple clean rooms can easily fit a family of 4 or 5 (with an extra bed). The staff is very friendly and helpful. Located away from the tourist crowds but still an easy walk to shopping and restaurants. There's a medium-sized pool next to the restaurant. Phone: +66 53 418 838

More Hotels for Families
These hotels have large suites or family rooms.
See Also