SD › Thailand › Chiang Mai Family Hotels
Updated: October 17, 2020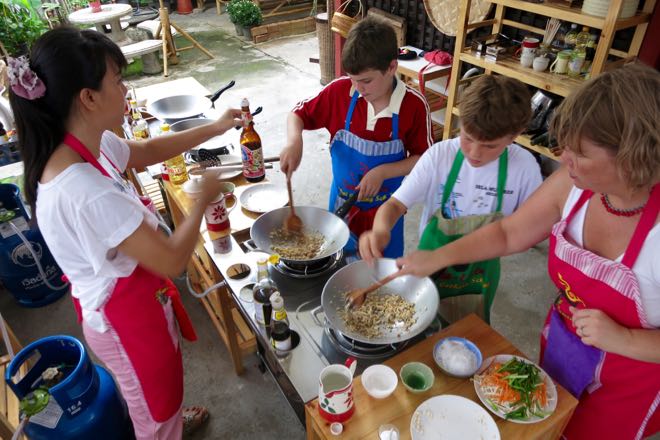 The 3 Best Hotels for Families in Chiang Mai

Riverside, historical, chic design and functional for families. The wing of suites across the road resembles a carpark, but the setting of the hotel is superb: built around the whitewashed century-old former British Consulate, which now houses a fashionable restaurant. Well-designed but unremarkable, the suites are similar inside, with a fully-equipped kitchen, dining room, laundry, and 1, 2 or 3 bedrooms – but not all have an attached bathroom or outside window. The infinity pool on the rooftop offers wonderful views of the city, mountains and river. But the hotel rooms are more appealing: ultra-modern, with an open-plan bathroom, plenty of storage space and huge balcony for views of the garden or river. And the pool is long and inviting. The location is also ideal: quietly removed from the Old City bustle (but only a short taxi trip away), along a quiet dead-end street parallel to the river, and within walking distance of the food stalls and cafés at the Night Bazaar.

Fashionable décor, prime position and functional for families. Easily seen from the centre of the Old City, this is one of very few high-rises in the immediate area, so views of the city and hills are unobstructed from most rooms. The standard Deluxe Rooms are stylish but unexceptional, with a long sofa next to the full-length window, and an undersized bathtub. These rooms can squeeze in an extra single bed, and some suites can cater for a family of 4. The infinity pool on the rooftop isn't huge, but beautifully designed with spouts, 'waterfalls' and wooden decking. A children's pool is attached, while the café also offers special menus for the younger ones. Along a road dotted with internationally-known fast-food outlets and home to the renowned Night Bazaar (with limitless food stalls and cafés), it's 5 minutes by tuk-tuk to the Old City and walkable to the Ping River.

Marvelous mountain retreat, ideal for families but really remote. This self-described 'Heaven in the Hills' is admirably underdeveloped, with just 55 rooms and villas. Many are distant, and most paths are steep, however, so buggies are provided. The very spacious Valley Deluxe Rooms feature modern facilities and an old-world charm; the suites are even more serene, stylish and comfortable; and the Pool Villas are separate, secluded and sumptuous. Each can accommodate 1 or 2 extra single beds. The hillside lagoon-shaped pool offers abundant shade, gushing 'waterfalls', and a splash area for children. The young ones would also relish the outdoor games area, kids' club in a mock tree house, and range of activities offered, including hiking. The isolation – 1 hour past elephant camps and crocodile farms from the Old City and airport – is offset by free shuttle bus services. There are a couple of cafés nearby, but the hotel restaurant offers world-class meals (and views) at reasonable prices.

Fantastic location in rice paddies outside of the city's buzz. Fun kids activities, cooking classes for adults and older children, and loads of outdoor activities. Villas are huge and come in 1, 2, 3, and 4 bedroom layouts. (Note: Hotel is a 30 minute drive outside of central Chiang Mai – but very close to some of the area's outdoor attractions like elephant riding.)

Large family suites (which are often sold out) in a central location near the night market. Nice pool amid grounds that evoke a traditional Thai village (sort of).

Awesome pool, breakfast buffet, and swim-up suites. Located a little outside of Chiang Mai, the Centara feels like more of a resort than a hotel. The huge Royal Lanna Pool Villa sleeps 6.

I love this place. Simple clean rooms can easily fit a family of 4 or 5 (with an extra bed). The staff is very friendly and helpful. Located away from the tourist crowds but still an easy walk to shopping and restaurants. There's a medium-sized pool next to the restaurant.
These hotels have large suites or family rooms
Read More