SD › Barcelona › Things To Do
Updated: May 21, 2023
See Also
The Best Tours in Barcelona

Note: Walking tours, food tours, and cooking courses are amazing ways to learn about local food, culture, and history. I recommend them everywhere – but especially in Barcelona. Book early, they get sold out months in advance.

The Best 37 Things To Do in Barcelona
Antoni Gaudí's masterpiece church – the symbol of Barcelona and the city's most visited attraction. The Sagrada Familia is a working church, consecrated in 2010 and due to be completed in 2026, on the 100th anniversary of Gaudí's death. Though you will have seen the church's distinctive spires from a distance, nothing quite prepares you for what you find close up. Pick up the excellent audioguide to talk you through the church's many features. Its extraordinary interior gives the illusion of being in a forest, with soaring columns blossoming with leaves and branches, and stained glass windows filtering light in a myriad of different hues. Visitors can choose to take the elevator up the Passion and Nativity towers; the Nativity Tower is more interesting and allows a close-up view of the spires, as well as partial views of the city. To beat the crowds, buy tickets online both for the church and the tower elevators. All tickets are for a specific date and time; during peak season (summer), book days in advance. There are also very good guided tours of the Sagrada Familia (with skip the lines tickets).
• Carrer de Mallorca, 401
• Nearest metro: Sagrada Família
One of the world's most important collections of Picasso's work. Picasso, master of Cubism, Surrealism, Expressionism, is one of Spain's – and the world's – greatest 20th century artists. He spent some of his most formative years (aged 14 to 23) in Barcelona, after which he went to Paris and revolutionized the art world. While you won't find Picasso's most famous works at this museum, this extensive collection traces his artistic development from his boyhood years to his final works from the French Riviera. The art is spread across five medieval palaces, beginning with his boyhood pencil drawings, paintings of Barcelona landscapes from his art school days, and intimate portraits of his family members. Further along, there's a copy of a portrait by Velázquez from young Pablo's days in Madrid, when he learned to copy the masters at the Prado museum. Subsequent rooms reflect his time in Barcelona, when he hung out with an avant-garde crowd. Impressionist landscapes, still lifes, and paintings of cancan dancers chart his life in Paris, before moving onto paintings from his moody Blue Period and a few Cubist works. Don't miss the Mediterranean scenes from his twilight years spent in Cannes, or the ceramics in Room 16. Try to visit early on weekdays, as this museum gets very busy.
• Carrer Montcada, 15-23
• Nearest metro: Jaume I
Antoni Gaudí's whimsical park, located on the northern edge of Barcelona, was one of the artist's most ambitious projects and is one of the city's most popular attractions. The most celebrated part of this sculpted urban park – the Zona Monumental – requires an admission fee, with each ticket valid for a specific half-hour time slot; it's best to book ahead online. The park was originally designed to be a private housing estate with recreational areas, but only a couple of the planned houses ended up being built and the park was opened to the public in 1922 instead. Highlights include two gingerbread houses just past the main entrance (though one of them houses a museum that's rather okay to miss), a ceramic dragon fountain, and a monumental stairway that ascends to the huge Hall of Columns, originally designed to be the market of the housing estate – the odd angles of its soaring Doric columns make it look like a petrified forest. Continue up to the "pathway of columns", where organic-looking stone arches support a long arcade. The terrace on top of the Hall of Columns is flanked by a meandering ceramic bench, covered in colorful broken tile-and-glass mosaic, and there is a terrific view of the city from here. It's worth stopping by the Gaudí House Museum as well – the pink building in the center of the park where Gaudi once lived.
• Location
• Nearest metro: Vallarca
Gaudí's remarkable sea-inspired apartment building. In the late 19th century, Gaudí was hired to give a facelift to a boring apartment building. The results are striking. There's barely a straight line in the entire place, and an organic feel to the entire building. The exterior is complete with balconies that look like toothy fish maws or carnival masks, and the interior is every bit as fascinating. The audioguides are terrific (if a bit long-winded), and point out interesting details that you'd otherwise miss. Point one at a room, and the display screen reflects the architect's vision, coming alive with fish and other creatures of the deep. From room to room, guests take in rippling walls, doorways, and window frames, shell-like ceiling patterns, and sinuous, polished-wood bannisters. The whole place is full of natural light, with the central stairwell and indoor courtyard giving the illusion of being underwater. The roof terrace sparkles with kaleidoscopic patterns made of broken ceramic tiles and glass that cover undulating chimneys, arranged to represent the spine of the dragon killed by St George. As gift shops go, this one's excellent.
• Passeig de Gràcia, 43
• Nearest metro: Passeig de Gràcia
Barcelona's most famous produce market. Located about halfway up the pedestrian thoroughfare of La Rambla, St. Josep La Boquería throngs with people. Here you find stall after stall of local fruit and vegetables, meat stalls with dangling legs of jamón and displays of botifarra (Catalan sausage) and chorizo, seafood stalls heaped with razor clams and shrimp, olive stalls offering dozens of different kinds of olives, and juice stalls serving up every fresh juice combination you can think of. The location is picturesque: the market hall is located in the colonnaded former courtyard of a now-defunct monastery. As the most visited market in Barcelona, La Boquería is a touristy place, but many locals – including Barcelona's famous chefs – shop here as well. Tip: ignore the juice and produce stalls by the very entrance of the market, and head deeper in, where you pay lower prices for the same goods. The tapas stalls that fringe the main market area make an excellent stop for a snack and a drink. Saturday is the liveliest day to visit; the market is closed on Sundays.
• La Rambla, 91
• Nearest metro: Liceu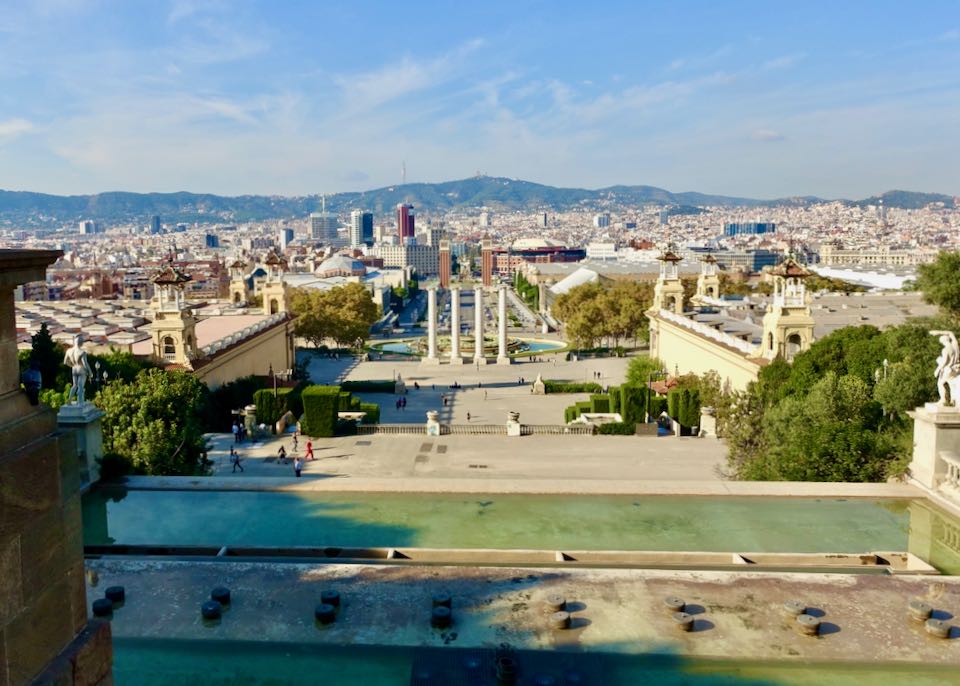 Barcelona's steep hill and park, dotted with numerous attractions. Named "Mountain of the Jews" after the small Jewish community that once lived on its slopes, Montjuïc is the dramatic hill that rises above Barcelona's port, topped with a fortress and covered in extensive landscaped gardens. Its northern slope is taken up by the terraces, fountains, and Neoclassical buildings from the International Exhibition of 1929. Montjuïc is also home to two of Barcelona's most important art galleries and the Olympic stadium. It's a joy to wander around the hill's lush gardens, and there are terrific views of the city and/or the sea from the cable cars that rise to the summit, from the ramparts of the fortress, from the Olympic terraces, and from the steps leading up to the Museu Nacional. The easiest way to explore Monjuïc is to take the funicular up from the metro, and then ride the Telefèric de Montjuïc cable cars all the way to Castell de Montjuïc, the 18th century former military fortress and prison. From here it's easy and fun to wander down the (signposted) slopes to the art galleries. Another cable car connects the lower slopes of Montjuïc to Barceloneta, rising high above the harbor.
• Location
• Nearest metro: Paral.lel, then take the Montjuïc funicular

Barcelona's Beaches
Barcelona may not be known as a beach resort town, but its string of sandy beaches, stretching three miles east of the city center, are popular for visitors. The most central is the Sant Sebastià Beach that fringes part of Barceloneta peninsula and stretches from the W Barcelona hotel to the Club Natació. It's a wide stretch of white sand, popular with older sunbathers and families. To the east, it morphs into Barceloneta Beach, lined with numerous seafood restaurants and cafes and complete with volleyball nets and showers. It's paralleled by the palm-backed esplanade (Passeig Marítim), busy with cyclists, rollerbladers, runners and strolling beachgoers. The esplanade runs as far east at the Port Olímpic, a seafront development constructed for the 1992 Olympic Games, and containing a giant fish sculpture by Frank Gehry. Just east of Port Olímpic are the family-friendly Nova Icària and Bogatell beaches, with open-air cafes and playgrounds. Further along are Mar Bella, Nova Mar Bella and Llevant Beach, popular with a younger crowd (Mar Bella in particular has a designated nudist area).
• Nearest metro: Barceloneta

La Rambla


Stretching from the waterfront to Plaça Catalunya, La Rambla is a pedestrian boulevard, overlooked by stately 19th century buildings and lined with restaurants, historic buildings and souvenir stalls. This street throngs with strolling crowds, palm readers, and caricature painters, and is a great place for people-watching. The Ramblas acts as a divide between Barri Gòtic to the east and the El Raval neighborhood to the west, and a leisurely stroll along its 1.2km length takes about half an hour – or longer if you stop along the way. Highlights include the Columbus monument at the waterfront, erected for the 1888 Universal Exposition fair, and the palm-studded Plaça Reial, a beautiful arcade fringed with cafes. At the midpoint of the Ramblas you'll hit the Liceu Metro station, featuring the Opera House, a colorful underfoot mosaic by Joan Miró, and the lively La Boquería produce market. Further on, there are flower sellers and Betlem Church, a favorite place for Nativity scenes at Christmas. Just before reaching the fountains and Art Deco buildings at Plaça Catalunya, you'll pass the black-and-gold Canaletes fountain. According to legend, a drink insures a repeat visit to Barcelona. Tip: avoid the restaurants along the Ramblas, as you'll find far better quality even a block or two away.
• Nearest metro: Drassanes, Catalunya

Barri Gòtic


Barcelona's labyrinthine Gothic Quarter. Just east of the Ramblas, the city's Gothic Quarter marks the very heart of Barcelona, with buildings dating back to the 14th and 15th centuries. The tangle of narrow streets is lined with tapas bars, shops, museums, and cafes; getting lost in there is a whole lot of fun. Don't miss the venerable Els Quatre Gats café where Picasso and his bohemian friends used to hang out, and marvel at the vast Catedral de Barcelona – Barcelona's center of Christian worship since the 14th century. Other highlights include the Roman Temple of Augustus, the Plaça de Sant Jaume, and the former Jewish quarter, with its tiny synagogue that's now a museum. The church at Plaça Sant Felip Neri was attended by Gaudí and still bears shrapnel damage from the Spanish Civil War.
• Nearest metro: Liceu


Barcelona's premier contemporary art museum. The Museu d'Art Contemporani de Barcelona's striking glass-fronted white building really stands out against the backdrop of the surrounding buildings in El Raval. Inside, the museum makes terrific use of natural light, with the ramps leading up to the top floor giving a great view of the square outside, busy with stunt-performing skateboarders. The museum's permanent collection focuses mostly on contemporary art movements in Catalunya and Spain since 1945, and portions of it are displayed at any given time in regularly changing themed exhibitions. Alongside the permanent collection there are typically two or three visiting exhibitions shown. These can be anything from sculpture and paintings by Catalan greats such as Antoni Tàpies or Joan Miró to installations by the likes of Francesc Torres and video productions by Martha Rosler.
• Plaça dels Àngels, 1
• Nearest metro: Universitat or Liceu


Ruins of Roman Barcelona. Way before Barcelona ever existed, the Roman town of Barcino stood in its place, founded by Emperor Augustus. The excellent Barcelona History Museum (Museu d'Història de Barcelona) walks you through the excavated ruins of Barcino, spread through a labyrinth of buildings surrounding the Plaça del Rei. Start by watching an introductory video on the city's history. Then take the elevator down to ruins that range from around 12 BC to 600 AD. You can almost smell the history as you pass by the remains of Roman laundries, buildings where clothing was dyed, and an ancient garum (fish sauce) factory. Upstairs, the displays explore medieval Barcelona's growth as an important Mediterranean trading port. Peek into the beautiful 14th century Santa Agata chapel where occasional temporary exhibitions are held, and have a look at a model of 16th century Barcelona on Floor 0. The vaulted Gothic Saló de Tinell (Tinell Hall) is where Christopher Columbus briefed Ferdinand and Isabella about his New World discoveries and where the Spanish Inquisition was headquartered later on.
• Plaça del Rei
• Nearest metro: Jaume I


Gaudí's weird and wonderful apartment building. Designed by Gaudí for a wealthy industrialist, this UNESCO World Heritage Site is one of the architect's most famous works. Unlike at Casa Batlló – Gaudí's other famous work, everything here was designed by the artist, from the rippling façade, inspired by the mountains of Montserrat, to the tangled metal of the apartments' balconies. The building's two oval courtyards lead to an elevator that whisks visitors to the jaw-dropping rooftop, lined with Gaudí's undulating chimneys and featuring great city views. Visitors can also tour the vaulted attic, where a multimedia exhibit covers the architect's career and a variety of his inspirational objects are displayed. Next, walk through a typical early 20th century modernista apartment, making extraordinary use of natural light, and complete with period furniture. Nightly after-dark tours include a glass of cava and feature a visit to the eerily-lit rooftop. To beat the lines, reserve your ticket online (with assigned entry time) or get to La Pedrera by 9am.
• Passeig de Gràcia, 92
• Nearest metro: Diagonal


Treasures from around the world. Across from the Picasso Museum, two medieval palaces house the new-ish Museum of World Cultures, with masks, statues and ritual objects from Africa, Oceania, the Americas and Asia. The collection is haphazard but impressive, with most of the objects on display are steeped in deep spiritual significance. The exhibition starts with guardian figures from Sudan, 15th and 16th century art from the court of Benin, fertility statues and objects associated with death rites and ancestor worship. There's also an impressive hall of African masks, much of them elaborately decorated with cowrie shells and feathers. In the Oceania segment, find stunning crocodile carvings from Papua New Guinea, spirit house decorations, vast totem poles, Sumatran guardian figures, and stone figures from Easter Island. Displays in the Asian galleries run the gamut from Buddhist art and Korean ceramics to intricately-carved furniture from the Hindu Kush and Japanese Noh masks. Inca gold jewelry, Nazca pottery and Andean textiles are among the pre-Columbian artifacts in the Americas section.
• Carrer de Montcada, 12, 14
• Nearest metro: Jaume I


In Barcelona, Gaudí tends to get most of the attention, but this remarkable concert hall shows that there was more to the modernist movement than the Sagrada Familia and Casa Batlló. Covered in tiles and mosaics and boasting an elaborate façade, this 2,138-seat structure was built in 1908 by modernist architect Lluís Domènech i Montaner, a contemporary of Gaudí. Inside, Catalan music is celebrated in a series of playful Muse sculptures that surround the main stage, and stained glass representations of nature and music. The piece de resistance is a stupendous stained-glass skylight, once believed to be an engineering impossibility, that turns the concert hall into a "box of light". There are two ways of visiting the concert hall: join one of the excellent hour-long day tours (purchase a ticket online at least two days in advance to get a spot on an English-language tour), or better still, attend a concert here during the September to June concert season.
• Palau de la Música, 4, 6
• Nearest metro: Urquinaona


The Museum of Chocolate, popular with families, traces the history of chocolate – from the cultivation of cocoa by the Aztecs to its arrival in Europe; but the main attractions here are the elaborate chocolate sculptures that change every year. These range from edible models of Gaudí buildings, bullfighting scenes, religious icons, and Don Quixote on his horse to tasty football players, such as Lionel Messi. Each chocolate designer is credited by name and you visitors can watch students learning to make chocolate sculpture in the kitchens of the adjacent Escola de Pastisseria. Admission price includes a chocolate sample, and there's an attached café where you can drink it in liquid form. Great rainy day fun.
• Carrer del Comerç, 36
• Nearest metro: Jaume I, Arc de Triomf


A striking modernist building, finally open to the public. Its pointy turrets looming high above the Eixample neighborhood, the Casa de les Punxes (House of Spikes) looks like a Gothic castle that's been dropped in the middle of the city. It was designed by renowned modernist architect Josep Puig i Cadafalch and Built in 1903, and until very recently, visitors could only admire its spectacular exterior: the tiled conical roofs that end in spikes, wrought-iron balconies, beautiful stained-glass windows, and the Gothic-style sculpture by Alfons Juyol. But in 2016, the house opened to the public for the first time in over a century. Inside, exhibits tell the story of Sant Jordi, the dragon-defeating patron saint of Catalonia. One of several interactive displays for kids has them hunting for dragon elements throughout the design of the house. Take the elevator up to the roof terrace and check out the exhibits inside the turrets, about the Terradas family who the house was built for and the architect himself.
• Avinguda Diagonal, 420
• Nearest metro: Verdaguer


The first of Gaudi's mansions, Casa Vicens was designed for Manuel Vicens i Montaner, a wealthy Catalan stockbroker. The fantastical turrets, colourful ceramics, and lavish window ornamentation show a clear Moorish influence, but this home's rigid linear geometry is markedly different from the undulating, organic forms of Gaudi's later works – making it a fascinating place to visit in comparison. In fact, the house has only been open to the public since 2017, as it was privately owned until 2007 and took almost an entire decade to restore to its former glory. The interior is as lavish and playful as you might imagine, with marble and mosaic floors, brightly-colour tiles and stained glass, and several kitsch murals and reliefs. Find it in the Bohemian district of Gracia.
• Carrer de les Carolines, 20
• Nearest metro: Fontana


Barcelona's oldest (and highest) funfair. Very popular with families, this collection of old-school fairground rides sits at the top of Barcelona's highest peak. Most of the rides – the Ferris wheel, the merry-go-rounds, the hanging monorail – are suitable for younger kids, but there are also whirly swings and an upside down ride for grownups. It's worth coming up here for the view alone: if the weather is good, you can see the whole of Barcelona spread out beneath you, with the Mediterranean Sea just beyond. There are several eateries up here and plenty of snack stands. Getting to Tibidabo is a fun adventure in itself: take the L7 metro line to the Tibidabo stop, then hop aboard Barcelona's only remaining tram – Tramvía Blau. Finally, board the funicular that takes you right to the top of the mountain. It's best to come on a weekday, when the funfair is less crowded.
• Location
• Nearest metro: Tibidabo


The home of one of the world's most successful football teams. If you're a football (soccer) fan, you wouldn't want to miss visiting the legendary home of Barcelona FC. It's easy to get tickets to most of the home games, and if you're lucky enough to get tickets to one of the big matches – particularly against bitter rivals Real Madrid – the atmosphere is incredible! Even if you don't attend a match, you can come by for a day tour of the stadium. Tours take in the press room, the impressive trophy room, the interactive museum showcasing the career highlights of the football team, the warmup bench where the players stretch before the game, and the football field itself. You can stock up on all the Barça merchandise you want at the gift store.
• C. d'Arístides Maillol
• Nearest metro: Maria Cristina or Collblanc


The world's best collection of works by Catalan abstract artist Joan Miró. Housed in a white modernist building, this collection loosely follows Miró's entire career, though most of the paintings, tapestries and sculptures are drawn from his later years. Miró was born in Barcelona, but split his time between Paris and Catalunya before moving to Majorca. His work is very distinctive, with bright colors and bold shapes, and it's popular with those who love abstract art, and children, who seem to really get the joy in his art. Works to look out for include his Impressionist landscapes (1914), the Portrait of a Young Girl (1919), pieces from his Constellations series (1930s) that feature his trademarks reds and blues, and imagery of birds, women, the sun and the moon; and the dark, brooding black-and-white lithographs from his Barcelona Series (1939-44) that reflect the turmoil of war. Don't miss his enormous tapestries or the outdoor sculptures on the roof terrace. There are also terrific temporary exhibits by young, experimental artists, children's theatre and film screenings, and works created by famous artists in tribute to Miró. It's well worth paying a little extra for the excellent audioguide.
• Parc de Montjuïc
• Nearest metro: Paral.lel, then take the Montjuïc funicular


Extravagant modernist public hospital. If there is one building in Barcelona that can rival the Sagrada Familia when it comes to sheer spectacle, this is it. Designed by architect Lluís Domènch i Montaner, this early 20th century public hospital is a dazzling Art Nouveau complex with a riot of ironwork, mosaic, stained glass and sculpture. Its 23 pavilions, topped with golden domes, have now been restored and sit among sculpted grounds dotted with orange trees. A UNESCO World Heritage Site, this was a working hospital up until 2009, and reopened as a museum and cultural centre in 2014. Occasional temporary exhibitions are held in one of the pavilions, and concerts take place in the main administration building, but otherwise the main draw here is wandering around and admiring the flamboyant decorations.
• Carrer de Sant Quintí, 89
• Nearest metro: Hospital de Sant Pau


Exceptional private collection of ancient Egyptian artifacts. Displays are beautifully presented, spread over three floors. On the ground floor you'll find sarcophagi, beautifully inscribed coffin kids, mummies, and various funerary objects, from amulets to bead and coral adornments. The basement focuses on the discovery of the tomb of Tutankhamun – numerous photos of the excavation process, fine gold jewelry and signet rings found in the tomb itself, a model of the actual tomb and an assortment of mummified animals. Take the stairs up to the first floor to check out the well-preserved fragments of funerary papyruses, funerary stelae and a display case full of ushabti (small figures buried with a person in order to do any work in the afterlife that the dead person was expected to do). There's a nice terrace café upstairs, and the museum arranges fun activities for kids.
• Carrer de València, 284
• Nearest metro: Passeig de Gràcia


One of Spain's greatest art museums. Located inside the Palau Nacional – the grand palace on Montjuïc, this museum showcases a thousand years' worth of Catalan art. One wing houses Romanesque art; extraordinary biblical frescoes from Catalan churches, dating back to the 11-13th centuries AD, presented within reconstructions of the original church ceilings and apses. The Gothic wing features 14th century wood-panel paintings of the lives of saints and portraits of kings, influenced by contemporary Italian and Flemish styles. The Renaissance section encompasses beautiful Catalan landscapes and religious scenes by Zurbarán, as well as some less-known works by major artists, such as Velázquez, Goya, Rubens, Tintoretto and El Greco. Take the glass elevator up to MNAC's unsurpassed Catalan modern art collection, particularly strong on the Modernista and Noucentista art movements. Highlights include modernist interior design by Gaudí, early 20th century paintings by Catalan artists Ramon Casas and Santiago Rusiñol – Picasso's early influences, Salvador Dalí's portrait of his father, Picasso portraits of women, graphic art from the Civil war era and avant-garde sculpture.
• Parc de Montjuïc
• Nearest metro: Espanya


Entertaining evening sound-and-light show. In 1929, Barcelona staged the World Expo in the extravagant fairgrounds at the base of Montjuïc. From the Plaça d'Espanya, the grand pedestrian esplanade leads towards the Museu Nacional d'Art de Catalunya, with the Font Màgica (Magic Fountain) halfway along. On weekend evenings, the Font Màgica becomes the centerpiece of a sound-and-light extravaganza. The waters of the fountain change a kaleidoscope of colors, and rise and fall to music by Freddie Mercury and Montserrat Caballé, while the surrounding area is populated by street musicians. The free shows last around 20 minutes and commence every half hour between 9pm and 11pm, Thursday to Sunday (May-September) and on Fridays and Saturdays between 7pm and 8.30pm the rest of the year. Particularly fun on balmy spring and summer evenings. Popular with families.
• Plaça de Carles Buïgas, 1
• Nearest metro: Espanya


Barcelona's largest park and zoo. If you want a break from the downtown hustle and bustle, Citadel Park makes for a good escape. There's a grand Arc de Triomf at the main entrance to the park, wide walkways that fill with strolling locals and street performers blowing giant bubbles, and several impressive structures, such as the Catalonia Parliament building in the center of the park. In the northwest corner there's the Castell dels Tres Dragons, an impressive, castle-like modernist building designed by Catalan architect Lluís Domènch i Montaner. Head to the park's northeast corner to have a look at the Baroque fountain designed by Josep Fontseré i Mestrès, assisted by a young Antoni Gaudí. The southern part of the park is taken up by the city zoo, Parc Zoològic. It's hugely popular with families. There's a petting zoo, pony rides, and animals from around the world, including the endangered Iberian wolf and the Sumatran tiger.
• Passeig de Picasso, 21
• Nearest metro: Arc de Triomf, Ciutadella/Vila Olímpica


For a fantastic view of Barcelona's harbor and a slow, picturesque journey to Montjuïc, stroll along the Barceloneta peninsula and take a ride on this historic cable car. The telefèric is part of Barcelona's 1929 World Expo legacy and an exhilarating, vertigo-inducing ride. The elevator takes you up to the boarding platform and the cable car soars above the yachts clustered in the Barceloneta harbor. You get a great bird's eye view of La Rambla as well, with the pointy turrets of La Sagrada Familia in the distance, before the cable car gently glides to a stop at the Miramar viewpoint park, about a third of the way up Montjuïc. From here, it's an easy walk to Montjuïc's museums and other attractions. Try to go on a weekday, or as early as possible on the weekend, as lines can be long.
• s/n, Avinguda Miramar
• Nearest metro: Barceloneta, Paral.lel


Very popular with families, this state-of-the-art aquarium showcases different marine ecosystems from around the world: the shallow coastal waters of the Mediterranean, the Caribbean Sea, Great Barrier Reef, and the Red Sea. There are also informative exhibits about the ecosystems unique to Spain: Catalonia's Delta del Ebro and the Medes Islands, complete with fish and other marine creatures. Highlights include the shark tunnel, the clownfish and their anemone home, seahorses, and the octopus tank. See if you can spot the well-camouflaged and deadly stonefish in the poisonous fish aquarium! In the Planeta Aqua section you can see penguins, piranhas from the Amazon, and Latin American basilisk lizards. There are plenty of activities, too, from daily feedings (sharks, penguins, rays, moray eels; check timetable online) – particularly fun for kids, to cage diving with sharks. Barcelona's aquarium is located by the waterfront in Port Vell, just south of the Ramblas. Try to come on a weekday to avoid weekend crowds.
• del Port Vell, Moll d'Espanya
• Nearest metro: Drassanes


With over 200 km of bike paths, mostly dry and warm weather, and a wide variety of fascinating barrios to discover beyond the Gothic Quarter, Barcelona is ideal for exploring by bicycle. You can rent a set of wheels from any number of shops in the city center if you prefer to be independent, but it's fun to let a knowledgeable local show you some of the city's hidden treasures. The guides at Steel Donkey Bike Tours take you off the beaten path, avoiding overcrowded mainstream sights. They keep the itinerary flexible, but it usually includes picturesque squares, narrow back alleys full of boutique stores and bawdy histories, the Encants flea market, and the modern architecture and street art in the resurgent Poblenou district. There's a maximum of eight people per group, so the experience feels personal. Two of the tour highlights include stopping for local snacks and drinks, such a refreshing glass of orxata, and riding back to the bike shop via the vibrant city beaches.
• Nearest metro: Liceu, Jaume I


Frederic Mares i Deulovol was a 20th-century explorer and an avid collector of art, and his personal collection fills four floors of this former palace of the Inquisition by the Gothic Cathedral. The museum is divided into three collections. The first is The Sculpture Collection, which extends over two floors and features mostly medieval religious iconography, as well some small but invaluable pieces chronicling Spain's Roman heritage. The Collector's Cabinet is a rich collection of 19th and early 20th paraphernalia that includes swords, crossbows, helmets, walking sticks, cigarette holders, pipes, playing cards, matchstick boxes, stamps and eyeglasses. Finally, the Frederic Mares Library-Study includes the collector's very favorite pieces and several of his personal effects. A bonus of making a detour to this great little museum is stopping by the delightful Le Club D'Estiu afterwards. It is built into the old medieval city walls and sits adjacent to a serene courtyard with palm trees and fountain.
• Plaça Sant Iu, 5
• Nearest metro: Jaume I


Built during the Spanish Civil War in 1937, these hilltop bunkers were designed as an anti-aircraft battery to defend against aerial attacks by fascist troops. Later, in the 50s and 60s, they became the center of a shanty town that housed around 7% of the city population, before finally the area was cleared up for the 1992 Olympic Games and then forgotten about. Recently, however, these crumbling concrete fortifications have become a daily gathering point of those wanting to watch the sun set over the whole of Barcelona, while enjoying a picnic and some beers. Getting there can be quite tricky, especially as most taxi drivers won't know the best way, however the smartest thing to do is take a taxi to Restaurante Las Delicias in Carmel (address is Carrer Muhlberg 1). From there you can easily follow the path up to the vantage point and enjoy the sensational 360º vistas.
• Carrer de Marià Labèrnia
• How to get there: Best to take a taxi

Shopping


There's something for everyone in one of the world's most stylish cities. Barcelona has everything, from modern art and cutting-edge fashion to high street threads, traditional arts and crafts, antiques, gourmet food, and souvenirs. Gift shops at major art museums are excellent places to pick prints and other keepsakes by the likes of Picasso, Miró, Dalí, and others. Shops and markets are scattered throughout the city; here are some of my favorites. Barri Gòtic: Papirum sells hand-painted paper, fountain pens, leather-bound notebooks and more. Art Escudellers stocks beautiful decorative glass items, handmade jewelry, ceramic figures, and tile-work. Iriarte Iriarte showcases handmade leather bags and accessories, while Artesanía Catalunya is the place to find beautiful handmade items by Catalan artisans, such as jewelry, ceramics, accessories, and leather goods. L'Eixample: Antonio Miró sells suits, accessories and household design items by one of Barcelona's hottest designers, while the Desigual flagship store on Plaça Catalunya is three floors of colorful fashion by Barcelona's renowned international label. Passeig de Gràcia is lined with high street fashion stores, such as Mango and Zara. El Born: Carrer dels Flassaders, Carrer del Rec and Carrer dels Banys Vells are narrow back lanes lined with funky, arty boutiques.
• Nearest metro: Liceu for Barri Gòtic, Passeig de Gràcia for L'Eixample and Jaumi I for El Born


This Universal Studios theme park on the Costa Dorada is an hour's drive south from Barcelona, and consists of six different adventure zones: Far West, China, Mexico, Sésamoaventura, Polynesia, and Mediterrànea. There are numerous gentle rides for younger kids, such as Carousel in the Far West, Canoes in Polynesia, spinning Tea Cups in China and the El Secreto de los Mayas maze in Mexico. There are adrenalin-packed rides for older kids and adults, too, from Mediterrànea's Furius Baco horizontal catapult and Mexico's 100m Huracan Condor free-fall, to the many loops of the Dragon Khan rollercoaster in China. The wet'n'wild Tutuki Splash, Silver River Flume and Grand Canyon Rapids are some of the theme park's watery adventures, and great fun on a hot day. There are a couple dozen restaurants and snack bars spread throughout the park, as well as parades and shows for younger kids. Family discounts available (book online).
• Av. Pere Molas, Km 2, 43840 Tarragona


An easy day trip from Barcelona, this dramatic mountaintop monastery has been one of two most important pilgrimage sites in Spain for over a thousand years. Pilgrims come to pray to La Moreneta (the Black Virgin), found behind protective glass inside the monastery's basilica chapel. The image is carbon-dated to be at least 800 years old, and legend has it that she was carved by St Luke, brought to Spain by St Peter, and hidden in one of the mountain caves to protect it from the Moorish invasions. The Ave Maria path leading up to the basilica is lined with votive candles and you can visit the room where believers leave personal belongings as votive offerings to the Virgin: wax replicas of body parts, baby baptism outfits, model cars, and more. The Museu de Montserrat, attached to the working monastery, has an excellent collection of Byzantine icons and paintings by Old Masters and Catalan modernistas, among others. A network of signposted walking trails is spread over the surrounding craggy mountains, with wonderful views of the surrounding countryside. Two funiculars take you up part of the way. At the monastery there's a hotel and a couple of restaurants, or take a guided day tour that includes a scenic lunch.
• Location
• How to get there: take the FGC train from Plaça de Espanya metro to Montserrat Aeri and then take the cable car up to the monastery. Alternatively, get off at Monistrol de Montserrat, one stop after Montserrat Aeri, and take the Cremallera de Montserrat (mountain railway). It takes approximately 1 1\2 hours to get to Montserrat from Barcelona.


One of Catalunya's most popular resort towns. Fringed with a string of white-sand beaches, a trip to the seaside town of Sitges can easily be done in a day. The city's Old Town, with its tangle of narrow alleyways, whitewashed buildings, boutiques and cafes, is a real pleasure to get lost in, particularly outside the peak season of June to September, when the town tends to be crowded with beach-going revelers. On a headland outcrop in the center of town, find the whitewashed and beautiful Sant Bartolomenu i Santa Tecla church. Sitges' beaches are separated by breakwaters, and are easily reachable via the long boardwalk that extends along their length. The most central beaches, with their calm waters and seafront restaurants tend to be particularly popular with families; gay-friendly nude beaches can be found in the secluded coves east of the headland. Kayaking and snorkeling tours are available, including transportation from Barcelona. Carnival in February/March is an excellent time to visit, as is August and September, when you'll find teams of castellers competing to build the biggest human pyramid during the festivals of Sant Bartolomeu and Santa Tecla.
• Location • How to get there: take one of the frequent Rodalies trains on the R2 line either from Barcelona Sants or Passeig de Gràcia towards Sant Vincenç de Calders and alight at Sigtes (40 minutes).


This is a stunning medieval city. Bisected by the Onyar river, the ancient walled city of Girona lies 100km northeast of Barcelona. Founded in 76 BC, it's been ruled variously by Romans, Visigoths, Moors, and the Spanish crown throughout its long history, once housing one of Spain's most flourishing Jewish communities. Historic Girona is very compact and all the main attractions are close together, huddled within a maze of narrow streets. The centerpiece of the Old Town is the immense Gothic cathedral, with its tremendous nave vault and beautifully decorated Romanesque cloisters. A block or so away is the best-preserved Jewish quarter in western Europe; the cultural and social life of Girona's Jewish community is immortalized in the excellent Museu d'Historia dels Jueus. Girona's Moorish influence can be seen in the beautifully preserved ancient baths – the Banys Arabs. Walk along the main section of the city wall for a great view of Girona's rooftops and cathedral.
• Location
• How to get there: Take a train from Barcelona Sants or Passeig de Gràcia to Girona; high-speed trains take 40 minutes and run once hourly. Slower services take up to 1 3\4 hours. Or take a guided tour from Barcelona, with hotel pickup included.


The town of Figueres is famous for one thing: Salvador Dalí. It's the birthplace and final resting place of the Surrealist artist, and the home of the renowned museum that bears his name. The flamboyant Teatre-Museu Dalí is an absolute must for any fan of this remarkable man, particularly famous for his painting, but also a capable film director, clothing and jewelry designer. The museum is a really entertaining place to visit even if you only have a mild interest in Dalí's work and it's a work of art in itself: check out the Oscars-type golden statues clutching baguettes, and the egg-topped towers. Inside, highlights include the Rainy Taxi – put a coin in the slot, and it rains inside the car, and the boat in which Dalí used to sail with Gala – his wife, soulmate and muse. Though Dalí's most famous works are found in galleries throughout the world, the sheer volume of sketches, prints and oils here is unrivaled. Don't miss the Mae West Room, where the furniture is arranged to look like the actress' face, or the Dalí's Jewels exhibit. Take a guided tour to get the most out of your visit.
• Location
• How to get there: Frequent high-speed trains run from Barcelona to Figueres (1 hour). It's not really worth overnighting here, though Figueres is a convenient stopover if you're traveling on to France.


This charming fishing village in the northeast corner of Catalunya's coastline is the former home of Salvador Dalí, and makes an excellent (if somewhat long) day trip from Barcelona. A narrow road snakes down through the hills into this little fishing port, with whitewashed houses clinging to the hillsides. The surrounding rugged coastline and Cadaqués' mellow vibe has been attracting artists and intellectuals since the 19th century – Matisse, Marcel Duchamp and Picasso all came to paint here, and Salvador Dalí did his best work at his waterfront home in nearby Port Lligat, an easy walk along the coast. His house – now a museum – is absolutely fascinating, particularly if you've already visited the Dalí Museum in Figueres. It's a labyrinthine warren of fishermen's cottages, full of personal touches that shed light on the Surrealist painter's private life.
• Location
• How to get there: It takes around two and a half hours to drive from Barcelona to Cadaqués, so it's well worth combining a visit with a trip Figueres, and staying overnight in one of the many guesthouses and hotels in the fishing village.
Read More