SD › Best Time to Visit Boston
Updated: May 27, 2021
See Also
When is the best time to go to Boston?
The best time of the year to visit Boston is from late May through October, when you'll have the best chance of pleasant weather for walking the Freedom and Black Heritage Trails, and all attractions will be open to visitors. Mid to late October is a great time for Boston sightseeing while taking in the gorgeous New England fall leaves.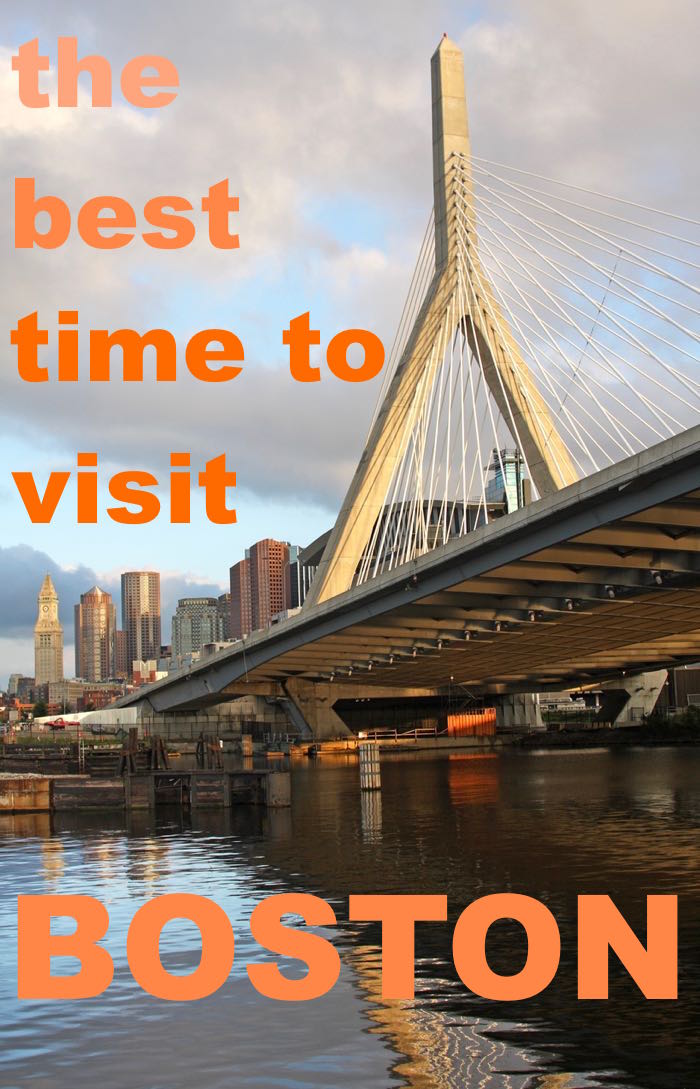 Best Time for Historic Sightseeing:
Boston has nearly 300 historic sites within the city limits, including 58 National Historic Landmarks. Some of most popular attractions are linked by two walking trails: The Freedom Trail and the Black Heritage Trail. Many attractions, such as the Swan Boats in Boston Common, are outdoors and close down for the winter season. Others, even if indoors, operate on reduced hours during winter. Because of this, it's best to visit between late March and October, when the weather is warmer. Rain is likely in April and May, however, so plan for a few indoor activities if visiting in the spring.
Best Time for Shopping:
Boston's Back Bay is known for its high-end shops and fashionable boutiques, but citywide Boston is a shopper's paradise with no sales tax on clothing under $175! Even if you shop over that limit, tax is still only 6.5%, meaning that shoppers save year-round. However, certain times of the year offer steeper discounts for select items. If you're into consignment shopping, visit in April or May, when spring cleaning leaves the stores stuffed with new items at a great rate. Sneakerheads should shop in November, when shops are making room for winter boots. General shopping seasons are consistent with annual nationwide trends, meaning that summer gear is most plentiful in July, but discounted most in August. Winter items are best to buy in January and February.
Best Time to Visit Museums:
Boston has dozens of museums, including huge national museums, university collections, and private galleries. Anytime is a good time for a visit, but expect more crowds during the summer, which is peak time for visitors. Plan on visiting early and on weekdays (be out of there by 2:00!) for quieter galleries, especially when visiting interactive exhibits.
Best Time for Leaf Peeping:
Fall brings a burst of color, arriving to Canada as early as September and moving south into Boston in mid to late October, though exact dates vary year by year. Many people opt to drive outside the city to see the fall colors, but Boston's public parks offer plenty of vivid foliage within the city limits. Check out Boston Common, the Public Gardens, and the Charles River Esplanade, or take a walk down the many tree-lined streets in Beacon Hill or the Back Bay to see the colors pop.
Best Time to Enjoy the Water:
The Charles River and Massachusetts Bay are popular attractions in the warmer months. Whale watching cruises run from April through October. Your best chance for seeing the rare Northern Right whale is from mid-April to early May, while Humpbacks and others are most plentiful from June to September. For family-fun Swan Boats in the Public Garden, the season runs from mid-April through October (weather permitting). Romantic gondolas cruise the Charles from late May through mid-October. Codzilla, the fast and reckless speedboat ride, runs from May through October, but riders will get wet, so it's best left for the hot months, June through August. Kayaking and rowing are popular all summer long, while the Head of the Charles regatta (the largest 2-day regatta in the world) takes over the river on the second-to-last weekend of October.
Best Time to Avoid Crowds:
With its multitude of schools and quarter million students living in the city during the school year, Boston is almost a different city in the summer. Summer sees far fewer people on subway trains and on the roads, as well as in restaurants, cafes, and bars; especially across the river in Cambridge. However, coinciding with the decrease in students, summer brings an increase in tourists, as this is the peak time for family travel. Expect crowds at many popular attractions, especially along the Freedom Trail, in the Blackstone Block, in museums, and the aquarium.
Best Time for Kids and Families:
Summer, from June through September, is always a popular time for family travel in Boston, with tons of warm weather activities, including the Tadpole Playground and Frog Pond in Boston Common, the Tea Party Museum, and the Codzilla boat; along with lots of free historical sites, beaches, and the Charles River. Expect crowds and high prices, though. If you can work out a fall trip with the kids' school schedule, you will find fewer crowds in late September through October, while still enjoying temperate weather.
Best Time for Good Weather:
Boston's weather is best from late May through early October. Temperatures average in the low to upper twenties during this time, with July being the warmest month. Rain comes most often in May and decreases in frequency through August, though there's no truly dry season here. Water in the bay and river is warmest from July through September.
Boston Travel Seasons
High (May-October): Late spring through early fall sees hardly any slow times in Boston. May, June, and September are busy with college graduations and move-ins. Surprisingly, October is the most expensive month to visit, when the city fills up with visitors for fall foliage, the regatta, and Halloween in Salem. June through August are peak travel months for families, with July seeing the highest volume of tourists. Expect high rates at hotels all summer, along with queues and crowds at popular attractions. Make your reservations early.
Low (November-February): Fewer visitors head to Boston during these cold months, so there are plenty of deals to be had on flights and hotels. November is the exception to this; though there are less travelers, hotel rates are still high since this is a popular month for conventions. Overall, if cold and snow don't bother you, there are plenty of fantastic deals to be had along with less crowded attractions.
Shoulder (March-April): Weather can be iffy during these months, sometimes snowy, often rainy, and still fairly chilly most of the time. Dress in layers, and enjoy the seasonal attractions that are just beginning to re-open now, but do plan for a few rainy day museum visits.
Boston Weather by Month
Boston experiences a full four seasons, with warm to hot, humid summers and cold, wet winters. July is the hottest month, while January is the coldest and snowiest. Spring and fall seasons are gorgeous but brief. Late April and May see the best temperatures, but both tend to be rainy. October is the best bet for sunny, mild, dry days.
Boston Weather in January: This is the coldest month of the year, with averages from 2°C down to -5°C. On rare occasions, temperatures may plummet to -20°C. January gets about 33 total centimeters of snow, with snow on the ground for about one-third of the month, and a few days of deep snowpack, exceeding 25cm. Days are short, with around six hours of sunshine each. A heavy coat, hat, and warm, waterproof boots are a must for travelers braving the elements. (average High 2°C, Average Rain 90mm, Average Snow 33cm.)
Boston Weather in February: Though slightly warmer than in January, temperatures remain frosty this month, between 4°C and -4°. February sees fewer days of precipitation (roughly eight total days), though the amount of rain in total remains consistent at 90mm. Snow is still common and a few days each February will see snow over 10cm deep. Daylight hours are still brief this month. (Average High 4°C, Average Rain 90mm, Average Snow 28cm.)
Boston Weather in March: March in Boston is a mixed bag. The long winter begins to thaw, with highs reaching around 8°C and lows hovering right at freezing. Snow is likely in the first couple of weeks, but is less frequent later on. Snow usually melts right away, and only a couple of days see more than 2 cm on the ground. Cold rain is common, and days remain short. (Average High 8°C, Average Rain 90mm, Average Snow 20cm.)
Boston Weather in April: April is the wettest month, with around 100mm of rain spread out over fifteen days. Snow is rare, but not unheard of, even later in the month. Temperatures begin to climb into the double digits, with average highs of 13°C. Days begin to get longer, around 8 hours of sunshine. Dress in layers, carry an umbrella, and you'll be ready for anything. (Average High 13°C, Average Rain 100mm, Average Snow 5cm.)
Boston Weather in May: May is the height of spring, with longer daylight hours and afternoon temps routinely exceeding 20°C. Evenings are still chilly, so pack a lightweight jacket. Rain comes more frequently in May than in April, but showers are lighter. This is actually one of the driest months of the year in terms of the total amount of rain. Do not miss the colorful flower displays at the Public Gardens, Rose Kennedy Garden, and Back Bay. Among others, you'll find tulips, daylilies, and at the end of the month, roses. (Average High 19°C, Average Rain 80mm.)
Boston Weather in June: June sees the first truly hot days in Boston. Highs average 24°C, but there is usually a day or two this month where the thermometer goes over 30°C. Most days stay in the warm-but-not-too-hot range, perfect for taking in a game at Fenway Park or for sightseeing on foot. Rain is slightly less likely than in previous months. (Average High 24°, Average Rain 90mm.)
Boston Weather in July: July is the hottest month of the year, with a handful of days breaking 30°C and warm evenings hovering around 19°C. Dress for the weather; shorts, tanks, and sandals or flip flops. Get your walking tours done in the morning, before the heat and humidity sets in, then spend the afternoon in the shade of a Public Garden beech tree or in one of the many air-conditioned museums. (Average High 28°C, Average Rain 80mm.)
Boston Weather in August: Boston continues its warm, humid summer, though August days are just a hair cooler than in July. Ocean and river temps are at their highest now, around 20°C, making this the best time of the year to get out on the water. Days are long and rainy days are less common now. (Average High 27°C, Average Rain 90mm.)
Boston Weather in September: Boston is fantastic in September. This month is mostly warm, sunny, and dry: perfect for sightseeing on foot. This is a walking city, and there's no better month for getting out and exploring the harborfront, esplanade, parks, and footpaths through the historical sights. Do dress in layers if you plan on staying out late, as the nights can be chilly. (Average High 23°C, Average Rain 70mm.)
Boston Weather in October: October sees the peak of fall foliage, especially toward the end of the month. Days tend to be sunny and dry, though brisk and short. This is the most popular time to visit the city, but be sure to dress for the weather. Layers and a light jacket are recommended if you plan on leaf peeping or exploring the city. (Average High 16°C, Average Rain 80mm.)
Boston Weather in November: November brings cold weather back to Boston. Expect chilly days and near-freezing nights. Most years November has no snow, but some years see several centimeters over the course of the month. This is the second wettest month, just after April, with rain for almost half of the days adding up to around 100mm. Good boots and an umbrella are highly recommended. (Average High 11°C, Average Rain 100mm, Average Snow 3cm.)
Boston Weather in December: Most years December sees the first snowfall of the year, with around 23cm for the month, plus lots of bone-chilling rain. The long nights almost always freeze, while daytime temps hover just above the freezing point. This month has the shortest days, with about five hours of sunlight. It's time to bundle up again. A heavy coat, warm boots, and an umbrella will go a long way toward improving your stay in town.(Average High 5°C, Average Rain 90mm, Average Snow 23cm.)
Boston Events and Festivals
Boston in January
Boston in February
Boston Science Fiction Film Festival – A weeklong festival of feature films, shorts, webisodes, and more from emerging and visionary directors. The first nine days are set up as a standard film festival, and the final event is a 24-hour marathon of classic and new movies, running from noon the 10th day until noon the 11th day.
Boston Extreme Beer Fest – A three-day craft beer festival, focusing on creativity and boundary-pushing in the industry. The festival features over 250 beers from over 70 breweries from Boston and around the globe. Ticket price covers all tastings; food sold separately. This event sells out fast, so buy your tickets in advance.
Unconditional Love: The Love Letter of John and Abigail Adams – An annual reading held at the Boston Tea Party Ships and Museum. Actors from their in house troupe read a selection of love letters written over the course of the Adams' 54-year relationship. Ticket price includes a glass of champagne, cider, or beer; unlimited tea; plus a selection of cheeses and fruits. Advance purchase is recommended.
Boston in March
St. Patrick's Day Parade – The city's largest parade features bagpipes and marching bands, dancers, floats, minutemen companies, and more. Around a million green-clad people show up to cheer, so arrive early to grab a good spot. The route tends to get especially crowded near the Broadway T station.
Boston Underground Film Festival – According to its organizers, BUFF is a "celebration of the bizarre and insane." Held every March at the Brattle Theater in Cambridge, this is festival has screened work by alt directors Penelope Spheeris and Lucky McKee and has hosted cult icon guests, including George Romero and Lloyd Kaufman.
Boston in April
Boston Marathon – The world's oldest annual marathon, the Boston Marathon takes place on Patriots' Day (third Monday in April). The event attracts a crowd of half a million with around 30,000 participants. Beginning 26 miles west of Boston, the race ends in Copley Square by the Boston Public Library. Hotels sell out fast this time of year, so book well in advance (6 months out is a good idea).
Street Performers Audition at Faneuil Hall – Street performers are a staple feature of the Faneuil Hall Marketplace, with buskers of all styles. Auditions for the coming year are held annually in April, and are free to watch. Acts include musicians, magicians, dance troupes, and variety acts of all kinds.
Patriots' Day – The third Monday in April is Patriots' Day, commemorating the Battles of Lexington and Concord, the first fights of the Revolutionary War. Battle reenactments are scheduled for several locations in the Boston area, with Lexington Green in Lexington and the Old North Bridge in Concord being the best known. Reenactments of Paul Revere's midnight ride usually follow. Events take place on the Saturday before the holiday and continue through Monday.
Wicked Queer: The Boston LGBT Film Festival – Running since 1984, this is one of the oldest LGBT film festivals in the nation. It is hosted by the Museum of Fine Arts and other venues scattered around the city. Taking place over 10 days, Wicked Queer features over 150 films, awarding prizes for narratives, documentaries, and shorts.
Taste of the North End – This event showcases food from roughly 45 restaurants in Boston's North End. Expect lots of Italian food! Visitors get to sample a variety of foods for a good cause, with the funds earned going to various North End charity groups.
Boston in May
Boston in June
Boston Gay Pride Week – A weeklong celebration of gay culture culminating in the annual Gay Pride Parade on the second Saturday in June. Events take place citywide at several venues (Fenway Park, Faneuil Hall, the MFA, and more) with a flag raising ceremony, dance parties, and marches, with the main parade beginning in Copley Square and finishing at City Hall Plaza. Traffic will be congested and parking nearly non-existent; do take public transportation on parade day.
Dragon Boat Festival – In this two-day festival, 30-40 teams race over a 500-meter course on the Charles River. The first day is all racing, while day two has the race finals, as well as an Asian cultural festival, featuring a traditional dragon dance, drumming, martial arts demos, foods, and arts and crafts. This is the longest running dragon boat festival in North America and the largest Asian-American celebration in New England.
Scooper Bowl – The largest all-you-can-eat ice cream festival in the world! The Scooper Bowl is known locally as the "unofficial start of summer" and is held the first week of June, usually over three weekdays. All the ice cream is donated, and 100% of the proceeds from ticket sales benefit cancer research and patient care at the Dana-Farber Cancer Institute.
Boston in July
Boston in August
Boston in September
Mayor's Cup Race and Hub on Wheels – A two-day bike fest with two events: Saturday's Mayor's Cup Race, where pro bikers compete for a cash prize, and Hub on Wheels, where all can register for a fun ride along the harbor and through neighborhoods, ending in a block party at City Hall Plaza with live music and a beer garden.
Boston Freedom Rally – AKA Hempfest, this is the second largest rally in the world for marijuana law reform, just behind Seattle's Hempfest. The event takes place across from the Boston Common at the Carty Parade Field and features live music, food, and more. The two-day event starts at noon.
Boston in October
Boston in November
Plymouth Thanksgiving Celebration & Parade – A three-day event taking place Friday through Sunday after Thanksgiving. The festivities begin on Friday afternoon with guided tours of the waterfront and Plymouth Rock, followed by an illumination ceremony and street festival. Saturday's Historic Parade features drum and fife troupes, horses, and floats arranged in a chronological order, telling the history of America. The weekend fills in with a historical village, food fest, arts and crafts, and more live entertainment.
Boston Comedy Festival – Over a week of comedy performances and stand-up competitions, this event is a favorite of industry insiders and a great way to see some of the best up-and-coming comedians nationwide. Notable comedians are honored yearly with the Comedian of the Year and the Lifetime Achievement Award. 21 and over for most events.
Boston Jewish Film Festival – Since 1989, the BJFF has screened films with an emphasis on the depth and variety of the Jewish experience. Screenings are often followed by in-depth panel discussions and Q&A sessions with filmmakers and guests. Tickets are available at venue doors for specific screenings an hour before the show starts, but be advised that online sales close at midnight the night before, so buy your tickets early.
Boston in December
Read More