SD › Italy › Florence › Kid-Friendly Hotels
Updated: September 2, 2023
My Favorite Hotels in Florence
• 5-Star: Portrait Firenze
• 4-Star: Calimala
• 3-Star: San Giuliano Inn
• For Families: Four Seasons
• Best Pool: Villa Cora
• Near Duomo: Brunelleschi
• Ponte Vecchio: Portrait Firenze
• Train Station: The Market
Florence with Kids – Tips & Recommendations

Eating, drinking, and relaxing in Piazza Santo Spirito is a highlight of a Florence visit. The best restaurant on the square is the wonderful Borgo Antico. Or grab a pie from the best pizzeria in Florence, Gustapizza, and eat on the steps of the square like the locals do.
This Pizza and Gelato making class is wonderful. Highly recommended and very kid-friendly. (Our kids loved it.)
Smoking is still allowed in many hotels in Florence, though usually confined to a particular floor in the hotel. If you or your kids are sensitive to smoke, request a non-smoking room or non-smoking hotel.
The 10 Best Kid-Friendly Hotels in Florence
1. Four Seasons – Santissima Annunziata • luxury

Hotel phone: +39 055 26261
Lavish hotel made of two Renaissance buildings with a spa, pool, and Jacuzzi surrounded by eleven acres of private gardens. Guests may choose from spacious suites, connecting rooms, and even one suite with a private plunge pool (the only one in Florence). Kids' amenities include a playground with activities in the summer, kid-sized robes and slippers, and babysitting services. Signature experiences include a hot air balloon ride, their Michelin-starred Picnic in the Park, and a mother and child spa day.
• Hotel website • Check prices for Four Seasons

Hotel phone: +39 055 230 2802
All-suite, boutique hotel in a 16th-century palace with large rooms, suites, and penthouses. The largest options here (one-bedroom premier suites offering 92 or 100 sqm) feature two bathrooms, one or two sofa beds, and sleep a family of 4. All rooms include a hideaway kitchenette complete with a dishwasher and coffee maker. Many suites add private balconies, rooftop terraces, soaking tubs, or Turkish baths. Their decadent breakfast is always a highlight, whether served in the dining room or delivered directly to the suite.
• Hotel website • Check prices for Palazzo Vecchietti

Hotel phone: +39 055 2726 8000
Ultra-luxe hotel with every detail customizable to guests' desires, from flower arrangements to spontaneous room amenities. Suites are all spacious and exquisitely appointed from studio-sized up to a five-bedroom penthouse with views of the Ponte Vecchio and Arno River. Their children's program features Italian cooking classes, spy games in the Uffizi, and experiments based around Da Vinci's discoveries. Children's menus are available all day at their Michelin-starred restaurant, Caffe dell'Oro.
• Hotel website • Check prices for Portrait Firenze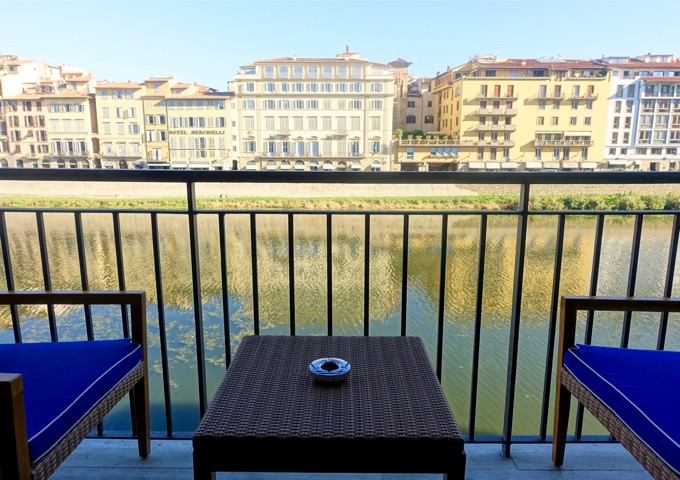 Hotel phone: +39 055 27261
This handsome hotel sits right on the river and offers a wide range of accommodations, from ample family suites (sleep family of 5) to palatial five-bedroom, seven-bathroom suites ideal for large or multigenerational families. Children are well-cared-for through their Very Important Kids program, which offers a trip to the Bargello Museum, hands-on experiments based on Galileo's and Da Vinci's works, and pizza-making classes.
• Hotel website • Check prices for Hotel Lungarno
5. St. Regis – Santa Maria Novella • luxury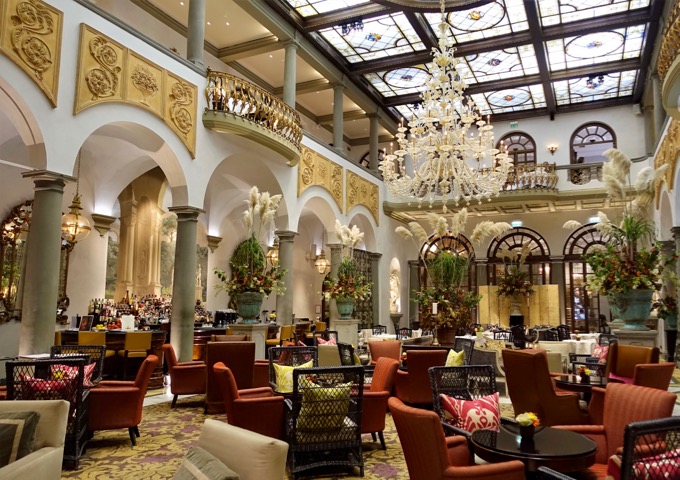 Hotel phone: +39 055 27161
Historic hotel designed by Brunelleschi, with a full service spa, exceptional food, and thoughtful family amenities. Suites range from 50 to 200 square meters, all with soaking tubs and signature butler service. Their Family Traditions program includes a cookie turndown service, kid-sized robes and slippers, complimentary meals for children, and a connecting room at half price.
• Hotel website • Check prices for St. Regis

Hotel phone: +39 055 27351
This fashionable hotel offers elegant rooms and suites with connecting options to create two- to five-bedroom suites. Perks for suite guests include round-trip airport transfer, a bottle of champagne, packing and unpacking services, and daily breakfast delivered to the room. Their family program includes age-appropriate amenities (from baby foods to Pinocchio-themed workshops to video game consoles), services (24-hour babysitting), and experiences (for example, treasure hunts in the Uffizi).
• Hotel website • Check prices for Savoy
7. Villa Cora – Boboli • luxury

Hotel phone: +39 055 228 790
Gorgeous boutique hotel in the green hills overlooking the Boboli Gardens with a heated, outdoor pool. The spacious Family Room features two bedrooms (one with a king bed and one with two singles), two marble bathrooms, and a terrace with panoramic views. Duplex Suites offer similar amenities split over two floors. The summertime kids' club features a range of activities, from pizza-making lessons to painting classes. The hotel also boasts a rooftop terrace, an upscale Tuscan restaurant, and a fantastic spa.
• Hotel website • Check prices for Villa Cora

Hotel phone: +39 055 286 666
Family-owned for 50 years, this cozy, boutique hotel offers a nearly all-inclusive experience, with complimentary breakfast, afternoon tea service, happy hour with unlimited prosecco, Chianti, and snacks, iPads with unlimited mobile data plans, and more included in all room rates. The have a wide range of accommodations for families, including connecting rooms, Superior Double rooms with sofa beds, Junior Suites with sofa beds, Suites (junior suites with a private patio), and spacious three-bedroom, two-bathroom Family Suites that sleep up to seven. For kids, PlayStations and games are available on request. Expect lots of charm and personalized attention from three generations of hoteliers here.
• Hotel website • Check prices for Hotel Davanzati

Hotel phone: +39 055 552 2774
Contemporary apartment hotel, offering spacious studios and one-bedroom suites. Suites all come with sofa beds, while Deluxe Suites have theirs in a loft. Sunny suites all come with fully equipped kitchens, complete with dishwashers and full-sized refrigerators. Self-service laundry and bicycle rentals for adults and kids are available onsite.
• Hotel website • Check prices for La Farina Apartments

Hotel phone: +39 055 283438
Built in a residence from 1507 and run by the same family since 1970, this boutique hotel offers several options for families. Family Rooms can accommodate three to four guests, Junior Suites sleep up to three, and their top tier Bacio Suite one-bedroom sleeps up to four, with one queen or two single beds, plus an additional murphy bed in the living room and a private terrace. The breakfast buffet offers hot and cold continental selections paired with an excellent cappuccino.
• Hotel website • Check prices for Hotel Alessandra
Read More
All Florence Hotel Reviews