Home > Hawaii Family Resorts
Updated: May 22, 2020
• Affiliate Disclosure: All hotel links on my site are affiliate links meaning I earn a small fee when you book a hotel. (There is never any extra cost to you for using these links). I use some of these earnings for my monthly charitable donation.
See Also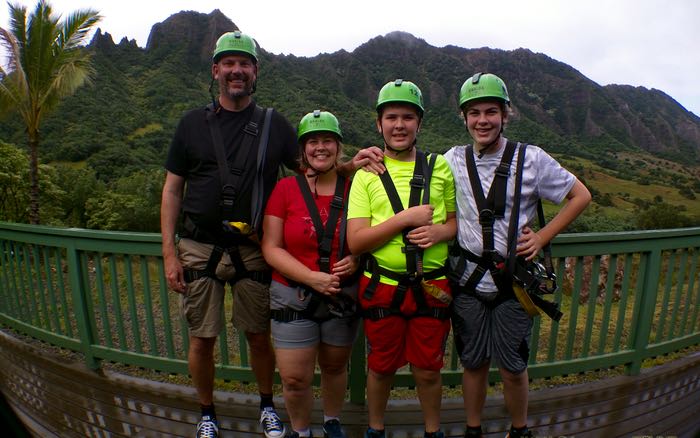 Hawaii Resorts for Families – Tips and Recommendations

Booking.com – The best site for booking kid-friendly Hawaii hotels.
Best Hotel in Oahu for Families: Turtle Bay Resort
Best Hotel in Waikiki for Families: Park Shore Waikiki
Best Hotel in Maui for Families: Grand Wailea
Best Hotel on the Big Island for Families: Hilton Waikoloa Village
Best Hotel in Kauai for Families: Grand Hyatt Kauai Resort and Spa
Maui is the most versatile island for families, with white sand beaches, natural wonders, and great food, but it is also one of the most visited, so many attractions will be crowded. Book tours in advance here, especially for large groups.
Oahu offers a great combination of big city convenience (plenty of food options for picky eaters, lots of cultural/historical activities) and accessibility to the sleepy surf towns on the North Shore. Like any big city, however, Honolulu is noisy, congested with traffic, and has some seedy areas.
The Big Island is excellent for adventurous families, with its active volcano, manta ray snorkels, lava rock deserts, and huge rainforest. Its large size, though, means lots of time spent driving, and the volcanic fumes are not healthy for infants or pregnant women.
Kauai is fantastic for a less crowded vacation with gorgeous rainforests and waterfalls. On this island, you're really getting away from it all: expect fewer conveniences, frequent rain, and spotty cell service on much of the island.
Plan for a few rainy day activities, just in case. Hurricane season is June through November, and much of the islands are covered in rainforest. Museums, aquariums, cultural centers, and historical sites are excellent options.
Be sure to pack pants, sweater, and light jacket if you're venturing away from the beach. Many of Hawaii's attractions, such as Kilauea Volcano or the Haleakala Crater are at high elevations that run about twenty degrees cooler than the surrounding areas.
The 15 Best Family Hotels & Resorts in Hawaii
Click the hotel name to check prices on Booking.com – my favorite website for booking hotels. Book 4 to 6 months in advance for the best rooms and rates.

My favorite family resort in Hawaii. Awesome location among the north coast villages with a private beach and huge pool. There are surf lessons for all ages, a golf course, bike rentals, and snorkeling. Family suites are great or splurge on the 3 or 4 bedroom villas with ocean views. Roy's Beach House has great food, drinks, beer, desserts, and a fun beach-bar vibe. This is a resort for people who don't really like resorts.
(Hotel phone: 808-674-6200)

Classical luxury with tropical touches, perfect for families. Each generous room, suite, and villa has a private balcony; connecting rooms are available. The beach fronting the resort is perfect for swimming, standup paddleboarding, snorkeling, and boogieboarding. Onsite they have an amazing water complex that includes nine pools connected by a lazy river, four waterslides, a rope swing, and a water elevator – plus complimentary scuba lessons. Their kids' camp area is gigantic, with an arcade, mini cinema, kids' activities year-round, and seasonal programs for teens.
(Hotel phone: 808-875-1234)

Family-friendly, luxury resort with a busy vibe. With three waterfall-enhanced swimming pools, giant waterslide, and lazy river, this spacious beachfront hotel is ideal for water-lovers of all types. The property's four acre ocean-fed lagoon has its own private beach, shielded from waves and safe for beginning swimmers. Several dolphins live onsite, and guests are offered interactive swims with them – older kids may even shadow a dolphin trainer for a week. Boats and trams transport guest through the resort, which is a fun and unique way to get around.
(Hotel phone: 808-886-1234)

Spacious, bungalow-style accommodations in several variations with the option of adjoining rooms. King-bed rooms can also fit a rollaway bed, if families prefer to stay together. The resorts littlest guests are offered child-sized amenities, bathrobes, and milk and cookies upon arrival. Their "Kids for All Seasons" activity program runs year-round, with cultural and ocean adventures from sunup to sundown. Grounds feature seven pools, including one stocked with wildlife, a safe way for beginning swimmers to snorkel. The resort sits on a stunning white sand beach with manmade coves and gentle waves.
(Hotel phone: 808-325-8000)

This sprawling oceanfront resort is exceptionally kid-friendly. All one-bedroom suites can connect with king studio rooms, and rollaways are available. The property includes freshwater pools with a waterslide and grottos. Their saltwater lagoon is ideal for scuba lessons, kayaking, or swimming, and has direct access to Po'ipu Beach and Shipwreck's Beach. The resort's kids' program tailors activities to suit each particular group of children, whether arts and crafts, learning about animals, or cultural activities is preferred. Kids can hold a parrot during the Grand Hyatt's complimentary "parrot talk" series, and the resort partners with the local humane society, allowing guests to borrow dogs for a day-long outing.
(Hotel phone: 808-742-1234)

An all-suite, beachfront, luxury resort. Suites range from one to four bedrooms, all with full kitchens. The largest are over 4000 square feet and sleep up to twelve, making them perfect for multigenerational families. Their kids club, Paintbox, plans a different theme every day and offers hourly, half day, full day, and evening programs. Their teen program runs three days a week with outdoor excursions in the mornings. The Montage has direct access to Kapalua Bay, a great beach for a variety of water activities. Fun and easy hiking, horseback riding and ziplining are all nearby.
(Hotel phone: 808-662-6600)

This luxury resort on Ka'anapali Beach is fully family and pet-friendly, even providing dog beds on request. Suites all include sofa beds; rooms have the option to adjoin. The resort has a mini water park with five interconnecting pools and a waterslide, plus hot tubs. Their kids' program runs full day, half day, and night programs, where children can learn Hawaiian dance, crafts, and language, play games, and splash around in the pool. Scuba and surf lessons are available onsite for older kids.
(Hotel phone: 808-667-2525)

Billing itself as Hawaii's Most Hawaiian Hotel, Ka'anapali Beach Hotel is a family-friendly stay that emphasizes Hawaiian culture. They extend their cultural presence all the way to the water, by hiring beach alokai (leaders) who have extensive knowledge of all aspects of the water (culture, history, environment, and safety). In the evenings, they offer a magic show, reenacting classic illusions from six famous magicians who visited Hawaii in their heydays. Complimentary sunset hula shows, ukulele lessons, lauhala weaving, hula lessons, and cultural garden walks are all featured here. All rooms here can connect, and up to three can be joined together. Kids love their whale-shaped pool, and parents love that their property has no blind spots, so kids can run free.
(Hotel phone: 808-661-0011)

This modern, oceanfront hotel sits right across from the Honolulu Zoo, close enough to hear the animal sounds! It is also directly across from Waikiki Beach, with unobstructed views of the water and Diamond Head. Walking distance to the aquarium. One and two bedroom suites with pullout sofas are available here, but the most popular choice for families is a poolside lanai room, which opens directly onto the pool deck. Light sleepers may prefer a higher floor on the ocean side of the hotel for less street noise. The beach area directly in front of the hotel has a cordoned off section with gentle waves for younger children.
(Hotel phone: 808-954-7426)

Great waterfront location on Wailua Bay. This hotel has direct access to the ocean and is adjacent to Wailua river. Suites and connecting rooms are available here, but for families, cottages are the best option. These units offer more privacy and open directly to Lydgate Beach Park, which has a lava rock wall protected area for beginning swimmers, a bike path, and an enormous wooden playground. Older kids may enjoy kayaking up the river to Fern Grotto and swimming under Secret Falls.
(Hotel phone: 808-823-6000)

Family-friendly boutique hotel overlooking the Ala Wai Canal in a quieter part of Waikiki. Rooms and suites are available, with the largest sleeping up to six. All rooms include kitchenettes; barbecue grills are available near the heated outdoor pool. Continental breakfast is complimentary and includes a visit from their mascot, Bosley the Gorilla. Every Friday evening they have live music and a traditional plate lunch dinner. Special "Kids Rule!" package is available in spring and summer, where kids create their own vacation package. Great neighborhood, only three blocks from Waikiki Beach and three blocks from Luxury Row.
(Hotel phone: 808-219-0728)

Cottage stay on a working organic farm with tons here for kids to see and learn. The farm grows three acres of vegetables and fruits year-round, including avocado, lime, grapefruit, mango, lychee, papaya, pineapple, banana, and tropical flowers. They also raise rabbits, ducks, and chickens for eggs and meat. Kids and parents are invited to pick any vegetables or fruits to eat, and the farmers bring fresh eggs to the cottage daily. Plenty of room outdoors for kids to run. The unit is a one bedroom with extra sleeping in the living room and a kitchenette with two burners. This is a rural location, but fairly close to the shopping, dining, and beaches in Princeville and Hanalei.
(Hotel phone: 808-828-1513)
13. Lotus Garden – budget – Big Island

Sunny and charming boutique lodging in the heart of downtown Hilo. Historic, tin-roofed buildings from the 1890s are painted in a shock of colors. Though it's located downtown, the yard is fenced and private with a Zen garden and water features, so the city seems miles away. Cottage rentals are ideal for families; they include a full kitchen and can sleep up to six. This is walking distance to everything in Hilo: restaurants, museums, beaches, and the farmers' market. The owners can also provide cribs, pack 'n plays, and other items for young children on request. Additional twin beds can be added to some rooms.
(Hotel phone: 808-936-5212)

Colorful, boutique hotel in downtown Lihue, painted all over with bright murals of tropical landscapes, mermaids, surfboards. Lush garden area with sea turtle stepping stones, walkways made from arched palms, piped in Hawaiian music, blue twinkle lights in the shape of ocean waves, and water features. Several room options, all quaint and clean. The largest room has one king and three twin beds; rollaways optional. Pet friendly, complimentary beach and golf gear, and incredible coffee. The hotel sits across the street from Kalapaki Beach, great for swimming, standup paddleboarding, boogieboarding, and beginner surfing. Several restaurants within walking distance, but a car is necessary for exploring the island's attractions.
(Hotel phone: 808-245-7227)

Family-owned, beachfront hotel, central to all Maui attractions and the airport. The exterior needs a refresh, but the rooms and lobby are bright, cheery, and clean. Most rooms have two double beds; accommodations are basic. Incredibly friendly and welcoming staff with true aloha spirit. The oceanfront pool is surrounded by grassy lawn. The beach itself is fine white sand and swimmable, even for beginners. Complimentary breakfast in the adjacent restaurant. For groups of four or more, bookings must be made by phone, not through the online booking system.
(Hotel phone: 808-877-3311)
Family Apartments and Villas in Hawaii
Recommended apartment rentals for families in Hawaii. All units have kitchens and swimming pools. Most have washer/dryer and free-wifi.
Read More