Greece › Paros › Best Beaches
by Santorini Dave • Updated: August 23, 2022
See Also
The Best Places to Eat in Paros

Greek Cooking Classes: There are a few cooking classes on the island, but the best cooking class in Paros is at Margarita Restaurant at the family-owned boutique hotel Margarita Studios in Ambelas, a charming fishing village about 3.5 km southeast of Naoussa.
The villages Parikia and Naoussa have the most restaurants and almost all of Paros' bars. In Parikia restaurants along the western seaside have amazing sunset views, but the food is usually better inside the village. In Naoussa, waterfront restaurants and interior restaurants both great, but the best restaurants are generally not near the Old Port.
Best Greek Restaurant: Yemeni Wine Restaurant in Naoussa.
Best Greek Seafood: Ouzeri Halaris in Piso Livadi fishing village.
Best Romantic Restaurant: Stou Fred in Parikia.
Best Restaurant with Sunset Views: Ephessus in Parikia.
Best Gyros and Souvlaki: Souvlakia Kargas in Naoussa.
Best Pizza: Cuore Rosso in Parikia.
Best Hotel Restaurant in Paros: Margarita Restaurant at Margarita Studios on Ambelas Beach. Not a fancy restaurant in the slightest, just down home, traditional Parian-Greek cuisine in a family-friendly environment (which is also true of the hotel itself).
Dining in Paros
Meal times in Paros: Greeks typically eat late. Lunchtime is between 1:30 and 3:00 p.m. and dinner is usually around 9:00 or 10:00 p.m. Of course, some restaurants in the more tourist-heavy parts of Parikia and Naoussa will serve lunch as early as 11:00 a.m. or 12:00 p.m. and dinner starting at 7:00 p.m., but the restaurants will be largely empty with fewer locals. Breakfast is not a major meal in Greece.
Reservations in Paros: Reservations are necessary for most of the best restaurants in Paros, which are generally small and offer a slow-food experience. For dining in small restaurants in popular sunset or seaside spots, plan on reserving a week in advance for a party of 2 and 4 weeks out for a larger group.
Eating with Your Hands: There is a misconception that Greeks eat almost everything with their hands. While this is certainly true for on-the-go snacks and meals, like gyros and cheese pies, or for pork and lamb chops at very casual restaurants, diners at nicer restaurants use utensils for most things. Even for dipping bread, it is typical to cut a small piece and use a fork to dip and eat.
Water is not drinkable from the tap in Paros. Restaurants serve bottled water only, and it's never free.
Parian Food is known to be super-fresh, jet-set inspired, and highlighting seafood. Local dishes to try include gouna (sun-dried, roasted mackerel), mizithra (goat cheese), karavalas (Greek escargot), and kakavia (fish soup). Though octopus is absolutely everywhere and delicious when prepared right, much of the octopus served in Paros is caught in the off-season and frozen or imported to feed the island's high demand. Check with the restaurant to be certain that the octopus on the menu is local and fresh.
Wine: Greek wines are incredibly underrated. The country has been producing wine for thousands of years, and offer some truly amazing varieties, especially white wines. The top wine regions in Greece are the Cyclades, the Peloponnese, and Macedonia regions. Types to try include Assyrtiko and Moschofilero (both whites), Agiorgitiko (rosé and red), Xinomavro (red), and Vinsanto (white dessert wine). There are a handful of wineries in Paros, the largest and easiest to reach is Moraitis Winery in Naoussa.
Tipping in Paros: Tipping is customary in Greece. A general rule for a casual meal at a taverna is to tip about €2 to €5 or to round the bill up to the nearest number ending in a "0" or "5." For example, if your bill is €27, leave a total of €30. For higher-end restaurants, tipping 5 to 10% is standard; 15% is considered generous. For bars and cafés if ordering at the counter, round up to the nearest euro; for table service, tip about 5 to 10%.
The 13 Best Restaurants in Paros
1. Yemeni – Naoussa • $$$

Map • +30 22840 51445
Effortlessly elegant yet unpretentious restaurant serving seasonal, local dishes alongside traditional, Greek favorites. The thoughtfully curated wine list is handwritten in a notebook and features excellent Parian, Cycladic, and Greek regional labels. Their signature cocktails are drinkable works of art. Tables are set up outside the restaurant tucked away in the cobblestone lanes of Naoussa village. This is a tiny, popular restaurant, so be sure to make reservations in advance. Dinner only, open from 6:00 p.m. to midnight.
2. Stou Fred – Parikia • $$$$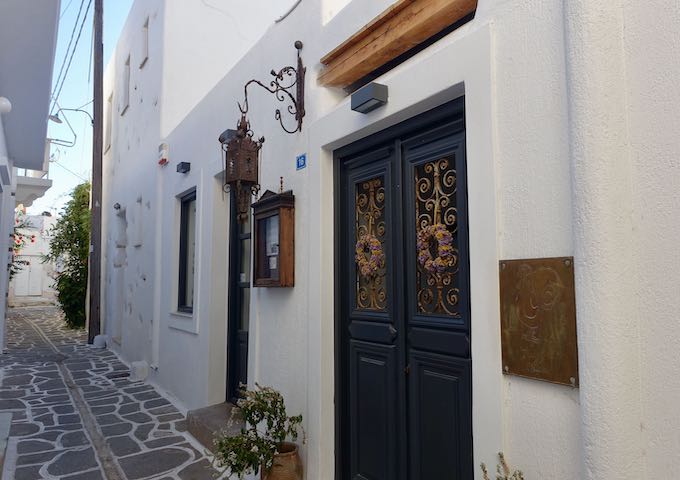 Map • +30 69704 48763
Romantic, garden restaurant in the heart of Parikia run by the famed French backpacker-turned-chef, Fred Chesneau. The 5-course set menu changes weekly to spotlight the best seasonal, local ingredients, which are all prepared with global, fusion spices and techniques. The wine menu mostly offers French varieties. Wonderful for a date night or special occasion. Reservations required. Dinner only, one seating, service begins between 8:30 to 8:45 p.m. daily, closed Sundays.
3. Ela – Parikia • $$$

Map • +30 22840 26027
Creative Mediterranean restaurant, mixing the best flavors from Greece, Italy, and Israel. Expect unique twists on classic dishes, such as lamb baklava and watermelon gazpacho. Ingredients are seasonal and locally sourced, while the sophisticated wine menu features plenty of Greek varieties supplemented by Mediterranean bottles (the by-the-glass menu changes daily). Casual, alfresco setting near the Parikia ferry port. Reservations recommended for dinner. Open daily for lunch from noon until 4:00 p.m., drinks from 4:00 p.m. to 7:00 p.m., and for dinner from 7:00 p.m. until late.
4. Statheros – Naoussa • $$$

Map • +30 22840 51888
Organic, farm-to-table, Parian-Greek meze restaurant based on three generations of one family's recipes. Fresh veggies, fruits, and eggs are gathered fresh daily from the Statheros family's farm, while seafood, meat, cheeses, and wines are sourced from local producers in Paros and Antiparos. The restaurant offers two, open-air dining areas: one seaside and one alongside the alleyway entrance. Reservations strongly recommended. Open for dinner daily from 5:00 p.m. to 11:30 p.m.

Map • +30 22840 43257
The bustling fishing village Piso Livadi is filled with outstanding seafood tavernas, and Ouzeri Halaris is the best of them all. This casual, seaside restaurant is owned by a fishing family: the father and son go out every morning to catch all the fish that will be served in the restaurant that day, while the mother prepares each dish according to family recipes. This is as fresh, local, and authentic as Parian food gets. Open for lunch and dinner daily from 11:00 a.m. until 1:00 a.m.
6. Markakis – Piso Livadi • $$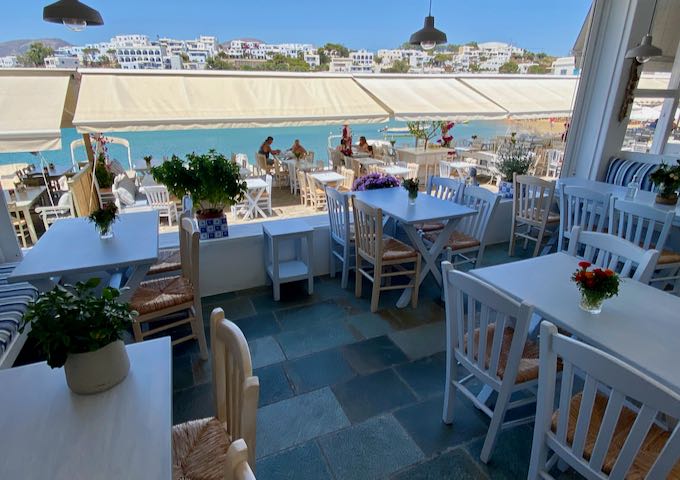 Map • +30 22840 42177
On the same pier as Ouzeri Halaris is family-owned Markakis Restaurant, which offers a slightly more refined dining experience with super-fresh seafood meze, local wine, and a sunny seaside dining space. This is an excellent spot to try some of Paros' traditional dishes, including gouna (sundried mackerel) and kakavia (fish stew), though the catch of the day will never disappoint. Open for lunch and dinner daily from 12:00 p.m. to 1:00 a.m.

Map • +30 22840 5210
Waterside restaurant on a pebbly shore, serving contemporary, Greek seafood in a casual, romantic setting. Though fresh-caught fish is the star of the menu, the restaurant offers plenty of meat and vegetarian options, always showcasing seasonal ingredients and best paired with their local house wine. Reservations strongly recommended for dinner service as seating is limited. Open daily for lunch, dinner, and drinks from noon to 11:00 p.m.

Map • +30 22840 22920
Cuore Rosso serves up the best pizza in Paros and rivals any pizza from Italy. The dough is handmade daily (including the gluten-free dough) and topped with high-quality, fresh veggies, cheeses, and meats sourced from Italian producers. Though pizza is the focus, the restaurant also offers flawless pasta, gnocchi, carpaccio, and both Greek and Italian wines. All packaged up in a cozy garden setting in the maze of footpaths in Parikia. Open for dinner daily from 6:00 p.m. to midnight.
9. Soso – Naoussa • $$$

Map • +30 69748 78281
Stylish Greek-Mediterranean restaurant set in one of Naoussa's charming, narrow alleyways. Soso offers more meat dishes than most Parian restaurants, which tend to be seafood-heavy. The menu changes regularly, but typical dishes include roasted lamb or pork shank, spicy lamb meatballs, cheese pie, and octopus over fava. Reservations strongly recommended. Open for dinner only from 8:00 p.m. to 1:00 a.m.
10. Kargas – Naoussa • $

Map • +30 22840 53503
The best gyros and souvlaki in Paros. Kargas cooks up a simple, high-quality, affordable menu: just gyros, souvlaki, or kebabs, all made with your choice of pork or chicken and fries or Greek salad on the side. There is limited seating in the alley near the entrance, but many people take their food to go and find a spot to sit by the sea at the marina or Old Port, just a few steps away.
11. Les Amis – Pounta • $$

Map • +30 22840 51100
Sophisticated Mediterranean restaurant, mixing local flavors with modern techniques, accompanied by incredible Greek wines and well-made cocktails. Expect familiar, well-prepared meat, seafood, and pasta dishes with creative accents, like lavender-infused balsamic vinegar. There are three seating areas here: the balcony, the alley, or the dining room; book in advance for balcony seating, for views of the street life below and more privacy than the alley tables. Open nightly for happy hour and dinner.

Map • +30 22840 24147
The best breakfast and brunch spot in Paros, known for their sweet and savory crepes and offering delicious coffee, pastries, and omelets. Café Symposium sits under a shady bougainvillea on a terrace above the pedestrian tunnel and steps in Parikia, an ideal perch for people watching. The service is friendly and unhurried. Open daily for breakfast until 12:30 p.m., then for wine, cocktails, and meze in the evenings.
13. Ephessus – Parikia • $$

Map • +30 22840 22520
Wonderful, sunset-view restaurant on Livadia Beach in Parikia, serving a Greek menu with Turkish influences. The restaurant cooks a variety of dishes, including their pizza, in a wood-burning stove. Try the manti (Turkish dumplings). Upgrade to a bottle of wine; the house wine is not the best. Friendly service. Open daily for lunch, dinner, and cocktails until 12:30 a.m.
Read More