SD › London › Tours & Things to Do
Updated: May 24, 2022
See Also
The 12 Best Tours in London
Advanced Tickets
The 51 Best Things To Do in London
1. Walk

My favorite thing to do in most big cities is to walk and London is no exception. It's the best way to experience the city's culture, daily workings, and personality. If you want to learn about a city's past then a museum, palace, or historical sight will be best. But if you want to take in today's London then walking is the way to do it. When it comes to walking as a means for exploration there are few wrong ways: the most untouristy routes will yield the most dramatic discoveries. I hesitate to offer a walking route as the point isn't to see this sight or that building but to absorb the culture that is all around you. Just pick a destination 5 to 10 kms away and start walking.
Best London Walking Tours: Roman London Walking Tour • Historical Pub Walking Tour • WWII Walking Tour • Harry Potter Walking Tour • Private London Walking Tour • London Private Food & Drinks Tour • London in a Day Walking Tour

London's best classical art gallery, and one of the top art galleries in the world. When the National Gallery was founded in 1824, it displayed just 38 paintings. Today, it's home to over 2300 works of art, with practically every European school of art represented, from medieval paintings to world-famous Impressionist works. The Sainsbury Wing houses the gallery's earliest pieces, from the 13th to the 15th centuries; you'll find Leonardo, Botticelli and Van Eyck here. The West Wing is dominated by Italian Renaissance painters, like Titian, Michaelangelo, Correggio, and Holbein. Italian, Spanish, Flemish and Dutch Old Masters are well represented in the North Wing (with standout works from Rembrandt, Velásquez and Caravaggio), and the East Wing houses works by the French Impressionists and Post-Impressionists, including Van Gough's famous "Sunflowers" and Monet's "Water Lilies." Free guided tours are available, and the excellent Art Start computer helps you design your own visit itinerary. Families love the free Sunday art workshops for 5 to 12-year olds, when kids explore their artistic talents in a grand gallery atmosphere. Admission is free, but there are occasional blockbuster exhibitions and music concerts that you have to pay for. The National Gallery Guided Tour is excellent and highly recommended.
Nearest transport: Charing Cross or Leicester Square tube.

The world's largest library with literary treasures on display. Housed in a contemporary red brick building, this is one of the UK's four copyright libraries – copies of every single British and Irish book, map, manuscript, patent and stamp are stocked within, as well as ancient treasures from around the world. The vast collection includes 150 million items, with 3 million added every year. The Reading Rooms are extremely popular (bring proof of identity and address to register). Non-registered readers can enjoy the library's excellent temporary exhibitions – past shows include Shakespeare's works, art and culture of Mughal India, and the Punk movement. The John Riblat Gallery (open to the general public) displays the library's main treasures; one of the four surviving copies of the Magna Carta (1215 A.D.), millennia-old Bibles, the first edition of Shakespeare's poems, the score of Handel's "Messiah", handwritten Beatles' lyrics, and more.
Nearest transport: Euston or Kings Cross tube.
4. Go Art-Gazing at the Tate Modern

This powerhouse of contemporary art, Britain's most visited and spectacular gallery, is actually a renovated power station on the Thames. The Boiler and Switch Houses contain the Tate's main galleries, showcasing works from the museum's world-class permanent collection. Minimalism, Surrealism and Post-war abstraction are well-represented, and there are works by heavy hitters such as Picasso, Anthony Gormley, Salvador Dalí, and Andy Warhol. Art is grouped by theme rather than movement, and exhibitions explore the relationships between artist and society, object and architecture, and performer and participant – the latter through performance or visitor participation. The vast former turbine hall is used to maximum effect to host temporary installations (Damien Hirst and his contemporaries have all featured here), and in 2012 the building expanded to include the Tanks – huge subterranean former oil reservoirs that now comtain video and light installations, electronic art, and stage performances. Access to the main collection is free; but there's a fee to visit temporary touring exhibitions. Visitors traveling between the two Tate galleries can catch the Tate-to-Tate boat, departing every 40 minutes and running between Millbank Millennium pier and Bankside pier, with a stop en route at the London Eye. The Tate website has a range of downloadable apps to help you explore, including a creative drawing app for kids.
Nearest transport: Blackfriars or Southwark tube, Bankside pier.

Europe's tallest observation wheel, on the south bank of the Thames. Built in 2000 in honor of the coming Millennium, the Coca-Cola London Eye has quickly become one of London's best-loved attractions, as much a part of the London skyline as the houses of Parliament and St. Paul's Cathedral. Pre-boarding, guests enjoy a short 4D film of aerial photography over London. Afterward, 32 see-through space pods lift off for a leisurely 30-minute journey above the river, rising to a height of 135m and offering terrific views of some of London's most famous landmarks. Each pod has floor-to-ceiling glass panes, plenty of room to walk about, and a touchscreen providing information about the iconic buildings below. For an extra special touch, book the champagne breakfast option and get a pod to yourself. Booking your ticket online gets you a cheaper rate and the option to go Fast Track, and skip the worst of the queues. Otherwise, plan your visit before 10am or after 3pm, when crowds are thinnest.
Nearest transport: Westminster or Waterloo tube, Westminster pier.

The oldest and most famous of London's food markets, dating back to the 13th century. Today, London's top chefs shop for fresh ingredients at Borough Market's speciality food shops and stalls, while crowds of visitors are drawn to the smoothie stands and the diverse street food. You can find almost anything here – from fresh seafood and rare French cheeses to Croatian sausage, freshly baked cakes, ostrich burgers and every spice imaginable. Many stalls offer free samples of their wares. The street food vendors are a diverse bunch, with Indian curry vying for popularity with Lebanese wraps and European cake stalls. The Market Hall, which faces Borough High St, hosts foodie demonstrations, workshops and food tastings. Borough Market is particularly busy on weekends. If you come here just to people-watch, grab a drink and a bite at one of the many lively spots surrounding the market – you'll find Spanish wine and tapas at Brindisa, raw fish at Feng Sushi, and gourmet coffee at Monmouth.
Nearest transport: London Bridge tube or London Bridge pier.

Secret WWII bunker and Winston Churchill museum. At the end of August 1939, shortly before declaring war on Nazi Germany, the British cabinet made the decision to move their headquarters into a subterranean bunker beneath Whitehall. For the next six years, Winston Churchill and the war cabinet lived within these cramped rooms, directing the war effort from underground. Today, these rooms remain largely unchanged, and the museum's displays do a great job of replicating the tense wartime atmosphere. This great multimedia museum focuses largely on Churchill – the man and his personality, his checkered political career, and his stirring wartime speeches. An excellent free audioguide supplies anecdotes, sound effects, and detailed commentary. Highlights include the Map Room (the operations centre), Churchill's secret direct telephone line to President Roosevelt, and the humble living quarters of Churchill and his staff. The WWII Westminster & War Rooms Tour is worth every penny.
Nearest transport: Westminster tube or Westminster pier.
8. Catch an Open-Air Play at Shakespeare's Globe Theatre

London's most famous venue for Shakespearean plays. Many of William Shakespeare's works were first staged at the original Globe Theatre, which burned down in 1613. The present-day Globe, rebuilt in 1997 near the site of the original, has been sensitively constructed to resemble the original as much as possible, and the theatre continues the tradition of staging Shakespearean plays in an open-air setting. Excellent outdoor performances take place between April 23rd (Shakespeare's birthday) and early October. Indoor shows are held year-round within the traditional Jacobean setting of the Globe's candlelit Sam Wanamaker Playhouse. Even if you don't catch a showing of Midsummer Night's Dream or Macbeth, it's well worth getting a tour of the theatre; they run every 30 minutes or so from 9:30am to 11:30am, and include visits to the nearby site of the 1587 Rose Playhouse – the oldest on Bankside – which is currently undergoing excavation.
Nearest transport: Blackfriars or Southwark tube, Bankside pier.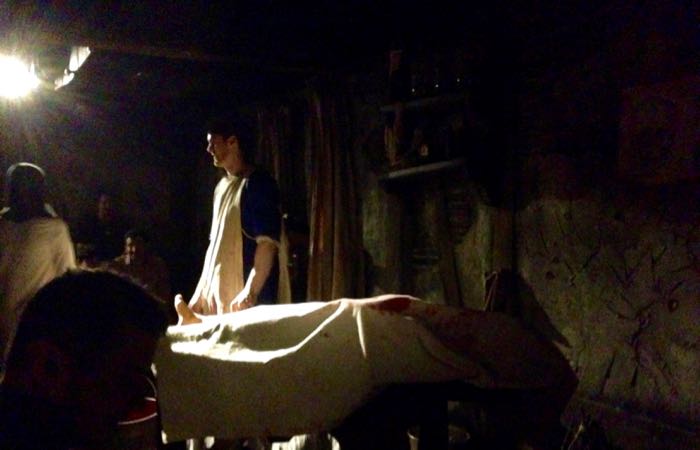 An interactive and shock-filled celebration of London's death and disease-plagued past. Not for the squeamish or the easily frightened, this quintessential London attraction takes you through a thousand years of city history, with a particular focus on the gruesome bits. Costumed actors lead guests on a 90-minute tour through a series of expertly created sets. (The rats, if you're wondering, are real.) Encounters along the way include Guy Fawkes of the Gunpowder Plot, a medieval doctor dissecting a victim of the Black Plague, and Sweeney Todd, the murderous barber of Fleet Street. Expect plenty of audience participation, as well as actors jumping out at you from dark corners, creepy sound and light effects, and a stomach-churning 'death drop' ride at the very end. Ghoulish fun; not for young children. Get discounted admission by booking online or combining a ticket with popular attractions like Madame Tussaud's, the London Eye, and London Sea Life Aquarium.
Nearest transport: Westminster or Waterloo tube, Westminster pier.
10. Catch a Gig at the O2 Arena

One of London's best live music venues. The shell-shaped O2 Arena has been a fixture in Greenwich since 2000 and is London's best mid-sized arena for live music. With a capacity for 20,000, the O2 has hosted famous names from Beyoncé and Justin Bieber to Prince and Leonard Cohen. The O2 was originally designed by Richard Rogers for the Millennium celebrations in 2000, and its reinvention as a live music venue has made terrific use of the auditorium's design and acoustics – totally unobstructed views mean there are no bad seats in the house. Besides staging concerts and sporting events, the O2 also has a more intimate attached venue, Indigo, that stages comedy shows and smaller gigs by the likes of Blondie and Estelle. The Up at The O2 experience gives visitors the opportunity to walk across the top of the O2 dome, secured by a safety harness.
Nearest transport: North Greenwich tube, Emirates Air Line cable car.
11. Smell the Flowers at Kew Gardens

The world's largest and most diverse collection of plants. A 20-minute tube ride southwest of central London, the Royal Botanical Gardens at Kew is one of London's many tranquil green spaces. It's also a centre for botanical research and conservation, with an astounding collection of plants and flowers. Most visitors enter via the Victoria Gate near the glass-paned Palm House, a huge Victorian greenhouse full of tropical plants. Take one of the many footpaths through the park, or hop aboard the Kew Explorer, which runs around the perimeter of the park and lets you hop on and off at main attractions. Highlights include the Sackler Crossing – the curved bridge across a lake with forested islands and waterfowl. Nearby, bamboo groves surround a traditional Japanese Minka House, and the Xstrata Treetop Walkway takes you high into the arboreal canopy. Just south, the gorgeous Temperate House, the world's largest surviving Victorian glasshouse, is home to a wide array temperate climate plants. (Though it's currently closed for restoration.) In the east corner of the gardens, the Princess of Wales Conservatory displays 10 different climatic zones – from mangrove swamp to desert. Summer-only boats run from Westminster pier to Kew pier and further south to Hampton Court Palace, so you can visit both in one day.
Nearest transport: Kew Gardens tube, Kew pier.
12. Catch a Tennis Match at Wimbledon

The oldest and most prestigious tennis tournament in the world. British people take tennis seriously. Each year, for two weeks in late June and early July, attention focuses on the turf-covered courts of the All England Club in Wimbledon, home to one of the world's four Grand Slam tournaments plays out. A tournament venue since the 19th century, Wimbledon is the only Grand Slam still played on grass. All the tennis greats have played here, from Steffi Graf, Martina Navratilova and the Williams sisters, to Pete Sampras, John McEnroe, and Roger Federer. The only way for visitors to get Grand Slam tickets is by queueing up early on the day of play, or camping out overnight to secure show court tickets for the biggest matches. If you can't catch a match, however, it's still worth visiting the Wimbledon Lawn Tennis Museum, which displays vintage artifacts, memorabilia from celebrity tennis greats, and video clips of key moments in tennis history.
Nearest transport: Wimbledon tube.

London's only cable car takes you high above East London. Built for the 2012 Olympics, the Emirates Air Line Cable Car has since been adopted as part of London's transport network. (You can even use your travelcard or Oyster card on it.) The cable line lifts riders 90m above the river between North Greenwich and the Royal Docklands, offering fantastic views of London from above. During the 5-minute journey, an entertaining voiceover tells the history of the Docklands – once the heart of the British Empire, this area was the world's greatest port from the 16th century until World War 2, now rejuvenated with the gleaming skyscrapers of Canary Wharf. Iconic landmarks viewable from above include the Cutty Sark, Queen Elizabeth Olympic Park, the Royal Observatory and the Thames Barrier.
Nearest transport: North Greenwich or Royal Victoria DLR.
14. Climb Aboard the Cutty Sark

The world's last surviving tea clipper. Beautifully restored after a disastrous fire in 2007, this 19th century clipper ship sits on the south bank of the Thames and is one of the highlights of Greenwich, east London. Once the fastest ship of its kind, the Cutty Sark sailed to China and back eight times, trading coal, beer, wool and other goods for tea, until clippers were put out of business by steamships in the 1920s. On board, interactive maps, displays and the restored sleeping quarters of the officers and crew give a good idea of what the voyages and living conditions aboard the vessel were like. The visit ends in the visually stunning space beneath the ship: The clipper is raised 3m off the ground and surrounded by glass, giving a dramatic view of its gleaming, copper-plated hull. Don't miss one of the world's largest collections of ships' figureheads.
Nearest Transport: Cutty Sark DLR or Greenwich pier.

A church of unparalleled historical and cultural importance. The most visited place of worship in London, this beautiful Gothic abbey is also of great importance to the British monarchy: with two exceptions, every English king and queen have been crowned here since the church's completion in 1065. Westminster is the final resting place of 17 kings and queens, as well as many military and cultural notables, including Sir Isaac Newton and Charles Darwin – tombs and plaques can be found scattered throughout the small chapels inside. Highlights include the Sanctuary's ornate high altar, where coronations and royal weddings take place, the magnificent Victorian Gothic quire, and the spectacular Henry VII Chapel, decorated with colorful banners. The Royal Air Force Chapel's stunning stained glass window commemorates 1500 pilots who died in the Battle of Britain. Poet's Corner commemorates Chaucer, Shakespeare, T.S. Eliot, and other literary greats. The Queen's Diamond Jubilee Galleries, due to open in 2017, will permanently display the abbey's treasures and artifacts. Westminster has gained even more popular with visitors since the 2012 wedding of Prince William and Kate Middleton – to beat the worst of the queues, get here before the 9.30am opening time.
Nearest transport: Westminster tube or Westminster pier.
16.Take a stroll in Hyde Park

One of London's largest royal parks, Hyde Park is 1.5 miles long and a mile wide, comprising colorful flower beds, manicured lawns, clusters of trees, and London's oldest boating lake. Once a royal hunting ground and execution site, the park was first opened to the general public in the beginning of the 17th century. Today it's a tranquil retreat for running, cycling and strolling Londoners. The northeast corner of the park is Speakers' Corner, where the likes of Karl Marx and George Orwell once drew an audience – it's the only place in the country where demonstrations may be held without prior permission from the police. The L-shaped Serpentine Lake separates Hyde Park from Kensington Gardens on the other side, and many of the park's most popular features are located near the bridge that spans it. Kids like to paddle in the circular, stream-like fountain commemorating Princess Diana, located just south of here, and on either side you'll find the Serpentine Galleries (South and North), which both host temporary exhibitions by up-and-coming artists.
Nearest transport: Hyde Park Corner, Marble Arch or Lancaster Gate tube.
17. Take a Boat Tour

Watery views of London's top attractions. Many of London's best-known landmarks – Houses of Parliament, the London Eye, Tate Modern, the Tower of London, Tower Bridge, Cutty Sark – are located along the banks of the River Thames, and a boat tour is a scenic way of traveling between them. There are several options to choose from. River buses, used by commuters, are part of the London transport network – RB1 from the London Eye to Greenwich is the most convenient for sightseeing, but you won't get a guided tour. Tours are provided by specialized boat cruise companies: City Cruises runs a convenient loop between Westminster and Greenwich, while Thames River Sightseeing takes tourists out as far east as the Thames Barrier that protects the city from flooding (and also runs summer services from Westminster to Kew Gardens and Hampton Court). If you're looking for something a bit more adrenalin-charged, Thames Rockets runs fast, spray-drenched speedboat tours of the Thames in their turbo-charged vessels.
Nearest transport: Westminster, Tower, Bankside or Greenwich pier.

Straddle two hemispheres at the Prime Meridian Line. Set atop on a hill in tranquil Greenwich Park, the Royal Observatory has played a vital role in the history of British astronomy and navigation since 1675, and since 1884 has been the site of Global Prime Meridian – Longitude 0° 0′ 0". This spot marks the divide between the eastern and western hemispheres (you can stand with one foot in each!), and the very place from which the world's time zones are measured – Greenwich Mean Time (GMT). Excellent interactive galleries teach visitors how the first telescope was made, how time was standardized, and how it became possible to use astronomical means to accurately chart the world. Climb upstairs to have a look at the Great Equatorial Telescope – one of the world's largest, touch part of the 4.5 billion year old Gibeon meteorite at the Astronomy Centre, or catch a celestial show at the state-of-the-art Peter Harrison Planetarium.
Nearest transport: Greenwich DLR, Cutty Sark DLR or Greenwich pier.

The seat of the British parliament and London's most iconic building. The striking neo-Gothic Houses of Parliament (officially, the Palace of Westminster) on the north bank of the Thames act as the seat of the British House of Lords and House of Commons. Members of Parliament (MPs) meet here to propose new laws and hold political debates with the Prime Minister. The building's famous clock tower was officially renamed the Elizabeth Tower in honor of the Queen's Diamond Jubilee in 2012, but it's still commonly referred to as Big Ben. Visitors are welcome to attend the Parliamentary debates, which occur daily during the week; this generally requires standing in line for up to two hours. The most interesting (and busiest) time to visit is during Prime Minister's Question Time at noon on Wednesdays, when the PM answers hostile questions from members of the opposition party. On Saturdays year-round and on most weekdays during Parliamentary recess (mid-July and early September) audio and guided tours of the Houses of Parliament are offered.
Nearest transport: Westminster tube or Westminster pier.

Tour the home of the original Harry Potter movie sets. Though parts of the Harry Potter movies were shot in various locations around London (Tower Bridge, Kings Cross train station, Leadenhall Market = Diagon Alley, Gringotts Bank = Australia House), the studios where most of the filming took place can be found in Leavesden, 20 miles north of the city. It's a very worthwhile day out, both for Harry Potter fans and those interested in taking a glimpse behind the scenes of a film studio. Visitors can explore the many sets – from 4 Privet Drive to the Great Hall and Dumbledore's office at Hogwarts, and check out thousands of props and costumes from all eight movies, enhanced with special effects and animatronic creatures. Experience riding a broomstick through green screen technology, climb into a mockup carriage of the Hogwarts Express, learn about wand-making and magic battle moves, and wash it all down with a Butterbeer. Best for older kids as it'll take some of the magic out of the movies for younger children.
Nearest transport: train from London Euston to Watford Junction, then shuttle bus.
21. Sample the Best of Bristish Cuisine at St John Smithfield

This contemporary, Michelin-starred British restaurant with a meaty focus has been a Farringdon fixture for over twenty years, single-handedly disproving the myth that British cooking is tasteless and boring. A rundown smokehouse turned into a trendy yet affordable restaurant, the setting is minimalist – all bare whitewashed walls and battered floorboards – and buzzy without being pretentious. There's no dress code: the focus is on the food here, and making the most of local, seasonal British produce. The menu changes daily. Chef Fergus Henderson has pioneered the concept of 'nose to tail eating' – not wasting any part of the animal – so you'll find items like roasted bone marrow, devilled kidneys and lambs' tongues peppered throughout the menu. If you've never tried offal before, this is the place to do it! Roast guinea fowl, poached rabbit, braised lamb and roast hake are some of the less offbeat offerings, and the desserts – traditional British with a contemporary twist – don't disappoint. The wine list is French and carefully chosen. Reservations highly recommended, but walk-ins are welcome for dining at the bar.
Nearest transport: Farringdon tube.

The London home of Her Majesty the Queen. While nearby St James's Palace is the official seat of the British monarchy, it's small and old-fashioned compared to Her Majesty's actual London residence – where she also conducts state business. The public is never admitted into the Queen's private quarters, but in August and September while the Windsors are on holiday in Scotland, visitors can tour the 19 (out of the palace's whopping 775) rooms where the Queen entertains foreign dignitaries and heads of state. The opulent Buckingham Palace State Rooms are suitably impressive – visitors gape at the Grand Staircase, State Dining Room, and elegant Ballroom, where state banquets are held. The crimson Throne Room has an intricate ceiling design and comes complete with his-and-hers thrones. The palace's Queen's Gallery is open to the public open year-round, and houses Her Majesty's personal art and artifact collection. Even if you don't go inside, get to the palace early to watch the Changing of the Guard (11.30am daily between April and late July, and on alternate days the rest of the year) – an impressive procession of the red-uniformed and bearskin-hatted Royal Guard, complete with brass band.
Nearest transport: Green Park or Victoria tube.
23. Drop in on William and Kate at Kensington Palace

The home of the Duke and Duchess of Cambridge. Surrounded by beautifully landscaped gardens, Kensington Palace is a lovely 17th century Jacobean mansion and the childhood home of Queen Victoria – Britain's longest reigning queen until the title was overtaken by Queen Elizabeth II in 2015. A statue of Victoria fronts the palace, and one of the exhibits inside focuses exclusively on her life – from the doll's house she played with as a girl to the black gown she wore to mourn the death of her husband, Prince Albert. Other Kensington Palace highlights include a display of royal fashions from the 1950s to the 1990s (as modeled by Queen Elizabeth II, Princess Margaret, and Diana, Princess of Wales), and the antique furniture and personal effects of royals past (William III and Mary II in the Queen's State Apartments, and George I and II in the King's). Today, Prince William, Kate Middleton and their children live in the palace, along with Prince Harry and some of the minor royals – but don't expect to bump into them during your visit.
Nearest transport: High Street Kensington or Notting Hill Gate tube.

The palace of King Henry VIII, surrounded by magnificent gardens. It's worth making the trip 12 miles south of London to visit the vast 16th century Tudor-Baroque palace of England's most notorious king – he executed two of his six wives and defied the Pope by splitting the Church of England from the Vatican. Visitors can follow the story of Young Henry through the paneled rooms, wander through the immense Great Hall with its beautiful carved hammerbeam roof, and wonder at the 16th century astronomical clock in the Clock Court. Tour the huge palace kitchens, where cooks were once responsible for preparing indulgent gourmet meals for over 1000 people, and peek into the wine cellar, stocked full of enormous barrels. The Chapel Royal – still a place of worship – is particularly beautiful. Don't miss the velvet-seated royal toilet in King William III's Apartments. Out in the sumptuous gardens, get lost in the 300-year-old maze commissioned by William III; but give yourself time to find the way out! In summer, boats run from Westminster pier to Hampton Court pier view Kew Gardens.
Nearest transport: Hampton Court rail to Waterloo or boat from Hampton Court pier.
25. Gaze at Global Treasure in the British Museum

Britain's finest museum and the UK's most popular tourist attraction, The British Museum began its life in 1753 as a 'cabinet of curiosities', collected by the royal physician Hans Sloane. Today it's an unparalleled collection of world-wide treasures housed within a beautiful neoclassical building. Its centerpiece is the striking Great Court, whose circular reading Room was used by the likes of Dickens, Lenin and Gandhi. Galleries that branch out from here display treasures from all over the world. Star exhibits include the Rosetta Stone, Parthenon Sculptures, and Egyptian mummies. Wandering the galleries, you'll also find ceremonial masks from the South Pacific, a stone moai from Easter Island, African art, Chinese ritual bronzes, Maori jade weaponry, Mayan sculpture, and Aztec mosaic masks, and more. Look out for some of the earliest objects ever made by humans within the Department of Prehistory. You can spend days here and still not see everything. Entry is free, with the exception of the huge, sell-out shows in the Sainsbury Exhibitions Gallery – past show include China's Terra cotta Army, Ice Age Art, and Sunken Cities: Egypt's Lost Worlds. Highly recommended: Private Guided Tour of the British Museum
Nearest transport: Russell Square tube.
26. Immerse Yourself in Art at Tate Britain

Britain's most comprehensive collection of national art, built by sugar magnate Henry Tate in 1897. When much of British contemporary art moved across the river during the launch of the Tate Modern in 2000, the original Tate was left with the rest: great British works from the 1500s to the present day. The building itself is a work of art – boasting a stunning domed rotunda, grand spiral staircase and beautifully restored mural – and the Tate's permanent collection of historic British art is superb: visitors will find works by pre-Raphaelites and paintings by Constable, Reynolds and Hogarth. There's also a particularly strong showing of landscapes by J.M.W. Turner, who bequeathed his works to the museum in his will. Notable contemporary art on display includes works by Henry Moore, Lucian Freud, and Tracey Emin. Temporary exhibitions provide exposure for up-and-coming British artists. Free tours run on the hour, and the Tate-to-Tate boat connects Tate Britain to Tate Modern every 40 minutes.
Nearest transport: Pimlico tube or Tate to Tate boat.

Portraits of famous British people. The only gallery of its kind in Europe, the National Portrait Gallery focuses on the subject of the artwork, rather than the artist. Works are arranged in chronological order, from the Tudors to present-day icons, with subjects depicted through a variety of media, from paintings to sculpture, photography and video. Look out for the 'Chandos portrait' of William Shakespeare, thought to be the only surviving painting done during the playwright's lifetime. Other notable works include a 19th century sketch of novelist Jane Austen, done by her sister, a dramatic painting of Sir Walter Raleigh, and a regal rendering of an 18-year-old Queen Victoria at her coronation. Some of the more entertaining contemporary pieces include a video portrait of sleeping David Beckham by Sam Taylor-Wood, "Blur" by Julian Opie, and a painting of Sir Paul McCartney entitled Mike's Brother (artist Sam Walsh was a friend of Paul's brother Mike). The National Portrait Gallery also hosts at least half a dozen extremely worthwhile themed photographic exhibitions every year, ranging from "Marilyn Monroe: A British Love Affair" to "Viceroys of India."
Nearest transport: Leicester Square or Charing Cross tube.

Shark tanks, tropical fish and penguins. Hugely popular with families, one of Europe's largest aquariums takes you through 14 themed aquatic zones. You'll see the deep-water octopus and delicate pipefish found in British waters, monster rainforest catfish, gliding stingrays, and huge sea turtles. There are tanks of clown fish and blue tang, along with plenty of corresponding references to Finding Nemo and Dory. The star attractions here are the toothy denizens of the Pacific Wreck shark tank – tiger, grey reef and black-tipped sharks, as well as the strange-looking bowmouth guitarfish – half-shark, half-ray. Other highlights include the Ocean Tunnel, with sharks swimming overhead, and an Antarctic section featuring gentoo penguins. The London Sea Life Aquarium is heavily involved in conservation, and many of its creatures have been rescued, and are unable to be released back into the wild, or are endangered.
Nearest transport: Waterloo or Westminster tube.

This vast, fluted Doric column of Portland stone was erected in the late 17th century to commemorate the victims of the Great London Fire of 1666. Allegedly beginning at a bakery in Pudding Lane, the devastating fire quickly tore through the city, destroying over 70,000 homes and leaving a staggering trail of dead in its wake. The Monument is topped with a gilded urn of flames, and its height (60.6m) is the exact distance from the column to the Great Fire's source. Though today the Monument is dwarfed by neighboring buildings, it was the 17th century equivalent of the Shard, looming high above the medieval capital. Visitors can climb the 311 spiral steps to the viewing platform at the top, and find excellent 360-degree views of London. When you get down, you're presented with a certificate to commemorate your achievement.
Nearest transport: Monument tube or London Bridge pier.
30. Partake in a Proper High Tea at The Ritz

Cucumber sandwiches, cakes, and cream tea at one of London's swishest hotels. The British tradition of afternoon tea dates back to the early 1800s, when Anna, Duchess of Bedford, was plagued by hunger pangs, and came up with the idea of tea and snacks to tide her over between meals. This delicious idea caught on throughout high society, and today many of London's top hotels offer traditional afternoon tea. A typical high tea menu includes Ceylon or Indian tea (served in fine bone china), a selection of dainty little sandwiches with the crusts cut off (often cucumber), scones with clotted cream, and cakes on a multi-tiered cake stand. Traditional high tea at The Ritz is a particularly refined experience, with plenty of pomp and ceremony, accompanied by gentle piano music and seamless service. It's also very popular, so you'll want to book well in advance. And look sharp – there's a formal dress code: jacket and tie is mandatory for gentlemen.
Nearest transport: Green Park tube.
31. Discover New Artists at the Saatchi Gallery

Cutting-edge, sometimes controversial, contemporary art. Charles Saatchi's private collection of was first displayed to the public in 1985, and was moved several times before settling in its current location inside the Duke of York's Chelsea headquarters, a 19th century edifice with beautifully proportioned, lofty exhibition spaces. Though he originally focused on American artists and minimalism, Lord Saatchi has since invested in a new generation of young British artists, and the gallery's exhibitions have often courted controversy. Damien Hirst, Sarah Lucas, Gavin Turk, and Tracey Emin were all promoted by Saatchi when they were just starting out, and their global prominence owes a lot to his support. The Saatchi Gallery now not only stages temporary exhibitions by up-and-coming British artists, they also exhibit works by little-known international artists, as well as larger, traveling exhibitions. Admission is free, and private guided tours are available with two week's notice.
Nearest transport: Sloane Square tube.

One of London's most attractive walks. Regent's Canal was completed in 1820, to transport goods from Northern England to London via tugs and barges. The Canal's towpath, shaded by greenery and lined with houseboats, is London's quiet green corridor – a favorite with runners, cyclists and strolling pedestrians. Starting from Little Venice, the towpath passes by the attractive Blomfield Road residential moorings before ducking into the Maida Hill Tunnel. A large chunk of the walk passes through the northern reaches of Regent's Park. (Plans to cut through the center of the park were curtailed, out of concern that the area's refined residents would be offended by the coarse language of the tug and barge drivers.) You'll pass under an aqueduct and the 'Blow-up Bridge', rebuilt after being destroyed by an 1874 gunpowder explosion. When you're near London Zoo, detour up Primrose Hill for lofty views of the city. The towpath ends at Camden Market. From April to November, traditional canal boats offer tours of this route as well, traveling the 5km at a sedate walking pace.
Nearest transport: Warwick Avenue or Camden Town tube.
33. Shop and Eat your Way through Camden Market

London's most popular retail market. Camden Market is actually made up of four main markets that cluster around Camden Lock and along Camden High Street; there's been a small foodstuffs market here since the early 1900s and when canal barge traffic ceased in the 1970s, the Sunday crafts market at Camden Lock grew and developed into a huge variety of stalls and quirky stores. Though Camden Market no longer has cult status that it was once famous for, it's one of the most popular attractions in London, and is particularly busy on weekends. Head to Stables Market for antiques, independent stores and clothing/accessories catering to Goth and other subcultures. Electric Ballroom attracts independent designers, vinyl records and vintage clothing. Buck Street Market carries more mainstream clothing, though some vendors sell their own designs. Camden Lock Market is perhaps the best street food market in London, with the KERB collective traders cooking up diverse, delicious offerings – anything from halloumi fries and curry boxes to crab burgers, Korean burritos, and filled Venezuelan arepas.
Nearest transport: Camden Town tube.

The site of the 2012 Olympic Games. This vast chunk of derelict, polluted East London was regenerated in time for the Olympic Games, and several years on, the area is booming. Olympic Park continues to attract visitors with it combination of cutting-edge architecture, numerous walking and cycling trails and new attractions like the ArcelOrmittal Orbit. This towering red structure, designed by Anish Kapoor and Cecil Balmond, is the UK's tallest piece of public art, and has an observation deck at the top that offers a bird's eye view of the park. From this lofty vantage point you can see the Olympic Stadium – the park's focal point, the award-winning Velodrome, and the stunning Aquatics Centre, designed by world-renowned architect Zaha Hadid. For an adrenalin-packed experience, go online well in advance to book your timed slot on The Slide, attached to the Orbit's 178 m high viewing platform. Then hurtle down at the speed of 15 miles/hour on the world's tallest and longest tube ride. Boat tours, guided walking tours of the park and behind the scenes tours of the Olympic Stadium are also available.
Nearest transport: Stratford or Stratford International DLR.

London's most elaborate royal park. One of London's eight royal parks, Regent's Park was designed and created in 1820 by architect John Nash, who proposed to use the land to build a palace for the Prince Regent and villas for aristocracy. Though these were never built, the park is flanked by some of London's more exclusive residential streets, and it's a favorite spot for relaxation and sport in the heart of the city. The park's southern end houses the beautifully landscaped Italian and Queen Mary's Gardens, as well as the Open Air Theatre, where Shakespeare's works and other plays are staged in the summer. There's also a boating lake, football and tennis pitches and acres of wild parkland for walking. In the north part of the park is London Zoo, one of the oldest zoos in the world and a pioneer of conservation work. Apart from Penguin Beach, Gorilla Kingdom and the Reptile House (where part of a Harry Potter film was shot), attractions include the new Land of the Lions and a creepy spider walkthrough. Kids also have the option of playing keeper for a day (book in advance).
Nearest transport: Regent's Park or Baker Street tube.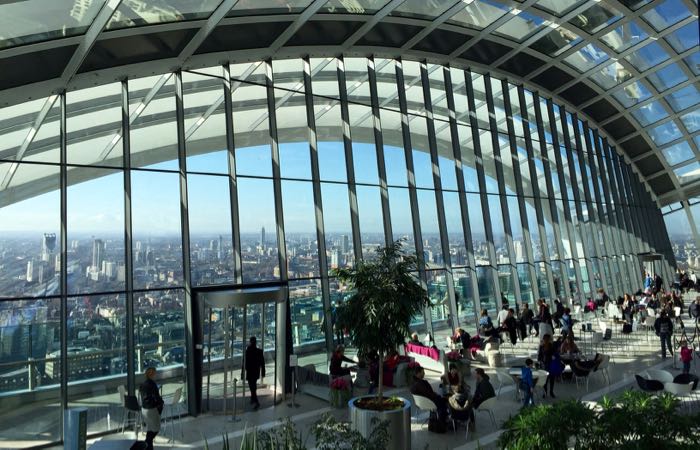 A garden in a skyscraper. One of London's newest attractions, Sky Garden is housed within the enlarged glass dome atop the 'Walkie-Talkie', the iconic skyscraper at 20 Fenchurch Street – so named due to its distinctive top-heavy shape. (Neighboring skyscrapers include the 'Cheesegrater' and the 'Gherkin'.) Sky Garden opened in 2015 and comprises mostly Mediterranean and tropical plants. Visitors expecting horticultural wonders may end up disappointed, but most come for the superb views of London from the observation decks and the beautiful open-air terrace. Access to Sky Garden is free, but advance reservations (online) are required.
Nearest transport: Monument tube.

London's most famous place of worship. When its predecessor was destroyed by the Great Fire of London in 1666, architect Sir Christopher Wren designed St. Paul's Cathedral to replace it, and its vast dome dominates the London skyline to this day. Inside, St. Paul's many beautiful Baroque design features include its stunning Geometric Staircase and the delicately carved choir stalls which flank the church's spectacular mosaic-ceilinged quire. Behind the altar is the American Memorial Chapel, dedicated to the 28,000 US citizens who lost their lives in Britain during WWII. Take the stairs up to the dome; first stop is the Whispering Gallery – speak softly close to the wall, and people can hear you clearly on the opposite side. Further up is the enclosed viewing platform of the Stone Gallery. It's worth the extra effort to climb the final 152 steps to the Golden Gallery at the very top for stupendous 360-degree views of London. Then go way, way down into the crypt to see the tombs of Sir Christopher Wren, Admiral Lord Nelson and the Duke of Wellington. Guided tours are included with admission, though you can attend the daily Choral Evensong sessions and other services for free.
Nearest transport: St Paul's tube.

Striking interactive museum of natural wonders. Built in the late 19th century, this palatial Romanesque building is one of London's best museums and a treat for visitors of all ages. Enter from Cromwell Road, visitors find themselves face to face with a life-size cast of a Diplodocus skeleton, nicknamed Dippy. From here, the museum is divided thematically into zones: the Blue Zone features a terrific dinosaur gallery, with animatronic dinos and a particularly popular Tyrannasaurus Rex, as well as a large collection of lions, tigers and other impressive mammals. In the Green Zone, acquaint yourself with creepy crawlies and the museum's amazing collection of stuffed birds, including the long-extinct dodo. The Treasures exhibition in the adjoining Cadogan Gallery features 22 storied objects, from a chunk of moon rock to an emperor penguin egg collected by Scott's Antarctic expedition. Pass through the Human Evolution Gallery into the dramatic Red Zone – all about precious metals, crystals and volcanic energy. Finish with a walk through British lowland habitats in the Wildlife Garden outside. Go on a weekday or early on weekends to avoid crowds.
Nearest transport: South Kensington tube.

Seven floors of interactive science and technology exhibits. Adults and kids alike can spend hours exploring the entertaining and educational exhibits here, learning about all kinds of human achievements, from space travel to the Industrial Revolution. The museum's Energy Hall is home to the Apollo 10 command module, while Exploring Space showcases the enormous Spacelab telescope that was taken along on British space missions. On the 2nd floor, the Clockmakers' Gallery has the world's oldest collection of clocks and watches, some dating back to the 1600s. A glimpse at the vintage medical equipment in Journeys Through Medicine makes you glad that you live in modern times. The 3rd floor Flight Gallery houses all sorts of flying machines – from hot air balloons to a 1930 Gypsy Moth. Experience aerobatics in the Red Arrows 3D flight simulation theatre, and test out ten different laws of physics using the hands-on gadgets at Launchpad. The Wellcome Wing's IMAX cinema brings to life the mysteries of deep space, underwater worlds, and the Ice Age. Excellent gift shop with wonderfully creative toys.
Nearest transport: South Kensington tube.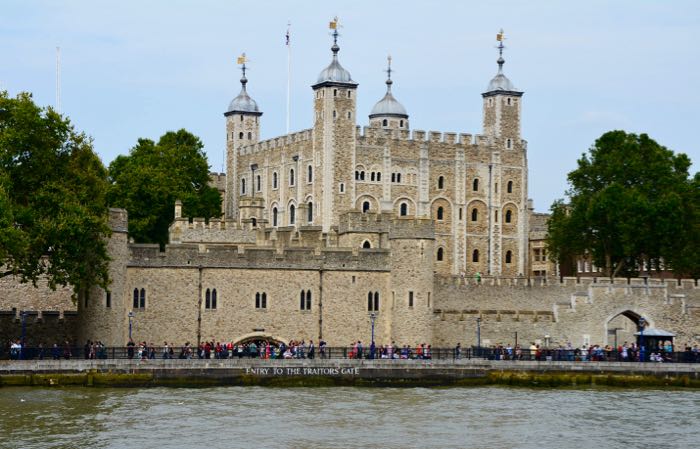 900 years of British history inside a tower and fortress. Set on the north bank of the Thames, the Tower has stood as a royal fortress since the reign of William the Conqueror (1066-87), and now acts a superb historical attraction. It's been guarded by Yeoman Warders since the 15th century – you can't miss their distinctive uniforms in the Tower grounds, and it's well worth taking a free tour with them. Don't miss the Waterloo Barracks, home of the priceless Crown Jewels: subtly illuminated displays showcase bejeweled scepters and impressive crowns – the Queen Mother's is set with the legendary Koh-i-Noor diamond. Visit the Royal Armories in the White Tower, where you'll find two suits of armor worn by Henry VIII – one as a slim young man, and the other as a rotund royal. Take a walk along the top of the fortress' inner walls, ducking into battlements to check out interactive displays on various British monarchs and the gruesome deaths of traitors and nobles who fell out of favor. Inside the main Tower entrance is the scaffold site where two of Henry VIII's wives were executed. Look for the tower ravens; legend has it that if they leave the Tower, then a great calamity will befall England, and the monarchy will fall. (Their wings are clipped so that they don't get any ideas.)
Nearest transport: Tower Hill tube or Tower pier.
41. Climb to the Top of the Tower Bridge

London's iconic twin-towered drawbridge. This miracle of Victorian engineering is the most recognizable and striking bridge in London. Though it's only 120 years old, its neo-Gothic towers look as though they've been part of the city's skyline for centuries. A steam-powered bascule (see-saw) mechanism allows the bridge to be raised in 3 minutes flat, in order to let large boats pass through. When it was first designed, this was state-of-the-art technology, and it's still an impressive sight. Go online to learn when the next bridge lift will take place, and plan your visit accordingly – it typically happens several times a day. The engine rooms have hands-on hydraulic exhibits, while the lofty walkway between the two towers houses displays about the inner workings of the Tower Bridge and other remarkable bridges around the world. Visitors with a good head for heights can walk on the reinforced glass panels in the middle, with seemingly nothing between them and the Thames, 42m down.
Nearest transport: Tower Hill tube or Tower pier.

One of the world's best museums in an equally striking building. With 150 galleries of sculpture, ceramics, paintings, jewelry, textiles, glass, metalwork and fashion from every corner of the globe, Victoria & Albert Museum is the world's greatest museum of art and design, and a large part of Prince Albert's legacy. The museum's ground level spans Asia: art from the Mughal Empire, Hindu and Buddhist sculpture, ancient Chinese lacquerwork, classic Japanese armor and weaponry, Korean porcelain, and more. Don't miss the exceptional 16th century Ardabil Carpet in the Gallery of Islamic Art. Reproductions of classic sculpture – from Trajan's Column (cut in two to make it fit) to Michelangelo's "David" – are featured in the two vast Cast Courts. The British collection on floors 2 and 4 cover every design style from 1500-1900s, from Baroque to Gothic Revival, and the Jewellery Gallery on Level 3 is a remarkable collection of jewel-encrusted swords, pendants and royal dress ornaments. Fashion galleries trace changing styles from the 1800s to the present day, while the Contemporary Glass Gallery dazzles with its unique pieces. Even the on-site cafes are a work of art. Admission is free, with complimentary tours offered throughout the day.
Nearest transport: South Kensington tube.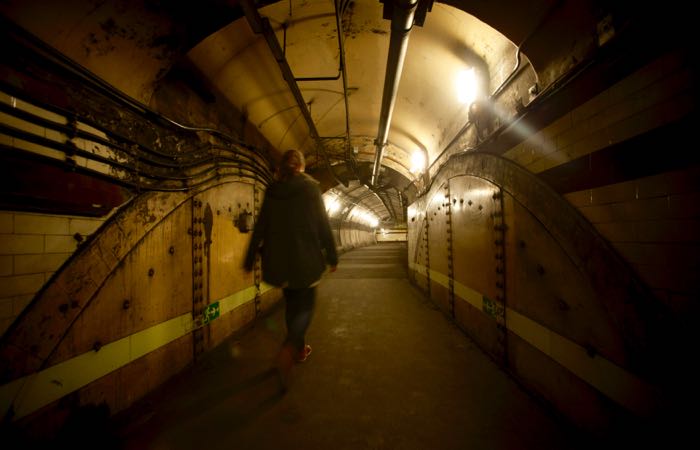 London's hidden spaces and disused tube stations. Most of London's popular attractions are above ground, but the London Transport Museum's Hidden London Tours take visitors into the secret world of tunnels and 'ghost stations' beneath the city streets. There are four locations to choose from. Down Street station, between Green Park and Hyde Park Corner, was converted into a bomb-proof bunker during WWII; Winston Churchill took refuge in this warren of narrow tunnels at the height of the Blitz. (High tea at the 5-star Athenaeum Hotel can be included in this tour.) The labyrinth of dark passageways beneath Euston Station has been concealed for over 50 years, and includes a gallery showcasing vintage posters from a bygone era. Clapham South is a deep-level subterranean shelter – one of 88 used by Londoners during the Blitz in WWII. In 1948, arriving Caribbean migrants sheltered here, followed by enterprising revelers attending 1951's Festival of Britain. Tours of 55 Broadway take you around the former headquarters of the London Underground – London's first controversial skyscraper, unveiled in 1929 to mixed responses but now considered an Art Deco marvel. Tours are extremely popular and advance bookings are essential.
Nearest transport: Euston, Westminster, St James Park or Clapham South tube.
44. Take a Walk around Greenwich.

Explore a green and elegant part of southeast London. Peaceful, leafy Greenwich, on the south bank of the River Thames, retains strong links to London's maritime history. Begin by exploring the Cutty Sark clipper at Greenwich pier, then look just west to find the entrance to the Greenwich Tunnel, where you can literally walk under the Thames. The tunnel was completed in 1902 to allow dock workers easy access from south London to the London docks across the way. East of the Cutty Sark, the Discover Greenwich Visitor Centre explores the history of the area through child-friendly, hands-on exhibits. Stroll further east along the river to visit the grand columns, cupolas and beautiful chapel of the Old Royal Naval College, designed in the 17th century by Sir Christopher Wren and built as two buildings so as not to block the river views from the Queen's House in Greenwich Park. Finally, head west again for a snack and a shop at the stalls of Greenwich Market, selling antiques, vintage clothing and gourmet street food.
Nearest transport: Cutty Sark DLR or Greenwich pier.

London's most popular public square. Sooner or later, most London visitors find themselves at the Covent Garden piazza, between the capital's 'Theatreland' and the City of London. It's the oldest planned square in London, designed in the 17th century as an elegant, Italian-style arcade by renowned architect Inigo Jones. The piazza originally housed fruit and vegetable stands, but the produce market moved on in the 1970s – replaced by quirky, independent gift shops, cafes, and an increasing number of designer stores. Back in the day, as now, the streets surrounding the piazza formed a vibrant part of London's nightlife, though the brothels and gambling dens have now been replaced with pubs and restaurants. On the west side of the square is St Paul's Church, known as the actors' church due to the sheer concentration of nearby theatres. The first Punch and Judy puppet show was held here in 1662, but today you're more likely to see levitating Yodas and fakirs, and costumed street performers gathering massive crowds, particularly on weekends.
Nearest transport: Covent Garden or Leicester Square tube.
46. Shop your Way through Soho and Brompton.

London's primary shopping streets. Bordering Soho to the north, Oxford Street is one of London's busiest shopping streets for fashion. Apart from the world's largest Topman and Topshop, you'll find other popular international high street brands: Gap, Mango, Zara, Urban Outfitters, and UNIQLO are all there. Regent Street forms Soho's western boundary, with more upmarket offerings, such as Ted Baker, Karen Millen, Burberry, Michael Kors, and Superdry, as well as London's largest toy store, Hamleys. On the west side of Soho, pedestrianised Carnaby Street was synonymous with 'swinging London' and the youth culture 60s. Today it's lined with largely independent fashion boutiques, such as Storm London, Cheap Monday, and Irregular Choice. Be sure to stop at We Built This City, London's best souvenir shop. The north end of Carnaby Street is anchored by Liberty, a gorgeous 1920s mock Tudor edifice and London institution, where you can buy anything from exclusive fabric prints and beautiful coffee table books to tailored menswear and exotic lingerie. In Brompton, just south of Hyde Park, you can eat and shop at Harrods, one of the world's most famous upmarket department stores: besides designer handbags and exclusive fashion, Harrods boasts a legendary food hall and deli. Then walk east along Brompton Road to find Harvey Nichols, an international lifestyle store stocking unique brands, including emerging British designers.
Nearest transport: Oxford Circus and Knightsbridge tube.
47. Take a Day Trip to Windsor and Eton

The official home of Her Majesty the Queen. If Buckingham Palace in London is the 'office' of Queen Elizabeth II, the rest of the time she spends at home in Windsor Castle, a half-hour train ride from London. The world's largest and oldest royal residence, William the Conqueror first built a wooden castle on this site in 1080, and each subsequent king and queen has added his or her individual touches. Tours take you through the sumptuous State Apartments, whose Grand Vestibule houses elaborate gifts to Queen Victoria from every corner of the British Empire. Admire the extensive collection of Renaissance paintings in the King's Dressing Room, a remarkable miniature toy palace made for Queen Mary (complete with running water and electricity), and the elaborate gold mosaic roof of the Albert Memorial chapel. In the Drawings Gallery, look out for original drawings by Leonardo da Vinci. It's worth setting some time aside to wander the beautifully landscaped Great Park that flanks the castle. The castle's daily Changing of the Guard at 11am is a wonderful spectacle of marching and music; stand to the right of the crowd for a better view. If you've got the time, walk over the bridge to see Eton College, the world's most famous private boarding school. Eton dates back to 1440, counting 19 prime ministers – as well as countless explorers, writers, politicians and royals – among its more famous alumni. The college has currently suspended tours due to renovation, but if you're there at the beginning or end of the day, or during the 10 minute gap between "schools", you can spy the young British elite, rushing to and from class, dressed in their formal uniform of tailcoats and waistcoats.
Nearest transport: train from London Paddington to Windsor & Eton Riverside.

Walk in the footsteps of London's most notorious serial killer. In 1888, a serial murderer stalked the impoverished, fog-filled streets of Whitechapel in East London. His victims were female prostitutes, and the crimes were particularly gruesome: five women were found with their throats slashed and organs missing. The press dubbed him "Jack the Ripper." Butchers, barbers and physicians were investigated by the police, but the killer was never caught. Numerous tour companies offer Jack the Ripper walks, but the original tour that's been going strong for over 30 years remains the best. Along the way, guests learn theories about Jack's true identity, and compare historic crime scene photos with current day Whitechapel streets and landmarks. Stop at the White Hart Pub, where a major suspect worked as a barber, and duck into the narrow, cobblestoned Gunthorpe Street where Jack's first victim was murdered. Pass by Ten Bells, a pub frequented by two of the victims, and stop at a building in Goulson Street where Jack allegedly left the only clue to his identity: a chilling chalked message. The warren of old streets of Spitalfields, virtually unchanged since 1888, sets the scene as the most atmospheric part of the tour, and the conclusion of the tour is suitably dramatic. Tours kick off nightly at 7.30pm.
Nearest transport: Aldgate East tube.
49. A night out in Soho.

The heart of London nightlife. The colorful, bohemian center of London has been many things over the centuries: cholera-filled slums, a red light district, the epicenter of London's jazz and rock scene, the gay nightlife district. Whatever your preference, there's plenty to entertain you on a night out. At 7 Old Compton Street, on Soho's east side, tiny Bar Termini serves superb cocktails and gourmet coffees. Old Compton Street is also where you'll find Soho's greatest concentration of gay bars. Steps away at 47 Frith Street is Ronnie Scott's, Britain's legendary jazz club that's hosted the likes of Miles Davis and Thelonious Monk; nightly shows start at 8.30pm. A block away, French House at 49 Dean Street is a legendary boozer where Charles de Gaulle drank during WWII; a great spot to sip fine French wine. Two blocks south, you might pass the battered door at 13a Gerrard Street in Chinatown several times before recognizing it as the site of the Experimental Cocktail Club, an opulent speakeasy serving imaginative cocktails. Up Wardour Street at no. 90, a plaque commemorates the legendary Marquee Club that saw early performances from David Bowie, the Rolling Stones, U2 and many others. Head west along Broadwick Street and turn right at Poland; the retro Blind Pig at no. 58 is a chilled out space with mismatched furniture, whimsical cocktails and terrific bar snacks. Finally, follow Broadwick Street west to Kingly Court, where steps lead down to the vintage Tube-themed Cahoots bar with a wartime vibe.
Nearest transport: Leicester Square tube.

Catch a play or a musical in one of 'Theatreland's' many venues. Theatrical plays have been performed in London's West End since Shakespeare's time in the 16th century. Now, it's home to the most diverse range of stage performances and musicals in the world. Visitors are spoiled for choice. The most popular musicals and plays include:
Shakespearean plays are staged at the Globe, Almeida, National Theatre, and Old Vic Theatres. Check the Theatreland website to see what's on where. For discounted or last minute tickets, try the websites of individual theatres, or visit the TKTS office in Leicester Square. Some theatres run a daily ticket lottery for customers who turn up in person.
Nearest transport: Covent Garden or Leicester Square tube.
51. View London from The Shard

London's tallest skyscraper offers tremendous views of the city. Love it or hate it, you can't miss the Shard: a jagged, slightly irregular glass structure that juts into the sky near London Bridge 'like a shard of glass' and dominates the London skyline. Designed by architect Renzo Piano and completed in 2012, this 306m-tall building is the tallest building in the EU, and though some Londoners feel that the Shard looks out of place, most are in agreement that the views from its vast heights are some of the finest in London. There are three ways to visit the Shard: The simplest is to take a high-speed elevator up to the observation platform on the 72nd floor and enjoy the 360-degree, 40-mile views of the city; interactive audioguides tell the story of all famous monuments visible from above. (Book tickets online for a cheaper rate.) Alternatively, treat yourself to a meal at TĪNG, or a cocktail with a view at GŎNG on the 52nd floor. For the full experience, stay at the Shangri-La, the Shard's only hotel, and peek at London's famous sights through complimentary binoculars in every room.
Nearest transport: London Bridge tube or London Bridge pier.
Read More