SD › London › Kid-Friendly Hotels
Updated: September 1, 2023
By Santorini Dave
Our Favorite London Hotels
• 5-Star: Connaught
• 4-Star: Marylebone
• 3-Star: Motel One Tower Hill
• Cheap: Z Soho
• Heathrow: Sofitel
• Gatwick: Sofitel
• Victoria Station: DoubleTree
• Paddington Station: Hilton
• Kings Cross: St. Pancras Renaissance
• For Families: Park Plaza Westminster Bridge
London Hotels for Families – Tips & Advice
The 12 Best Kid-Friendly Hotels in London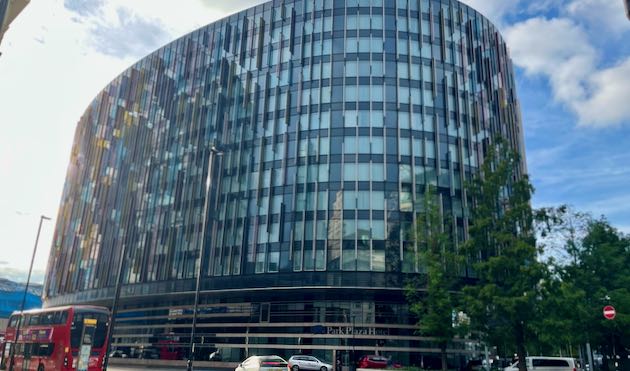 Hotel phone: +44 333 400 6112
One-bedroom and two-bedroom suites are fantastic for families. Great location near Big Ben, London Eye, Waterloo Station and many other top sights. Nice indoor pool (though you need to book a time slot to access).
• Hotel website • Check prices for Park Plaza

Hotel phone: +44 20 7769 7766
Luxurious 2 and 3 bedroom suites (with turn-down service) have full kitchens and washing machines. The Indian restaurant attached to the hotel serves amazing vegetarian food. Close to Buckingham Palace, many restaurants, and several tube stations.
• Hotel website • Check prices for Taj 51
3. Athenaeum – Mayfair • luxury

Hotel phone: +44 20 7930 4843
Wonderful hotel that goes out of its way to welcome families. The one-bedroom apartments have their own entrance directly off the street, a full kitchen, bunk beds in some rooms, and cribs readily available. There's a family concierge whose sole job is to help parents navigate the city and plan their visit.
• Hotel website • Check prices for Athenaeum
4. Connaught – Mayfair • luxury

Hotel phone: +44 20 7499 7070
Excellent, luxe pick for families with huge suites for family of four. Game consoles on request, and twice-daily, family-only swimming sessions at the pool. With a focus on gastronomy, the hotel offers a two-Michelin-starred French restaurant, an award-winning cocktail bar, and a classic afternoon tea. Many more family-friendly restaurants are just out the door.
• Hotel website • Check prices for the Connaught

Hotel phone: +44 20 3297 9200
The best hotel near the Tower of London and Tower Bridge. Fantastic pool, spa, and Jacuzzi. Superb breakfasts. Large one, two, and three bedroom residences sleep families of nearly any size.
• Hotel website • Check prices for the Four Seasons

Hotel phone: +44 20 7460 8800
Family, triple, and quadruple rooms available (get a quadruple if you don't want to be on the basement floor). Close to Paddington Station (Heathrow Express to/from airport) and Hyde Park (playgrounds and open fields). Full English breakfast included.
• Hotel website • Check prices for Darlington Hyde Park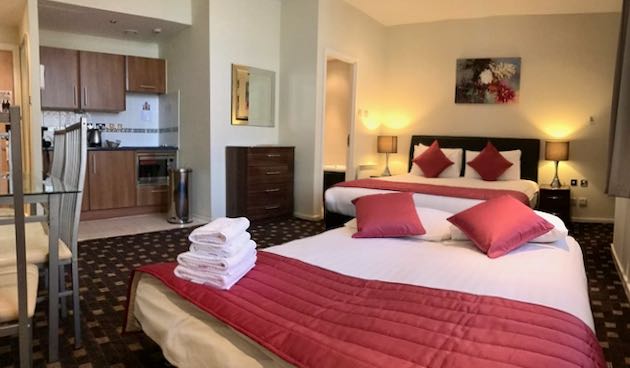 Hotel phone: +44 20 7985 8000
Family apartments sleep a family of 5 or 6. Quadruples sleep family of 4. All have small kitchenettes. Nice area, close to two tube stations and walking distance from Notthing Hill shops and restaurants.
• Hotel website • Check prices for Grand Plaza Apartments

Hotel phone: +44 15 8256 7890
Large family rooms and good value breakfast. Also close to several restaurants and cafes. 1-minute walk to London Eye, 2 minutes to London Aquarium, 5 minutes to Waterloo station, 7 minutes to Big Ben and Parliament.
• Hotel website • Check prices for Premier Inn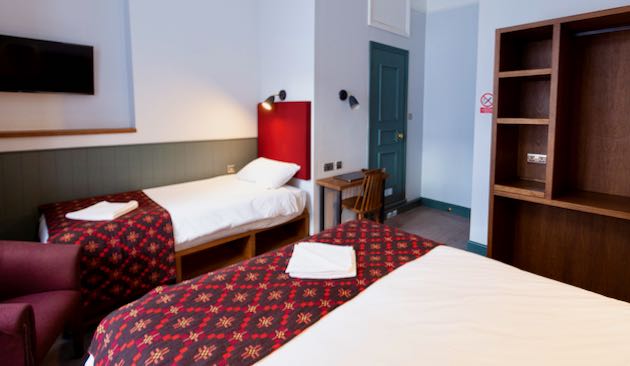 Hotel phone: +44 20 7636 1141
Great location close to the incredible British Museum. Quadruple rooms are perfect for family of 4. Quintuple rooms (with shared bathroom outside the room) for family of 5.
• Hotel website • Check prices for The Ridgemount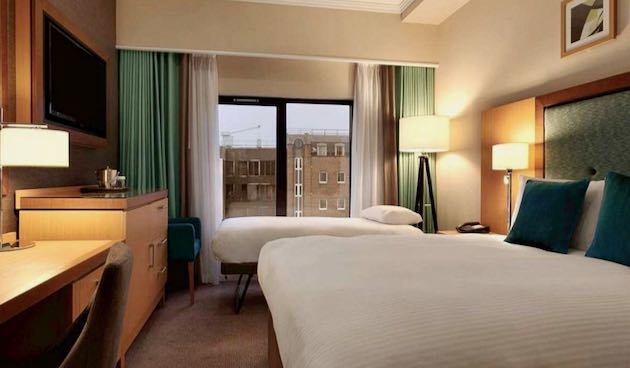 Hotel phone: +44 20 7834 8123
Inexpensive hotel with triples and quadruples. Convenient location close to Victoria Station and many tourist attractions.
• Hotel website • Check prices for DoubleTree Victoria Station
11. Luna Simone – Pimlico • budget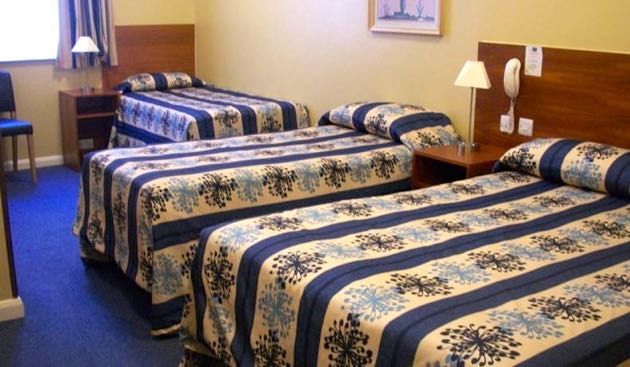 Hotel phone: +44 20 7834 5897
Comfortable homey rooms. Very helpful and friendly staff. A great warm breakfast is included in the room rates.
• Hotel website • Check prices for Luna & Simone

Hotel phone: +44 845 373 1023
Family rooms have 1 full and 2 twin beds. This is an inexpensive hotel I might choose in a pinch – cheap, free parking, close to Heathrow, and 20 minutes to central London by tube – but it wouldn't be my first choice for an extended stay.
• Hotel website • Check prices for Best Western Chiswick
More London Hotels for Families
All of these hotels have triple, quad, or family rooms. There aren't many large rooms in London so they get reserved far in advance. Book early.
Family Apartments in London
Recommended apartments and flats for families in London. Most units have kitchens, washer/dryer, and internet (free wifi). Free parking is rare.
Read More