SD › London › Best Places to Stay
Updated: November 21, 2023
By Santorini Dave
Our Favorite London Hotels
• 5-Star: Connaught
• 4-Star: Marylebone
• 3-Star: Motel One
• Boutique: Batty Langley's
• Cheap: Z Soho
• For Families: Park Plaza
• For Couples: Soho
• Heathrow: Sofitel
• Gatwick: Sofitel
• Victoria Station: DoubleTree
• Paddington: Hilton
• Kings Cross: St. Pancras Renaissance
Comments from Readers
"This article was terrific! Thank you."
-Andy Finnegan
"Your guide on where to stay in London was invaluable for us. Lots of helpful advice for first-time visitors. Thanks!"
-Tom
"Dave, thank you so much for the amazing advice on London, it is priceless."
-Lee & Kylie
"Wow – your London knowledge is incredible and very much appreciated!"
-Michelle Gilbert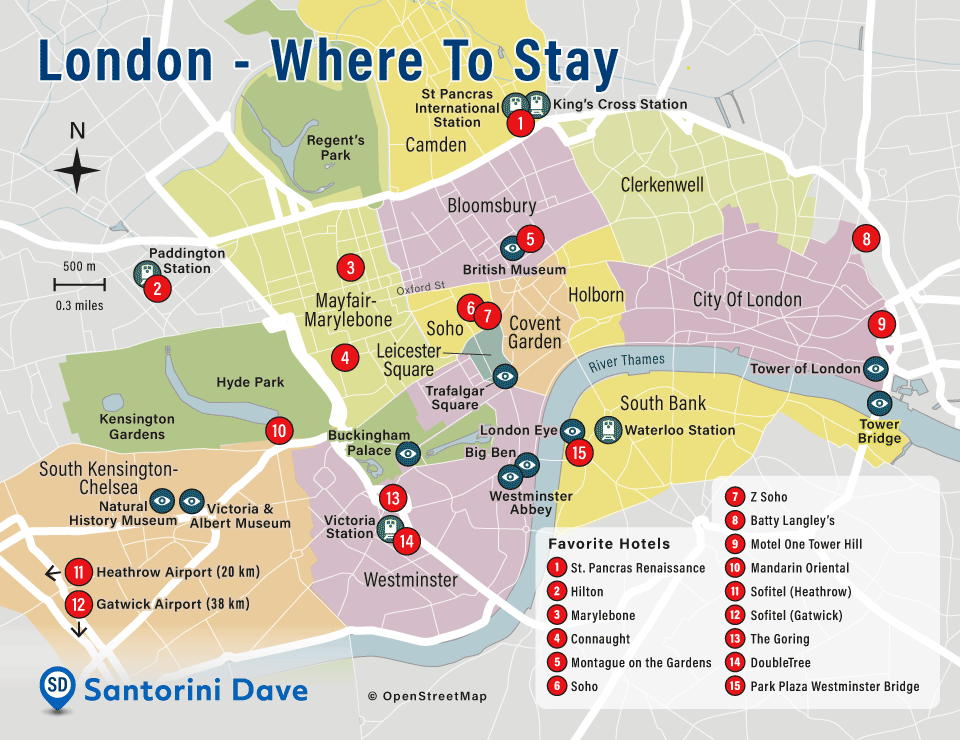 1. St. Pancras Renaissance • 2. Hilton • 3. Marylebone • 4. Connaught • 5. Montague on the Gardens • 6. Soho • 7. Z Soho • 8. Batty Langley's • 9. Motel One • 10. Mandarin Oriental • 11. Sofitel Heathrow • 12. Sofitel Gatwick • 13. The Goring • 14. DoubleTree • 15. Park Plaza
The Best Area to Stay in London

Europe's largest capital city is an incredibly diverse, multicultural metropolis, where some of Britain's greatest historic monuments, palaces and cathedrals stand amidst soccer stadiums, hip art galleries, free museums, street markets, concert venues and a dynamic eating and drinking scene. It's a vast, sprawling place that can be a little confusing at first, a patchwork of distinct neighborhoods that range from "Royal" St James to the East End. As such there is no universal "best neighborhood" in London. London's best attractions are spread out, and there's no central "downtown"–much depends on your interests and budget. Some neighborhoods are more central and convenient than others, given that most visitors to London walk or use public transport to reach the attractions. Similarly, the best hotels in London are not focused in one neighborhood and it's easy to find great luxury or boutique accommodations in most areas of London.

London Neighborhoods

Most of the major sights are located north of the River Thames, which meanders through the heart of London from west to east. To the east, historic City of London, where the city began, is primarily a financial district, packed with sights, with some budget chain hotels and weekend bargains at the pricier ones. East of the City, East London features the vibrant markets and nightlife of Brick Lane, Spitalfields and Shoreditch, as well as Olympic Park, and the newer financial center of Canary Wharf in the regenerated Docklands that line the Thames. In contrast to the City, political, religious and regal power has always been based in Westminster and St James, further west.

Good hotels in Covent Garden: Covent Garden Hotel • ME London • NoMad London • One Aldwych • Resident Covent Garden • The Savoy • The Fielding

To the north lies the West End (Covent Garden, Soho, Leicester Square, Oxford Street, Mayfair), London's effective city center with most of the city's theaters, top art galleries, excellent and varied dining for all budgets, and much of London's nightlife. Here 4-star and 5-star hotels dominate, with some midrange bargains. It's easy to walk around and boasts convenient public transport connections to other parts of London. The West End is excellent for first-timers and families staying in the city.

The South Bank of the Thames is another regenerated area with a leafy promenade and a host of attractions, from the London Eye to Tate Modern and Globe Theatre, with the Shard, Western Europe's tallest building, looming over it all. Just north of the West End, Bloomsbury and Fitzrovia are also centrally located, with lots of bookshops, quiet streets, and the British Museum as the star attraction. There's a wider range of accommodation here, generally cheaper than the neighboring West End. King's Cross, with its train stations, is north of Fitzrovia. It's low on sights but has excellent transport links to other parts of London, to Heathrow and Stansted airports, and to Paris and Brussels via the Eurostar.

Further west, Kensington is best known for its museums and numerous 5-star hotels, just south of central London's premier green space, Hyde Park. Camden to the north offers a less touristy scene with cheaper accommodations but less convenience for sightseeing. Greenwich, downstream of central London, with its nautical associations, royal park, and observatory, makes a great day out.


Top tip for first-time visitors to London: stay close to a tube station. The tube allows you to get pretty much anywhere in the city quickly and easily. Most hotels in central London are within walking distance of a tube station but the ones listed below are particularly close and convenient.

Good hotels within steps of a London tube station: St. Pancras Renaissance • Kimpton Fitzroy • Hard Rock London • Hilton Paddington • citizenM Tower of London • Mandarin Oriental Hyde Park • DoubleTree London Victoria • Hilton Hyde Park • Conrad St James
London Transportation

Getting around London's numerous neighborhoods by Underground (the subway or "tube") is efficient but it's not super cheap (fares are determined by zones, ranging £2.50 to £5.50 with an Oyster card, and a flat £6.30 for single paper ticket). It's advisable to buy an Oyster card (to be used as a weekly/monthly travel card, or as a pay-as-you-go card) or a contactless payment debit or credit card. The Overground train network, and the Docklands Light Railway (DLR) connect with the Underground and Oyster cards are valid. Thames Clippers runs ferry service along the Thames; Oyster cards are also valid here, though rates begin at £4.80. It's not worth renting a car in London unless you intend to do a lot of exploring beyond the city: parking is expensive and the roads are always congested (despite the added Congestion Charge for central London; £15 daily).

The Best Places to Stay in London
More Notable London Hotels


I bought, read, and highlighted-extensively the most recent London guidebooks from Lonely Planet, Frommer's, and Rick Steves. Here are some of their most interesting hotel picks. (I highly recommend buying one of these books for when you're in London.)

Lonely Planet:
• Hazlitt's ($$$, West End) – This Soho gem was built in 1718 and comprises four original Georgian houses.
• Lime Tree Hotel ($$, Westminster) – Beautiful 28-room Georgian town house hotel is all comfort, British design, and understated elegance.
• citizenM Tower of London ($, The City) – Compact and well-designed. Some rooms have extraordinary views of the Tower of London.

Frommer's:
• Dukes London ($$$, St James) – Cozy, clubby luxury but more affordable than it ought to be.
• Zetter Townhouse ($$, Marylebone) – Eccentric luxury hotel near Hyde Park and Oxford Street.
• Jesmond Hotel ($, Bloomsbury) – The Jesmond is a classic and has been a Frommer's pick since rooms cost $3.20.

Rick Steves
• Number Sixteen ($$$, Kensington) – Packs over-the-top class into 41 artfully imagined rooms. Perfect for an urban honeymoon.
• Vancouver Studios ($$, Notting Hill) – 48 modern, tastefully furnished rooms come with fully equipped kitchens.
• Seven Dials ($, Covent Garden) – 38 plain, clean, and incredibly well located rooms.

Best Places in London for…

Best Neighborhoods in London for Sightseeing: Covent Garden, Soho, South Bank
When it comes to sightseeing, the South Bank is excellent for access to big attractions – London Eye, Tate Modern, the Shard – and it's an easy stroll across several Thames footbridges to the City of London and the West End neighborhoods. Covent Garden and Soho are good all-rounders due to their proximity to the river, Westminster, and other top sights; ample accommodations are a boon. South Kensington is great for museums and shopping, but hotels tend to be pricey and it's not quite as central.
Best Neighborhoods in London for Nightlife: Soho and Shoreditch/Hoxton
The best area in London for nightlife is Soho. The neighborhood is a good mix of trendy cocktail bars (many of which also do great food), traditional English pubs, theaters, and basement clubs with DJ nights, including a number of LGBTQA+ venues. Ronnie Scott's is a legendary jazz club, while the French House is a popular bar, and Bar Italia is an old-school late-night café. Bar Termini is fabulous for cocktails. There are only a few hotels in Soho, slightly set back from the action. Other good areas for nightlife include Camden with its live music venues and Shoreditch/Hoxton in the East End, with its legendary clubs. Highlights include the Queen of Hoxton, with its rooftop, DJs, and ping pong tables, the Boundary Rooftop in Shoreditch, and Happiness Forgets for cocktails.
Best Neighborhoods in London for Food and Restaurants: Soho, Clerkenwell, Shoreditch
London is a global foodie destination, with everything from Michelin-starred palaces to street food from all over the planet–Indian (plus Pakistani and Bangladeshi) food is especially good here. Soho is jam-packed with artisan coffee shops and global offerings. Highlights include the udon noodles at Koya, Thai food at Kiln, superb French restaurant Brasserie Zédel, and modern British champion Quo Vadis. There's also old-school Bar Italia for espresso and Gelupo for ice cream. And Chinatown is still a great place to sample Chinese food and drinks, from dim sum to bubble tea and Beijing duck (the Food House is the current trendsetter).For something a bit more cutting-edge, look to Clerkenwell and Shoreditch on the fringes of The City: in the former, Prufrock Coffee is London's most famous coffee shop, the Fryer's Delight is for fish and chips, and Sushi Tetsu is uber-exclusive, while restaurants like St John and the Quality Chop House create lauded modern British cuisine. Shoreditch boasts the pasta at Burro e Salvia, London's best barbecue at Smokestak, banh mi at Kêu Deli, and Michelin-starred Brat, Clove Club, Leroy and Lyle's. Camden, the East End, and King's Cross are great for street food, as is Borough Market and Bermondsey on the South Bank – 40 Maltby Street is one of the city's best restaurants.
Best Neighborhoods in London for Families: South Kensington and Marylebone
South Kensington is one of the best places to stay in London for families. The neighborhood is relatively quiet, and there are three stellar (free) museums with plenty of interactive exhibits for all ages. Just to the north is Hyde Park, with its playgrounds and the family-friendly Winter Wonderland during the colder months. Marylebone is another good option, within easy reach of both Hyde Park, London Zoo in Regent's Park, and Madame Tussauds – popular with older children.
Best Neighborhood in London to Stay for First Timers: Covent Garden
If it's your first time in London, then Covent Garden is the best neighborhood to base yourself. It's centrally located, has a great dining and theater scene and is within easy walking distance of numerous big attractions, such as the National Gallery, Houses of Parliament, and the London Eye. There are excellent public transport connections to other parts of London and it's easy to take a boat along the Thames to reach other places of interest. Accommodation tends to be pricey here, but there are a few bargains to be had.
Most Romantic Neighborhood in London: Hampstead
Some 20 minutes on the Underground from Central London, beside the hilly green wedge of Hampstead Heath (London's prettiest green space), this enchanting village-like community in North London is a blend of cozy pubs, cobbled streets, and posh boutiques. Plenty of celebrities and artists live here, but its wealth is far less ostentatious than in places like Mayfair or Belgravia. You can visit Keats House to see where the romantic poet wooed his "Bright Star" Fanny Brawne or 17th-century mansion Kenwood House, take a stroll (or a swim in summer) on the heath, and soak up the fabulous views of London from Parliament Hill. There's also the Freud Museum, the final home of the famous Viennese psychotherapist. Nearby Highgate Cemetery is London's most famous, ivy-strewn graveyard, with regular tours taking in the tombs of Karl Marx, Dante Gabriel Rossetti, and other luminaries. Though it's an easy day-trip from anywhere in central London, there are some good bargains amongst the small selection of quiet and cozy inns in Hampstead; La Gaffe Hotel, Pax Lodge Hostel, and Primrose Guesthouse.
Best Neighborhoods for Shopping: Oxford Street and Covent Garden
You could spend days shopping in London, exploring the "tiara triangle" around Harrods and Harvey Nichols in Knightsbridge, or perusing the lively markets of Portobello Road, Greenwich, Brick Lane and Camden. Though Londoners tend to avoid it like the plague, it's hard to beat Oxford Street for one-stop shopping: with over 300 shops, designers, high-street chains, and landmark departments stores like Selfridges, House of Fraser, and John Lewis, there's little you can't buy here. Adjacent Regent Street is home to Hamley's, the UK's most famous toy store, the quirky Liberty department store, Apple Store and more. In Mayfair, just south of Oxford Street, luxury boutiques line Bond Street (Burberry, Tiffany & Co) and South Molton Street (Browns and Boudi Fashion).Covent Garden is touristy but still a great place to seek souvenirs and arts and crafts, plus specialty stores such as Whittard of Chelsea (tea), Deciem (skincare), Charlotte Tilbury (cosmetics), and Bucherer (watches). Nearby Neal Street is best for urban streetwear, cosmetics, and footwear. Nearby Seven Dials is a hub for over 90 independent stores, like Tatty Devine (jewelry), Nudie Jeans, and Choosing Keeping (stationery).If you're looking for US-style malls, hit the Westfield shopping centers in Shepherd's Bush (West London), and Stratford (East London).
Best Neighborhood in London for a Local Vibe: Camden, Shoreditch/East End
It's hard to get more 'local' than Camden. The graffiti-tagged, gritty streets still resist gentrification and, Camden Market and the tour narrow boats on Regent's Canal aside, this is still a working-class neighborhood. Stop by Black Heart, Underworld, or another local pub and you might catch the next big thing in alternative rock. In the East End, Brick Lane is 'Banglatown'; like other parts of east London, it retains a strong immigrant feel, with curry houses, Bangladeshi cafes, and sari shops. Though neighboring Shoreditch has been undergoing gentrification for some time now, it remains one of London's cutting-edge neighborhoods, with a dynamic nightlife, street food, street art, and few tourists.
Best Neighborhood in London for Walking: Covent Garden/Leicester Square/Soho
The Covent Garden/Leicester Square/Soho area is very popular with visitors on foot – it's a neighborhood made up of numerous little streets lined with restaurants, bars, and shops, some of them completely pedestrian, and there's little in the way of traffic. It's very central, right in the heart of London's West End. You'll find Trafalgar Square, the National Gallery, and the National Portrait Gallery, and you can easily walk to the Houses of Parliament, the London Eye, the London Dungeon (just across the river), and Westminster Abbey – they're a 15-minute walk southwest from Leicester Square. Buckingham Palace is a 15-minute walk west of Westminster – most of it away from traffic, through St James' Park. The British Museum is a 20-minute walk north of Covent Garden.
London Without a Car
Traveling in London without a car is not only feasible, but it's also the most efficient way to navigate this immense and bustling metropolis. London's public transportation system is excellent. It includes the London underground (known as the Tube), buses, the Docklands Light Railway (DLR), overground trains, and river services. For convenience and cost-saving, get an Oyster Card. Walking is a great way to experience London's rich history and diverse architecture. Iconic landmarks such as the Houses of Parliament, Buckingham Palace, the London Eye, and the Tower of London are within relatively short distances of each other. For longer journeys, London's bike-sharing scheme, Santander Cycles, is a viable option. Alternatively, London's famous black taxis and rideshare services like Uber are readily available, although they are often slower than the tube.
Safest Areas of London
London's safest neighborhoods tend to be the most affluent ones. Mayfair, South Kensington, Knightsbridge, Belgravia, Chelsea – all these are largely safe to walk around any time of day (though take care in Brompton and Earl's Court at night). Bloomsbury and Fitzrovia are also very safe, but standard precautions apply at night. Covent Garden is generally fine but things can get lively late on weekend nights.
Unsafe Areas of London
Parts of the East End, such as Hackney, Haringey, Stratford and Tower Hamlets, can be sketchy at night, as can Lambeth and Southwark on the South Bank. While the King's Cross area has been rejuvenated, the area around the train station is still a little sketchy and it's best not to wander around late at night. Camden is fine during the day but take the usual precautions outside daylight hours. Anywhere in London, hold on to your phone or personal devices carefully – these can get snatched by criminals on bikes in a flash.

The 11 Best Areas in London for Tourists

Covent Garden's central feature is its cobbled piazza and restored 19th-century market, with quirky (and increasingly high-end) shops, the London Transport Museum, and a supporting cast of buskers and other street entertainment. There are plenty of restaurant bars, cafés, and pubs in the surrounding tangle of streets and several major attractions lie within easy walking distance: the Royal Opera House, Courtauld Gallery in Somerset House (which has an ice rink in winter), Leicester Square, Trafalgar Square, and the Strand. The shows and musicals of Theatreland (London's main theatre district) form a large share of the neighborhood's entertainment.

• Hotels here tend to be expensive, but there are some bargains to be had. Covent Garden makes an excellent base, but it's extremely touristy.

2. Kensington, Belgravia, and Chelsea


Bordered by the vast Hyde Park and Kensington Gardens to the north and Green Park to the east, these three moneyed neighborhoods are primarily known for their superb museums: the Victoria and Albert Museum, Science Museum, and Natural History Museum, the latter housing its famous dinosaur collection. There's also Apsley House, the Duke of Wellington's London residence, the Gothic Albert Memorial across from Royal Albert Hall, and Kensington Palace, formerly the London home of Princess Diana and now William and Kate's residence (much of it is open to the public, however).

Further west is the striking Design Museum and far less busy Leighton House Museum, a memorial to 19th-century painter Lord Leighton and his Pre-Raphaelite friends. The Knightsbridge neighborhood contains London's most upmarket department stores – Harrods and Harvey Nichols – and if you're serious about fashion, Elizabeth Street in Belgravia is lined with powerhouse designer outlets. Over in Chelsea, the Kings Road was hip in the 1960s and punk in the 1970s (it's much tamer today), while the Saatchi Gallery, Royal Hospital (home of the Chelsea flower showgrounds), and National Army Museum provide added interest. The dining scene includes some of London's finest restaurants.

• As you'd expect these areas contain some of the most luxurious and expensive hotels in the city, getting cheaper the further west you go (especially along Cromwell Road into Earl's Court and West Brompton). Staying out here is generally quieter than Central London, but it's easy to visit thanks to excellent public transport.

Sandwiched between the River Thames, Mayfair, Belgravia, and Soho, Westminster is Britain's seat of power. Restaurants and accommodations here are few, but London's biggest attractions are concentrated in this central part of the city, including the Houses of Parliament and Big Ben, the Tate Britain art gallery, and Trafalgar Square – home to Nelson's Column, iconic St Martin-in-the-Fields church, National Portrait Gallery and the National Gallery. Connecting Trafalgar Square with Parliament Square is elegant Whitehall, a broad avenue lined with imposing statues and monuments, including the Cenotaph, a memorial to the nation's war dead. Just off here is No.10 Downing Street, the home of the British Prime Minister, and the Churchill War Rooms (where Winston Churchill directed operations in World War II). There's a strong royal connection as well: Buckingham Palace in St James's Park is His Majesty's home and office, while Westminster Abbey is the coronation and burial place of British monarchy.

• This is where to view "Changing the Guard" ceremonies: the Foot Guards at Buckingham Palace, and the Household Cavalry at Horse Guards on Whitehall (Mon–Sat 11am, Sun 10am).

• Cheap hotels lie south and east of Victoria Station (Belgrave Rd), otherwise it's very expensive to stay in Westminster and St James themselves.


Bars, clubs, and a diverse clutch of restaurants are the hallmarks of Soho, London's liveliest nightlife area and former red-light district. Centrally located and an easy walk away from the river and several major attractions, Soho is also the heart of London's LGBTQA+ scene (especially vibrant around Old Compton St), and one of the best parts of London for independent designers and record stores. Soho is bordered to the south by the small, bustling Chinatown (the main drag is Gerrard Street, with its traditional Chinese gates) and touristy Leicester Square, famous for its movie premieres. A short stroll west is the equally touristy junction of Piccadilly Circus with its neon billboards and the Shaftesbury Memorial Fountain's "Eros" statue (it's actually Anteros). Other highlights include venerable jazz club Ronnie Scott's, the street market on Berwick Street, the shops on and around 1960s icon Carnaby Street, the Photographers' Gallery, and the grand old Liberty department store.

• Soho is always very busy but staying here means you'll have the best nightlife and dining scene at your doorstep, along with easy access to some of the main sights and shopping districts in the city. As a result, rates tend to be very expensive, though there are a handful of good budget options, noted below.


Studded with London's relatively recent crop of skyscrapers, the financial heart of the city has a 2000-year-old history. This is where the Romans originally founded Londinium in 47 AD, and no other part of London packs so many heavyweight attractions into so small a space as the "Square Mile" (despite the destruction wrought by the Great Fire of 1666 and the German Blitz in World War II). Besides Roman ruins, St Paul's Cathedral, and the Tower of London (with its iconic "Beefeaters" and Crown Jewels), Tower Bridge (you can walk across the elevated walkways), Wren's soaring Monument to the Great Fire, the medieval Guildhall, London's oldest synagogue, and the modern but illuminating Museum of London and the Barbican arts complex, there are numerous churches here loaded with history – some medieval, others built by Sir Christopher Wren, but all well worth exploring (St Bride's, St Olave's and All Hallows by the Tower are especially interesting). For a taster of the modern financial district, visit Rafael Viñoly's "Walkie Talkie" building on Fenchurch Street, which features the popular public Sky Garden on the top floor, with several restaurants and bars (it's best to book ahead).

Other highlights include the Bank of England Museum, Dr Johnson's House, the Charterhouse, Smithfield Market, the Museum of the Order of Saint John, and the fantastic dining in Clerkenwell. The City is also littered with historic pubs like Ye Olde Cheshire Cheese and the Old Bell Tavern, all dripping with character. There is also one of the city's finest small museums in Holborn, at the western end of the district: Sir John Soane's Museum with its fascinating art collections. Nearby are the Inns of Court, where Britain's top lawyers train and ply their trade, and Temple Church, built in 1185 by the Knights Templar and made famous by Dan Brown's The Da Vinci Code.

• There are some excellent budget options here, though The City can be quiet at nights and on weekends (apart from Clerkenwell and into Islington). This part of London has a very different feel to the West End, with the juxtaposition of medieval and Roman remains with glass and steel skyscrapers quite jarring.
6. Mayfair and Marylebone


Lined with high street fashion outlets and the iconic Selfridges department store, centrally located Oxford Street bisects two distinguished neighborhoods. To the north is fashionable Marylebone, attracting moneyed Londoners with its designer shops and upmarket eateries (especially along Marylebone High Street, with its village-like feel), while the ever-popular waxworks of Madame Tussauds, just south of Regent's Park, panders to crowds of visitors (book online). The area also contains an excellent (and rarely busy) art gallery, the Wallace Collection, plus the Sherlock Holmes Museum on Baker Street, at the fictional home of the famous detective. South of Oxford Street, Mayfair oozes class and wealth, its grid of tree-lined streets dotted with 5-star hotels, antique shops, boutiques along Bond Street, and the finest menswear outlets in town along its famous shopping street, Saville Row. Posh Piccadilly forms Mayfair's southern boundary, home to elegant Burlington Arcade, Fortnum & Mason, and the Royal Academy of Arts.

• Mayfair is an expensive area, but for good reason – quiet and posh neighborhoods but conveniently central. You'll get better deals in Marylebone, though note that the cheapest hotels here are poor value – you get what you pay for.

7. East London


East of The City, the East End used to have a bad reputation, with its Victorian slums, Jack the Ripper and the Kray twins stalking the streets, and the squalor surrounding London's docks and heavily industrialized neighborhoods. The East End retains its immigrant neighborhoods and lively ethnic vibe, but today it's one of the most dynamic parts of the city, with hip craft breweries, art galleries and murals, boutique hotels, and a cutting-edge club scene.

Must-visits include Spitalfields Market and the excellent restaurants surrounding it, the Whitechapel Gallery, the Brick Lane Sunday flea market's Bangladeshi curry houses and vintage fashion shops, the designer shops and hip Boxpark of Shoreditch, and Hoxton's frenetic nightlife. You can sample Cockney classics like eel pie and mash and fish and chips, and sip beer in historic pubs like the Kray twins' Carpenter's Arms, Lord Nelson's favorite The Gun, and the Ten Bells (associated with Jack the Ripper). Further out towards Stratford lies the Queen Elizabeth Olympic Park, focus of the London 2012 Olympic and Paralympic Games. In addition to seeing Zaha Hadid's wavy Aquatics Centre, you can climb Anish Kapoor's twisting red ArcelorMittal Orbit tower for spectacular views across London, and try its thrilling "Orbit slide".

Docklands & Canary Wharf
The vast Docklands of East London were largely abandoned by the 1970s, but since the 1990s have been spectacularly transformed into zones of condos, offices, and marinas along the river. Canary Wharf on the Isle of Dogs, with its banks and skyscrapers, has effectively become London's second financial district after the City. Though there's not a lot to see (other than the high-rise architecture), curious tourists still pay a visit, strolling along the canals and through subterranean shopping malls. Discover the city's maritime past at the Museum of London Docklands, or take the IFS Cloud Cable Car from Royal Victoria Dock to the O2 (formerly the Millennium Dome) on the Greenwich Peninsula on the other side of the Thames. It's not a great idea to stay in Canary Wharf, but the Hilton, Novotel, and Marriott are all excellent options. For the O2, there's the InterContinental.

• East London generally contains much cheaper, edgier neighborhoods, where you'll be mixing with more locals than tourists. There are some great deals on hotels to be had here, especially with boutiques in Shoreditch.

The Thames is London's lifeblood, and many of the city's attractions are concentrated along the revamped promenade that stretches along the river's South Bank in central London – from Shakespeare's Globe and the Southbank Centre (Europe's largest arts venue), and the Tate Modern, the country's top contemporary (and free) art gallery, to the London Eye (the largest Ferris wheel in Europe) and the Shard skyscraper's observation deck. Families will want to check out the London Dungeon, Sea Life Aquarium, and replica of Drake's Golden Hinde ship. Other highlights include battleship-turned-museum HMS Belfast, the White Cube art gallery, medieval Southwark Cathedral, Florence Nightingale Museum, and the excellent Imperial War Museum. Dining options include the standout Borough Market, which is crammed with food stalls, as well as the smaller Maltby Street Market.

• Waterloo station and London Bridge are both major transport hubs that serve this area.

• You'll find a lot of excellent modern midrange hotels here from the Park Plaza, Ibis, Premier Inn and Citizen hotel chains.

9. Camden Town and Primrose Hill


Grungy and rough around the edges, Camden Town nestles in the northeast reaches of Regent's Park, near the family favorite London Zoo. It's centered on the sprawling Camden Market – four adjoining markets selling anything from vintage clothing and records to art and gourmet street food (there's also a beloved statue of late singer Amy Winehouse). You can also take boat rides (or stroll the path) along the canals from here to Little Venice, or visit the Jewish Museum, charting the history and culture of the British Jewish community. The birthplace of British rock music, Camden has a young, studenty vibe, numerous live music venues, and lively pubs, while Primrose Hill, just to the west, is a celeb hangout with artisan coffee shops, gastropubs, and chic stores – climb the grassy hill itself for panoramic views across the whole city.

• These are hip areas to stay in, off the main tourist trail, but with far fewer hotels (apartment rentals may be the way to go here).

10. Bloomsbury, Fitzrovia and Kings Cross


The bookish and offbeat neighborhoods of Bloomsbury and Fitzrovia are just north of Oxford Street. Bloomsbury is centered around the University of London and the enormous British Museum – the UK's best – which is surrounded by a buzzy grid of streets filled with cafes and restaurants. Other highlights include Charles Dickens Museum, former home of the beloved writer, and the museums on the university campus: Grant Museum of Zoology, the Wellcome Collection of medical artifacts and oddities, and Petrie Museum of Egyptian Archaeology. Just west of Bloomsbury is trendy Fitzrovia – short on sights but with lively pubs and bars frequented by young professionals. To the north is the regenerated King's Cross, with the international rail hub of St Pancras, the Harry Potter Shop at Platform 9¾ (in Kings Cross station itself), some excellent street food, and the British Library, housing the Lindisfarne Gospels and the Magna Carta.

• Hotels tend to be good value here, but note that the cheapest hotels are not good value. It's a little more sedate, though the student population livens things up a bit.
11. Greenwich


Boats along the Thames give easy access to attractions in other parts of London, including Greenwich, further east – a UNESCO World Heritage collection of museums. Known for giving its name to Greenwich Mean Time, you can see the east-west Prime Meridian Line at the Royal Observatory at the top of Greenwich Park (which also provides the best views of the skyscrapers at Canary Wharf). Back down by the river, the Cutty Sark is the main attraction, the world's last surviving tea clipper, along with the picturesque buildings of the Old Royal Naval College (designed by Christopher Wren and now primarily used by the University of Greenwich) – the murals in the Painted Hall are definitely worth seeing. Aficionados of naval history will love the National Maritime Museum, which also includes Inigo Jones's Queen's House, designed in 1616 for James I's wife, Anne of Denmark. Greenwich also offers plenty of places to eat and drink, as well as indoor Greenwich Market for gifts and antiques.

• Greenwich is worth a full day trip if you have time (easy via public transport), but there are a few decent hotels here if you fancy staying longer: the Admiral Hardy in the center, or the modern Novotel Greenwich and Staycity Greenwich High Road a little further out.

Other London Neighborhoods

We've covered our favorite neighborhoods to visit and stay in more detail above, but London is a vast, attraction-packed city and with more time, the following areas are also worth checking out:

England's Premier League is popular worldwide, and though tickets are not cheap, watching a football (soccer) game at one of the major London clubs can be a memorable experience. Don't even think about driving to a game: take a train or the Underground. Most clubs also offer stadium tours and have on-site museums displaying the silverware.

Arsenal plays at the Emirates Stadium in Holloway, North London, served by the Arsenal, Highbury & Islington and Holloway Road Underground stations.
Chelsea play at Stamford Bridge in Fulham, West London, with Fulham Broadway the closest Underground.
Tottenham play at Tottenham Hotspur Stadium in North London, close to the White Hart Lane Overground station, plus the Seven Sisters and Tottenham Hale Underground stops.
Other London Premiership clubs include West Ham (who play at the Olympic stadium in East London), Crystal Palace in South London, and Brentford and Fulham (both West London).

London Travel Tips

London is served by three primary airports – Heathrow, Gatwick and Stansted – with smaller airports like Luton, London Southend and London City serving a few domestic and European destinations. The best way into the city from the main three airports is to take the train (or Underground from Heathrow); taxis are readily available but expensive.
There are several tourist discount cards available for London. If you only intend to visit a few sights or just London's free museums and galleries (Tate Modern, British Museum), it's usually not worth buying one. Otherwise, you'll need to do some research to maximize your savings.
– The all-inclusive London Pass (1, 2, 3, 4, 5, 7 or 10 days) is valid at over 90 sights (but NOT the London Eye and Madame Tussauds) and is a good idea for families intending to see at least 3 major attractions (not museums) per day.
– The London City Pass from Turbo Pass is similar but offers a free public transport option, which is useful, but overall is better for visitors staying longer, around 7 days.
– The London Sightseeing Pass doesn't include as much as the others, BUT is a bit cheaper and not bad for short trips and for visitors who like bus and boat tours.
– We also like the Go City London Explorer Pass, which is based on the number of attractions and activities you choose, instead of the number of days, so assuming you know exactly want you want to do, can be cheaper.
Bike rental is available through bikeshare outfits like Santander Cycles. London is not a bad place to ride bikes, offering plenty of bike lanes and "leisure cycle routes"; but with public transport so efficient, it's not worth renting a bike just to get around – unless you really enjoy riding them and intend to explore the leisure routes more extensively. Dott, Lime and TIER offer shared e-scooters around the capital.
Free wi-fi is available at Heathrow, Gatwick and Stansted airports, and throughout The City district (look for "O2 Wi-Fi"). It's also available at most Underground stations, museums/galleries, and libraries throughout the city, as well as at almost every café and restaurant.
Tipping: unlike the US, tips in the UK are discretionary and depend on the quality of the service. In London, it's usual to leave 10–15% of the check ("bill") when eating out, though if a service charge has been added instead (which does happen) there's no need to tip. Locals also tend to round taxi fares to the nearest pound. Do not tip the bartender in a pub, though.
Read More