SD › Paris › Things to Do
Updated: July 18, 2022
See Also
The 11 Best Paris Tours
The 62 Best Things To Do in Paris
1. Walk

My favorite thing to do in most big cities is to walk and Paris is no exception. It's the best way to experience the city's culture, daily workings, and personality (and it's free). If you want to learn about a city's past then a museum, palace, or historical sight will be best. But if you want to take in today's Paris then walking is the way to do it. When it comes to walking as a means for exploration there are few wrong ways: the most untouristy routes will yield the most dramatic discoveries. I hesitate to offer a walking tour as the point isn't to see this sight or that building but to absorb the culture that is all around you. That said, I know few will take me up on my gambit if they spend the day walking through an industrial park. So here are some general routes (diversions and wrong turns encouraged): Start at the Arc de Triomphe and make your way to the Place de la Bastille (6.1 km). Start at the Eiffel Tower and make your way to the Notre Dame (4.5 km). Start at the Sacre Coeur and make your way to the Luxembourg Gardens (4.7 km). Guided Paris Walking Tours: Marais • Montmartre & Sacré Coeur • Paris Highlights • Aligre Market • Private Sightseeing Tour

A boat cruise on the Seine is a unique and easy way to take in many of the major sights of Paris at once. There are many options to choose from. Most companies offer a basic 1 hour deal that travels past the Eiffel Tower, Musee D'Orsay, the Louvre, Grand Palais, and Notre Dame Cathedral. All offer guided commentary, and prices are more or less the same, with Vedettes du Pont Neuf being the cheapest at 10 euros for a morning cruise and 12 euros for afternoon and evening tours if you buy your tickets online. Beyond pricing, you might want to consider which location is the most convenient for you. Vedettes du Pont Neuf starts and stops at the Pont Neuf bridge, while Bateaux Mouches starts in the 8th near the Grand Palais, and Bateaux Parisiens has two locations – one near the Eiffel Tower and the other near Notre Dame Cathedral. All companies offer an afternoon lunch cruise, typically costing between 40-60 euros. Dinner options are more expensive, with prices depending on things like seating (window table, front of the boat), entertainment, and other fancy add ons. For a more romantic excursion, plan a cruise at dusk so that you can watch the Eiffel Tower sparkle on the hour.
Metro for Vedettes du Pont Neuf: Pont Neuf
Metro for Bateaux Mouches: Alma/Marceau
Metro for Bateaux Parisiens: Bir-Hakeim or Trocadero

A trip to Paris wouldn't be complete without a visit to the Eiffel Tower, the city's most iconic landmark. All first-time visitors brave the crowds and lines to ascend one of the most famous landmarks in the world. Built in 1889, the tower is 1,063 feet tall – roughly the same height as an 81 story building. All the major landmarks of Paris can be seen from the top, and in good weather you can even see as far as the Chartres Cathedral – 90 kilometers away. Tickets to the top are 17 euros for adults, 14.50 for ages 12-24 and 8 euros for kids aged 4-11 years old – you'll save time by buying your tickets online in advance (up to three months beforehand). If you do buy your tickets the day of your visit, take the stairs up to the second level floor and purchase tickets there – there will still be a line, but it's shorter than the one at ground level. If you've been to the Eiffel Tower before, it's worth a repeat visit now that the exclusive secret apartment of Gustave Eiffel has been revealed. Visitors can enjoy a peek into the private apartment at the top of the tower, used by Monsieur Eiffel to entertain such elite guests as Thomas Edison.
Metro: Bir Hakeim or Ecole Militaire

The Louvre Museum is a must for any first time visitor to Paris, but there are few things to keep in mind. First, the Louvre is big. Don't expect to see all of it in one visit. You're better off strategizing beforehand, and prioritizing those particular pieces or exhibits you want to see. And with so much to see, you'll need to take a breather. Once you have a ticket, readmission is no problem – enjoy a picnic lunch next door at the Jardin des Tuileries or a coffee at the nearby Palais Royal to recharge. Secondly, the Louvre will be crowded. You'll save time buying tickets online in advance, though you'll still have to queue in a long security line. Avoid the worst crowds by visiting on a Wednesday or Friday evening, when the Louvre stays open until 9:45pm. The longest entrance line will inevitably be the one next to IM Pei's Pyramid; better options are through the underground shopping mall or the entrance at the Porte des Lions. If you're traveling with kids, it's worth downloading the Louvre app or picking up one of the interactive Nintendo 3DS guides to help them navigate their visit. Or take them to the museum's Tactile Gallery, a section of the Louvre with plaster or resin casts of the original sculptures. It was originally designed with the visually impaired in mind, so they could touch and feel the masterpieces up close, but everyone will enjoy having a more interactive experience with the artwork.
Metro: Palais Royal-Musée du Louvre

With one of the most impressive collections of Impressionist and post-Impressionist works in the world, the Musée d'Orsay will delight any lover of Van Gogh, Monet, or Renoir. The building was once a Belle Epoque train station, and is in itself a work of art, with stunning details throughout. The Musée d'Orsay was created ultimately as an artistic bridge, linking and filling in the gaps between the collections of the National Museum of Modern Art, the Musée du Jeu de Paume, and the Louvre. The Musée d'Orsay's collection has been largely formed by works from those three institutions, and focuses primarily on Western art created between 1848 and 1914. Though most visitors come for the museum's painting collections, they should not pass up the rooftop terrace with its views over the Paris rooftops. From its position on the left bank of the Seine, visitors can see out to the hills of Montmartre and Sacré Coeur.
Metro: Assemblée Nationale

A symbol of French patriotism, the stately Arc de Triomphe was ordered by Napoleon, who famously told his soldiers, "You will return home through arches of triumph." Finished in 1836, the arch is older than the Eiffel Tower, and engraved with the names of the first French Republic's 128 battles, as well as those of the 558 generals who took part in them. At the base of the arch is an eternal flame, re-lit every evening at 6:30pm, commemorating the tomb of the Unknown Soldier. If you're up for some exercise, climb to the top (the only way to get up) to admire the view. From there you can see down the Champs-Elysées, the Eiffel Tower and the enormous traffic ring that encircles the arch. Don't attempt to cross it – there's an underground tunnel on the Avenue de la Grande Armee. The best days to visit are on major national holidays like Armistice Day or Bastille Day, when the day starts off with a military parade along the Champs-Elysées and the arch is decked out with a giant flag. Otherwise, go around sunset for the nicest views.
Metro: Charles de Gaulle-Étoile

Update: Access is closed due to the fire but this tour of the Île de la Cité and area is an excellent way to learn the history of the Notre Dame. Immortalized in literature and films, Notre Dame Cathedral is a masterpiece of French gothic architecture. The church itself is over 800 years old, and took over 300 years to build. Even if you aren't religious, you'll appreciate its magnificent structure, sculptures and stained glass. Highlights include the famous stained glass Rose Windows, and the many individually carved sculptures and gargoyles. In the South Tower is the Notre Dame's oldest and most famous bell "Emmanuel," which weighs over 28,000 pounds. Climb up the narrow 387 steps to the top to have a closer look, as well as to enjoy a stunning view from above. It's an active Catholic church, so daily vespers and Sunday services are held, but no time is as special as Christmas Eve – A full program of Christmas carols sung by a children's choir starts at 4:30pm, continuing throughout the night until the 11:55pm ringing of the church bell, which signals the beginning of midnight mass.
Metro: Cité

Many people come to Sacré-Coeur church to admire the views from its Montmartre hilltop perch, but the Basilica and surrounding area have much to offer, as well. In contrast to the Gothic churches of the Middle Ages like Notre Dame, Sacré-Coeur was inspired by structures like the Hagia Sophia in Istanbul and San Marco in Venice. Once you ascend the summit (either by foot or the funicular), you'll notice that the atmosphere is lively with street performers and people picnicking on the grass. Continue climbing up, and you'll get an amazing view from its 271-ft high dome, one of the highest points in the city. Once inside, settle into silence (required, as this is an active church) and appreciate the incredible golden mosaic, one of the largest of its kind, depicting Christ with a golden heart and outstretched arms. Afterwards, grab lunch and a squid ink baguette not too far away at Gontran Cherrier or head down Rue Lepic. Fans of the movie Amelie will recognize the carousel at the base of Sacré-Coeur, as well as the Café des Deux Moulins, where she worked as a waitress. Continue further down the hill and head towards Rue des Martyrs, one of the best streets in Paris, for a slice of village life.
Metro: Anvers

Note: The best way to see everything is on one of the wonderfully awesome Fat Tire Bike Tours of Versailles. With its majestic palace and manicured gardens, Versailles should not be missed. Though Versailles can appear daunting due to its massive size and (no matter what time of year) massive crowds, a fun way to cover a lot of ground and avoid the masses is to do a bike tour of Versailles or rent bikes. Within Chateau de Versailles Park there are 3 bike rental locations, starting at 6.50 euros/1 hour or 17 euros for the day. Getting to Versailles from Paris is an easy train ride that should take less than an hour – most people take the RER C because it stops near popular tourist sites like the Musee d'Orsay. At about 8 euros round trip, this is the cheapest option. (Note that the RER C line branches off and you want to make sure you are getting off at "Versailles Chateau Rives Gauche.") If you want to beat the crowds or just get out of town for the day, there are several other noteworthy chateaus within an hour of Paris and all worth visiting. The village of Fontainebleu has a beautiful medieval castle that was once the residence of Louis VII and Napoleon III, and is now a UNESCO World Heritage Site. And the stunning chateau in Chantilly houses the Musée Condé, where you'll find an impressive art collection of 15th and 16th century works in addition to dedicated activities for children. You can read more about visiting Versailles from Paris here.

With its world famous cellars, the Champagne region is an easy day trip from Paris. Reims, one of the area's most important cities and home to many of the biggest names in bubbly, is 45 minutes away by train. There you'll be able to tour and taste at some of the most famous Champagne houses in the world, like Ruinart, Veuve Cliquot, and Taittinger (a standout – the cellars are housed in a former 13th century abbey). Getting to Reims is pretty straightforward, and the train drops off in the city center. Most cellars are walkable from the train station, with G. H. Mumm and Champagne Charles de Cazanove about 10 minutes away by foot, and all offer tours for a small entry fee. Numerous trains (almost 20 per day) run from Gare de l'Est, with one way ticket prices starting at 15 euros. Tickets are bookable via the French rail system SNCF – just be sure to book the high speed 45 minute TGV trains which run direct or you'll be stuck on the slower TER trains which can take nearly 2 hours. If you happen to be in Paris in early December, head to Epernay, where every second weekend is the Habits de Lumière festival, a 3-day long celebration where all the houses along the Avenue de Champagne throw open their doors for a big party complete with tastings, live bands and a parade.

Cooking classes are a wonderful, hands-on way to enjoy the delights of French food. With so many classes to choose from, you can take a course with anyone from a French home cook to a top chef. Channel your inner Julia Child at Le Cordon Bleu, where the woman who brought French food to the States first started her famous career. The school offers lots of classes to choose from – everything from a full French meal to a bread making course, and even "Les Petits Cordons Bleus" classes for 8-12 year olds. The fun starts at 9am, when students join chef Paule Caillat on a stroll through a French market to pick out and purchase ingredients. Then head to her personal kitchen to prepare and enjoy a full meal together. For a "top chef" experience, take a class with Top Chef finalist Pierre Sang Boyer at one of his top rated restaurants. One of the most talked about chefs in Paris, Boyer is of Korean heritage, and students have the option of taking a traditional French cooking class, a Korean version, or chance to shop along with him at a local market. He even has a class with recipes tailored just for kids.
Metro for Le Cordon Bleu: Charles Michels
Metro for Promenades Gourmandes: Arts et Metiers
Metro for Pierre Sang Boyer: Oberkampf

Food tours are a fun way to get an overview of French cuisine and discover a Parisian neighborhood at the same time. There are lots of options out there and each company handles the format differently, but two of the best are Culinary Tours of Paris and Paris by Mouth. Culinary Tours of Paris visits three different restaurants, eating one course of a meal at each: appetizers, main course, and dessert. In between stops, guests learn the historical background of the area. These tours generally last 3 ½ hours and cost 110 euros per person. Paris by Mouth food tours are led by guides that have a deep background in the food industry, and focus on high quality producers. (The wine tour is led by a former sommelier for Mario Batali.) These neighborhood-centric tours include stops at award-winning vendors for bread, pastry, charcuterie, cheese, chocolate, and wine, with variations to showcase the best of each area. Groups spend the first hour or so visiting each of these places and learning lots of useful information before settling in at a wine shop for a cozy picnic (or grand tasting), paired with a few bottles of wine. The tours are family friendly and can provide juice for children. The price is 95 euros per person – tasting fees included – and tours generally last three hours.
13. Paris through the Ages

Many people don't realize that Paris was once an outpost of the Roman empire, with some of its ruins are still intact, or that one of the most technologically advanced buildings in France stands in the city center. For architecture enthusiasts, the 5th arrondissement has treasures from almost every era, ranging from Roman ruins and the fortress like Medieval museum, to the neoclassical Pantheon and the innovative Institut du Monde Arabe. Nowhere else can you find such a diverse array of architectural styles in such a relatively small geographic area. Start at the Thermes de Cluny, the ruins of Roman baths dating from the third century when Paris was known as Lutetia. A portion of the baths, now considered an archeological site, is visible from the Boulevard Saint Michel, though much of it (including the impressive frigidarium, which still retains fragments of original wall painting and mosaics) has been incorporated into the Musée National du Moyen Age, next door. The Musée itself is a well preserved example of medieval Parisian architecture; built in 1334 to house the abbots of Cluny, the structure has Gothic and Renaissance elements and was converted to a public museum in 1843. About a ten minute walk away is the 18th century Pantheon. Its luminous dome and neoclassic façade were completed in 1790, and it now houses the remains of famous Frenchmen like Voltaire and Victor Hugo. About a fifteen minute stroll towards the Seine is the Institut du Monde Arabe, exceptional in its postmodern construction and use of technology. At first glance, the exterior of the building appears to be covered in a repeating pattern of geometric shapes, but upon further inspection you'll discover that these are actually 240 photo-sensitive motor-controlled apertures, like camera shutters, that automatically open and close to control the light that enters the building and create a filtered effect inside.
Metro: Cluny-La Sorbonne

If you've been to the other locations, you'll be familiar with most of the attractions in Disneyland Paris, but it's still worth a visit to see your favorite characters a la Francaise: The new live show at the park's Animagique Theater, 'Mickey and the Magician,' stars Mickey as a magician's assistant in 19th century Paris. Getting out to Disneyland Paris is easy – If you're staying in the city center, you can pick up the RER A train (red line) from several points around Paris. (Note that the RER trains serve suburban commuters and require a different ticket than the metro.) Line A ends at Marne la Vallée just next to the gates of Disney Village and the theme parks at Disneyland. A single ride ticket will cost about 8 euros, and the trip takes about 45 minutes. Depending on how seriously you want to tackle the park, most people find one day enough and don't feel it necessary to spend the night. If you do prefer to stay out there, the best hotel is Disneyland Hotel Marne La Valle situated right by the park entrance. Those heading straight to Disneyland from the airport can take a direct TGV train from Charles de Gaulle Airport to the stop Marne la Vallée-Chessy (Disneyland Paris). The whole trip takes under 20 minutes, with ticket prices ranging between €15 and €20 depending on the time of the train.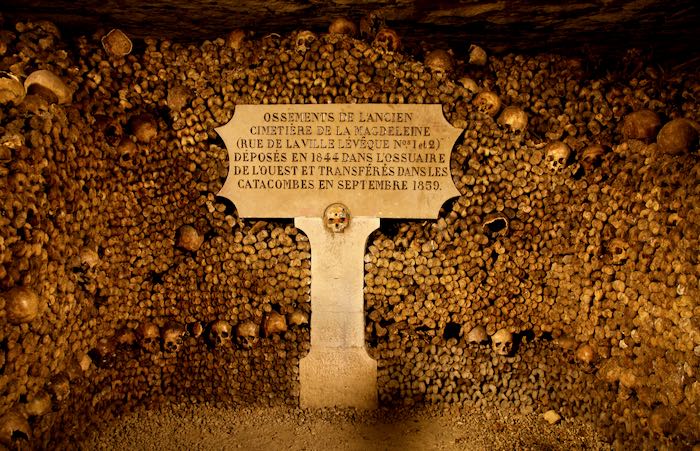 Beneath the city streets of Paris lie vast networks of tunnels, sewers and canals that are unbeknownst to most visitors and offer an otherworldly look into Parisian history. The most famous of these are the Catacombs: between 1785 and 1860, in order to relieve overcrowding and eradicate disease in Parisian cemeteries, some six million bodies were dug up and moved into these former limestone quarries, part of a larger network of 180 miles of tunnels and mines. Another popular underground attraction is the Musée des égouts: a fascinating museum devoted to the city's sewer system. Highlighting the work of prefect Baron Haussmann, who changed the cityscape of Paris in the 1850s, the Musée des égouts takes you into a portion of what many consider to be his finest accomplishment – Paris' 1,300 mile sewage system. Haussmann also gave Paris the Canal St. Martin, a portion of which runs underground beneath the Place de la Bastille. Boat cruises of the canal pass through this 19th century tunnel, where visitors can see a crypt containing the remains of nearly 500 victims of the 1830 revolution. Aboveground, each victim's name is inscribed on the Colonne de Juillet. Finally, if you're visiting the Louvre, be sure to check out the basement. There you'll find the excavated foundations of the royal castle which existed on the site between 1190 and the 16th century.
Metro for Musée des égouts: Alma-Marceau
Metro for the Catacombs: Denfert-Rochereau
Metro for the Canauxrama Boat Tour: Bastille
16. Sweets on Rue du Bac

For anyone with a sweet tooth, Rue du Bac is not to be missed. In just a three block span, you'll encounter several of Paris's best pastry and chocolate shops clustered together north of Le Bon Marche. Kids will love the whimsical pink interior and pastries displayed under glass cloche. The shop, though small, feels like an edible museum with their takes on a deconstructed Baba au Rhum (a kit you assemble yourself), their enormous sculptural brioche, and their not to be missed Paris-Brest pastry filled with hazelnut cream. Kids will love the whimsical pink interior and pastries displayed under glass cloche. Next up is Des Gâteaux et Du Pain, a boulangerie/patisserie from Claire Damon, who makes some of the most beautiful pastries with unusual combinations. Try the "Vert Absinthe," a delicate tart flavored with lime, mint, green tomato, and angelica confit. Just next door is Jacques Genin, known for his chocolates, caramels and pâtes de fruits. He built his reputation supplying chocolates and sweets to many of the top luxury hotels in Paris (the Plaza Athénée and Le Meurice, among others), and his mango passionfruit caramels are the stuff of legend. Finish off at the shop of Patrice Chapon, former ice cream maker for the Queen of England. His talents have transitioned to chocolate, and his fabulous chocolate mousses – available in several flavors – come served up like an ice cream cone. Other highlights along Rue du Bac include the Belgian chocolatier Pierre Marcolini, an outpost of Angelina (famous for their hot chocolate), and Dalloyau (credited with inventing the Opéra cake).
Metro: Sèvres-Babylone
17. Place des Vosges

Take a stroll under the vaulted arches of the oldest square in Paris. With its beautiful 17th century architecture, large grassy area and kid's playground, Place des Vosges is the perfect place to take a break from the busy activity of the Marais, and long predates all the hip boutiques and bars in this trendy neighborhood. Four centuries ago, the square was the home of King Henry II and Queen Catherine de Medici, and was known as the Palais des Tournelles. Henry IV christened it the Place Royale in 1612, and it became the center of royal festivities until its final incarnation during the French revolution, when it was renamed the Place des Vosges to honor the first department to pay taxes to Napoleon's republic. Over the years, the picturesque red brick and stone houses, nine along each side of the square, have attracted a number of famous residents – Victor Hugo being the most famous among them. No. 6 Place des Vosges is the Maison de Victor Hugo, a museum of the famous author's home of 16 years. There are numerous cafes, restaurants, shops, and galleries that line the formal garden, but the best part of Place des Vosges might be the little bit of tranquility it offers within the city center. Sip a coffee under the arches, or find a spot on the grass and enjoy a picnic. If you're traveling with kids, they can enjoy the playground while you people watch.
Metro: Saint Paul
18. Go for Crepes

You'll find crepes practically everywhere in Paris – from late night street vendors to farmer's market stalls and gourmet creperies – but the best can be found in the city's 14th arrondissement, home to a large Breton community. (Crepes are Brittany's most well-known and loved culinary export.) The bulk of creperies are located near the soaring Montparnasse Tower, positioned one after the other with over a dozen to choose from. For a traditional – and delicious – experience, choose the galette complète (a hearty buckwheat crepe with gruyere cheese, ham, and egg) at Creperie Josselin. The place is constantly hopping with tourists and regulars alike, most tucking in to the restaurant's famous couple – a decadent double stacked galette with your choice of filling in the middle. For a more upscale take on the crepe, trek over to the Breizh Café in the Marais for a gussied up version filled with organic ingredients and refined combinations like seared scallops and tarragon cream. Whichever you prefer, don't forget to wash everything down with some Breton cider.
Metro: Edgar Quintet
19. Montparnasse Tower

The Montparnasse Tower boasts some of the best views to be found in Paris. The modern skyscraper's 56th-floor observation center offers visitors a 360 degree panorama of the city that includes the Eiffel Tower, creating one of the most postcard perfect photo opportunities around. Because it's highly underrated as a tourist destination, there are few (if any) lines to get in, and the open air observation spaces are relatively crowd free. The Tower's elevator is one of the fastest in Europe, reaching the 56th floor in a record 38 seconds. Get a snack at the Tower's 360 Café or the Tower's seasonal champagne bar (summer only). For a gourmet dining experience, book a table at Le Ciel de Paris (the Paris Sky), the highest panoramic restaurant in the city.
Metro: Edgar Quintet
20. Cimetière du Père Lachaise

The world's most visited cemetery. Famous for being the final resting place of Jim Morrison, Père Lachaise also houses the remains of many other French and international luminaries, whose unique and ornate headstones form a sort of unusual sculpture garden in tribute to the dead. In addition to the Morrison tomb, other popular grave sites include those of Oscar Wilde and Édith Piaf. Keep looking, and you'll find the burial sites of influential writers and personalities (Molière, Balzac, and Gertrude Stein), composers (Frédéric Chopin and George Bizet), and artists (Eugene Delacroix, Camille Pissarro, Georges Seurat, and Amedeo Modigliani). Famously, the grave site of the opera singer, Maria Callas, holds only an empty urn – her ashes, originally buried in Père Lachaise, were stolen and later spread off the coast of Greece. The cemetery's monuments honoring World War II concentration camp victims are quite moving, and worth a visit as well. Visitors can pick up a map at the conservation office by the entrance on Boulevard Ménilmontant. Pro tip: get off at the metro stop Gambetta (instead of Père Lachaise) to begin your visit at the back of the cemetery and enjoy a leisurely stroll downhill.
Metro: Gambetta
21. Shopping at the Grand Magasins

The department stores of Paris are worth a visit even if you're not a serious shopper. Known as the Grand Magasins, these stores, with their magnificent art nouveau glass domes, sweeping staircases, and elegant interiors, bear little resemblance to the sterile shopping malls back home. Most were built in the 1850s and 1860s – a revolution in retail at the time. Paris' first department store, Le Bon Marché, set the standard, and boasts Gustave Eiffel as one of its building's contributing architects. With its stunning stained glass done, Galeries Lafayette, is reportedly the second most popular destination in Paris after the Eiffel Tower, and well known for selling luxury brands like Louis Vuitton. The best time of year to visit Galeries Lafayette and its neighbor, Printemps, is at Christmastime, when elaborate animatronic window displays delight both kids and adults alike. BHV, which stands for Bazar de l'Hôtel de Ville, is located in the trendy Marais and is probably the most diverse of the bunch. There's practically everything under one roof: you can buy anything from a hammer in the store's hardware section to a dress from Marc Jacobs, or take a cooking class at the Alain Ducasse cookery school. The best time for shopping in Paris is during les soldes, the twice a year retail event (in January and June) when the French government allows shops to discount their inventory. If you can't make it to Paris during the soldes, bring your non-French passport to the department store's customer service desk to receive a 10% tourist discount card. At BHV they make it even easier with no card necessary – just produce your passport at the register for the discount.
Metro for Le Bon Marché: Sèvres-Babylone
Metro for Galeries Lafayette: Chaussée d'Antin-La Fayette
Metro for BHV: Hotel de Ville
22. Take a Hot Air Balloon Ride

If you want to get a unique view of Paris and avoid the lines at the Eiffel Tower, take a hot air balloon ride instead. Visitors can float nearly 500 feet above ground in the world's largest hot air balloon, the Ballon Generali. The balloon, which has operated inside the Parc André Citroën in the 15th arrondissement since 1999, is connected to the ground with a hydroelectrically-activated cable, and has a large and stable platform that accommodates 30 people. Once up, visitors can move around freely to take in the bird's eye view of the Champs de Mars, Sacré Coeur, Notre Dame and other Parisian landmarks. This attraction is great for all ages, and trips run daily. Afterwards, hang out at the Parc André Citroën. The Parc, constructed over the remains of the abandoned Citroën auto plant, is little known to tourists and is the only green space in Paris that opens directly onto the river. Kids and adults both find it the perfect place to relax and enjoy nice weather: on warm summer days you'll find kids running through the water fountains or playing ping pong. Adults may enjoy the several themed gardens or the two large greenhouses housing numerous exotic trees and rare plants. Balloon admission is 12 euros for adults, 6 euros for children aged 3-11, and free for children under 3. Admission to the park is free. photo credit
Metro: Javel-André-Citroën or Balard
23. Velib

Instead of using the metro, take advantage of the city's bike share system. It's a cheap and fun way to get around, and with more than 23,000 bikes in the system, there's always one available. Paris is a relatively compact city so you don't need to bike very far to get anywhere, and dedicated bike lanes make it extra safe. If you don't feel comfortable biking in the streets, find a Velib station near one of the city's large green spaces like the Jardin du Luxembourg or the Champ de Mars near the Eiffel Tower, or use the bikes to explore the bigger parks like the Bois de Boulogne or the Bois de Vincennes. They allow bikes and you won't be riding in city traffic. Using the system is easy: riders sign up for either a day pass (€1.70) or a weekly pass (€8), then use the bikes as much as desired within a 24-hour or seven day period, respectively. Extra fees are charged for late returns, in order to ensure enough bikes in the system for everyone. Though you can buy a pass directly at the Velib station kiosks, the interface is small and not very intuitive – you'll have a much easier time purchasing passes online.
24. Antique Shopping at the Auction House

Most visitors head north to the Marché aux Puce flea market to hunt for great deals on antique and vintage pieces. Over the years however, the marché's popularity has driven prices up. A better option is the Drouot, the largest auction house in France, which deals primarily in fine art and antiques and is open to the public. This famed auction house is ranked among the best in the world, along with Christie's and Sotheby's, though starting prices can be surprisingly reasonable. Check their website for the schedule of upcoming auctions or pick up the Gazette de l'Hôtel Drouot at a newsstand. The building itself has twenty rooms, and hosts multiple auctions simultaneously. Auction goers range from amateurs to avid collectors, and all have the chance to view items in person on the morning of the sale from 11am to 12pm, or the day before from 11am to 6pm – auctioneers and experts are available to answer questions and give estimates. Some of the Drouot's best deals come from estate sales, when prominent families of French society will unload their family heirlooms under anonymity, in order to protect their social reputation. Located in the 9th arrondissement, just down the street from Galeries Lafayette. photo credit
Metro: Richelieu-Drouot
25. Marché des Enfants Rouges

Tucked away in the Upper Marais is the Marché des Enfants Rouges – a small but lively covered market that offers a mix of casual food stalls, small restaurants, and farmer's market vendors. Over 400 years old, the market's name translates to "market of the red children," and refers to the red-uniformed orphans who once lived at a hospice nearby. Now, it's a popular place with locals, and the vibe is relaxed and fun – a total contrast to the formal dining Paris is known for. There are numerous vendors to choose from, with something for everyone. Highlights include Le Traiteur Marocain, a Moroccan joint that serves excellent couscous and tagines. (Don't be put off by the line, it moves quickly and once you've ordered at the counter you'll be seated at one of their exclusive tables.) Another is the highly entertaining Chez Alain Miam Miam, known just as much for the chef's singing and bantering with customers as for their artful buckwheat galettes and sandwiches. Alain's is a strictly take away affair so prepare to eat while you're walking around the market. Other notable spots include Chez Taeko which sells Japanese bentos, Le Burger Fermier des Enfants Rouges, and the charming bistro L'Estaminet.
Metro: Filles du Calvaire
26. Eat Ethnic

It might surprise people that Paris is one of the most multi-cultural cities in Europe, with nearly 20 percent of the city's population was born outside of France. All throughout Paris are blocks or entire neighborhoods that feel like you've been transported to another part of the globe, and is the city filled with great ethnic eateries. Probably the most famous is L'as du Falafel in the historically Jewish Marais, where folks queue up for what many claim is the best falafel in the world. Most of the 13th arrondissement is home to a large Chinese and Vietnamese population, with entire areas devoted to Asian grocers, specialty shops and some of the best pho and dim sum in town. If you're craving Indian food, the neighborhood known as La Chapelle just next to the Gare du Nord has dosas and curries to rivel those you'd get on the subcontinent, and a stop at Saravanaa Bhavan being an absolute must before you catch your train. Clustered around the metro stop Barbès-Rochechouart is a mix of North African shops, eateries, bakeries, and even a weekly neighborhood market selling produce and second hand items. And visitors may have already stumbled upon the city's unofficial Little Tokyo, a section in the 2nd arrondissement near the Opera Garnier where Japanese noodle shops dominate Rue Sainte-Anne.
27. Go for a Swim

Water lovers will want to check out Paris' incredible public swimming pools – many of which are art deco marvels or offer fantastic views. The most notable is the Piscine Josephine Baker, which is built into a giant floating barge on the Seine. The 250 sq. meter pool accommodates swimmers of all levels alongside saunas, a jacuzzi, and a 50 sq. meter wading pool just for children. The best part is when the retractable glass roof opens up to an incomparable view of the river from the sundeck. Over in the Latin Quarter is the Piscine Pontoise, a beautiful art deco construction built in 1934. With its two mezzanine levels, mosaics, columns, and a glass roof, this light filled structure has been listed as a historical monument. Late night swimmers will appreciate that the pool stays open until midnight. Not far away in the 13th is the Piscine de la Butte-aux-Cailles – probably the most futuristic looking of any public pool in Paris, and another historical monument (there are only two in the city). Opened in 1924, this structure, with vaulted concrete arches and bright yellow interior, has three separate swimming pools that stay an impressive 28°C (82 F) due to its natural sulphurous spring.
Metro for Piscine Josephine Baker: Quai de la Gare
Metro for Piscine Pontoise: Maubert-Mutualité
Metro for Piscine de la Butte aux Cailles: Tolbiac
28. Rue des Martyrs

Rue des Martyrs is one of the best streets in Paris and yet somehow remains outside of the tourist throng. It stretches roughly half a mile, crossing from the 9th arrondissement up into Montmartre towards the Sacré-Coeur. Whole books have even been written about it, like the Elaine Sciolino classic, The Only Street in Paris. All at once visitors will experience a slice of small town Parisian life, colorful history, and some of the best specialty food shops in the city. There's something for everyone: Small boutiques dot the street, and the area has recently become a fashion destination with shops like Maison Kitsune. The Cabaret Michou in the Montmartre section has hosted everyone from Liza Minelli to Jacques Chirac. Foodies will love the incredible selection of award winning producers like Fromagerie Pascal Beillevaire (they make the butter for the Michelin starred Jules Verne restaurant), acclaimed baker Arnaud Delmontel, and award-winning pastry chef Sebastien Gaudard. History buffs will enjoy the story behind the street's name: after the decapitation of Paris' first bishop, Saint Denis, under the Roman Empire, legend states that he picked up his head and walked the length of this street before dying.
Metro: Notre-Dame-de-Lorette
29. Explore Paris's Covered Passages

For a step back in time, take a stroll through one of the city's ornate shopping galleries. Constructed as early as the 1790s, these glass and iron roofed arcades (many are richly decorated with marble and lavish woodwork) were where Parisians of another era did their shopping. In the 1850s there were approximately 150 covered passages across Paris, and although only about twenty remain, several have retained their old world charm. The Galerie Vivienne, built in 1823, is one of the most beautiful and best preserved in Paris. Architecture enthusiasts will admire the mosaic floors and glass rotunda, while wine lovers will want to visit Legrand Filles et Fils, a century-old cellar built in 1880. Another nearby is the popular Passage des Panoramas. Erected in 1799, this arcade was a prime destination for stamp and coin collectors back in the day but now hosts a collection of vintage post card shops, restaurants, and the Théâtre des Variétés. Foodies have enjoyed its recent renaissance as a culinary destination, dining at notable restaurants such as Racines, Coinstot Vino, and Canard et Champagne. Across the street is the Passage Jouffroy, home to Paris's wax museum, Musee Grevin, charming tea salons, and a mix of specialty boutiques such as M. Segas, seller of antique walking sticks. Finally, a short distance away is the Passage du Grand Cerf: With its 40 ft high ceilings, this charming 1825 structure is home to funky furniture, art, and fabric shops.
Metro: Grands Boulevards
30. Parisian Breweries

Micro-breweries have been cropping up all over Paris recently, and the city now has a thriving craft beer scene. The first to open in Paris proper was Brasserie de la Goutte d'Or, in 2012. Started by Thierry Roche and located in a lively West African section of the 18th, this brewery takes inspiration from the neighborhood by creating unique brews that use ingredients from the nearby Marché Dejean: ginger, hibiscus, hot pepper, pomegranate and dates. Notable beers include the Myrha (a pale ale with date sugar) and Château Rouge (a spiced red beer). Visitors are welcome Thursday to Saturday, 5-7pm. Another name you'll see popping up all over Paris is Deck & Donohue. Opened in 2014, these two friends fulfilled a lifelong dream and now supply many of the top restaurants in the city. Their brewery is open to the public on Saturdays: take a tour and hang out in the up-and-coming neighborhood of Montreuil. One of the newer (and more central) breweries is BAPBAP, near Republique. The name stands for Brassée à Paris, Bue à Paris (brewed in Paris, drunk in Paris) and this local brewery housed in a former parking garage boasts a 4,000 liter brewing capacity. Full tours are bookable through their website and cost 10 euros.
Metro for Brasserie de la Goutte d'Or: Barbes-Rochechouart
Metro for Deck & Donohue: Robespierre
Metro for BAPBAP: Republique
31. Fondation Louis Vuitton

With its breathtaking glass sails and avant-garde technology, Fondation Louis Vuitton, designed by Frank Gehry and opened in 2014, has already become a Parisian icon. Set inside the tranquil Bois de Boulogne in the 16th arrondissement, this latest addition to the city's art and culture scene is a work of art in itself. Inspired by the glasswork of existing Parisian landmarks, Gehry's futuristic form of light and glass mimics a sailboat's wind-inflated sails. Inside, find eleven gallery spaces, a concert venue, a bookstore, and the fine dining restaurant, Le Frank. The Fondation contains permanent works by Jean-Michel Basquiat, Jeff Koons, Ellworth Kelly, and Olafur Eliasson, in addition to hosting temporary exhibitions. From multi level terraces, visitors enjoy panoramic views of the city with the skyscrapers of La Défense and the Eiffel Tower in the distance – those traveling with kids can stop at the reception desk to borrow an iPad loaded with interactive games to help liven up their visit. Also be sure to visit the neighboring Jardin d'Acclimatation, a 49 acre amusement park devoted entirely to children. With a petting zoo, puppet shows, miniature golf course, and science center, there are plenty of options to keep kids of all ages entertained. If you happen to visit on a Sunday, take advantage of the brunch at the Jardin's Le Pavillon Des Oiseaux. Their 32 euro buffet (15 euros for kids) will entertain younger children with face painting, magicians, balloon artists and other activities. Getting out to the Fondation Louis Vuitton can be tricky, but the museum now offers a shuttle bus for 1 euro that runs every 15 minutes between the museum and the Charles de Gaulle-Étoile metro.
Metro: Charles de Gaulle-Étoile
32. Walk in Hemingway's Footsteps

Ernest Hemingway famously wrote that "if you are lucky enough to have lived in Paris as a young man then wherever you go for the rest of your life, it stays with you, for Paris is a moveable feast." The author's youth was spent in Left Bank cafés, in which and of which he wrote such celebrated works such as A Moveable Feast and The Sun Also Rises. Many of his favorite bars and coffeehouses are still around, and a few spots, like his apartments at 74 rue Cardinal Lemoine and 39 rue Descartes, are marked with commemorative plaques. Café de Flore and Les Deux Magots are two of Hemingway's most famous haunts – Les Deux Magots in particular was a popular spot for Paris' literary and intellectual elite in the 1920s, which included Jean-Paul Sartre and Simone de Beauvoir. Hemingway even used the cafe as a setting in The Sun Also Rises, though he wrote most of that novel (and first read F. Scott Fitzgerald's manuscript of The Great Gatsby) at La Closerie des Lilas. Movie-goers may recognize the interior of the restaurant Polidor, which was used in Woody Allen's movie Midnight in Paris, and also a particular favorite of Hemingway's. And no Hemingway tribute would be complete without a visit to the bookstore Shakespeare & Company. Now located on rue de la Bûcherie, in Hemingway's day it was at 12 rue Odéon, where the penniless author would borrow books from the store's rental library.
Metro: Saint-Germain-des-Prés or Odeon
33. Centre Pompidou

Modern art and architecture lovers will want to check out the Centre Georges Pompidou, a 20th century museum that's recognizable for its exposed skeleton of crazy colored tubing. In addition to housing the National Museum of Modern Art, the Centre Pompidou has a permanent collection, broken into two periods: modern (1905 to 1960, think Matisse and Picasso) and contemporary (1960 to the present, featuring works from Andy Warhol and Anish Kapoor). Past temporary exhibitions at the Centre include David Hockney, Jeff Koons, and Frank Gehry. Beyond the incredible art, visitors will also enjoy the view. The top floor provides breathtaking panoramas of Paris, which guests can enjoy while having dinner or a drink at the fabulous restaurant Georges. The plaza around the museum is home to whimsical pieces like the Stravinsky Fountain, a collection of 16 sculptures that move and spray water. Street performers and jugglers can often be found entertaining crowds at the nearby cafés. Don't miss the Atelier Brancusi: the entire studio workshop of the late French artist, Constantin Brancusi, has been reconstructed across the piazza, and contains over 130 of his original sculptures, drawings, paintings, and photographs.
Metro: Rambuteau
34. Visit a Luxury hotel

These five star establishments with their ornate surroundings and incomparable views offer a completely indulgent way to enjoy the city. If staying at a luxury hotel is out of your budget, you can always enjoy a bit of the high life at the hotel bar. Most are open to the public and will give you a glimpse into some of the most exclusive properties in the city. One of the most notable is the Ritz Carlton's newly renovated Bar Hemingway, a favorite haunt of the legendary author. The bar boasts a richly wood paneled interior and head bartender Colin Field – considered by many to be the best bartender in the world. For a spectacular view of the city, dine or drink at The Peninsula's L'Oiseau Blanc. From its panoramic perch in the 16th, guests take in the Eiffel Tower, Arc de Triomphe and Notre Dame Cathedral, all from the bar's terrace or aviation inspired interior. Another standout hotel to visit is the Four Seasons' George V. Head through its lavish marble courtyard past stunning floral arrangements to any of the hotel's 4 elegant eateries. Those traveling with kids can bypass the bar in favor of a family-friendly afternoon tea. Most hotels offer some version of high tea, with one of the most unique tea settings being that of the Shangri-La, a luxury hotel crafted from the former residence of Napoleon's grandnephew. photo credit
Metro for Bar Hemingway: Concorde
Metro for L'Oiseau Blanc: Kléber
Metro for George V: George V
35. Picnic on the Seine

Paris is the perfect place to have a picnic, and there are numerous spots along the river that will turn a simple baguette and bottle of wine into something magical. A favorite spot is the Square du Vert-Galant just next to the Pont Neuf. This park, located on the tip of the Île de la Cité, has been immortalized in movies because of its romantic views of the Pont des Arts in the distance, with boats passing nearby on the Seine. Really anywhere along the banks of the Seine is beautiful, but another favorite spot is near the Pont Alexandre III, widely regarded as the most beautiful bridge in Paris. With its beaux-arts style, art nouveau lamps and ornate winged horses flanking either end, this magnificent sight is enhanced even more by the Grand Palais just across the river. Picnicking in Paris has become such a pastime that there are even dedicated services to help you: Paris Picnic lets customers choose between two packages: Le Classique, which contains standard picnic offerings (baguette, cheese, wine, etc.), or Le Chic, which offers fancier nosh like champagne and foie gras. Packages are customizable, include utensils and a picnic blanket (yours to keep), and are delivered across the city to various locations like the Eiffel Tower or Jardin du Luxembourg. Craving something more specific? The food delivery site Foodora allows customers to order from the menus of favorite Paris restaurants, for pick-up near one of their picnic friendly delivery spots.
Metro: Pont Neuf or Invalides
36. Take in the Arts

Visitors to Paris shouldn't forget to check out the city's world class theater, dance, and concert venues. It's not only a chance to watch France's most talented artists perform, but also to admire some of the city's most interesting architecture from the inside. The opulent Palais Garnier hosts the Ballet de l'Opéra de Paris, the oldest national ballet company in the world. The building is one of the most beautiful and historic in France, and offers an unbeatable and elegant way to take in the most established names in dance. The Opera Bastille in the 12th is a newer construction, and the principal performance venue for the Paris National Opera's celebrated performances of Wagner, Puccini and Mozart. The brand new auditorium of the Philharmonie de Paris opened in January 2015 and was designed by leading French architect Jean Nouvel. It is known as one of the most innovative buildings in Paris, and is the new permanent home of the Orchestre de Paris. It's family-friendly, as well: the Philharmonie de Paris houses a music museum and offers numerous activities for children of all ages, starting from 3 months and up.
Metro for Palais Garnier: Opera
Metro for Opera Bastille: Bastille
Metro for Philharmonie de Paris: Porte de Pantin
37. Saint Sulpice

This magnificent baroque church in the upscale Saint-Germain neighborhood occupies a special place in Parisian history. Built in several phases and under the guidance of countless architects, the church's construction lasted almost a century (from 1646 to 1745), and to this day the building remains incomplete – the south tower was never finished, rising to a height of only 68 meters vs. the north tower's 73 meters. Because of its reputation as a wealthy and fashionable church, numerous celebrated sacraments have been held at St. Sulpice, such as the christenings of the Marquis de Sade and Charles Baudelaire, and the wedding of Victor Hugo. More recently, Saint Sulpice was immortalized in pop culture as a key location in Dan Brown's novel, The Da Vinci Code. Inside, take in the stunning frescos of Eugene Delacroix and the massive 1781 organ, one of the largest organs in the world. It's astounding 6,588 pipes have been played by musicians like Marcel Dupré and Charles-Mari Widor, and its concerts draw countless visitors. One of the best times to go on Sunday mornings, when mass is followed by a 25-minute organ recital.
Metro: Saint Sulpice
38. Free Outdoor Events

During the fair weather months, Paris offers a number of free, family-friendly activities in the great outdoors. Among the most popular is the Cinema en Plein Air Festival in the 19th arrondissement, in which classic and groundbreaking films (many in English with French subtitles) are screened on the lawn of the Parc de la Villette. Do as the Parisians do: bring along a picnic and make an evening out of it under the stars. Another outdoor film festival, the Cinéma au Clair de Lune, is organized by the Forum des Images and holds screenings in popular parks and gardens across the city. Nine outdoor venues are selected each year, past venues include the stairs of the Butte de Montmartre, Place des Vosges, and Parc Montsouris. From May through October, music lovers can enjoy themed concerts throughout Paris' green spaces at the events of Musique Côté Jardins – those traveling with kids should check out "Les Pestacles," held in the Parc Floral every Wednesday. This series within a series, with music and interactive workshops, is devoted to children aged 2 and up.

Bike tours are a great, interactive way to see Paris and the major city attractions. The most popular tour company is Fat Tire Bike Tours. They offer morning and evening rides, as well as day trips out to Versailles and Monet's garden at Giverny. The pace is relaxed and leisurely, with extra time set aside to rest and get to know your fellow tour goers. It's a great chance for solo travelers to make new friends, and family-friendly, with 20″ and 24″ kids bikes available and special options to accommodate riders with children under 6. Morning tours start at 10:30am and go past the Eiffel Tower, the Louvre, and Invalides and include a café stop in the Tuileries Gardens for lunch. The whole thing lasts about 3 1/2 hours. The Paris Night Tour takes a different route, through the Latin Quarter and along the River Seine, past illuminated city landmarks at sunset. It also includes a boat cruise on the Seine and (wine is provided), as well as a stop at the famous Berthillon ice cream shop on the Ile Saint-Louis.
Metro: Dupleix
40. Jardin du Luxembourg

One of the prettiest formal gardens in Paris. Situated between Saint-Germain-des-Prés and the Latin Quarter is Luxembourg Gardens, where you'll find Parisians and tourists lounging on metal chairs and wooden benches, playing chess or casually taking a stroll. It's a place to unwind and people watch, though there are numerous points of interest. One of the highlights is grand Luxembourg Palace, originally built to be the royal residence for Queen Marie de Medicis in 1612. After the revolution, it was modified for legislative purposes and currently houses the French Senate. Luxembourg Garden is a great place to visit with kids: the pool near the palace has toy sailing boats to rent, there's a fantastic playground, a vintage carousel (the oldest one in Paris, designed by Charles Garnier), pony rides, concerts in the bandstand, and puppet shows at the Théâtre du Luxembourg, one of the largest theaters of its kind. Enjoy a picnic in the apple and pear orchard, visit the greenhouses to take in an exotic collection of orchids, or stroll among the park's many statues – there are over one hundred (including the first model of the Statue of Liberty).
Metro: Rennes
41. Outdoor Markets

Shopping at an outdoor farmer's market is such a fun, Parisian experience that's easy to come by – each neighborhood has its own that pops up once or twice a week. The biggest and most popular is the Marché Bastille, located along the Boulevard Richard Lenoir. With nearly one hundred stalls, shoppers have their pick of the best produce in the city, as well as other amazing edibles like sea salt, roast chicken, farm made cheeses, and freshly baked bread. Plan to spend at least a few hours strolling the aisles, sampling wares, and snacking on fresh crepes or oysters along the way. The Marché Raspail on the Boulevard Raspail is an open-air market specializing in organic and bio items. It's a slightly smaller market with about 40 vendors, but because of its well-to-do location in the 6th arrondissement, expect to find outstanding quality (and prices to match), as well as the occasional French celebrity. For a cheaper and less touristy experience, check out the Marché d'Aligre. In the 12th arrondissement, between the market at Bastille and place de la Nation is a market which represents the diversity of this district – North African vendors mix with artisanal producers, offering some of the most unique finds in the city. Open six days a week, there are two sections – the indoor market called Marché Beauvau and the outdoor section which fills up the Place d'Aligre and the rue d'Aligre. Visitors will find everything from craft beer to local coffee, a vegetarian butcher, and one selling horse meat.
Metro for Marché Bastille: Bastille
Metro for Marché Raspail: Notre Dames Des Champs
Metro for Marché d'Aligre: Ledru-Rollin
42. Parc de la Villette

There is something for everyone at the Parc de la Villette. Situated in northeast Paris, with over 100 acres of tranquil green space and numerous attractions, playgrounds, modern architecture, and a planetarium, it's no wonder the park receives 10 million visitors each year. Kids will love the Cité des Sciences et de l'Industrie, the biggest science museum in Europe, and especially the museum's interactive adventure playground for 2-12 year olds, Cité des Enfants. In another part of the park, a permanent tented space known as Espace Chapiteaux hosts circus and acrobatic groups. The Canal de L'Ourcq runs through the Parc de la Villette, and there are boat tours here that take visitors around the park or to other sites around Paris. Parisians flock to the park in the summer for their free movie festival and to see concerts at Le Zenith and Le Trabendo. Music lovers enjoy the Cité de la Musique which houses the Paris Conservatory, a great museum for musical instruments, and the newest and most dramatic addition to the park, the Philharmonie de Paris. Recently opened in 2015 and designed by the well-known French architect Jean Nouvel, the Philharmonie is known as one of the most innovative buildings in Paris and the permanent home of the Paris Orchestra.
Metro: Porte de la Vilette or Porte de Pantin
43. Jardin des Tuileries

The magnificent Jardin des Tuileries is popular all year round due to its central location next to the Louvre, and it offers a ton of activities for both kids and adults alike. The summer months have a lively, fairground atmosphere during the Tuileries annual carnival. From the end of June to the end of August, visitors can ride on bumper cars and wooden carrousel horses, visit a hall of mirrors, or choose from any of the 60 attractions offered. In the winter months, take a ride on the Grand Roue de Paris, just next to the Place de la Concorde. An enormous world-traveling ferris wheel, it was built in Paris in 2000 and always returns home for the holidays. From a vantage point of 70 meters high, you'll have incredible views of Paris. Set up as a highlight of the Christmas village on the Champs-Elysées it starts running every November and operates through mid-February. Year round, the Jardin des Tuileries is home to two well-known museums: in the northwest corner is the Jeu de Paume, an arts center for modern and postmodern photography, and in the southwest corner near the river Seine is L'Orangerie, which houses Monet's massive and awe-inspiring Water Lilies paintings. The Tuileries makes for a very family-friendly stop: next to the playground is an in-ground trampoline for 2-12 years olds to work off some energy, and in quieter moments they can feed ducks at the nearby pond.
Metro: Tuileries
44. Shakespeare & Company

Shakespeare & Company is a literary legend, a popular bookstore that first published James Joyce's Ulysses and was frequented by the likes of Ernest Hemmingway. Though the bookstore's current iteration merely pays tribute to Sylvia Beach's 1919 original (located at 12 rue Odéon), it retains much of the same charm and spirit as it's roaring 20s predecessor. Back in the day, Shakespeare & Company was a hub of the literary community, and aspiring writers like Joyce, Hemmingway, and Henry Miller used to borrow books from the store's rental library (with Miller notoriously never returning them). The shop was permanently closed in 1940 under WWII German occupation. In the 1950s, after George Whitman's newish bookstore at 37 Rue de la Bûcherie, Le Mistral, became an indispensable gathering place for young writers (especially popular with Beat Generation writers like William S. Burroughs and Allen Ginsberg), Sylvia Beach publicly gave Whitman the name of her beloved bookstore. He officially christened his location Shakespeare & Company in 1964, after Beach's death. Today the shop is run by Whitman's daughter, Sylvia Beach Whitman, named after the iconic shop's first owner. Inside, visitors can spend hours searching through the vast array of English language books, or simply curl up and read the International Herald Tribune next to the picturesque window overlooking the Seine.
Metro: Saint-Michel
45. Grand Palais

The Grand Palais, with its stunning Beaux-Arts architecture and more steel than the Eiffel Tower, was an architectural marvel when it was built for the Universal Exposition of 1900. One of the city's most iconic buildings, with vaulted rooftops of glass and iron, the Grand Palais was designated as a historic monument in 2000 and now hosts roughly 40 events a year. Though the structure was dedicated "by the French Republic to the glory of French art," many of the events and exhibitions held inside are fun and youthful, and the space is used in the most creative and unusual ways. In recent years, for a few weeks in June, the Grand Palais has recreated the 1950s by becoming a giant drive in movie-theater known as Cinema Paradiso. Dozens of cars were pre-parked inside the enormous 12,000 sq. meter space, and movie-goers settled in to watch a themed series of popular films on a 25sq. meter screen. Each Christmas time, from mid-December through the first week of January, the Grand Palais is converted into the world's largest indoor ice skating rink, and skating under the giant glass dome is a magical experience. Visit at night – the rink has light shows and stays open until 2am.
Metro: Champs-Élysées-Clemenceau
46. Musée de l'Orangerie

Fans of impressionist painting should visit Musée de l'Orangerie in the Jardin de Tuileries to experience one of the most monumental feats in early twentieth century painting: Claude Monet's masterwork, Water Lilies (Nymphéas). Painted over nearly one hundred linear meters of canvas, the sheer size and scale of it surrounds the viewer for a truly unique experience. Monet himself worked with the Louvre's head architect, Camille Lefèvre, to plan the layout of this group of eight compositions. Displayed in two consecutive oval rooms (representing the symbol of infinity), with natural light streaming in from overhead, the massive panels simulate an effect that Monet described as creating an "illusion of an endless whole, of a wave with no horizon and no shore." Monet reportedly had such an attachment to the paintings that he couldn't bear to part with them; the paintings stayed with him until his death in 1926, and were finally displayed for the public at L'Orangerie in May 1927. Diehard fans should plan a pilgrimage to the artist's garden at Giverny, where Water Lilies was painted.
Metro: Concorde photo credit
47. Visit a Rooftop Beekeeper

Spread out through the rooftops and nestled among even some of the city's famous landmarks are beehives which produce one of the most unusual and delicious souvenirs around: Parisian honey. In recent years, urban rooftops have become a great place for beekeepers to harvest their honey – what more picturesque spot can you imagine than the top of Notre Dame Cathedral, Grand Palais, or the Opera Garnier? Even places like the Eiffel Park Hotel, the Mandarin-Oriental and legendary restaurant La Tour d'Argent keep bees on their rooftops and either sell or serve their honey to guests. Parisian bees have access to the magnificent floral displays in the city's gardens and public parks, resulting in honey that has a taste as unique as the city itself. As opposed to honey produced in, say, lavender fields, the abundance of local and exotic trees in Paris, combined with herb and rooftop gardens and the flower boxes of private balconies results in a truly distinctive flavor, and a collective total of seven tons per year. Beekeepers have been installing hives all across the city over the past decade, and Parisian honey has become so popular that it reportedly sells for 200 euros per kilo in Japan. For an up close look at an urban beekeeping operation, private visits can be organized with Audric de Campeau of Miel de Paris who works from the top of Ecole Militaire.
48. Street Art in Paris

There's a surprising amount of street art hidden throughout Paris, and French urban artists play a distinctive role in the country's creative community – From Space Invader, whose mosaic pixel work is modeled after 8 bit video games, to the TED Prize winning JR, who recently covered the pyramid of the Louvre. French art historians generally trace the birth of street art to the ruins of Les Halles in the 1970s: Once the lifeblood of Paris, the fresh food market Les Halles was destroyed in 1971 in order to construct a shopping center and metro station. The artist Gérard Zlotykamien entered the abandoned ruins and used spray paint to create shapes of human bodies, evoking the destruction of Hiroshima. From these beginnings, the city's urban creatives have cultivated a thriving street art scene with several neighborhoods worth exploring. Most people head to the area around Oberkampf, Belleville and Menilmontant, a rapidly gentrifying area in Northeast Paris that is home to numerous artists' ateliers. Rue Dénoyez is a great starting point: a side alley near the Belleville metro stop, where the walls are completely covered in a wide range of styles. At the corner of Rue Saint Maur and Rue Oberkampf is Le Mur. Le Mur means "the wall" in French, but it also stands for "Modulable. Urbain. Reactif." Twice a month, a different urban artist is commissioned to fill the space, with over 200 artists showcased so far. Past work can be seen on their website. To get a deeper and more comprehensive look at urban art around the city, take a tour with Street Art Paris: Guided walks are offered in Belleville, Montmartre, and Oberkampf, with a 2 ½ hour tour costing €20.
Metro: Belleville or Oberkampf
49. Jazz clubs in Paris

Paris is home to some of the most celebrated jazz venues in the world, historically centered around the Montmartre and Saint Germain des Pres districts. After World War I, the 1920s saw American jazz musicians and entertainers settling in Lower Montmartre, creating a Harlem in Paris with numerous clubs and cabarets. Jazz continued to thrive there until the 1940s, when American music was banned during Nazi-occupied Paris. Jazz sessions and concerts then continued in secret, within the soundproof underground cellars of St.Germain-des-Pres, and the "jazz caves" were born. Nowadays, jazz can be heard every night of the week and in almost any part of the city. One of the best spots is Le Caveau de la Huchette, an historic spot that's hosted such legends as Lionel Hampton, Art Blakey, and Count Basie. Old school jazz lovers should head a little further south to Le Petit Journal Montparnasse in the 14th arrondissement, while over in the 1st you'll find plenty of options along Rue des Lombards (with the standout being Le Duc des Lombards). And the jazz spirit is still alive in Montmartre, where visitors and tourists alike frequent local hangouts like Autour de Midi et Minuit.
Metro for Le Caveau de la Huchette: Saint Michel
Metro for Le Duc des Lombards: Chatelet
Metro for Autour de Midi: Blanche
50. Promenade Plantée

For an off the beaten path look at Paris, visit the Coulée verte René-Dumont, also known as the Promenade Plantée (tree lined walkway), one of the world's first elevated parks and precursor to New York City's Highline. Repurposing the abandoned Vincennes railway line which operated from 1859 to 1969, this elevated pathway of viaducts and footbridges connects Place de la Bastille to the Bois de Vincennes park, with nearly 3 miles of walkway through the 12th arrondissement, a little known district in Eastern Paris. During your walk you'll encounter a blend of urban architecture and nature, with cherry and hazelnut trees, climbing plants, rosebushes, and lavender planted along the way. Details such as the 1930s art deco style police station near the start of Rue de Rambouillet are a stand out, as well as the Jardin de Reuilly, where the pathway drops back down to street level. Stop there for a picnic and to enjoy sparkling water from Paris's first fizzy water fountain. The Promenade navigates through various heights and terrain, at points going through underground tunnels or as high as 3 stories. Perhaps the prettiest use of space is the Viaduc des Arts, a restored section of the Promenade Plantée located beneath the footpath. Utilizing the arches underneath the railroad tracks, the city created a collection of beautiful, glass fronted spaces with curved, 30 foot high ceilings. Running along Avenue Daumesnil, this section houses over fifty galleries, ateliers, and boutiques for local artists and craftsmen making everything from musical instruments and handmade porcelain to glass blown vases and unique tapestries.
Metro: Bastille or Gare de Lyon
51. Palais de Tokyo

The Palais de Tokyo is one of the most unique contemporary art spaces in Paris; to get a sense of upcoming talent, head here. One of the museum's goals is to foster and promote young French artists, working with regional centers and art schools around France. In this way, the institution has gained a reputation for becoming a springboard for the country's rising talent, as well as fostering international contemporary art collaborations. One of the most unusual aspects of the Palais de Tokyo is that it has no permanent collection, acting almost like a gallery rather than a museum. Since 2002, the west wing of the building has hosted the Site de Création Contemporaine, featuring exhibitions of contemporary art. After being renovated in 2012, it holds thirty to forty exhibitions a year and is among one of the largest spaces of its kind in Europe. The building's east wing houses the city's museum of modern art, the Musée d'Art Moderne de la Ville de Paris, also known as MaM. If you're traveling with kids, don't miss the Little Palais, which offers special activities and workshops for children. And the best part? Night owls and crowd-avoiders can appreciate the Palais de Tokyo almost every evening until midnight.
Metro: Alma-Marceau or Iéna
52. Musée de la Mode de la Ville de Paris

The City of Paris Fashion Museum's collection includes over 70,000 pieces of clothing and accessories, spanning trends from the 18th century until present day. Inside the Palais Galliera in the 16th arrondissement, the museum represents a fascinating look at the evolution of French fashion – from garments worn by royalty to the Empire dresses of the 19th century to modern day creations. Historical treasures include 2 suits worn by the Dauphin, the future Louis XVII, a bodice once belonging to Marie Antoinette, and garments worn by Empress Josephine. Modern day pieces include Audrey Hepburn's iconic Breakfast at Tiffany's dress as well as the first collection of Jean Paul Gaultier. The museum's most impressive pieces are found in their haute couture collection: ushered in by Christian Dior's groundbreaking 1947 "New Look," the golden age of Parisian haute couture is defined by innovative silhouettes and impeccable tailor-made garments. With donations from luminaries such as the Duchess of Windsor, Baroness Rothschild and Princess Grace of Monaco, the museum's compilation reflects the best of Paris's couture houses.
Metro: Alma-Marceau
53. Take in the View from a Rooftop Bar

In warm weather, the rooftop bars of Paris provide fantastic views of the city's landmarks. The most talked about (and toughest to get into) is Le Perchoir. It serves a local hipster crowd in the 11th who come to take in the 360 degree panorama – its off-the-beaten-path location means you won't find many tourists. The same team has another outpost in the Marais, as well as a recently opened rooftop location – Le Perchoir Gare de l'Est – at the Gare de l'Est train station. A more posh option is La Rooftop Lounge at the Shangri-La Hotel in the 16th. The vistas from this luxury property are breathtaking and include a full view of the Eiffel Tower. If you're in the mood for something more chill, head to Le Terrass en Haut. Tucked away in Montmartre on the 7th floor of a boutique hotel, its 180 degree panorama includes the Eiffel Tower, Invalides, and the Grand Palais.
Metro for Le Perchoir: Ménilmontant
Metro for Le Perchoir de L'Est: Gare de l'Est
Metro for Shangri-La Hotel: Iena
Metro for Le Terrass en Haut: Blanche

With over 150,000 wineries, the world of French wine is vast and complex. If you'd like to expand your knowledge, there are classes that cater to first-timers as well as to more advanced palates. The best-known of the bunch is Ô Château, a popular wine bar and serious training center for oenophiles. Ô Château offers daily wine tastings with 1 hour intro classes (30 euros per person) for the uninitiated, and more advanced courses for connoisseurs. The sessions are casual and fun, and all are taught by expert sommeliers. Another option is based out of the popular wine shop La Derniere Goutte. The staff here is super knowledgeable as well as bi-lingual, so it's well-known as a haven for visiting wine connoisseurs. Classes are small, and each one is taught by the shop's owner. Discussions cater to the participants' level of wine knowledge, covering a wide range of topics – though they generally include an overview of wine regions and food pairings. Classes are 55 euros per person and last about 2 to 2 ½ hours. Another fun option is the Paris by Mouth tour of natural wine bars. On this tour you'll visit several shops and wine bars, with emphasis on the growing trend toward natural wines. The tour takes place in an off-the-beaten-path area in the 11th, offering a bit of insight into Parisian daily life.
Metro for Ô Château: Les Halles
Metro for La Derniere Goutte: Saint-Germain-des-Prés
55. Eat Lunch at a Michelin Star Restaurant

If you're a foodie visiting Paris, be sure to book a lunch at one of the city's numerous Michelin starred restaurants. Haute cuisine is no longer only for the elite, and while it's possible to find dinner at a few 1 star restaurants without breaking the bank, generally you'll find more reasonable prices (with much of the same food on offer) at midday. One of the most innovative 1 stars in Paris, Restaurant David Toutain offers a lunch-only 3 course menu for 55€. The ambiance is minimal and pretty, a perfect compliment to the unusual creations he serves up. (Like Jerusalem artichoke ice cream or smoked beets that could almost pass for charcuterie.) And over in the 11th, one of the most vibrant foodie neighborhoods in Paris yet out of the main tourist throng, you'll find the award-winning Septime. Loved by visitors and Parisians alike, this place is popular and with good reason – at 30€ for a 3-course lunch, it's a great value.
Metro for Saturne: Bourse
Metro for David Toutain: La Tour-Maubourg
Metro for Septime: Charonne
56. Péniche along the Seine

Small river boats that stay permanently docked along the river Seine or the canals of Saint Martin and Ourq, péniche are particularly Parisian. Though the best translation might be "houseboat," most have been converted into floating concert venues, cocktail bars, and restaurants, and offer a unique way to enjoy the city's nightlife. One of the best is Le Batofar, perched near the National Library of France in the 13th, where guests have the option to enjoy a relaxed drink on the open air deck or head downstairs to the concert space below. Just next door is La Dame de Canton, an exotic Chinese junk which was the first to sail past the Cape of Good Hope – now a dedicated concert space and restaurant. Over near the Pont Alexandre III in the 7th, you'll find Rosa Bonheur sur Seine. The all wood and glass bar and restaurant is incredibly popular, and attracts a young professional crowd. One of the most unique is La Péniche Cinéma, which show screenings in its projection room that contains a rollback canvas roof. Family-friendly péniche include the marine-themed bookstore L'Eau et les Rêves in the 19th (the space houses a library, café, kid's area), the Marché sur l'Eau (a floating fruit and vegetable market), and the Péniche Antipode, a houseboat transformed into a theater with kids shows during the day and plays and music events for adults in the evenings.
Metro for Le Batofar and La Dame de Canton: Bibliothèque François Mitterrand
Metro for Rosa Bonheur sur Seine: Invalides
Metro for La Péniche Cinéma: Porte de la Villette
Metro for L'Eau et les Rêves: Crimée
Metro for Marché sur l'Eau: Crimée
Metro for Péniche Antipode: Église de Pantin
57. Eat Innovative French Cuisine

Though France's culinary traditions are world famous, it's worth exploring the innovation of the city's top chefs, bakers, pastry makers and chocolatiers. Since 2010, Gontran Cherrier and his namesake bakery has been churning out some of the most interesting breads in Paris. Featuring multigrain curry loaves, chickpea lemon rolls, bright red paprika sandwich buns, or squid ink with cumin grains, a visit to his bakery in the 18th arrondissement is both fun and flavorful. In the world of pastry, everyone knows Pierre Herme's unusual macaron flavors like chocolate and foie gras, but for an Asian twist check out Sadaharu Aoki. This former contender for Patissier of the Year fuses traditional French pastries with ingredients from his native Japan, creating matcha opera cakes and black sesame eclairs. For fine dining check out David Toutain and his experimental take on French cuisine. After working with some of the biggest names in the business like Pierre Gagnaire and Alain Passard, Toutain opened up his own place in 2013. Since then he's continued to produce some of the most modern French cooking in the city with dishes like fish skin chips dotted with trout roe, kiwi and oysters, and Jerusalem artichoke ice cream. Finally, chocolate lovers can't miss the award-winning and always innovative Patrick Roger. Highlights at his shop include chocolates with jasmine tea, Guinness beer and poppy seed, or his best-selling basil with lemon.
Metro for Gontran Cherrier: Abbesses
Metro for Sadaharu Aoki: Rennes
Metro for David Toutain: La Tour-Maubourg
Metro for Patrick Roger: multiple locations
58. Late Night Paris

One of the best times to experience the Paris, the City of Lights, is at night. With the exception of areas like Pigalle, with its flashy cabarets and stage shows, most night clubs in Paris are either discreetly tucked away or on the outskirts of the city, and it's worth traveling off the beaten path to find them. For an "only in Paris" experience, check out Le Carmen. This grand 1875 rococo townhouse is where Bizet wrote his famous opera, and has been refashioned as a modern day nightclub: there are gold cages hanging from the ceiling, red velvet everywhere, and great cocktails and music to boot. Over in the 13th at the quay level of La Cité de la Mode et du Design is Wanderlust, 1,600 square meters of dance space with an outdoor wooden terrace, perched on the Seine. If you're traveling with kids, there are lots of family-friendly activities that happen after dark: beat the crowds and visit the numerous museums that stay open late, such as the Palais Tokyo (open until midnight) or the Louvre (open until 10pm on Wednesdays and Fridays), or sign up for Fat Tire Tours' evening bike tour to see the Paris' best sights illuminated at night.
Metro for Silencio: Bourse
Metro for Le Carmen: Blanche
Metro for Wanderlust: Gare d'Austerlitz
Metro for Palais Tokyo: Alma-Marceau or Iéna
Metro for Louvre: Palais Royal-Musée du Louvre
59. Go to a Puppet Show

Few other places in the world have as much history in puppetry as Paris. One of the most beloved characters in France, entertaining kids and adults for over two hundred years, is the puppet Guignol. Created in 1808 in Lyon, Guignol is the central figure in various puppet shows, and numerous theaters in Paris celebrate him. At the Théâtre Guignol Anatole, built on the Champs-Elysées in 1836 and relocated to the Parc des Buttes-Chaumont in 1903, you'll find story lines that blend Guignol's Lyonnaise heritage with his Parisian surroundings. Though considered children's entertainment, adults appreciate the frankness of Guignol's dialogue – the character was originally meant to represent the working-class concerns of French silk workers. While most Guignol theaters are set outdoors, possibly the best place to catch Guignol is indoors in Luxembourg Gardens' Théâtre du Luxembourg. The biggest puppet theater in France, Théâtre du Luxembourg can accommodate up to 275 spectators year-round.
Metro for Théâtre Guignol Anatole: Buttes-Chaumont
Metro for Théâtre du Luxembourg: Rennes

At the Caves du Louvre, work with an expert winemaker to blend your own personalized bottle of wine. In this hands on workshop, held within the former wine cellar and residence of King Louis XV's sommelier, guests are led through the various stages of crafting their own bottle, along with incorporated lessons in soil, aroma and taste. The venue is an incredible experience alone. Built in the 18th century, the cave once housed the king's wine collection, and a special underground tunnel connected it to the Palais du Louvre. Now, after years of reconstruction, the space has been transformed into a modern winery, boutique, and multi-sensory experience. Expert sommeliers first lead workshops on the concept of terroir and the importance of scent in winemaking, then provide guided tastings of the five grape varietals typically associated with the Rhone Valley and the Languedoc regions (Grenache, Syrah, Mourvedre, Cinsault, and Carignan). Guests learn about the acidity, tannins, and fruit each grape contains before being let loose to blend on their own – you can even design your own label. The workshops allow for lots of trial and error, and the interactive and informative exhibits are appropriate for older kids. (The "aromas" room is set up in a fun, game-like format.) Wine making workshops are held in the evenings, and cost 75 euros per person. During the day, Caves du Louvre's self-led wine museum tours start at 15 euros for adults and 13 euros for students, and include one tasting.
Metro: Louvre-Rivoli
61. Learn to Make Chocolate

Shopping and sampling at Paris' gourmet chocolate shops is a must for anyone with a sweet tooth, but there are plenty of ways those who want a more hands-on approach to get behind the scenes and watch the masters in action. The best place to do this is at La Petite Fabrique, where windows separate the workshop from the boutique so that visitors can see every part of the process. At La Manufacture de Chocolat Alain Ducasse, the Michelin-starred chef's factory near Bastille, expert chocolatiers turn out extraordinary bean-to-bar sweets, and though they don't offer formal tours, you can sneak a peek through the windows and see some of the vintage machinery they use. Those who want a bit more history should stop by the Choco Story Gourmet Chocolate Museum. Spread out over three floors, you'll learn all about the evolution of chocolate: from its origins in ancient Mexico, to the processes used to extract chocolate from cocoa, to its past and present uses. They also offer demonstrations and workshops for all ages.
Metro for A La Petit Fabrique: Bastille
Metro for At La Manufacture de Chocolat Alain Ducasse: Bastille
Metro for Choco Story: Bonne Nouvelle
62. Berges des Seines

The popular Left Bank promenade, The Berges de Seines, spans over 2 kilometers along the Seine between the Musee D'Orsay and Pont D'alma, offering plenty of leisure activities for both kids and adults. During the day, the area is family-friendly, with games, a kid-friendly climbing wall, and shipping containers converted to mini-exhibitions. After work, you'll find Parisians taking advantage of its beautiful location, either going for a run (or leisurely stroll) along the river, or sipping wine on one of several terraces that overlook the Pont Alexander III bridge and the Grand Palais just across the river. At night, there are a slew of restaurants and bars to choose from, with standouts being Faust: a popular brasserie, nightclub, and performance space located under the arches of the Pont Alexander III, and the Rosa Bonheur sur Seine, which floats atop the waters of the Seine. It's also popular to pack a picnic and sit along the water's edge, just enjoying the view.
Metro: Invalides
Read More