Home > Paris > Family Hotels
Updated: January 11, 2020
• Affiliate Disclosure: All hotel links on my site are affiliate links meaning I earn a small fee when you book a hotel. (There is never any extra cost to you for using these links). I use some of these earnings for my monthly charitable donation.
See Also
Paris Hotels for Families – Tips & Advice

Paris has so much to see both indoors and outdoors that it's a great year-round destination. But the very best months to visit are from late April to early October (excluding August).
Paris has a shortage of good rooms for families. Book early if visiting between April and October or the Christmas/New Years period.
Booking.com – the best website for finding family hotels in Paris.
The best areas in Paris for families are Saint Germain (central, loads of shops and restaurants), Rue Cler in the 7th Arrondissement (quieter, slower paced, village-like feel, but still close to many attractions and the Eiffel Tower), and the Marais (less touristy, hip and trendy but still family-friendly).
Best Luxury Hotel in Paris for Families: Le Bristol
Best Cheap Hotel in Paris for Families: Staycity Serviced Apartments
Want a family-friendly hotel in a quiet location? The Gardette Park Hotel – just beyond the Marais district in the 11th arrondissement but still walking distance (or a quick metro ride) to sights and attractions. A great playground and park are right across the street.
Best Disneyland Hotel for Families: Disneyland Hotel Marne La Vallee. Nice pool and located right at the park entrance. Disneyland is 45 minutes by train from central Paris.
To save time and money on the metro buy a booklet of 10 tickets called a carnet. They cost 14.40€ and allow 10 rides. Any one ride can last 90 minutes and include transfers.
Kids (ages 4 to 10) save even more money when buying the carnet since they must pay adult prices for single tickets (1.80€) but get the book of 10 for half-price (7.20€). Kids 3 and under are free on the Paris metro.
Good restaurants kids will love: Breakfast in America (breakfast all day), Breizh Cafe (the best crepes in the Marais), La Coupole (historic brasserie in Montparnasse), All Aboard Le Train Bleu (belle epoque style that's still kid-friendly), Le Relais de l'Entrecote (steak, fries, and scrumptious desserts at 3 locations), Gourmet at Glou (kid-friendly wine bar in the Marais), and for an all-dessert menu Dessance ("cuisine du sucré").
The best playground on the left bank is at the Luxembourg Gardens (there's a small fee). The best playground on the right bank is at the Tuileries Garden.
Best Paris Hotel for Babies and Toddlers: The Four Seasons (everything parents could possibly ask for – from cribs to babysitting).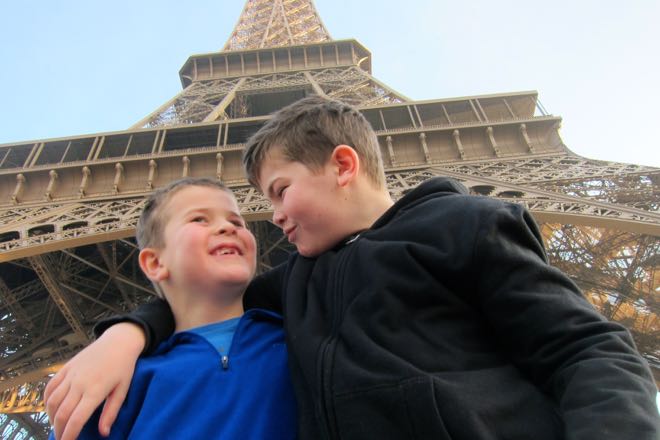 The 10 Best Kid-Friendly Hotels in Paris, France
Click the hotel name to check prices on Booking.com – my favorite website for booking hotels. Book 6 to 8 months in advance for the best rooms and rates.

One of the very best hotels in Paris. Good sized swimming pool, and great service and staff. Kids' bathrobes, greeting gift (for young guests), and complimentary baby food and toiletries. Babysitting services with 24 hours notice. Kids eat for free at the hotel's restaurants. Family Recreation Manager helps families plan their visit. Close to George V metro station. Hotel phone: +33 (1) 4952 7000

Wonderful location right on the Champs-Elysées. Large 1 or 2 bedrooms suites easily sleep families of 4 or 6. All suites have kitchens. It's a 2 minute walk to the George V metro station and 10 minute walk to the Arc de Triomphe. Hotel phone: +33 (1) 4413 3333

Beautiful spacious rooms. Great indoor swimming pool. Children and families are not an afterthought here and are truly welcomed and pampered. There's a good kids menu, a garden treasure hunt, and a supervised kids club and playroom. Hotel phone: +33 (1) 5343 4300

Very close to the Renaissance (also kid-friendly) but here you exchange the swimming pool for a larger room and suites are larger still. The Westin has kid-friendly service and great restaurants both in the hotel and just out the door. Tuileries metro station is very close. Hotel phone: 33 (1) 4477 1111

This is a great mid-range hotel and one of my favorites in Paris for families on a budget. The family suites have 2 single beds and a queen and are a good size for Paris. Across the street is a park with a playground and there are several good restaurants within a 3 minute walk. A great neighborhood but with few tourists so you feel like you're really seeing Paris. Hotel phone: +33 (1) 4700 5793

Family suites are 2 interconnected rooms each with twin beds. Fantastic location. Many restaurants nearby. Steps from the Pyramides metro station. Hotel phone: +33 (1) 4020 0110

Chain hotel that has clean simple rooms with friendly service. Nice swimming pool. Short walk to the Eiffel Tower. Close to Bir-Hakeim metro station. Hotel phone: +33 (1) 4058 2000

Great location in the center of St Germain. Triple rooms (2 twin and 1 sofa bed) and quadruple rooms (2 twin and 2 sofa beds). Steps from St Germain des Pres metro station. Hotel phone: +33 (1) 4354 0170

Large suites with kitchens and cookware close to Gare de l'Est and Gare du Nord (for Eurostar train to London). Friendly staff. Surrounding streets are not the most beautiful in Paris but there are plenty of places to eat, a food market, and good metro connections with the rest of the city. Hotel phone: +33 (1) 4489 6670

Best budget hotel near the Louvre. Triple rooms with 3 twin beds are simple but good. Bourse metro stop is very close. Hotel phone: +33 (1) 4261 5390
More Paris Hotels for Families
All of these hotels have triple, quad, or family rooms. The larger the room the earlier they seem to be snatched up – so book early.
Popular Family Hotels in Paris
Lonely Planet recommends Hotel de la Porte Doree but otherwise says little about good family-friendly hotels in Paris. Frommer's and Rick Steves also have no specific recommendations for families visiting Paris. And like always Tripadvisor recommendations should be taken with a grain of salt.
Most Booked Family Hotels by MLN Readers
Paris Family Hotels Recommended by Tripadvisor
Hotels with Swimming Pools
Family Apartments in Paris

Recommended apartment rentals for families in Paris. All units have kitchens. Most have washer/dryer and internet.
Recommended and Helpful
All Paris Hotel Reviews
Read More
Top Travel Sites for Paris – My Recommendations
Kayak is the easiest to use. Skyscanner finds the cheapest rates. Momondo is the best for first and business class tickets.
Great prices from all the biggest rental companies. Easy to use, safe, and reliable.
Awesome rates and great for vacation planning. All price ranges. Luxury hotels, 5-star boutiques, cheap hostels, house and apartment rentals.
My favorite for booking tours and private tour guides.
Best for Travel Insurance: InsureMyTrip
Compare costs from over 30 insurance providers.