SD › Italy › Florence › Best Shops
Updated: April 26, 2022
See Also
Recommended Shopping Tour in Florence
The 19 Best Shops & Markets in Florence
1. Via de Tornabuoni • City Center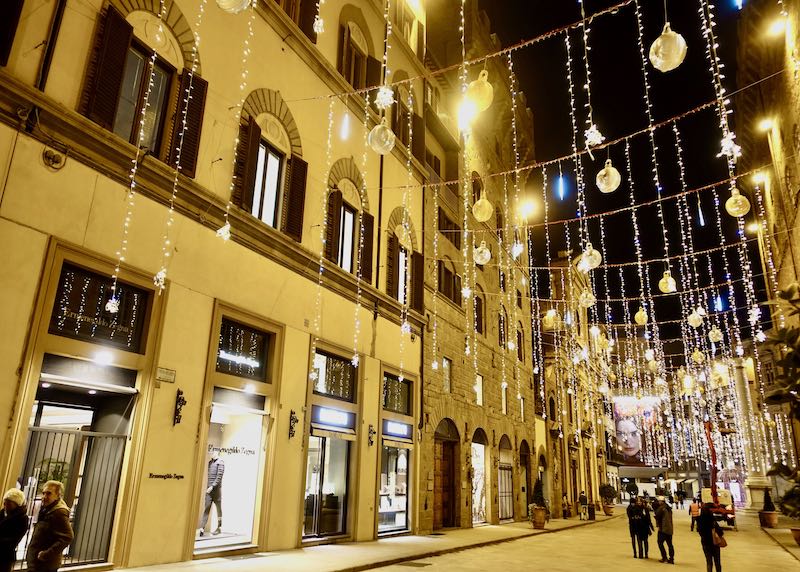 Florence's glittering parade of luxury brands starts at the Ferragamo flagship store and museum by the river. Most of the big names, especially the Italian ones, are here.
2. Borgo San Jacopo • Santo Spirito

A major shopping street in Oltrarno, known for its artisans and independent boutiques. Check out leather-look washable paper bags at Uashmama, Tuscan wines and other foodie gifts at Obsequium, and vintage clothes and jewelry at 9 ROSSO Firenze.

+39 055 216276
World-renowned costume-jewelry designer offering high-end, handmade bijoux in Florence since 1975. Chunky, vintage glamor is her trademark for necklaces, earrings, bracelets, and more. The flagship workshop is in Santo Spirito with a second shop in the City Center.
4. Via della Spada • Sants Maria Novella
A street packed with high-end and fashion-forward boutiques. Check out quirky accessories and homewares at Mio Concept, vintage designer pieces at Marie Antoinette, and the chicest of hats at Grevi.
5. La Pelle • Santo Spirito

+39 055 292031
Two-floors of fine leather apparel and accessories for men and women, made in Florence by Italian artisans with soft Italian leather. Owned and operated by an energetic Italian couple since 1983,
6. Via dei Fossi • Santa Maria Novella
Another great location in Santa Maria Novella, known for arty boutiques and antique shops. Find vintage glamour at Epoca, beautiful dresses and bags at Atelier C, and impeccable made-to-measure suits at Sartoria Vanni.
7. Via di San Niccolò • San Niccolò

In the east of the Oltrarno, find jewelry and a museum by Alessandro Dari, perfumers including Lorenzo Villoresi, and funky street art at Clet.

+39 055 216276
Possibly the grandest pharmacy ever. Founded in 1612 by local Dominican monks, it still sells traditional herbal remedies as well as luxury skincare and perfumes. Great for gifts.
+39 055 906 4116
Swish, eye-catching boutique featuring men's and women's designers, including more niche brands. There's a cool 1st-floor café if you need a break from all the shopping.

+39 055 211773
A magical little shop for nostalgic wood-carved toys and decorations from cuckoo clocks to marionettes. Best-loved for their Pinocchio figurines.
+39 055 215504
Luxury and vintage clothes for men and women in a deeply cool exposed-brick setting. Flow also sells books and music and hosts events.
12. Bjork • Santo Spirito

+39 333 979 5939
Nordic-style white and airy concept store selling everything from stylish clothes to art, photographs, and books in Oltrarno.
13. Benheart • City Center
+39 055 239 9483
Gorgeous handmade leather shoes, jackets, and accessories for men and women from local star Ben, who founded the company after a heart transplant.
+39 055 287851
Stylish vintage clothes and lovely accessories, mainly for women, near the Ponte Vecchio, with a loyal local following.

+39 055 239 9798
AKA Mercato di San Lorenzo, Florence's oldest and biggest food market is an institution packed with produce on the ground floor and artisans running food stalls on the upper floor. Try anything from luxury burgers at La Toraia to chocolates and ice cream by Cristian Beduschi. There's even a cookery school up there. Open daily until midnight.
+39 055 248 0778
Authentic, much loved local market in Santa Croce, open every morning. Fresh fruit and vegetables, vintage clothes, and shoes are outside; meats, cheeses, and breads are inside. Stop for a quick meaty bite at Terrazza Menoni or classic Tuscan greasy spoon at Trattoria Da Rocco.

+39 055 283410
Tiny shop absolutely crammed with Italian-made kitchenwares and foods. A one-stop-shop for local products from Tuscan wine, olive oil, balsamic vineger, cheeses (samples given generously), plus olive wood kitchenware, ceramics, copper pots and much more. Great for souvenirs.
18. Santo Spirito Flea Market
Piazza Santo Spirito hosts a couple of great markets on Sundays. On the second Sunday of the month, it's the turn of the flea market, a great place to browse vintage clothes, household items, accessories, paintings, and more.
+39 055 697 747
On the third Sunday of the month, the Fierucola comes to Piazza Santo Spirito, hosting artisanal food producers and craftsmen. It's a special market of goods made locally and naturally, by hand, whether it's cheese, wine, bread, or leather shoes.
Read More
All Florence Hotel Reviews