SD › Italy Travel
Updated: November 22, 2023
Steeped in history, tradition, wine, and wonderful rustic cuisine, Italy is Europe's 3rd most visited country and one of its most enchanting travel destinations. Over sixty-one million tourists visit Italy each year, drawn to its ancient sites and the art-filled churches and museums of Rome, Florence, Venice, and Milan. If art and history aren't your thing, Italy offers everything from ski resorts to Mediterranean beach towns (like the fantastic Amalfi Coast) to relaxing waterside retreats in the Lakes District. Italy is an excellent family destination, with children warmly welcomed everywhere. And for honeymooners, it's hard to equal the romance and beauty of Matera.

The 2024 Italy Travel Guide

Where to Stay in Italy

Italy Travel Guides

Where to Go in Italy

When to Go to Italy

What to Do in Italy

Where to Eat & Drink in Italy

The Best Hotels in Italy

Getting To & Around Italy

Frequently Asked Questions about Italy

See Also: Italy: Tips & Information for First-Timers

Where is Italy?

Italy is a large, boot-shaped peninsula extending off the southern coast of Western Europe into the Adriatic, Ionian, and Tyrrhenian Seas. It shares its northern land borders with the countries of France, Switzerland, Austria, and Slovenia. Italy also has around 450 islands, the largest being Sardinia and Sicily. Italy is the 72nd largest country in the world, with a land area of about 301,340 square kilometers. The western tip of Sicily lies about 146 km across the sea from Tunisia in north Africa. The population of Italy is 60.36 million.

What is Italy famous for?

Renowned for its ancient historical sites (from the Parthenon to Pompeii) and the ultramodern fashion of Milan, Italy is also famous for rich, rustic cuisine (think pizza, pasta, and gelato), award-winning wine, and Renaissance art. Travelers flock to Rome, Florence, and the canals of Venice for old world charm and stunning architecture. The coastal regions of the Cinque Terre and Amalfi Coast are famous for their colorful fishing and resort villages set against dramatic cliffs. The rolling countryside of the Tuscany and Umbria regions draw visitors for vineyard wine-tastings and idyllic agriturismo stays.
When is the best time to travel to Italy?

Italy is wonderful to visit year-round, but the very best time to travel to Italy is in the spring (April and May, except Easter week), or fall (September and October). These periods are when Italy has some of its most pleasant weather, and crowds and prices aren't at their peak. Summer in Italy can be hot, crowded, and expensive. Italian cities sometimes see thinner crowds in August, but the heat can be searing, and many family-run businesses are shut down as their owners take vacation. Winter in northern Italy is often often cold, wet, and gray, but areas south of Rome are more temperate.

Shoppers will find bargains in midwinter and late summer, during the twice-yearly sales seasons. Winter sales begin shortly after New Year and continue until around mid-February, summer sales take place in July and August. Fashion Week takes place four times yearly in Milan, bringing supermodels, industry big-wigs, and large crowds. Italian wine country is best to visit either in the spring, when it's at its most scenic, or in the fall during harvest season – though winter visits ensure more time to meet with winemakers, who are less busy during this time.

The most popular tourist sites in Italy, like the ancient city of Pompeii, can be best to visit during the late fall and winter months, when you'll miss most of the crowd-toting tour buses. For the best possibility of good weather during this time, plan your trip for November and April. Agriturismi – working Italian farms with guest accommodations that can range from basic to lavish, are open throughout the year, but are best to stay in during the spring and fall, when you'll avoid the high heat of midsummer.

Where are the best places to go in Italy?
The best places to visit in Italy include large, old-world cities like Rome, Milan, Venice, and Florence, as well as charming smaller towns like Mantua and Assisi. The best places in Italy for a relaxing vacation include beautiful resort-laden Lake Como, Cortina d'Ampezzo ski resort in the Dolomites, and the breathtaking Amalfi Coast.

Lovely beaches dot the Italian coastline in the east, on the west, and across the islands of Sicily and Sardinia, making it easy to combine a sightseeing tour with some relaxing time spent on the sand.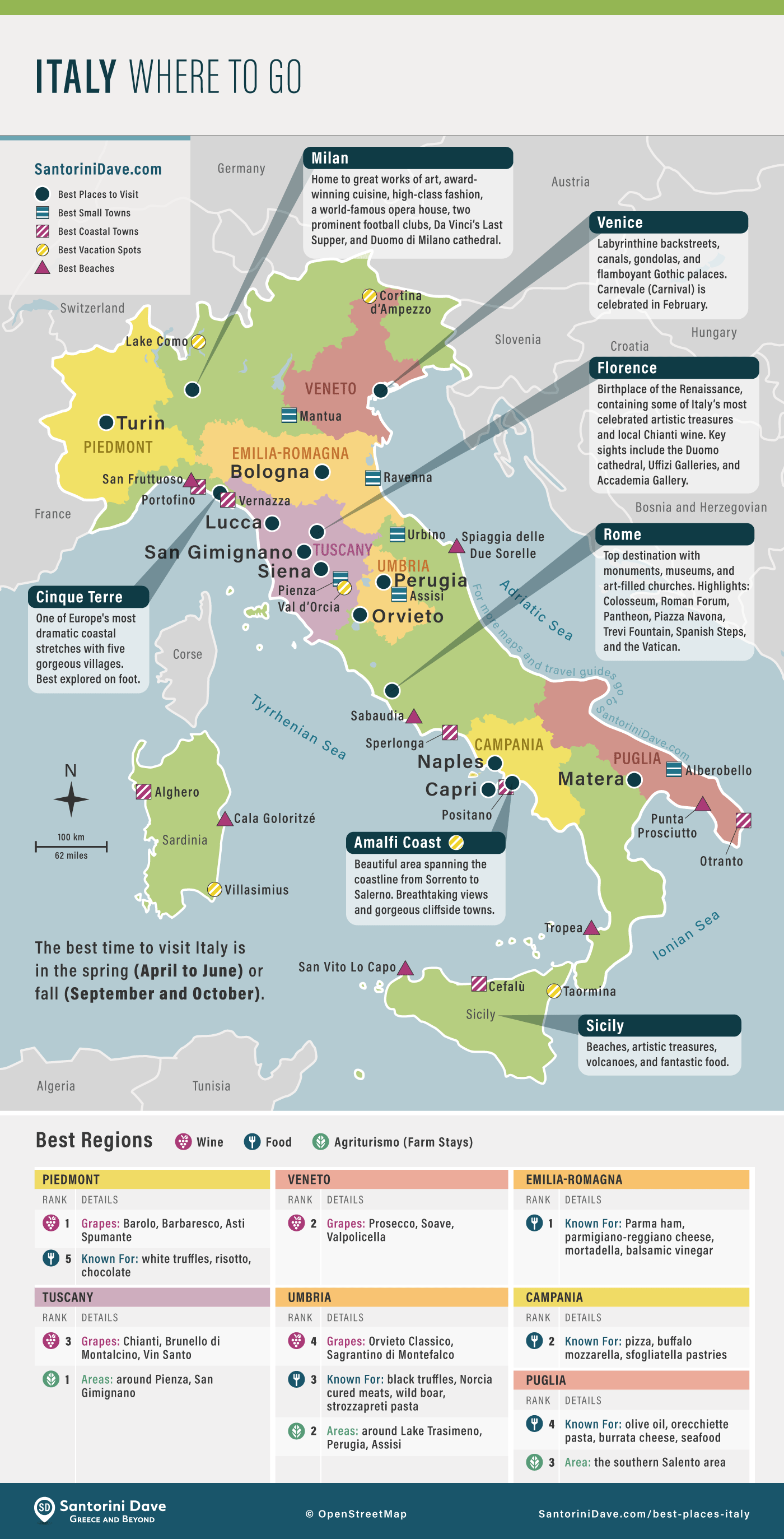 Although most of the must-see sightseeing and best wine regions are found in the north of Italy, southern Italy offers truly distinctive experiences that are well-worth a visit. Among the most unique places to visit in Italy are the the conical stone village of Alberobello in the Puglia region, and the cave-dwelling town of Matera in nearby Basilicata.

What currency is used in Italy?

As part of the European Union, Italy uses the euro (€). Most major shops and restaurants across Italy, especially in larger cities, accept credit cards, sometimes with a minimum purchase required. ATMs are plentiful in large Italian cities, and generally easy to find in most smaller towns, and it is a good idea to have some cash on hand for small purchases, bottled water, and snacks.

Tipping in Italian restaurants is not expected, but is increasingly appreciated as a thanks for good service; generally €1 per diner or a simple rounding up of the bill to the nearest €5 mark. Tipping a taxi driver in Italy is only expected for exceptional service, or if they've helped with luggage or directions; one to a few euros is appreciated. Housekeeping in full-service Italian hotels should be tipped €1 per day. Tipping in Italy is always done in cash, even when a bill is paid via credit card.
Read More