Las Vegas › Kid-Friendly Hotels
Updated: November 3, 2023
By Santorini Dave
Best Family Hotels in Las Vegas
• Best Pool: Mandalay Bay
• Family Suite: Jockey Club Suites
• Family of 4: Four Seasons
• Family of 5: Hilton Vacation Club
• Family of 6: Tahiti Resort
Las Vegas Family Hotels – Tips & Advice
The 7 Best Hotels for Families in Las Vegas
A casino-free/non-smoking hotel at the top of Mandalay Bay Resort puts families first as evidenced by pint-sized robes, goodies, and concierge service with kid adventure in mind. Choose between the Four Season's private pool on the roof or access the wave pool, lazy river, and swimming pools at the Mandalay Bay (pictured below). This is where we stayed on our most-recent family visit to Las Vegas.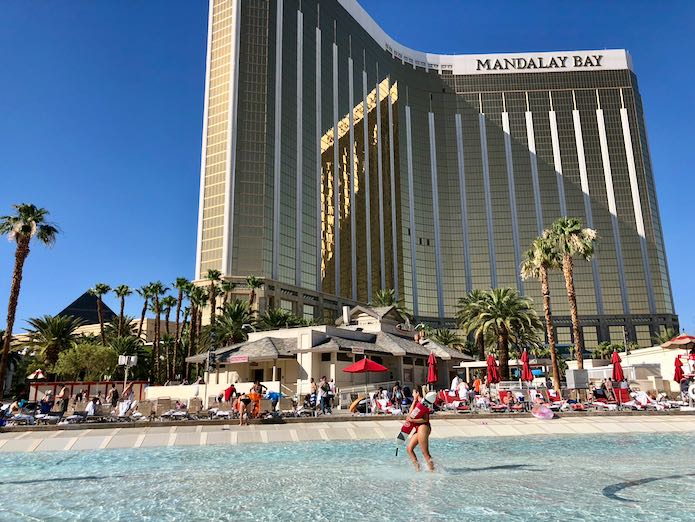 The expansive aquarium in the lobby is reason enough to bring the kids to the Mandalay Bay but there is also the amazing pool complex that is in a class of its own. It boasts a wave pool, lazy river, and three full-size pools with an actual sandy beach. Spacious rooms that you don't have to cross a casino to reach make it a comfortable stay.
The New York skyline wrapped by an impressive roller coaster will tempt thrill-seeking kids and adults (as long as kids are 54″ tall). A Coney Island-themed midway arcade provides games and shopping. The pool is small by Vegas standards but boasts a lot of shade to protect young skin.
4. Courtyard Hotel (midrange) – South Las Vegas
Large, clean rooms and a friendly staff make this a great choice. The pool is small but also has a large hot tub. An on-site market allows you to pick up a snack or create a mini-meal. There's a complimentary shuttle to the strip or airport. King rooms with a sofa bed and king sleep family of 4.
An awesome pool, waterslide, and shark aquarium are the highlights here. Great location for families who'd rather stay downtown than on the strip.
A good budget option for staying on the Strip. The sword and sorcery theme is still evident but fading fast as it tries to get rid of the kitsch that made it famous. The medieval show will entertain with jousting knights, dancing maidens, and eating with your fingers. The pool area was just doubled in size and has an all-ages pool with waterslide. The "Widescreen" rooms have recently been redone and are much better than the "Standard" rooms. Midway games and video arcade on-site.
The quintessential "kids hotel" in Vegas. There are two good size pools with jacuzzis and a third at the KOA RV Park next door. The midway features carnival games, a large arcade, and amazing circus acts that go from noon to midnight. If thrills are what you want, visit Adventuredome to scream your way through one of 25 rides and attractions. Rooms are modest in size but are recently remodeled. Children stay free.
Family Apartments in Las Vegas
Read More