Greece › Crete › Rethymnon Hotels
by Santorini Dave • Updated: August 8, 2022
The 7 Best Hotels in Rethymnon

Hotel Phone: +30 28310 58250, +30 28310 26213
Romantic all-suite property set in Venetian-era buildings (Venetian arches, antiques) featuring a total of 10 individually decorated, delightful, character-filled lounge apartments & suites with antique fireplaces and fittings, carved sofas, jacuzzi bathtubs, iron artwork/hand-painted beds, refrigerators, glass wardrobes. Top-end apartments add balconies, while the spirited candy suites (with names like cookie, brownie, jelly) have elements like antique chairs, handmade pillows, canopy beds. The hotel restaurants (fine dining Avli and Cretan meze bar Raki Ba Raki) and new wine bar Enoteca are among the best in Crete – breakfast in the Avli courtyard is included. Cooking classes, wine tastings, and olive oil tastings are available.

Hotel Phone: +30 28310 56634
Exquisite boutique hotel set in a restored 14th-century Benedictine monastery amid the narrow alleys of the historical center, with 12 medieval-like, luxury suites with beds tucked under stone arches, wooden and terracotta flooring, beamed ceilings, walk-in showers, and sofa beds. Upgraded suites add private verandas and handmade orthopedic mattresses. Has a fantastic wine cellar and Cretan-fusion restaurant set in a stunning 600-year-old courtyard. Wine tastings and cooking classes are on offer.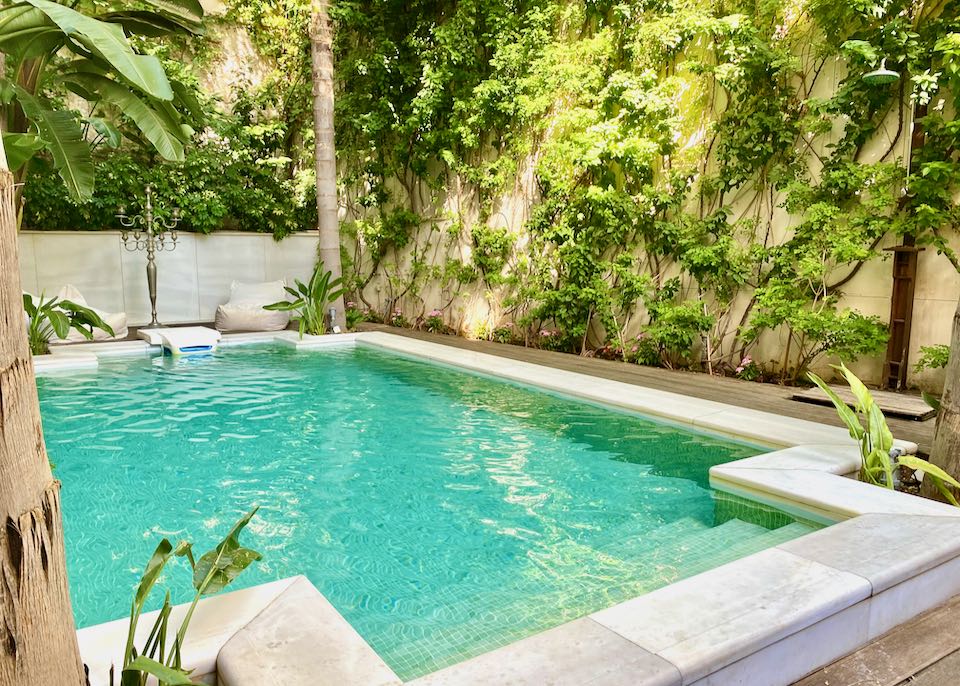 Hotel Phone: +30 28310 51001
Elegant, boutique hotel with just 34 rooms and suites spread over two buildings (the Estate and the Palazzo, which dates to the Venetian occupation) in the heart of Rethymnon's Old Town. Each building has its own pool in a romantic courtyard garden; other amenities include a traditional hammam and wellness spa. Guests may take refreshments at the Palazzo Pool Bar, serving drinks and light bites from morning until well into the night, or at the all-day Estate Restaurant, with a rich menu of Cretan and Mediterranean plates. Breakfast is always included in the rates with a buffet for Palazzo guests and an a la carte menu for Estate guests. Rooms and suites may offer pool, city, or sea views, many with terraces or balconies. Master Suites feature indoor jacuzzi baths, while Spa Suites boast outdoor jacuzzis. Wonderfully located just steps from the 17th-century landmark Rimondi Fountain, 17th-century Neratze Mosque, the Museum of Contemporary Art of Crete, and the picturesque Venetian harbor.

Hotel Phone: + 30 28310 35058
Picture-perfect, renovated old Venetian castle house with 8 historical, Venetian-style luxury rooms & suites featuring exposed stonework, four-poster beds, refrigerators, mini-bars, balconies/Juliet balconies, jacuzzi bathtubs, and courtyard views. Suites add sitting areas. The old town center is a few minutes' walk away.
Hotel Phone: +30 28310 55181
Massive family-friendly beachfront resort with a great range of elegant, bright guestrooms, suites, bungalows, 2-story maisonettes & traditional villas, with stone/wooden floors, handcrafted furniture, balconies/terraces, mini-bars (on request), refrigerators, and garden/sea views. Maisonettes and family bungalows have colorful kid's bedrooms, while suites feature hand-carved furniture, sofa beds, and gardens with private pools. The top-end beachfront villas have private plunge pools, jacuzzi bathtubs, and large terraces with pergolas. The resort boasts a fantastic sky bar and restaurant.

Hotel Phone: +30 2831 028667
Good value hotel an easy walk from the beach and the Old Town. Nice pool and very friendly staff. The one-bedroom apartments are great for a family of four.

Hotel Phone: +30 2831 200400
Nice 4-star hotel right on Rethymnon's best stretch of beach. The hotel has a fun relaxing atomsphere without having a party vibe. The Old Town is a 5-minute walk away.