Istanbul › Istanbul Hotels
Updated: April 1, 2023
By Santorini Dave
Our Favorite Istanbul Hotels
• 5-Star: FS Bosphorus
• 4-Star: The Bank
• 3-Star: Hanedan Hotel
• For Families: FS Bosphorus
• For Couples: Ibrahim Pasha
• Hotel Pool: Ciragan Palace
• Near Airport: YotelAir
• Blue Mosque: Ibrahim Pasha
• Hagia Sophia: FS Sultanahmet
Istanbul Hotels – Tips & Advice
The 37 Best Hotels in Istanbul

Hotel phone: +90 212 402 3000
This world-class hotel has been beautifully fashioned from a century-old former jail, and much of the architectural style still remains throughout. All rooms and suites are attractively furnished and most overlook the serene inner courtyard and lush gardens. The historical design precludes a pool, but guests can utilize all the facilities (via a free shuttlebus) at the other magnificent Four Seasons hotel alongside the Bosphorus Strait. What's more, it's so convenient: only a few minutes' walk to three of Istanbul's premier sights – the Blue Mosque, Hagia Sophia Museum, and Topkapi Palace – and the excellent metro which links many of the city's other major attractions.
• Hotel website • Check prices for Four Seasons Sultanahmet

Hotel phone: +90 212 381 4000
Majestically positioned between the main road and Bosphorus Strait, the Four Seasons is based around a nineteenth-century former Ottoman palace, though most rooms and suites are in stylish wings on either side. All accommodations are lavish and spacious, and the resort-like pool is one of the city's finest: sparkling blue, waterfront, flanked by sunbeds, and attached to a jacuzzi. With substantial lawns and a playground, the hotel is also ideal for families. It is a little isolated, however: in the suburbs, about 2km from Kabataş with its waterside cafés, museums, ferries, metro station, and amazing funicular to the upmarket shopping district of Taksim.
• Hotel website • Check prices for Four Seasons Bosphorus

Hotel phone: +90 212 326-4646
Magnificently positioned alongside the Bosphorus Strait and with a nineteenth-century former palace onsite, the Kempinski is unrivaled in the capital, if not the entire country, for sheer opulence. The design of the hotel and layout of the shady grounds are very much like a beach resort, and the infinity pool is double-layered, meters from the sea, and with a section for children. Many of the lavish rooms face the water (and are suitable for families), and the amenities are world-class – from the boutiques arcade to the playground and waterfront cafés. The Turkish Bath in the spa should not be missed. It is a little isolated, however: about 2.5km from Kabataş, with its waterside cafés, museums, ferries, metro station, and amazing funicular to the upmarket shopping district of Taksim.
• Hotel website • Check prices for Çırağan Palace Kempinski

Hotel phone: +90 216 422 8000
If you want a central location near the sights, this isn't it. If you want a small boutique hotel right on the Bosphorus, then this amazing hotel is for you. For the best effect, arrive by boat.
• Hotel website • Check prices for Sumahan on the Water

Hotel phone: +90 212 275 8888
The Shangri-La offers arguably the city's premier location: alongside the Bosphorus Strait, surrounded by museums, facing a ferry terminal, and within a brief stroll of a metro station and the remarkable funicular to the classy shopping district of Taksim. Although the outside looks fairly bland, the interior is contrastingly very ornate: e.g. the lobby with marble staircases, porcelain vases, and dangling chandeliers. Yet rooms are more elegant and feature old-style prints and soothing colors. Across the three basement levels are some impressive amenities, including an indoor pool with exotic wall decorations, and the main restaurant is just meters from the water.
• Hotel website • Check prices for Shangri-La

Hotel phone: +90 212 377 8888
The luxurious CVK is located just steps from Taksim Sqare, and a short walk to the Kabatas transportation hub or Dolmabache Palace along the waterfront below. The views of the Bosphorous Straight from throughout the hotel but especially the restaurant are breathtaking and some of the best in the city. Accomodation ranges from reasonably-priced studios to 5-bedroom apartments with kitchen and washer/dryer. The hotel serves a great buffet breakfast, and the bar has good live music at night.
• Hotel website • Check prices for CVK Park Bosphorus

Hotel phone: +90 212 326 1100
Towering over the surrounding parks, upmarket suburbs, and coastline, this majestic hotel is based in two enormous wings. The layout and amenities are more like a tropical resort than an inner-city hotel, especially the massive outdoor pool surrounded by extensive gardens and inviting sunbeds as well as the indoor pool. All rooms and suites are spacious and views are impressive from the floor-to-ceiling windows, so it's always popular. The serenity means it is a little isolated, however – but only a quick taxi trip to major attractions and a quick walk (via the nearby park) to the waterside cafés, museums, ferry terminal, and metro station at Kabataş.
• Hotel website • Check prices for Swissotel

Hotel phone: +90 212 315 1234
Along a leafy cobblestoned lane with a Gucci boutique on the corner, the Park Hyatt offers arguably the most fashionable address in Istanbul. Within a striking Art Deco building, the interior is contrastingly contemporary but no less appealing than the exterior. Many rooms (all wonderfully soundproofed) face the fascinating streets lined with bistros, consulates, and parks – and the rooftop pool is long and shady. A pleasant stroll leads to the remarkable teleferik (cable car) that heads across the valley to Taksim, which offers even more places to eat, drink, and shop, as well as a station for the excellent metro.
• Hotel website • Check prices for Park Hyatt

Hotel phone: +90 212 334 4444
This hotel looms above everything else in an upmarket inner-city district between the Bosphorus Strait (and its ferry terminals) and Taksim (with its metro station and top-end shopping). With numerous shops on lower levels, the lobby is adorned with chandeliers and refined enough for a piano player. Rooms are cozier and more traditionally decorated and feature Turkish-style wall hangings and prints – and the exceptional views include the mammoth football stadium nearby and the distant ocean. And there is a Turkish hammam and two pools: one long, outdoors, and flanked by three jacuzzis; the other much larger and on a basement level.
• Hotel website • Check prices for Ritz Carlton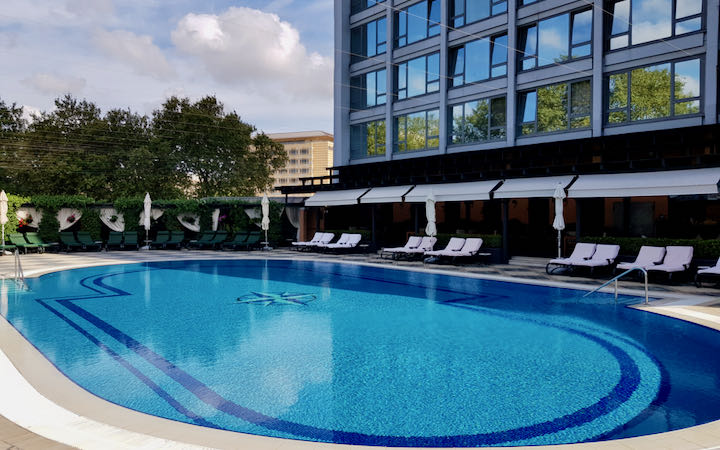 Hotel phone: +90 212 368 4444
Towering over an adjoining park, the InterContinental is the closest five-star hotel to Taksim Square, a vast pedestrian plaza surrounded by classy shops and cafés (and with a station for the excellent metro). Within the hotel, there's plenty of space for a garden-side café, substantial oval-shaped pool, shopping arcade, and lobby with a spiral staircase. All categories of rooms are very attractive: the soft colors of the sofa, cushions, linen, and carpet match beautifully, and as the only high-rise in the area, views from the full-length windows are among the city's finest. With abundant gardens and a children's pool, it's also ideal for families.
• Hotel website • Check prices for InterContinental

Hotel phone: +90 212 522 3200
Except for the Economy Rooms in the basement, all accommodations are bright and airy, and many face the delightful courtyard café packed with palms. With an annex of more rooms over the road, the Ottoman-era buildings face a quiet side street lined with competitively-priced bistros. The hotel is also an easy walk from the renowned Blue Mosque, Grand Bazaar, and other must-sees, as well as the excellent metro. The main attraction for many, however, is the pool – substantial, outdoor, and surrounded by whitewashed walls – it's arguably the best of its kind in the old town.
• Hotel website • Check prices for Sura Hagia Sophia
12. Hilton – Bosphorus

Hotel phone: +90 212 315 6000
Next to an enormous convention and exhibition center, the Hilton is a major landmark with faultless facilities. Rooms offer rare touches of class such as old-fashioned lamps and dark wooden furniture, as well as balconies with broad views of the city and Bosphorus Strait. A standout feature is the magnificent outdoor pool: within lavish gardens, it's like a tropical island resort, and with a tennis court, playground, and Family Rooms, the Hilton is perfect for those with children. A lovely short stroll from Taksim, an upmarket shopping precinct with a station for the very useful metro.
• Hotel website • Check prices for Hilton

Hotel phone: +90 212 518 0395
The old town is crowded with places to stay, but this hotel is certainly a cut above the rest: the staff is particularly helpful, the free breakfast is first rate, the rooftop terrace is impressive (especially at sunset), and the lovingly furnished guest lounges are lined with bookshelves. Like most hotels in this overbuilt area, the beautifully renovated rooms are compact but the deluxe ones do feature balconies and walk-in wardrobes. What's more, the setting is historic and the location ideal: quietly set one block from the tourist buses, surrounded by quaint street-side cafés, and only a brief stroll to the major sights and excellent metro.
• Hotel website • Check prices for Ibrahim Pasha

Hotel phone: +90 212 528 0973
The overall design and layout of the lobby and restaurant are certainly more modern than most guesthouses in the historic old town, but rooms in this nineteenth-century building still exude an old-style charm and elegance. The hotel is on a corner, so all rooms offer decent views (and are well soundproofed) – especially those facing the road, which is virtually free of cars (but not trams) and lined with bistros, teahouses, and travel agencies. It's also very close to the sprawling Gülhane Park, an inviting respite from the relentless tourist buses, and alongside the magnificent Hagia Sophia museum.
• Hotel website • Check prices for Boutique Saint Sophia

Hotel phone: +90 212 368 1234
The pleasingly low-level and surprisingly spacious Grand Hyatt offers the sort of shady gardens and attractive resort-style pool usually absent at rival hotels. The roominess continues in the brightly tiled lobby, airy guest lounges, and sumptuous rooms and suites which overlook the street or pool and gardens. With all accommodations catering to three or four people, and a children's pool, it's just right for families – and is pet-friendly, too. Best of all is the location: close to Taksim Square, a pleasant shopping plaza with a station for the reliable metro to the old town.
• Hotel website • Check prices for Grand Hyatt

Hotel phone: +90 212 516 9696
The Arcadia is brash and fashionable but no less appealing. Distinct advantages over small, old-fashioned guesthouses nearby are that rooms (as well as the lobby and restaurant) are more spacious, the views are certainly more memorable, and a gym and sauna are offered. It's along a side street distant from tourist buses, but still just a short stroll to several major attractions. As the tallest building in the area, views from some rooms – and, certainly, the rooftop restaurant – are arguably the finest in the old town and include the nearby Blue Mosque and Hagia Sophia museum.
• Hotel website • Check prices for Arcadia Blue

Hotel phone: +90 212 381 2121
The W is at a V-shaped junction lined with refined bistros in a top-end residential suburb distant from the tourist buses. The exterior is Ottoman-influenced, low-level, and with neutral colors, yet the interior could not be more contrasting. Through the tiny (and easy-to-miss) entrance and glass corridor reminiscent of a nightclub is the ultra-trendy lobby and restaurant. Rooms are also very sleek, chic, and compact, and the décor minimalist. Amenities are limited to a gym and terrace because of the layout, but it's all about the uber-fashionable design and location: close to Kabataş, with its ferry terminal, museums, waterside cafés, metro station, and funicular to the classy shopping district of Taksim.
• Hotel website • Check prices for W Istanbul

Hotel phone: +90 212 528 0806
Externally similar to other hotels along the quiet backstreets of the energetic old town, the Sultania is still truly distinctive. Via arched corridors of marble, ornate cornices, and floor-to-ceiling art, all rooms are individually named and themed after a wife of a Turkish sultan. Oozing so much charm and elegance, rooms also feature the lady's portrait above the bed and a script explaining her history – as well as exquisite bathrooms and cute alcove seating. Adding further to the immense appeal are the restaurants along the street and on the roof, sizable indoor pool attached to the gym and Turkish bath, and free buffet breakfast.
• Hotel website • Check prices for Sultania Boutique Class
19. Amira – Sultanahmet

Hotel phone: +90 212 516 1640
This delightful boutique hotel is perfectly positioned within the historic and atmospheric old town. It is surrounded by alluring places to eat, drink, and shop, and within a short stroll of three of Istanbul's major attractions: the Blue Mosque, Hagia Sophia museum, and Topkapi Palace. (And the metro linking other city sights is also close to the hotel.) All rooms are lovingly decorated with old-style furniture and ceiling decorations, and some are large enough for families of six. Adding greatly to the appeal is the very helpful staff, fitness center, rooftop bar with sea views, and downstairs café offering an excellent buffet breakfast (that is included).
• Hotel website • Check prices for Amira

Hotel phone: +90 212 293 9494
This is a wonderful little hotel with charm and warmth. Rooms are simple yet marvelously decorated. Located just off busy, funky, and fun Istiklal Street. The oldest Turkish bathhouse in Istanbul is just steps away.
• Hotel website • Check prices for Corinne Art & Boutique Hotel

Hotel phone: +90 212 293 1500
Wonderful hotel with a tram stop, Taksim Square, and many good restaurants within walking distance. The staff is amazing. Rooms are large and each has a small kitchenette.
• Hotel website • Check prices Witt Suites

Hotel phone: +90 212 513 2550
It may not blend in so well with the old-style buildings nearby, but the hotel is cozy, comfortable, and fashionable throughout, and the amenities (e.g. gym, but no pool) are as expected at a mid-priced Hilton hotel. With a brightly-colored sofa and quirky art, rooms are a little funky and all can accommodate at least three people. Being on a prominent corner, views of the old town from most rooms and the rooftop bar/restaurant are unobstructed. It's less than five minutes to major sights such as the Blue Mosque and close to the excellent metro and the lovely Gülhane Park.
• Hotel website • Check prices for DoubleTree by Hilton

Hotel phone: +90 212 512 8676
Much more alluring than other hotels in the vicinity, the Romance is, indeed, intimate and exclusive. The class is evident throughout – from the wall decorations in the restaurants to the stylish lobby and the helpful staff. Complete with old-style wooden furniture, all rooms are tastefully decorated with particularly attractive bathrooms. And within this compact hotel in this overbuilt district are an indoor swimming pool, spa, and hammam (Turkish bath). Within a short walk of some of Istanbul's major attractions, such as the Blue Mosque and Grand Bazaar, the metro passes the front door and the backstreets overflow with cute bistros and bars.
• Hotel website • Check prices for Romance Boutique Class

Hotel phone: +90 212 283 0055
The best boutique hotel in the hip and happening Karakoy neighborhood – surrounded by bars, cafes, and art galleries. Beautifully decorated rooms. The rooftop bar has spectacular views of the water and city.
• Hotel website • Check prices for Bank Hotel

Hotel phone: +90 212 528 4344
A wonderful and charming hotel in a wonderful and charming neighborhood. Many rooms overlook Gulhane Park, and good restaurants and the tram are steps from the front door. The hotel offers tours and free cooking courses and is located a ten-minute walk from the sights of Sultanahmet.
• Hotel website • Check prices for Sirkeci Mansion

Hotel phone: +90 212 327 2828
Being oriented mostly towards business people (especially Turkish) means that it's more affordable than higher-rated tourist hotels nearby. No pool, but the other amenities (e.g. gym and business center) are of a high standard expected of a hotel within the Marriott chain – and rooms are unfussy but certainly comfortable. Faces a shady street with middle-class housing far from tourist buses and overpriced restaurants. The bistros, boutiques, and metro stations around the upmarket Taksim area are accessible via the remarkable teleferik (cable car) close by.
• Hotel website • Check prices for AC Macka

Hotel phone: +90 212 334 8300
Great location near Istiklal Street and Taksim Square. This is a fun and active area with many bars, restaurants, clubs, galleries, art museums, and shops in all directions. Rooms are clean and modern. Nice pool too.
• Hotel website • Check prices for Marmara Taksim

Hotel phone: +90 212 398 0000
On a corner of a lane teeming with cafés in a pulsating part of the old town, the Mercure is immediately striking – particularly the lobby with brick walls and tiled floors, and the restaurant which is so chic and spacious. Rooms feature an enchanting fusion of the old (e.g. gold-plated Turkish-style bathroom fittings) and the new (e.g. abstract wall art). Many rooms offer fascinating street views and all can comfortably accommodate three to six people. Also, very handy to stations for the excellent city metro and regional trains.
• Hotel website • Check prices for Mercure

Hotel phone: +90 212 527 9090
The distinctive Mediterranean-style design and welcoming lobby make the Neorion much more appealing than most other hotels within this quiet residential district of the old town. Some amenities are as expected – e.g. rooftop restaurant with broad views – but others are a surprise, such as the sizable indoor pool with jacuzzi and traditional Turkish bath attached. The lobby features funky furnishings, while, in contrast, rooms are lined with prints of old Constantinople (as Istanbul was known). As well as great rates (that include breakfast), it's also within walking distance of major attractions and stations for the city metro and regional trains.
• Hotel website • Check prices for Neorion

Hotel phone: +90 212 513 6150
Wonderful location just steps from the Hagia Sofia and the tram stop. The staff here is very friendly and helpful. This is a good value hotel for the location and quality.
• Hotel website • Check prices for Ottoman Imperial
31. Idylle – Sirkeci

Hotel phone: +90 212 511 0290
This lovely and recently-renovated boutique hotel is on a prominent corner within a bustling area of the old town, and a stop for the excellent metro is just outside the front door. All rooms (which are adequately soundproofed) are attractively furnished and decorated, some overlooking the delightful Gülhane Park. Unusual among rivals, breakfast is included (and served on the rooftop restaurant/bar) and the exceptionally helpful staff is very aware of travelers' needs. In fact, a backpacker-style travel agency and office for the hop-on/off Big Bus Istanbul company is attached.
• Hotel website • Check prices for Idylle

Hotel phone: +90 212 458 0460
This pretty little boutique hotel is very close to three of Istanbul's major attractions: the Blue Mosque, Hagia Sophia museum, and Topkapi Palace. Past the likable courtyard garden café is the lobby with Byzantine-style marble and tiles. All rooms are stylish, especially the Junior Suites which face the distant sea, while some others offer views of the Blue Mosque that brand-name five-star hotels would charge the earth for. Also a short walk to the excellent metro, which connects more of the capital's many sights.
• Hotel website • Check prices for Sultanahmet Palace

Hotel phone: +90 212 224 9499
Inside a terraced building over 120 years old, the Lina wonderfully merges the old (e.g. antique furniture) with the new (e.g. contemporary art). One, two, and three bedroom apartments are very spacious and have been individually and lovingly decorated with genuine feminine touches by the effusive manager/owner. No space for any amenities, except a tiny terrace at the back, but the overwhelming attractions are the old-style charm and first-class location: in the Taksim area, close to a very long pedestrian street which extends between two metro stations and is packed with places to eat, drink, and shop.
• Hotel website • Check prices for Lina Taksim Pera

Hotel phone: +90 212 245 1270
This hotel is compact, hip, and very easy to miss. Sharing the same 120-year-old building with the classier Walton Taksim Pera hotel (also reviewed), the Peradays has been lovingly converted into a fashionable and affordable guesthouse. Each room features a different layout and is individually decorated: some have raised beds that allow more living space, while others have quaint Mediterranean-style balconies overlooking the quiet side street. In the Taksim area, the guesthouse is two blocks from a very long pedestrian street that's crowded with places to eat, drink, and shop, and stretches between two stations of the excellent metro.
• Hotel website • Check prices for Peradays
35. Azade – Sultanahment

Hotel phone: +90 212 517 7173
Great location in the Old Town. The rooftop restaurant (where the free breakfast is served) has great views of the surrounding sights. The Blue Mosque is less than a two-minute walk away.
• Hotel website • Check prices for Azade

Hotel phone: +90 212 518 8465
A charming, small, and family-run hotel in a residential area a five-minute walk from the Blue Mosque, Hagia Sophia, and Topkapi Palace. If you want warm and friendly hosts, this is your place.
• Hotel website • Check prices for Ahmet Efendi Evi

Hotel phone: +90 212 638 6258
Beautifully furnished with a warm atmosphere. Perfect location in the Old City and walking distance to all the tops sights. Triples and Family Suites are great for larger parties.
• Hotel website • Check prices for Sari Konak
The Best Areas for Visitors
Sultanahmet
The city's historic heartland, Sultanahmet is a showcase of grand churches, mosques and palaces built by order of Byzantine emperors and Ottoman sultans. Walk along any of this neighbourhood's cobbled streets and the layers of history are easy to discern – public squares where Byzantine emperors hosted chariot races, mysterious sunken cisterns built by Roman engineers, millennia-old churches commissioned by Justinian the Great and a profusion of mosques, tombs and medreses decorated with exquisite İznik tiles and richly coloured stained glass. Home to Turkey's two most revered monuments – Aya Sofya and Topkapı Palace – this part of the city is also where many of the country's most impressive museums are located, displaying priceless collections of Turkish rugs, mosaics and sculptures. There's more on offer than museums, too. Visitors can enjoy being pampered in the steamy surrounds of a meticulously restored Ottoman-era hamam, sip a glass of tea in one of the open-air cafes in tulip-laden Gülhane Park or shop for quality souvenirs in the atmospheric Arasta Bazaar. It's touristy, of course (almost every visitor to the city kicks off their itinerary here) but other parts of the city are easily accessed via taxi or tramway so it's easy to escape the sightseers and head to other neighbourhoods to check out the local bar, restaurant and club scenes. Accommodation options in the streets below the Blue Mosque are excellent and cater for all budgets.
The Best Eateries in Sultanahmet
Eminönü
İstanbul is often described as a crossroad linking east and west, and nowhere is this more apparent than at Eminönü. Located where the Golden Horn, Bosphorus and Sea of Marmara meet, the atmospheric docks here are the busiest in the city. Ferries from the Asian suburbs arrive and depart regularly, as do large Bosphorus-bound tour boats and smaller Golden Horn commuter services. Surrounding the docks is a profusion of colourful shopping precincts and bazaars including the famous Ottoman-era Spice Bazaar, the disheveled streets of the Küçük Pazar (Little Bazaar) below the Süleymaniye Mosque and the bustling mercantile hub of Tahtakale, which links Eminönü with the Grand Bazaar. Crowds are a given here – made up of both locals and tourists – but there are a few tranquil spots where visitors can regain their breath and bearings, including the diminutive but gorgeous Rüstem Paşa mosque on Hasırcılar Caddesi near the Spice Bazaar and the dockside Yeni Camii (New Mosque) with its distinctive cascading domes and tapered minarets. Easily accessed by tram from both Sultanahmet and Beyoğlu, it's a neighbourhood that is best explored during the day, particularly around lunchtime when the many local eateries and food stands do a brisk business (head to Hocapaşa Sokak on the Eminönü/Sirckeci border to find the best of these). At night, most of the streets are graveyard-quiet.
The Best Eateries in Eminönü
Beyazıt/Grand Bazaar
Crowning one of the city's seven hills, the magnificent Süleymaniye Mosque is the major landmark in this neighbourhood, but it's not the greatest attraction – that honour belongs to the Kapalı Çarşı (Grand Bazaar), a sprawling and atmosphere-laden shopping mall dating from 1461 that is an essential stop on every visitor's itinerary. Most of the buildings in this part of town date from the Ottoman era, and exploration by foot really pays off – there are pretty timber houses, ornate tombs and imperial mosques aplenty. Head here around lunchtime to grab a simple but tasty snack at one of the innumerable eateries in and around the bazaar, and also consider investigating one of the traditional çay bahçesis (tea gardens) where locals love to catch up with friends over a tulip-shaped glass of tea and a fragrant nargile (waterpipe). Like neighbouring Eminönü, the street action here is limited to the daylight hours – it's very quiet at night. Two major tram stops, Beyazıt/Grand Bazaar and Çemberlitaş, service the bazaar and the Süleymaniye Mosque is only a short walk away.
The Best Eateries in Beyazıt/Grand Bazaar
Western Districts
To head off the usual tourist paths and discover a very different İstanbul you need go no further than the neighbourhoods collectively known as the Western Districts. Easily accessed by foot or bus from Beyazıt, this part of town is predominantly residential and is staunchly conservative – families are large, mosques are well patronized and headscarves are the rule rather than exception. A saunter along the major shopping strip of Fevzi Paşa Caddesi gives a fascinating insight into current fashions and fads, and a visit to one of the many local street markets offers plenty of local colour. The best of these are the bustling Çarşamba Pazarı (Wednesday Market), held in the streets surrounding the huge Fatıh Mosque, and the Kadınlar Pazarı (Womens Market) nestled in the shadow of the ancient Aqueduct of Valens in Zeyrek. A short walk west from Fatıh is one of the city's great Byzantine treasures, the mosaic-laden Karıye Museum (Chora Church). Its off-the-beaten-track location next to the massive city wall built during the rule of Emperor Theodosius II once meant that this exquisite monument remained unvisited by most tourists, but in recent years it has started to feature on a growing number of itineraries. Also worth visiting is the Ecumenical Patriarchate of Constantinople, symbolic headquarters of the Greek Orthodox Church. Located in Fener on the Golden Horn, the Patriarchate's main church was built in the 19th century and features an elaborately gilded icon screen.
The Best Eateries in the Western Districts
Beyoğlu
There's a lot more to İstanbul than monuments, something that is immediately apparent when visiting the areas north of the historical peninsula. Accessed over the Galata Bridge, the neighbourhoods of Karaköy, Tophane and Galata are an easy walk from Sultanahmet and Eminönü, and those clustered around Taksim Square and the pedestrianised thoroughfare of İstiklal Caddesi are only a short tram ride away. All of these neighbourhoods are replete with cafes, eateries and boutique accommodation options, but each also has a unique flavor and specific attractions – Tophane has the cutting-edge İstanbul Modern gallery, Karaköy and Cihangir are home to lively bar and club scenes, Galata is known for its jazz venues and cultural centres, Asmalımescit and Tepebaşı are full of popular meyhanes (traditional Turkish taverns), Tünel hosts an historic lodge where Dervishes whirl and the cobbled streets of Cukurçuma are where you'll find some of the city's most alluring antique shops and designer boutiques. Commercial galleries and privately endowed museums are thick on the ground – top choices include the Pera Museum in Tepebaşı, Arter on İstiklal Caddesi and Orhan Pamuk's Museum of Innocence in Cukurçuma – and one of the city's best produce markets, the Balık Pazarı, is found just off Galatasaray Square midway along İstiklal Caddesi. The action in this part of town is 24hr, crowds are a given and the party atmosphere is infectious. Don't miss it.
The Best Eateries in Beyoğlu
Nişantaşı
Only a 30-minute walk from Beyoğlu, the modern neighbourhood of Nişantaşı is also easily reached via metro from Taksim Square (Osmanbey station). The local equivalent of Beverley Hills or Knightsbridge, this is where İstanbul's moneyed elite live and where cashed-up locals head to buy designer homewares and fashion. It's also where many business travellers choose to stay while in town, with a profusion of five-star and boutique hotels on offer. High-end department stores Beymen and Vakko are found on Abdi İpekçi Caddesi, as are big-name international labels such as Valentino, Louis Vuitton and Salvatore Ferragamo. Celebrated local designers including Gönül Paksoy have boutiques on Atiye Sokak and popular chains such as Yargıcı and Paşabahçe are located on the major thoroughfare of Teşvikiye Caddesi. After shopping up a storm, locals can often be found enjoying a power lunch or catch-up coffee at one of the many cafes and restaurants on the leafy side streets.
The Bosphorus
Visitors have been sailing up and down the mighty Bosphorus Strait ever since Greek and Roman times, and the village-style neighbourhoods strung along its Asian and European shores have been home to disparate communities ever since. Before the Republic, İstanbullus of Armenian heritage often lived in Örtakoy and Kuruçeşme, Arnavutköy was popular with the Jewish community and those with Greek heritage often lived in Arnavutköy, Örtakoy or Yeniköy. These days the Bosphorus neighbourhoods tend to be divided along different lines – some trendy, some moneyed, some bohemian and some religiously conservative. The strait is lined with ornate timber mansions built by the Ottoman elite (some now converted to five-star hotels complete with private launches), and monuments include the majestic fortress of Rumeli Hisarı, constructed by order of Mehmet the Conqueror in 1452. The hilly hinterland is dotted with forests, formal gardens, Ottoman palaces, Art Nouveau villas and an ever-expanding portfolio of luxury residences. To explore, hop aboard the full Bosphorus cruise operated by Şehir Hatları, which sails all the way to the Black Sea, and then make your way back to town by bus, stopping to visit palaces, castles and atmospheric village squares on your way. Alternatively, buy a ticket for one of the shorter Bosphorus cruises leaving from the Eminönü and Kabataş docks, which travel in a loop to the Fatih Bridge and back, or for the handy hop-on, hop-off service operated by Dentur Avraysa.
Kadıköy
Hopping aboard a ferry travelling between Europe and Asia is one of İstanbul's most memorable experiences. Taking a mere 25 minutes, this crossing of continents offers photographic opportunities aplenty (this is, after all, home to one of the world's most spectacular skylines) and it also gives passengers a fascinating insight into local life – hipsters sit next to Islamic clerics, designer-suited businessmen next to headscarved housewives, university students next to labourers. Some chat, others read or doze, many order a glass of tea and a chewy, sesame-studded simit (bread ring) from the on-board waiters. Of the two major ferry routes between Eminönü and the Asian suburbs, most visitors choose to take the service to the predominantly residential district of Kadıköy, best known for its fresh produce market. A short walk from the ferry dock, this is where you should come to sample the city's best Turkish coffee at city institution Fazıl Bey, eat at one of its most influential restaurants Çiya, and admire the top-quality fruit, vegetables, cheese, fish and other produce sold at the many street stalls and shops on colourful Güneşlibahçe Sokak. Shopping opportunities of a different form are available at boutiques in the upmarket residential enclave of Moda and on glitzy Bağdat Caddesi, which is known for its luxury shops and pricey cafes. For a more down-to-earth experience, Kadife Sokak and Moda Caddesi are littered with bars, cafes and clubs.
Read More
All Istanbul Hotel Reviews