SD › Best Places to Stay in Istanbul
Updated: July 6, 2023
By Santorini Dave
Our Favorite Istanbul Hotels
• 5-Star: Four Seasons Bosphorus
• 4-Star: The Bank
• 3-Star: Hanedan Hotel
• For Families: Four Seasons Bosphorus
• For Couples: Ibrahim Pasha
• Hotel Pool: Ciragan Palace
• Near Airport: YotelAir
• Blue Mosque: Ibrahim Pasha
• Hagia Sophia: Four Seasons Sultanahmet
The Best Areas to Stay in Istanbul
Although not Turkey's capital, Istanbul has been regarded as one of the world's greatest cities for centuries. Still dotted with remnants of Roman and Greek empires and a Christian heritage, it uniquely straddles the divide between Europe and Asia and is also heavily influenced by the region's dominant religion, Islam, and its Middle Eastern links.
With fifteen million (and counting) residents spread across three peninsulas, Istanbul can look and feel daunting, especially for first-time visitors, but it is remarkably compact and pleasingly easy to get around. The very efficient and cheap public transport system includes metro, trams, buses, ferries, funiculars (hillside railway), and cable cars – all accessible on one easy-to-buy electronic card.
The older part of the city along the southern peninsula is generally called Fatih, the site of old Constantinople. For tourists, Fatih can be divided into two distinct areas. In the very atmospheric and historic region of Sultanahmet, most hotels are within walking distance of four of the city's major attractions: the Blue Mosque, Hagia Sophia Museum, Topkapi Palace, and Grand Bazaar. Sirkeci is more modern but particularly convenient: close enough to Sultanahmet to explore on foot and to metro stations and ferry terminals to explore the rest of the city.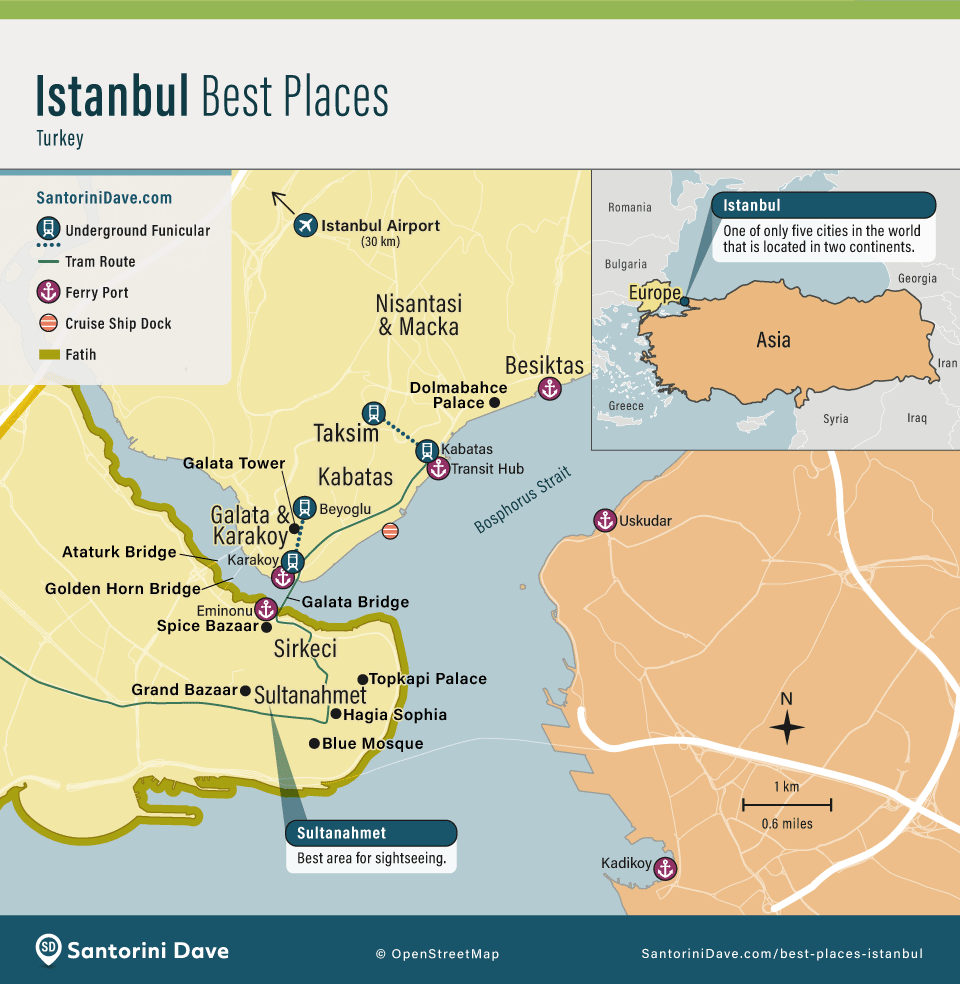 The eastern peninsula, known as the 'Asian Side', is mostly residential and offers few sights and fewer hotels. Just across the bridge in the northern peninsula called the 'European Side', the bustling areas of Karaköy and Galata (part of the general area called Beyoğlu) offer a fine selection of accommodations, mostly budget-priced and mid-range. A couple of metro stops further north, Taksim is a very appealing area of shops, cafés, bars, as well as boutique and luxury hotels. Dominated by a remarkably long pedestrian street conveniently bookended by metro stations, Taksim is also linked by cable car to the leafy residential suburbs of Maçka and Nişantaşi, and by funicular to Kabataş, a thriving district along the Bosphorus Strait. Further up the coastline and increasingly isolated, luxury hotels in Beşiktaş offer more space for gardens and resort-style pools as well as priceless water views.
The Best Places to Stay in Istanbul
Best Areas in Istanbul for…
Best Area in Istanbul for Sightseeing: Sultanahmet
This likably laidback, historic, and compact area on the southern peninsula is home to four of Istanbul's prime attractions: the world-famous Blue Mosque, the magnificent Hagia Sophia (once a Greek cathedral and now a museum), Topkapi Palace and gardens, and the extraordinary Grand Bazaar. All are within walking distance of most hotels in this area, and the narrow streets are jam-packed with places to eat, drink, and shop.
Best Area in Istanbul for Nightlife: Taksim
There is no obvious center within Istanbul for after-dark fun because most bars, nightclubs, and live music venues are spread across the suburbs and cater mostly to locals. The narrow streets of the old city offer very little nightlife, so head to Taksim across the bridge. Stretching about a mile between two metro stations, the wonderful pedestrian street and laneways on both sides are crowded with places to drink, dance, and socialize. And most upmarket hotels have a nightclub or two.
Best Area in Istanbul for Food & Restaurants: Kabataş
There is absolutely no shortage of fabulous places across the city to eat – from tiny kebab stalls to opulent restaurants primarily catering to, and priced for, tourists. Along the Bosphorus Strait, Kabataş is very conveniently connected by metro to the southern peninsula, by funicular to Taksim, and close enough to walk from Beşiktaş. Kabataş is chock-full of adorable bistros that face the water and serve (mostly) Turkish food, with a focus on seafood – and at reasonable prices considering the magical setting. With lights from the eastern peninsula reflecting in the water, it's particularly romantic after dark – more so, on a dinner cruise leaving from a terminal at Kabataş.
Best Area in Istanbul for History: Sultanahmet
Unquestionably the most historic and fascinating part of Istanbul is Sultanahmet, home to the magnificent Blue Mosque (built in the early 17th century), the equally majestic Hagia Sophia museum (and former Greek cathedral), and the 560-year-old Topkapi Palace and its surrounding gardens. And, perhaps, nothing showcases Istanbul's history and vibrancy more than the extraordinary Grand Bazaar. What's more, the streets of Sultanahmet are dotted with other museums, mosques, and bazaars, as well as hammam Turkish baths.
Best Areas for Views: Karaköy and Galata
A few minutes' walk across the bridges to the northern peninsula, Karaköy is a vibrant area offering superb views across the Golden Horn waterway to the old city in the south and beyond the Bosphorus Strait to modern residential districts in the east. In neighboring Galata, further inland, some hotels and rooftop bars in more elevated areas offer panoramic views that upmarket hotels in Beşiktaş and Taksim would charge the earth for.
Best Area for Walking: Taksim
The narrow streets of the old city in the south can be unpleasantly overcrowded, while other areas, such as Kabataş alongside the Bosphorus Strait, are also packed with people and noise from traffic. Much more pleasant for walking is the area in and around Taksim. From the massive vehicle-free plaza at Taksim Square, streets lined with boutiques radiate north alongside gardens. Best of all, a pedestrian street bursting with places to eat, drink, and shop heads southwest for 1 mile before veering down through the lovely area of Galata and finishing at the bridge to the old city.
Best Area in Istanbul for Vibe and Culture: Kabataş
Istanbul is not just about history and old buildings. It is as vibrant as anywhere in Europe, especially along the Bosphorus Strait at Kabataş. Conveniently connected by public ferry, bus, metro, and funicular, Kabataş is home to a surprising number of museums. With so many waterside bistros facing the water and plenty of shops further up the streets away from the coast, Kabataş offers a lovable vibe and is perfect for people-watching.
Best Area in Istanbul for Shopping: Taksim
The city layout precludes any major malls within areas tourists would normally visit and stay. The narrow streets of the old city are packed with shops and stalls, but most only sell souvenirs – sometimes of questionable quality. For the finest range of shops, and within a pleasingly compact area, head to Taksim. The mile-long pedestrian street between two metro stations (and linked by an old-fashioned tram) and the alleys along both sides are teeming with places to spend, spend, spend.
Best Area in Istanbul for Families: Taksim
The streets around the old city can be overcrowded from May to September with tour groups and tour buses – and persistent street-side hawkers can add to the hassle. In contrast, Taksim offers far more space, especially around the public gardens, massive vehicle-free plaza, and extended pedestrian street packed with fabulous shops and all sorts of cheap and cheerful places to eat. Some hotels in this area are more like resorts, offering substantial lawns, a huge pool, and other facilities for families. Taksim is also well-connected by metro, but, perhaps, more interesting for the younger ones is the funicular that heads down to the water at Kabataş and the cable car that swings across a valley to the residential area of Maçka.
Best Area in Istanbul for First-Time Visitors: Taksim
Istanbul's enormous size, massive population, and unusual layout across three peninsulas can seem daunting – and new visitors could also become overwhelmed by the number of tourists and tour buses along the narrow streets of the old city. In contrast, Taksim offers gardens and spacious streets ideal for walking and compact, yet likable areas packed with cafés, bars, and shops. And Taksim is superbly connected by metro, funicular, and cable car to many of the must-sees across the city.
Best Area for Couples & Honeymoon in Istanbul: Beşiktaş
It is particularly romantic along the section of the northern peninsula facing the Bosphorus Strait – especially so after dark when lights reflect from the old city and eastern peninsula on the so-called 'Asian Side'. Quietly distant from tour groups, Beşiktaş has several 5-star resorts where many rooms face the Bosphorus; the bistros, bars, and pool are meters from the water; and boat trips and dinner cruises can easily be arranged.
Best Area in Istanbul for Transport: Sirkeci
Geographically central and within the northern section of the old city, Sirkeci is along a very handy metro line. It heads south to the historic district of Sultanahmet (which is also within walking distance), across the water to the shopping district of Taksim, and further up the coast to the bistros and museums facing the Bosphorus Strait at Kabataş. Also from Sirkeci, ferries head in all directions across the strait and trains service the suburbs where tourists very rarely venture.
Safest Areas in Istanbul: Maçka and Nişantaşi
No areas within Istanbul are particularly unsafe but take the usual precautions – especially around the crowded streets, markets, metro, trams, and ferries where opportunistic petty crimes like bag-snatching and pick-pocketing are not uncommon. Not part of the usual tourist areas, but still convenient to amenities and attractions, are the leafy residential districts of Maçka and Nişantaşi. They offer upmarket shopping, vast views across the city, and well-lit streets. And always be aware of any political unrest which may result in mass protests in areas like Taksim Square, and of unscrupulous salesmen, especially in shops selling carpets and rugs in the old city.
The 7 Best Neighborhoods in Istanbul for Tourists
The most popular area for history, ambiance, and convenience to four of the city's prime attractions: the Blue Mosque; former Greek cathedral, Hagia Sophia, which is now a museum; 15th-century Topkapi Palace and surrounding gardens; and Grand Bazaar, one of the world's largest with 4,000+ stalls. These sights – and an (over)abundance of places to eat, drink, and shop – are within walking distance of most hotels in Sultanahmet, while the metro is also very useful for exploration elsewhere. The narrow streets can be overwhelmingly crowded with people and traffic, but Sultanahmet still maintains a likable, laidback vibe. Very few luxury hotels, but many older buildings have been beautifully converted to boutique-style guesthouses. Also, plenty of budget-priced and mid-range options.
This area in the southern peninsula offers the best of both worlds – old and new. Most hotels are within walking distance (or easily accessible via metro) of the four major sights detailed above within the adjacent district of Sultanahmet. Not nearly as crowded with tour groups and tour buses as Sultanahmet, Sirkeci has a couple of metro stops, a major ferry terminal with services across the Bosphorus Strait, and a station for suburban trains. More residential and less touristy, prices at the shops, bars, and restaurants are more affordable and the hotels are also particularly good value, but, like Sultanahmet, the old layout means few luxury options are available.
Ideal for first-time visitors and those traveling with families, Taksim is conveniently positioned within the lower part of the northern peninsula. Particularly spacious and appealing, Taksim is dominated by a vast vehicle-free plaza and has stations for the citywide metro, fascinating funicular to the water at Kabataş, and cable car to the leafy suburb of Maçka. Southwest from the plaza, a very long pedestrian street is jam-packed with inviting and competitively-priced cafés, bars, and shops. This street and the numerous alleys jutting off both sides are dotted with adorable boutique hotels and old-style guesthouses, while just north of the plaza luxury hotels offer extensive gardens and tropical-style pools.
Just across the bridges in the northern peninsula, these adjoining areas provide a lovable combination of old and new. The streets are narrow and traffic-clogged, but nicely distant (yet still well-connected by metro) from the overpriced districts facing the Bosphorus Strait and the overcrowded old city. The shops and cafés exude a young and affluent vibe quite different to other parts of Istanbul, and views from places along the coast at Karaköy and in elevated positions further inland in Galata are among the city's finest. Also, a fabulous range of accommodations in all price ranges offering particularly good value, considering the areas are so convenient.
Not as historic as Sultanahmet, convenient as Taksim, or vibrant as Kabataş, Maçka and the adjoining suburb of Nişantaşi are upmarket residential areas in the lower part of the northern peninsula. Devoid of tourist groups and tourist buses, most of the good-value mid-range hotels cater to business people and Turkish tourists. The added attractions are that the cafés, bars, and shops are priced for locals, not tourists, and views of the city streets and Bosphorus Strait are awesome. Parts can be surprisingly posh, with a range of ritzy boutiques and top-end hotels to rival any European city. Not on a metro route, the suburbs are, instead, connected by the remarkable teleferik (cable car) to Taksim, a major shopping district with a metro station.
Arguably Istanbul's most appealing area for history, charm, convenience, and setting, although there are surprisingly few places to stay here. Just a couple of metro stops along the coast from the bridge to the northern peninsula, the area squeezed between the main road and Bosphorus Strait is lined with fascinating museums, packed with gorgeous waterside bistros and bars, and linked by ferry to all parts of the city. The streets uphill away from the water also offer plenty of classy shops and the area is very accessible by metro to the old city; by funicular to Taksim, a major shopping district; and by bus further up the coast to Beşiktaş.
Tourist facilities become increasingly isolated further along the coast of the northern peninsula from Kabataş. Although connected by bus, the excellent metro doesn't reach this far, but Beşiktaş is still only a short taxi trip to the shops at Taksim, waterside cafés and museums at Kabataş, and metro stations for connections to the old city. Many of the luxury hotels provide superb waterfront settings, views across the Bosphorus Strait from many rooms, and bistros/bars just meters from the water, and are also spacious enough to feature expansive gardens and resort-style pools.
Read More