SD › Amsterdam › Best Places to Stay
Updated: September 3, 2023
By Santorini Dave
My Favorite Hotels in Amsterdam
• 5-star: Waldorf Astoria
• 4-star: Kimpton De Witt
• 3-star: Owl Hotel
• Boutique: Pulitzer
• For Families: Conservatorium
• For Couples: Dylan
• Near Train Station: art'otel
• Cruise Port: Mövenpick
• Dam Square: TwentySeven
• Red Light District: Rosalia's Menagerie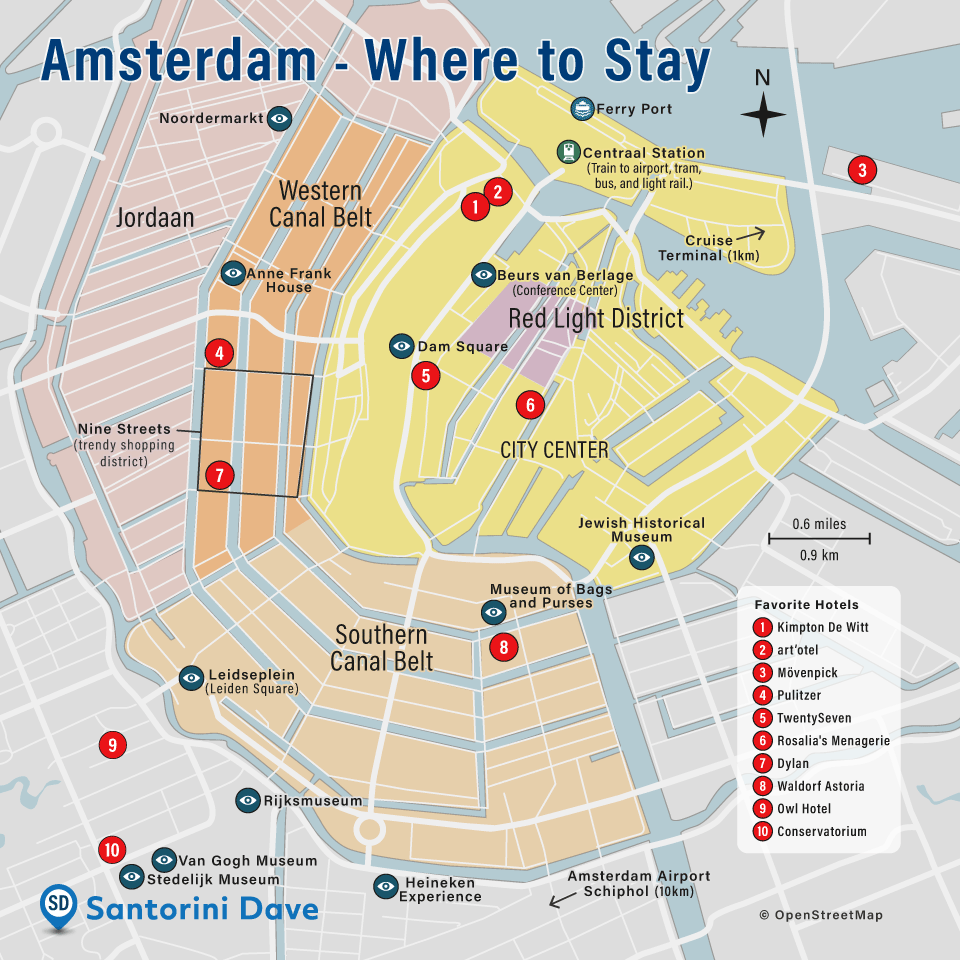 1. Kimpton De Witt • 2. art'otel • 3. Mövenpick • 4. Pulitzer • 5. TwentySeven • 6. Rosalia's Menagerie • 7. Dylan • 8. Waldorf Astoria • 9. Owl Hotel • 10. Conservatorium
The Best Areas to Stay in Amsterdam

Laced with a network of charming canals lined with attractive 17th-century gabled townhouses, Amsterdam is one of Europe's top destinations for good reason. It's known for major sights like the Anne Frank House, the Van Gogh Museum and Rijksmuseum, its infamous "coffee-shops" and Red Light District, and a famously dynamic nightlife; but above all it's a compact, easily-walkable (or bikeable) city that is a joy to explore on foot or by boat.

There is no single "best" neighborhood to stay in Amsterdam, though the main attractions are concentrated in the Oud-Zuid (Old South, or Museum Quarter), the City Center, and the UNESCO-certified Canal Belt that lies between the two. Many of Amsterdam's best hotels are located within these neighborhoods, though it's entirely feasible to stay in good midrange and budget options further out of the center and take advantage of the inexpensive and excellent tram and metro network or rent a bicycle.

Neighborhoods in Amsterdam

Amsterdam's City Center is the medieval heart of the city, located south of the River IJ and the Amsterdam Centraal train station, which is also the city's tram and ferry hub with excellent links to the rest of the city. It comprises a maze of tiny lanes centered on the grand Dam Square which is home to the Royal Palace, De Nieuwe Kerk (the New Church) and the seedier Red Light District. With its many pedestrianized streets and a huge range of dining options, the City Center is a massive tourist magnet. Also within the City Center is Nieuwmarkt, one of the oldest parts of the city, with the eponymous market square and 15th-century, castle-like De Waag at its heart. Here you'll find Amsterdam's compact little Chinatown, numerous bars and restaurants, and some independent stores.
Immediately east of Nieuwmarkt and linked to the City Center by tram and metro and to the Southern Canal Belt by bridges and trams, green and peaceful De Plantage is centered on Artis Zoo. It is home to Hortus Botanicus (a small botanical garden), numerous cultural venues, the Dutch branch of the Hermitage, and museums and memorials dedicated to Dutch Jewsmurdered during World War II. Further out, Amsterdam-Oost is a multicultural and largely residential area, home to the family-friendly Tropenmuseum.

Immediately east of Amsterdam Centraal train station are the Oostelijke Eilanden (Eastern Islands), the city's newest, mostly residential areas built on man-made islands. There are a couple of excellent museums here (including the stunning NEMO Science Museum), plus a yacht marina with some buzzy bars, and a couple of beaches further out inIJburg.

Directly north of the City Center and across the River IJ is Amsterdam Noord, a former industrial and port area. While much of this rather spread-out neighborhood is residential, it's also home to some fantastic craft beer breweries. NDSM, reachable from Amsterdam Centraal station by ferry, is a vast art hub with Amsterdam's most unique hotels and hip restaurants and bars. Closer to Amsterdam Centraal and in contrast to the medieval City Center, the futuristic Eye Film Museum and soaring A'DAM Lookout (with "over-the-edge" swing) are symbols of contemporary Amsterdam.
Other neighborhoods of interest to visitors radiate outwards from the City Center, including the historic Canal Belt that most visitors associate with Amsterdam, roughly divided into Southern and Western sections. Just to the west of the City Center and across the Singel canal, the Western Canal Belt is among the most photogenic parts of the city. Its four beautiful canals are lined with elegant gabled townhouses, some of which have been converted to boutique hotels. Here you'll find the Anne Frank House, as well as a huge concentration of independent boutiques in the micro-neighborhood of De 9 Straatjes (9 Streets).

South of the City Center, the Southern Canal Belt spans the area from the Amstel canal in the east to the Leidesgracht canal in the west. It is also wonderfully picturesque and walkable, with the streets on either side of Amsterdam's four most photogenic canals lined with townhouses and stone mansions. There's a good smattering of museums here and a lively buzz around the two squares – Leidseplein and Rembrandtplein – especially in the evenings.

Adjoining the Western Canal Belt to the west, the formerly working-class neighborhood of Jordaan retains an edgy vibe and is home to a few niche attractions as well as some excellent bars, music venues, and a lively farmers' market.

Amsterdam-West is a large, mostly residential part of the city further west from Jordaan. Its focal point is the vast green Westerpark featuring craft beer bars and Westergas venues that host cultural events. The Museum Het Schip celebrates the architectural "Amsterdam School" while De Hallen Amsterdam shopping mall features hip boutiques and a huge international food court.

Oud-Zuid is one of the city's most famous neighborhoods, renowned for its trio of heavyweight art museums as well as Amsterdam's most popular green space, the Vondelpark. This is also one of the most sought-after residential areas, its wide streets lined with trees and mansions.

Just southeast of Oud-Zuid and linked to the City Center and the Southern Canal Belt by tram is De Pijp, a former working-class neighborhood that's undergone considerable gentrification in recent years and boasts a young, multicultural, and arty population. Apart from Albert Cuyp Market, Amsterdam's largest outdoor market, highlights of De Pijp include numerous independent stores by up-and-coming local designers and a huge range of eateries and bars. Here you'll also find the Heineken Experience, which tells the story of the world's most familiar beer brand.

The best way to get around central Amsterdam is on foot or by bike, but the city has excellent public transport, operated by GVB, comprising trains, trams, metro, buses, and ferries. You can buy tickets with debit and credit cards on trams and buses (cash is no longer accepted), but it's more convenient to buy a stored value public transport chip card (OV-chipkaart) if you intend to travel a lot; day cards are valid for one to seven days, with prices starting from €8.50 (you can also use the GVB travel app).

Amsterdam Travel Tips

Amsterdam's Schiphol Airport is one of Europe's most well-connected and efficient hubs, with everything in one terminal and the train station conveniently located underneath – frequent trains zip to Amsterdam Centraal station in 14–17 minutes. Taxis will be at least €25 into the city center (it's about 10 miles to Centraal station from the airport). Given the ease of transport, there's not much point in staying at the airport, but if you do need to stay here, the best hotels are the conveniently located citizenM Schiphol Airport (the cheapest), Hilton Amsterdam Airport, and Sheraton Amsterdam Airport, all within walking distance of the terminal.
Like in most of the Netherlands, everyone you are likely to deal with in Amsterdam speaks excellent English, so you won't have any problems with language.
The I amsterdam City Card can be a good investment, but only if you intend to visit a lot of sights: it provides free entry to over 70 museums and attractions (though notably NOT the Van Gogh Museum and Anne Frank House), plus free public transport throughout Amsterdam and one canal cruise. Prices start at €60 for 24 hours, but it's much better value to buy the 72-hour card (€100) or opt for an even longer time period.
Amsterdam is bike mad, and it sometimes seems like the whole population is out cycling. Renting bikes is easy and cheap (from around €10/day); visit local outfits such as MacBike or use the Hello-Bike bikeshare scheme. The city is great for cycling; it's pancake flat and laced with bike lanes and trails, though it can be bumpy riding the older cobblestone streets and you'll be sharing the narrow inner-city lanes with vehicles and lots of pedestrians.
Free wi-fi is available at Schiphol Airport, and at cafés and museums through the city itself. There are also handy free wi-fi hot-spots outside the Anne Frank House, at Amsterdam Centraal station, and in parts of Westerpark and Oosterpark.
The city's main visitor center is the I amsterdam Store at Amsterdam Centraal station.
A reminder: in Amsterdam, cafés are for coffee while the infamous "coffeeshops" are for marijuana. While smoking marijuana (up to 5 grams per day maximum, or around 1/5 of an ounce) in designated coffeeshops for over 18s is tolerated (contrary to popular belief, cannabis/marijuana is NOT legal in the Netherlands), be aware that smoking it outside designated areas incurs stiff penalties.

The Best Places to Stay in Amsterdam
Best Neighborhood in Amsterdam for…

Best Neighborhoods in Amsterdam for Sightseeing: Western Canal Belt, Southern Canal Belt, City Center, Oud-Zuid
Sightseeing in Amsterdam is a matter of wandering along picturesque canals in the UNESCO-accredited Canal Belt and exploring the atmospheric cobbled lanes of the medieval heart of Amsterdam's City Center. If art is your passion, then head straight for Oud-Zuid (Museum Quarter) and lose yourself in some of the world's top art museums such as the Rijksmuseum. If you're more interested in contemporary art, catch a ferry from Amsterdam Centraal to the NDSM Wharf in Amsterdam Noord and check out the latest exhibitions.
Best Neighborhoods in Amsterdam for Nightlife: Red Light District (City Center), Southern Canal Belt, De Pijp, Amsterdam Noord
There isn't a single best area in Amsterdam for nightlife. The traditional nightlife hubs are the Leidseplein and Rembrandtplein squares in the Southern Canal Belt (there's also concentration of LGBT-friendly venues along Reguliersdwarsstraat on the way to Rembrandtplein). Paradiso (a former church near Leidseplein) is probably the city's most famous live venue, while Melkweg comprises a series of venues on the other side of Leidseplein. Escape is the biggest club on Rembrandtplein. There's also the buzzing Red Light District in the City Center that combines a tourist vibe with a little seediness across several blocks filled with bars.For a more local scene try the bars in De Pijp. Good choices include old-school Mazzeltof, historic Pilsvogel near Albert Cuypmark, and plush Twenty Third Bar, offering cocktails and stellar views at the top of Hotel Okura. We also like the cocktails at Bar Mokum, wines at La Dilettante and no-frills Dutch vibe at Café Eddy Bar. There are some excellent craft beer breweries worth seeking out in Amsterdam Noord; try Oedipus Brewing or Walhalla Brewery & Taproom.
Best Neighborhoods in Amsterdam for Food and Restaurants: City Center, Western Canal Belt, Southern Canal Belt, De Pijp
As with nightlife, there isn't a single best neighborhood in Amsterdam for eating out. City Center has a bewildering array of choices for every budget, from Michelin-starred dining to hole-in-the-wall places selling Belgian fries and salt-cured herring, like the Haring & Zo stall. There are also wildly popular specialist shops such as chocolate cookie maker Van Stapele Koekmakerij. In Nieuwmarkt, there's a concentration of Asian dining in tiny Chinatown.The Southern Canal Belt offers a variety of cuisines clustered around Leidseplein and Rembrandtplein in particular (with Spectrum offering the city's best fine dining experience), while in the Western Canal Belt, there's a mix of fine dining (like French bistro Café De Klepel), great restaurants inside hotels, and casual spots like Wil Graanstra Friteshuis, the Dutch fries specialist. De 9 Straatjes (9 streets) micro-neighborhood is especially good, home to Bar Brasserie OCCO, famed Dutch restaurant 't Zwaantje (known for its wienerschnitzel, fresh mussels and apple pie) and revered dessert café Chocolaterie Pompadour.De Pijp is full of hip, largely inexpensive eateries especially known for brunch; Bakers & Roasters, Coffee & Coconuts, Little Collins, and Scandinavian Embassy are all solid choices. Hit Leeman Döner for superb Turkish kebabs, Wijmpje Beukers for high quality seasonal dishes, and Massimo Gelato for ice cream.
Best Neighborhoods in Amsterdam for Families: Oud-Zuid, De Plantage
Both Oud-Zuid and Plantage are good choices, the latter being a quiet and largely residential area with the added bonus of Artis Zoo and its associated museums. It's also not far from the Tropenmuseum and the harborside attractions of NEMO Science Museum and the National Maritime Museum.Oud-Zuid also features mostly tranquil residential streets, with the massive Vondelpark nearby, with its play areas, lakes, and walking paths. Both neighborhoods have good connections to the center, though Oud-Zuid has a better range of dining choices and it's easy to hop on a family-friendly Blue Boat cruise near the Rijksmuseum. In winter, the Museumplein is transformed into a huge skating rink.
Best Neighborhoods in Amsterdam to Stay for First Timers: City Center, Western Canal Belt, Southern Canal Belt, Oud-Zuid
It's hard to go wrong by basing yourself in the City Center or nearby. The atmosphere in the City Center is second to none: the Red Light District is an eye-opener and the vast majority of attractions are easily reachable on foot or by tram. Hotels in the Western Canal Belt and Southern Canal Belt make wonderful alternatives: the neighborhoods are more sedate yet have that unmistakable Amsterdam vibe (and the most beautiful canals) and are a short walk from the center. If you're primarily in Amsterdam for the museums, then Oud-Zuid is an ideal location.
Most Romantic Neighborhoods in Amsterdam: Western Canal Belt, City Center
If you want to romance your significant other in Amsterdam, Western Canal Belt presents you with ample opportunities. You can opt for a private boat cruise along one of Amsterdam's most picturesque canals, stay in one of the elegant townhouses-turned-boutique-hotels, and splurge on some of the city's best fine dining. The City Center also has its fair share of romantic boltholes and excellent restaurants, and wandering the subtly lit medieval lanes at night can make anyone swoon.
Best Neighborhood in Amsterdam for a Local Vibe: De Pijp
Originally an island and connected to the rest of the city by 16 bridges, De Pijp retains an independent spirit and an arty, bohemian vibe with a multicultural population. The neighborhood is very walkable and hosts Amsterdam's biggest street market. Its narrow streets are also the place to look for works by up-and-coming local designers and unique gifts. Locals love hanging out at dog-friendly café woof & me, Badeta Koffiebranders, and wine specialist Glouglou, among many other hip spots.
Best Neighborhoods in Amsterdam for Shopping: De 9 Straatjes (Western Canal Belt), Oud-Zuid (Museum Quarter), City Center, Southern Canal Belt
The neighborhood of narrow lanes and streets in the Western Canal Belt known as De 9 Straatjes (9 Streets) is a great place to shop, home to art galleries (like Arden), jewelry stores (like Parisienne), fashion boutiques (like Catwalk Junkie and Laura Dols), and a few vintage shops. Famous Dutch designer Marlies Dekkers also has her lingerie store here. West of Amsterdam Centraal, Haarlemmerdijk cuts through the northern section of the Western Canal Beltwith a more independent roster of shops, vintage stores, bars and cafés.For high-end fashion boutiques head to P.C. Hooftstraat in Oud-Zuid where you'll find all the big names, from Chanel to Ralph Lauren. Nearby Van Baerlestraat is younger and hipper, with stores like Vanilia, Labfresh, Ace & Dik Jewelers and Floris van Bommel shoes.For a more typical shopping experience, the City Center attracts locals and visitors alike. De Bijenkorf on Dam Square is Amsterdam's best-known department store, while nearby Magna Plaza is a high-end indoor shopping mall, as is Kalverpassage a little further south. The two main shopping streets are north-south traffic-free Kalverstraat (lined with the usual main street brands like H&M) and Leidsestraat, in the Southern Canal Belt, which is a little more exclusive. Also down here, Nieuwe Spiegelstraat is Amsterdam's antique street, with numerous stores such as the excellent Kramer Kunst & Antiek.
Best Neighborhoods in Amsterdam without a Car: City Center, Western Canal Belt, Southern Canal Belt
Much of Amsterdam is a joy to walk around. Highlights include the maze of tiny, cobbled streets in the City Center and Red Light District, many of which are pedestrianized. For that quintessential Amsterdam experience, it's hard to beat wandering along the highly photogenic canals in the Western Canal Belt and Southern Canal belt and admiring the gabled townhouses and mansions lining the canals. Pretty much all areas of Amsterdam are great for biking. Bike rental shops are numerous but my favorite is Bike City in Jordaan.
Safety in Amsterdam
Amsterdam's safest neighborhoods tend to be the more upmarket ones, such as the Western and Southern Canal Belts, Oud-Zuid (Museum Quarter), and De Plantage, though the vast majority are safe to walk around at any time of day. In the Southern Canal Belt, things can get rather lively on weekend nights around Leidseplein and Rembrandtplein squares.Although Amsterdam is a very safe city, the largely residential neighborhood of Zuid-Oost southeast of the city center has a higher crime rate than the rest (you are unlikely to end up down here). Parts of the Red Light District, the City Center, and Nieuwmarkt can be a bit sketchy late at night, but mostly because there are quite a few inebriated people about. Watch out for canals during a night out; several people drown every year after falling in while drunk. Do look out also for cyclists along the many cycle lanes; they often appear out of nowhere at high speed.

Amsterdam Bridge Houses

For a totally unique experience, consider staying at one of the 28 "bridge houses" managed by Sweets Hotel. Originally used by the bridge keepers responsible for raising and lowering Amsterdam's canal crossings, the long-abandoned properties have been transformed into tiny and luxurious 1-bedroom suites that accommodate 2 people. Rates vary widely depending on which house you choose, but tend toward expensive. The best of the bunch are listed below.

• Westerdoksbrug – City Center
• Wiegbrug – Amsterdam-West
• Van Hallbrug – Amsterdam-West
• Overtoomsesluis – Amsterdam-West
• Kinkerbrug – Amsterdam-West
• Willemsbrug – Amsterdam-West
• Beltbrug – Amsterdam-West
• Meeuwenpleinbrug – Amsterdam Noord
• Buiksloterdraaibrug – Amsterdam Noord
• Scharrebersluis – De Plantage
• Hortusbrug – De Plantage
• Kortjewantsbrug – Eastern Islands
The 10 Best Neighborhoods in Amsterdam for Tourists
1. City Center

Amsterdam's heart is the compact medieval core of the City Center just south of Amsterdam Centraal train station, bordered by the Plantage and Amsterdam-Oost in the east and the Canal Belt in the west and south. The tiny, narrow streets are a joy to wander, with cafés, centuries-old watering holes, and hidden courtyards like the medieval Begijnhof to explore. There are a few worthwhile attractions such as the Royal Palace (Koninklijk Paleis) by the main Dam Square, and historic churches such as De Oude Kerk, De Nieuwe Kerk, and Zuiderkerk (where it's possible to climb up the bell tower for stunning views), but the main draw is simply wandering perfectly preserved cobbled lanes.

On the eastern side of the district lies De Wallen, also known as the Red Light District, with its X-rated clubs and famous "windows" attracting curious visitors day and night (prostitution is legal in the Netherlands). Nearby is the Nieuwmarkt (new market), one of the oldest parts of Amsterdam and home of medieval gatehouse-turned-restaurant De Waag, plus Amsterdam's tiny Chinatown (most restaurants line Zeedijk street). Beyond here lies Jodenbuurt, the old Jewish Quarter containing the Rembrandt House, Dutch National Opera and Ballet, the Jewish Museum, and the beautiful Portuguese Synagogue, completed in 1675 and open for tours.

There's a vast range of hotels here, with many boutique and luxury options, but prices are generally high. Budget hotels in the City Center tend to be poor quality, but we've noted the exceptions below.

2. Western Canal Belt (Grachtengordel-West)

This narrow grid of canals and streets, sandwiched between the City Center and Jordaan, is a particularly picturesque part of the city – as well as a UNESCO World Heritage site. It comprises four parallel, interlocking canals – Prinsengracht, Keizersgracht, Herengracht, and Singel – lined with historic gabled townhouses and home to some of Amsterdam's best boutique hotels. In its northern reaches, you'll find the Anne Frank House, one of Amsterdam's biggest attractions, and the towering 17th-century Westerkerk, the resting place of Rembrandt (Anne Frank's statue stands outside in Westermarkt, as well as the Homomonument, dedicated to those persecuted for homosexuality). To the south, the photogenic 'micro-neighborhood' known as De 9 Straatjes (9 Streets) is packed with vintage and designer stores, hip cafés, and all kinds of restaurants. Other highlights include the illuminating Museum of the Canals and the quirky Embassy of the Free Mind, a museum and library dedicated to the history of "free thinking" created by US author Dan Brown. Most of the Western Canal Belt is within easy walking distance of Amsterdam Centraal station, even with luggage.

Stay here to experience Amsterdam at its most genteel – the historic buildings lining its canals are some of the most beautiful and well-preserved in the city, and it's generally tranquil at night. Some of Amsterdam's most attractive boutique hotels are here – rooms with canal views are the norm. Unsurprisingly, it's a very expensive area but renting apartments and studios (from usual suspects airbnb and the like can be cheaper.

3. Southern Canal Belt (Grachtengordel-Zuid)

If you follow the canals south from the Western Canal Belt's 9 Straatjes (9 Streets), you'll find yourself in the Southern Canal Belt where the streets are wider and lined with grand mansions (particularly along Herengracht). There are several excellent museums and galleries here (such as foam, and the whimsical KattenKabinet, dedicated to cats), a couple of mansions that you can visit (Museum Von Loon and Willet-Holthuysen Museum), plus two lively squares and tram hubs (Leidseplein and Rembrandtplein), and numerous bars (many of them LGBTQ-friendly) and restaurants. The other main attraction is the Bloemenmarkt, Amsterdam's photogenic flower market along the south side of the Singel canal, lined with floating flower and bulb shops.

Leidsestraat is the main thoroughfare connecting the neighborhood to the City Center in the north and the Museum Quarter in the south. From Rembrandtplein, trams run east to De Plantage and south to De Pijp, along Utrechtsestraat stretch of designer stores.

Like the Western Canal Belt, there are lots of apartment and studio rentals here, and it tends to be a little cheaper than the City Center, though the budget hotel and hostel accommodation in the Southern Canal Belt isn't great value.

4. Jordaan

Sandwiched between the Western Canal Belt and Amsterdam-West, the Jordaan has long been famous as a hard-drinking, working class neighborhood renowned for its radical politics. Over the past couple of decades, gentrification has lined its narrow streets and canal sides with more art galleries, niche museums (such as the Houseboat Museum, Cheese Museum, and Tulip Museum), and plenty of restaurants and specialty shops (line up early for the famed apple pie at Café Winkel 43), but there's still a gritty vibe to it with several surviving legendary music venues as well as bars. Noordermarkt, a farmer's market, is held on the square by the Noorderkerk, one of Amsterdam's historic churches.

Jordaan can be a fun place to stay, beyond the more tourist–centric neighborhoods, though hotels are few. You'll find good bargains at the budget end at smaller B&Bs and guesthouses, while apartment and studio rentals are also popular.

5. Oud-Zuid (Old South AKA Museum Quarter)

With three of the world's best art museums (Rijksmuseum, Van Gogh Museum, Stedelijk Museum) arranged around the Museumplein park, as well as a handful of lesser-known museums and attractions, Oud-Zuid is one of Amsterdam's grandest neighborhoods. Wide boulevards are lined with stately mansions and numerous designer boutiques along P.C. Hooftstraat. Flanking Oud-Zuid on the north is the vast green Vondelpark, while the nearby Moco Museum focuses on modern and contemporary art and the Concertgebouw plays host to prestigious performances. Beyond this attraction-heavy northeast corner, much of Oud-Zuid is quiet and residential, with a smattering of hotels that provide tranquil nights within walking distance of the art museums. There's also a great range of dining options, from upscale Dutch, Indonesian, and Japanese near the museums to a high concentration of Ethiopian restaurants along the Vondelpark's northern edge.

There's a good mix of high-end hotels, wallet-friendly midrange digs, and budget hostels in Oud-Zuid, though you'll need to take public transport to/from Amsterdam Centraal station and other areas. Every winter (November–February), Ice*Amsterdam transforms the Museumplein into a giant ice-skating rink, with a Christmas Market held during the week before December 25.

6. De Pijp

Flanked by the Amstel canal in the east, the Museum Quarter in the west, and the southern Canal Belt in the north, this is one of Amsterdam's buzziest, most authentic neighborhoods. Multicultural and formerly working class, it's home to the Albert Cuyp Market, Amsterdam's biggest street market (closed Sundays). This compact and walkable grid of streets has been attracting bohemian types, students, and creatives for decades, and this is where you'll find the largest concentration of quirky gift stores and boutiques by up-and-coming designers, along with antique shops, traditional "brown cafés" (the term for old-fashioned Amsterdam café-bars), and a bewildering array of ethnic eateries and specialty coffee roasters. Here you'll also find the Heineken Experience (and learn how the famous lager is brewed), as well as several superb 5-star hotels and a few midrange options.

7. De Plantage and Amsterdam-Oost

East of the City Center and Jodenbuurt, De Plantage is a green and peaceful part of town containing the Artis Zoo, newly remodeled Groote Museum (of natural history) and Micropia science museum; as well as leafy boulevards, elegant squares, and one of Amsterdam's largest parks. It's a culture hub, too, boasting the Hermitage Amsterdam (hosting art exhibitions from the Hermitage in St. Petersburg, Russia), the temporary location of the Amsterdam Museum (till 2025 at least), and the Verzetsmuseum (Museum of WWII Dutch Resistance) – all within a short walk of one another. The Hortus Botanicus Amsterdam is a delightful 19th-century botanical garden, while the nearby Auschwitz Monument and poignant National Holocaust Names Monument serve as sobering reminders of the fate of Dutch Jews in World War II. A new National Holocaust Museum should open along Plantage Middenlaan sometime in 2024. There are a few good restaurants, cafes, and bars here like Dignita Hoftuin, tucked away in a small park behind the Hermitage.

Further east, the vast, primarily residential Amsterdam-Oost district is centered on the beautiful Oosterpark (which contains the National Slavery Monument), its wide streets lined with stately 19th-century buildings. Other highlights include the vast and family-friendly Tropenmuseum ethnographic museum, and the popular Brouwerij 't IJ craft brew pub, set next to the iconic Gooyer windmill on the Nieuwevaart canal. It's a cultural melting pot, too, with Surinamese supermarkets, Turkish kebab joints, and a diverse range of eateries (many excellent value), especially along Javastraatin the Zeeburg neighborhood.

Staying out here you'll be mixing with locals more than tourists. Though there's much less choice in terms of accommodation, some of Amsterdam's best budget hostels are located in De Plantage and Amsterdam-Oost.

8. Amsterdam Noord

The former industrial district across the River IJ from the City Center is now one of Amsterdam's hippest, most arty areas. It's a vast, rather spread-out neighborhood best explored on two wheels, and with interesting restaurants and craft beer breweries scattered about. The biggest highlight here is the NDSM Wharf, accessible by direct ferry from behind Amsterdam Centraal. A former shipyard, its huge warehouses have been transformed into a massive cultural hotspot with art galleries and the STRAAT Museum, Amsterdam's largest flea market (IJ-Hallen), an urban beach in summer, the unique Faralda Crane Hotel, and some excellent bars and restaurants. Just opposite Amsterdam Centraal, the Tolhuistuin hosts concerts and performances, the Eye Film Museum celebrates Dutch and European moviemaking, and the A'DAM Lookout offers a rooftop bar and a thrilling "over-the-edge" swing some 328ft (100 meters) above the river. Nearby "This is Holland" offers 5D flight simulations over the Netherlands.

Free ferries depart from behind Amsterdam Centraal station to Amsterdam Noord (to Buiksloterweg, for A'DAM Lookout and the Eye Film Museum) every few minutes (through the night), as well as to NDSM Wharf further north.

Beyond the main attractions, Amsterdam Noord is a fiercely independent local neighborhood offering the chance to experience real Dutch city life. Hotel rates tend to be a bit cheaper here, reflecting the less convenient location for exploring the rest of the city.

9. Amsterdam-West

Adjacent to Jordaan is the vast Amsterdam-West district with large (mostly) residential areas, the three Western Islands (Westelijke Eilanden) with their smattering of cafés, restaurants, and picturesque wooden drawbridges, and the lively Westerpark neighborhood. The eponymous park – one of the city's largest green spaces – combines expansive greenery with cultural events at Westergasfabriek, and the adjacent streets are home to a good variety of traditional cafés, one-of-a-kind shops, street markets, and hip new restaurants. Highlights include the Fabrique des Lumières art center inside the park (part of the Westergas cultural complex), and the nearby Museum Het Schip, dedicated to the work of the "Amsterdam School" (the red brick architecture style that developed here between 1910 and 1930). Further south it's worth checking out the Foodhallen, a large food hall inside the De Hallen Amsterdam shopping mall (a renovated former tram depot with its own boutique hotel and cinema). Nearby Ten Katemarkt is another prime spot for street food.

Accommodation is very spread out here, but you'll find some very cheap deals.

10. Oostelijke Eilanden (Eastern Islands & Docklands) and IJburg

East of Amsterdam Centraal train station and comprising gleaming modern architecture, one of Amsterdam's youngest neighborhoods consists of three man-made islands (Kattenburg, Wittenburg and Oostenburg), with more being developed further to the southeast in the IJmeer. Highlights include the National Maritime Museum inside repurposed historic warehouses and a series of old sailing ships, the striking, boat-like NEMO Science Museum, ARCAM Architecture Centre, and the Muziekgebouw waterfront concert hall. While the islands further east are largely residential with few hotels, there's a lively cluster of bars by the yacht marina off IJburg West as well as man-made beaches in Diemerpark and at Strand Blijburg. You can also take boat trips out to the fortress island Pampus and the medieval Castle Muiderslot. The islands are an easy tram ride from Amsterdam Centraal along the main IJburglaan artery, and are connected to each other, the City Center, De Plantage, and Amsterdam-Oost by bridges.

This area is Amsterdam at its most contemporary – there's little history and everything is fairly new, including the hotels. You'll find cheaper rates the further east you go into IJburg.

More Amsterdam Neighborhoods

We've covered our favorite neighborhoods to visit and stay in more detail above, but soccer fans may want to check out the Johan Cruijff ArenA in Amsterdam-Zuidoost, southeast of the city center. The stadium is the home of Ajax Amsterdam, the most famous Dutch club. On non-match days you can tour the stadium and visit the Ajax Museum. Jaz in the City is the best hotel to stay near the Arena.
Read More