Seattle › Weekend Getaways from Seattle
Updated: November 23, 2021
By Santorini Dave
See Also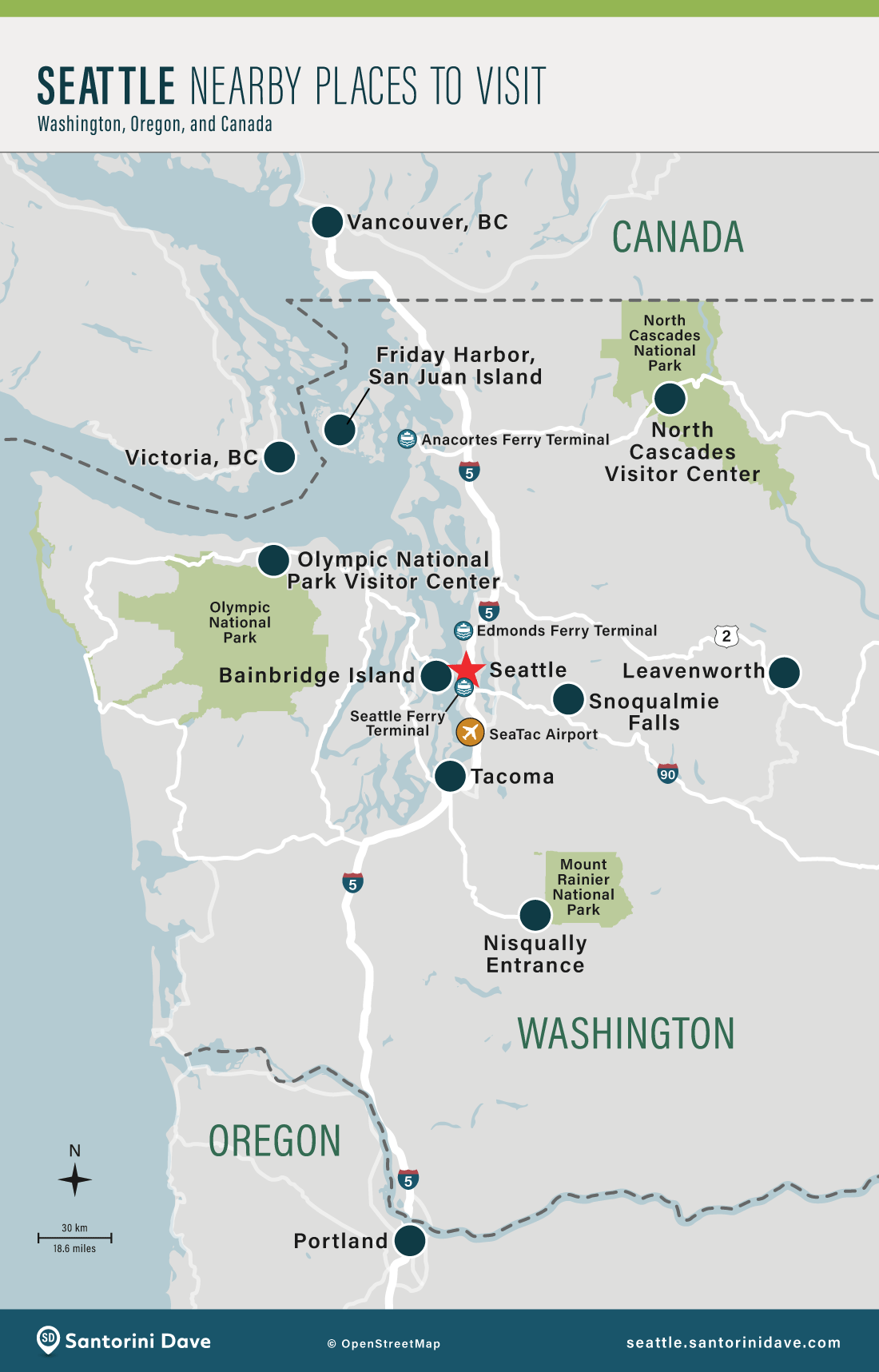 The 11 Best Places to Visit near Seattle

The best day trips, road trips, and staycation destinations near Seattle, Washington. Renting a car in Seattle is the best way to get around the northwest as public transportation is limited for smaller destinations.

A charming and romantic hotel (ideal for honeymoons, anniversaries, or special occasions) just 35 minutes from downtown Seattle and 45 minutes from SeaTac International Airport.


My favorite short-trip destination from Seattle (though it's far better to stay a few nights than to try to visit in one day). Friday Harbor is the largest town in the San Juan Islands and is located on the most populated island, San Juan. It's the best spot from which to take whale-watching tours but you'll also find great restaurants, charming cafes and bars, wonderful hikes and viewpoints, and a friendly local vibe. Seattle to Friday Harbor: 3 hours and 45 minutes by Clipper (direct boat from downtown Seattle), 3 to 4 hours by car and ferry via Anacortes, or 40 minutes by seaplane.


A Bavarian-styled village in the Cascade Mountains, Leavenworth is a vibrant town with a full calendar of popular seasonal events. Surrounded by beautiful forest and mountains, filled with streams and meadows, hiking, mountain biking, and rafting lure both families and experienced adventurers. Skiing, sledding and tubing are big in winter. In town, the waterfront park that runs along the Wenatchee River is great for strolling year-round. One of a kind shops line the streets. There are a number of wine tasting rooms, and a Nutcracker Museum with pieces dating back centuries. The outdoor theater is busy in summer, Oktoberfest is an annual autumn party, and the Christmas lights in downtown in December are a huge draw. Seattle to Leavenworth: 2 hours and 30 minute drive, 3 hours and 20 mins by Amtrak train twice daily, or 3 hours by Greyhound Bus leaves 5 times daily.


A delightful island escape just minutes from downtown Seattle, Bainbridge Island offers a combination of small-town charm and rugged wilderness. The hub of island activity is historic downtown Winslow, with diverse restaurants, boutiques, museums, galleries, a farmers market, and performing arts. Beaches and marinas ring the island offering kayak and paddleboard rentals, while the interior is home to evergreen forests and lush wetlands with hiking, cycling, and horseback riding trails. Bicycles are available for rent at the Bainbridge ferry terminal, Eagle Harbor; the island is a little hilly, so consider an electric bike for a smoother experience. Seattle to Bainbridge Island: 35-minute ferry or 1 hour and 45-minute drive (via Tacoma).


The third-largest city in Washington State, Tacoma is located on the shores of Puget Sound surrounding Commencement Bay. With a long industrial history, Tacoma is celebrating a new energy with a vibrant art scene. 6th Avenue boasts a variety of cafes, galleries and live music venues. The Chihuly Bridge of Glass and Museum, Lemay Car Museum, and Washington State History Museum are popular downtown destinations. The Tacoma Dome Stadium hosts hundreds of large indoor events each year and is a major regional concert venue. Ruston Way Waterfront is a 2 mile long paved walking trail connecting downtown to Point Defiance Park, which includes Point Defiance Zoo and Aquarium and the new Dune Peninsula a series of 6 cascading chutes and ladders-style slides leading down to the marina. Mount Rainier National Park is an easy day trip from Tacoma. Seattle to Tacoma: 45 minutes drive or 60 minutes on Sounder commuter train.


A compact yet dynamic riverfront city boasting world-class dining, an unconventional art scene, and a wealth of outdoor activities. AKA Rose City, Portland is brimming with gardens, from the International Rose Test Garden to enormous Washington Park (410 acres) and Hoyt Arboretum (187 acres), both a Chinese and a Japanese Garden, and much more. Food and drink are major highlights here, with a special focus on locally-grown produce, creative Asian fare, food carts galore, gourmet doughnuts, and homebrewed/distilled liquor, wine, and beer (there are 84 breweries in the Portland metro area). Catch an exhibit at the Portland Art Museum, live storytelling with The Moth, a dance night at the Holocene, or catch a cheap metal show at The Know. Do not leave the city without a stop at Powell's City of Books, the largest independent bookseller in the world. Seattle to Portland: 2 hour and 45-minute drive, 3 and a half-hour train ride (about 6 per day), or 45-minute flight (about 25 per day).

7. Mount Rainier National Park


Also known as "America's Everest," Mount Rainier rises 14,410 feet above sea level and is the tallest volcano in the contiguous US. It's a snowy wonderland perfect for cross country skiing, snowshoeing, sledding, and backcountry skiing and boarding. It's also excellent for hiking during the summer, when hundreds of wildflower species bloom, some of the snow melts into waterfalls, and the marmots wander the hillside. The park is open all year, but tourism peaks in July and August. Some areas and roads are closed between Nov 1 and May 1; during those months, all vehicles are required to carry tire chains. The park has spotty cell service and often, none, so download maps to your phone and/or bring printed trail maps. There are many entrances to the park, but the Nisqually entrance is open year-round and features the Henry M. Jackson Visitor Center, Paradise Guide House, and Paradise Inn – a wooded lodge with a restaurant, cafe, fireplace, and a gift shop; the perfect place to stay or rest before or after a hike. To get to the Nisqually entrance, use this GPS address: 39000 State Route 706 E, Ashford, WA 9830. The nearby Wildberry Restaurant is famous and owned by a Sherpa and his wife; chat with him about the fifteen times he's summited Mount Everest while eating delicious American or authentic Himalayan food. Seattle to the Nisqually entrance: 2 hours and 15-minute drive.

8. Olympic National Park


One park with three ecosystems: glacier-capped mountains, wild Pacific coast, and rain forest. Open year-round; the summer offers climbing, fishing, hiking, camping, and backpacking. Winter brings snowshoeing, snowboarding, tubing, and cross-country and downhill skiing. The rivers, lakes, and coasts are great for boating by motor or paddle and checking out tidepools. The diverse environments allow opportunities to see elk, goats, marmots, birds, banana slugs, deer, and sometimes whales during migration seasons. It's unreal to wander the fuzzy green misty rainforest and then hike Hurricane Ridge to a glacier at the top of a mountain all in one park. Don't be mistaken, it's massive, and you can't do it all in one day – It can take hours to get from one part of the park to another. The park is busiest June through September. From October through May, some roads and facilities are closed. Cell service is limited-to-none, so plan ahead and bring maps. The best place to start, unless you know where you want to go, is the Olympic National Park Visitor Center in Port Angeles. Seattle to Port Angeles: 2 hours and 30 minutes by car and ferry via Downtown to Bainbridge, 2 hours and 45 minutes by car and ferry via Edmonds, 3 hours and 30 minutes by car via I-5 south and highway 101.

9. North Cascades National Park


A rugged escape from the modern world with lots of hiking and camping. There are hundreds of miles of trails for all skill and altitude levels. There are three areas to the park: North Cascades National Park, Ross Lake National Recreation Area, and Lake Chelan National Recreation Area. Popular activities include hiking, camping, climbing, horseback riding, biking, boating, and fishing. There is also a chance to see rare land mammals and birds, fish, and wildflowers. Diablo Lake is excellent for kayaking, with hypnotizing turquoise blue water made from finely ground up glaciers. Be sure to check out Ross Dam, one of Seattle's natural power sources. On the subject of connectivity, there is no cell reception in the park, and you will start to lose it on the drive there, so plan accordingly and bring maps. The area is also sparse with supply stores and restaurants, so it's best to bring all your food and water with you. The park is open year-round, but starting in late fall through spring access can be difficult. Seattle to North Cascades Visitor Center: 2 hours and 30 minutes by car.


A fun and friendly urban hot spot surrounded by outdoor attractions that rival any spot on earth. Stanley Park and the Vancouver Seawall (an uninterrupted walkway and bike path that stretches 28 kms along the city's waterfront) are the highlights of outdoor activity within the city but that's just the start. Fantastic spots for kayaking, skiing, swimming, mountain biking, and hiking exist within city boundaries or a short drive to the north. The downtown core is bike-friendly and walkable and filled with fantastic restaurants, trendy cafes, outdoor markets, and stunning views at every turn. The Capilano Suspension Bridge, Whistler, the Gulf Islands, and the Sea To Sky Gondola are all easy day trips from Vancouver. Seattle to Vancouver: 3-hour drive, 4-hour train ride (two per day), or 1-hour flight (over 30 per day).


The smaller cousin to nearby Vancouver. It's a little sunnier, warmer, and drier over here on Vancouver Island. The pace is a little slower. It's a little less diverse and urban, and a little more small town and touristy. But it all makes for a perfect 2 or 3 day visit. The downtown is walkable, bike-able, and beautiful. There are the parliament buildings to tour, the excellent Royal BC Museum, tons of bars, cafes and restaurants, and a wonderful walking path along the water. The stunning Butchart Gardens are just outside the city and definitely worth a visit. Seattle to Victoria: 2 hours and 45 minutes by Clipper (direct boat from downtown Seattle), 5 hours by car and ferry via Anacortes, or 50 minute flight from Seatac airport (there are also seaplanes from downtown Seattle to downtown Victoria).
Read More