SD › Italy › Italy to Greece Ferries
Updated: March 17, 2022
See Also
Italy to Greece Ferries: Routes, Prices, & Tickets

Ferryhopper.com is the best and easiest way to search routes and fares, and buy ferry tickets for Italy-Greece routes.
Especially for longer ferry routes, such as those departing from Venice or Ancona, reserving a cabin is highly recommended. The privacy and possibility for sleep that they offer are well worth the extra cost.
Summer ferry routes from Italy to Greece sell out far in advance – often by mid-spring or even earlier. It's best to book tickets as soon as you know your itinerary, especially if you want an overnight cabin or will be taking a car.
Food and drinks are available on all ferries. Passengers are also allowed to bring their own food and drinks aboard.

Note: In 2022, all ferry routes and schedules may be impacted by the Covid-19 pandemic. Please use Ferryhopper to find the most recently updated information.

Ferries from Italy to Greece

Ferries from Italy to Greece depart from Brindisi, Bari, Ancona and Venice, all located along Italy's east coast on the Adriatic Sea. The fastest, easiest, and most popular ferry route between Italy and Greece is Brindisi-Igoumenitsa, serving at least one ferry daily and adding more during the summer months.

Ferry from Italy to Corfu

Direct ferries from Italy to the Greek Island of Corfu depart from Brindisi, Bari, and Ancona during high season, however, most travelers to Corfu ferry from Italy to Igoumenitsa on the Greek mainland, and then take another ferry to Corfu from there. Multiple ships depart from Igoumenitsa to Corfu each day; the trip takes approximately 90 minutes and costs about €5. Ferries between Igoumenitsa and Corfu can be booked online in advance through Ferryhopper.com, but pre-booking is generally not necessary.

2022 Italy-Greece Ferry Routes

These are the most popular ferries from Greece to Italy, and Italy to Greece. Trip length is approximate and will vary by type of vessel. Search Ferryhopper.com for the most up-to-date information on routes, fares, and schedules.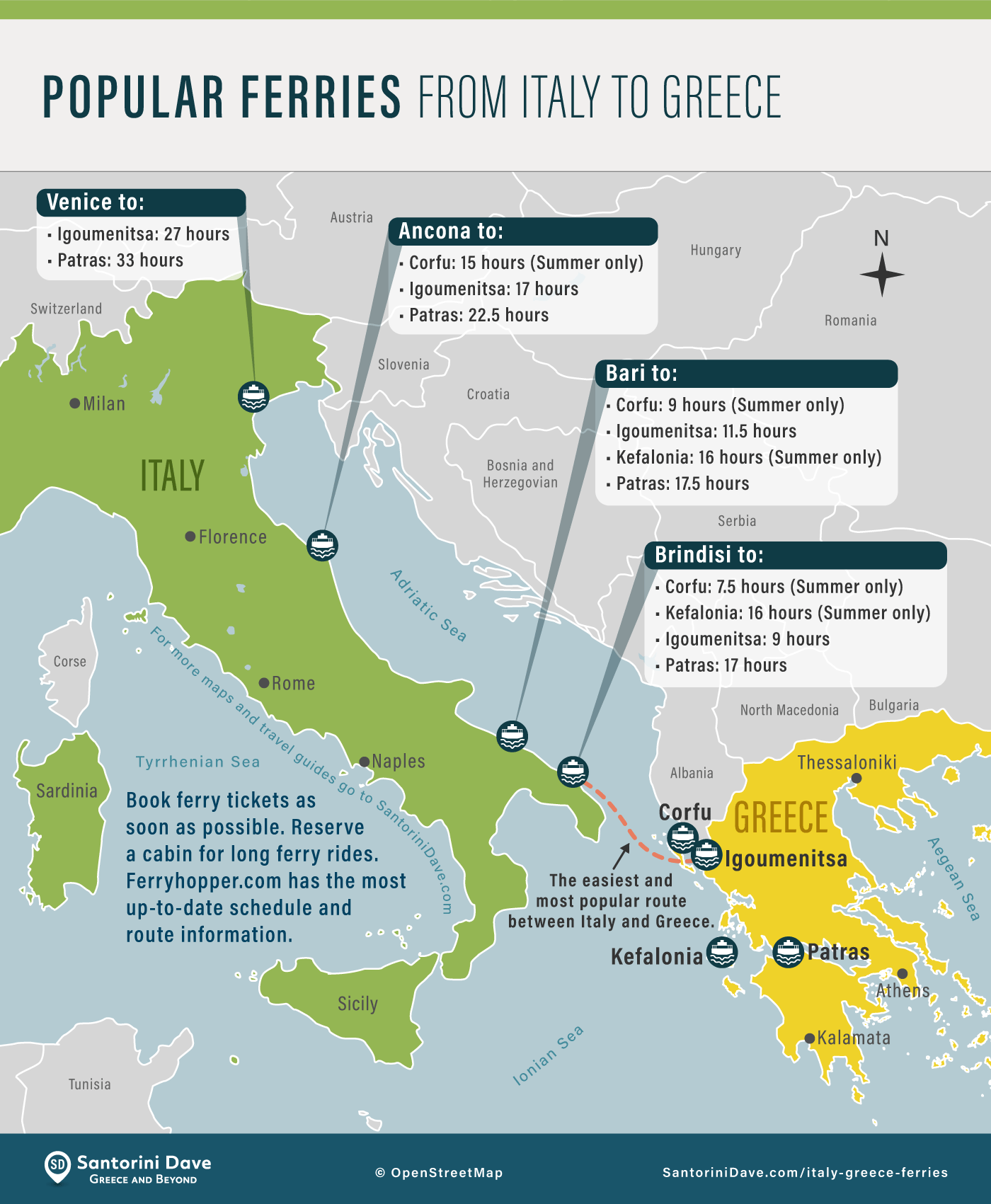 Brindisi to Corfu: 7.5 hours (Summer only)
Brindisi to Kefalonia : 16 hours (Summer only)
Brindisi to Igoumenitsa: 9 hours
Brindisi to Patras: 17 hours

Bari to Corfu: 9 hours (Summer only)
Bari to Igoumenitsa: 11.5 hours
Bari to Kefalonia: 16 hours (Summer only)
Bari to Patras: 17.5 hours

Ancona to Corfu: 15 hours (Summer only)
Ancona to Igoumenitsa: 17 hours
Ancona to Patras: 22.5 hours

Venice to Igoumenitsa: 27 hours
Venice to Patras: 33 hours

Note: Ferryhopper.com will have the most recently-updated information on all Italy-Greece ferry routes, and is the best way to buy tickets and reserve seats and cabins in advance.
Read More