SD › Italy › Venice › Cheap Hotels
Updated: May 4, 2022
Venice Cheap Hotels – Tips & Advice

The best cheap hotels in Venice are Generator • B&B San Marco • B&B Allo Squero
Where to Stay in Venice: Traditionally, Venice has been divided into six sestieri (districts) plus Giudecca as the unofficial seventh sestiere: San Marco (home of Venice's most iconic sights), Dorsoduro (museums, palaces, good cheap food, local vibe), Cannaregio (where most Venetians live, authentic vibe, near the train station), San Polo (historic district with art, churches, and the Rialto Market), Santa Croce (least touristy area, near the bus station and cruise port, great musuems and casual restaurants), Castello (quiet, family-friendly, with botanical gardens and a historic shipyard), Giudecca (relaxed, artsy area with city views and gorgeous churches). Santa Croce, Giudecca, and Cannaregio tend to be the most affordable sestieri for accommodations and dining.
Most hotels in Venice are in historic buildings and subject to strict guidelines for renovations, meaning that many hotels do not have elevators or ADA rooms. If you have limited mobility or will be using a stroller, be sure the hotel has an elevator or book a ground floor room.
Smoking is still allowed in some hotels in Venice, though usually confined to a particular floor in the hotel. If you are sensitive to smoke, request a non-smoking room or find a non-smoking hotel.
Tourist Tax: Hotels in Venice are required to collect a city tourist tax that is charged separately from the room rate. The price is equal to €1 per star of the hotel, plus 50 cents, per person per night for the first seven nights. For example, two adults staying at a two-star hotel for three nights will pay €13. Children under twelve are exempt. Many hotels require this tax to be paid in cash rather than credit, and some require its payment at check in.
Getting around in Venice is easiest on foot. The city is fairly small and most of its islands are connected by little bridges. Most hotels within five to twenty minutes' walk of the city's most popular attractions.Vaporettos (water buses) are great for getting from one side of town to the other, but for destinations inside the historic center, it's usually faster and always cheaper to walk.
See Also
12 Best Affordable Hotels in Venice

Hotel phone: +39 041 877 8288
Upscale hostel with private rooms for up to 5 guests with en-suite bathrooms, in addition to shared dorm-style rooms. Located a couple of minutes from the Zitelle ferry and water bus terminal, the Casa dei Tre Oci gallery, and several restaurants, the property also has a bar, and all-day cafe onsite.
• Hotel website • Check prices for Generator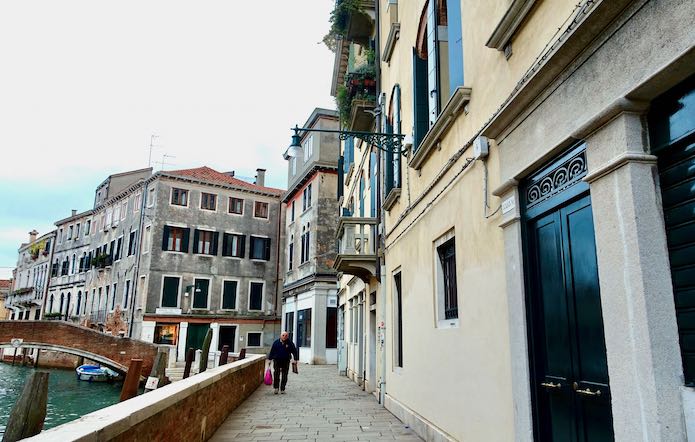 Hotel phone: +39 041 522 7589
Quaint guesthouse located less than 10 minutes from Piazza San Marco (600m) and Doge's Palace (700m), with historic decor, complimentary breakfast, and private or shared bathrooms. Numerous restaurants, churches, landmarks, and water bus stops are also within close walking distance.
• Hotel website • Check prices for B&B S. Marco

Hotel phone: +39 041 523 6973
Cozy accommodation offering complimentary breakfast, a courtyard, and rooms with private bathrooms. Located a few minutes from the Rialto Bridge (600m), several water bus stops (400m), and Piazza San Marco (1 km).
• Hotel website • Check prices for B&B Allo Squero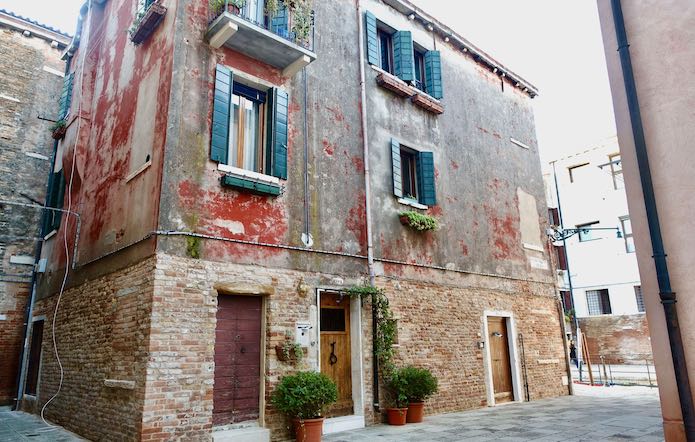 Hotel phone: +39 041 523 1728
Family-run pet and kids-friendly bed and breakfast with 2 guest rooms, a shared bathroom, air conditioning, and complimentary breakfast daily. Situated less than 15 minutes on foot to the restaurants of Campo Santa Margherita and the Gallerie dell'Accademia, while the San Basilio and Santa Marta water bus stops are closer still.
• Hotel website • Check prices for B&B Le Terese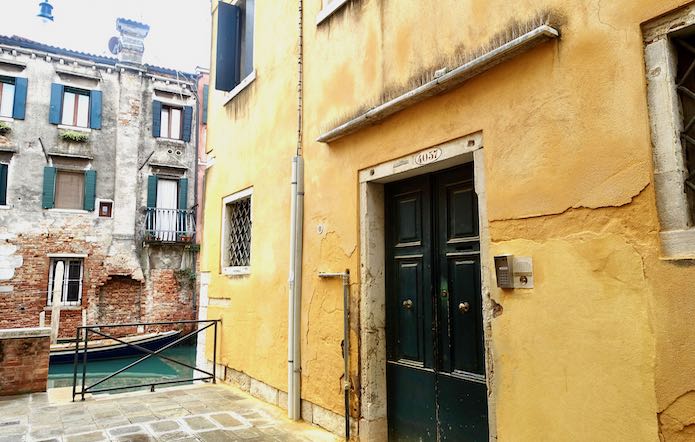 Hotel phone: +39 041 275 0897
Cozy guesthouse located a few minutes from Campo della Maddalena (500m), the Ca' d'Oro water bus stop (200m), and many restaurants, churches, and landmarks. All rooms have private bathrooms, air conditioning, safes, and historic furnishings, and free continental breakfast is available daily.
• Hotel website • Check prices for B&B Al Palazzetto
Historic guesthouse featuring ensuite bathrooms and located a 5-minute walk to Piazza San Marco and the famous Bridge of Sighs, with the Rialto Bridge a little farther. Guest rooms include traditional artwork, TV, kettle, and refrigerator, and several restaurants and water bus stops are within a short walk.
• Hotel website • Check prices for Ai Tagliapietra
Hotel phone: +39 041 710882
Quaint hotel located less than a 10-minute walk from Giardini Papadopoli Park (300m), the Piazzale Roma bus station (400m), the Santa Lucia train station (800m), and several water bus stops. Amenities include private bathrooms, air conditioning, complimentary continental breakfast, and a courtyard garden, and Grassi Palace is 1 km away, including a short ferry ride.
• Hotel website • Check prices for Hotel Falier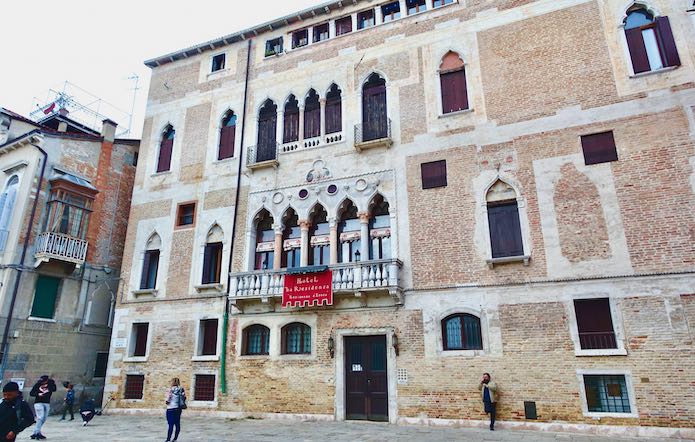 Hotel phone: +39 041 528 5315
15th-century mansion converted to a hotel offering free continental breakfast, concierge service, and Victorian decor. Located about 10 minutes from the Doge's Palace (600m) and Piazza San Marco (900m), and less than 5 minutes to several water bus stops.
• Hotel website • Check prices for Hotel La Residenza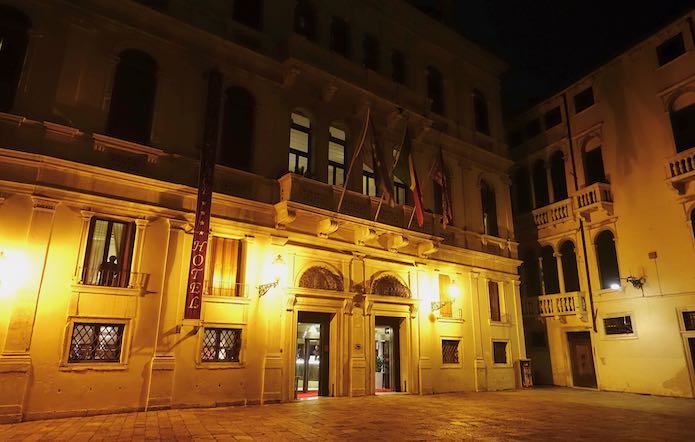 Hotel phone: +39 041 241 0447
Historic, centrally-located hotel with an on-site bar, elevator, and free breakfast, and rooms featuring minibars, air conditioning, and desks. Located a 5-minute walk from the Basilica dei Santi Giovanni e Paolo (400m), Piazza San Marco (500m), and the Rialto Bridge (500m).
• Hotel website • Check prices for Ruzzini Palace
Hotel phone: +39 041 275 9140
Budget hotel located near the Piazzale Roma bus station (250m), Constitution Bridge (400m), and Campo San Polo (800m). Rooms have wardrobes, air conditioning, and private bathrooms; discounted continental breakfast is available at a nearby cafe.
• Hotel website • Check prices for Albergo ai Tolentini

Hotel phone: +39 041 522 2750
Cozy, pet-friendly hotel short walk from the Ospedale water bus stop (250m) and Basilica dei Santi Giovanni e Paolo (500m), with free continental breakfast and a private bathroom in every guest room. The hotel has a terrace, stair lift for the disabled, and concierge services, and Piazza San Marco is less than a kilometer away.
• Hotel website • Check prices for Alloggi Barbaria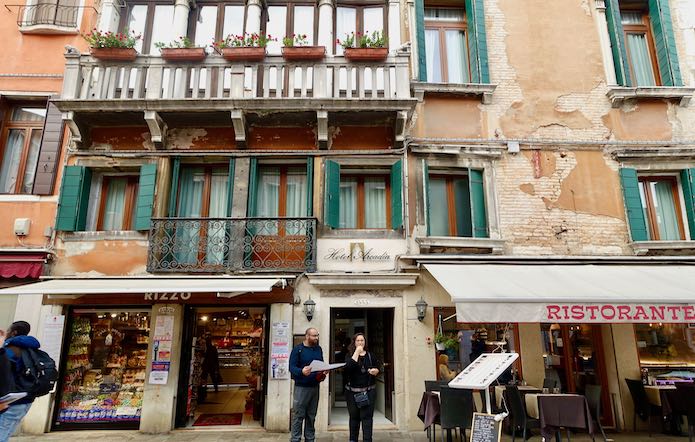 Hotel phone: +39 041 717355
Boutique hotel with an on-site bar within walking distance of many historical landmarks, churches, water bus stops, and restaurants of the Cannaregio district (200m). Free breakfast is available daily, and every room has air conditioning, a minibar, and a private bathroom.
• Hotel website • Check prices for Arcadia Boutique Hotel
Read More