Greece › Mykonos › Best Hotels
Updated: July 16, 2023
By Santorini Dave
My Favorite Mykonos Hotels
• Mykonos Town: Semeli • Cavo Tagoo
• Ornos: Santa Marina • Kivotos
• Platis Gialos: Branco • Petasos
• Agios Ioannis: Katikies
• Ferry Port: Mykonos Riviera
• For Families: Santa Marina
• For Couples: Bill & Coo
• 5-star: Mykonos Blu
• 4-star: Panormos Village
• 3-star: Matina
• New Hotel: Panoptis Escape
Mykonos Hotels – Tips & Recommendations

Booking.com – The best website for booking Mykonos hotels. Easy to use, reliable, and the best rates.
Best Luxury Hotels in Mykonos: Mykonos Blu • Santa Marina • Kalesma
Best Boutique Hotels in Mykonos: Bill & Coo Suites • Bluetopia Suites • Panormos Village
Where to Stay in Mykonos: Mykonos Town is my favorite place to stay in Mykonos (awesome nightlife, lots of great restaurants, cafes, shops, and the beach is an easy 10 minute bus ride away). The best beach towns in Mykonos are Ornos and Platis Gialos (both have great sand, good restaurants, and wonderful hotels).
Hotels on Mykonos should be booked 6 to 8 months in advance for luxury accommodations and 4 months in advance for budget places. July and August are the busiest months when advanced reservations are highly recommended.
Don't use a travel agency. You'll get better rates at better hotels by booking on your own (through a booking website or by contacting the hotel directly).
The Mykonos beaches are a good base if you're looking for a more typical beach vacation. Platis Gialos is my favorite beach (a mix of great swimming, nice sand, and good places to eat).
Best Restaurants in Mykonos: M Eating (Mykonos Town) • Rizes Folklore Farmstead (Ano Mera) • Bistrot de Nicolas (Ano Mera) • Nikolas Taverna (Agia Anna) • Sakis Grill House (great Mykonos Town gyro and souvlaki joint) • Koursaros (for fancy night out in Mykonos Town).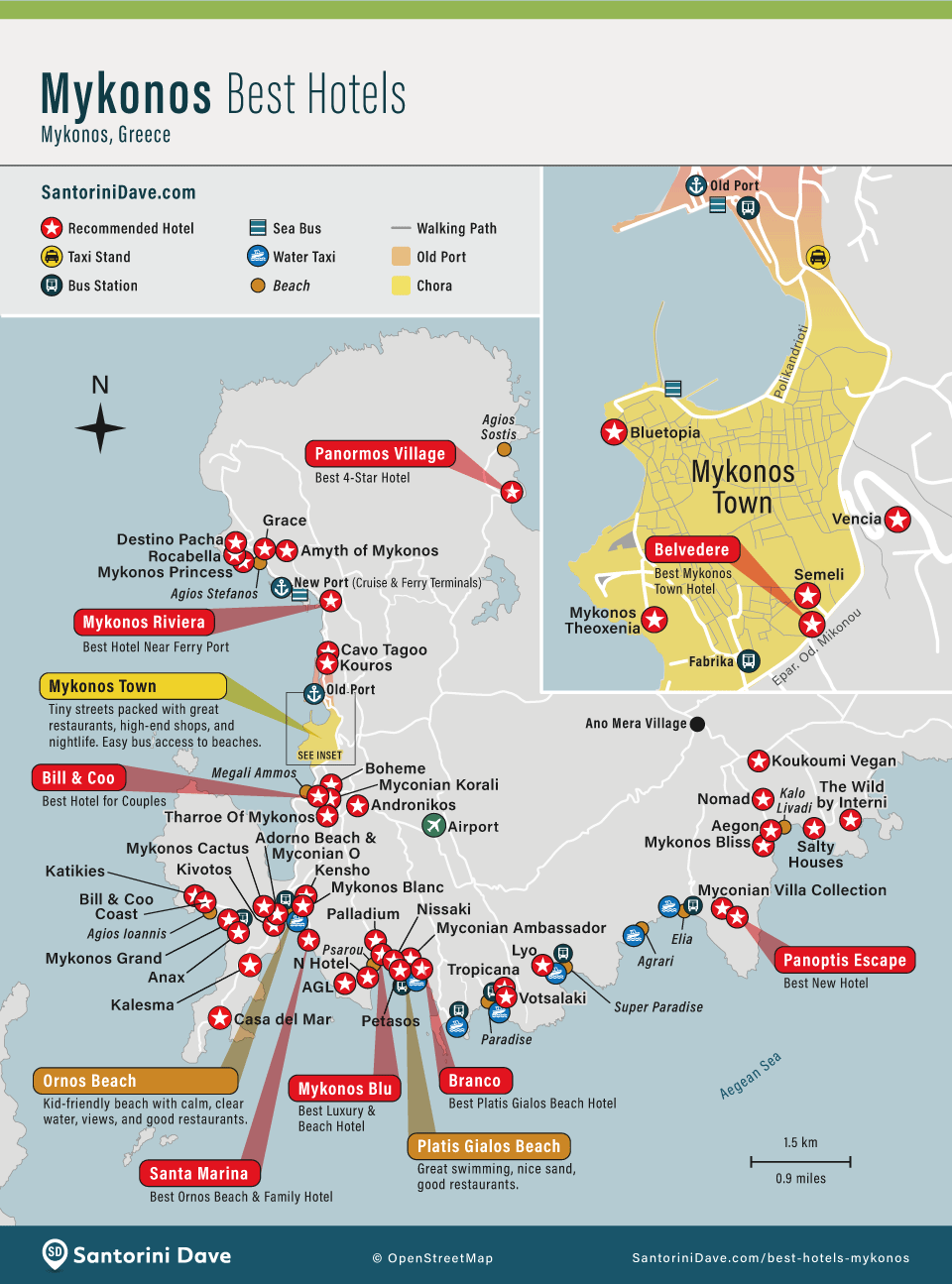 Hotels on Map: Panormos Village • Destino Pacha • Rocabella • Mykonos Princess • Grace • Amyth of Mykonos • Mykonos Riviera • Cavo Tagoo • Kouros • Bluetopia • Mykonos Theoxenia • Belvedere • Semeli • Vencia • Boheme • Bill & Coo Suites and Lounge • Myconian Korali • Tharroe Of Mykonos • Andronikos • Katikies • Bill & Coo Coast Suites • Mykonos Grand • Anax • Kalesma Mykonos • Casa del Mar • Kivotos • Mykonos Cactus • Adorno Beach • Myconian O • Kensho • Mykonos Blanc • Santa Marina • AGL • N Hotel • Palladium • Mykonos Blu • Nissaki • Petasos • Myconian Ambassador • Branco • Votsalak • Tropicana • Lyo • Myconian Villa Collection • Panoptis Escape • Mykonos Bliss • Aegon • Nomad • Koukoumi Vegan • Salty Houses • The Wild by Interni
The 51 Best Hotels in Mykonos

We've visited, toured, or stayed at just about every hotel in Mykonos. If you need advice email me at dave@santorinidave.com.


Hotel phone: +30 22890 27900
One of the most romantic hotels on Mykonos and a great honeymoon pick. Equal parts charming and trendy. Located just above wonderful Psarou Beach, which is well-protected from the wind. Food, music, and dancing are just down the beach at Nammos. It's an easy walk to Platis Gialos beach and the excellent restaurants there. The hotel's free shuttle service gets you to Mykonos Town in less than 10 minutes.
Review • Hotel Website • Check prices for Mykonos Blu


Hotel phone: +30 22890 23220
Great for families with a beautiful semi-private beach and small playground with play equipment. The resort is built up the side of a hill and sea view rooms have great views. The restaurants of Ornos are a short walk away and there is a regular free shuttle into Mykonos Town that takes less than 10 minutes. If you have young children, this is the best hotel on Mykonos.
Review • Hotel Website • Check prices for Santa Marina


Hotel phone: +30 22890 77222
25 gorgeous suites and 2 private villas, all with private heated infinity pools and sea views above Ornos Bay. Villas can accommodate up to 14 guests, with private gyms, open-plan living and dining rooms, fully-equipped kitchen with stocked refrigerators, and the private chef services upon request. There's a fantastic all-day Cycladic restaurant and a shared sunset-view terrace that features a cocktail bar, fire pit, and infinity pool.
Hotel Website • Check prices for Kalesma Mykonos


Hotel phone: +30 22894 45400
The newest addition to the Myconian Collection properties, Panoptis Escape offers over-the-top indulgence from its enviable seat above Elia Beach. Its 21 villas and retreats all feature kitchenettes or kitchens, and spacious private terraces with swimming pools or outdoor jacuzzis. The culinary program is extraordinary at their farm-to-table restaurant featuring locally sourced ingredients; foodie experiences include private fine dining and a fishing trip that includes cooking on a remote beach. Signature rituals include spiritual visits to Delos Island, breathwork on Rinea Island, sunrise and sunset meditations, and much more. Of course, there is an infinity pool at the heart of the resort, along with a holistic wellness center. Complimentary perks include arrival and departure transportation, a champagne American breakfast, access to the hotel's private beach, and hourly shuttle service into Mykonos Town.
Hotel Website • Check prices for Panoptis Escape


Hotel phone: +30 22890 76000
Ultra-luxury, family-friendly suites and villas ranging from 1- to 6-bedrooms with private pools or outdoor jacuzzis on a hill overlooking Elia Beach. The hotel boasts a sea-view, saltwater infinity pool, an indulgent spa, and a fine dining Greek-Mediterranean restaurant. Perks include free shuttles to Elia Beach and complimentary beach beds there, babysitting services, and access to the facilities and dining of all other Myconian Collection properties.
Review • Hotel Website • Check prices for Myconian Villa Collection


Hotel phone: +30 22894 40100
Nautical-themed luxury hotel near the New Port with a heated, saltwater infinity pool, an amazing spa, a fine Lebanese restaurant, and a casual Pool Club, serving Greek-Mediterranean fare and inspired cocktails. All rooms types include a private terrace with marina and sea views; most include a private jacuzzi or pool (heated on request). Great freebies include a combined a la carte and buffet breakfast, hourly shuttle to Mykonos Town, transfers to and from the port, and access to the spa's hammam and sauna.
Review • Hotel Website • Check prices for Mykonos Riviera


Hotel phone: +30 22890 24094
This is one of the more magical hotels on Mykonos. It's set on beautiful Ornos bay and has stunning views of the surrounding water and hills. There's a small private beach (more pebbles than sand) with a cabana sitting out on the water. The setting is incredibly romantic, and it's a hotel people stay at and never want to leave. Ornos Beach and a handful of restaurants are a short walk away. Guests can book the hotel's private yacht to tour the island. There's a 2-bedroom suite and waterfront villa – both with private pools.
Review • Hotel Website • Check prices for Kivotos Mykonos


Hotel phone: +30 22890 27890
Adults-only hotel offering 2 infinity pools (1 quiet pool with a sandy bottom, the other with a lounge and DJ), a lavish spa, and breathtaking sea views over Agios Ioannis Beach toward Delos Island. Rooms and suites are spacious and polished, all with large balconies and private outdoor jacuzzis or plunge pools. Dining and drinks are excellent at Mikrasia, their Anatolian restaurant, and at Seltz, their champagne lounge. With a 2:1 guest to staff ratio, service is incredibly attentive.
Review • Hotel Website • Check prices for Katikies Mykonos


Hotel phone: +30 22890 26292
Perched above Megali Ammos Beach with an incredible infinity pool, posh spa, and amazing sunset sea views. Spacious suites all boast private terraces, some with private jacuzzis or private pools. The hotel especially emphasizes food, with an outstanding fine dining restaurant, decadent breakfasts, signature cocktails, and fine wines. It's a short walk to the nightlife and restaurants of Mykonos Town (though it does involve walking on a road with no sidewalks – most people take a taxi back at the end of the night).
Review • Hotel Website • Check prices for Bill & Coo Suites and Lounge


Hotel phone: +30 22890 27466
Stylish, family-friendly, 5-star hotel with 2 pools (1 heated, 1 cool), fantastic dining, and a spa. Their restaurants Thioni and Krama are 2 of the very best on the island, and their pool bar is open 22 hours a day. The Semeli Suite is one of the best in Mykonos Town for a large family or group of friends: 3 bedrooms, 3 bathrooms, 2 heated jacuzzis. Semeli is just a 3-minute walk from Mykonos' famous nightlife, dining, and attractions.
Review • Hotel Website • Check prices for Semeli Hotel


Hotel phone: +30 22890 25500
Fashionable, beachfront luxury hotel offering a dreamy pool and beach spa on the widest part of Platis Gialos Beach. The restaurant serves up contemporary versions of classic Greek dishes, with an especially great breakfast; the beach bar offers excellent service, wonderful cocktails, and light bites. Rooms and suites all boast sea views, while Honeymoon and Prestige Suites add private, outdoor jacuzzis. Fantastic location near the bus to Mykonos Town and the water taxi to the southern beaches all the way to Elia.
Review • Hotel Website • Check prices for Branco Mykonos


Hotel phone: +30 22890 27618
Family-friendly, small-dog-friendly, luxury hotel with a dazzling pool, full-service spa, and an upscale beach club restaurant. Rooms and suites are spacious, many with indoor or outdoor private jacuzzis or private pools. The 2-floor Friends and Family Suite is their largest room, with 2 bedrooms, 2 bathrooms, and an outdoor jacuzzi. Mykonos Blanc is one of only a handful of hotels on the island with wheelchair-accessible rooms and an elevator. Located on the spectacular Ornos Beach, surrounded by restaurants and beach clubs and just a short walk from the bus to Mykonos Town or the water taxi to the southern beaches as far east as Elia. Complimentary airport and port transfers.
Review • Hotel Website • Check prices for Mykonos Blanc


Hotel phone: +30 22890 25555
Family-friendly hotel with sea view rooms, a wonderful pool, a full-service salon and spa, and direct access down to a private beach (though it does have some stony patches). The largest suites have 3 beds (1 queen, 2 twins) sea views, and a private pool. The hotel has two restaurants, one of which serves top-notch gourmet food, while the popular Hippie Fish restaurant is just down the beach. Though the immediate area is fairly quiet, Mykonos Town is just 15 minutes away on the bus, which runs frequently.
Review • Hotel Website • Check prices for Mykonos Grand Hotel and Resort


Hotel phone: +30 22890 20100
Cavo Tagoo is one of the top luxury hotels on Mykonos. It sits on a rise between the two ports, and you can watch the ferries and cruise ships come and go through the day and watch the sun set into the Aegean at night. Mykonos Town is a 10-minute walk away (the road is narrow with a good deal of traffic, so many people take the free shuttle bus). The pool and sundeck are magical. Most rooms above the basic level come with a private pool. The hotel's Asian fusion restaurant has great sushi.
Review • Hotel website • Check prices for Cavo Tagoo


Hotel phone: +30 22890 23437
Family-friendly, hotel a with a small private beach, saltwater pool and jacuzzi, and a spa with thalassotherapy, just a 2-minute walk to Platis Gialos Beach and a 12-minute walk to Psarou Beach. Rooms and suites include private terraces, some with private jacuzzis or semi-private pools. Connecting rooms can join to create 2- to 3-bedroom suites with private pools. Onsite dining is stellar at VIP and Le Club, overlooking the sea, plus the hotel is right at the bus stop to Mykonos Town for dining, clubbing, and shopping and just a short walk to several great restaurants and tavernas.
Review • Hotel website • Check prices for Petasos Beach Resort & Spa


Hotel phone: +30 22890 24034
Charming boutique hotel in Little Venice with amazing views from their over-the-sea balconies, most with windmill and sunset views. Each suite features a private balcony and hydromassage shower; 2 add steam showers with chromotherapy lighting. Bluetopia Suites is in the pedestrian-only heart of Mykonos town, just steps from the island's legendary nightlife, fantastic dining, and designer boutiques.
Review • Hotel Website • Check prices for Bluetopia Suites


Hotel phone: +30 22890 25182
Wonderful, small hotel with a 2-level cascading infinity pool with floating sunbeds, a casual Greek restaurant, and easy walking to Panormos Beach. Great Mediterranean restaurant onsite that works well with special dietary requests. The suites (Junior, Deluxe, Suite, and Executive) offer outstanding Mykonian stone architecture, dug straight into the hillside with private pools and tons of privacy. Affordable rooms and apartments with kitchenettes enjoy the same outstanding facilities on a budget.
Hotel Website • Check prices for Panormos Village


Hotel phone: +30 22890 27666
Family-friendly boutique hotel with 4 saltwater pools, a cozy spa, and delicious restaurant and bar bites. Rooms, suites, and villas are all spacious, with the largest being a 3-bedroom, 2-bathroom villa for 6, and all include indoor or outdoor private jacuzzis. Nissaki is well-located within a 3-minute walk of Platis Gialos Beach, within a 5-minute walk of Psarou Beach, near the bus stop for Mykonos Town (running every 30 minutes), and near the water taxi to the southern beaches as far east as Elia.
Review • Hotel Website • Check prices for Nissaki Boutique Hotel


Hotel phone: +30 22890 26676
Family-friendly collection of eleven seaview villas set above a private beach. Villas range from one to nine bedrooms and comfortably sleep three to eighteen guests, all with full kitchens, separate living rooms, and generous terraces with dining tables; most add private outdoor jacuzzis or infinity pools. The wellness center boasts a heated, saltwater therapy pool, hammam, holistic spa, and a pilates gym. Miramar Restaurant serves a crowd-pleasing Mediterannean menu, plus free breakfast each morning. The hotel's private beach area on Glyfadi offers complimentary sunbeds and umbrellas, along with food and beverage service throughout the day. Relaxed location in tranquil Aleomandra, away from the crowds and noise of Mykonos Town and the party beaches.
Hotel Website • Check prices for Casa del Mar


Hotel phone: +30 22890 24166
A short walk to beautiful Platis Gialos Beach. Situated on a steep hill the higher rooms have some of the best views on Mykonos. It's a 10-minute walk to the bus stop to Mykonos Town, and there's a sea taxi nearby to Paradise and Super Paradise Beaches. Some suites have private pools or hot tubs. The hotel also boasts a fantastic pool and a thalassotherapy spa.
Review • Hotel website • Check prices for Myconian Ambassador

21. AGL Luxury Villas – Agios Lazaros, near Psarou Beach


Hotel phone: +30 21280 63333
Secluded, cliffside villa collection offering ten ultra-private, luxury homes with sea views over Ornos Bay. Villas range from 120 to 850 square meters with up to eight bedrooms, fourteen bathrooms, and sleeping six to sixteen guests. Each villa includes a private, outdoor infinity pool (heated on request), an al fresco dining area, at least two fully equipped kitchens, a washer and dryer, and private parking. Some add outdoor jacuzzis and Turkish saunas. This self-contained estate includes 24-hour security, capable concierge service, a gated entrance, beautifully maintained gardens, a private road to the beach, a helipad, and a pier. Stunning location in rugged Agios Lazaros, between Psarou and Ornos Beaches.
Hotel Website • Check prices for AGL Luxury Villas


Hotel phone: +30 22890 23665
Operating since 1985, Vencia is a true gem of authentic, Mykonian hospitality. The hotel features a sizable infinity pool with dramatic views over Mykonos Town toward the iconic windmills and the sunset. The unpretentious, gourmet restaurant, Karavaki, is a popular spot for sunset, candlelight dining with Greek-Mediterranean flavors; during the day, a rich comfort food menu delights guests. Breakfast is included. Rooms, suites, and the new villa offer plenty of variety in accommodation. For instance, the largest villa is seven times the size of the smallest room; bed sizes can be queen, double, or two twins; and views either face the garden or sea. However, all room types come with a private balcony or patio and a walk-in shower. Book early if you have a particular type in mind.
Hotel Website • Check prices for Vencia Boutique Hotel


Hotel phone: +30 22890 25122
Chic and charming hotel with beautiful rooms, suites, and villas, nice views over the town, an infinity pool and pool club, and an organic spa. One of the best located hotels in town near the windmills and Old Port, with nightlife and restaurants accessible by a pedestrian path (and no busy roads to negotiate). The hotel also has two excellent restaurants on Mykonos plus three stylish bars onsite.
Review • Hotel Website • Check prices for Belvedere Hotel


Hotel phone: +30 22890 29001
Luxury boutique getaway with two pools, a rooftop jacuzzi, an amazing culinary program, and a full-service spa. Most rooms and suites feature outdoor jacuzzis or plunge pools, while some add soaking tubs. One of the highlights here is the restaurant, serving Greek and Cretan gastronomy experiences during dinner, casual Greek dining throughout the day, and an inspired cocktail bar and wine list. Service is warm and friendly.
Review • Hotel Website • Check prices for Kensho Ornos


Hotel phone: +30 22890 28930
Young-trending, luxury hotel with a glass-front infinity pool, a decadent spa, and sea view rooms and suites (some with jacuzzis). Food and drinks are always extraordinary at their all-day pool bar and at their creative, Greek restaurant Reeza, which serves an especially great breakfast. Their excellent culinary program offers wine tasting, cooking classes, island picnics, and private dining. Rocabella sits above Agios Stefanos Beach near the New Port.
Review • Hotel website • Check prices for Rocabella Mykonos


Hotel phone: +30 22890 22107
Five-star hotel with a panoramic, sea view infinity pool, a superb Greek and Mediterranean restaurant, and a thalassotherapy spa with five pools set to different temperatures. Spacious rooms feature private balconies and contemporary style; junior, one, and two-bedroom suites add private pools, jacuzzis, or both. Guests of Korali have access to facilities of all eight other Myconian Collection properties. The hotel sits on a hilltop above Megali Ammos Beach, about a 10-minute walk to Mykonos Town.
Review • Hotel Website • Check prices for Myconian Korali


Hotel phone: +30 22890 72500
Boho, boutique hotel with a heated pool and a private beach in a protected cove. Their Greek Taverna serves an authentic, local menu from the afternoon through the evening, while the Pool Bar offers drinks and light bites poolside and to the beach. The hotel features a wide range of cozy rooms, stylish suites, and a spacious two-bedroom villa – most with sea views, some with private pools. Great location on a private beach and just a three-minute walk to Agia Anna Beach for casual dining and swimming and an 8-minute walk to water sports on Kalafatis Beach.
Hotel Website • Check prices for The Wild Hotel


Hotel phone: +30 22890 25381
Elegant boutique hotel resting between the island's new and old ports with two pools, a spa, and sunset sea views. Suites sleep two to four guests and include private balconies or terraces, many with outdoor jacuzzis, and two with plunge pools; two-bedroom master suites sleep up to six. Narcissus Restaurant offers breakfast (complimentary), poolside snacks, and gourmet dinners featuring traditional Greek fare updated for modern tastes. Excellent location less than a 10-minute walk from Mykonos Town.
Hotel Website • Check prices for Kouros


Hotel phone: +30 22890 22520
Upscale, adults-only hotel offering two pools (one heated, one unheated) and an outstanding wellness center. All rooms and suites have private terraces or balconies and all bookings include breakfast. A stunning restaurant sits poolside, offering casual, all-day dining and upscale Greek gastronomy in the evenings.
Hotel Website • Check prices for Destino Pacha Mykonos


Hotel phone: +30 22890 22230
Historic, seafront hotel near the famous Mykonos windmills, Little Venice, and less than a five-minute walk to restaurants and nightlife. Perks include a gorgeous infinity pool, massage rooms, free cell phones (unlimited data and calls), and an amazing, complimentary breakfast. It feels quiet and secluded for being so central, just steps away from the island's best nightlife, dining, and shopping, and within a quick bus ride to some of the world's best beaches.
Review • Hotel Website • Check prices for Mykonos Theoxenia


Hotel phone: +30 22890 76317
The one and only vegan hotel in Mykonos, Koukoumi's eco-suites are all arranged around a central, courtyard pool with a rejuvenating spa featuring organic, sustainable products and a comprehensive gym with personal trainers and yoga. Each suite features a complimentary mini-bar, Korres vegan amenities, and Cocomat vegan mattresses. Some suites come with private terraces; the master suite adds a private, outdoor jacuzzi. Of course, vegan food is a major highlight here. The on-site restaurant proposes a menu of international fare with a Greek twist, along with a thoughtfully curated, vegan-certified wine list. Stays can be booked as all-inclusive packages, while breakfast is complimentary even for those opting out of the all-inclusive rate. Located in traditional Ano Mera village on the hotel owner's ancestral homestead about 1 km from the heart of the village and the Monastery of Panagia Tourliani (about a 15-minute walk) and about 1.5 km from Kalo Livadi Beach (about a 20-minute walk).
Hotel Website • Check prices for Koukoumi Vegan Hotel


Hotel phone: +30 22894 44000
Adults-only, beachfront resort with an infinity pool and full-service spa with a cave pool. Poolside and beach fare is on offer from Obar's, featuring cocktails, mezze, and light bites all day, while O' Restaurant offers contemporary Greek fine dining throughout the day and into the evening. Sophisticated rooms and suites boast heavy marble details; ground floor rooms have private pools, while upper floor rooms have private balconies. The O! Suite (51 square meters, up to 3 guests) and Grand O Suite (135 square meters, 6 guests) are the largest, both with sea views and private pools. Perks include complimentary breakfast, free parking in the hotel's underground garage, and a choice of either cotton or linen sheets. Located on a private section of Ornos Beach, near beach clubs and restaurants and just a short walk to the water taxi or bus into Mykonos Town.
Hotel Website • Check prices for Myconian O


Hotel phone: +30 22890 77600
Romantic, beachfront resort with 2 infinity pools, a wonderful restaurant and bar, and a full-service salon and spa. The hotel offers a wide variety of rooms and suites with up to two bedrooms, all with private balconies and indoor or outdoor jacuzzis, many with private pools. There is a small private beach fronting the hotel with a sandy area set up with sunbeds and a rocky entrance to the sea; sandy Agios Ioannis Beach is also just a short walk away. Excellent food and drinks, complimentary arrival and departure transfers, and attentive service round out the experience here.
Review • Hotel Website • Check prices for Anax Resort and Spa

34. N Hotel – Psarou Beach


Hotel phone: +30 22890 29002
Lavish beachfront hotel on sparkling Psarou Beach. Swanky rooms, suites, and villas feature private pools with sea view terraces facing the sunset. Villas add full kitchens and separate living rooms. The world-renowned Nammos Restaurant provides the hotel's food and beverages on site or on the beach. Luxe facilities include a private pier, helipad, and spa. Valet parking is included in the room rates. Excellent location on a lively beach with calm water and mere steps from Nammos Village designer mall.
Hotel Website • Check prices for N Hotel


Hotel phone: +30 22890 27370
The best view of any Mykonos Hotel. A very nice pool looks out over Mykonos Town and the Old Port. Rooms are bright and many have beautiful sea views. Facilities include a tranquil spa, sophisticated Greek-Mediterranean restaurant, and pet-friendly rooms. The hotel also houses the ruins of a tomb for a Mycenaean queen dating back to the 2nd century B.C. It is a 20 minute walk to Mykonos Town (down a busy steep road) so most guests rent a car or ATV to get around.
Review • Hotel Website • Check prices for Tharroe of Mykonos


Hotel phone: +30 22894 49000
Fashionable hotel with a beach club on the golden sand of Kalo Livadi. Rooms, suites, and villas are spread over two complexes: Revive (lively, overlooking the sea) and Retreat (tranquil, surrounded by gardens). All include a private balcony or patio; some add sharing pools or private pools. Facilities include two infinity pools, a holistic spa, a casual Greek restaurant with local ingredients, and a fine dining Mediterranean fusion restaurant. Beautifully situated on the increasingly cosmopolitan Kalo Livadi Beach, just a short walk to a handful of beach clubs and secluded Loulos Beach.
Hotel Website • Check prices for Aegon Mykonos


Hotel phone: +30 22890 26292
Adults-only, all-suite, luxury hotel with a private beach club on Agios Ioannis Beach. Its 15 suites all boast sea views and private furnished terraces; upgraded suites add outdoor jacuzzis, plunge pools, or swimming pools. A casual taverna and upscale steakhouse serve guests throughout the day until past midnight, and room service is available 24-hours a day. A seafront pool and gym are on-site, plus guests have access to the spa and restaurants of their sister property, Bill & Coo Suites and Lounge, in Megali Ammos.
Hotel Website • Check prices for Bill & Coo Coast Suites


Hotel phone: +30 22890 23806
Resting just steps away from Agios Stefanos, this refined hotel boasts a rooftop restaurant and seaview pool. Rooms, suites, and maisonettes offer king-size, Coco-Mat beds with pillow menus. Most units have private balconies or terraces; some add outdoor jacuzzis. Family-friendly maisonettes are split over two or three levels with full kithens, living rooms, and seaview verandas. Kapari Restaurant serves Greek modern dishes with a focus on Mykonian and Cycladic ingredients and regional Greek wines in a romantic setting. The pool bar offers more laid-back meals, cocktails, and complimentary a la carte breakfast. Facilities include a fitness center and massage room.
Hotel Website • Check prices for Mykonos Princess


Hotel phone: +30 22890 72421
Chic yet unfussy small hotel with a pool and seven apartments set above Loulos Beach and just steps from Kalo Livadi Beach. Apartments (studio, split level, and one to two-bedroom units) feature full kitchens and sea-view patios; two add private, outdoor pools. The largest 2-bedroom apartment sleeps up to 5 guests. The all-day pool bar restaurant serves up creative Greek fare and stellar drinks until 11:00 p.m. (bar open until midnight). Breakfast is always included and features a set meal served with made-to-order eggs. Wonderful location just a 5-minute walk to the beaches, a handful of beach clubs, and the bus stop to Mykonos Town.
Hotel Website • Check prices for Salty Houses

40. Nomad – Kalo Livadi


Hotel phone: +30 22890 72800
Bohemian, adults-only, all-suite hideaway styled after a monastery with a courtyard pool, a Mediterranean fusion restaurant, and an outdoor fireplace ideal for sunset gatherings. All suites feature luxury furnishings, king-sized beds, al fresco dining tables, outdoor showers, and private jacuzzis or pools (or both). All but two suites boast sea views, but what these suites lack in views they make up for in privacy and serenity. Situated about 500 meters from the sand and dining of Kalo Livadi Beach.
Hotel Website • Check prices for Nomad


Hotel phone: +30 22890 77205
Adults-only, all-suite, small hotel with a pool, spa, and outdoor gym perched above Agios Stefanos Beach. Each ample suite has a king-sized bed and walk-in rain shower; all but one offer either a full or partial sea view and an outdoor private pool or jacuzzi. Complimentary, a la carte breakfast is offered daily to each suite or poolside, where you'll find the casual, all-day Mediterranean bistro and bar. The hotel's wine cellar stocks a range of Greek wines, while its boutique spotlights fashions, accessories, and products by Greek designers. Great location just 500 meters from the beach about about 1 km from the ferry port.
Hotel Website • Check prices for Amyth


Hotel phone: +30 22890 25925
Beautiful hotel with a nice pool, large family rooms, great views, and good rates. The beaches of Psarou and Platis Gialos are a 5-minute walk down the hill. Getting back up can be a little steep for some, which is why the Palladium is such a good value (rates need to be a little cheaper than the hotels right on the beach). The bus to Mykonos Town stops directly outside the hotel and the ride to town takes 10 minutes.
Hotel Website • Check prices for Palladium Hotel


Hotel phone: +30 22890 24231
Independently-owned, adults-only hotel in Drafaki on the outskirts of Mykonos Town (free shuttle into town twice daily). As it's just outside of town, rates are more affordable here that at other four-star properties without compromising service or amenities. The hotel offers a freeform pool, fitness center with personal training, and a holistic spa with a jacuzzi, hammam, sauna, and therapy menu featuring couples' treatments. Four outlets serve meals and drinks on site: Lady Finger Restaurant (award-winning Greek gourmet dining), Edesma (all-day comfort menu, complimentary breakfast), Orange Blue Bar (poolside coffee, cocktails, wine, and more), and Sky Bar (sunset cocktails and light fare with live music or DJ sets). Rooms and suites are designed in Cycladic minimalism, all with private balconies or terraces and king-sized beds; half add outdoor jacuzzis.
Hotel Website • Check prices for Andronikos Hotel


Hotel phone: +30 22890 25744
Hip, friendly beachfront boutique hotel with a pool. Adorno offers rooms, suites, and maisonettes with king-sized beds. Top-tier accommodations add a private outdoor jacuzzi or pool. A complimentary breakfast buffet is on offer daily, featuring locally-sourced fruits, cheeses, traditional pastries, and more. The all-day snack bar serves light fare, fresh juices, and cocktails in a leafy, open-air courtyard around the pool. Superb location right on the sands of Ornos Beach, walking distance to plenty of dining, the water taxi, and the bus to Mykonos Town.
Hotel Website • Check prices for Adorno Beach Hotel & Suites


Hotel phone: +30 22890 79743
Family-built, owned, and operated, Votsalaki mixes luxury facilities with a homey atmosphere above Paradise Beach. Accommodations include studios, suites, apartments, and villas and sleep 2 to 6, all with sea-view balconies. Apartments and villas add kitchens; some boast private or semi-private pools. The main infinity pool features a classic kidney shape with sweeping views and all-day food and drink service from the pool bar. Guests will also find a well-equipped outdoor gym, shallow baby pool, and a yoga deck (yoga retreats are also available). Great location less than a 5-minute walk to the party scene on Paradise Beach, a handful of restaurants, and the bus to Mykonos Town.
Hotel Website


Hotel phone: +30 22890 72912
Trendy, adults-only, boutique hotel offering 15 suites built for couples, all with private sun terraces overlooking the sea, and most with private jacuzzis or pools. Fantastic Greek-Mediterranean fare is served throughout the day at their casual pool bar or upscale restaurant; a la carte breakfast is included. Beautifully located a short walk to Kalo Livadi Beach, with a couple of restaurants, a beach club, and plenty of open beach to claim for yourself.
Hotel Website • Check prices for Mykonos Bliss


Hotel phone: +30 22890 20000
Lovely property – especially if you're looking for a 2-bedroom suite or large family suite – with a sea view pool, tranquil spa, and an all-day Greek restaurant and bar. Many rooms and suites offer private plunge pools. Grace specializes in curated experiences, including romantic picnics at the lighthouse and sailing trips, and is a popular destination for weddings and vow renewals. Located above quiet Agios Stefanos Beach, near the New Port, and offering a complimentary shuttle service to Mykonos Town.
Review • Hotel Website • Check prices for Grace Mykonos


Hotel phone: +30 22890 28478
Smart boutique hotel with a pool and bar near Ornos Beach. Rooms and suites are spacious with a minimalistic style; top-tier suites add outdoor jacuzzis and sea views. A buffet breakfast is included in the room rates, and light fare and drinks are served poolside all day. The crowd skews younger here, though the partying takes place offsite at the beaches or in Mykonos Town. Great location just a 5-minute walk to Ornos Beach and dining and a 10-minute walk to the bus stop into town and the water taxi to the southern beaches.
Hotel Website • Check prices for Mykonos Cactus


Hotel phone: +30 22890 23300
Adults-only, boutique hotel with an infinity pool, an attached jacuzzi, and an outdoor massage cabana. All suites here boast sunset sea views and luxe amenities, including pillow menus, Marshall speakers, and espresso machines. Honeymoon, Bohemian, and Grand Bohemian Suites add private outdoor jacuzzis. Food and drinks are outstanding with a local, seasonal menu of Greek and Mykonian recipes, creative cocktails, and well-curated champagne, wine, and beer lists. Located above Megali Ammos Beach within walking distance to Mykonos Town.
Review • Hotel Website • Check prices for Boheme Mykonos


Hotel phone: +30 22890 22535
Adults-only boutique hideaway with a stunning pool and excellent restaurant on a hill overlooking Super Paradise Beach, a 10-minute walk away. Rooms and suites feature contemporary design and elegant décor, all with private terraces, and some with jacuzzis; connecting rooms sleep up to 4 with 2 separate bedrooms. Their all-day restaurant is among the very best on the island, so make dinner reservations in advance. This is one of the more remote hotels on the island; plan on renting a car if staying here.
Review • Hotel Website • Check prices for Lyo Boutique Hotel


Hotel phone: +30 22890 78746
Adults-only hotel overlooking the legendary party beach, Paradise – don't worry, the hotel's soundproofing is excellent. Tropicana is really two hotels in one: a moderately-priced hotel on the lower floors (standard rooms, apartments, and deluxe rooms with outdoor jacuzzis) and a posh suite and villa collection on the upper floors (all with private pools). All guests have access to their four pools (one deluxe pool, one heated pool, and two infinity pools), a decadent spa (rose quartz scrubs and 24 carat gold body masks), an all-day, modern Greek restaurant, and three poolside snack and drink bars. Tropicana Beach Club, just steps away on the shore, is a separate entity. Hotel guests get free entry to events at the club but do need to pay for sunbed and umbrella rentals.
Hotel Website • Check prices for Tropicana Hotel
Mykonos Town Hotels

Mykonos Town is the hub of the island and the center of the island's nightlife. It's a super fun vibe at night when the narrow lanes are packed with an international crowd of party-goers. Lots of great food, high-end shopping, and trendy bars. Half the fun is getting lost in the twisty-turny alleyways, open to pedestrians only. Some people prefer to stay in the beach towns, but I recommend staying in town and making the short commute to the beaches during the day. Return to town in the late afternoon and enjoy the incredible atmosphere of Mykonos Town well into the night.

Best Hotels in Mykonos Town

Ornos Beach Hotels

The busiest beach in Mykonos. Ornos is beautiful with wonderful views and surroundings, but is especially crowded in the summer months. Clean, crystal-clear water that is calm and very kid-friendly. Good restaurants and good bus connections to Mykonos Town. This is the beginning of the water taxi route, with stops along the south coast beaches, from here heading east to Platis Gialos, Paraga, Paradise, Super Paradise, Agrari, and ending at Elia.

Best Hotels in Ornos

Platis Gialos Hotels

Great beach with plenty of excellent restaurants and a fun, family-friendly atmosphere, albiet crowded. A water taxi departs from here heading west to Ornos or east toward Elia. Good bus connections to Mykonos Town. Psarou beach is an easy 10-minute walk in one direction. Paraga, Agia Anna, and Paradise are walking distance in the other direction.

Best Hotels at Platis Gialos

Psarou Beach Hotels

Great swimming beach with blissfully calm water in a lovely cove. Just a short walk from Platis Gialos for more dining and swimming options, plus to water taxi to the other south coast beaches. Dominated by the Nammos beach club and Nammos Village luxury mall.

Best Hotel at Psarou Beach

Agios Ioannis Hotels

A quiet space with a handful of tavernas and shops. Small beach with nice sand and wonderful swimming. Stay here for rest and solitude. Good bus connections to Mykonos Town.

Best Hotels at Agios Ioannis

Elia Beach Hotels

The longest beach in Mykonos, Elia is a wide, golden stretch of sand with some fantastic high-end resorts. The only caveat is that it's a good distance from Mykonos Town and can feel a little isolated. Water taxis and one bus route connects Elia to Town.

Best Hotels at Elia Beach

Megali Ammos Hotels

Generally not-too-busy beach about 500 meters from Mykonos Town. Nice sand and swimming but can be windy. It's an easy walk from the Chora, though there are no sidewalks. The hotels below should be considered as part of Mykonos Town but close to Megali Ammos beach.

Best Hotels at Megali Ammos

Agios Stefanos Hotels

This is the beach nearest to the ferry port at Tourlos and about 3 km from the heart of Mykonos Town. Agios Stefanos is a small, sandy beach with a handful of restaurants and beach clubs, including the amazing Limnios Tavern offering gorgeous sunset views. This is not the most beautiful beach in Mykonos, but it's great for swimming and is semi-protected from the winds. The area is well-connected by buses to and from the airport and Mykonos Town.

Best Hotels at Agios Stefanos

Kalo Livadi Hotels

Long, wide swathe of sand with crystalline waters, luxury hotels, and a couple of relaxed beach clubs. A great mix of cosmopolitan style and rustic relaxation. Kalo Livadi is a little distant from Mykonos Town (though connected by bus) and isn't on the water taxi route, which keeps the worst of the crowds at bay.

The Best Hotels at Kalo Livadi

Paradise Beach Hotels

One of the island's top party beaches (along with Super Paradise and Paraga), with a handful of beach clubs lining the shore. Calm early in the day but hedonistic after sunset when the beach parties get going. Frequent bus connections to Mykonos Town and on the water taxi route.

The Best Hotels on Paradise Beach

Super Paradise Beach Hotels

Another legendary party beach, this one anchored by Super Paradise Beach Club at the east end and Jackie O' Beach Club at the west end. Jackie O' offers a classier daytime experience plus a fun drag show nightly around sunset. Connected to the south coast beaches by water taxi and to Mykonos Town via a private shuttle service running several times a day.

The Best Hotels on Super Paradise Beach

Aleomandra Hotels

One of the least developed parts of the island, Aleomandra is ideal for quiet getaways to nameless beaches and mythical sunsets toward Delos Island. Just a handful of hotels are here; most of the buildings you'll find are private villas. Highly romantic but may feel remote for some.

The Best Hotels in Aleomandra

Panormos Hotels

Low-key beach with just one restaurant and one beach club keeping the area active but not overwhelming. Panormos is a little more exposed to the winds than the south coast beaches, but its setting in a cove shelters it somewhat. This is one of the longest beaches on Mykonos. No bus service or water taxi; you'll want a car to stay here.

The Best Hotels in Panormos

Kalafatis Hotels

Mykonos' only Blue Flag-awarded beach, Kalafatis, fronts a small, coastal village of the same name. Set too far east for the water taxi, though there are bus connections to Mykonos Town, this long, tree-lined beach never feels crowded. Kalafatis is most popular for windsurfing, with a water sports center at the north end, a few umbrella sunbed sets for rent, and plenty of open space to spread a blanket and claim for yourself.


The Best Hotel in Kalafatis

Ano Mera Hotels

The second largest village on Mykonos Town, surprisingly small Ano Mera still retains some of its traditional elements with a handful of historic sights, such as 13th-century Gyzi Castle, 18th-century Paleokastro Monastery, and 16th-century Panagia Tourliani Monastery and ecclesiastical museum, seen above from outside it's fortified walls. Its handful of tavernas and shops offer authentic dining and local products at more reasonable rates than you'll find in Mykonos Town or on the beaches.

The Best Hotel in Ano Mera

Mykonos Hotels with Private Pools
Unlike Santorini, Mykonos doesn't have that many hotels with private pools or jacuzzis – but it does have some and they're usually worth the extra cost (at least for me, I love having a private pool).

Mykonos Hotels with Private Pool, Plunge Pool, or Hot Tub
Read More