Istanbul › Best Time to Visit
Updated: March 18, 2020
See Also
When is the best time to visit Istanbul?
The best time to visit Istanbul is either April-May or mid-September to October-end when the days are longer, drier, and sunnier, but not as hot as in the peak of summer. Temperatures range between 12°C and 25°C and there are a few brief showers occasionally. These months also avoid the large tourist crowds.
Best Time for Good Weather: April to October.
Best Time for Honeymoons: April, May, and September.
Best Time for Nightlife: May to September.
Best Time for Saving Money: Avoid the peak months of June, July, and August when hotel rates are at their highest. The cheapest time is the winter, from December to February, but the cold weather is less inviting.
Best Time for Sightseeing: During the summer months of June, July, and August, the crowds around the sights in the old city can be overwhelming – and made worse by the hot and sticky weather. So, the optimal time is April, May, and from mid-September to October-end. During April, the entire city is in bloom for the tulip festival (see later).
Best Time of the Day for Sightseeing: The most pleasant time to visit Istanbul's abundant sights during summer is soon after opening, or later in the day, but in winter there are usually no queues or crowds at any time. In summer, however, expect sweltering heat, massive crowds, and long lines at entrance gates. Weekends (Friday, Saturday, and Sunday) are usually busier, but most attractions have their own closing days and slightly different operating hours, so always check before visiting.
Best Time for a Bosphorus Cruise: During September, the weather is usually warm, the crowds are reduced, and the winter gusts have yet to settle in. May is the next best option and an ideal time to look for the 3 species of dolphins that inhabit the strait. However, cruises along the Bosphorus are worthwhile at any time. Cruises might be canceled in winter because of poor weather; those in the morning will offer the best chance of sunshine.
Best Time for Shopping: Istanbul is a popular shopping destination, offering a wide variety of world-famous brands along with high-quality local designs. The city's local fashion industry is also booming, so seek out non-chain stores for the best prices. Spread over 40 days in June, July, and August, the Istanbul Shopping Fest offers substantial discounts across various malls and markets, although the abundance of tourists at the Grand Bazaar at this time reduces the possibility of too many bargains. Discounts are also possible across the city between mid-December and early January.
Best Time for Water Activities: Despite so much of the city facing the Bosphorus Strait and Golden Horn, water-sports are really limited to boat cruises which are especially popular after dark. Strong winds can make sailing, or even traveling a short while by ferry, a little uncomfortable. The water is calmest in the summer (June to August).
Istanbul Travel Seasons
High Season (June to early September): At this time, the crowds can be overwhelming, especially in the older parts of the city where the streets are narrow and sights, impressive. All visitors should book accommodations way ahead and expect rates to be far higher than just a week or two before and after this period. These months coincide with summer when the heat and humidity peak and the Turkish school holidays are on (mid-June to mid-September). However, this is a perfect time to enjoy a meal at a seafood restaurant along the Bosphorus or a Turkish coffee at a sidewalk café.
Shoulder Season (mid-September to the end of November, April, and May): These periods avoid the Turkish school holidays and the hottest weather, so they're ideal for visiting Istanbul, especially during the tulip festival in April. It's still crowded in places during September and October, but the cool and pleasant weather can continue until around mid-November.
Low Season (December to March): Expect substantial discounts in hotel rates and significantly reduced crowds, but it will be very cold, especially near the water. Some tourist businesses, e.g. dinner cruises and day tours to regional areas, may stop for a month or more. Hotels get busier and dearer during the Christmas/New Year period (around 20 December to 5 January).
Istanbul Weather by Month
Turkey's largest city enjoys a classic Mediterranean climate of hot, dry summers and cold, wet winters, with changeable months in-between. The weather can vary within the city because of its size, layout across 3 peninsulas, and position along the invisible divide between Europe and Asia.
Temperature by Month (high in Celsius)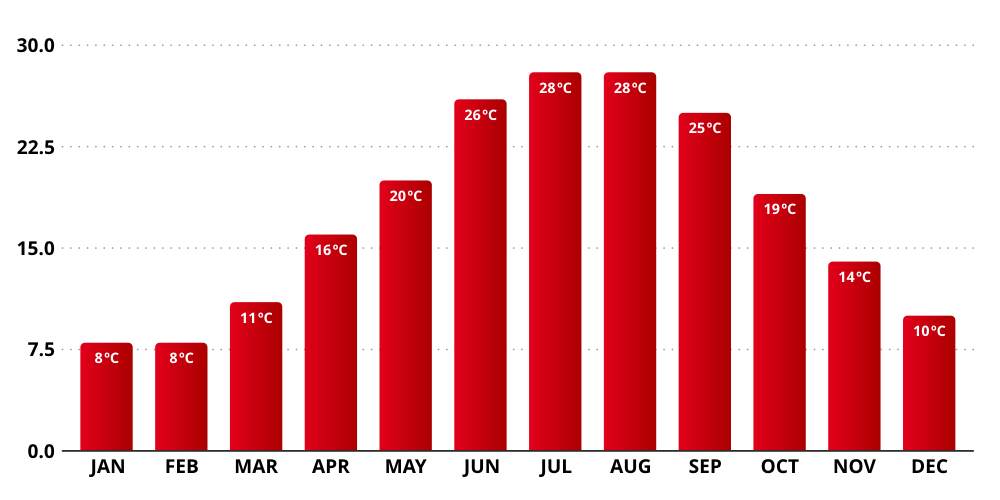 Rain by Month (mm)

Istanbul Weather in January: Rivals February as the coldest month of the year. Snow may fall on about 4 days but nothing to affect travel plans – in fact, it may snow in one area of Istanbul but not another. Average daytime high of 8°C but stays just 3-4 degrees above freezing overnight. Second-highest average rainfall (after December), with some rain falling on about 14 days and the sun setting before 5pm.
Istanbul Weather in February: Winter continues with cold and wet weather, and it's often extremely windy near the water. Fog may affect some flights and ferries, usually before mid-day, and the streets may be lined with snow for a few days. Average temperatures are about the same as January. With less than 4 hours of sunshine on average per day, consider visiting indoor attractions such as museums, galleries, mosques, and the Grand Bazaar (which is mostly undercover).
Istanbul Weather in March: Highly changeable month which locals still call 'winter'. Average daytime temperatures rise a little from 8°C in February to 11°C in March, and it still rains on average for 13 days. In fact, the highest snowfall ever recorded in Istanbul occurred in March 1987.
Istanbul Weather in April: Substantial increase on average from the previous month to 16°C and still a cold 12°C soon after sunset. With a noticeable drop in average rainfall from previous months, as well as fewer tourists and far lower hotel rates than June, July, and August, this is the best time to travel for the year so far – especially during the city-wide tulip festival (see below). Days are noticeably longer, with the sun setting at about 8pm by the end of the month.
Istanbul Weather in May: Average daily temperature peaks at a pleasant 20°C but stays a coolish 12°C overnight. Expect some brief showers and sudden changes in temperatures, but it's still a fabulous time to visit as the summer seems to be just around the corner.
Istanbul Weather in June: Start of the summer, when average daytime temperatures are 26°C and a mild 17°C overnight, but it can still be significantly hotter on some days. Showers have reduced to an average of 6 days a month. Start of the peak tourist season, but not as busy, hot, and humid as July and August.
Istanbul Weather in July: Equals (with August) the highest average daytime/overnight temperatures for the year: 28°C/17°C. While this may not seem hot to some, peaks of about 35°C are not uncommon, and the humidity, traffic, and crowds can become uncomfortable at times. Very little rain, as expected, with the lowest average monthly rainfall. To escape the heat and humidity, find a nice waterside café.
Istanbul Weather in August: About the same average temperatures during the day and night as July, and the busiest month of the year for visitor numbers. Expect shirt-soaking humidity and little relief from any winds. Still very dry, with occasional showers on only about 5 days a month.
Istanbul Weather in September: Slight drop in average daytime/overnight temperatures to 25°C/17°C (about the same as June), but reduced significantly by the end of the month. While it still may rain on some days, the drop in crowds, especially later in the month, makes this a perfect time to travel.
Istanbul Weather in October: Substantial drop to 19°C on average during the day and a coolish 12°C overnight as the autumn/fall has arrived. Still pleasant for visiting, although a little chilly, and days can be rainy; in fact, October receives the highest average monthly rainfall for the year since January, mostly falling during the second half of the month.
Istanbul Weather in November: The last month until April when some days can be pleasant, particularly during the first half – although expect about 13 days with rain during the month. A cool 14°C on average during the day but after dark, it plummets to a chilly 9°C. By the end of the month, there may only be 5 hours of sunshine on average.
Istanbul Weather in December: Winter now starts in earnest as daytime temperatures average 10°C. Easily the wettest month of the year on average and only about 3 hours of sunshine per day can be expected. Winds can chill the bones and there may be some snow on a few days, but certainly not as much as in nearby mountainous regions. Overnight average temperatures drop sharply to only a few degrees above freezing, while morning fog can be problematic and affect travel by air and sea. By now, the sun sets well before 5pm.
Istanbul Holidays, Events, and Festivals by Month
Dates for all Islamic festivals vary each year according to the lunar calendar (which is about 11 days shorter). These festivals will affect the opening of mosques and probably the ability for tourists to drink at an outdoor bar or even eat during the day at a table outside. Also, timetables for public transport may change and some workers, e.g. drivers for day tours, may be unavailable. On public holidays, all banks and government offices and some businesses will close.
For one month during Ramazan (Ramadan), Muslims, with a few exceptions, are obliged to not eat or drink during daylight hours. Şeker Bayrami (known as Eid al-Fitr elsewhere) celebrates the end of Ramazan for 3 days. It is also called the 'Sugar Feast/Festival' because sweets are given, mostly to children, and the first day after Ramadan is a public holiday. The most important festival is Kurban Bayrami (Eid al-Adha), which usually involves slaughtering sheep or goats over 4 days to commemorate the willingness of Abraham/Ibrahim to sacrifice his son to God.
Istanbul Events in January
New Year's Day (1st) – Quiet, reflective time when many locals stay at home, probably after a big night out, or visit friends. Public holiday, so some amenities, e.g. public transport, are more limited, but most tourist sights are open (and busy).
Istanbul Events in February
No festivals are organized during this peak winter month.
Istanbul Events in March
Sonar Istanbul (changeable, early March) – Part of an international chain of music festivals showcasing the hippest and best up-and-coming groups and DJs – all mostly under the label 'electronic'. For 2 days.
Akbank Short Film Festival (changeable, late March) – Screenings and competitions over 10 days under diverse categories like 'Perspective' and 'Experiences'. Also workshops, discussions, and interviews – and everything is free to enter. Mostly in Turkish but some films have English subtitles.
Istanbul International Dance Festival (changeable, late March to early April) – Plenty of performances from across the globe as well as workshops and classes in 40 styles from Cha Cha to belly-dancing.
Istanbul Events in April
Istanbul Events in May
Istanbul Events in June
Istanbul Events in July
Democracy and National Unity Day (15th) – Public holiday commemorating an unsuccessful coup attempt as recently as 2016.
One Love Festival (changeable, late July) – One of a chain of international festivals featuring alternative rock bands and famous DJs.
Bosphorus Cross Continental Swim (26th) – Some 2,000 competitors from over 50 nations swim across the strait between Asia and Europe while one of the world's busiest shipping lanes is temporarily closed.
Istanbul Events in August
Zafer Bayrami/Victory Day/Armed Forces Day (30th) – Public holiday celebrating the victory over invading Greek armies during the 1922 War of Independence. Patriotic time with military parades, speeches, and ceremonies.
Istanbul Events in September
Istanbul Events in October
Filmekimi (changeable, early October) – Another outstanding festival featuring premiers of local and international films for 10 days. Also at Izmir.
Akbank Jazz Festival (changeable, from mid/late October) – Range of local and international performers focusing more on traditional jazz. Plenty of concerts, workshops, and jam sessions for 10 days at various historic and intriguing venues. Also held in Izmir and Ankara.
Republic Day/Cumhuriyet Bayrami (29th) – Celebrates the proclamation of an independent Turkey in 1923. Sombre, patriotic time, when families enjoy parades, fireworks, and various events on the day (which is a public holiday) and the evening before.
Istanbul Events in November
Istanbul Art Fair (changeable, early November) – Plenty of paintings – new, old, western, and traditional – at numerous galleries across the city, especially in the bohemian areas of Galata. For 9 days.
International Istanbul Book Fair (changeable, from late October or early November) – The country's major literary event over 9 days for writers, readers, and everyone in the industry. Mostly in Turkish.
Istanbul Intercontinental Marathon (changeable, usually early November) – The only marathon in the world that is run across 2 continents – from the Asian shoreline to the European side of the Bosphorus.
Atatürk Remembrance Day (10th) – Death anniversary of the founder of the Republic, Mustafa Kemal Atatürk. Variety of activities, including speeches, exhibitions, and concerts.
Istanbul International Experimental Film Festival (changeable, mid-November) – Five days of screenings, competitions, and awards for the latest avant-garde films.
Mix Festival (changeable, mid-November) – Two days of alternative music as part of an international chain of festivals.
Sustainable Living Film Festival (changeable, mid-November) – Films, discussions, and workshops about environmental issues across 5 days. One of many such festivals across the globe.
Istanbul Theater Festival (changeable, usually from November) – Features old-style and experimental plays and other live performances for 2 weeks. Mostly in Turkish.
Istanbul Events in December
Istanbul International Short Film Festival (changeable, mid-December) – Long-established week-long event with screenings of about 200 films from Turkey and across the world.
International Istanbul Gastronomy Festival (changeable, late December) – Largest of its type in the country when foodies as well as about 2,000 chefs from more than 25 countries and everyone else in the industry get together for 3 days. Competitions in all sorts of categories.
Christmas (25th) – Not celebrated as a religious event by most Turks but some residents still like to use this as an excuse to go shopping and attend parties. Locals generally celebrate with food and gifts on New Year's Eve.
New Year's Eve (31st) – Celebrated across much of Istanbul, especially by more westernized youth. Traditionally, families gather for a big meal and to exchange presents, and then watch fireworks at major venues. Especially spectacular during a dinner cruise.
All Istanbul Hotel Reviews
Read More