Home > Best Time to Visit Istanbul
Updated: November 14, 2019
See Also
When is the best time of year to visit Istanbul?
Best Time for Sightseeing: Spring and fall are the best times of year for sightseeing in Istanbul. The weather is pleasant, with comfortable temperatures averaging around 15°C. While spring is high season in Istanbul, crowds don't reach their peak until late May. In the fall, the number of tourists who arrive begins to dwindle, with the crowds thinning by early October. Many feel that spring is the best time of all, and particularly April, when the entire city is in bloom for the International Tulip Festival held throughout the month. Still, autumn is the time when the city comes alive in a gamut of colors, both somber and bright, while the light rain and glorious sunsets make for an impressionist painting of sorts. When visiting in the spring, summer or fall, the most pleasant time to experience Istanbul's top sights is early in the morning, soon after opening, or late in the day. Popular Topkapi Palace is best visited on a Monday morning when it's usually at its quietest. In winter, you can usually arrive at any time and find no queue or crowds. Summer is just the opposite, arguably the worst time to visit due to the sweltering heat, massive amounts of people visiting the city, and the lines for attractions and other tourist sites. As the major sights in Istanbul all have their own closing days and slightly different operating hours, be sure to check with each one before planning your itinerary.
Best Time for a Bosphorus Cruise: September may be the best time of year for a Bosphorus Cruise as the weather is typically warm, and the winter gusts have yet to settle in. May is the next best bet, and a good time to watch for the three different species of dolphins that inhabit the Bosphorus: bottlenose dolphins, common dolphins and harbour porpoises. All that said, a cruise along the Bosphorus is a year-round attraction. While weather can occasionally cause a cancellation, if you go during the short days of winter, take the morning cruise for the best chance of sunshine.
Best Time for Shopping: Istanbul is a popular shopping destination, offering a wide variety of world-famous brands along with high-quality local designs. In addition to all of the major international luxury brands, the city's local fashion industry is booming so seeking out non-chain stores will often reveal great finds. There aren't specific dates for sales, but the first week of July generally brings the best of the summer bargains. By mid-August, the sale will have passed its peak. Winter sales begin between mid-December and early January, with discounts of 30 to 50 percent. While unsold items can be discounted as high as 70 percent in April, the pickings will be slim at that point. Fall is the time to get that bargain at the Grand Bazaar, while summer, when vendors have loads of customers, is the worst. Some argue that shopping the bazaars in the morning is best for a good deal, as vendors have the rest of the day still ahead, while others recommend going just before closing time, with sellers having reached their day's profit goals and all the rest is just a nice extra.
Best Time for Smaller Crowds: As with many tourist destinations, the biggest crowds arrive in the summer. Winter sees the lowest number of visitors, particularly January and February. By May, the crowds have returned, and they begin to thin out again by early October. To enjoy the best of both worlds, come in late-April, when you won't have to bump elbows with others, the tulips are blooming and the weather is pleasantly warm. No matter what time of year you visit, popular sites are generally more crowded in the early afternoon, so you'll want to plan to arrive early in the morning to avoid hordes of tourists (before the tour groups arrive) or late in the afternoon when the crowds have thinned. The worst day to visit the Blue Mosque is Friday, as it's closed on Friday mornings and just after lunch when the doors open to visitors, the queue is usually very long. Weekends and holidays, in general, are typically quite busy as well, making (non-holidays) Monday through Thursday the best days of the week for thinner crowds at most spots.
High Season (Late May through September): Late spring through early fall is high season in Istanbul, with June, July and August considered its peak. The weather is hot and sometimes quite humid, accommodation rates are at their highest, and crowds and long lines are the worst they'll be all year, particularly when cruise ships come in. On the other hand, this is a great time to enjoy an outdoor meal at a Bosphorus seafood restaurant, or Turkish coffee at a sidewalk café. It's also the best season for visiting area beaches like True Blue – during the summer it hosts multiple concerts and live events. In May, June, July, August, September, and early October the best Istanbul hotels should be booked months in advance.
Shoulder Season (Mid-March through early May, October through mid-November): As Istanbul has become one of the world's most popular destinations, traveling here in the shoulder season won't allow you to avoid the crowds entirely, but they certainly won't be at their worst. The temperate spring and autumn weather make the city one of the most ideal places to visit during this season, and you may be able to score slightly cheaper airfare and hotel rates too.
Low Season (Mid-November through mid-December, early January through mid-March): Winter is the low season in Istanbul. This is the best time of year to visit for local experiences, big discounts, and few if any crowds, but you will need a raincoat, waterproof shoes, and a wind-resistant umbrella. You'll see a significant drop in hotel rates, especially in January and February, and with the exception of the Blue Mosque, you'll be delighted to find that you won't have to wait in line to visit just about any place in Istanbul. When you're ready to escape cold, damp weather, duck into a hammam (Turkish bath), which is especially delightful in the winter as the perfect way to get warm.
Istanbul Weather by Month
Temperature by Month (high in Celsius)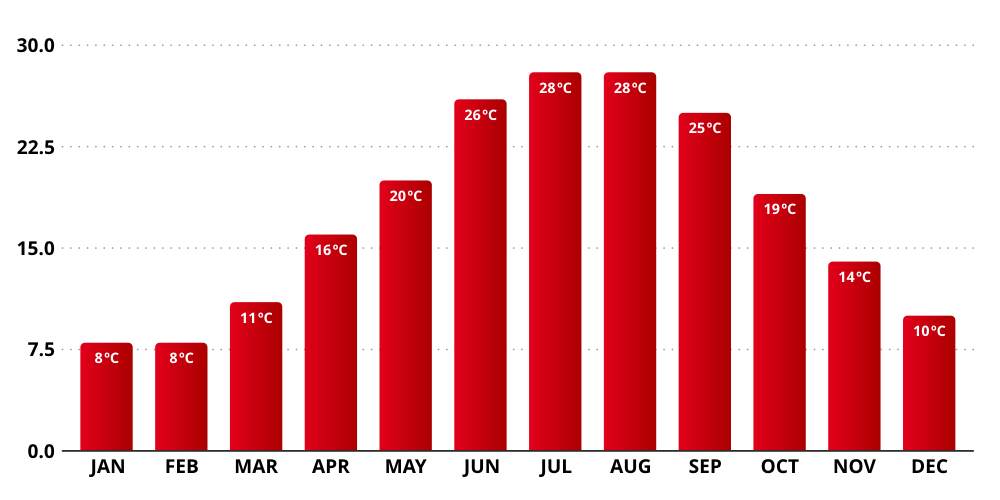 Rain by Month (mm)

Istanbul Weather in January: January is the peak of winter in Istanbul. Temperatures are at their coldest and days at their shortest, with the sun setting about 4:45pm early in the month, going down about 35 minutes later by January's end. Highs are generally around 8°C, with overnight lows at 4°C or below. The month tends to bring about four snow days each year, so there might even be a few inches of snow on the ground as lake-effect snow from the Black Sea is fairly common. Chances for rain are much greater, with around 100mm of rainfall expected over 14 days of the month. Showers are typically light, but prolonged, making it a good time for indoor activities. Bring cold weather clothing, like a warm coat, sweaters, hat, scarf and gloves. Waterproof shoes can make a big difference in whether you're cold, wet and miserable or relatively comfy. (Average Max Temperature: 8°C. Average Precipitation: 102mm.)
Istanbul Weather in February: As February is still mid-winter in Istanbul, you'll need to pack as you would for January as there is little difference in temperature, though there is slightly less rainfall, with 70mm coming down over 12 days. On average, the month sees around 4 or 5 snow days each year, and foggy/overcast days are common on most mornings. The days are getting longer, with daylight lasting until nearly 6pm by February's end. (Average Max Temperature: 8°C. Average Precipitation: 71mm.)
Istanbul Weather in March: While it can still be cold and wet in March, temperatures gradually rise as the month ushers spring in, with a noticeable 3°C difference, warming to highs of 11°C. By month's end the change in seasons has arrived, and it will feel much warmer and drier, with 50mm of rainfall over 13 days. You will still need a raincoat and those waterproof shoes, but you're unlikely to have to bundle up as much as you would have last month. Days are brighter and longer, with sunset at about 7:30pm by March 31. (Average Max Temperature: 11°C. Average Precipitation: 70mm.)
Istanbul Weather in April: In April, days are longer with sunset at 8pm by month's end, and, warmer, though the summer heat has yet to arrive with temperatures typically pleasantly warm during the day and dropping after dark. A light rain jacket and waterproof shoes are likely all you'll need to stay comfortable. The relatively high rainfall averages of 60mm over 11 days means that you can expect light, infrequent showers for a few days of the month. The city may be at its prettiest now, with the famous tulips blooming and filling the long corridor of Bosphorus Strait. (Average Max Temperature: 16°C. Average Precipitation: 51mm.)
Istanbul Weather in May: By the end of May summer is here, with the month overall seeing pleasant, warm temperatures, a decrease in rainfall and a gradual increase in the number of sunshine hours with the sun up until nearly 8:30pm by May 31. At that point, it should feel quite summery, and you may even be able to enjoy sunbathing on the beach. Just 40mm of rainfall occurs over 9 days of the month, and while you'll probably experience occasional showers, they're typically light and short-lived. You're more likely to need sunglasses, sunscreen and lightweight clothing, but plan to wear a few layers to shed or pile on as the weather changes as it can be hot on one day and cool the next. (Average Max Temperature: 20°C. Average Precipitation: 33mm.)
Istanbul Weather in June: By early June, summer is in full swing, bringing mostly long, hot, dry days. The hottest temperature ever recorded here in June is 41°C, and temps frequently reach above 30°C for several days. June also hosts the longest day of the year, with the sun staying up until 8:40pm throughout the second half of the month. Bring lightweight, breathable clothes, preferably in light colors, as well as a wide-brimmed hat to keep the sun off your face. Most Turkish women wear sleeved summer dresses or a sleeved top and skirt, while men don short-sleeved shirt and jeans or long, lightweight trousers. Comfortable, open-toed shoes are a good idea for both men and women, as are athletic shoes and smart casual shoes. Rain is unlikely to be an issue, but you may want a light sweater for cool evenings. (Average Max Temperature: 26°C. Average Precipitation: 30mm.)
Istanbul Weather in July: In July the weather is sweltering hot, the days are long and dry, the sea is warm and the coast is packed with both tourists and locals. The average high is 26°C, two degrees hotter than last month, while low temperatures dip overnight to around 17°C, making a summer evening ideal for relaxing outside. In the Bebek area of the Bosphorus district you'll find outstanding cafes and eateries to shrug off the humidity and enjoy the gentle breeze. By the end of July sunset is around 8:20pm, and the best place to enjoy it is from Galata Bridge or one of the waterside cafes on Büyükada, the largest of the nine Princes' Islands. (Average Max Temperature: 28°C. Average Precipitation: 24mm.)
Istanbul Weather in August: The precipitation level is at its lowest and temperatures are still hot, with no discernible difference from July other than a slight increase in humidity. You're unlikely to experience much rain with only about 20mm falling over four days this month on average. Overnight lows are 19°C, so it's still fairly warm even after the sun goes down, which is about 7:40pm by the end of August. The upside is that many of Istanbul's clubs are open-air, ideal in the summer, taking advantage of the cool breezes that blow in. (Average Max Temperature: 28°C. Average Precipitation: 32mm.)
Istanbul Weather in September: At the beginning of September, it's still hot and dry, but by month's end, the temperatures take a significant dip, the autumn breeze blows in and rainfall increases, making it feel much cooler. Still, there is an average of nine hours of sunshine, though the days are gradually becoming shorter and the sun sets just before 7pm by September 30. Bring your summer attire and a light rain jacket, and plan on wearing layers in case temperatures rise or fall more than expected. (Average Max Temperature: 25°C. Average Precipitation: 46mm.)
Istanbul Weather in October: Autumn is here, and while it's still fairly warm, it's much cooler and wetter than it was in the summer months. Typically, October starts with very good weather, with the autumn rains arriving during the second half of the month. Expect high humidity (usually around 80%) and at least some rain showers, though they usually aren't too heavy or prolonged. Evenings are much cooler than they were last month, with overnight lows around 12°C, and days are significantly shorter by month's end. The sun sets at around 6:30pm in mid-October, but due to clocks being turned back an hour, dusk is at 5pm by the 31st. (Average Max Temperature: 19°C. Average Precipitation: 73mm.)
Istanbul Weather in November: Early in the month, you may be pleasantly surprised with comfortably warm days and sunshine, though there will be a noticeable nip in the air. As the month progresses and winter approaches, expect much cooler, wetter weather. Wearing layers, waterproof shoes and having at least a light rain jacket on hand is optimal for comfort as rainfall increases to 100mm over 13 days in November. The days are much shorter, with just five hours of sunshine each day on average, and with the temperature falling to a low of 9°C overnight, it will feel cold after dark and during the early morning hours. (Average Max Temperature: 14°C. Average Precipitation: 91mm.)
Istanbul Weather in December: December in Istanbul is typically cold and wet. Instead of heading to the coast, locals are heading to the mountains to enjoy the idyllic ski conditions. Snow in Istanbul isn't common, on average there are about two snow days in December each year, and even then it's usually no more than a few inches. Whether or not it snows, with around 100mm of rainfall expected over 17 days this month, you will need a warm rain jacket and waterproof shoes as it is likely to be quite wet. December also ushers in the shortest day of the year, with the sun setting as early as 4:36pm on December 1 and hanging on about 10 minutes longer by New Year's Eve. (Average Max Temperature: 10°C. Average Precipitation: 124mm.)
Istanbul Events and Festivals by Month
Istanbul Events in January
New Year's Day – Following an evening of fireworks and other festivities on New Year's Eve, things are quiet on January 1 in Istanbul and throughout the country. Although many businesses close for the public holiday, there are still plenty of tourist sites, including museums and mosques that are open on New Year's Day.
Orthodox Christmas – Because of the difference in calendars, with most Orthodox churches using the Julian calendar, January 6 marks Christmas Eve and Christmas is celebrated on January 7. The churches are filled with worshippers and the Armenian and Greek Orthodox Patriarchs make the rounds to bless their flocks.
Shopping – Winter sales start in January, and while there are no set dates, you'll find deep discounts throughout the month on all types of times.
Istanbul Events in February
!f International Film Festival – One of Istanbul's most important film festivals, showing the best in Turkish and international film every year for 10 days during the second half of February. It includes everything from widely publicized films to independent films that have received little exposure. The festival has a link to the internationally renowned Sundance festival and draws some 70,000 annually with most films screened at the Fitaş cinema in Beyoğlu.
International Istanbul Gastronomy Festival – Held around the middle of the month each year, this world-class event brings some 2,000 chefs from more than 25 countries to the city, offering a "new perspective on Turkish gastronomy. Culinary professionals compete in 52 different categories, demonstrating their abilities by creating a variety of delectable dishes, including both Turkish and international cuisine.
Valentine's Day – Valentine's Day wasn't part of Turkish traditions and has only been celebrated for about the last two decades. In major cities like Istanbul, you will find restaurants catering to couples that celebrate the day as well as heart-shaped cakes in the pastry shops, special programs in large hotels and everything from shopping malls to nightclubs decorated with red roses and hearts.
Istanbul Events in March
Nevruz – Nevruz is a spring festival, typically celebrated on March 21st to welcome in the spring season. It has a highly symbolic meaning for Kurds in Turkey and the Middle East, with locals organizing a massive open-air party in a number of squares throughout Istanbul and the entire nation. Festivities often include bonfires, folk dancing and singing.
Handmade Istanbul Spring Market – On the last Sunday in March, the Handmade Istanbul group typically sells its handcrafted wares at St. Helena's Chapel. Not only do profits go to a good cause, helping refugees in Istanbul, the spring market is a great way to find a unique gift or souvenir to bring home, from artwork and clothing to toys, jewelry and knitted items.
Istanbul Events in April
International Film Festival – Istanbul's leading international film festival is typically held during the first half of April, offering a chance to see the best new art-house films in a place where the movie industry is booming, along with fantastic films from across the globe. Screenings are mainly held in and around the entertainment quarter of Beyoğlu at nine different venues, from venerable cinemas to cultural centres. Filmmakers and screen actors from around the world gather in the city for this world-renowned film festival.
International Istanbul Tulip Festival (Istanbul Lale Festival) – The annual International Istanbul Tulip Festival takes place throughout the month of April. Although tulips are associated with the Netherlands, commercial cultivation of the tulip began here in the Ottoman Empire. To celebrate, you can see the city ablaze with the colorful blooms just about anywhere there is open ground, with the best spot arguably at magnificent Emirgan Park, one of the city's largest public parks with several tulip gardens. In addition to viewing tulips, a variety of activities are hosted, including live music, painting, sculpture and photo exhibitions and glass-blowing performances.
National Sovereignty and Children's Day – This national holiday celebrated on April 23 is marked by parades and processions by school children. Groups wear their national costumes and present short performances accompanied by traditional music, it culminates with a large performance in the national soccer stadium in Istanbul. As it's an official holiday, government offices, schools and most businesses are closed.
Istanbul Events in May
Open Door Architecture Festival – This annual festival held in early May opens up usually closed doors, allowing visitors to see inside some of Istanbul's architecturally and historically important buildings, like the impressive Ortakoy Mosque, set along the Bosphorus, and the remarkable Misir apartments.
International Theatre Festival – Held every other year in May, with the next taking place from May 9 through June 6, 2016, this theatre festival showcases leading international and domestic theatrical events as well as hosting workshops that are often free to attend. Genres span independent and classical productions.
Hidrellez Festival – One of the seasonal festivals, celebrated as the first day of the "early summer," the Hidrellez Festival features street parties throughout the night, over May 5-6, that include Gypsy music bands, with locals jumping over a fire and making a wish as well as writing or drawing a wish and burying it under a plant or tying it on a tree branch.
International Istanbul Puppet Festival – While puppet shows are now an almost forgotten art, they were big in Ottoman times, and this event offers the opportunity to see fantastic marionette, puppet and shadow theater in small venues throughout Istanbul during the second week of May.
Istanbul Events in June
Istanbul Music Festival – One of the best times for music lovers to be in Istanbul, this world-class music festival takes place in June every year, with the 44th annual festival to be held between June 1 and June 24, 2016. It hosts close to 600 local and international artists, including big names in classical, opera and ballet. Culture lovers will also have the rare opportunity to see artists in unusual venues, like the usually off-limits Byzantine Church of the Holy Peace. As the festival often coincides with other music and theatrical events, there is usually more than one thing going on at a time.
One Love Festival – Held annually in mid-June at Life Park Istanbul, the One Love Festival is a weekend-long festival. It features performances from moderately alternative international and local bands.
Istanbul Events in July
Rock'n Coke – The biggest open rock festival in Turkey is spread out over two days in mid-July. It is traditionally held at Hezarfen Airfield and has included artists like Peter Gabriel, Muse, Moby, Limp Bizkit and Nine Inch Nails.
International Istanbul Jazz Festival – This international event usually runs for two weeks in July each year. It features a collection of conventional jazz as well as rock, pop, blues, reggae, world music and more. Previous performers have included Miles Davis, Wynton Marsalis, Patti Smith and Dizzy Gillespie.
Bosphorus Cross Continental Swim – More than 1,600 competitors from around the world participate in this astounding event held annually in July. Participants from over 45 different nations swim across the channel from Asia to Europe, while one of the world's busiest shipping lanes is temporarily closed to shipping traffic.
Istanbul Events in August
International Istanbul Fashion Fair – The International Istanbul Fashion Fair, held at the CNR Expo, takes place in late August each year, featuring Turkish and international designers as well as importers, global brands, retailers and department chains.
International Performance Association's Festival – This festival brings together artists from a number of different countries along with international art teachers and performers, which offer both workshops and performances, starting in mid-August.
Victory Day (Zafer Bayrami) – This national public holiday held on August 30, commemorates the 1922 victory over the invading Greek armies during the War of Independence. Military parades take place in major cities throughout the country, including Istanbul. Many businesses will be closed on this day, though most major shops and supermarkets are open.
Istanbul Events in September
International Istanbul Biennial – This contemporary art exhibition is hosted by the Istanbul Foundation for Culture & Arts, and is centered around a current political or philosophical theme. Held every two years starting in early September, with the next occurring in 2017, it includes artists that are selected from more than 45 countries, with the exhibitions displayed throughout the city.
The Sugar Feast (Seker Bayrami) – This three-day celebration is a religious holiday that punctuates the end of Ramadan. Starting from noon on the eve of the holiday, many establishments close for three-and-a-half days. While museums, archaeological sites and monuments are closed on the first day, they are usually open on the second and third day. Most shops and shopping malls are open, with the exception of the Grand Bazaar and the Spice Bazaar. The holiday includes various traditions, including children going from door to door and wishing people a happy bayram (the term Turkish use for holiday). As a reward, they receive candies, chocolates, or even a small amount of money, which means streets are busy, filled with cheerful gangs of kids running around, counting their loot.
Izmir Fair International Folk Festival – Taking place across the strait in Izmir, this festival is held during the first half of September each year. It showcases the long-standing culture of local folk dance.
Istanbul Events in October
Akbank International Jazz Festival – This more traditional two-week-long jazz festival takes place during the second half of October. While the performers generally aren't as well-known as those featured in the summer festival, it offers a great opportunity to enjoy fine jazz at lower prices and frequently in more intimate, atmospheric venues.
Efes Pilsen Blues Festival – Taking place over two days at the end of October, Turkey's longest-running music festival has featured performers like B.B. King and Buddy Guy.
Republic Day – Cumhurivet Bayrami, or Republic Day, celebrates the proclamation of the Republic of Turkey in 1923 on October 29 each year with parades, public speeches, fireworks and more.
Istanbul Events in November
Ataturk Remembrance Day – November 10 is the anniversary of the death of the father and founder of the Republic, Mustafa Kemal Ataturk. A variety of activities are usually planned, including speeches, exhibitions and a memorial concert. At exactly 9:05am, the entire country comes to a halt as the population pays its respects by blaring car horns and foghorns.
International Istanbul Book Fair – This nine-day event held in mid-November at the Tuyap Fair Convention & Congress Center, showcases prominent writers, editors, readers, poets, academics and intellectuals in a celebration of the power and impact of the written word.
Istanbul Events in December
Rumi Festival – The Rumi Festival, also known as the Meylana Festival, is held in early to mid-December, celebrating the Islam poet and mystic philosopher Meylana Jelaleddin Rumi. Here you can witness the elaborate whirling dervish performances (dances), with live sporadic performances occurring in city streets, though the biggest and best are found in the mosques.
Christmas Markets – Although Christmas isn't celebrated in this Muslim country, there are still touches of the western holiday throughout the city, including Christmas Markets which reflect an eclectic infusion of cultures. In recent years, the markets have started to sell more traditional Christmas items rarely seen before in Turkey, in order to appease foreign visitors, which means you'll find things like mulled wine right next to the stalls of baklava.
IWI Christmas Festival – The International Women of Istanbul hosts a Christmas festival in late November or early December each year. It features decorations, caroling, gifts for kids from Father Christmas, shopping, children's entertainment, food and more.
Read More