Greece › Athens › Transportation
by Santorini Dave • Updated: January 26, 2023
See Also
On This Page
How do I get into Athens from the airport?
Eleftherios Venizelos International Airport is 27km east of Downtown Athens and well-connected to Athens by public transportation. This is the only airport near Athens and handles all international and domestic flights. If you're renting a car in Athens it's best to pick it up from the Athens airport.
The city center is the best area to stay in Athens for first-time visitors. It's packed with good hotels in every price range and most of the top historical sites in Athens.
Private Transfer – We recommend Welcome Pickups car service over taking a taxi as the easiest way to get from the airport to central Athens. It is similarly priced to a taxi, but their drivers will monitor your flight and meet you at the arrivals gate and are guaranteed to speak English. There's also no waiting in the taxi queue or navigating the airport, and all rides are pre-booked and pre-paid. They have larger vehicles to accommodate groups of more than four, and child car seats are available by request.
Metro – Metro Line 3 runs from the airport to the city center stations of Syntagma and Monastiraki, departing every 30 minutes from 5:30am until about midnight. The trip takes 45 minutes and costs €10 (24€ for groups of 3). The metro station is a 5 to 10-minute walk from baggage claim; elevators are available. There are both machines and ticket windows staffed with people. The metro trains and suburban trains run from the same platform and have different ticket windows – be sure to get metro tickets and get on the metro train if you're going downtown. The train runs from 5:30am to 11:30pm (but times can change slightly with season). The airport ticket is good for all transit in the city for up to 90 minutes. Validate when first getting on the train, and then again if you switch to a different train or bus in the city. (Metro timetable)
Bus – If you're arriving or departing at night then the bus is a good alternative to the metro as it runs 24/7. It has several advantages over the metro: the bus is the cheapest way between the airport and downtown and it has much more space than the metro for baggage. The one drawback to the bus is that during the day it has to deal with Athens traffic which can slow to a standstill. The bus can get from the airport to downtown in 40 minutes in light traffic but can take up to 1.5 hours in heavy traffic. The heaviest traffic times are 7:30am-9:30am and 4pm-6pm All airport bus numbers start with an "X". In the daytime, buy your ticket before boarding and validate your ticket on board. Late at night, you'll need to purchase your ticket from the driver on the bus. (Airport-Downtown Athens Bus Time Table)
X95 – To Syntagma Square (€6) in 40 to 80 minutes. It also stops in front of Evangelismos Hospital, on the edge of Kolonaki. Every 15 to 30 minutes.
X96 – To Piraeus/Ferry Port (€6) in 45 to 90 minutes. Every 15 to 30 minutes.
X93 – To Kifissos Bus Terminal A (for buses to Peloponnese, Thessaloniki, Corfu) in 60 minutes. Every 30 minutes.
Taxi – Taxi from the airport to central Athens is done on a flat fee and cost €35 through the day and €49 from midnight to 5am. From the airport to Piraeus by taxi costs about €50 through the day and €70 at night (but this is not a flat fee so watch the meter or pre-arrange the rate with your driver). Taxis are found at Exit 3 on the arrivals level. Taxi fares should include all tolls and airport fees. If you're asked to pay anything else tell them you'll call the tourist police and they can help sort it out. Just dial 171 to contact the tourist police operator who should be fluent in multiple languages. (This number will work anywhere in Greece.) There is a limit of four passengers in all Greek taxis.
Most areas in Greece, including Athens and the airport neighborhood, have public transportation strikes throughout the year. These strikes affect all forms of transit, including, buses, trains, ferries, flights, and taxis. During strikes no buses, no ferries, and only a handful of trains and flights will depart on time (or at all); taxis tend to be the least affected mode of transport. Though strikes can occur any time, there is always a huge strike on May 1. Avoid booking any flights, ferries, or trains that day.
How do I get from Athens Airport to the Ferry Port?
How do I get from Downtown Athens to the Ferry Port?
There are 2 ferry ports near Athens: Piraeus and Rafina. Piraeus is the easiest to access from downtown Athens, and has more daily ferries to the Greek Islands. We generally advise using Piraeus Port, especially for travelers who will be staying in central Athens.
To get to Piraeus is a 30 minute metro ride from Syntagma or 20 minutes by taxi (assuming it's not rush hour). Metro costs about €1 and taxi costs €15 to €20. For the metro, the Green Line goes to Piraeus and the station is right across the street from the port. If you're staying near Syntagma, Plaka, or Kolonaki you'll need to switch trains at Monastiraki to get on the Green Line. The metro runs from 5am to midnight. Many ferries leave Piraeus between 7am and 8am so the metro is running in plenty of time to make these departures. Read more about Piraeus Port, and Piraeus Port transportation on our Piraeus Ferry Port Guide.
The easiest way from Downtown Athens to the Rafina ferry port is by taxi. It costs about €50 and takes about 45 minutes. There are daily buses that travel from Athens to Rafina (1 hour and 15 minutes, €5), but because of the variability in bus schedules, we do not advise relying on a bus to get to the Rafina ferry port. Using the Rafina port is a good choice if you're coming from the airport and not planning to spend any time in Athens, but if you're already in Athens then Piraeus is much easier to get to from central Athens and is the better choice for most travelers.
As mentioned previously, public transportation strikes occur every May 1 and at other random dates throughout the year. Avoid booking any flights, ferries, or trains that day. Taxis tend to be the least affected mode of transport, though even taxis strike occasionally.
Photos of Getting Around Athens
Recommended Hotels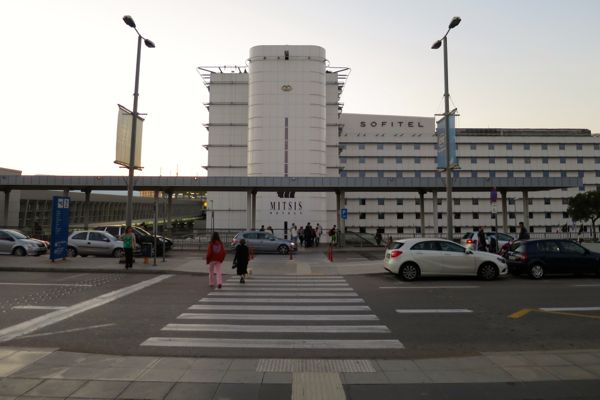 The Sofitel Airport Hotel at the Athens Airport. The only hotel located at the Athens Airport.

A for Athens Hotel located in central Athens near the metro train to the ferry port and airport (same train different directions).

Theoxenia Hotel in Piraeus and a very short walk from the ferry port.
Read More