Home > Toronto Best Hotels
Updated: June 5, 2019
• Affiliate Disclosure: All hotel links on my site are affiliate links meaning I earn a small fee when you book a hotel. (There is never any extra cost to you for using these links). I use some of these earnings for my monthly charitable donation.
On This Page
Where To Stay in Toronto

Best Neighborhoods in Toronto for Visitors: Entertainment District (most major attractions are located here) • Yorkville (high-end boutique and name brand shopping, fine dining) • West Queen West (young, trendy, artsy vibe) • Financial District (convenient to attractions; quiet at night) • Harbourfront (right on Lake Ontario, great shoreline walking path).
Best Luxury Hotels in Toronto: Shangri La Toronto (for luxury) • Windsor Arms (boutique luxury) • The Gladstone (Old Toronto charm) • The Drake (arts and happenings) • The Chelsea (great for families)
The best restaurants in Toronto are ARDO Restaurant (modern Sicilian), Patria (upscale Spanish cuisine), The Oxley Public House (British gastropub), Tea N Bannock (First Nations food), Nom Nom Nom (Toronto's best poutine), and Ciao Europa Café (best brunch).
If you're visiting during colder months, consider booking a hotel that is connected to the PATH, Toronto's underground pedestrian walkway. At over 30 kilometers long, the PATH connects more than 50 buildings, five subway stations, two malls, and several attractions. A PATH connection allows for access to the city's best in the dead of winter without ever putting a coat on.
Toronto is a great town for walking and transit. Most of the city is serviced by two main subway lines, one U-shaped and the other intersecting the first. It's clean, fast, and reliable. Use the subway or hoof it whenever possible. You'll save money and usually time over cabs or Ubers.
For a more authentic bar scene, stay out of downtown and go where the locals go: Head to the south end of Ossington Avenue, between Queen and Dundas Streets West, for the best three blocks of bars and restaurants in the city. Or make a day of it, and check out the galleries and boutiques in the area.
The 25 Best Luxury Hotels in Toronto
Click the hotel name to check prices on Booking.com – my favorite website for booking hotels. Book 4 to 6 months in advance for the best rooms and rates.
1. Shangri La Toronto – Entertainment District


The best luxury hotel in Toronto. Contemporary and fashion-forward hotel that boasts sleek, Asian-inspired décor, including walls dressed in raw silk. Floor to ceiling windows in spacious rooms and suites offer dramatic views of downtown Toronto, while Italian and Madagascar marble walls give a decadent feeling to the bathrooms. The spa offers traditional Middle Eastern services, along with Vinotherapie, that is, wine-based treatments for skin and body. The bar and lounge are surprisingly fun and funky, and neighboring Momofuku (directly connected to the lobby) has a noodle floor and steak floor (both excellent). • Reviews
(Hotel phone: 647.788.8888)
2. Windsor Arms Hotel – Yorkville


A true boutique hotel, Windsor Arms has only 28 suites, but it has all the amenities you would expect from a large resort, including a pool, spa, salt cave, and a screening room, plus 24 hour butler service. All rooms include a musical instrument; either a guitar, harp, or baby grand piano. Perfectly situated in near all the upscale shopping and fine dining in Yorkville but on a quiet side street away from all the hubbub. • Reviews
(Hotel phone: 416.971.9666)
3. Le Germain Mercer – Entertainment District


Sophisticated yet cozy, this boutique hotel is light and bright in the entry, with two-story windows and blond wood throughout, and muted and relaxed in the guest rooms, which feature dark felt walls. Peekaboo glass showers with wood blinds and bubble showerheads are a signature feature in all rooms. This hotel has strong connections to the literary world, with many traveling authors and publishers staying here; their books line the shelves in the lobby library. Breakfast is always included in the room rates. • Reviews
(Hotel phone: 416.345.9500)
4. Four Seasons Hotel Toronto – Yorkville


A sumptuous hotel with brilliant amenities, including the largest spa in the city and an indoor pool. Their stylish rooms are spacious, sunny, and well-appointed, while their chic, French lounge offers craft cocktails and has a DJ spinning every night. The aim here is to make guests' wishes come true, an idea reflected in the décor's motif of dandelions. Centrally located in Yorkville, just steps from the best dining and shopping in town. • Reviews
(Hotel phone: 416.964.0411)
5. Ritz-Carlton – Entertainment District


The height of New Canadian elegance, the Ritz features 450 artworks by Canadian artists and a maple leaf inlay floor. Their signature restaurant, Toca, ages their own cheeses on site and offers tours of the cheese cave daily. Just across the street from where the red carpet rolls out for TIFF, this is a popular spot for celeb sightings. Close to the city's best theaters, restaurants, and attractions. • Reviews
(Hotel phone: 416.585.2500)
6. Omni King Edward – Financial District


The theme at this historic property is royalty, with ornate crown moldings, portraits of monarchs, and oversized chess pieces in the lobby. Plenty of cozy nooks for couples, as well as family amenities, like afternoon tea with a court jester for kids. This boutique-style hotel houses a salon and a spa. The "King Eddie" is located near the Financial District, walking distance to dining on King Street and most major attractions. • Reviews
(Hotel phone: 416.863.9700)
7. Fairmont Royal York – Financial District


Built in 1929, this landmark hotel's recent renovations added modern luxury rooms and signature suites, an updated pool and health club, and a refresh of all historic rooms. Expect a level of service befitting royalty with the setting to match: hand-painted ceilings, crystal chandeliers, travertine columns, and marble. Located just inside the Financial District, bordering the Entertainment District, the property is walking distance to theaters, attractions, dining, plus it's connected to the PATH. • Reviews
(Hotel phone: 416.368.2511)
8. Toronto Marriott City Centre Hotel – Entertainment District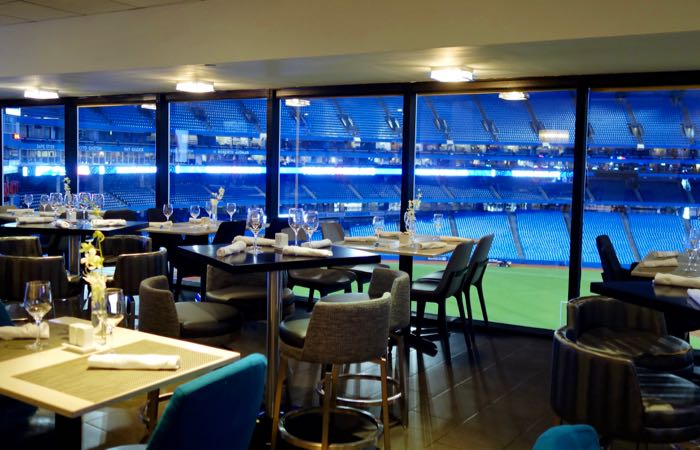 This contemporary hotel is attached to the Rogers Centre, home of the Blue Jays. 70 rooms, suites, and the restaurant overlook the baseball diamond, a striking view even when there's not a game on. Bi level suites are available, with floor to ceiling windows hovering over the outfield, looking toward home plate. This property also houses the largest indoor pool in Toronto and offers physiotherapy for guests. Right next to CN Tower and Ripley's Aquarium and only a short walk to Scotiabank Arena, home of the Maple Leafs and the Raptors. • Reviews
(Hotel phone: 416.341.7100)
9. Park Hyatt Toronto – Yorkville


Understated elegance with rich woods, wrought iron, and gold accents throughout. This hotel is best known for their heated rooftop lounge, one of only a handful in the city to stay open year-round, as well as their kosher banquets. Located in the heart of Yorkville, just across the street from the Royal Ontario Museum, this is an ideal spot for exploring local galleries, high-end boutiques, and stylish restaurants. • Reviews
(Hotel phone: 416.925.1234)
10. Radisson Admiral Hotel – Harbourfront


Sunny hotel on the water, offering unmatched views of the marina and Toronto Islands. All view rooms come with telescopes and California shutters, and some boast fireplaces. There is a heated outdoor pool here, with deck views from the foot of the CN Tower. Harbourfront Centre, the pet museum, and a brew pub are right at your doorstep, while downtown attractions are just minutes away on foot. • Reviews
(Hotel phone: 416.203.3333)
11. Le Germain Maple Leaf Square – Entertainment District


Boutique hotel with sophisticated, sport-themed décor, including commissioned photographs of Toronto professional athletes. Expect luxury-level service with an unpretentious attitude and a lively atmosphere. All rooms include Le Germain's signature peekaboo shower and daily breakfast. This hotel sits right near the stadiums, CN Tower, and aquarium, walking distance to theaters and the Financial District. • Reviews
(Hotel phone: 416.649.7575)
12. InterContinental Yorkville – Yorkville


This hotel has a sleek, hip design with cherrywood walls framing local, graffiti art. Its rooftop bar, SkyLounge, was awarded best patio bar in the city and was featured in O Magazine (open evenings May through October). Catering to international travelers, over 36 languages are spoken by staff here. Located in the cultural corridor of Yorkville, right across the street from the Royal Ontario Museum, near upscale boutique and brand name shops. • Reviews
(Hotel phone: 416.960.5200)
13. Gladstone Hotel – West Queen West


Built in 1889, this is the oldest continually operating hotel in Toronto. Each of the 37 rooms has been designed by a different local artist, while preserving the original Victorian floorplan, with the result that each room is completely unique. The Billio Room features antiques from the original opening of the Gladstone, while the Teen Queen is decorated with photos of '80s heartthrobs, and the Offset is a conceptual room within a room. The Gladstone houses three art galleries and hosts live music and adult coloring nights. This is in the trendy neighborhood of West Queen West, near nightlife, bars, and cutting edge restaurants. • Reviews
(Hotel phone: 416.531.4635)
14. The Drake Hotel – West Queen West


Trendsetting boutique hotel and artistic hub, The Drake has a quirky, hipster vibe with lots of bright murals, patterned floors, vintage stereo parts on the shelves, and exposed brick walls. Room amenities include a creepy, handmade doll and an extensive menu of adult novelties. Their year-round, heated, rooftop patio, Sky Yard, is one of the best in the city. Live music, DJs, foodie events, film screenings, and poetry slams happen seven nights a week here. Walking distance to Ossington Avenue nightlife and funky boutiques. • Reviews
(Hotel phone: 416.531.5042)
15. Delta Toronto Hotel – Entertainment District


This 40 story hotel built in 2014 is the tallest in the city and offers breathtaking city and lake views. All aspects of the building, from the architecture to the light fixtures, were created by Canadian designers. They're so local, they even distill their own whiskey here! This is a sunny and light-filled space with two story windows, white oak, and a rainbow palette. Located in the brand new SoCo corner of the Entertainment District, close to all major attractions and connected to the PATH. • Reviews
(Hotel phone: 416.849.1200)
16. SoHo Metropolitan Hotel – Entertainment District


Boutique-style, low-key luxury. Lots of celebs stay here during TIFF to avoid the crowds. Expect contemporary style, spacious rooms, heated floors, and deep soaking tubs. Suites are available here, but they also have the capacity to connect up to four guest rooms together for larger groups. Perfectly located near King Street dining and Queen Street shopping in a very walkable neighborhood. • Reviews
(Hotel phone: 416.599.8800)
17. Sheraton Centre Toronto Hotel – Financial District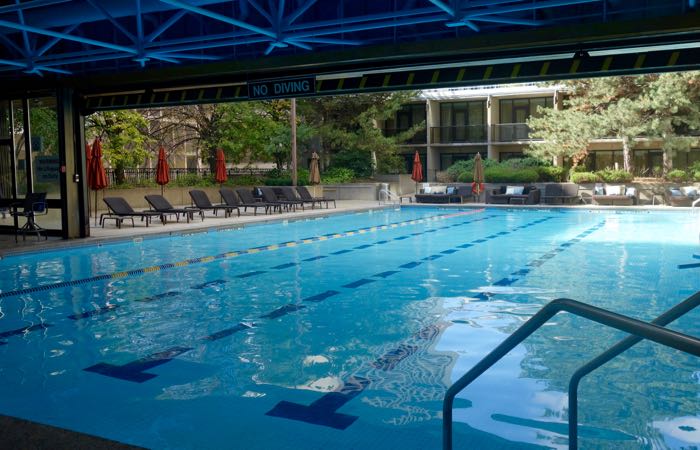 Spacious hotel with a two and a half acre waterfall garden. This hotel is home to the only year-round, heated indoor/outdoor pool in the city, and they offer large Cabana Rooms that open onto the pool deck. Partnered with the Mirvish Theatre and MLB, the Sheraton offers several unique experience packages for guests. Their convenient location is close to shopping at Eaton Centre, near Yonge-Dundas Square, and connected to the PATH. • Reviews
(Hotel phone: 416.361.1000)
18. The Chelsea Hotel – Downtown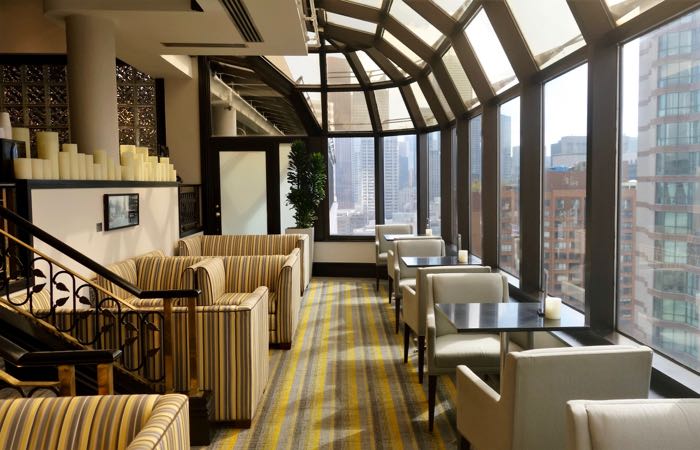 This is the single largest hotel in all of Canada, with nearly 1600 rooms. Perfect for families, their kids' pool has the only indoor waterslide in Toronto; the separate, adult pool has a hot tub. Definitely splurge for club level access; the views are superb and the food is plentiful and tasty. Located in the heart of Downtown, near Yonge-Dondas Square, Eaton Centre, and family-owned restaurants on Elm Street. • Reviews
(Hotel phone: 416.595.1975)
19. Executive Hotel Cosmopolitan – Financial District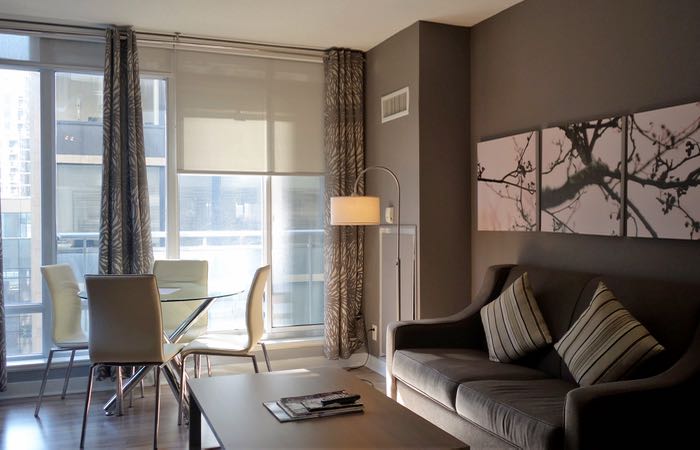 With a modern, eclectic vibe, this all-suite, luxury hotel boasts kitchenettes and washer/dryer sets in all 69 rooms. Rare for Toronto, each suite also has a private balcony and floor to ceiling windows that actually open. Cozy, East Asian-inspired spa on site. Perched just outside the Financial District, this is a walkable neighborhood close to most attractions, the waterfront, and the ferry to the Toronto Islands. • Reviews
(Hotel phone: 416.350.2000)
20. Westin Harbour Castle – Harbourfront


Urban, luxury high-rise on the water. This is a very active hotel with an indoor pool, basketball and tennis courts, and a run concierge. Spectacular views of Lake Ontario and the Toronto skyline. Unique features include murphy beds in some rooms and a rooftop bee hive. Take a stroll on the harborfront here and be sure to pass through the Music Garden, a sculpture park inspired by different forms of classical sounds. • Reviews
(Hotel phone: 416.869.1600)
21. One King West – Financial District


An independent, luxury, all-suite hotel in two towers. The original tower is the historic Dominion Bank, built in the late 1800s; the new tower, built in 2005, is known as The Sliver and has the largest height to width ratio in the world. It's best known feature is its original bank vault, which has been featured in several movies, and makes for a great photo op or event space. Stellar location in the Financial District, walking distance to the Entertainment District and downtown attractions. Be sure to grab a bite or drink here at Teller's, which features the original teller's wickets from the old bank. • Reviews
(Hotel phone: 866.470.5646)
22. Grand Hotel Toronto – Downtown


Fabulous, boutique, all-suite hotel in the former headquarters of the Royal Canadian Mounted Police. The hotel is classically elegant with a graceful domed ceiling, a gorgeous indoor pool with an art glass skylight, and two rooftop hot tubs. The location is tucked away in a more private area of downtown, away from major tourist destinations, offering guests the chance to live like a local. The Grand is walking distance to the historic Distillery District for boutiques and dining, and they offer a shuttle to downtown. • Reviews
(Hotel phone: 416.863.9000)
23. Marriott Bloor Yorkville – Yorkville


This is a wonderful, modern hotel decked out in lucky reds and champagne golds. Suites are especially nice here, particularly the bi-level options, which have a fantastic apartment feel. Do splurge for concierge lounge access; in addition to the enhanced breakfast, evening apps, and beverages, the service is outstanding and the space itself is splendidly appointed. Great location near the Royal Ontario Museum, The Bata Shoe Museum, shopping, and fine dining. • Reviews
(Hotel phone: 416.961.8000)
24. DoubleTree by Hilton Toronto – Downtown


Understated, business luxury hotel with a cosmopolitan vibe. Two great restaurant options onsite: Lai Wah Heen, an extraordinary spot for Chinese and authentic dim sum, and Hemispheres, an international-themed restaurant, featuring a different country's cuisine every month. Superb downtown location, close to Eaton Centre, the Financial District, and the Art Gallery of Ontario. • Reviews
(Hotel phone: 416.977.5000)
25. Cambridge Suites – Financial District


Independent, boutique hotel with an amazing Italian restaurant onsite. This recently renovated, all-suite hotel is upscale but not flashy, with large rooms and warm, contemporary décor. Situated just outside the Financial District, this spot is convenient to all attractions, and walking distance to many, including Eaton Centre and the Hockey Hall of Fame. • Reviews
(Hotel phone: 416.368.1990)
Staying in the Entertainment District
For first time travelers to Toronto, this is a great place to make your home base. The best known Toronto landmarks, such as the CN Tower, Rogers Centre, and the Princess of Wales Theatre are all here. Once an industrial center, filled with textile works and railroads, the historic warehouses have since been converted into nightclubs, hotels, and music venues, most notably Roy Thomson Hall, home of the Toronto Symphony Orchestra. The neighborhood continues to grow with new condos and skyscrapers springing up in the past five years in its SoCo area

The Entertainment District is bordered by the Financial District to the east, Chinatown to the Northwest and the Downtown Core to the Northeast. Canada's Walk of Fame, stars embedded in the sidewalk honoring Canadian entertainers, covers 13 sidewalk blocks here in front of the city's most notable theatres and concert halls on King and Simcoe Streets. Theaters, comedy houses, and nightclubs light up the sky and sidewalks fill with people at night. During the day, this is a busy spot for family attractions, like Ripley's Aquarium, home of over 16,000 underwater creatures from all over the world, and its neighbor the CN Tower, Canada's tallest structure, offering panoramic views of Toronto from its glass floor and SkyPod observation deck at 447 meters up. The Entertainment District is also home to the city's five professional sports teams and two stadiums, giving the neighborhood an even bigger boost of energy on game days.

Best hotels in the Entertainment District

Best restaurants in the Entertainment District
Staying in the Financial District
As its name implies, this is the heart of Toronto's business world, and thereby all of Canada's. Soaring skyscrapers pack close together, including Canada's tallest building, First Canadian Place, at 298 meters. During the day, streets are packed; this is the most densely populated area in the city. But after close of the business day, the streets empty out and the neighborhood becomes very quiet. Tons of hotels are located here, a great neighborhood to stay for a restful sleep. The Financial District sits to the east of the Entertainment District, south of the Downtown Core, and west of Corktown, St. Lawrence, and the Distillery District.

The Financial District sits atop the main core of the PATH, though the underground walkway spans a much larger area. More than just a pedway, Toronto's PATH is also the world's largest underground shopping complex with over 1200 stores and restaurants. Museums, architecture, and restaurants are the main draws to the Financial District, outside of business. Be sure to stop by the Hockey Hall of Fame, the Toronto Dominion Gallery of Inuit Art, and First Canadian Place.

Best Hotels in the Financial District

Best Restaurants in the Financial District
Staying in West Queen West
Easily the coolest neighborhood in Toronto and named by Vogue as one of the coolest in the world, West Queen West is the arts and cultural hub of the city. With its trendy, hipster vibe, this area has the highest concentration of art galleries in the city, plus tons of boutique and vintage shops, live music venues, bars, and restaurants. There are no major tourist attractions here; rather, the draw is in soaking in the creative spirit and living like a local.

West Queen West is home to Trinity Bellwoods Park, a great place to commune with Torontonians in the summer months, while sunbathing, daydrinking, and throwing a Frisbee in the off-leash dog area. Grab a bite at one of several hole-in-the-wall bakeries. At night, hit the bars on the South end of Ossington Avenue and take in the sounds of a live band or DJ. West Queen West is located between Chinatown to the east and Little Portugal to the west.

Best Hotels in West Queen West

Best Restaurants in West Queen West
Staying in Yorkville
Once the countercultural capitol of Toronto, where musicians like Neil Young and Joni Mitchell got their start, Yorkville has since become the most affluent neighborhood in the city. Yorkville is home to the Mink Mile, a section of Bloor Street with the most expensive retail shopping in Canada. Here you will find luxury branded shops, including Hermes, Christian Louboutin, and Prada, though recent years have seen an influx of mid-range retailers, like BCBG and The Gap. Off the Mink Mile, though, there are still several upscale, local boutiques, designer consignment shops, art galleries, and museums, most notably the Royal Ontario and Bata Shoe Museums.

Several bistros, bars, and fine dining spots line the streets, offering a great perch for people-watching, as the city's fashionistas stroll through, wearing editorial looks as if it's totally normal. Be sure to get your pampering in one of over a hundred spas and salons in the neighborhood. Yorkville is located north of Downtown and south of Casa Loma.

Best Hotels in Yorkville

Best Restaurants in Yorkville
Staying in the Downtown Core
Technically speaking, Downtown Toronto includes such neighborhoods as the Entertainment and Financial Districts, and Harbourfront. But in colloquial terms, the Downtown Core (aka Downtown Yonge) is the part of the city that includes Eaton Centre and Yonge-Dundas Square. For over a hundred years, this has been the retail hub of Toronto, but recent neighborhood revitalization projects have expanded the area's public, arts, and performance spaces, making this a destination for live music and performances of all kinds.

Eaton Centre is Toronto's largest and most visited attraction: an indoor mall with over 300 shops and restaurants and serviced by two separate subway lines. Yonge-Dundas Square is often considered Toronto's answer to NYC's Times Square. It's home to massive public events, art installations, and performances of all kinds. Other notable attractions in the area include Allan Gardens and the Art Gallery of Ontario. The Downtown core is bordered by Yorkville to the north and the Financial and Entertainment Districts to the south.

Best Hotels in the Downtown Core

Best Restaurants in the Downtown Core
Staying in Harbourfront
On the northern shore of Lake Ontario, the Harbourfront neighborhood offers gorgeous views of the water and the Toronto Islands, as well as a picturesque network of parks and walking trails. Once used exclusively for shipping and industry, Toronto's harbor was partially repurposed in the '70s. Over the years, the Harbourfront has transformed into a vibrant community area, known for boating, outdoor spaces, performances, and art installations.

Among other sights, the neighborhood is home to HTO Park, a manmade urban beach; the Toronto Music Garden designed by Yo Yo Ma; Ireland Park, commemorating those who fled the potato famine; and The Power Plant contemporary arts gallery. The Harbourfront is best enjoyed in the warmer months, since most of the attractions here are outdoors and only open seasonally. However, in the winter months Harbourfront Centre hosts a weekly ice skating night with DJs spinning. The Harbourfront is bound on its south end by Lake Ontario and to the north by the Entertainment District.

Best Hotels in the Harbourfront

Best Restaurants in the Harbourfront
Read More