Greece › Naxos › Best Beaches
by Santorini Dave • Updated: September 3, 2022
See Also
Naxos Beaches: Tips & Advice

Naxos is surrounded by wonderful beaches. The best beaches are generally on the west coast and tend to get prettier, quieter, and have better sand the farther south you travel.
Staying in Naxos Town (for the restaurants, shopping, and nightlife) and visiting the nearby beaches through the day is easy to do. Most of the beaches listed here are accessible via the #1 and #3 bus lines.
The #1 bus runs about every half hour from the Naxos Town port south past Agios Prokopios, Agia Anna, Plaka, and ends at the northern Mikri Vigla Beach. The #3 bus runs a little less frequently, beginning at the port and heading south through the inland villages, Glinado and Vivlos, then along the coast to Mikri Vigla, Kastraki, Glyfada, Alyko, and Pyrgaki Beaches. During low and shoulder season, both routes run less frequently and finish earlier. Tickets must be purchased in advance from the bus station at the Naxos port (to get to the villages/beaches) or from the village/beach shops (to get back to Naxos Town). Prices vary by destination but generally run between €2 to €3. Timetables are posted at each bus stop and can be picked up from the bus station in Naxos Town.
The 9 Best Beaches on Naxos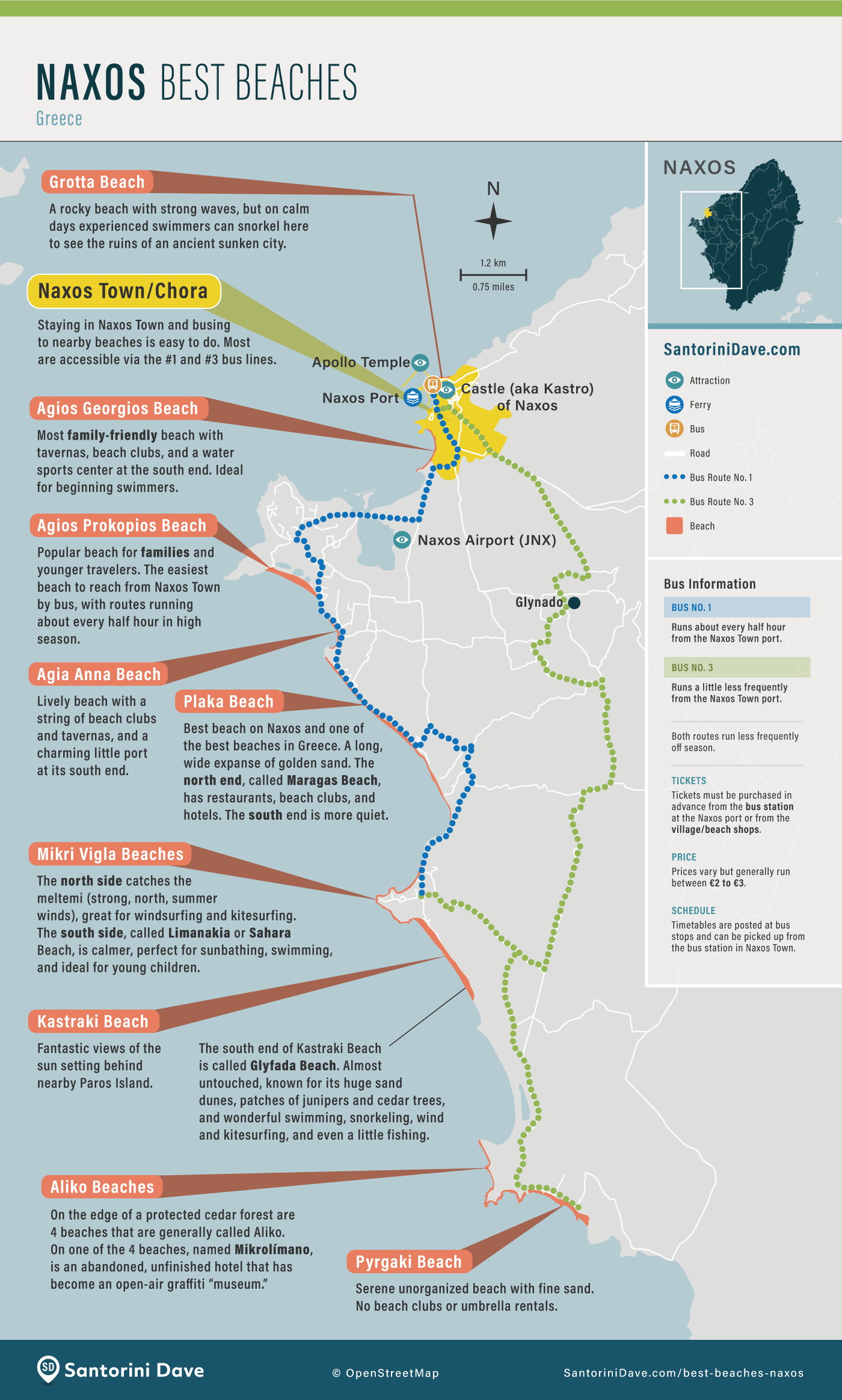 Plaka is not only the best beach in Naxos, it's one of the best beaches in Greece. Its wide expanse of golden sand stretches down for 4 km along the west coast, making it the longest uninterrupted beach on the island. At its north end, called Maragas Beach, you'll find the bulk of Plaka Beach's restaurants, beach clubs, and a smattering of hotels. Traveling south, the amenities trail off, giving way to long expanses of sand and sea.

Recommended Plaka Beach Hotels:

The most family-friendly beach on the island, Agios Georgios Beach is just a short walk from Naxos Town, the port, and many of the island's best hotels. The beach is lined with casual tavernas and beach clubs and boasts a water sports center at the south end. A sandy shelf extends far out into the sea, making its calm waters extra shallow, ideal for beginning swimmers.

Recommended Agios Georgios Beach Hotels:

Agios Prokopios is a popular beach for families and younger travelers. Angled toward the southwest, the beach is naturally protected from the wind, making its water extraordinarily clear and tranquil. Most of the beach's restaurants, beach clubs, hotels, and markets are at its southeastern end, while the northwestern point near its namesake church is quiet. This is the easiest beach to reach from Naxos Town by bus, with routes running about every half hour in high season.

Recommended Agios Prokopios Beach Hotels:

Just south of Agios Prokopios and almost as protected from the wind, Agia Anna Beach is a lively beach with turquoise water, a string of beach clubs and tavernas, and a charming little port at its south end. Though the water is generally calm and excellent for children, the northern end occasionally gets wavy; the main section in front of the Iria Beach Art Hotel and near the port offers the calmest water. Continuing south past the port is the tiny St. Nicolas Church and a rocky outcrop where you'll find a curious rock painted like a shark. A few meters south of the shark rock is a secluded, unofficial nude beach.

Recommended Agia Anna Beach Hotel:

Naxos' most unusual beach, Alyko sits on the edge of a protected cedar forest. The 800 sqm forest is filled with different species of cedar, heathers, thyme, wildflowers, and more and butts up against the edge of a rocky coastline interspersed with 4 sandy beaches. All these beaches are generally called Alyko but more specifically are, from northwest to southeast: Alyko Naturist (unofficial nude beach), Hawaii Beach (the longest and sandiest beach), Mikrolímano (at the western tip, facing south, protected from wind), and Alyko Forest Beach (at the edge of the densest part of the forest). An abandoned, unfinished hotel sits above Mikrolímano and has become an open-air "museum" of colorful graffiti murals.

Recommended Alyko Beach Hotel:

The white sand Mikri Vigla Beach sits on a headland jutting west into the sea with beaches on the north and south sides. The main beach faces north, where it catches the meltemi (strong, north, summer winds), making this a popular windsurfing and kitesurfing beach. The long southern beach, often called Limanakia or Sahara Beach, is shielded from the wind, perfect for sunbathing and swimming with shallow water ideal for young children. There are a few tavernas and some sunbed rentals, but overall Mikri Vigla is quiet.

Recommended Mikri Vigla Beach Hotel:

A remote, white sand beach made of 3 small coves, Pyrgaki Beach offers a serene getaway with fine sand, shallow blue water, and no crowds. The sand and swimming get better the farther south you go. This is an unorganized beach with no beach clubs or umbrella rentals, though there are a couple of traditional tavernas in the area.

Recommended Pyrgaki Beach Hotel:

Between Mikri Vigla and Alyko Beaches, Kastraki is a gold and white sand beach facing west with fantastic views of the sun setting behind nearby Paros Island. This beach sees plenty of travelers but is large enough to never feel crowded even during high season. Though there are no beach clubs or sunbed rentals, the north end of the beach has a few restaurants and boutique hotels. The south end, called Glyfada Beach, is almost untouched, known for its huge sand dunes, patches of junipers and cedar trees, and wonderful swimming, snorkeling, wind and kitesurfing, and even a little fishing.

Recommended Kastraki Beach Hotel:

A pebbly beach on a craggy shoreline subject to strong meltemi north winds, strong currents, and sea urchins, Grotta may not seem like a great beach. However, on a calm day with a south wind, strong swimmers can snorkel along the coast (between the beach parking lot and the path to Apollo Temple) through the ruins of an ancient Mycenaean city that sunk into the sea after an earthquake. Though all the statues and valuables have been moved to the nearby Mitropolis Museum, there are still many ancient columns, house walls, and city walls. The hill above the beach offers spectacular sunset views toward the temple.

Recommended Grotta Beach Hotels:
Read More