SD › Paris Travel Guide
Updated: August 8, 2023
The City of Light, Paris is France's capital, the historic hub of the Age of Enlightenment, and a global leader in all things food and fashion. Famous for its iconic landmarks and artistic works, elegant architecture, luxury hotels, romantic atmosphere, and charming neighborhoods, Paris is an ideal destination for all types of travel most any time of the year.

The Paris Travel Guide

Paris Basics

Paris Hotels

Paris Activities

Paris Trip Planning

Latest Articles & My Travel Newsletter

Frequently Asked Questions about Paris

Where is Paris?

Paris is the chic and cosmopiltan capital of France, located in the north of the country. The nearest major cities to Paris are Brussels (300 km, or 3.5 hours via car) and London (470 km), which can be easily reached by Eurostar train (3.5 hours) or by car (6 hours), via the Chunnel, the tunnel that spans the English Channel. Paris has a land area of 105 km² and a population of 2.16 million.

When is the best time to go to Paris?

The best months for a trip to Paris are from April, May, June, October, and early November. During these times, the weather is warm (but not hot) and the tourist crowds are thinner than in the height of the summer travel season. The very best month to visit Paris is June, just before high season when the weather is glorious and the gardens are in full bloom.

The cheapest months to visit Paris are early December, January, and February; the weather may be cloudy and cool, but museums and attractions will be less crowded and good deals can be found on airfare and hotel rates. You'll also find good deals in Paris shops during this time; sales in France are state-regulated, and retail discounts are allowed only twice yearly, during two six-week periods known simply as Les Soldes (The Sales). Winter Sales generally run from early January through mid-February, with summer Soldes taking place from late June through July.

We do not recommend visiting Paris in August when the weather is hot and summer crowds are at their thickest. Additionally, there can be a distinct lack of local flavor during this time; many Parisians flee to the coast during August and smaller shops and restaurants are likely to be closed.

What are the best areas to stay in Paris

There are so many great neighborhoods spread across the city that it's difficult to think of any one best area to stay in Paris. For first-time visitors, we recommend staying in a central location near(ish) the Seine, as these are very safe and will be walkable to the most notable tourist attractions, restaurants, shopping, and famous landmarks. That said, as long as you're staying near a metro stop, it's always pretty easy to get where you want to go.

As a general rule, neighborhoods on Paris' Left Bank (south of the Seine) are associated with classic architecture and Hemingway haunts, while Right Bank neighborhoods (north of the Seine) tend toward the hip and trendy. A few of the most popular neighborhoods in Paris are the posh Marais on the Right Bank and classic Saint-Germain on the Left Bank, both centrally-located and highly walkable. A little further out, but easily accessible by metro is the charming hilltop neighborhood of Montmarte, home to Sacre Coeur basilica.

Two great neighborhoods to stay in Paris with a more local neighborhood feel are the Marais in the 3rd and 4th arrondissements and South Pigalle, up near Montmartre. The Marais is a charming neighborhood filled with restaurants, bars, markets, and local shops. South Pigalle is a bit quieter, with fashionable boutiques, cafes, and a thriving restaurant and bar scene.
What are the best things to do in Paris?

Any trip to Paris should include at least a couple of these must-dos: a visit to the Louvre Museum and the Eiffel Tower, a trip up to the Montmarte district to see the beautiful Sacre Coeur basilica and its magnificent views, and a cruise down the river Seine – especially lovely at dusk when the architecture is lit from below and the Eiffel Tower sparkles. Some of the very best things to do in Paris are of a more pedestrian nature, however; Paris is experienced best by simply walking the streets and exploring the city's great neighborhoods, shops and markets, restaurants and bars, and of course… pastries.

One of the best ways to experience Paris is through a guided walking or food tour. It's fun to learn about the city's history and architecture while also getting a taste of local life from an insider's view.

With loads of parks and family-friendly activities (and seemingly a pastry shop on every corner), Paris is a great city to visit with kids. The Natural History and Science Museums are always a hit, and even the most imposing attractions like the Louvre can be enticing to kids when you book a private family tour. Even many of the fanciest hotels in Paris welcome children, but here are kid-friendly hotels in Paris for every budget.

How long should I stay in Paris?

Paris is filled to bursting with museums, gardens, cathedrals, historic landmarks, outdoor markets, and tree-lined pedestrian streets – and that's not to mention spectacular day trips to the surrounding areas, like Versailles. The major highlights can be seen in 2 or 3 absurdly busy days, but to get a real feel for the city it's best to stay for 6 full nights (more if you have time, of course). The Louvre alone requires 3 hours minimum, and even then, you won't be able to see it all. No matter how much time you decide to spend, taking a tour is an excellent way to see the city's highlights and gain insight into Parisian culture.

What is an arrondissement?

The French word "arrondissement" translates to "borough" or "district." Paris is divided by the Seine into Right (north) and Left (south) Banks, and subdivided into 20 numbered arrondissements. Starting in central Paris at the Seine (near the Louvre), the arrondissements spiral out in a clockwise direction, ending at the 20th in eastern Paris, home to the famous Pere Lachaise cemetery. The best arrondissements for visitors to Paris are generally those along the banks of the Seine, as well as the charming 18th.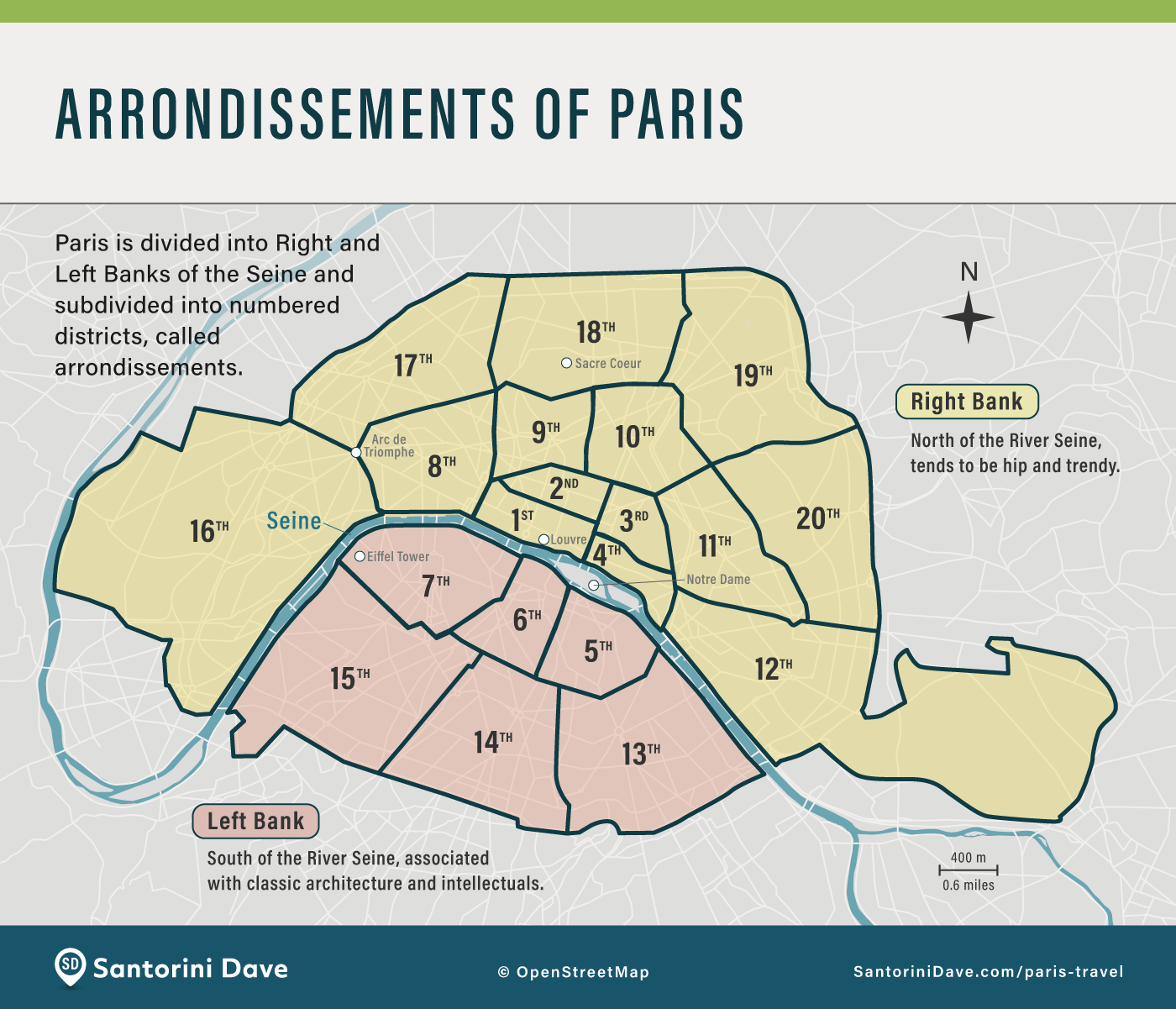 1st: Louvre Museum, Tuileries Garden, Palais Royal, Place Vendome
4th: Notre Dame Cathedral, Ile Saint-Louis, Hotel de Ville, Marais District, Centre Pompidou, Place des Vosges
5th: The Latin Quarter, National History Museum, Cluny Museum, Shakespeare & Company bookstore, The Sarbonne
6th: Luxembourg Garden, The Latin Quarter, Saint-Germain-des-Pres, Saint-Sulpice Church
7th: Eiffel Tower, Musee d'Orsay, Rodin Museum, Les Invalides, Quai Branly Museum
8th: Grand Palais, Petit Palais, Arc de Triomphe, Parc Monceau, luxury shopping
16th: The Trocadero, Palais Galiera (fashion museum), Yves Ste Laurent Museum, Arc de Triomphe
18th: Montmartre, Sacre Coeur, Pigalle, Moulin Rouge

Which Paris airport should I use?

Paris is served by four airports: Charles de Gaulle (CDG), Paris Orly (ORY), Paris Beauvais-Tillé (BVA), and Paris Châlons Vatry (XCR). Most travelers will fly in and out of CDG or ORY, since they are the closest, offer the most flights, and are better-connected to the city than BVA or XCR.

Charles de Gaulle is the largest and busiest international airport; the train to Paris' Gare du Nord station leaves from Terminal 3 every 3 to 12 minutes and takes about 30 minutes to reach the city; driving the same distance takes 30 to 40 minutes. Paris Orly is a smaller, less chaotic airport than CDG, easier to navigate with children and luggage, and quicker to get through immigration when flying internationally. Trains leave ORY for Paris frequently, but require a transfer; the whole trip takes around 40 minutes. Driving the same distance takes about 25 to 30 minutes. Paris Beauvais-Tillé and Paris Châlons Vatry are both pretty far from Paris and not recommended for a smooth, easy transfer. BVA is the budget airport; it could be worth the hassle getting to and from Paris through this airport if your plane ticket is cheap enough. XCR is ridiculously far away, 3.5 hours by train or 2 hours by car; avoid this option.

Is Paris safe?

Paris is a very safe city, especially considering its size and popularity as a tourist hub, with plenty of pedestrian streets, ample streetlights, and a buzzy atmosphere late into the night. The main crime travelers should be on the lookout for is pickpocketing, especially on the metro, at train/metro stations, and at popular sights, like the Eiffel Tower. At night, the areas near some train stations (especially Gare du Nord, Barbes Rouchechouart, and Chateau Rouge) can feel unwelcoming, though there is very little real danger. More recently, a few areas of Paris have become like makeshift refugee camps with larger encampments popping up around the metro Stalingrad, a section near the Colonel Fabian metro station, and at the Halle Pujol market area in the 18th. Again, though they may look unappealing, these areas are generally safe.

What currency is used in Paris?

France is part of the European Union, so the currency used in Paris is the euro (€). Most restaurants, museums, tours, and sights in Paris accept credit cards, but it's best to keep some cash on hand for train tickets, food and souvenirs from outdoor markets, bus tickets, taxi fare, and small snacks. ATMs are easy to find throughout Paris.

Though there is a tipping culture in Paris, a tip is not seen as obligatory, so there is some wiggle room regarding how much to tip. At a restaurant, tipping is not based on a percentage of the bill; instead rounding up the bill is common or even leaving 5 to 10 euros if you're at a nicer establishment. Large groups should always tip at restaurants. At cafés, leaving change in the tip jar is the norm. Always tip tour guides, hotel porters, and hotel maids. For longer taxi rides, it is common (but not mandatory) to round up the taxi fare.
Read More