Greece › Santorini › Museums & Historical Sites
by Santorini Dave • Updated: September 10, 2022
See Also
The Best Santorini History & Culture Tours
The 15 Best Museums, Galleries, Archaeological, & Cultural Sites in Santorini

Well-preserved ruins of the ancient city of Akrotiri which was destroyed by a massive earthquake and buried under ash from the subsequent volcano in 17th-century BC. The site is enclosed, with elevated and accessible walkways throughout. Open year-round from 8am onward. Shorter hours and closed Mondays November-March.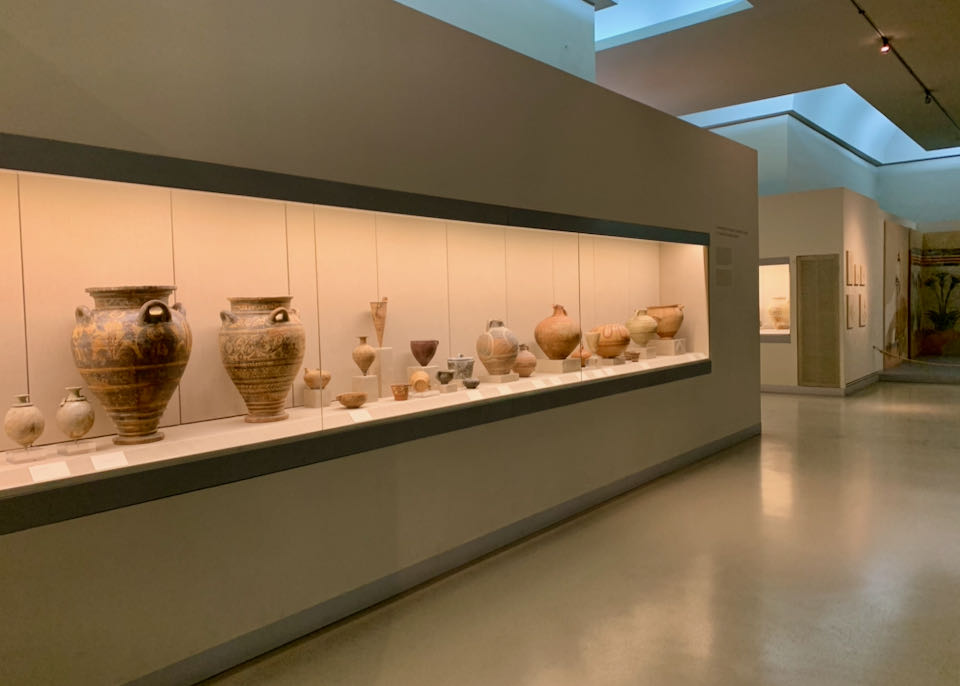 Great museum in the heart of Fira with displays featuring art, artifacts, and jewelry from the ancient villages of Akrotiri in Santorini and Potamos in Crete. Open April to October, 8:30am to 3:30pm. Closed on Tuesdays.

Koutsoyannopoulos is a nice winery producing several types of wines and also features an underground museum highlighting the island's wine-making tradition. Tours and tastings are offered. Open year-round, with shorter hours in the winter.
Advance tickets for tasting and entry with audioguide.

Located on Mesa Vouno, this archaeological site of the ancient city of Thera is the second-most important site in Santorini after Akrotiri. The site is well-organized and the views are magnificent. Open year-round 8:30am to 3:30pm, closed on Tuesdays.

Symposion is a superb cultural center focused on Greek mythology, music, and ancient instruments. There are regular live performances, presentations, and workshops. Open March to October. Hours vary, closed Mondays.

Museum displaying the fascinating and extensive personal collection of maritime objects of Captain Antonis Dakoronias in a restored captain's mansion in Oia. Open April to October, 10am-2pm and 5pm-8pm. Closed Tuesdays.

Art Space features 150-year-old caves with an old winery turned into a museum, a modern winery producing mostly whites, a tasting room, and an art gallery. Open April-October, 11am to 7pm. November-March by appointment only.

Clay and ceramics studio selling beautiful handmade items by award-winning ceramicist couple in Megalochori. Pottery lessons and workshops as well. Open through the year, until 6pm daily.

Showcases and sells the magnificent art work of world-renowned visual artist Yorgos Kypris, especially his fish and ship series. Located in the heart of Fira. Open April to October 10am to 11pm.

One of Santorini's oldest Greek Orthodox monasteries located on top of Mount Profitis Ilias with a 300-year-old church, gift shop selling traditional items made by the monks, and the best views of the island. Open year-round, 9am to sunset. Closed Sundays.

Distillery specializing in ouzo, tsikoudia, and flavored liqueurs. The adjoining museum offers guided tours of the traditional distillation process as well as tastings. Open year-round, 10am to 6pm. Shorter hours in the winter.

Small but interesting museum featuring artifacts that date from the Archaic, Roman, Geometric, and Hellenistic Periods – as well as some Minoan and Byzantine art; most from excavations of a Hellenic settlement on Mesa Vouno Mountain and from a cemetery of Ancient Thera. Open year-round, 8:30am to 3:30pm. Closed Tuesdays.

Interesting museum showcasing the history and cultivation of Santorini's famed cherry tomatoes. Also, an art gallery in the warehouses and a small souvenir shop. Open through the year, 10am-6pm. Appointments necessary November-April.

This 11th-century Greek Orthodox church dedicated to Virgin Mary is located at the foot of Profitis Ilias Mountain. Several ancient frescoes and holy icons are still on display today. Open year-round, 10am-12pm and 2pm-5pm.

Modern museum using interactive digital installations, holograms, and a 9D movie theater to explore the mythological island of Atlantis. Small souvenir shop. Open April to October, 10am to 7pm.
Advance tickets to the 9D experience.
Read More