Home > Greece > Santorini > Fira Hotels
Updated: October 2, 2020
• Affiliate Disclosure: All hotel links on my site are affiliate links meaning I earn a small fee when you book a hotel. (There is never any extra cost to you for using these links). I use some of these earnings for my monthly charitable donation.
See Also
Staying in Fira
Fira, Santorini
Fira is the biggest town on Santorini and the hub of the island's bus service (making it easy to get a direct bus to most other towns on the island). Fira has the most shopping and nightlife. It can get busy (sometimes hectic) but it's easy to avoid the crowds if you want and the town never feels overrun. The highlight of staying in Fira is doing the hike to Oia along the caldera path (which takes about 3 hours).
Where to Stay In Fira?
Hotels along the caldera have wonderful views of the volcano, cliffs, and sunset (though sunset views do vary throughout the year). These hotels I've labeled "Caldera View" below. They are, of course, much more expensive than hotels not on the caldera. If you want to save money stay at a hotel without a view and simply enjoy the caldera on long walks and restaurant visits.
The Best Hotels in Fira, Santorini

Hotel phone: +30 22860 25632
The best infinity pool in Fira, perched right on the cliff overlooking the caldera. This is one of the most loved hotels in Fira. Only 10 rooms here (individually furnished) so it's perfect for honeymooners – yet located in the heart of Fira. Nightlife and restaurants are literally steps from the front door.
• Hotel website • Check prices on Booking.com

Hotel phone: +30 22860 24910
Nine luxurious suites (all with volcano views) feature modern furnishings within traditional, cave-like architecture. Private balconies, on-site bar and restaurant, excellent pool terrace. Honeymoon and Cave suites have private jacuzzis. Royal Suite sleeps up to 6 guests. A complimentary, a la carte breakfast is delivered to each suite daily, while room service is available 24 hours a day.
• Hotel website • Check Prices on Booking.com

Hotel phone: +30 22860 28650
An amazing mix of luxury and friendliness, incredible views and exemplary service. Suites are beautifully decorated. The pool is one of the best in Fira and comes with views of the caldera. This is one of the few hotels that accepts young children, partly because it's slightly back from the edge of the caldera. The villas are located down a short path from the main hotel and have fantastic caldera views and private plunge pools, plus access to a large, shared rooftop jacuzzi with excellent sunset views.
• Hotel website • Check prices on Booking.com

Hotel phone: +30 22864 40900
The only 5-star hotel in Fira. The brand new Katikies Garden is a family-friendly hotel in a converted 11th-century Venetian monastery with a pool, holistic spa, and exceptional Mediterranean restaurant. Spacious suites all offer a private jacuzzi or plunge pool; half have sunrise sea views over the Aegean (not the caldera).
• Hotel Website • Check prices on Booking.com

Hotel phone: +30 22860 25750
Traditional-style property with an infinity pool and sun terrace. All accommodations – from the Standard Studio to the 90 sq. meter 3 bedroom, 2 bath Villa – have kitchenettes and balconies. Breakfast is included in the room rates and is served poolside. Guests have access to V Lounge at the top of the caldera, an incredible perch for sunset cocktails.
• Hotel website • Check prices on Booking.com

Hotel phone: +30 22860 22324
Recently renovated rooms feature traditional architecture and modern furnishings; some have private balconies, King suite has a private outdoor jacuzzi. Free breakfast buffet and shared sun terrace with plunge pool.
• Hotel Website • Check prices on Booking.com
Map of Fira Hotels

Hotels on Map: Anatoli Hotel • Anteliz Suites • Cosmopolitan Suites • San Giorgio • Costa Marina Villas • Panorama Boutique • Panorama Studios and Suites • Kavalari Hotel • Enigma Suites • Scirocco Apartments • Angel Luxury Suites • Aperto Suites • Andronis Honeymoon • Porto Fira Suites • Athina Luxury Suites • Atlantis Hotel • Aressena Spa Hotel and Suites • Keti Hotel • Aria Villas • Aria Suites • Kamares Apartments
More Great Fira Hotels

Caldera View • Hotel phone: +30 22860 25191
5-star luxury historic hotel. Authentic Cycladic architecture and old world furnishings mix with modern conveniences like air-conditioning and wi-fi. Complimentary room service, and small, shared outdoor pool. Mansion Suite sleeps 6.
• Hotel Website • Check prices on Booking.com

Hotel phone: +30 22860 22759
Family-owned, boutique hotel in a former winery with a pool, spa, and all-day snack bar in a quiet neighborhood less than a 10-minute walk to Fira's nightlife, dining, and attractions. The hotel offers a wide range of rooms and 1 or 2-bedroom suites for up to 4, all with kitchenettes and private balconies. Some room categories offer sunrise rooms over the Aegean Sea (not the caldera). Absolutely great value for money.
• Hotel Website • Check prices on Booking.com

Caldera View • Hotel phone: +30 22860 24047
Wonderful, tiny, luxury hotel (just 3 suites) with gorgeous sunset caldera views in the heart of Fira attached to Nektar Lounge (a popular wine bar) and near the Orthodox Metropolitan Cathedral. Though central to Fira's nightlife and attractions, the suites remain very quiet thanks to their soundproof windows and doors. The owner personally takes care of all guests' needs, from cooking and delivering daily breakfast to creating bespoke itineraries (born and raised on Santorini, he is super in-the-know).
• Hotel Website • Check prices on Booking.com
Caldera View • Hotel phone: +30 22860 36100
This adults-only property has 7 small but beautifully-decorated rooms, all with satellite TV, air-conditioning, and private indoor or outdoor jacuzzi. Soothing organic décor, complimentary patio breakfast.
• Hotel Website • Check prices on Booking.com
Caldera View • Hotel phone: +30 22860 24367
Three split-level, self-catered suites with bedrooms upstairs and living areas, bathrooms, kitchenettes below. Rooms are newly renovated and beautifully furnished. Shared rooftop terrace. Daily breakfast available.
• Hotel Website • Check prices on Booking.com

Hotel phone: +30 22860 23900
This modern artsy boutique hotel has a lovely mosaic swimming pool with pool bar and curtained divans. Great spa with wellness lounge: interior hot tub, steam room, and thermal relaxing beds. Sky Suite features a retractable roof. Located directly across from the Atlantis but doesn't have caldera views.
• Hotel Website • Check prices on Booking.com

Caldera View • Hotel phone: +30 22860 25900
A glamorous collection of luxury villas with kitchenettes, spacious terraces, private heated pools, and direct sunset views. All villas have indoor jacuzzi tubs; some add outdoor hot tubs. 5-star perks include airport and port transfer, an all-day shuttle to Fira, and daily breakfast delivery. Celestia Grand sits on the caldera in Mesaria, about 2 km south of Fira, easy to access by car or bus but removed from the crowds.
• Hotel Website • Check prices on Booking.com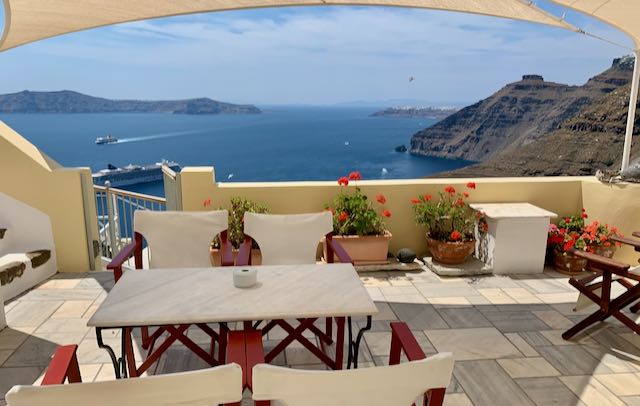 Caldera View • Hotel phone: +30 22860 25251
12 traditionally-decorated suites sleep up to 5 guests, some have private terraces and jacuzzis. Facilities also include an amazing cave-like outdoor pool, shared rooftop terrace, and gallery café.
• Hotel Website • Check prices on Booking.com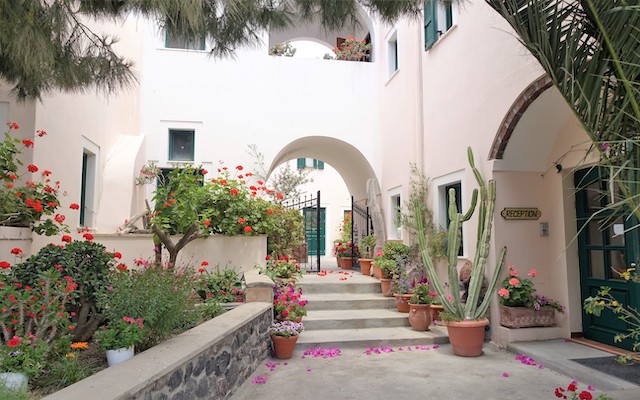 Hotel phone: +30 22860 28923
Family-run, family-friendly boutique hotel in the heart of Fira village, just a short walk to the caldera, dining, and nightlife. Beautiful garden setting, friendly hosts, and clean rooms with private patios and terraces.
• Hotel Website • Check prices on Booking.com
Hotel phone: +30 22860 36900
Family-friendly, luxury hotel with a large free-form pool, kids' pool, playground, and a holistic spa. Rooms and suites all offer private balconies, while suites and 1 to 2-bedroom villas add private pools and/or jacuzzis. Some rooms offer sunrise Aegean Sea views, though none face the caldera. De Sol is one of only a handful of hotels open year-round. Located at the south end of Fira, about 2 km from the nightlife, dining, and attractions of the village.
• Hotel Website • Check prices on Booking.com

Caldera View • Hotel phone: +30 22860 24024
Family-friendly, luxury hotel in the Fira caldera offering spacious suites, studios, and apartments for up to 6, all with kitchenettes and private terraces, half with outdoor private jacuzzis, and some with loft bedrooms. Its excellent cafe is a popular spot for sunset cocktails, which can be enjoyed on the shared terrace or on your private balcony through room service.
• Hotel Website • Check prices on Booking.com
Hotel phone: +30 22860 24946
Luxury hotel on the road south of Fira but still walking distance to town. Good value because it doesn't have direct caldera views. Beautiful grounds with four swimming pools and spa. Guest rooms have marble bathrooms and private balconies. Family loft suites sleep 4. On-site restaurant, café, and pool bar.
• Hotel Website • Check prices on Booking.com
Caldera View • Hotel phone: +30 22860 22006
Traditionally decorated rooms (simple, nothing fancy), onsite bar/café. Double and triple rooms come with fridges and view balconies. Cave Apartments have kitchen, living room or dining room, and balcony jacuzzis, and can sleep up to 5.
• Hotel Website • Check prices on Booking.com
Hotel phone: +30 22860 22317
Modern hotel on Fira's main street (lots of traffic out the front door). Fresh and elegant rooms all have a balcony or terrace. Beautiful outdoor pool with hot tub and poolside bar. Great breakfast buffet.
• Hotel Website • Check prices on Booking.com

Caldera View • Hotel phone: +30 22860 28110
Traditional cave-style and whitewashed apartments feature air-conditioning, kitchenettes, and private terraces – all but standard rooms have outdoor jacuzzis. Spacious living areas. Triple and Quatre apartments accommodate up to four guests.
• Hotel Website • Check prices on Booking.com
Caldera View • Hotel phone: +30 22860 25730
Fresh, breezy blue and white décor in 7 suites that sleep 2-7 guests. There's a shared sun deck with a plunge pool, and daily continental breakfast is served in the rooftop café/bar. Adjacent to the donkey trail and cable car.
• Hotel Website • Check prices on Booking.com
Caldera View • Hotel phone: +30 22860 22455
Onetime captain's house; now 18 traditional rooms and suites with old world décor and vibe. No proper pool, but there's a small jacuzzi in the shared courtyard terrace. The cave apartment sleeps four and has a kitchenette.
• Hotel Website • Check prices on Booking.com
Caldera View • Hotel phone: +30 22860 23157
Quiet hotel on the footpath heading north towards Firostefani. 7 spacious rooms and suites all have original architecture and kitchenettes; some have loft beds. Shared terrace with plunge pool overlooks the sea. Rooftop lounge. Master suite has a private jacuzzi.
• Hotel Website • Check prices on Booking.com

Caldera View • Hotel phone: +30 22860 25333
Boutique, luxury hotel with an infninty pool, spa, Mediterranean restaurant, and stunning caldera sunset views from every room and throughout the property. Rooms and suites are spacious and tastefully appointed, many with private jacuzzis or pools. Located in South Fira/Mesaria, about 2 km from the heart of the village within easy busing or driving distance.
• Hotel Website • Check prices on Booking.com
Hotel phone: +30 22860 24046
Modern, minimalist designed rooms, apartments, and suites; some with private balconies. Apartments have kitchenettes, and the Honeymoon Suite has a private indoor jacuzzi. Junior Suite is laid out over two floors. Pool area is small, but beautiful.
• Hotel Website • Check prices on Booking.com
Caldera View • Hotel phone: +30 22860 36411
Four chic and elegant suites, all with modern décor and private balcony jacuzzis. Superior Suites sleep up to 4 guests, with living rooms and walk-in closets. Complimentary breakfast served privately in your room. Friendly staff.
• Hotel Website • Check prices on Booking.com
Caldera View • Hotel phone: +30 22860 28555
This boutique suite hotel features old world furnishings and traditional architecture. Generally spacious suites have marble bathrooms and private balconies. Grand family suite sleeps 5. Small cave swimming pool and rooftop jacuzzi.
• Hotel Website • Check prices on Booking.com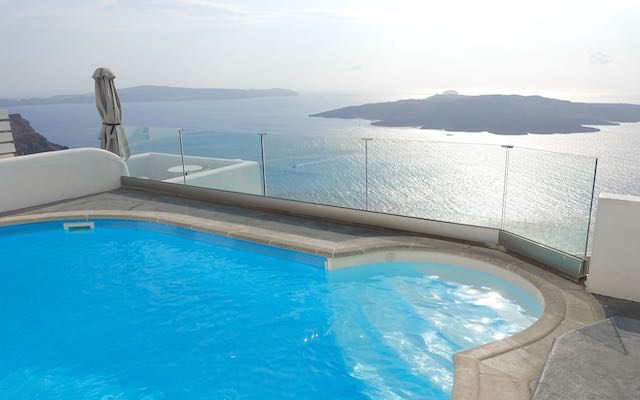 Caldera View • Hotel phone: +30 22860 25269
Family owned hotel with traditionally-decorated standard double rooms, cave-style suites, and two-bedroom apartments. Air conditioned and self-catered. Rooftop Honeymoon Suite features a large private terrace. Shared pool and outdoor jacuzzi.
• Hotel Website • Check prices on Booking.com
Hotel phone: +30 22860 22601
Spacious, brand new accommodations in the town center. No frills, but clean and comfortable with fresh, modern décor. All rooms have private balconies, suites sleep 4.
• Hotel Website • Check prices on Booking.com

Caldera View • Hotel phone: +30 22860 21760
One of the first hotels built in Santorini, Panorama Boutique offers 15 incredible rooms and suites, all with private balconies welcome wine. Suites add outdoor jacuzzis. Breakfast is included in the room rates and is served at V Lounge, which serves cocktails and light fare throughout the day. Guests enjoy access to the pool and sun terrace of their sister property down the caldera, Panorama Studios and Suites.
• Hotel Website • Check prices on Booking.com
Caldera View • Hotel phone: +30 22860 28941
Six luxury suites in a beautifully reconstructed traditional Greek home, all featuring private balconies (where breakfast is served daily) and kitchenettes. Exclusive suite has two bedrooms. Small pool. Very few stairs to access hotel.
• Hotel Website • Check prices on Booking.com
Hotel phone: +30 22860 23114
Clean and comfortable rooms sleep up to 3 guests in the heart of Fira's town square. Rooms are equipped with fridges, air-conditioning, good wi-fi reception, and bathtubs. Garden courtyard restaurant.
• Hotel Website • Check prices on Booking.com
Hotel phone: +30 22860 22157
Clean and simply furnished rooms in the busy center of Fira; all with double beds, air conditioning, and fridges. Shared sun deck. Steps from clubs and nightlife.
• Hotel Website • Check prices on Booking.com

Caldera View • Hotel phone: +30 22860 23944
Romantic, boutique hotel on the caldera with a pool, cliffside massage, and an elevator (rare in Santorini). Popular with couples, most suites here are designed just for 2, some with round beds, a few with private pools, and all with private terraces. Located in Mesaria, about 2 km south of Fira, removed from the crowds but easy to access by bus or driving.
• Hotel Website • Check prices on Booking.com
Caldera View • Hotel phone: +30 22860 22849
Spacious traditional suites with modern décor and king-sized beds. Marble bathrooms have jacuzzis or rain showers. Cave-style infinity pool features shaded areas. Rooftop terrace bar.
• Hotel Website • Check prices on Booking.com
Hotel phone: +30 22860 23516
Clean and comfortable rooms within close walking distance to the caldera and main square. Each room has tiled floors, modern furnishings, small balconies. Guests have access to a shared pool and sun terrace next door.
• Hotel Website • Check prices on Booking.com

Caldera View • Hotel phone: +30 22860 22855
Charming traditional property with shared breakfast terrace and swimming pool. All 17 modern or cave-style rooms have private balconies. Cave houses and some apartments sleep up to 5 guests and have kitchenettes.
• Hotel Website
Caldera View • Hotel phone: +30 22860 22405
Small, family-run hotel is a good bargain with great views. Just 5 rooms; all are clean and comfortable (if not large or luxurious) and feature air-conditioning, fridges, and wi-fi. Shared terrace overlooking the volcano.
• Hotel Website • Check prices on Booking.com
Hotel phone: +30 22860 25292
Caldera View • Modern, beautifully decorated rooms with private balconies and (mostly) great views. Large sundeck with pool overlooks the sea. The Family Cave Suite is roomy and sleeps 4, but is lacking in views.
• Hotel Website • Check prices on Booking.com
Caldera View • Hotel phone: +30 22860 23831
Fresh and modern boutique right on the Caldera. Villa has 3 bedrooms, each with en-suite bath. Honeymoon suite features cave architecture. All have private balconies, views, and jacuzzis. Shared pool.
• Hotel Website • Check prices on Booking.com

Caldera View • Hotel phone: +30 22860 22755
Charming cliffside boutique hotel with spacious rooms (some with loft beds) and chic, minimalist décor. Lovely pool area with pool bar serving drinks and snacks. All guest rooms have balconies – junior suites have private jacuzzis.
• Hotel Website • Check prices on Booking.com

Caldera View • Hotel phone: +30 2280 22848
Family-friendly boutique hotel, recently renovated and upgraded, and offering stunning caldera sunset views. All rooms have private terraces; top tier rooms add indoor or outdoor jacuzzis. Breakast is included in the room rates, and the onsite cafe offers light fare and cocktails throughout the day.
• Hotel Website • Check prices on Booking.com
Hotel phone: +30 22860 22020
Good value, family-run studios and apartments that sleep 2-4, located minutes from the caldera and central square. All units have balconies and fridges; the 2 bedroom apartment has a kitchenette. Shared outdoor pool and hot tub.
• Hotel Website • Check prices on Booking.com

Caldera View • Hotel phone: +30 22860 24780
5-star hotel south of Fira with 3 pools and caldera sunset views. One of the larger hotels in Santorini, Volcano View offers a wide range of rooms and suites with up to 2 bedrooms, all with private terraces. The hotel features a Greek restaurant, pool bar, complimentary breakfast buffet, and entertainment through the week. Located in Mesaria, about 2km south of Fira, the hotel offers a free shuttle into town.
• Hotel Website • Check prices on Booking.com
Staying in Fira – Things to Know
Read More