Greece › Santorini › Best Hotels
by Santorini Dave • Updated: September 1, 2022
My Favorite Hotels in Santorini
• 5-Star: Grace
• 4-Star: Tsitouras Collection
• Boutique: Aenaon Villas
• Midrange: Enigma
• Cheap: Kavalari
• Family Hotel: Aria Suites
• Beach Resort: Istoria
• Best New Hotel: Nobu
• Best Pool: Grace
• Best Caldera Sunset View: Astra Suites
Santorini Hotels – Tips & Recommendations

The 53 Best Hotels in Santorini

Booking.com is my favorite website for booking hotels. Book 6 to 10 months in advance for the best rooms and rates.


Hotel phone: +30 22860 21300
Boasting the largest infinity pool on the caldera, a Michelin-starred restaurant, and sophisticated accommodations, Grace offers an unparalleled experience. Rooms, suites, and the villa are spacious, ranging from 50 to 400 square meters – most with outdoor, heated plunge pools – all with terraces, twice-daily maid service, turndown service, and tailored amenities (room scent, pillow menu, food preferences, etc.) arranged ahead of guests' stays. The hotel showcases panoramic sunset views over the caldera, centered on Skaros Rock and stretching from Oia in the north to Akrotiri in the south. For the best selection of rooms, book at least six months in advance (one year is even better).
• Hotel website • Check prices for Grace Santorini


Hotel phone: +30 22860 71401
Katikies is the best hotel in Oia. Trendy vibe, great location (easy access by taxi unlike some of Oia's hotels), 3 swimming pools, wonderful breakfast. Their intimate restaurant is one of Santorini's finest and has only 4 tables. Katikies is one of the few hotels in Oia that has an elevator.
Hotel website • Check prices for Katikies Hotel


Hotel phone: +30 22860 23747
Owned and managed by two wonderful energetic people (George and Eleni) who are filled with passion, charm, and helpfulness. This is a magical little hotel with fantastic views, suites, and service – plus an absolutely stunning infinity pool. And rare for Santorini: few steps and little climbing are required to get to and from the hotel.
• Hotel website • Check prices for Tsitouras Collection


Hotel phone: +30 22860 71453
Picturesque white washed cave suites. The pool overlooks the caldera and has a pool bar. Some suites have private pools. The magical 3-bedroom villa sleeps up to 7 and has a full kitchen. The restaurant is one of Oia's best and the hotel has an elevator.
• Hotel website • Check prices for Canaves Oia Suites


Hotel phone: +30 22860 24763
All-suite hotel in a privileged, cliffside location with a seasonally-heated infinity pool and romantic fine-dining restaurant. Sunset views here are among the best on the island. Suites are huge and beautifully decorated, all with kitchenettes, private terraces, and caldera views, many with outdoor jacuzzis or private pools. This is one of only a handful of luxury hotels on the caldera that allows children; the two-bedroom, two-bath family suite sleeps up to four.
• Hotel website • Check prices for Astra Suites


Hotel phone: +30 22860 27014
Perched on one of the highest points in the caldera, Aenaon Villas is a serene hideaway with expansive views of the caldera sunset and the Aegean sunrise. Its 6 luxury villas offer a blend of traditional Cycladic design with modern minimalism. Amenities include bespoke service and a caldera-view pool; 2 villas have their own private water features: 1 with an outdoor jacuzzi and 1 with an outdoor pool.
• Hotel website • Check prices for Aenaon Villas


Hotel phone: +30 22860 72473
Lavish, adults-only hotel with an infinity pool, a refined Greek restaurant, and a plush spa with an infinity waterfall pool. Suites feature caldera views, king-sized beds, and furnished terraces with private jacuzzis or heated pools (the villa has both). A young-trending hotel, Saint offers plenty to do, including DJ sets three nights a week, wine tastings, two yachts, and a fleet of Range Rovers with drivers at the ready. Complimentary a la carte breakfast is delivered to each suite, while Trinity restaurant provides meals throughout the day. The hotel sits on the pedestrian pathway at the east entrance to Oia, a pleasant walk to the heart of the village.
• Hotel website • Check prices for Saint Hotel


Hotel phone: +30 22860 28490
Glamorous hotel with an unorthodox design, a glass-front infinity pool, and a Mediterranean-French restaurant. Accommodations come with seasonally-heated indoor or outdoor jacuzzis, plunge pools, cave pools, or swimming pools. All rooms, all suites, and most villas have spectacular sunset caldera view. Some of the more unusual villas are dug deep into the volcanic cliff, offering maximum privacy with caldera views only from their rooftop sun decks. Villas add kitchens, hammams, spa rooms, and at least one bathroom per bedroom (up to 4 bedrooms, sleeping up to 8 guests). Nestled in Imerovigli at the beginning of the Skaros Rock hiking trail.
• Hotel website • Check prices for Kivotos Hotel


Hotel phone: +30 22860 27900
Stylish, luxury hotel with incredible views of the caldera and sunset looking northwest towards Oia. All suites have a private hot tub or plunge pool and face the caldera. The infinity pool is awesome, and the bar and restaurant has a hip, trendy vibe. Located in a remote section along the caldera about a 15-minute walk north of Imerovigli. Bus stop is steps from hotel.
• Hotel website • Check prices for Cavo Tagoo


Hotel phone: +30 22860 24910
This all-suite hotel enjoys a great location on the Fira caldera overlooking the volcano, just steps to the island's best dining and nightlife. Each suite is unique, but all feature upscale minimalist design and sweeping sunset views from their private balconies. Many add private, outdoor jacuzzis. The main pool has a swim-up bar and overlooks the caldera. The restaurant, Esperisma, offers elevated yet unpretentious Greek fare. One the few family-friendly hotels on the caldera, Athina offers babysitting and suites large enough to accommodate groups of 4 to 6.
• Hotel website • Check prices for Athina Luxury Suites


Hotel phone: +30 69462 22772
A cosmopolitan collection of suites and villas combining luxurious Santorinian style with subtle Japanese elements. The signature Nobu restaurant is the heart of the hotel, with exquisite Japanese dishes infused with Peruvian accents and Aegean ingredients. Accommodations feature cave-style showers and furnished terraces, most with private plunge pools or swimming pools. Facilities include a split-level infinity pool and a fitness center. Absolutely stunning sunset caldera views in this serene retreat about a 20-minute walk from Imerovigli village. Adults only.
• Hotel website • Check prices for Nobu Hotel


Hotel phone: +30 22860 71236
Boasting a tranquil, full-service spa with a cave pool, an infinity pool overlooking the caldera, and an upscale restaurant and bar. Views are phenomenal from every suite, most of which include a private jacuzzi or private pool. Service is attentive and personalized.
• Hotel website • Check prices for Katikies Kirini


Hotel phone: +30 22860 28950
Boutique luxury hotel offering astounding caldera views throughout the property and from each suite, many of which feature private, heated jacuzzis, or plunge pools. Iconic Santorini features cave-style architecture, a fantastic Greek restaurant, holistic spa, and a magical infinity pool. Service is hands-on and heartfelt; expect to be pampered here.
• Hotel website • Check prices for Iconic Santorini


Hotel phone: +30 22860 34090
This understated, romantic retreat offers elegant accommodations, exceptional dining, a decadent spa, and an infinity pool with panoramic views over the island. All suites offer ample space, utmost privacy, exclusive plunge pools (6 heated, 4 unheated), and both sunrise and sunset views. Dining is phenomenal at the private restaurant Gaia, led by Santorini's most influential chef. Unparalleled, bespoke service completes the experience with a 1-to-1 guest-staff ratio, 24-hour butler service, and a host of experiences and packages tailored to guests' desires.
• Hotel website • Check prices for Carpe Diem


Hotel phone: +30 22860 25632
Great location in the heart of Fira and one of Santorini's best infinity pools. The suites are not huge but at Cosmopolitan it's all about the views, location, and pool. The 2-bedroom villa is ideal for a larger group or family (but kids have to be older than 13). Nightlife is steps from the front door. I love this place.
• Hotel website • Check prices for Cosmopolitan Suites


Hotel phone: +30 22860 36737
The best hotel for families in Santorini, Andronis Concept Wellness is completely unique in the area, offering 3 community pools, a superb spa, and amazing suites all with private, heated, plunge pools. Its spa is the largest in Santorini, featuring a range of skin and massage treatments, signature sunset yoga, and integrated spa-fitness-meal packages. Family perks include kids yoga, cooking classes, and kids in-room amenities. The restaurant's menu is overseen by a nutritionist and features healthy, delicious dishes using local ingredients, many of which are grown onsite.
• Hotel website • Check prices for Andronis Wellness Resort


Hotel phone: +30 22860 25900
A glamorous set of luxury villas, all with kitchenettes, spacious terraces, private heated pools, and direct sunset views. All villas have indoor jacuzzi tubs; some add outdoor hot tubs. Villas range from studios up to 2-bedrooms. 5-star perks include airport and port transfer, an all-day shuttle to Fira, and daily breakfast delivery. VIP services include helicopter charters, private caldera cruises, and personal chef service. Celestia Grand sits on the caldera in Mesaria, about 2 km south of Fira, easy to access but removed from the crowds.
• Hotel website • Check prices for Celestia Grand

18. Istoria – Perivolos Beach


Hotel phone: +30 22860 85051
The most luxurious property on the eastern half of the island. Istoria has a lavish infinity pool, sophisticated dining, wellness spa, and a posh, serviced beach on a long stretch of black sand. All suites are well-appointed with fine linens, leather, and bespoke furnishings; most have a private, outdoor jacuzzi or plunge pool.
• Hotel website • Check prices for Istoria


Hotel phone: +30 22864 40900
Katikies Garden is the only 5-star hotel in Fira and offers an infinity pool and spa. Set in an 11th-century Venetian monastery that used to store the pope's wine, the hotel celebrates its history with wine tastings held it its 3 cellars, an impressive menu of fine wines, and a gourmet Mediterranean restaurant designed around wine. For families, the hotel offers kids menus, pool toys, babysitting, and a special turndown service for kids. Suites are spacious and beautifully appointed, all with private jacuzzis or pools and half with sunrise sea views (not of the caldera).
• Hotel website • Check prices for Katikies Garden


Hotel phone: +30 22860 71844
A postcard-perfect hotel with dazzling sunset views, incredible Greek-Mediterranean dining, and a refreshing pool. Every cave-style suite features hand-crafted architecture, a private terrace with breathtaking caldera views, and perks including a pillow menu and complimentary wine. Most suites add a private plunge pool.
• Hotel website • Check prices for Canaves Oia Hotel


Hotel phone: +30 22860 71308
Posh hotel designed in the traditional, Cycladic cave style with a relaxing infinity pool, full-service spa, and caldera views. Every suite has a kitchenette and sea view terrace; some have private pools or jacuzzis; none have TVs (it's all about disconnecting here). Dining is superb in their modern Greek restaurant featuring local, seasonal ingredients and set in a converted wine cave. Beautifully located at the entrance to Oia village, a short, pleasant stroll from many of Santorini's best restaurants, shops, and attractions.
• Hotel website • Check prices for Perivolas


Hotel phone: +30 22860 28650
The best luxury hotel in Fira for families. A 3-minute walk to shops and restaurants, but still relatively quiet. Only a handful of suites (all of them large) so book early. One of the few luxury hotels on Santorini that allows young children (largely because it sits back from the caldera's edge). Very few steps to access the hotel so good for those with limited mobility. Villas (pictured above) are pure luxury with fantastic views and private plunge pools. (They're a short walk from the hotel and main pool.)
• Hotel website • Check prices for Aria Suites


Hotel phone: +30 22860 28842
Anteliz Suites has a magical mix of dreamy sunsets, supreme hospitality, tranquil surroundings in Firostefani, and easy access to Fira's best dining and nightlife. Highlights include a pool with an attached jacuzzi, a dining terrace with caldera views, and elegant suites with private, heated pools or jacuzzis. Anteliz also has fewer stairs than most other hotels on the caldera.
• Hotel website • Check prices for Anteliz Suites


Hotel phone: +30 22860 27333
Polished boutique hotel built in a contemporary cave-style on the cliffs of Oia. Rooms and suites are tastefully decorated in cream and earth tones with queen-sized beds and caldera views. Each with a private terraces and heated, outdoor plunge pool or infinity pool. The hotel's 24-hour Mediterranean kitchen highlights local, organic dishes delivered directly to each room, including a daily complimentary breakfast. Situated between Ammoudi and Armeni Bays, just steps from the famous blue-domed church, the castle ruins, and the windmills.
• Hotel website • Check prices for Armenaki


Hotel phone: +30 22860 25870
The hotel might have the best sunset view of the caldera hotels and has views from Oia to Akrotiri and all the islands, volcanoes, and Skaros Rock in between. There's a fabulous infinity pool, full-service cave spa, contemporary Greek cuisine, and amazing cocktails. Service is attentive but never stuffy, and the ambiance is warm and inviting.
• Hotel website • Check prices for Santorini Princess


Hotel phone: +30 22860 27310
Known for its nightly sunset champagne events, this small luxury hotel features classic cave architecture, two infinity pools, and a Mediterranean restaurant. All suites have private balconies with sweeping caldera views; 6 suites boast outdoor jacuzzis, 2 have infinity pools, and 1 has a cave pool. A la carte breakfast is delivered to each suite daily. Located near Oia's picturesque windmills, blue-domed churches, and great restaurants.
• Hotel website • Check prices for Charisma Suites


Hotel phone: +30 22860 23143
Family-owned, all-suite hotel with a heated pool perched over the caldera. The Vasilicos pays particular attention to fine details, from bespoke ceramics to jewelry made from the family's heritage tableware and in-suite libraries. Exceptional dining begins with a la carte breakfast served to each suite and continues into the evening with wine tastings and food pairings with local, market-fresh ingredients. All 7 suites boast caldera views; 4 have private, heated plunge pools. Located at the south end of Imerovigli, about 5 minutes' walk from restaurants there or in neighboring Firostefani.
• Hotel website • Check prices for Vasilicos


Hotel phone: +30 22860 24644
A charming, luxury boutique featuring private jacuzzi suites and a villa with a private plunge pool, all with jaw-dropping, sunset caldera views. Champagne breakfasts are delivered daily to each suite, while dinner service is hosted on their intimate dining terrace. Above Blue's infinity-edge pool, warm hospitality, and unique suites complete the experience.
• Hotel website • Check prices for Above Blue


Hotel phone: +30 22860 24388
This is a stunning hotel. If you want quiet and seclusion with amazing views and infinity pool then this is the place. The perfect hotel for a romantic honeymoon. The only caveat is that there's not a lot nearby – there is a bus stop just out the door but most people will want to rent a car if they're serious about sightseeing. The walk to Imerovigli is a gorgeous 40-minute hike along the caldera path (and Oia is 50 minutes in the opposite direction).
• Hotel website • Check prices for San Antonio


Hotel phone: +30 22860 72182
Refined, luxury all-suite hotel on the Oia caldera with a decadent restaurant and 2 pools, 1 heated and 1 cool. Each hand-sculpted cave suite is completely unique, though all offer private, heated jacuzzis or pools and spectacular caldera views from their private terraces. Dining at Lauda Restaurant is a highlight and features a menu designed by a Michelin 3-star chef.
• Hotel website • Check prices for Andronis Boutique Hotel


Hotel phone: +30 69729 72151
Crisp white houses with caldera views in the most extraordinary location in Oia: right on top of the iconic blue domes. The cave houses have been hand-carved into the caldera and feature whitewashed walls, archways, and harmonious furnishings in wood and stone. Five include private, outdoor jacuzzis; the remaining three share access to the handsome cave pool pictured above. Well-situated in Oia with restaurants, the castle ruins, and windmills mere steps away.
• Hotel website • Check prices for Oia Spirit Boutique Residences


Hotel phone: +30 22860 72499
Decadent boutique hotel with a pool in a secluded location just 500 meters from the heart of Oia. Generous suites and villas offer private plunge pools or swimming pools, private verandas, and sunset sea views (not of the caldera). The two fantastic restaurants highlight modern takes on Greek-Mediterranean cuisine, while their signature champagne breakfast offers a different menu daily.
• Hotel website • Check prices for Canaves Oia Epitome


Hotel phone: +30 22860 27392
Family-friendly, luxury hotel with a stunning pool and spa. Suites and villas are spacious, all with private, heated pools and sunset views over the Aegean (not the caldera). Food is impressive here, from their signature restaurant Opson, serving ancient Greek cuisine designed by a culinary archaeologist, to their modern Greek and sushi taverna Pacman. Daily offerings include free yoga, free training, and free hikes. Great walkable location in Oia, close to the caldera, dining, and shopping, but away from the busy core.
• Hotel website • Check prices for Andronis Arcadia

34. Chromata – Imerovigli


Hotel phone: +30 22860 23227
Long one of the island's best hotels the recipe is still the same: great views, nice pool, fantastic service, and beautifully decorated suites that cascade down the side of the cliff. Every room has a sea view and private veranda. The Chromata and Honeymoon suites are pure luxury.
• Hotel website • Check prices for Chromata


Hotel phone: +30 22860 24661
Luxury hotel with a cliffside infinity pool and stunning caldera views conveniently located in the heart of Firostefani. All rooms and suites offer terraces with expansive caldera views. The Cave Suites sleep up to 4 with a loft layout, while the Grand Suites offer their most luxe accommodations and include an indoor jacuzzi tub and an outdoor private plunge pool. An a la carte breakfast is included and served to each room daily; the pool bar and room service menu feature upscale Santorinian and Mediterranean recipes.
• Hotel website • Check prices for Homeric Poems


Hotel phone: +30 22860 71088
Authentic, cave-style, boutique hotel under the Oia windmills with a pool and unobstructed caldera views throughout the property. The pool, restaurant, bar, and 7 of the 21 studios and houses offer direct sunset views. Each studio and house is unique, having been sculpted from the cliffside by hand; 6 have private plunge pools or jacuzzis. Decor is traditional, service is heartfelt, and the location is surprisingly private.
• Hotel website • Check prices for Esperas


Hotel phone: +30 22860 23204
Beautifully restored, centuries-old, captain's mansion with the highest swimming pool in the caldera. The main hotel and villa annex feature traditional, cave-style architecture, modern and antique furniture, and repurposed treasures found in its pre-restoration ruins. The hotel's 9 suites and 7 villas all have private balconies with incredible sunset views over the caldera and blue-domed churches. Most offer private jacuzzis or pools, and some have kitchenettes. Excellent location less than a 5-minute walk to the heart of Imerovigli and the hiking trail to Skaros Rock.
• Hotel website • Check prices for Altana Heritage Suites


Hotel phone: +30 22860 28490
Subtly sophisticated boutique hotel on the Fira caldera, offering sunset caldera views. All suites boast a private, furnished terrace, Coco-Mat mattresses, and a welcome bottle of Assyrtiko wine. Signature, Exclusive, and Premier Suites add outdoor jacuzzis. Breakfast is included and delivered to each suite, while the Enigma Café is open until the wee hours for light fare, wine, and cocktails. Amazing location in the heart of Fira, near nightlife, shopping, and dining, plus the bus station and free public parking lot, making this a perfect launch pad from which to explore the full island.
• Hotel website • Check prices for Enigma Suites


Hotel phone: +30 22860 71311
Ikies is in a quiet location at the east end of Oia (just beyond Perivolas). There's a small pool and some rooms have private patio and jacuzzi. The full breakfast is made to order and delivered to your terrace. Suites come in a variety of sizes. Views are amazing.
• Hotel website • Check prices for Ikies


Hotel phone: +30 22860 37093
Spirited, boutique resort with a trendy beach club, Olympic-sized pool with a swim-up bar, and a rejuvenating spa. Nikki Beach caters to a younger crowd with social events several times a week, such as Rosé Saturdays, Sunday Brunches, beach parties, live music, and more. The all-day beachside restaurant cooks up organic, international dishes inspired by the Aegean setting. Rooms and suites feel breezy with sea or garden views and private balconies or patios; most have outdoor jacuzzis or plunge pools. Set on a remote stretch of volcanic sand on the east side of the island, there's not much within walking distance. It's best to rent a car here.
• Hotel website • Check prices for Nikki Beach Resort & Spa


Hotel phone: +30 21072 30000
Restful haven on the caldera rim in Akrotiri. Coco-Mat is known for their eco-conscious mattresses, used in many luxury hotels worldwide. Here they offer a bespoke sleep system with a range of mattresses and pillows customized pre-arrival. This adults-only hotel features an infinity pool and a modern Santorinian restaurant. Rooms and suites are designed for couples (though some can fit a third guest on a sofabed) and all offer private balconies and minimalist, earth-tone decor. Infinity and Caldera Residences add outdoor jacuzzis. Quiet location surrounded by naturescaped gardens, just a short drive to the Akroriti Lighthouse, the Ancient Akrotiri Archaeological Site, and Red Beach.
• Hotel website • Check prices for Coco-Mat Hotel


Hotel phone: +30 21071 01100
The largest adults-only hotel on Santorini, this 5-star resort presents 103 rooms, suites, and villas – just steps from lively Kamari Beach. The hotel features Cycladic architecture (lava rock walls, barrel vaulted roofs, and archways) and minimalist decor (neutral palette, light wood, and dark stone). All accommodations have private patios or terraces and king-sized beds; many add private outdoor jacuzzis or plunge pools. Highlights include a private, serviced beach lounge, two enormous heated pools, a wellness center, and two restaurants: an Italian fine-dining joint and a casual Italian pizzeria and bistro..
• Hotel website • Check prices for Radisson Blu Zaffron Resort


Hotel phone: +30 22860 71510
Chic suites with modern decor built in Cycladic cave style. This luxury boutique hotel on the Oia cliffside has a caldera-view infinity pool, sun deck, and all-day pool lounge. Suites and villas have private patios or balconies; all but one have an outdoor jacuzzi, pool, or both. The Mediterranean restaurant offers a romantic experience, while complimentary breakfast is served to each suite daily. Located just down the steps from the marble path of Oia, above the old port of Armeni Bay, near great restaurants and shopping.
• Hotel website • Check prices for La Perla Villas & Suites


Hotel phone: +30 22860 72440
Adults-only, all-suite, boutique hotel with a seasonally heated pool and sun terrace with sunset views over the Ammoudi Bay. Suites are designed for couples with queen-sized beds and outdoor terraces with tables for two. All but one boasts a caldera-view jacuzzi or infinity pool. Located on the cliff just below the famous castle ruins near Oia's best dining and sights.
• Hotel website • Check prices for Old Castle Oia Hotel


Hotel phone: +30 22860 72218
Gorgeous hotel at the Oia windmills in traditional, whitewashed cave style with direct sunset views over Ammoudi Bay. All suites and the villa include private, outdoor, heated plunge pool. Maregio offers more private accommodations than other nearby caldera hotels, thanks to their high walls and location at the western tip of the island.
• Hotel website • Check prices for Maregio


Hotel phone: +30 22860 28988
Wellness-focused, boutique hotel with sunset caldera views. Avaton offers two pools: one refreshing, outdoor infinity pool and one heated, indoor hydrotherapy pool in the spa. Rooms and suites all have queen-sized beds and rain showers. Deluxe rooms and suites have private verandas or balconies; suites add outdoor heated jacuzzis. Breakfast is served directly to each suite, and a menu of light fare is on offer all day. The resort sits at the northern edge of Imerovigli, an easy walk to many amazing restaurants but with few neighbors and more privacy.
• Hotel website • Check prices for Avaton Resort & Spa


Hotel phone: +30 22860 36279
Stylish, all-suite hotel with a heated pool with spectacular views and a creative Mediterranean restaurant. Of the 16 suites, 14 have sunset caldera views and 2 have sunrise Aegean Sea views. All suites have king-sized beds, private terraces, and indoor or outdoor hot tubs, heated plunge pools, or infinity pools. The hotel sits in a quiet area north of Imerovigli, about a 15-minute walk away, and offers a free shuttle service to Fira.
• Hotel website • Check prices for West East Suites


Hotel phone: +30 22860 71831
Romantic boutique hotel under the Oia castle ruins with gorgeous sunset views from each suite. All of the hotel's 7 individually-designed suites come complete with private balconies, outdoor, cave-style jacuzzis or plunge pools (or both), and unimpeded sunset views. Guests here have access to the restaurant and larger heated pool at their sister property, the stylish Aspaki Exclusive Hotel. Excellent location at the iconic castle, only 300 meters from Ammoudi Bay, and a short walk to fantastic dining and shopping.
• Hotel website • Check prices for Oia Castle Luxury Suites


Hotel phone: +30 22860 71114
Located at the east end of Oia, this is one of the quieter hotels in the area yet still walking distance to the vogue village center. Suites and villas come in a wide array of sizes and layouts, most with private, outdoor jacuzzis and/or pools. Facilities include two caldera-view pools and a cave-style spa. Al fresco dining is excellent at any of the hotel's restaurants, serving a blend of French, Mediterranean, and international dishes.
• Hotel website • Check prices for Mystique


Hotel phone: +30 22860 22566
Romantic, boutique hotel with a pool in the Firostefani caldera. All rooms, suites, and villas feature two-person showers with windows, caldera views from the beds, and private terraces; most suites and all villas add outdoor jacuzzis, outdoor heated infinity pools, indoor heated cave pools, or a combination of pool types. The view terrace here is among the most booked venue on the island for weddings and proposals.
• Hotel website • Check prices for Dana Villas


Hotel phone: +30 22860 71660
Boutique luxury stay with an infinity pool and a fantastic restaurant in a quiet neighborhood just a short walk from central Oia. This adults-only hotel offers stylish rooms with private terraces and outdoor Jacuzzis in all but 2. Light fare, modern Greek comfort foods, and a full bar are all available throughout the day; breakfast is complimentary. The infinity pool and all rooms offer Aegean Sea views (not the caldera), many with sunset sea views. Myst offers seclusion and privacy with easy access to the Oia's best dining, attractions, and the caldera, just a 12-minute walk away.
• Hotel website • Check prices for Myst Boutique Hotel


Hotel phone: +30 22860 83388
All-suite boutique hotel in Akrotiri with a cave-style infinity pool and award-winning restaurant, Alali. Suites all offer private terraces and indoor or outdoor jacuzzis; some add private pools. Each suite has a unique layout and décor, though all offer much more privacy than those in the crowded parts of the caldera from Oia down to Fira. Astarte is located near the Akrotiri excavations, Red and White Beaches, and the lighthouse (the most romantic sunset viewpoint in Santorini). A rental car is recommended here.
• Hotel website • Check prices for Astarte Suites


Hotel phone: +30 22860 81796
Family-friendly, five-star resort with spacious suites, a fantastic restaurant, and a pool in a medieval village in the heart of Santorini's wine country. Vedema Resort offers one and two-bedroom suites and 3-bedroom villas interspersed with gardens, which create much more privacy than you'll find in any caldera hotel. Located within the traditional village of Megalochori, there are several restaurants, shops, and tasting rooms within walking distance, plus Vedema offers free transportation to Fira and Perivolos Beach.
• Hotel website • Check prices for Vedema Resort
Where should I stay in Santorini?

Deciding where to stay is the first and trickiest decision visitors to Santorini need to make. It's not an easy choice.
Map of Santorini Towns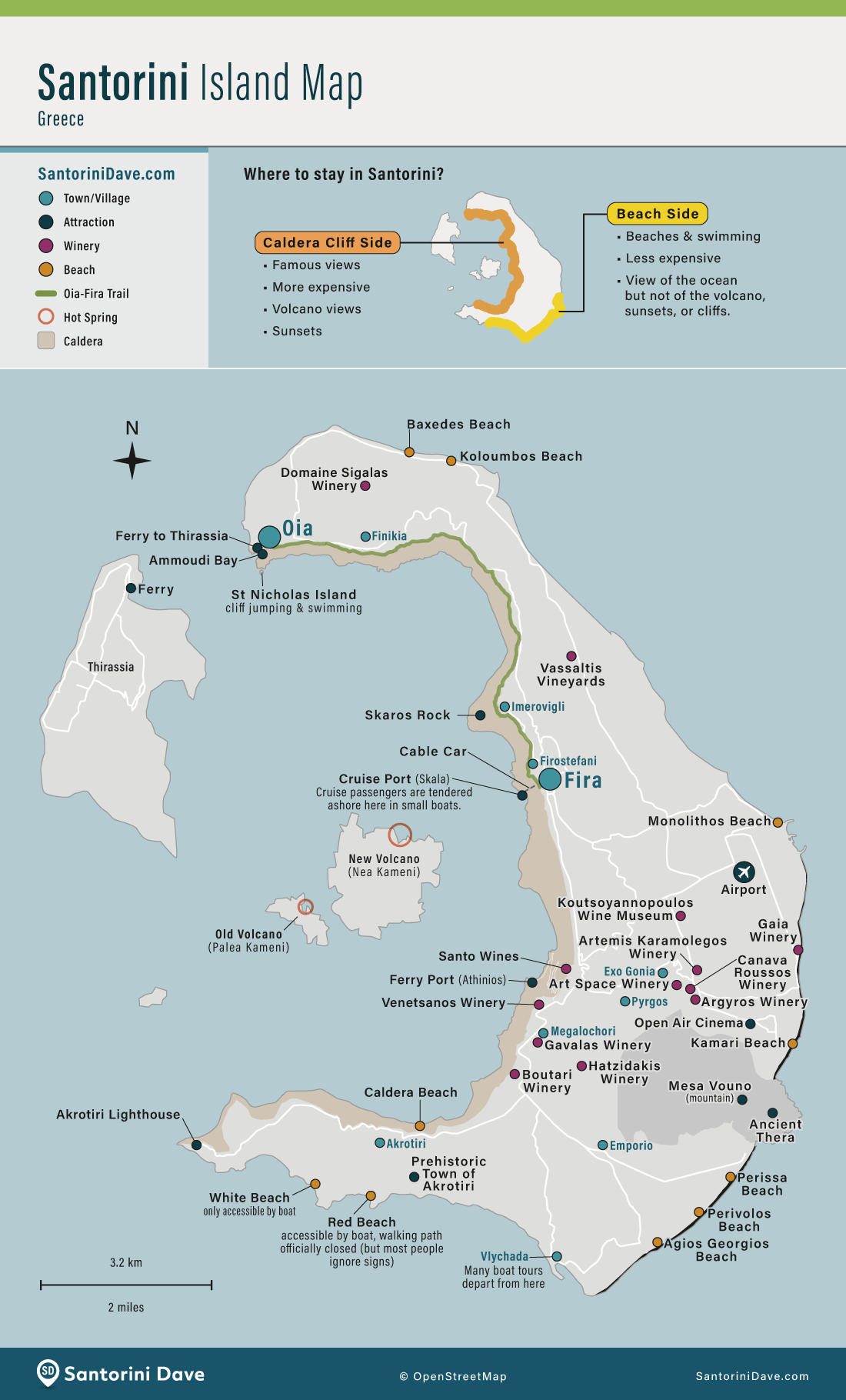 1) Caldera vs Beach

This is the first decision to be made.

Do you want to stay in the towns along the cliff with the stunning views looking down into the caldera?

Or, do you want to stay at one of the beach towns on the opposite side of the island? It's still a pretty setting but lacks views of the caldera and volcano.

Santorini has the shape of a doorstop. A cliff on one side (the caldera's edge) that slopes down to the beaches on the other side. It's about a 10 or 15-minute drive from one side of the island to the other.

If you stay at one of the beaches the choice is pretty simple and not overly important. There are 2 main towns: Kamari and Perissa (Perivolos is an extension of Perissa). Kamari is more developed and has more shops, bars, hotels, and restaurants. Perissa has a slightly better beach with a few luxury hotels and beach clubs popping up at the south end of Perivolos. I'd recommend Kamari for the restaurant and bar scene (never crazy). Kamari also has a shorter trip into Fira. There's a boat that travels between Kamari and Perissa so it's easy to enjoy both on the same day.

2) What Town on the Caldera?

Most people decide to stay along the Caldera. It's a good choice and what I recommend. It's what makes Santorini unique. But now you have to decide which town – and it's not an easy decision.

But heh, it's a good problem to have. Too many great places to stay.

There are 4 main towns along the caldera: Fira, Firostefani, Imerovigli, and Oia.

• Fira – The Most restaurants, nightlife, shopping. Great views.
• Firostefani – Quiet. An easy walk to Fira. Great views.
• Imerovigli – Very quiet. A bus, taxi ride, or 25 minute walk from Fira. The best views on the island. A half-dozen wonderful restaurants.
• Oia – Many restaurants, some high-end shopping, but little nightlife. Romantic. Great views.

Fira Hotels

The largest town on the island and the center of the restaurant, shopping, and nightlife scene. The view of the caldera from Fira is spectacular but sunset views will often be impeded by the presence of Thirassia – a small island to Santorini's west. Fira is also the bus hub so every other town is just one bus trip away. Conversely, a trip between 2 other towns will often involve a change of buses in Fira (e.g. Oia to Kamari requires a bus from Oia to Fira, and then Fira to Kamari – not a big deal but it can get tiring after a few days of busing around the island). If you're in Santorini to party and hit the clubs then you'll be spending plenty of time in Fira. Of course, the booming nightlife can be loud if your hotel is near the town center. Noise levels are strictly limited along the caldera so if your hotel is perched there you probably won't have a loud-music problem.

The Best Fira Hotels

Oia Hotels

The most romantic and enchanting town on Santorini. Criss-crossed with lanes and alleys and jaw-dropping views around every corner. People gather here every night – sitting on walls and steps and rooftops – to watch the sunset. Though Imerovigli might have better views the magic of Oia is the town, the people, the wine, and the setting. It can be busy but it never feels overwhelmingly crowded. Some of the best places to eat are found in Oia and only Fira has more shops and restaurants. There are many places to get a drink late into the evening but for dancing and partying you'll want to hop a bus or taxi to Fira. The walk from Oia to Fira (in either direction) takes about 2 hours and is one of the magical highlights of a visit to Santorini.

The Best Oia Hotels

Imerovigli Hotels

The best views of any town. Imerovigli is at a higher elevation than any other town along the caldera which gives it the best views of both the sunset and the volcano. Whereas sunset views from Fira can sometimes be impeded by neighboring islands, most hotels in Imerovigli have a clear view of the setting sun. This is the quietest of the 4 towns and there is no nightlife here. Though the town is small it has some of Santorini's best restaurants and a few shops and markets. Firostefani is a 15-minute walk away along the clifftop path and Fira another 10 minutes where the choices to eat and shop expand exponentially. Buses go every 30 to 45 minutes in both directions: south to Fira and north to Oia.

The Best Imerovigli Hotels

Firostefani Hotels

An extension of Fira and an easy 15 minute walk along the caldera path from all the shops and restaurants of Fira. It's hard to tell where Fira ends and Firostefani begins – it all seems like the same town as you wander between them. The views here are just as wonderful as Fira. Many people go into Fira for dinner and then walk back later in the evening but there are plenty of good restaurants in Firostefani. There is no nightlife – for clubs and bars you'll definitely be heading to Fira – but the lack of partying makes for a quieter town.

The Best Firostefani Hotels

Kamari Hotels

Kamari has a wonderful family-friendly atmosphere, a pedestrian beach-front walkway, and loads of restaurants. It's a 15-minute bus ride to Fira making day trips to the caldera towns easy to execute. It's a pebble beach but the swimming is cool, refreshing, and wonderful. I still recommend that visitors stay along the caldera (because that's what makes Santorini so unique and spectacular) but spending a few days or a week in this easy-going town is no hardship.

The Best Kamari Hotels

Perissa and Perivolos Hotels

Perissa Beach has nicer sand than Kamari, but it's also farther from Fira than Kamari which makes visiting the caldera a bit more of an outing. Some luxury hotels and beach clubs are popping up in Perissa, especially on the south end, known as Perivolos Beach, though there are still plenty of great low-key restaurants and bars. Perivolos and Perissa beaches have a good mix of luxury and affordable hotels. At the tail end of Perivolos Beach is Agios Georgios Beach, which has a handful of fine dining restaurants and luxury beach clubs.

The Best Perissa and Perivolos Hotels

Megalochori Hotels

Small, traditional village with wineries, good food, and great views (from some hotels, the village itself is back from the cliff and doesn't have views). Megalochori has a charming town square that's ringed by churches, pottery shops, great little family-owned tavernas, as well as some of the island's best wineries. Hotels here are mostly situated along the cliff, with lovely views out over the caldera. 10 minutes south of Fira by car.

The Best Megalochori Hotels

Pyrgos Hotels

Charming hilltop village situated at the highest point on the island; cultural attractions, panoramic island views. The winding streets, small shops and restaurants, and traditional village feel of Pyrgos make this an ideal spot for those seeking the "real" Santorini experience, away from the cruise ship crowds. Pyrgos is also the island's most magical spot over Easter weekend – on Good Friday, the entire village is lined with candles, and there's a procession from the church of Agios Nikolaos Theotokaki. 10 minutes to Fira by car.

The Best Pyrgos Hotels

Akrotiri Hotels

A remote and quiet village on the island's southernmost tip. Not a lot in the way of shops, but there are some great fish taverns and small beaches along the water, fantastic caldera views, a nearby lighthouse, and a world-famous archeological dig site. Akrotiri village is on the island's main bus line, but it's easier to explore the island from here by car – it's a 20-minute drive into Fira.

The Best Akrotiri Hotels

Santorini Hotels with Private Jacuzzi or Plunge Pool

There are several hotels on Santorini with private pools of one sort or another – swimming pools, plunge pools, jacuzzis, hot tubs, 2-person baths.

Larger pools (whether private or for the entire hotel) are usually not heated so while people might wonder about the benefit of having a hot tub on a semi-tropical island they get plenty of use by visitors. During July and August, nights will usually remain warm, but in May, June, September, and October it can get cool after the sun goes down and a small heated pool can be a welcome addition to a suite.

The Best Hotels with Private Plunge Pool or Jacuzzi

FAQ on Hotels and Santorini

What is the best hotel in the Santorini beach towns?


Istoria Hotel on Perivolos Beach is the best beachfront hotel in Santorini. Most hotels in the beach towns don't have the true luxury status as those along the caldera but Istoria is an exception. It has spacious rooms with private pools, a gorgeous main pool, an Asian-inspired spa, a gourmet restaurant, and a beach club. Another wonderful beachfront hotel is Nikki Beach Resort & Spa on Monolithos Beach, north of Kamari. This is another boutique, luxury resort but with more of a youthful, party vibe. In the beach town of Kamari about 200 meters from the beach, Radisson Blu Zaffron Resort is a lavish resort with a large pool, great for larger groups.

Can you recommend some hotels to stay that aren't quite so expensive?

On Santorini you get what you pay for. That said, if you're willing to compromise a little on the view, the amenities, or on having a pool there are several places that offer very good value.

Here are some good hotels without the five-star price tag.

In Fira there is Keti Hotel and Kamares Apartments. Both have great views.

In Firostefani both Damigos Caldera World and Villa Ilias are simple hotels on the caldera. Not all rooms have views but many do at very reasonable rates.

In Oia Delfini Villas and Zoe Houses have a simple charm and units with wonderful views.

If you're in Santorini for great views and don't care much about the location of your hotel then there are a collection of hotels a 20-minute walk south of Fira that have a great perch on the caldera's cliff. They have very good rates in comparison to the hotels in the main towns. Take a look at Volcano View, and Lilium Santorini Villa.

What's better? A sunset view hotel or a caldera view hotel?

I'd choose a caldera view. It's there all day. The sunset is only there for a few minutes. And it's also fun to join the crowds and drink a bottle of wine on the steps of Oia as the sun sets – so it's not as if you're foregoing the sunset by choosing a hotel with a caldera view.

What hotel has the best views on Santorini?

Imerovigli has the highest elevation of any village on the caldera and thus has some of the best views of the caldera and sunset.

If I could only pick one hotel for the title of Best Caldera View it would be Astra Suites. Simply amazing views in 3 different directions (north to Oia, west towards Thirassia, and south towards Fira and Akrotiri). A very close second is Grace Hotel with similar views, though some rooms down the side of the caldera are a bit too close to Skaros for a perfect view.

Nearby hotels that look more towards Oia are Kasimatis Studios, Galaxy Suites, Avaton Resort & Spa. These 3 probably have the highest perch on Santorini. The views are amazing out over the caldera. Great sunset views with Oia off to the right.

Near Astra is Tholos Resort. This hotel is on the point of Imerovigli and has near straight on view of Skaros Rock. It's the postcard picture of the Santorini caldera. But it is at a slightly lower elevation than Greace, Kasimatis, Galaxy, and Avaton.

Midway between Imerovigli and Oia is Aenaon Villas. Perhaps a little isolated for some (perfect for those looking for solitude) but the views here are extraordinary with both Imerovigli (to the left) and Oia (to the right) within view.

In the opposite direction (towards Fira) but still in Imerovigli are Chromata and Altana Traditional Houses and Suites. Great views, though at certain times of year the sunset can be slightly obscured.

In Fira, I'd recommend the Keti Hotel has the best views. In Firostefani, the hotels with the best views are Belvedere Suites, Tsitouras Collection, and Homeric Poems.

Oia has many hotels with similar views, but standouts include Ikies, Canaves, Katikies (these hotels look in the caldera but don't have perfect sunset views) and Esperas Traditional Houses (which looks towards the sunset and Ammoudi Bay but not into the caldera).

What's the best hotel in Santorini not on the caldera?


Carpe Diem is located in the traditional village of Pyrgos, 10 minutes from Fira. This is a great place to avoid the crowds, plus as the highest point on the island, Pyrgos offers stunning panoramic views over all of Santorini. This incredible hotel focuses on bespoke experiences, tailoring its offerings to each guest's needs. The food on site is top notch and there are a couple of great local restaurants (and a winery) nearby. A car is recommended here.

What are the best Santorini hotels for privacy, quiet, and solitude?

Three hotels stand out as providing a quiet and peaceful setting far from the crowds of Fira and Oia. All of these would be great for a honeymoon, romantic getaway, or just privacy and relaxation. (Aenaon Villas is pictured above.)

When should I book my hotel?

As early as possible. The best luxury hotels start filling up 6 to 12 months in advance. Bookings for weddings are often made 1 to 3 years in advance. You can usually always find a place to stay on the island but if you're booking your room within 2 to 3 months of a summer visit the very best hotels will likely be fully booked.

What is a cave hotel and where are they found?

Cave hotels are much like what they sound. Rooms that are built into the side of the cliff. They typically have curved ceilings and asymmetrical architecture. They can be one-room suites or have multiple rooms. They will usually have a terrace that sits outside the underground portion of the dwelling. Cave houses stay remarkably cool during the heat of the summer. They are usually found in the villages of Fira, Firostefani, Imerovigli, and Oia. Most of the luxury hotels listed above have cave suites.

What town has the best restaurants on Santorini?

Fira has the most choice – and the best selection of inexpensive food (just walk away from caldera and into the center of town). Oia, nearby Amoudi Bay, and Imerovigli have a higher concentration of top-notch restaurants. If I could only eat in one town for the whole trip it would be Imerovigli. These are my favorite restaurants in Santorini.

When is the best time to visit Santorini?

September is my favorite month, but anytime between May and late-October is great. If you're not in Santorini to suntan and aren't bothered by a bit of gray sky then March, April, and November can be great times to visit. The beach towns get very quiet outside of June to September. The caldera towns have a longer tourist season but even their shops, restaurants, and hotels start to close in early November. Most luxury hotels are open from March 1 to November 15. In recent years more hotels and restaurants are staying open year-round as off-season travel to Santorini has increased. The slowest months are December, January, and February when Fira is the only town with any pulse.

Is there a must-do thing we have to experience on Santorini?

My number one recommendation is to walk the cliff-path along the top of the caldera from Fira to Oia. It takes 2 to 4 hours and has absolutely incredible views of the volcano.
Read More