by Santorini Dave • Updated: February 5, 2019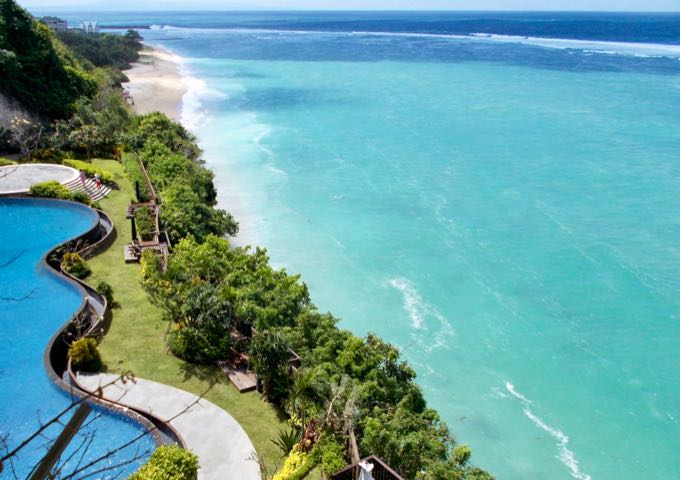 Ulu Segara Luxury Suites & Villas – Contemporary, intimate, and elegant, with endless sea views.
Far smaller and less pretentious than neighboring mega-resorts, the Ulu Segara faces a narrow private beach that disappears at high tide. The villas are massive with modern décor, garden inside and out, and plenty of windows. They also contain a bathroom as large as the bedroom, plunge pool with gazebo, and comfortable living/kitchen/dining areas. In the curved six-level block overlooking the clifftop infinity pool, the suites feature stylish Asian décor, kitchenette, huge lounge area, and broad balcony from which the sea views are sublime. The regular shuttle bus to Nusa Dua (six kilometers away) compensates for the isolation.
Ulu Segara Luxury Suites & Villas – The Location
Address: Jalan Raya Nusa Dua Selatan road. Follow the signs from the main road south of Nusa Dua.
Area: Faces the coast along an isolated section of southeast Bukit Peninsula, in southern Bali. About 6km from the beaches, shops, and facilities of Nusa Dua.
How to Get There: A complimentary airport pickup is included. Otherwise, the only way to/from the airport is by metered taxi or chartered car. The trip should take about 30 minutes, depending on traffic.
Ulu Segara Luxury Suites & Villas – The Basics
Guests: More secluded 'villa vibe' for couples rather than a family-friendly resort.
Beach: Accessible by numerous steps, the tiny narrow beach all but disappears at high tide.
Views: All suites face the sea, with direct views of the ocean (but not beach), while those on the lower levels are angled more towards the pool.
Kitchen: Villas feature a kitchen and dining area, and the suites contain a smaller kitchenette.
Private Pools/Jacuzzis: 10 villas feature a private plunge pool.

Extras: Free shuttle bus service to Nusa Dua and airport pick-up.
Wi-Fi: Available free throughout for all guests.
Parking: Some limited free and secure parking available, but think long and hard before driving anywhere in Bali.
How to Book: Booking.com will have the best rates.
Phone: (0)361 846 8188
Email:

[email protected]

Website: ulusegara.com
Ulu Segara Luxury Suites & Villas – Amenities
Pool: The gorgeous clifftop infinity-edge pool is in front of the block of rooms, with a swim-up bar and plenty of lounge chairs.
Spa: The Solace Spa is modest, with the usual treatments offered.
Fitness Center: Impressive size, featuring all the latest equipment.
Other Facilities: Library.
Ulu Segara Luxury Suites & Villas – Food and Drink
Restaurants & Bars: Angkasa Lounge Lobby Bar – at the reception area, with an intimate setting and vast views. • Ulu Segara Restaurant & Bar – Romantic, with an extensive menu offering contemporary cuisine. • Cawan Pool Bar – Swim-up or lounge about on chairs with a cocktail or snack.
Breakfast: Not normally included, but this depends on the type of room and booking.
Room Service: Available 24 hours a day.
Ulu Segara Luxury Suites & Villas – Rooms
Room Types: Suites • Presidential Rooms • Villas with 1, 2, or 3 bedrooms
Smoking Rooms: Strict no smoking policy in the rooms and public areas, but permitted elsewhere.
Best Room: Villas are the most luxurious – all with ocean views, private pool, kitchen, and open-air living/dining room. They contain 1, 2, or 3 bedrooms.
For Families: Some villas contain 2 or 3 bedrooms, with a private pool and lounge/kitchen/dining area.
Ulu Segara Luxury Suites & Villas – Local Transport
Walking: There are no facilities of any sort within walking distance.
Public Transport & Shuttle Buses: Neither venture along this part of the isolated coast.
Cars, Motorbikes, & Taxis: Nowhere local to rent a motorbike or car (which is not recommended around Bali anyway). A chartered car with a driver or metered taxi can be arranged through the reception.
Ulu Segara Luxury Suites & Villas – What's Nearby?
Restaurants & Bars
Being so isolated, the options close by are limited to the 2 neighboring resorts:
Samabe (650m via the backstreets) – Elegant dining options, including the Crystal Blue Ocean Grill. Couple of minutes' walk via the beach, or 4-minute drive.
Ritz-Carlton (1.5km via the main road): Finest of several restaurants is the exquisite Bejana clifftop restaurant which specializes in Indonesian food. Few minute's walk along the beach, or 6-minute drive.
Bali Collection – Otherwise, use the resort shuttle service and visit the Bali Collection mall in Nusa Dua (16-minute drive), and try:
Coco Bistro – Always popular for tasty food and affordable prices 9-minute drive.
Gourmet & Café – Delightful shady setting at the main gate. 15-minute drive.
Shops
Nowhere to spend any money nearby, so hop on the shuttle bus to Bali Collection, a delightful and extensive outdoor mall in Nusa Dua, with department stores, cavernous souvenir shops, and abundant café/bars.
Ulu Segara Luxury Suites & Villas – What's Nearby?
Read More