Greece › Halkidiki Best Places
by Santorini Dave • Updated: February 13, 2023
See Also
What is the Halkidiki?
The Halkidiki is an immensely popular seaside destination in northern Greece. Consisting of four distinct regions (Central Halkidiki, Kassandra, Sithonia, and Athos), three of which extend southeast as "legs" into the Aegean Sea, this region boasts perhaps the greatest number of excellent beaches in the whole of Greece. In July and August, Halkidiki is packed with drive-in tourists from the Balkans and fly-in visitors from the cooler north, all seeking to enjoy some of the truly excellent boutique and luxury hotels on offer. Travelers of a spiritual bent flock year-round to Mount Athos, the area's monastic republic which has remained virtually unchanged over hundreds of years.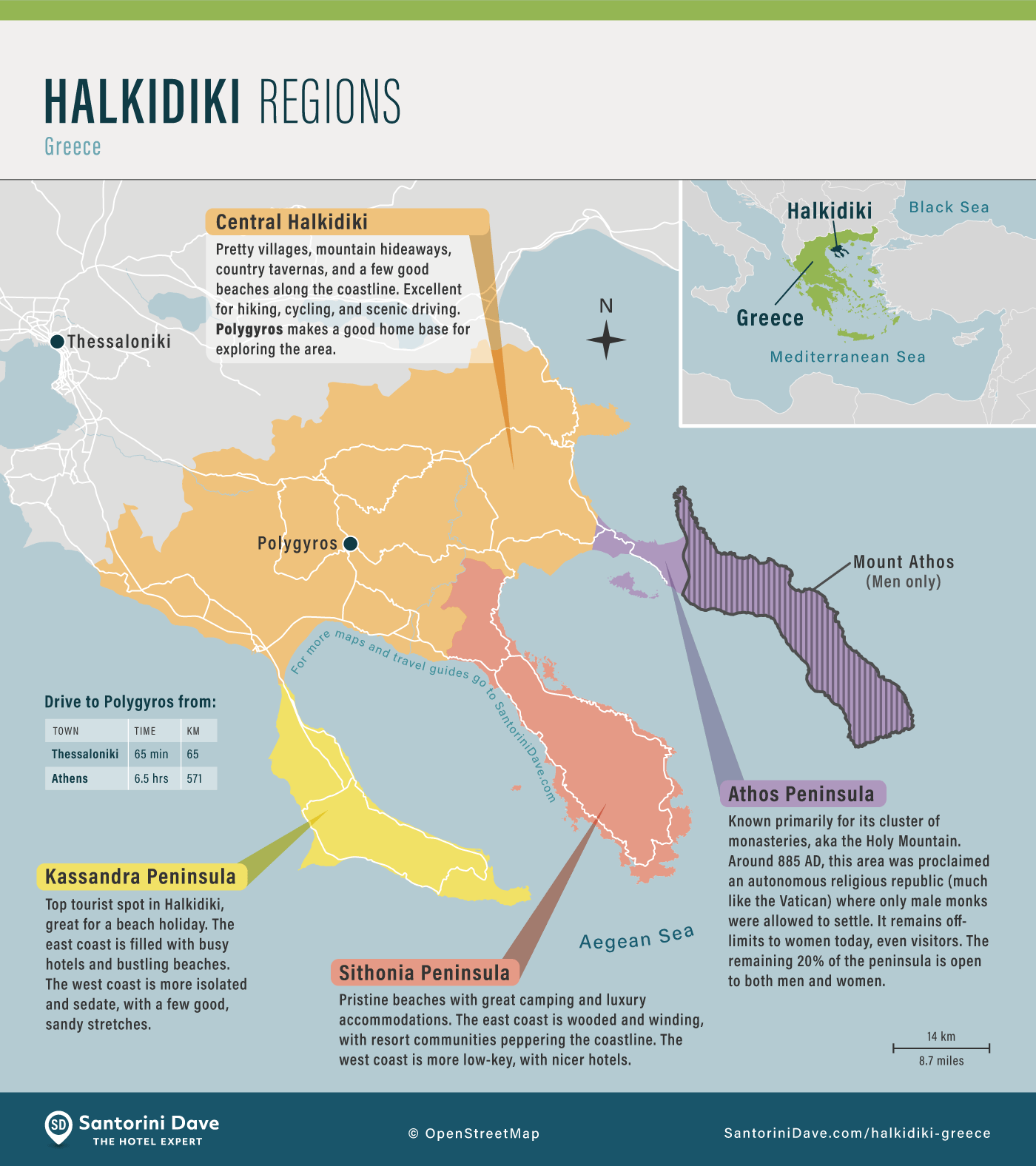 On This Page
Halkidiki History

First settled by migrants from Evia (Euboea) in the 8th Century BC and later by another wave from the island of Andros, Halkidiki has a long and fascinating history – and is famous for having been the birthplace of the philosopher Aristotle in 384 BC.

The area was part of the Hellenic Macedonian Empire during the reign of Phillip of Macedon, then was taken by the Romans, and finally the Byzantines. In around 885 AD, the third and eastern leg, the Athos Peninsula, was proclaimed an autonomous religious republic where only male monks were allowed to settle. It has been so ever since – to this day, women still can't enter even to visit.

More recently, shorelines of the Kassandra and Sithonia peninsulas were allocated to refugees during the population exchange that took place between Turkey and Greece in 1923. This 'useless land' became a goldmine when beach tourism took off in Halkidiki in the 1970s – and the descendants of those refugees have been smiling their way to the bank ever since.
Central Halkidiki
About Central Halkidiki
Central Halkidiki is usually regarded as 'transit territory' for visitors heading to the attractions of the Peninsulas' beaches or the monastic quiet of Mount Athos. However, the Center is a destination in its own right and boasts many unsung, pretty villages, mountain hideaways, and rustic rural fare in country tavernas, as well as some excellent hiking, cycling, and scenic driving options. It is also the site of controversial gold mining operations that have driven many locals to distraction. It is home to Halkidiki's administrative capital, Polygyros, and a few beach enclaves worth considering. A worthwhile archaeological site and an intriguing ancient cave bring up the rear of things to see in this rather underrated part of the region.
Where to Go in Central Halkidiki
Central Halkidiki Sightseeing & Activities
Best Hotels in Central Halkidiki
Central Halkidiki Restaurants
Exi Vryses – Polygyros: Occupying prime garden space in Polygyros, 'Six Springs" is regarded highly by locals and is perfect for either lunch or dinner. Broad and imaginative menu, perfect for kids. • Map • Phone: +30 237 102 4820
Marigoula – Polygyros: Cosy and central in Polygyros, with a menu comprising imaginative main dishes and meze dishes for informal shared eating. Try stuffed Florina peppers with anchovy pesto, or chicken rissoles with leak and dill. • Map • Phone: +30 237 102 3171
Raki me Ellada – Vrastama: You'll have to make an effort to find this place, 14km east of Polygyros. Rabbit and quail are on the menu but the real stunner is the 'spetsofaï kapalato,' a hollowed-out loaf of wholemeal bread stuffed with a rich mix of tomatoes, onions, sausages and other herbs and spice all topped off with the crusty top of the loaf. Delicious. • Map • Phone: +30 237 111 1292
Getting There and Around
Visitors heading to Central Halkidiki will normally take a Sithonia or Athos bus to Polygyros. Disembark at the central bus stop, not at the stop by the hospital. For local destinations surrounding Polygyros, a cab (+30 237 102 2460) might be a solution.
Around Arnaia, the local taxi service (+30 237 202 2523) is a good option for travel within the area.
As with all of Halkidiki – and maybe more so here – your own transport is the best option. Renting a car is the best option. Cycling will involve quite a bit of hill work, so bring taut muscles and a bicycle with good gears.
Kassandra Peninsula (1st leg)
About Kassandra
Kassandra is considered 'holiday central' in the Halkidiki tourism stakes. Perhaps because it is closer to Thessaloniki, or maybe because it is easier to get around, either way this peninsula bears the brunt of the annual migration of Halkidiki tourists. Kassandra's eastern coast has splendid beaches that run almost nonstop from Kallithea in the North to Paliouri in the South. Eastern Kassandra can sometimes feel crowded and raucous, as hotels line the coastline from top to bottom. The western coast of Kassandra is more sedate, but doesn't have the same quality of beaches as the east side.
Where to Go in Kassandra
Nea Fokea: The first of the beachside communities that you will encounter as you drive down the east side. It's a fairly simple affair with a nice pebble beach, a Byzantine tower, and one of the Peninsula's better restaurants, Massalia. A lot of places in Kassandra were re-incarnations of refugees' hometowns in Asia Minor and carry the prefix or 'Nea' or 'Neo' meaning new. This is one of them.
Afytos: This delightful clifftop village on Kassandra's eastern coast is unquestioningly the jewel in the peninsula's crown and tourist flock there. There's not a lot to it: just charming narrow streets lined with pretty shops, restaurants, and cafes. The star attraction is the clifftop street overlooking the sea. The attractive sand beach is a 10-minute downhill walk.
Polychrono: Polychrono is an east Kassandra beach town with a narrow, clean, and sandy beach with boat and jet ski rentals, long promenade, and row upon row of shops, cafés, restaurants.
Pefkohori: Pefkohori is a busy jumble of charming hotels, houses, shops, and restaurants on Kassandra's southeastern coast – fronted by a long promenade with a narrow beach where visitors can snorkel and sail. Neither subtle nor petite, it is popular with visitors who like bustle and action. Many of Halkidiki's best hotels are here, including a fine adults-only hotel on the hill (Alia Palace) and a cheery local taverna that holds frequent musical evenings (Villa Elia).
Loutra: A thermal baths resort tucked away at the southern end of the peninsula's western side. There is a pleasant pebbled beach with sun loungers and a backdrop of cafés, but folk come mainly for the Agia Paraskevi Thermal Spa and its large salt-water mineral swimming pool. (As of March 2020, the spa is under reconstruction following storm damage and is closed until further notice.)
Nea Skioni: Nea Skioni is a low-key west coastal town that boasts a sizeable port, an adjacent sandy beach, and enough cafés and restaurants to keep its summer visitors watered and fed. Like most west side communities, it is generally quiet and less intense than its neighbors to the east.
Possidi: About halfway down Kassandra's quieter mid-western coast, Posseidi is a small waterfront settlement with a gorgeous kite-shaped beach that juts out into where the Thermaic Gulf meets the Aegean Sea. The beach itself is large and unshaded; Possidi is quiet on the whole and make a good base to read a book or sleep.
Siviri: West coast Siviri competes hard for the tourist buck with its rivals across the way. It is lower-key, with a long and narrow beach surrounded by ample greenery. Like all west coast beach communities Siviri exists in isolation from its neighbors, so has developed its own identity. There is plenty of accommodation and the usual plethora of places to eat and drink.
Sane: Sane is the northernmost beach resort on Kassandra's west coast and also the peninsula's most isolated. It features flashy resorts and chic boutiques surrounding a circular manufactured marina. The marina's design gives Sane a distinctly modern look and feel, without the cosiness that is found elsewhere in the region.
Kassandra Beaches, Sightseeing, & Activities
The eastern coast of Kassandra is essentially a long beach that is decorated so heavily with hotels, shops, and restaurants that sometimes you can't even see the beach. Some of the best ones feature giant luxury hotels; even the leaner ones support a huge tourism industry. Bathers will generally find clean water here – though it makes sense to swim away from big business. If you're looking for coziness and a sense of ownership over your plot of beach, you may have to go as far south as Hrousou Beach near Paliouri – or head over to the Sithonia Peninsula.
Kassandra's exposed western coast is more isolated, with really good sandy beaches few and farther between. (Grand and sandy Possidi Beach is an obvious exception.) In general, the better beaches here are found along the north-west coast, but you'll need your own wheels to find what you're looking for in that area.
One of the more unusual sights is the Potidea Canal. Running across the neck of Kassandra, it disconnects Kassandra from the mainland (rendering the peninsula, in effect, an island). Blink as you drive over it and you've missed it; it's worth taking the effort to pause at Nea Potidea and having a look.
Kassandra lends itself well to hill driving. You could spend half a day driving across the center from Sane to Kassandrino, then descend down to either side of the peninsula for lunch.
The Kassandra Peninsula is all about having a beach holiday and good time, and there are plenty of water-based activities to choose from. If you want to be more active, try cycling. Contact Break Free Mountain Biking Club for details of their Kassandra bicycle tours.
Best Hotels in Kassandra
Kassandra Restaurants
Kavouras Sea View – Kallithea: Overlooking the beach at Kallithea this predominantly seafood restaurant gets consistently good reviews from its patrons. Recommended dishes are prawns in pasta (garidomakaronada) or seafood risotto. • Map • Phone: +30 237 402 2900
Massalia – Nea Fokea: Greek for Marseille (as in France) this is nonetheless a Greek taverna with an avid band of followers. The best deal is 'mezedes,' order a few and dive in. Try smoked mackerel with white fish roe salad (taramasalata) and pickles, or smoked aubergine dip. The list is huge. • Map • Phone: +30 237 408 1008
Taverna Villa Elia – Pefkohori: You'd probably never find this place unless you were told about it – it's not on any map. Hiding coyly in the back streets next to the church, it's no nonsense home cooking whatever you order. A whole fish is suggested. Music nights feature frequently. • Phone: +30 237 406 2386
Getting There and Around
Once again, the bus is the best option for getting around in Kassandra – unless you have independent wheels. It's 1.5 hours from Thessaloniki's KTEL Halkidiki to Kallithea, around two hours to Pefkohori and around 2.5 hours to the southern settlements.
You can easily hire a car locally to get around if you want to avoid the drive from Thessaloniki. Motorbike and scooter rental shops abound.
Sithonia Peninsula (2nd leg)
About the Sithonia Peninsula
If Kassandra is for travelers looking for a seaside holiday, and Athos is mainly for soul-searchers, Sithonia is for unfettered adventurers looking for the pristine beaches at which to camp or indulge in a bit of couture luxury accommodation. Sithonia has the advantage of two 'inside' coastlines, offering more beaches and resorts that are less exposed to the outside weather. Sithonia's east coast is wooded and winding, with beach communities peppering the coastline. The west coast is more mellow and smooth and is home to Halkidiki's better hotels and lodgings. Though Sithonia is unreservedly popular, visitors can almost always find a piece of it to call their own for an hour or more.
Where to Go in Sithonia
Sithonia Beaches, Sightseeing, & Activities
The sights to see on Sithonia are mainly the beaches themselves. Here is a list of the more well-known ones, divided as described above into west side and east side beaches.
Starting down the east side of the peninsula, first up is Ormos Panagias, situatuated right on the border of Sithonia and Central Halkidiki (and covered in the Central Halkidiki section of this post). The community of Vourvourou is essentially Karydi Beach, an enclosed bay that can get quite crowded in summer but is so very pretty, with lots of shade.
Further south the next major stop is the more recently developed Manasú Beach (known in the past as Oneirou Beach), home to a private luxury camping site and a modern restaurant, bar, and shopping facility. Don't let the guys manning the barrier stop you from accessing the public carpark; you can go through at no cost and utilize the Manasú facility. The public beach area and facilities here are excellent.
Further south you will hit Kavourotrypes ("crab holes") Beach a funky, hippy-like setting with a series of little bays surrounded by smooth rocks. Rough and ready cantinas serve food and drink underneath the shading trees.
Skipping Sarti and Sykia beaches (already described above), Skala Sykias is good but not as excellent as the beach at Kalamitsi at the southern tip of the peninsula, which is now feeling the pinch from a spot of over-popularity.
Coming up the west side, aside from the aforementioned southwest isolated beaches, noteworthy beaches include Lagomandra Beach with handy restaurant and hotel, Kalogria Beach, and the very tempting Kovios Beach, best reached via a short access road on the south side.
Agios Ioannis Beach further north up the coast, is exposed and unshaded, with a cozy beach bar scene at the western end.
Water sports are offered at all the main serviced beaches and camping is very popular in Sithonia with some excellent campsites. The "glampground" Armenistis in Sarti is one of the better ones and is sitiated on another excellent beach.
There is a scuba diving center in Kalamitsi, Dolphin Diving Center, and another one in Nikiti, Atlantis Diving Center, for serious underwater lovers.
Best Hotels in Sithonia
Sithonia Restaurants
Getting There and Around
The bus is the best unless you have your own wheels. It's 1.25 hours from Thessaloniki's KTEL Halkidiki to Nikiti, around 2 hours to Neos Marmaras, 3 hours to Sarti and 3.5 hours to Kalamitsi.
You can easily hire a car in the main town centers to get around if you want to avoid the drive from Thessaloniki. Motor bike and scooter rental shops are also to be found in major centers.
Cycling in Sithonia is probably easier on the west side, as there are steeper hills and more pronounced curves on the east coast.
Athos Peninsula (3rd leg)
About the Athos Peninsula
The Athos Peninsula is essentially about one destination: the monasteries of Mount Athos, aka the Holy Mountain. The Monastic Republic of the Holy Mountain occupies around 80% of the peninsula, leaving just a mere 20% of the territory to secular visitors and females; women are not allowed into the Holy Mountain. While the greater majority of the peninsula is off-limits to casual visitors, the remaining slice of secular Athos offer some rare treats that include Halkidiki's only island and its satellites, a busy and commercialized port, a coastal strip packed full of pricey hotels and a low-key, reasonably-priced beach resort.
Where to Go on the Athos Peninsula
Athos Peninsula Sightseeing, Beaches, & Activities
Pyrgos Prosforeiou (Ouranoupoli Tower) is an unmistakable edifice in the port of Ouranoupoli. Built in the 14th Century it has served various purposes its primary purpose being to protect the agricultural holdings of the Vatopedi Monastery. In more recent times it was the home of refugee advocates Joyce and Sydney Loch who lovingly kept the tower in habitable condition. Since their passing it has been renovated and is open to the public to explore.
Xerxes Canal: Persian warrior Xerxes I, during his onslaught of the Hellenic mainland, decided to build a canal across the narrow neck of the Athos Peninsula between Nea Roda and Trypiti. It was completed in 480 BC, and served to allow his fleet to avoid the stormy passage around the tip of the peninsula. The canal was allegedly used once and abandoned; while nothing obvious remains to this day – other than an historical marker – visitors can easily see why a canal was a no-brainer. It's barely 2 km from one side to the other.
The inside (western) strip of beaches and those on Ammouliani and Drenia are the most protected from the weather and can usually be guaranteed to be calm. They are frequented by the many crowds of tourists in the narrow hotel strip. The most user-friendly beach here is about 2 km south of Trypiti as you drive to Ouranoupoli. It has a low-key and tree-shaded beach bar and is typically locatable by the haphazardly parked cars along the road. The beach at Ierissos is excellent (wind permitting), as is the one at Nea Roda – also on the eastern side.
Traditional wooden boatbuilding can be spotted on the Nea Roda road just outside Ierissos. It's not on a big scale but there are not many places where you can still see wooden boats being built by hand.
Cheese lovers should make a mooline for the Stathoris Dairy where a wonderful range of cheeses and dairy products are crafted with care and tradition. Try olive oil cheese with oregano, 'mikrasiatiko' with hot pepper, and more. Located 2.1 km south west of Ierissos on the Gomati road. • Map • Phone: +30 237 702 2603
While it seems unlikely, you can actually climb Mount Athos. You must be male, and you will need the normal Holy Mountain permit to get into Mount Athos, but it is doable and enticing. You can walk it in one day, or climb it using a more technical climbing route. While not one of the more familiar climbing destinations in Europe, it has that 'I did it' appeal for spiritually-adventurous mountaineers.
Best Hotels in the Athos Peninsula
Athos Peninsula Restaurants
Getting There and Around
All public bus transport options are focused on getting passengers to and from Thessaloniki and Ouranoupoli. Travelers wishing to move on to Sithonia or Kassandra will need to swap buses along the way.
Day trippers to Athos by boat are well served by Athos Sea Cruises. Seven different cruises are offered, varying in length, budget, and style. Boats skirt the coast to the bottom of the peninsula and back, but do not approach too close; don't expect to see a lot of detail. In addition to Athos, some boats visit Ammouliani, Drenia, and Vourvourou beach on Sithonia.
How to Get to Halkidiki
Flights to Halkidiki
Thessaloniki is the major hub for flights to and from Halkidiki, and for air domestic and international air connections. Thessaloniki Airport ("Makedonia") is located 16.5 km southeast of the city center and is connected to the city by the No. 78 bus.
Bus to Halkidiki
There is no direct local bus service from the Thessaloniki airport to the Halkidiki region; in order to reach Halkidiki by bus, travelers should take a taxi from the airport to the Halkidiki Bus Terminal (located about 10km north of the airport at the 9th kilometer of the Ring Road). It's about a 12-minute ride. The local bus website is useful for booking online tickets and offers a handy app you can download before your trip, but the site offers no timetable or map, so an online or offline map will be required to plan your itinerary.
In general, local buses will cover the two the Kassandra and Sithonia peninsulas of Halkidiki as distinct routes; heading down one side and coming back up the other. Buses to the Athos Peninsula terminate at the town of Ouranoupoli; from here, travelers must take ferries down to Mount Athos (the Holy Mountain).
Intercity buses to and from Thessaloniki use the main Thessaloniki bus station, located 6.2 km west of the city center. The No. 45 local bus departs regularly from Thessaloniki to Halkidiki bus station, making a stop the train station along the way.
Train to Halkidiki
Thessaloniki is connected by train to northern neighbors like Macedonia and Bulgaria, as well as internally via trains south to Athens and east to the Greek province of Thrace. Thanks to a newly renovated rail track, Athens is reachable from Thessaloniki by train in just 4.5 hours. The number 45 local bus will take you right from the train station to the Halkidiki bus station.
Driving to Halkidiki
Realistically, Halkidiki is best visited by private transport – either your own, or hired. Driving is easy though some care is required on the main access routes, especially in summer and during long weekend breaks or religious feasts when they can get very fast and busy. The main access route is Route 24 from Thessaloniki to the middle of the Kassandra Peninsula where it abruptly ends near Kallithea (1 hour, 87.7 km). Drivers heading to Sithonia will branch east at Nea Moudania (61 km). Rental cars can be picked up either in Thessaloniki, or the Thessaloniki Airport.
The roads throughout Halkidiki are generally very good, but can get quite winding once you enter the individual peninsulas. The road from Vrastama to Arnaia via Taxiarhis and Mount Cholomontas is spectacularly winding through thick forests, and makes for a great motorcycle cruise (See Central Halkidiki).
Read More